This is the best vanilla cupcake recipe you will ever try! It's light, fluffy, moist and flavorful. It's been made by thousands of Cupcake Project readers and the recipe is used at bakeries around the world.
There are so many amazing vanilla cupcakes out there that taste like yellow cake or white cake but don't have a strong vanilla flavor. My cupcake recipe is moist and light, domes wonderfully, and has an amazing vanilla taste – especially when paired with vanilla buttercream frosting.
This recipe is the one on Cupcake Project that I am most proud of. I spent a year developing and testing the cupcake recipe. You can read about the testing process at the end of this post.
Even though they are made from scratch, they are easy enough that total beginner bakers can bake them. Most people think that these cupcakes are better than any cake mix and just as good, if not better, than the cupcakes at their favorite bakery.
In fact, many bakeries around the world use this cupcake recipe as their go-to vanilla cupcake.
Tips for Making the Best Vanilla Cupcakes
If you've never baked a cupcake from scratch before I suggest you take a minute to read my post on how to make cupcakes. It covers some of the basics of cupcake making. I also recommend that you get yourself some essential baking tools.
The perfect crumb and flavor of these vanilla cupcakes comes from the ingredients in the recipe and the preparation methods. 
Use a vanilla bean.

Using a vanilla bean gives the cupcakes a strong vanilla flavor. If you don't have a vanilla bean, you can leave it it off without adjusting any other ingredients. The cupcakes will still be amazing, just not as vanilla-flavored.

Use a combination of butter and oil.

Butter is needed for its flavor, but oil makes the cupcakes moist. Any type of vegetable oil will work in this recipe.

Use sour cream.
Use a thin batter.

Unlike cookie dough, cupcake batter should be thin – almost liquidy. The batter for these cupcakes is thinned out with whole milk. Thin batter yields a light cupcake. 

Use cake flour for a lighter crumb.
Be careful not to over mix the batter.
Use room temperature ingredients

Everything will mix together more smoothly that way.

Bake a test cupcake.

Because everyone's oven is just a bit different and your liners may be a slightly different size than mine, I highly recommend that you bake a test cupcake before baking your whole batch of vanilla cupcakes. Read my FAQ on filling cupcake liners to learn how to do a test cupcake and why it's useful.
How to Make Vanilla Cupcakes
Start by scrape the insides of a vanilla bean (the seeds) into the sugar and mix it up to get a strong vanilla flavor and specks of bean inside the cupcake.
I am a huge fan of vanilla bean paste, a thick condensed syrup that contains vanilla bean seeds and is used in place of vanilla extract, and you'll see that I use it in my vanilla frosting recipe. However, I have not noticed any improvement to the cupcakes when I use it in the batter instead of vanilla extract.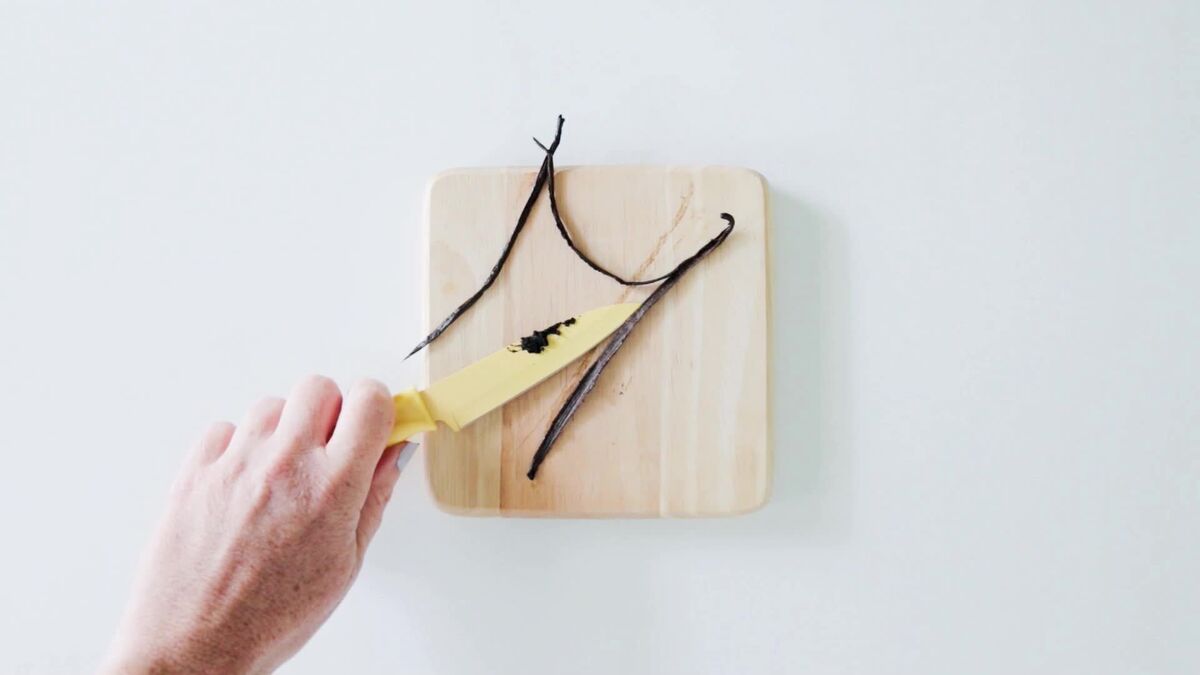 Whisk together the vanilla sugar with the rest of the dry ingredients (cake flour, baking powder, baking soda, and salt) in the bowl of a stand mixer. If you don't have a stand mixer, you can use an electric hand mixer or even mix by hand.
You can substitute all-purpose flour for the cake flour in equal amounts. The cupcakes will be just a little bit more dense. Cake flour is a finely milled delicate flour. It is best for desserts that are more light and airy.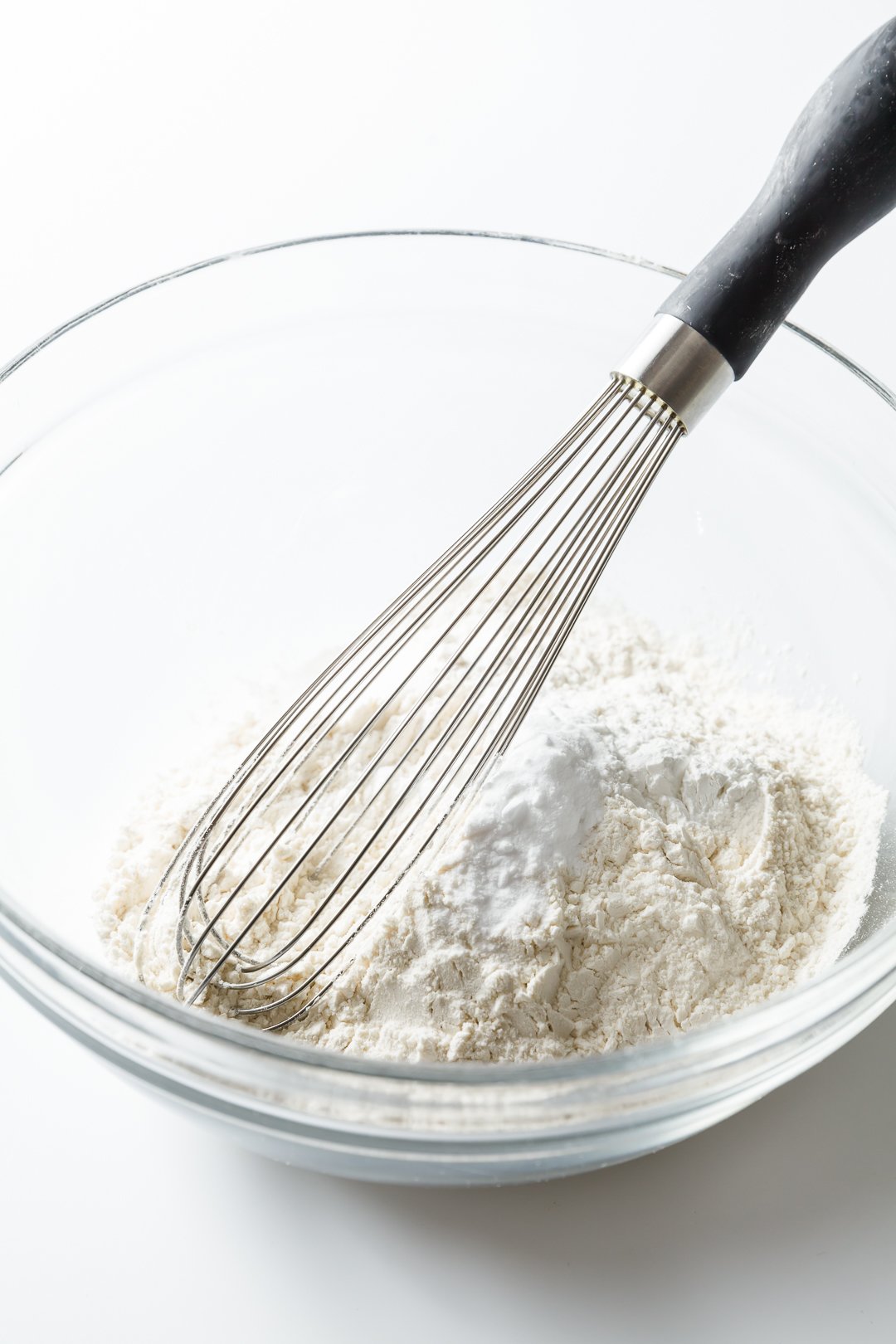 Mix in the butter. This cupcake recipe uses a mix of butter and oil. Cupcakes that are made with only only oil lack the flavor that butter provides; and without the oil, the cupcakes can end up being too dense.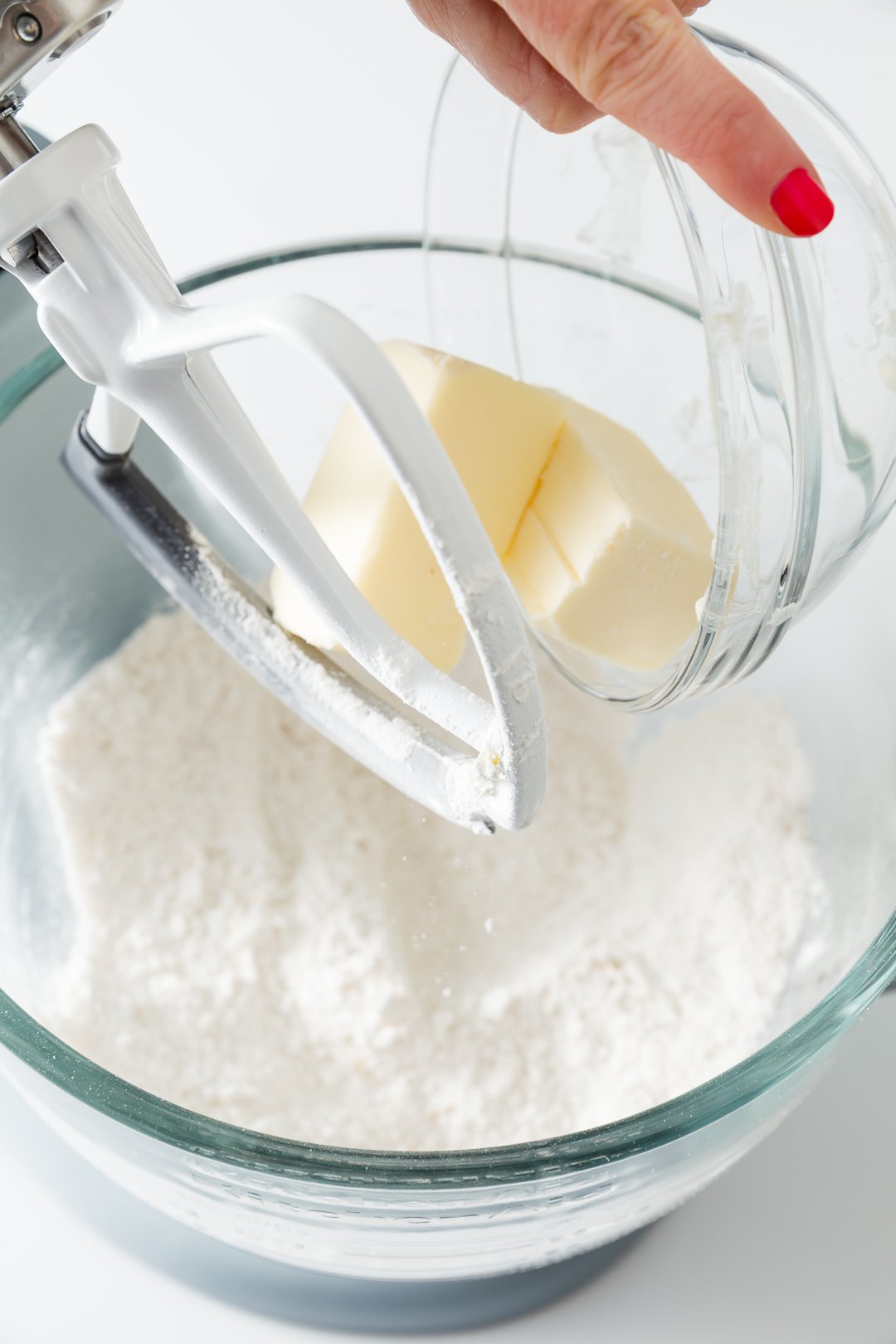 Whisk together the wet ingredients in a separate bowl. This includes the sour cream, oil, eggs, and vanilla.
For making vanilla cupcakes, I use any mild vegetable oil. I've used canola oil, generic vegetable oil, and safflower oil. While I love using flavored oils in baking, keep in mind that they will change the flavor of these cupcakes. You can experiment with using non-neutral oils and try baking these cupcakes with pistachio oil, for example, to get a totally different taste.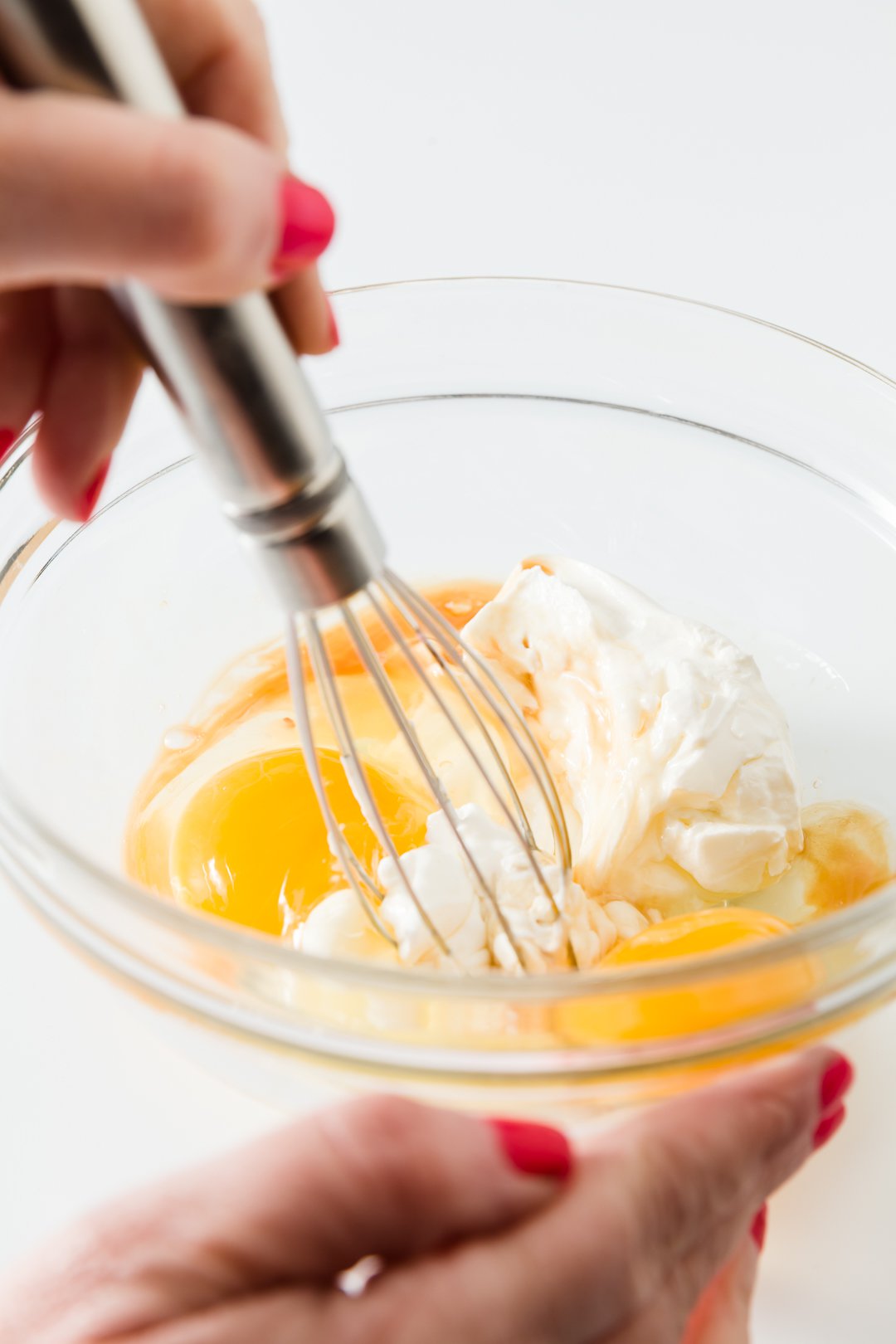 Mix wet ingredients into dry ingredients.
It's very important to not over-mix the batter at this point. Mix until just combined. Over-mixing the batter can have a dramatic effect on the end result. An over-mixed cupcake will end up squat and dense. See my post on overmixing cake batter for more details.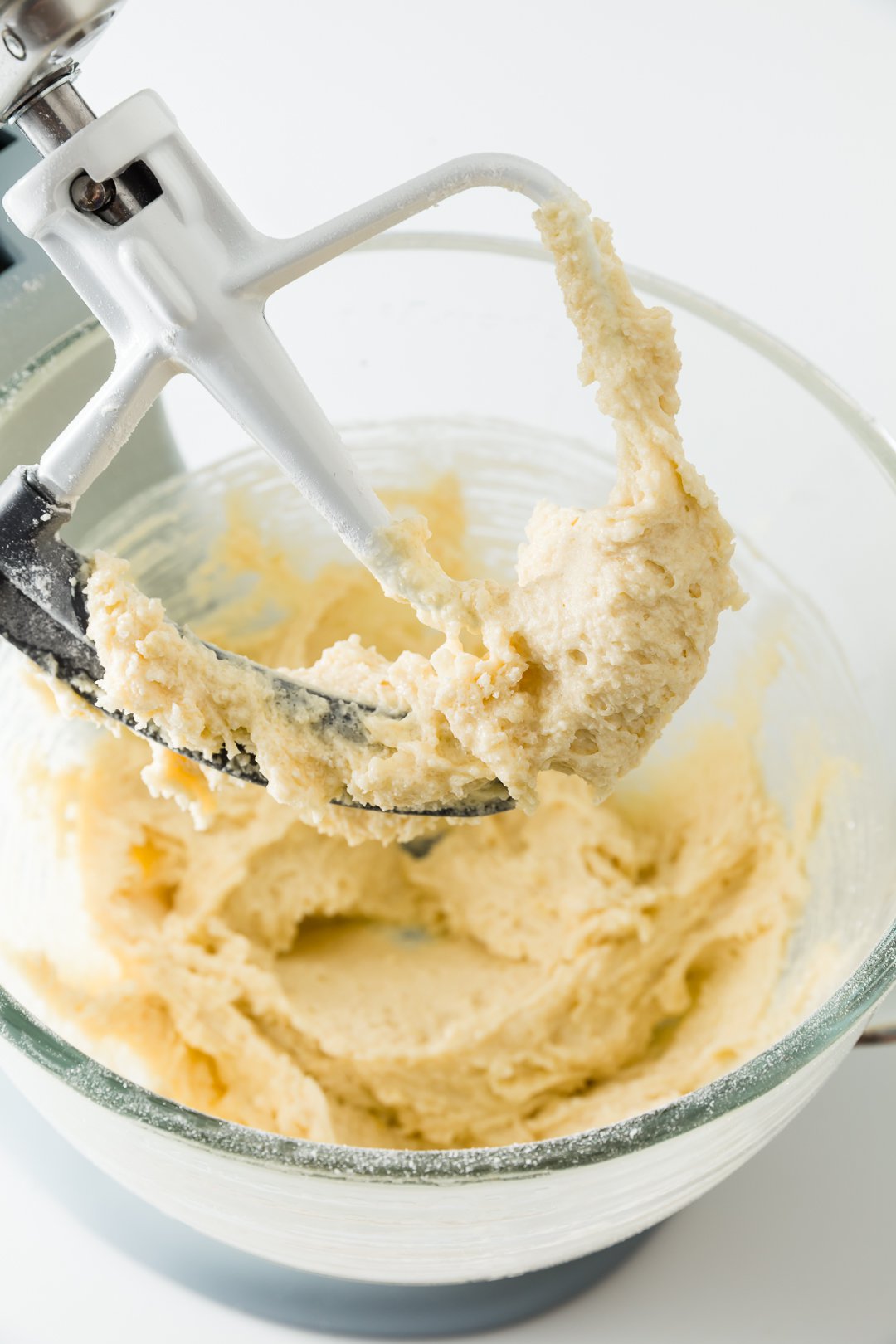 Add milk to the batter, again mixing until just combined. Proper cupcake batter is very thin – almost liquid.
Tip: While whole milk will provide the richest flavor, any milk you have in the house will work fine.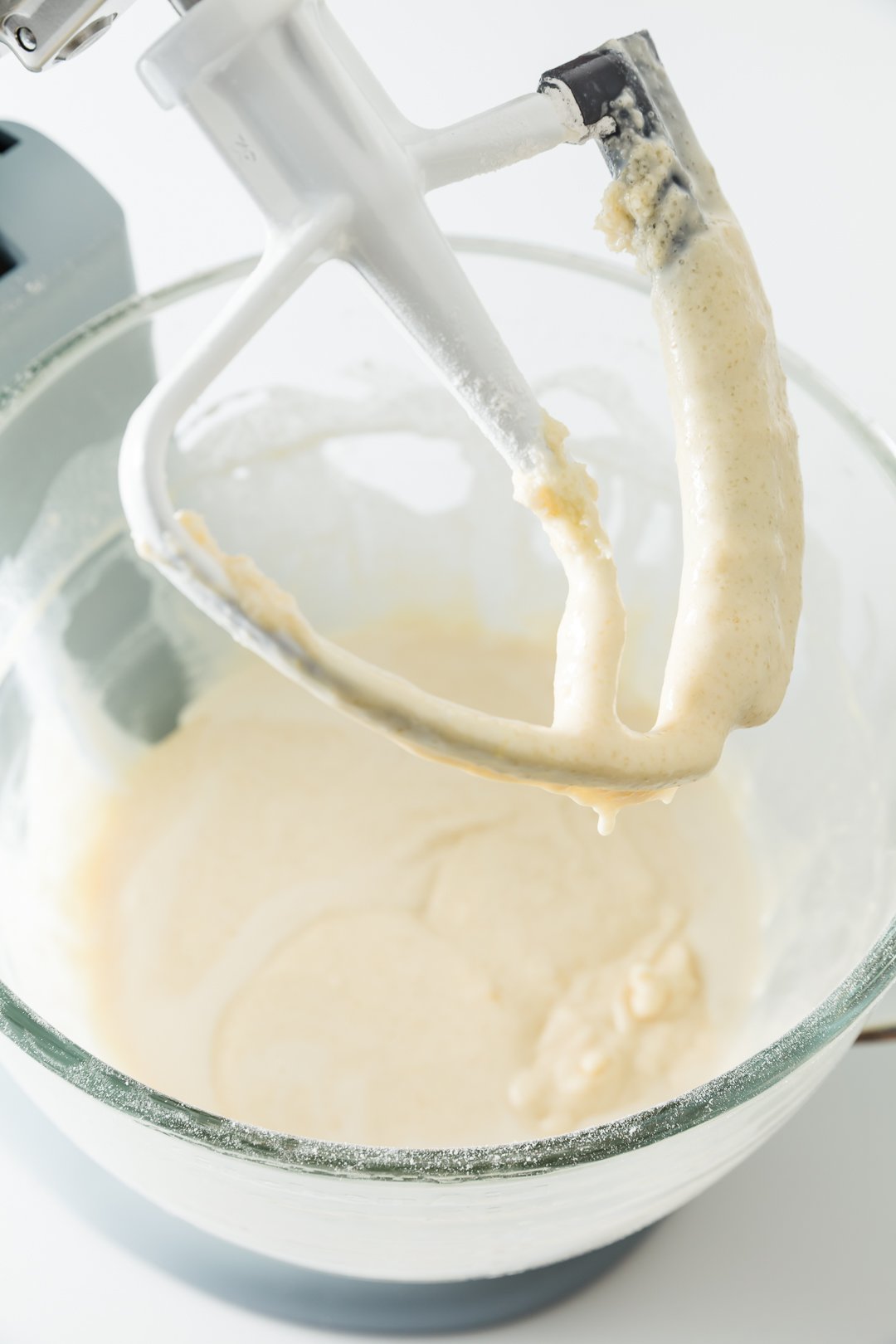 Fill cupcake liners just over halfway full. The easiest way to fill the liners is with an ice cream scoop.
Grease-proof liners are the only cupcake liners that will hold their design and color when baked. Confectionery House makes some of my favorite cupcake liners.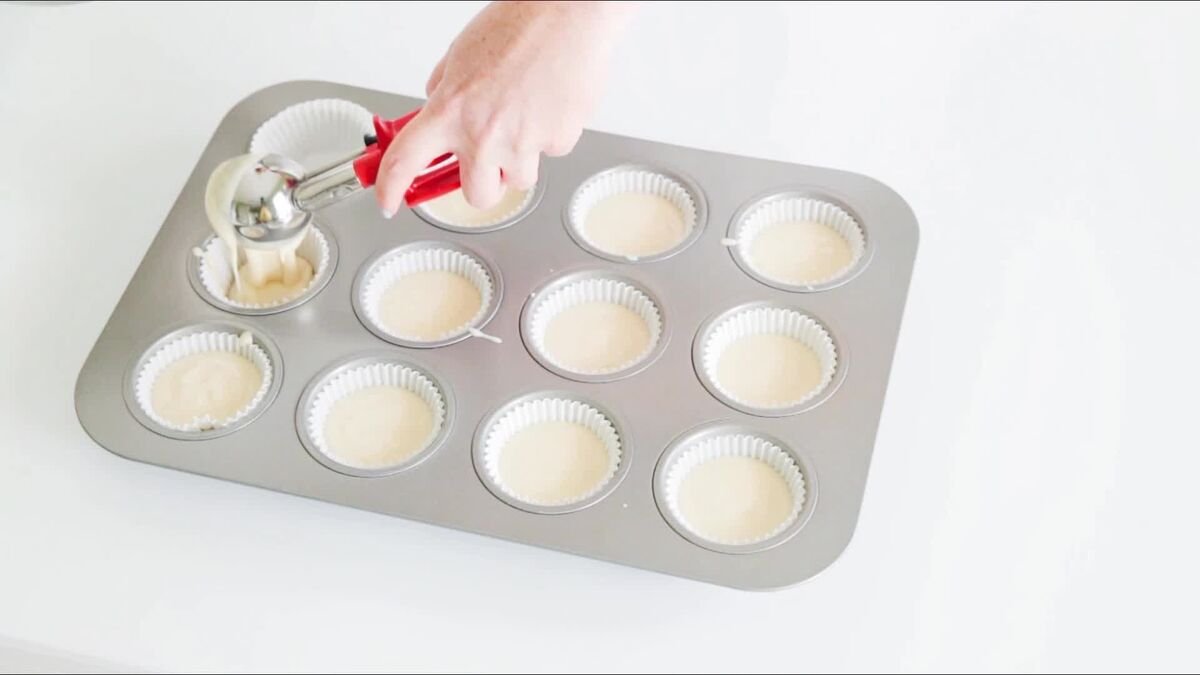 When the cupcakes are done, remove them from the tins immediately and set on the counter or a cooling rack to cool.
Can You Make These Cupcakes as Mini Cupcakes or Jumbo Cupcakes?
Yes, you can convert these vanilla cupcakes to mini cupcakes. You will end up with about twice as many cupcakes. The bake time will reduce to about 10 minutes.
If you make these as jumbo cupcakes, you will make half as many and the bake time will increase to about twenty minutes.
Can You Turn a Cupcake Recipe Into a Cake?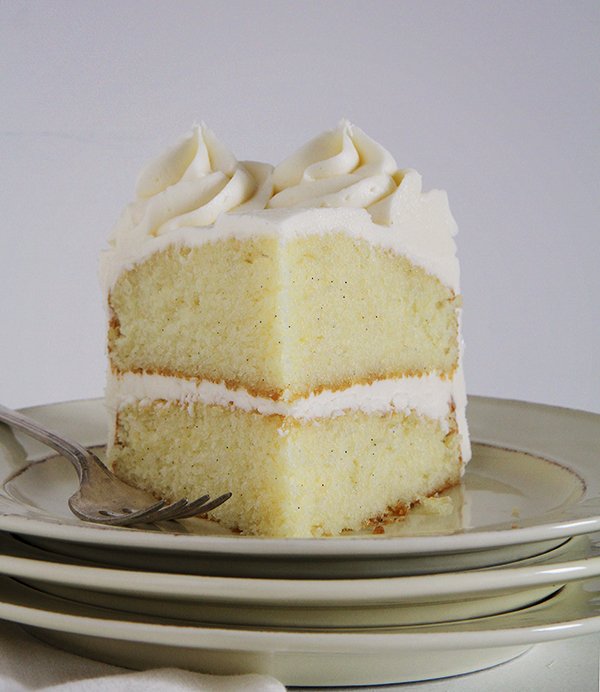 These vanilla cupcakes make the best vanilla cake recipe! You'll just need to adjust the baking time. All of the details are in my vanilla cake post.
Frosting for Vanilla Cupcakes
You can frost the vanilla cupcakes with any frosting that you choose. Check out my top ten frostings or my other frosting recipes for some ideas to get you started.
For the full vanilla experience, I suggest frosting vanilla cupcakes with vanilla buttercream frosting.
If you prefer the contrast of vanilla and chocolate, then you can't go wrong with my chocolate cream cheese frosting. And for a smooth Italian twist, try my fluffy and irresistible tiramisu frosting.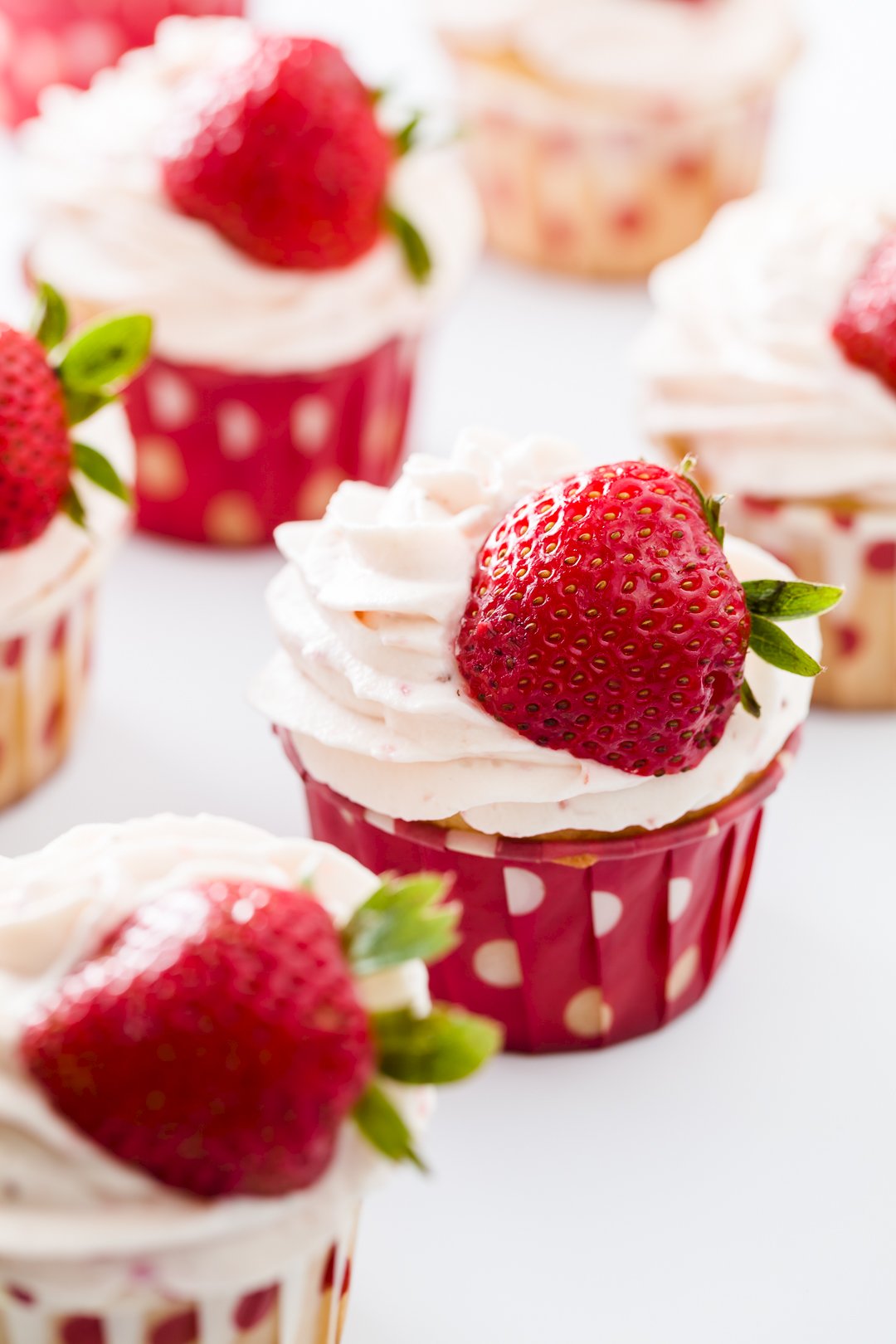 I also love how these cupcakes look with strawberry whipped cream frosting. And, cookie dough frosting is always a fun choice!
If You Liked this Recipe, You'll Also Like…
Best Vanilla Cupcake Recipe
This is the best vanilla cupcake you will ever have!
Ingredients
1

cup

granulated sugar

1

vanilla bean

1 3/4

cups

cake flour, not self-rising

1 1/2

teaspoons

baking powder

1/2

teaspoon

baking soda

1/2

teaspoon

salt

1/4

cup

unsalted butter

room temperature

2

large eggs

room temperature

1/3

cup

full-fat sour cream

1/4

cup

canola oil

you can also use vegetable oil

1

tablespoon

vanilla extract

use pure, not imitation

2/3

cup

whole milk

room temperature
Instructions
Preheat oven to 350 F (175 C).

In a small bowl, combine sugar and seeds from the vanilla bean. (For those of you who are new to using vanilla beans, watch the video in this post to see how it's done.)

Using the back of a spoon, move around the bowl and apply pressure to break up any clumps of seeds and to better infuse the vanilla flavor into the sugar. Set aside.

In a medium-sized mixing bowl or bowl of a stand mixer, mix together cake flour, baking powder, baking soda, and salt.

Add the vanilla bean sugar and mix until well combined.

Add butter and mix on medium-low speed for three minutes. Because there is so little butter, you'll end up with a very fine crumb texture.

In a small mixing bowl, whisk together eggs, sour cream, oil, and vanilla extract until smooth.

Add the egg mixture to the flour mixture and beat on medium speed until just combined.

Slowly add milk and mix on low speed until just combined. The batter will be liquid. (Don't worry, you didn't do anything wrong. It's supposed to be that way.)

Fill cupcake liners just over 1/2 full.

Bake for 14 minutes and then test to see if they are done. They are done when a toothpick comes out without wet batter stuck to it. The cupcakes should appear white with specks of vanilla bean. They should not turn a golden brown. If they are not done, test again in two minutes. If they are still not done, test again in another two minutes.

When the cupcakes are done, remove them immediately from the tins and leave them on a cooling rack (or just on your counter if you don't own a cooling rack) to cool.
Notes
Use a vanilla bean for the best vanilla flavor. But, you can leave it off and the cupcakes still taste amazing!
Use cake flour for a lighter crumb.
Be careful not to over-mix the batter.
Use room temperature ingredients - everything will mix together more smoothly that way.
Because everyone's oven is just a bit different and your liners may be a slightly different size than mine, I highly recommend that you bake a test cupcake before baking your whole batch of vanilla cupcakes. Fill one liner halfway and see how much it rises during the bake.
Nutrition
Nutrition Facts
Best Vanilla Cupcake Recipe
Amount Per Serving
Calories 180
Calories from Fat 72
% Daily Value*
Fat 8g12%
Cholesterol 31mg10%
Sodium 124mg5%
Potassium 79mg2%
Carbohydrates 23g8%
Protein 2g4%
Vitamin A 165IU3%
Calcium 39mg4%
Iron 0.3mg2%
* Percent Daily Values are based on a 2000 calorie diet.
The Testing Process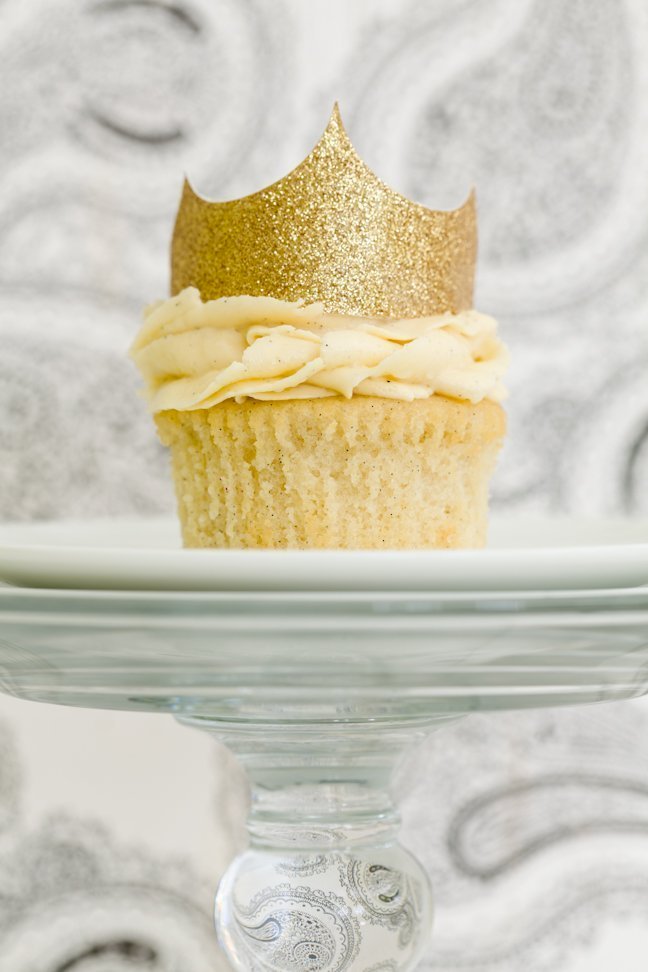 I developed this recipe with the Cupcake Project Explorers (my team of 50 test bakers that helped perfect my vanilla cupcakes by baking three rounds of cupcakes and providing feedback).
The team consisted of professional bakers and beginners because I wanted to make sure that these cupcakes would be perfect for beginner bakers and pros alike.
You should know that the Explorers did not go easy on me.
I was sure that the first recipe I sent them would be the ultimate. It only got a 29% approval rating – ouch!
I went back to the mixing bowl and came up with a second recipe for the Explorers to try. "Surely, this will be the one," I thought.
The round two recipe fared only a bit better, with a 36% approval rating.
I learned that, for the most part, the Explorers wanted the Ultimate Vanilla Cupcake to be light and fluffy with an intense vanilla flavor. They didn't want the Ultimate Yellow Cupcake recipe; rather they wanted the Ultimate Vanilla Cupcake recipe.
The recipe that I created for round 3 (the one that you read the quote about above) took all of the Explorers' feedback into play. I created vanilla cupcakes where the cake was moist and light with an unmistakable vanilla flavor.
They got an approval of 66%.
If you had been following the quest for the ultimate vanilla cupcakes through my blog posts and status updates on Facebook, you'd know that my goal was for my best cupcake recipe for vanilla cupcakes to receive 80%. However, I've concluded that with bakers using different brands of raw ingredients, different ovens, different tools for mixing, and living in places with different humidity and altitude, 80% was an unattainable goal.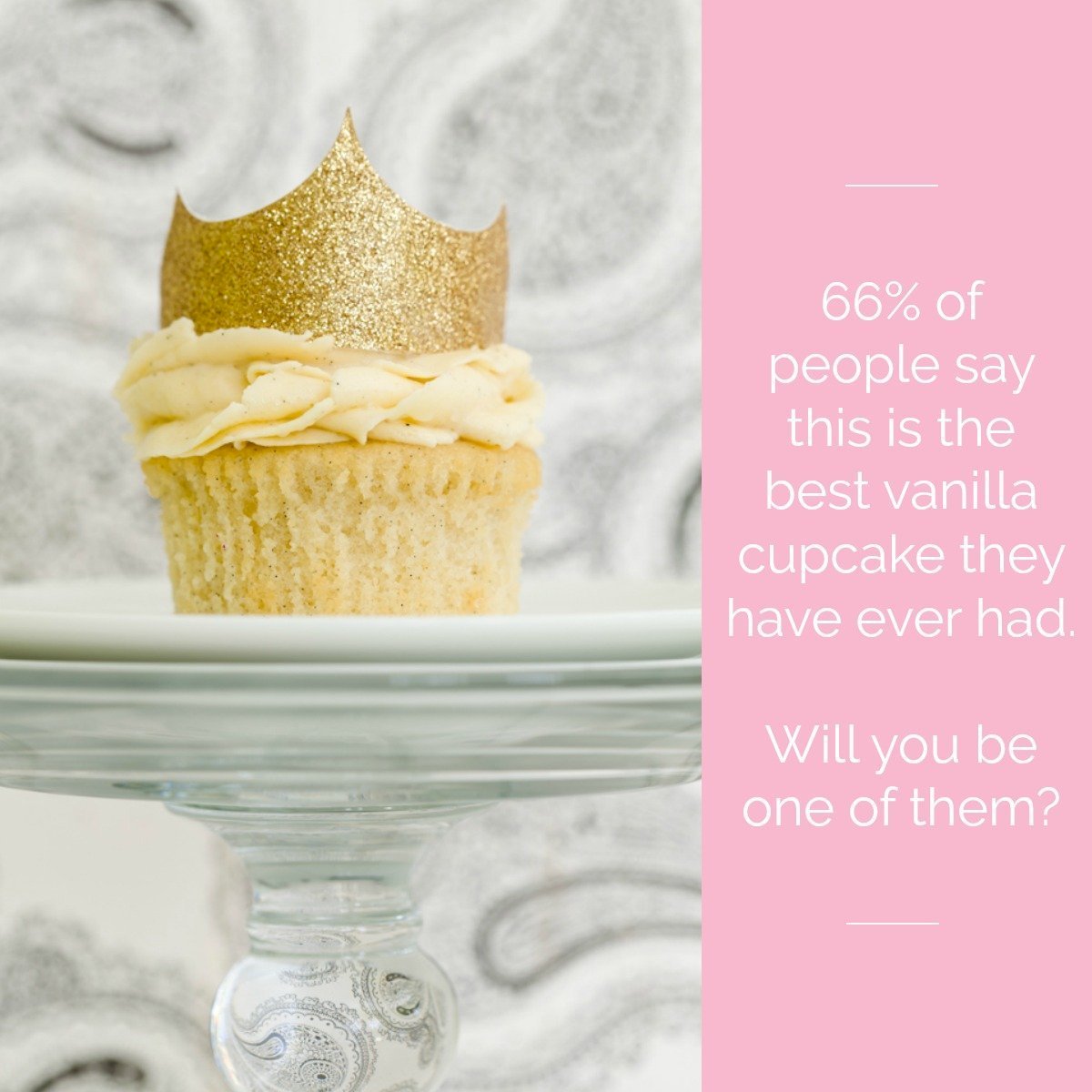 Finding a cupcake recipe that 2 out of 3 people agreed was not only good but actually the best cupcake recipe for vanilla cupcakes was an amazing achievement. After weeks of debate, I decided to declare the round 3 cupcake recipe the Ultimate Vanilla Cupcake!
Here's what some of the other Explorers had to say about the Ultimate Vanilla Cupcake Recipe:
I can officially say that this will be the last round I will participate in for the Ultimate Vanilla Cupcake recipe because I love it so much. I would bake these over and over and recommend it to anyone and everyone I know. This will be a recipe that I can add to my "when I'm having a bad day, I bake" list because baking a favourite recipe always makes my day better and puts me in a great mood.
I loved this cupcake! I have used this recipe 4 times in the last two weeks. And 3 of those batches were orders other people placed for the cupcakes! This is the Ultimate Vanilla!!
I really don't see how you can improve on this one. I have really had a good time with this. I used to be a boxed-mix-girl. This has changed me for life!!!!
My future grandchildren will thank you for making me a best-baking-granny.
I've been looking for my 'go to' vanilla cupcake and I think this is it!
I loved this recipe – the taste was heavenly.
It was an easy recipe to follow and the cupcakes came out perfectly.
Is there any way to give it an 11 out of 10?!
As a special thanks for being Cupcake Project Explorers, I've promised the team that I would share any blog posts they write about this recipe and the Explorer process.
I know that even though the Explorers and I thought this was the best cupcake recipe, some of you will not like these cupcakes. If we all liked the exact same things, the world would be a boring place. But, I encourage you to give this vanilla cupcake recipe a shot.
You've got a two out of three chance of finding your new best cupcake recipe for vanilla cupcakes!
While you may not have been an official Cupcake Project Explorer, I'd love to hear what you think of this recipe.
If you bake it, please share your thoughts in the comments and rate the recipe. Which frosting did you use? Did you use any fillings? Did you make any changes that people might want to hear about?
Let's all learn from each other!