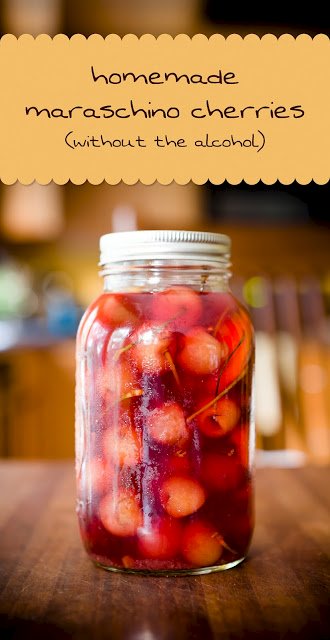 Judging from cartoons, you would think that the iconic cherry was perched on every cupcake.  In actuality, it's somewhat rare to find a cherry on a cupcake purchased from a modern cupcake shop.  Still, as a cupcake blogger, I feel a duty to the cherry; just as I believe in from-scratch baking, I hold that the cherry on top should be more than a jarred cherry with high fructose corn syrup and red food coloring (especially this time of year when piles of fresh cherries greet me right as I enter my supermarket).
I've made homemade maraschino cherries before in the traditional way – by using maraschino liqueur.  They were above-and-beyond better than any maraschino cherry I'd experienced from the jar.  However, they were decidedly not kid-friendly.  Those cherries were like tiny shots of liqueur encased in a piece of fruit.  Today, I'm presenting you with a homemade maraschino cherry for the whole family.

These alcohol-free "maraschino" cherries are made by steeping pitted cherries (I used Rainier cherries) in pomegranate juice, sugar, lemon juice, star anise, and orange peel.  Although no alcohol is involved, these "maraschino" cherries most resemble the fruit that I love to fish out of the bottom of my glass of sangria – sweetened from the sugar and rich in flavor from all the subtle notes of the wine.  These cherries are tart, sweet, surprisingly complex, and incredibly inviting.
How to Make Homemade "Maraschino" Cherries Without Alcohol
My recipe was adapted from a recipe that I found in a NPR story by Kara Newman, sourced from Raising the Bar by Nick Mautone. The original recipe called for grape juice, but I switched it to pomegranate to give it more of a grenadine flavor (if you don't know that grenadine comes from pomegranate juice, be sure to read my post on homemade grenadine).  I also removed the almond extract (I'm just not a big fan of it) and added orange peel on the wonderful suggestion of my husband.
Products Used for This Recipe
I use and love this saucepan.  It's the best saucepan I've ever owned.
You can store the cherries in any sealed container.  But, it's always helpful to have some tall mason jars around.
Homemade "Maraschino" Cherries (This Time Without Alcohol)
I hold that the cherry on top should be more than a jarred cherry with high fructose corn syrup and red food coloring.
Ingredients
1 1/2

cups

water

1/2

cup

pomegranate juice

1

cup

sugar

3 1/2

fluid ounces

lemon juice

juice from about 3 lemons

pinch

of salt

1

whole piece star anise

Peel from one large orange

1

pound

pitted cherries

any kind will do, but I used Rainier cherries
Instructions
In a medium-sized saucepan over medium-high heat, add everything except the cherries.

Bring to a boil.

Reduce the heat and simmer until the sugar has dissolved, stirring periodically.

Add the cherries.

Simmer on low heat for 10 minutes or until the syrup has a bit of a cherry flavor. (Yes, tasting is part of the recipe. This is the rough part. :)) You don't want to cook the cherries - you just want to bring out some of their flavor.

Remove the pan from the heat and transfer the entire contents to a bowl (so it doesn't continue cooking).

Let cool to room temperature.

Transfer to an air-tight container and refrigerate.

Wait about three days and then top your cupcakes, shakes, ice cream sodas, sundaes, Shirley Temples, and anything else you can think of with them.
Nutrition
Nutrition Facts
Homemade "Maraschino" Cherries (This Time Without Alcohol)
Amount Per Serving
Calories 71
% Daily Value*
Sodium 2mg0%
Potassium 86mg2%
Carbohydrates 18g6%
Vitamin A 20IU0%
Vitamin C 4.5mg5%
Calcium 5mg1%
Iron 0.1mg1%
* Percent Daily Values are based on a 2000 calorie diet.
I know that you are going to ask me how long the cherries last for.  I don't have an answer for you.  I intend to use mine up within a couple of weeks.  You'll see the cupcakes that they topped featured here in the near future.
The Photo
Huge thanks to everyone in the Cupcake Project Facebook community who helped me win a dispute with Jonathan over which photo to use for this post.  If you missed the voting, you can still have a look at the Facebook post to see what the other options were.