Homemade Maraschino Cherries
Published , Last updated by
Stef
Disclosure: As an Amazon Associate, I earn from qualifying purchases.
Homemade maraschino cherries are easy to make, so tasty, and much better for you than store-bought ones. Use them to top ice cream sundaes, cupcakes, or as the perfect cocktail cherries!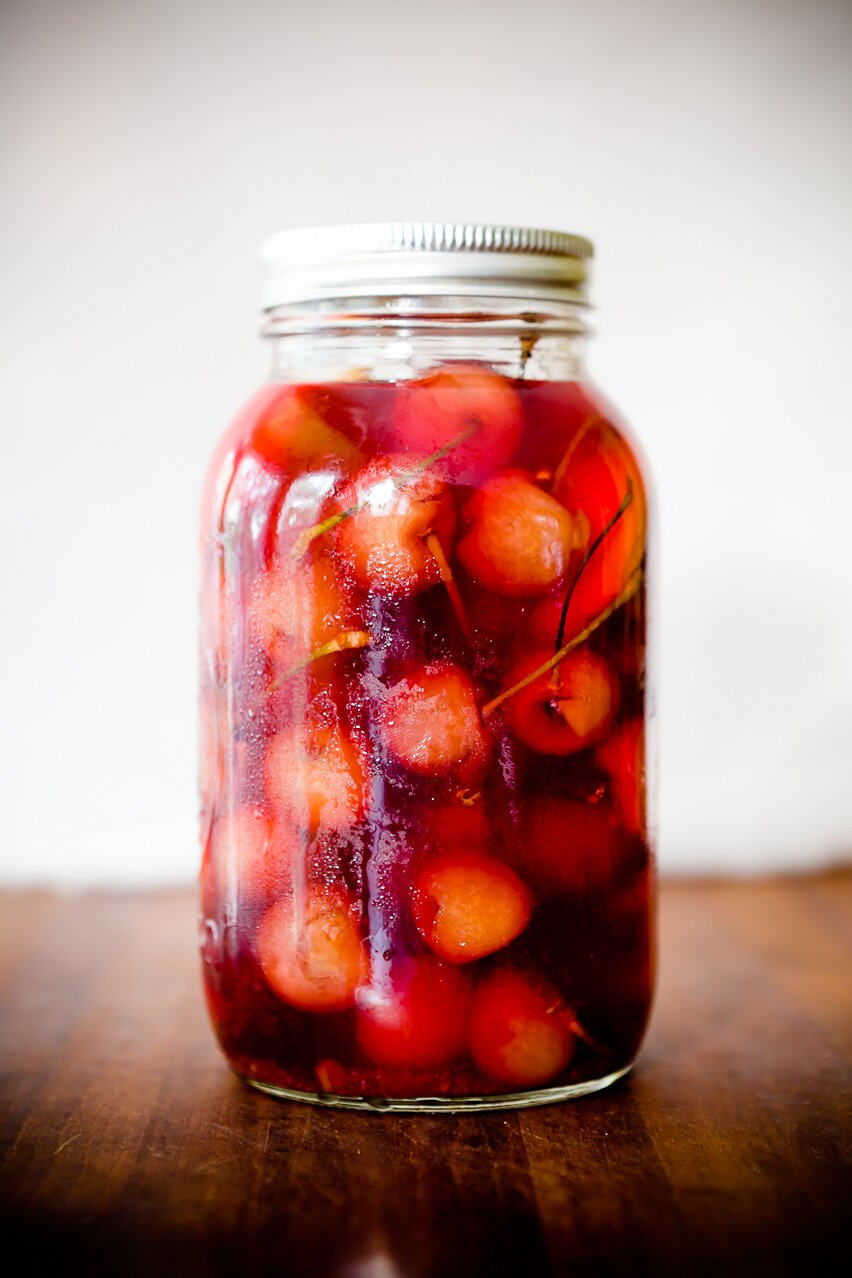 When most people think of maraschino cherries, they think of the store-bought version [paid link] – dyed-red cherries that are super sweet from soaking in a sugar syrup. However, they can be easily made at home by steeping fresh cherries in either alcohol or juice.
My alcohol-free version is made by steeping pitted cherries in pomegranate juice and loads of spices. The cherries are tart, sweet, surprisingly complex, and incredibly inviting.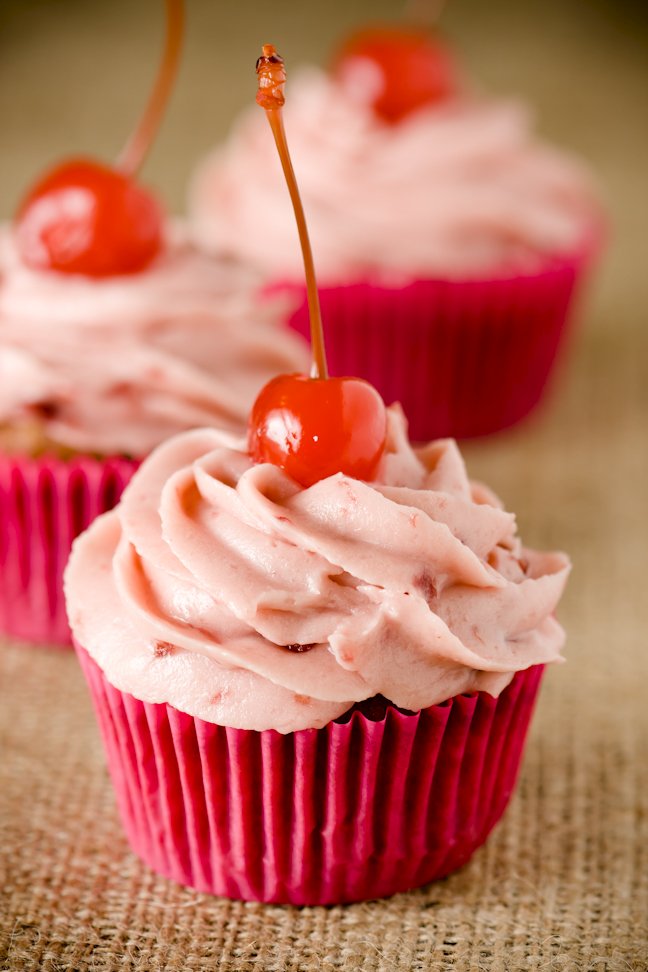 They're used in many ways:
Ingredients
If you want to be really technical about it, this recipe should be made with Marasca cherries. It's the cherry variety that was traditionally used and it's the one used to create maraschino liqueur.
However, most of us don't have access to that type of cherry, and really, any cherry will do. When selecting cherries:
Look for cherries that are really red. You can always add food coloring, but why not try to find cherries that are naturally nice and red?
Find cherries with long stems. These cherries make a visual statement when you serve them – and they don't look nearly as nice if the stems are missing or stubby.
Only buy fresh cherries. This is also about the stems as they are always removed on frozen cherries.
I typically use Rainier cherries.
Tip: The cherries must be pitted. If you don't own a cherry pitter, you will definitely want to invest in one. I like the pitters that can pit a bunch of cherries at a time [paid link].
The other special ingredient you'll need is pomegranate juice. My recipe was adapted from a recipe that I found in a NPR story by Kara Newman, sourced from Raising the Bar by Nick Mautone [paid link]. While that one calls for grape juice, I switched it to use pomegranate juice for my version.
Pomegranate juice gives the recipe more of the grenadine flavor and I prefer it to grape. (If you didn't know that grenadine comes from pomegranate juice, be sure to read my post on homemade grenadine!)
How It's Made
Start by pitting your cherries (see the tip above for a helpful hint) and set them aside.
Add water, pomegranate juice, sugar, lemon juice, salt, star anise, and orange peel to a pot over medium-high heat.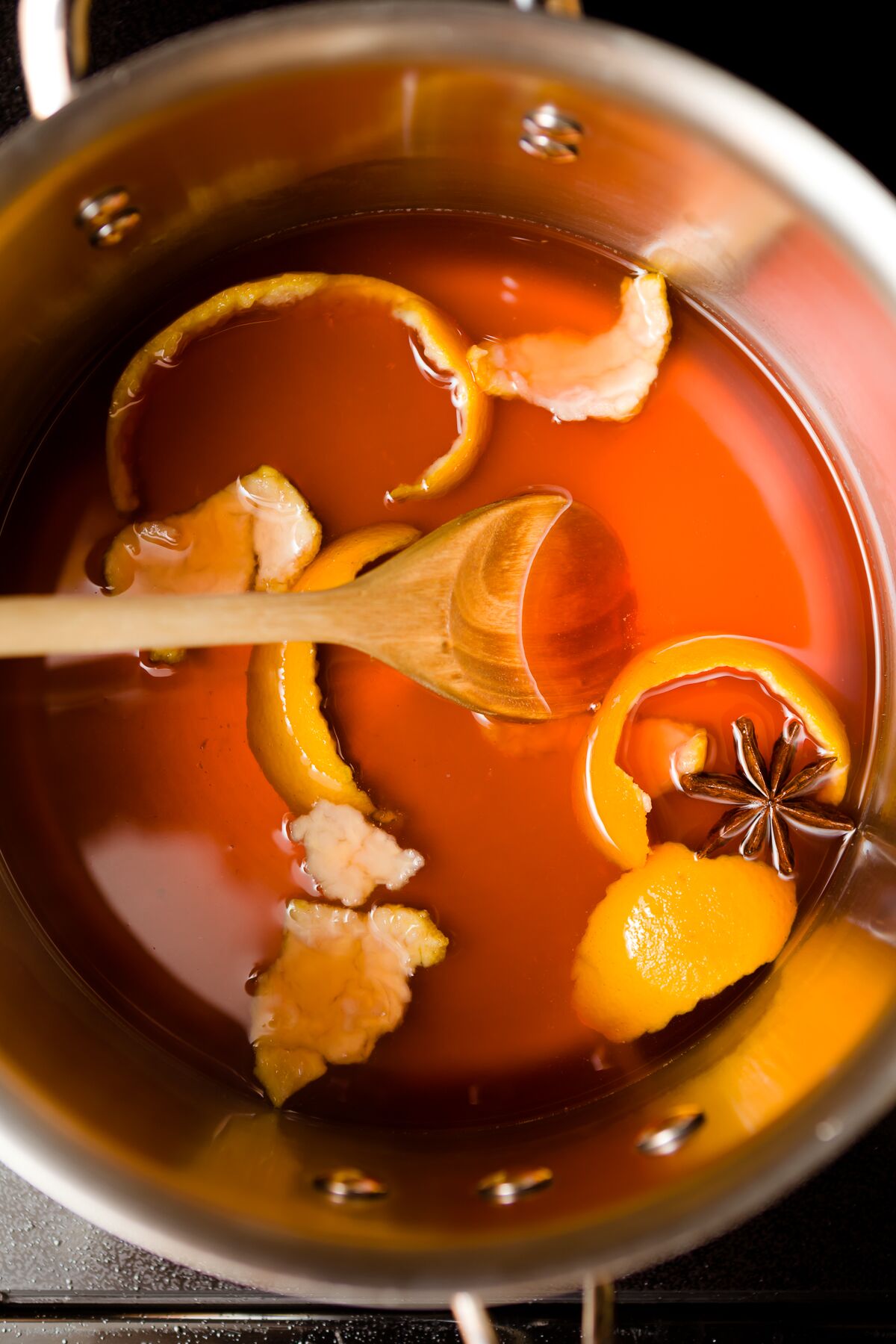 Bring to a boil, then reduce to a simmer and stir until the sugar is completely dissolved.
Add in the pitted cherries and let simmer for 10 minutes or until the juice has taken on some cherry flavor. (You'll have to taste it to check.)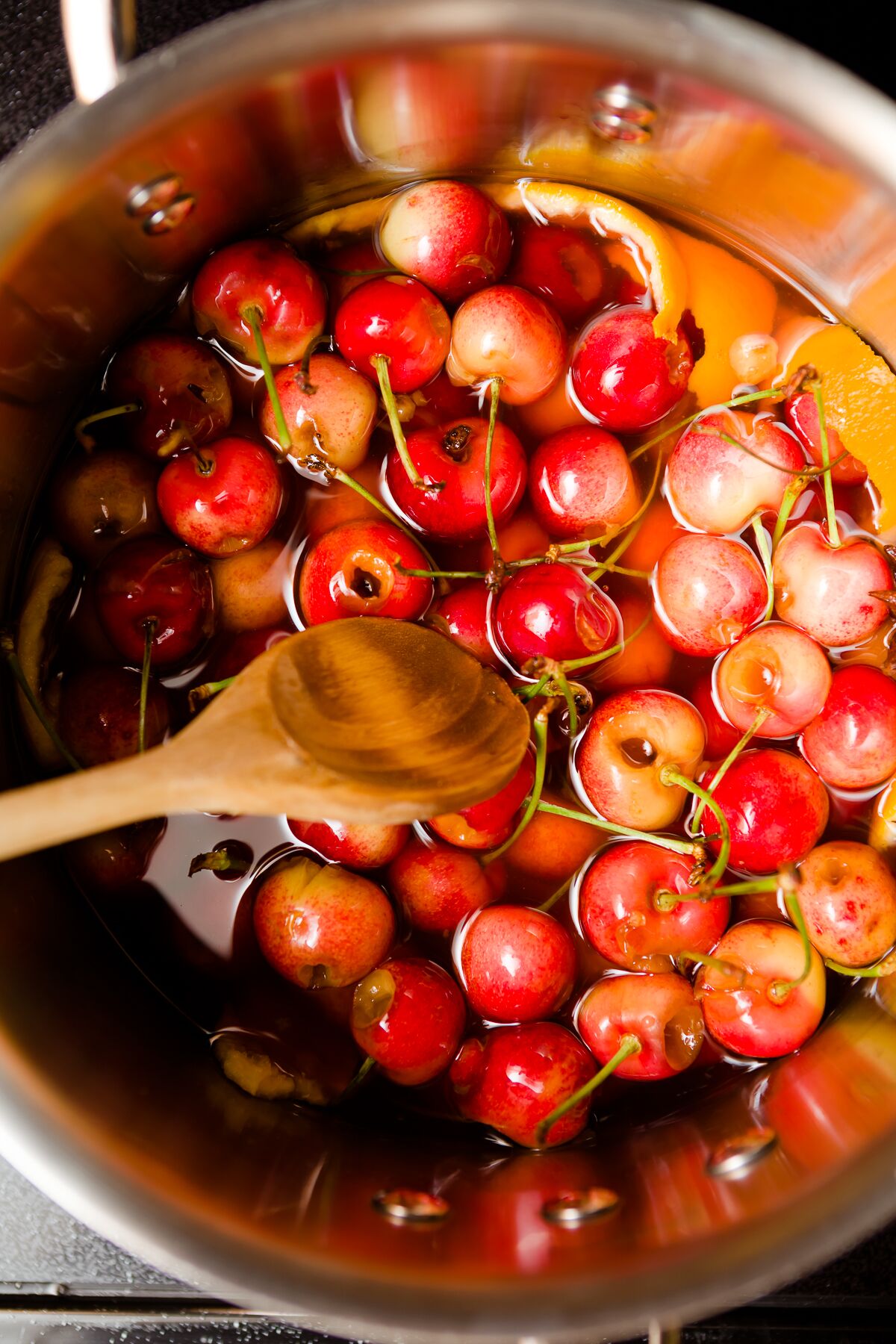 Once done, remove from heat, transfer the cherries and juice to a jar to cool, then cover with a tight-fitting lid and refrigerate for three days before using.
Expert Tips and FAQs
Cocktail Cherries and Store-Bought Maraschino Cherries
The way that these cherries were traditionally made (and the way I make them) differs from both the process used to make store-bought maraschino cherries as well as the more modern, kid-friendly way of making them.
Traditionally, Croatian locals preserved Marasca cherries by pickling them and storing them in a liqueur also made from these cherries. These came to be known as maraschino cherries.
The modern, homemade version is frequently called Luxardo cherries. These are made by boiling fresh sweet cherries with maraschino liqueur, a clear, relatively dry liqueur made from these sour Marasca cherries.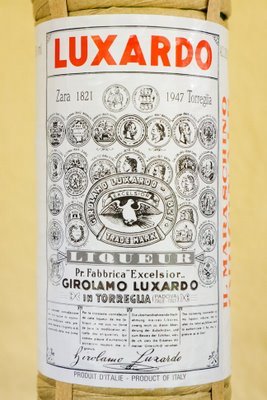 Luxardo cherries taste like tiny shots of liqueur encased in a piece of fruit. They are most definitely not kid-friendly.
The process for making commercial maraschino cherries may turn your stomach. According to Buzzfeed's maraschino cherry exposé:
At the processing center, the cherries are bleached in a solution of calcium chloride and sulfur dioxide until they turn yellow. Next, they're marinated in huge vats of high fructose corn syrup and Red #4.
Of course, this varies by brand. There are plenty of quality store-bought options. For example, Tillen Farms [paid link] makes one that is free from dyes, corn syrup, artificial colors, and flavors. I suggest reading the ingredients before you make a purchase of any store-bought maraschinos.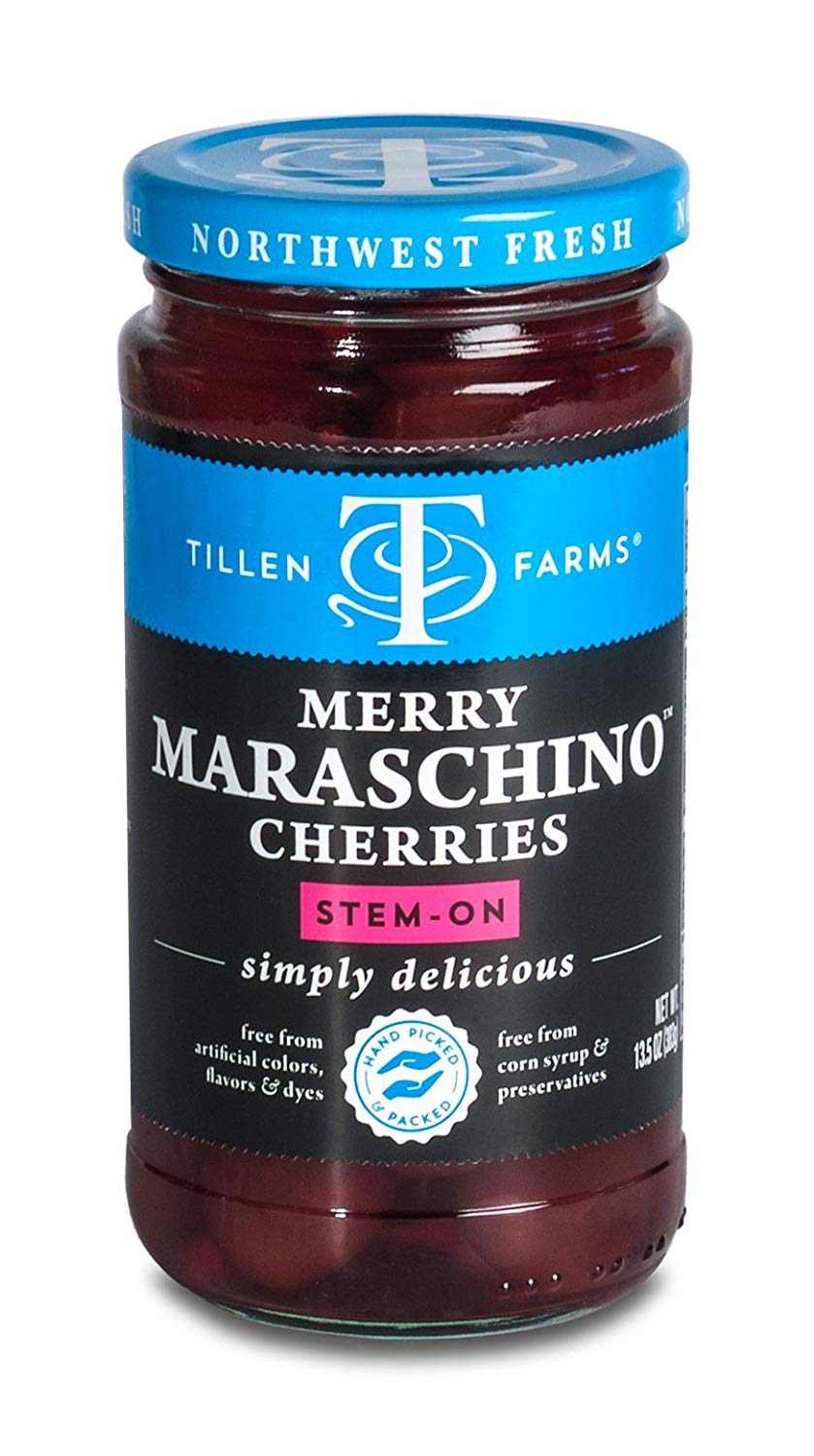 FAQs
Which type of cherry should I use for this recipe?
Though the traditional recipe uses Marasca cherries, any fresh variety of red cherry with a long stem will work well. I use Rainier cherries.
How long can I store these cherries for?
These cherries, as well as my Luxardo cherries, get better with time; while you can eat them right away, the flavored syrup will seep into the cherries over time. I recommend waiting three days after making them before eating them and then storing them for up to a few weeks in the refrigerator.
Related Recipes
Homemade Maraschino Cherries
Homemade maraschino cherries are easy to make, so tasty, and much better for you than store-bought ones. Use them to top ice cream sundaes, cupcakes, or as the perfect cocktail cherries!
Ingredients
1

pound

fresh cherries

any kind will do, but I use Rainier cherries

1 1/2

cups

water

1/2

cup

pomegranate juice

1

cup

sugar

3 1/2

fluid ounces

lemon juice

juice from about 3 lemons

pinch

salt

1

whole star anise

peel from one large orange
Instructions
Remove cherry pits using a cherry pitter and set cherries aside.

In a medium-sized saucepan over medium-high heat, add everything except the cherries.

Bring to a boil.

Reduce the heat and simmer until the sugar has dissolved, stirring periodically.

Add the cherries.

Simmer on low heat for 10 minutes or until the syrup has a bit of a cherry flavor. (Yes, tasting is part of the recipe.) You don't want to cook the cherries – you just want to bring out some of their flavor.

Remove the pan from the heat and transfer the entire contents to a bowl (so it doesn't continue cooking).

Let cool to room temperature.

Transfer to an airtight container and refrigerate.

Wait about three days and then top your cupcakes, shakes, ice cream sodas, sundaes, Shirley Temples, and anything else you can think of with them. The cherries last for a couple of weeks in the refrigerator.
Notes
The recipe above is for the kid-friendly cherries. Follow the instructions in my post on Luxardo cherries if you are interested in making the alcoholic version.
Nutrition
Calories:
72
kcal
|
Carbohydrates:
19
g
|
Protein:
1
g
|
Fat:
1
g
|
Saturated Fat:
1
g
|
Sodium:
2
mg
|
Potassium:
86
mg
|
Fiber:
1
g
|
Sugar:
17
g
|
Vitamin A:
18
IU
|
Vitamin C:
4
mg
|
Calcium:
5
mg
|
Iron:
1
mg
Stay Connected!
Join my mailing list - and receive a free eBook!