These pineapple cupcakes are topped with a milk chocolate ganache and a homemade pineapple candy!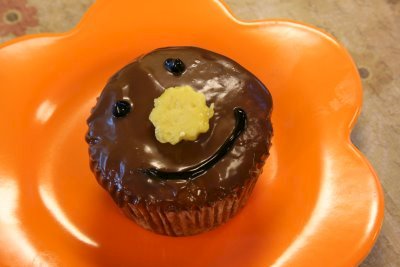 The best pineapple I've ever had was in Thailand. My husband and I drove down a stretch of road where there were pineapple stands every few feet. For those who live in Thailand or have been to Thailand, I can't tell you where exactly this took place. I am directionally challenged in my own country. No hope in another country.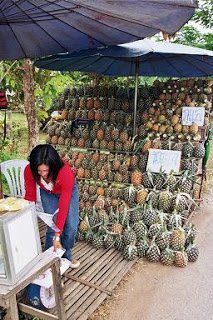 As we drove through what I shall refer to as the pineapple district, we asked our guide how he chooses which pineapple stand to stop at. "The one with the prettiest girl working there, of course." Guess I should have known. Economics 101: Sex sells.
The pineapple in my pineapple cupcakes was not the best pineapple. In fact, it wasn't even organic! Instead of my typical trip to Whole Foods, I headed to our local supermarket chain, Dierbergs, to do my shopping this week. The reason for this unprecedented trip was that I had remembered seeing canned pineapple cut into fun shapes like stars. I thought I could candy some shaped pineapple and it would be a really cute cupcake topper. After browsing the store and talking to the manager, I learned that the shaped pineapple was only available seasonally (stars for July 4th, Christmas shapes in Dec.,etc.). Oh well. Turns out it wasn't such a great loss, I was able to make candy and shape it myself as you will read about later.
Since I was already there and Dierbergs did not carry organic pineapple, I ended up buying a can of conventional crushed pineapple to use in the cupcakes and candy. I will say though that Dierbergs is starting to carry more and more organic products. The problem is that there is an inconsistency in how they are shelved. Some are mixed in with the conventional products while some have their own sections. It seems to me that the organic products should always be presented with the conventional products so that consumers can see their options and make an informed choice. End soapbox.
Armed with my canned pineapple (Note how despite the fact that I was willing to go through the effort to make my own candy, I didn't want to mess with cutting a whole pineapple), I headed home to bake.
The Cake
I got the recipe for the cupcakes from Coconut & Lime:
For those regular readers among you, you may note that I made:
I would like to officially welcome pineapple cupcakes to the list of cupcakes that don't strongly taste like their title ingredient. The cupcakes had bits of pineapple in them which obviously tasted like pineapple. However, the cake which was loaded with pineapple juice, did not taste at all pineappley.
My second complaint about these cupcakes was that they were a bit too moist (greasy?). The bottoms of the cupcake wrappers were slimy. This has not happened to me before and I hope it does not happen again.
The Ganache
For the frosting, I opted for a milk chocolate ganache. The goal was to make the chocolate taste pineappley by adding some pineapple rum. True to the trend, there was no detectable pineapple taste (or rum taste for that matter) even when adding more pineapple rum than planned.
I got the recipe from Allrecipes. Here is the recipe with my modifications:
Milk Chocolate Ganache
Ganache is often thought of as dark, but this is a wonderful milk chocolate version.
Ingredients
Ganache Ingredients
9

oz

milk chocolate

chopped

1

C

heavy cream

2

T

pineapple rum
Instructions
Ganache Instructions
Place the chocolate into a medium bowl.

Heat the cream in a small sauce pan over medium heat.

Bring just to a boil, watching very carefully because if it boils for a few seconds, it will boil out of the pot.

When the cream has come to a boil, pour over the chopped chocolate, and whisk until smooth. Stir in the rum.

Allow the ganache to cool slightly before frosting.
Nutrition
Nutrition Facts
Milk Chocolate Ganache
Amount Per Serving
Calories 181
Calories from Fat 126
% Daily Value*
Fat 14g22%
Cholesterol 27mg9%
Sodium 10mg0%
Potassium 76mg2%
Carbohydrates 13g4%
Protein 1g2%
Vitamin A 290IU6%
Vitamin C 0.1mg0%
Calcium 18mg2%
Iron 0.6mg3%
* Percent Daily Values are based on a 2000 calorie diet.
Saving the Best for Last – The Pineapple Candy
While the cupcakes were a letdown, the candy topper was not! The pineapple candies were awesome! They were sweet but not overly sweet with a strong pineapple flavor and a melt in your mouth consistency. They were also easy to make aside from being messy and sticky.
If you choose to make these, I would recommend putting them on the cupcake the day you are going to serve them. I left them on the cupcakes for a couple of days and they got soggy. Good thing that I had extras not on the cupcakes to snack on. I got the recipe from about.com. I have reprinted it below.
Homemade Pineapple Candy
Still candy, but controlling your ingredients makes for a high-quality treat.
Ingredients
1

C

granulated white sugar

1/2

C

packed brown sugar

1/4

C

heavy cream

1

can

8 ounces crushed pineapple, undrained

1

T

butter

1

t

pure vanilla extract
Instructions
Place white sugar, brown sugar, heavy cream, and

pineapple

(with juice) in a heavy saucepan.

Stir and bring to a gentle boil.

Cook, without stirring, until the temperature reaches 242 F. on a candy thermometer.

Remove from heat. Stir in butter and

vanilla

.

Stir to combine, then beat until creamy, thick, and light in color.

Drop by the teaspoonful onto the a baking sheet lined with parchment paper.

Let cool to harden. If the mixture becomes too thick to drop onto the pan, add a teaspoon of very hot water, beating well after the addition.
Notes
Makes about 1/2 pound pineapple candies
Nutrition
Nutrition Facts
Homemade Pineapple Candy
Amount Per Serving
Calories 95
Calories from Fat 18
% Daily Value*
Fat 2g3%
Cholesterol 7mg2%
Sodium 9mg0%
Potassium 11mg0%
Carbohydrates 19g6%
Vitamin A 75IU2%
Calcium 8mg1%
Iron 0.1mg1%
* Percent Daily Values are based on a 2000 calorie diet.
The Smile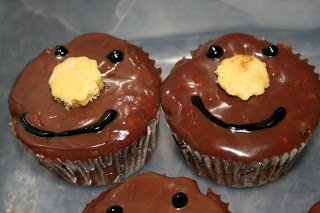 Taking my sex sells pineapple economics lesson into account, I probably should have given the cupcakes batty eyelashes and red puckered lips. However, since I didn't have to sell these cupcakes, I instead opted for a fashion lesson from one of my favorite musicals, "You're Never Fully Dressed without a Smile."