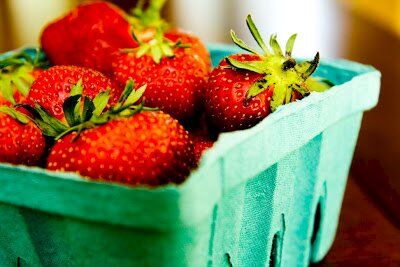 Strawberry cream cheese frosting is a perfect summer frosting. It's light and refreshing. I don't like my strawberries with too much added sugar so I use fresh strawberries rather than a strawberry syrup in the frosting. Groom 1.0 said that the strawberry cream cheese frosting tasted a bit like strawberry yogurt.
Why Strawberry Cream Cheese Frosting?
The strawberry cream cheese frosting was planned because I knew I was going to have lots of strawberries. I was going strawberry picking. Not only was I going strawberry picking, but I was going at 8 AM on a Saturday! I was told that this year has been a bad year for the strawberries and we had to get up early or they would be all sold out.
My friend over at
Life in Webster
arrived to pick me up and greeted me with the bad news. She had called on the way over and found out that at 7:30 AM, the strawberry farm already had too many strawberry pickers and they would take no more. I had no idea strawberries were in such hot demand!
Luckily for us, there were fresh strawberries to be had at the farmer's market. I could still make my strawberry cream cheese frosting.
The Strawberry Cream Cheese Frosting Recipe
If you've tried this recipe, please RATE THE RECIPE and leave a comment below!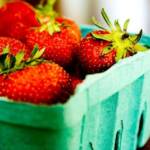 Strawberry Cream Cheese Frosting Recipe
Ingredients
1/4 C butter room temperature
1 8 oz package cream cheese room temperature
1/2 C strawberries mashed up in a food processor
3 to 4 C powdered sugar
Instructions
Cream butter and cream cheese.

Mix in the strawberries.

Add the powdered sugar to the taste and consistency you prefer.
Recipe Notes
Update 6/29/11: Be sure to read through the comments before making this recipe. You'll see that some people LOVE it and others found it to be way too "soupy". To help make the frosting less liquidy, drain off the excess liquid after mashing your strawberries and chill the frosting a bit before trying to pipe it.