These strawberry cupcakes are moist, flavorful, and loaded with fresh strawberries! Frost them with your favorite strawberry frosting buttercream, cream cheese frosting, or whipped cream.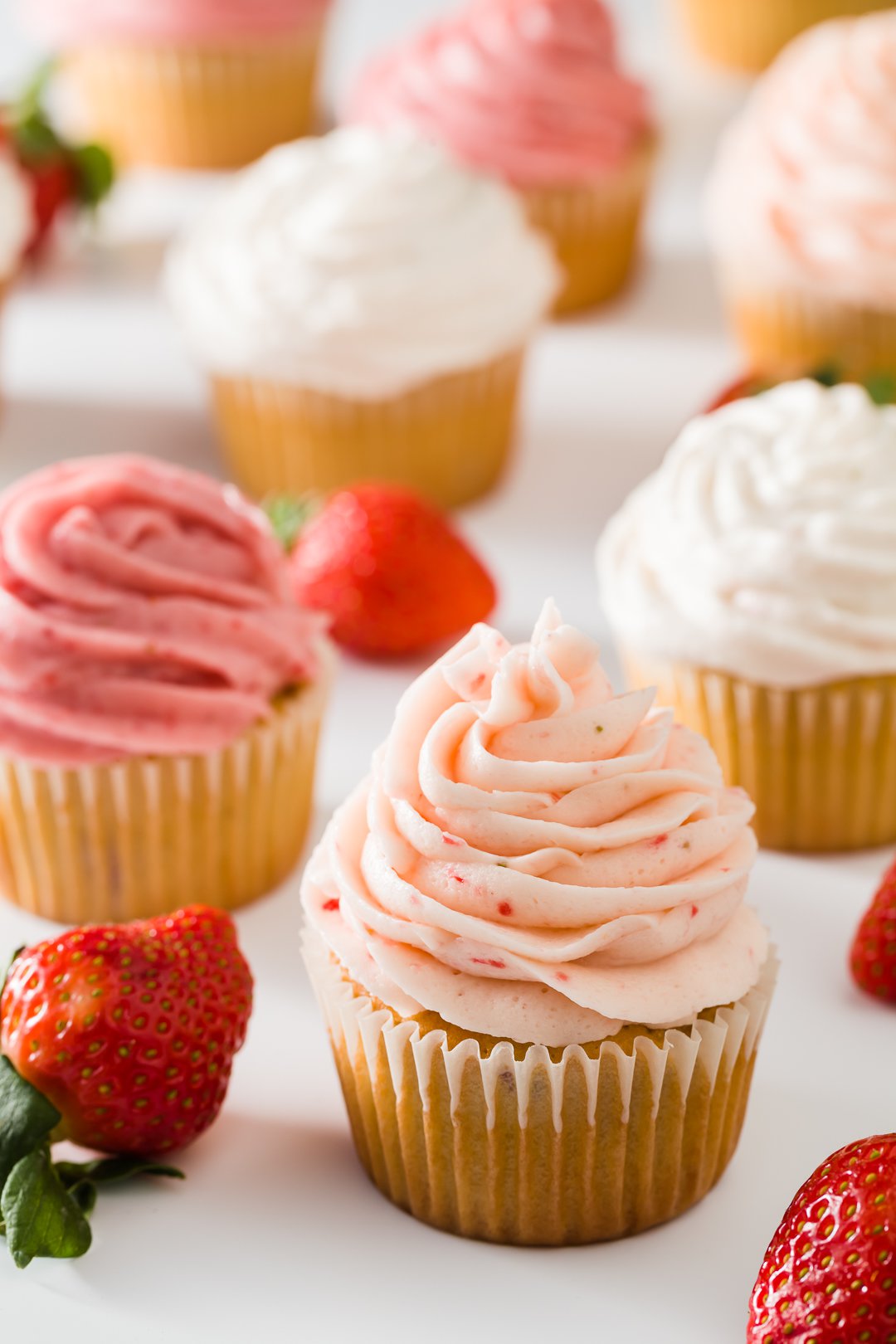 I use fresh berries in all of my strawberry desserts – like my strawberry banana bread and strawberry pavlova and any of my berry cupcakes (see my raspberry cupcakes for another example). I wouldn't have it any other way!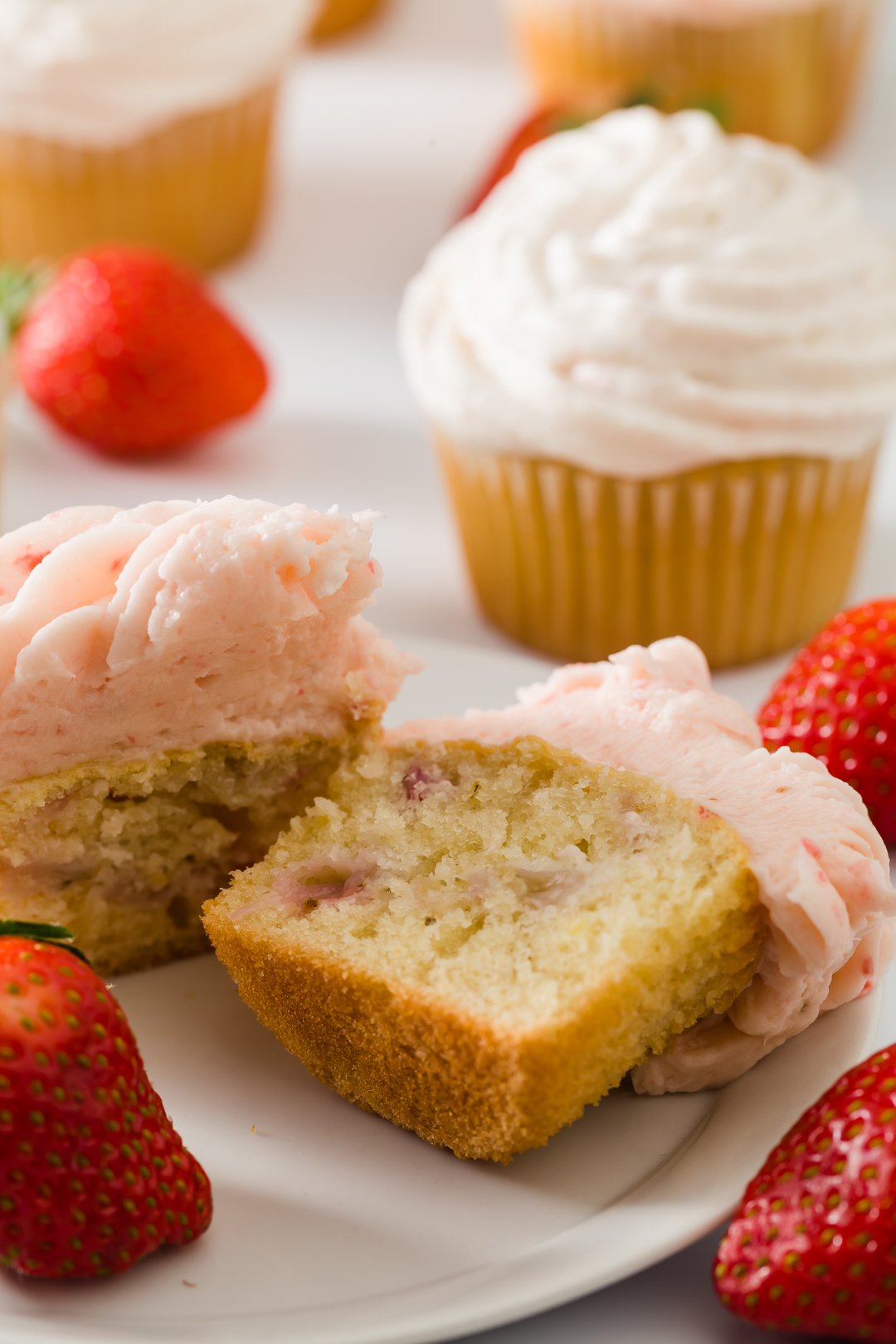 This recipe is made from scratch and does not use a cake mix. I'm a big proponent of from-scratch baking. To make these, I adapted my vanilla cupcake recipe (which has been extensively tested and is a favorite for thousands of readers).
Tip: If you prefer using cake mixes, try mixing fresh strawberries into any yellow cake mix batter and top the cupcakes with strawberry frosting to create your own version of these cupcakes.
Baking Tips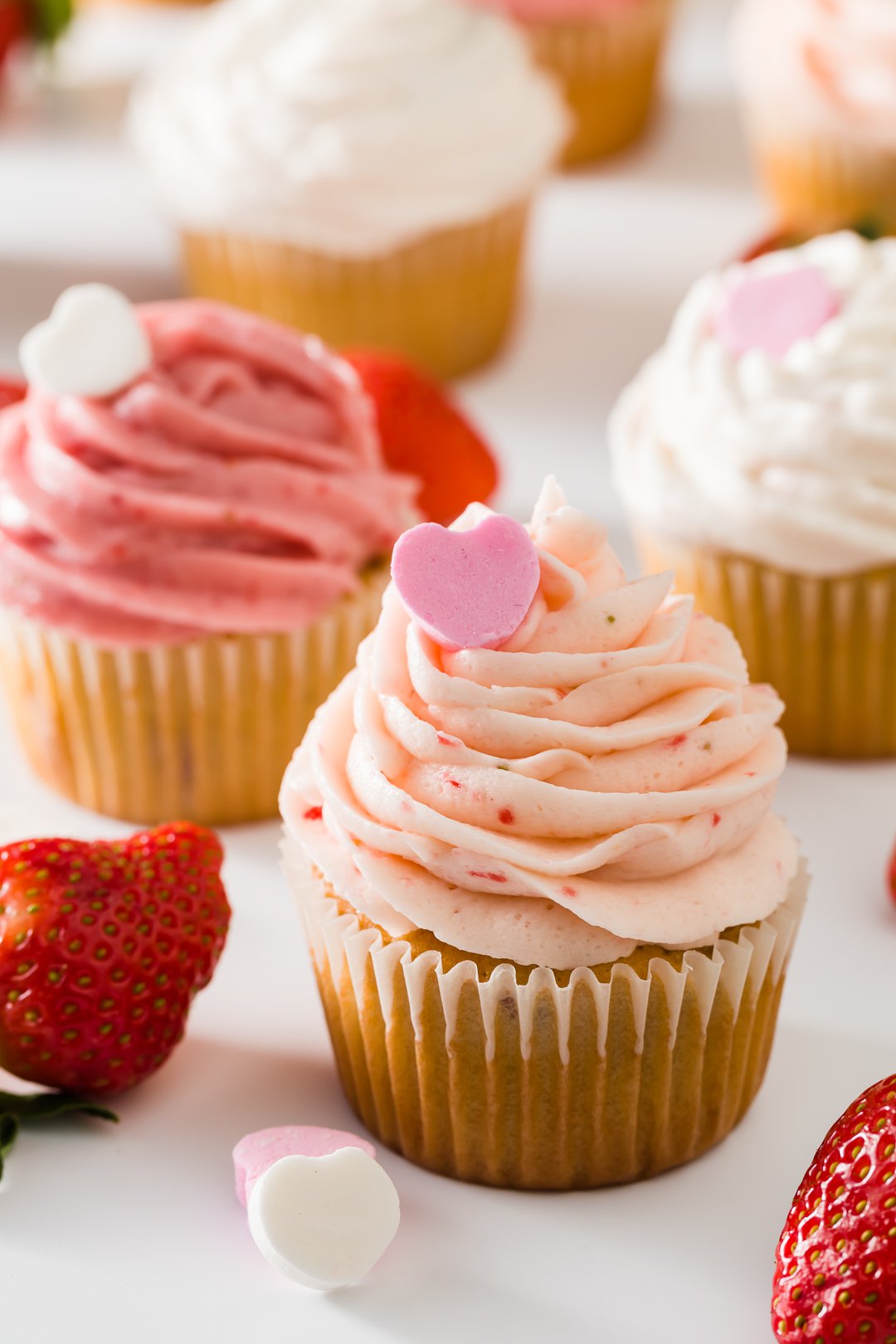 If you've never made cupcakes before, start by reading my post on how to make cupcakes.
Using fresh strawberries is the secret to perfect strawberry cupcakes. Finely chop the strawberries and add them directly to the batter. The better the berries taste, the better the cupcakes will taste.
Stir in the chopped strawberries by hand. Stirring them in by hand ensures that the mixer doesn't break up the strawberries. Doing this also helps keep you from accidentally overmixing the batter.
Tip: Frozen strawberries have much more moisture than fresh strawberries. I don't recommend substituting frozen strawberries in this recipe.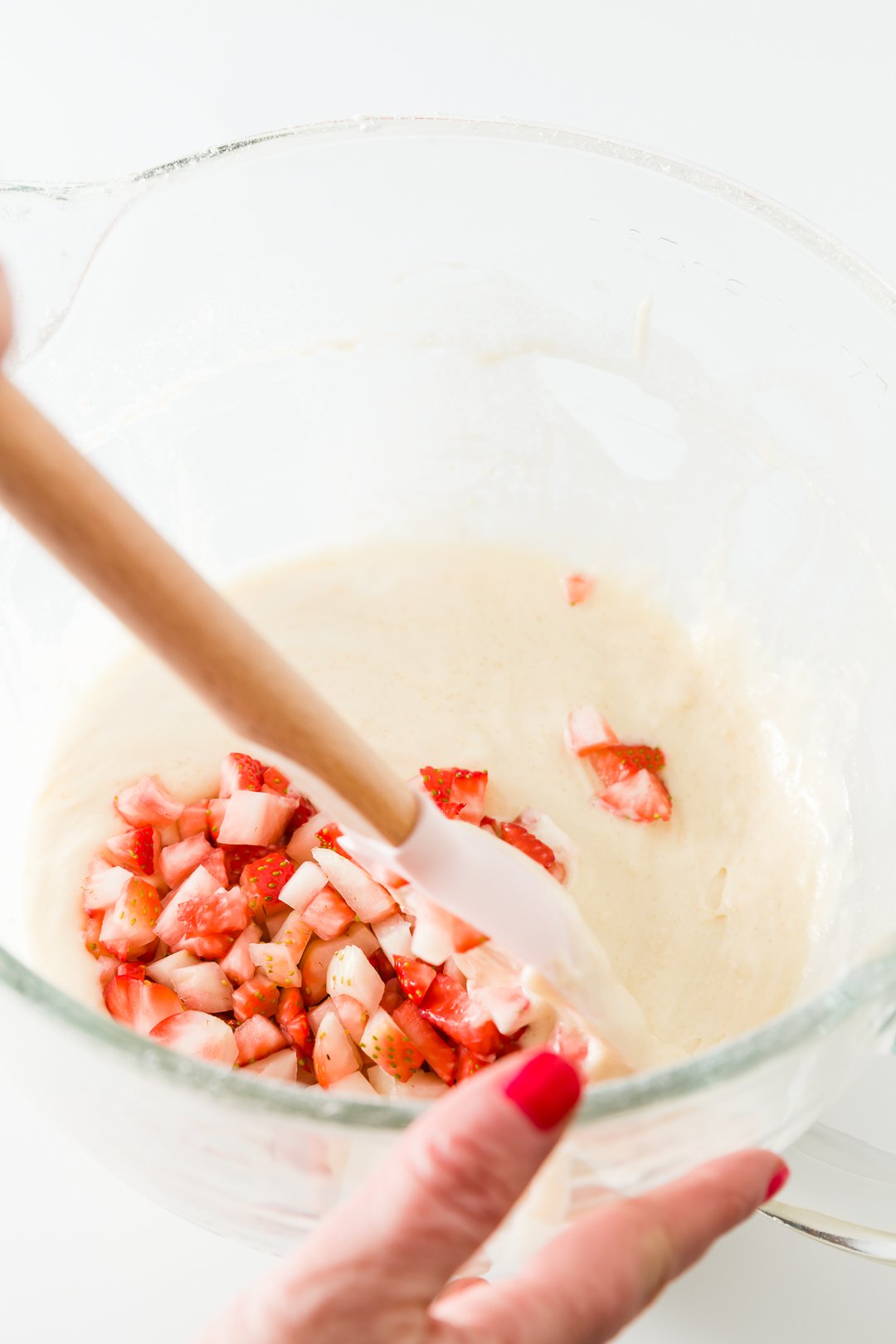 These cupcakes rise quite a bit during the bake. If you overfill the liners, they won't bake up as nicely. If you aren't sure about how high to fill the cupcakes, try baking a single cupcake first to see how it rises. Then, adjust the other cupcakes accordingly.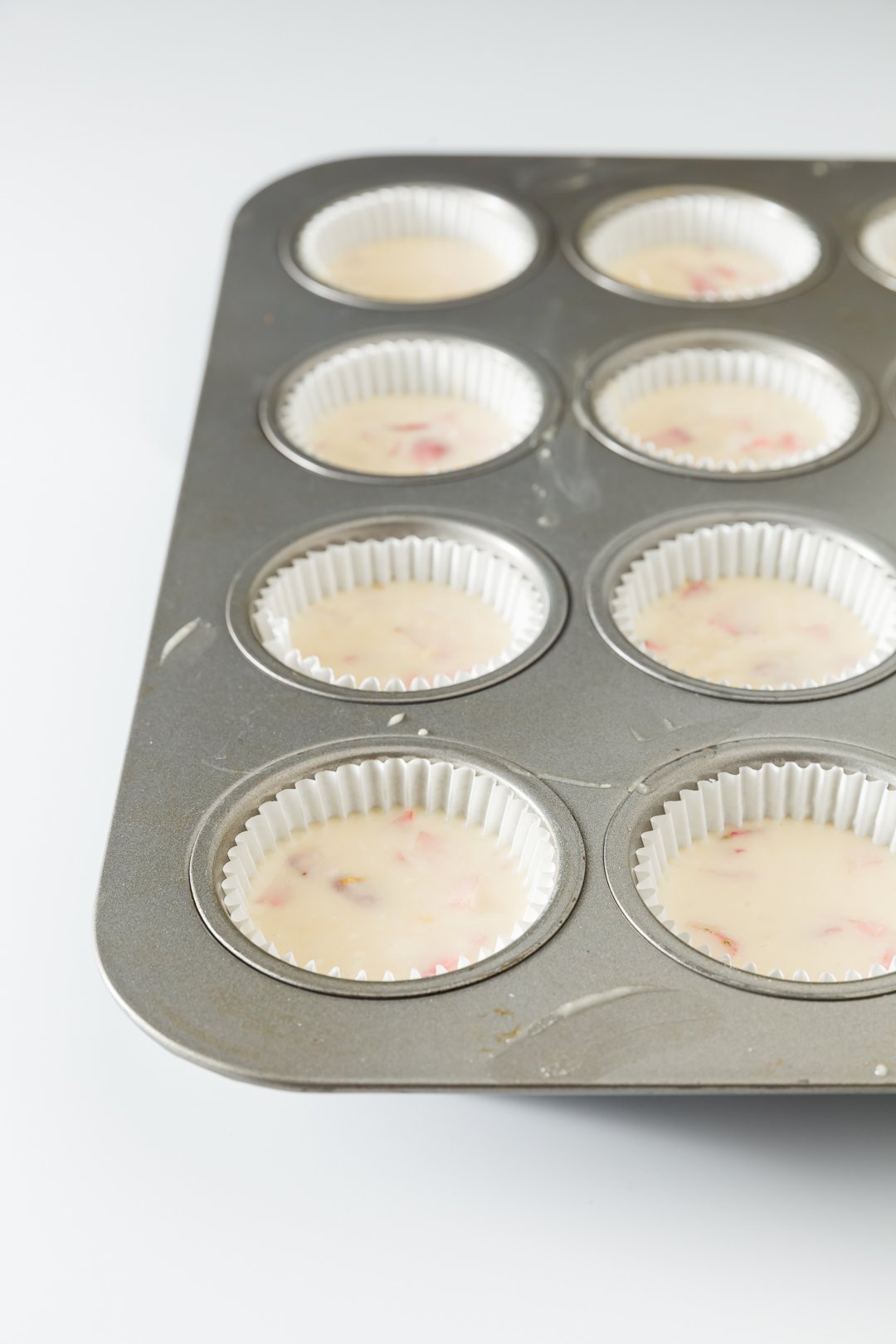 You'll know the cupcakes are done when a toothpick comes out clean.
Take the hot cupcakes out of the cupcake tin immediately and set them on the counter or a cooling rack to cool to room temperature before frosting.
Frosting
I always suggest strawberry frosting for strawberry cupcakes. But, which strawberry frosting you pick depends on your preference. In the recipe below, I use strawberry buttercream. It's is the most popular choice as it is an extremely versatile frosting that doesn't need to be refrigerated.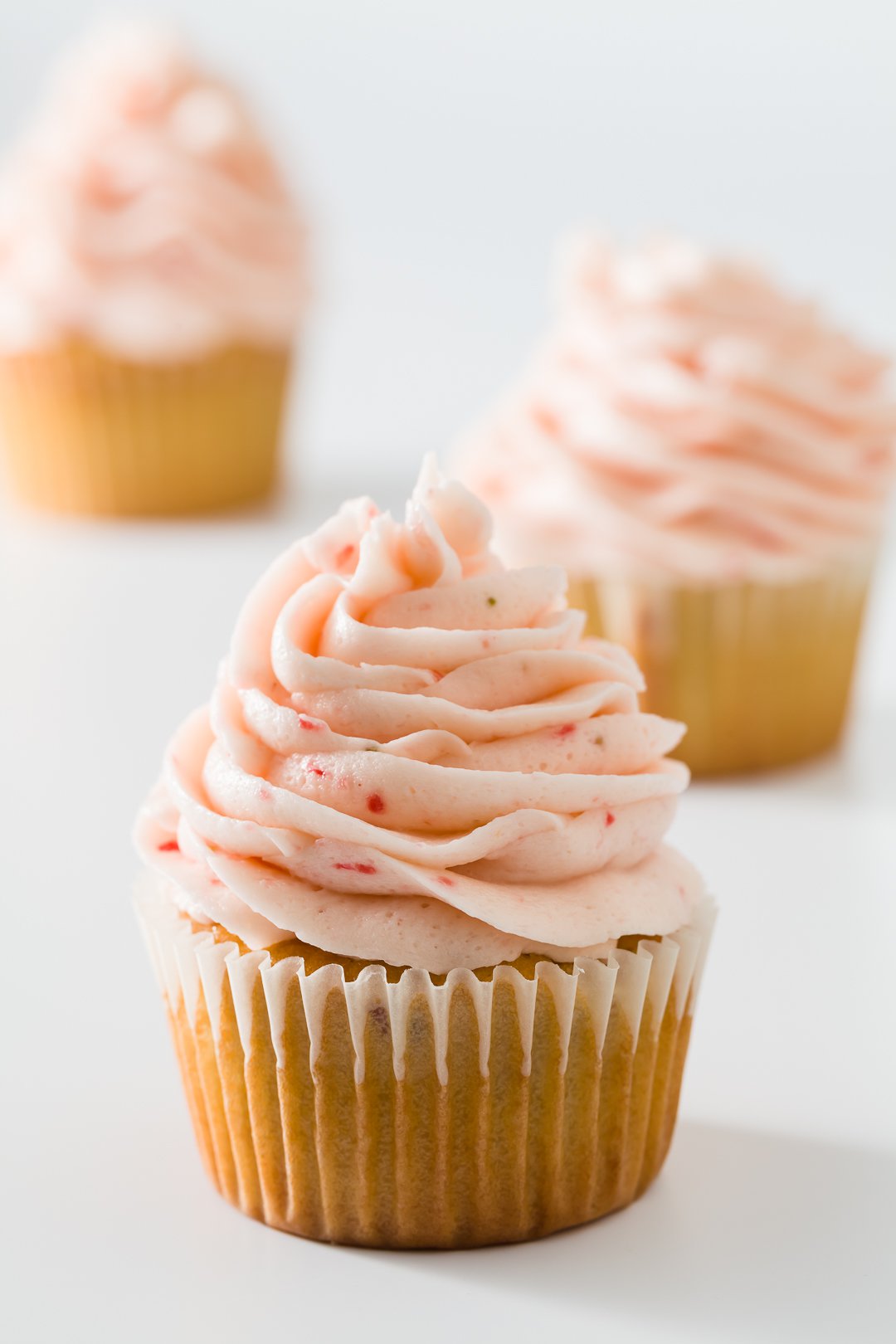 If you are a cream cheese frosting lover, try frosting with my strawberry cream cheese frosting. This frosting uses freeze dried strawberry powder to create an intense strawberry flavor.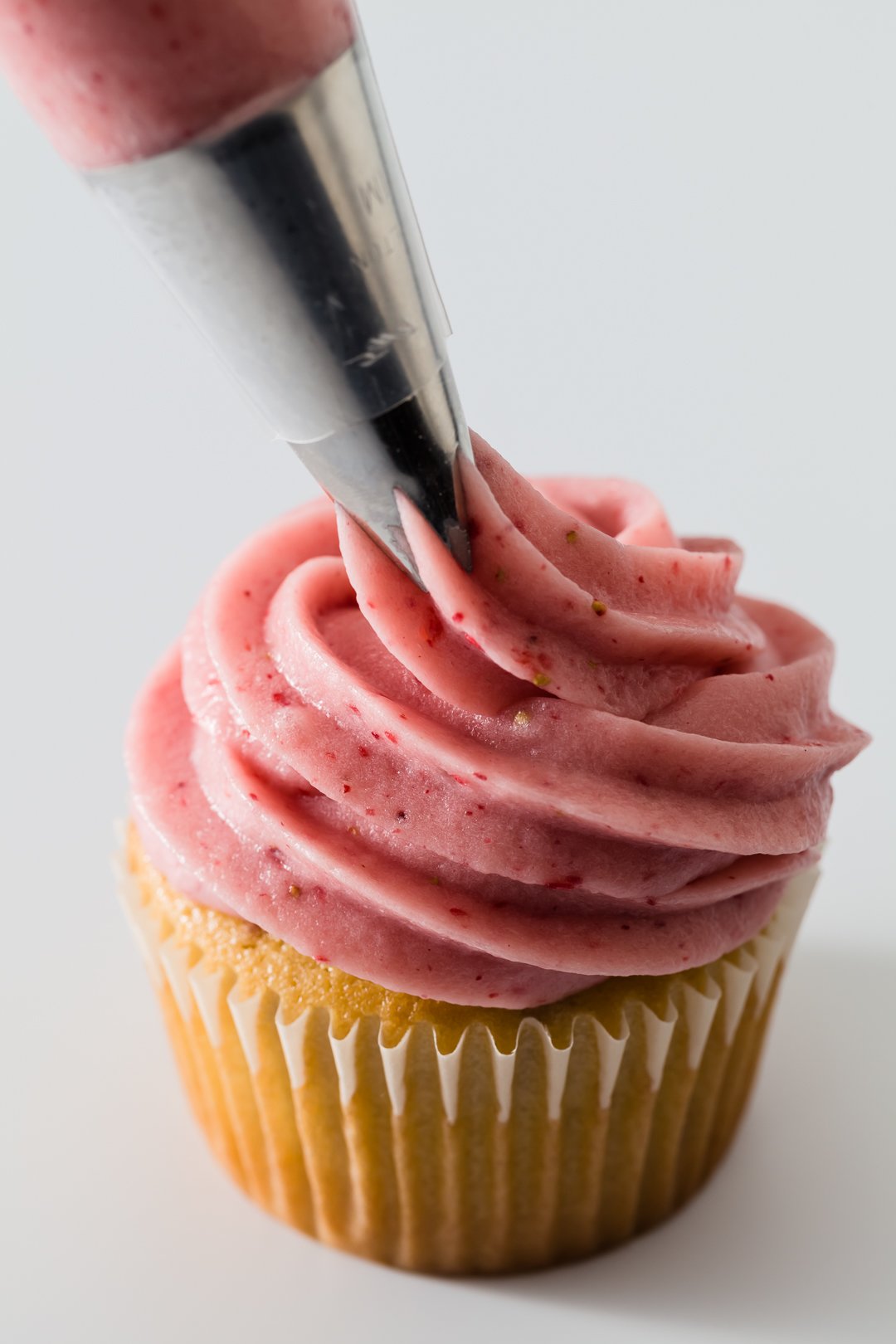 Finally, you can't go wrong with strawberry whipped cream. It is light and luscious, made with fresh strawberries, and turns your cupcakes into strawberry shortcake cupcakes (especially when you use some as a cupcake filling as well!).
Top with fresh or macerated strawberries for even more berry goodness!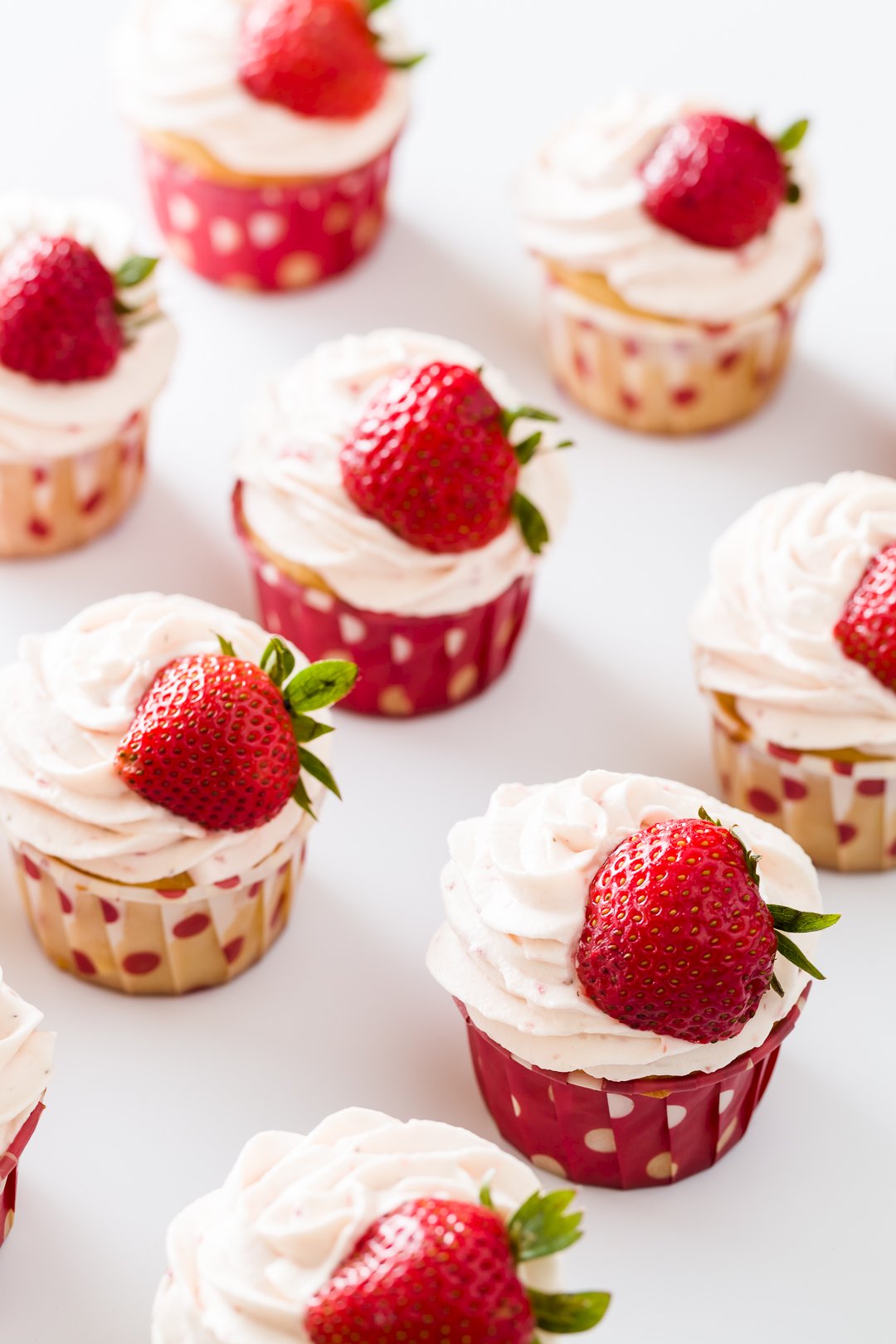 Strawberry Cupcakes with Strawberry Frosting
These strawberry cupcakes are moist, flavorful, and loaded with fresh strawberries! Frost them with strawberry frosting for strawberry perfection!
Ingredients
Cupcake Ingredients
2

large eggs

1/3

cup

full-fat sour cream

1

teaspoon

vanilla extract

1 3/4

cups

cake flour

not self-rising

1 1/2

teaspoons

baking powder

1/2

teaspoon

baking soda

1/2

teaspoon

salt

1

cup

granulated sugar

1/2

teaspoon

lemon zest

zest from 1 small lemon

1/2

cup

unsalted butter

room temperature

1/2

cup

whole milk

1

cup

finely chopped strawberries

about 5 large strawberries washed and with the tops cut off
Strawberry Frosting Ingredients
1

cup

unsalted butter

room temperature

1/4

cup

strawberry puree

about 5 large strawberries food processed until they are a thick seedy liquid

1/2

teaspoon

salt

2

cups

powdered sugar
Instructions
Cupcake Instructions
In a small bowl, whisk together eggs, sour cream, and vanilla until smooth.

In the bowl of a stand mixer, mix flour, baking powder, baking soda, salt, sugar, lemon zest, and butter on high speed until fully combined.

Mix wet ingredients into dry ingredients a little bit at a time until just combined.

Mix in milk until just combined.

Use a spatula to fold in chopped strawberries.

Fill cupcake liners halfway full.

Bake for 25 minutes or until a toothpick inserted into the center of a cupcake comes out clean.

Remove cupcakes from cupcake tin immediately and set on the counter to cool.
Strawberry Frosting Instructions
Beat butter for three minutes (or until light and fluffy) in the bowl of a stand mixer fitted with the paddle attachment.

Mix in strawberry puree and salt.

Mix in powdered sugar a little bit at a time.

Spread or pipe on cooled cupcakes.
Notes
For the cupcakes:
You can use all-purpose flour in this recipe instead of cake flour. The results won't be dramatically different. The cake will just be a little more dense.
Yogurt can be substituted 1:1 for the sour cream. 
Be careful not to overmix to keep your cupcakes from getting gummy.
Only fill your cupcake liners halfway. To be completely certain that you are filling the right amount, bake a single test cupcake before baking the rest of the batch.
Make sure the cupcakes are completely cool before frosting so that the frosting doesn't melt.
For the frosting:
Be sure to beat the butter for at least three minutes so it is light and fluffy.
Use less ripe strawberries. Riper strawberries tend to be more moist and could end up making the frosting too wet.
Add the powdered sugar a little bit at a time and always start on low speed to keep it from making a mess in your kitchen.
If your strawberries were frozen, be sure to defrost them and drain off any excess liquid before using them.
Nutrition
Nutrition Facts
Strawberry Cupcakes with Strawberry Frosting
Amount Per Serving
Calories 357
Calories from Fat 180
% Daily Value*
Fat 20g31%
Cholesterol 74mg25%
Sodium 211mg9%
Potassium 105mg3%
Carbohydrates 41g14%
Protein 3g6%
Vitamin A 645IU13%
Vitamin C 8mg10%
Calcium 45mg5%
Iron 0.3mg2%
* Percent Daily Values are based on a 2000 calorie diet.