Easy Strawberry Banana Bread
Published , Last updated by
Stef
Disclosure: As an Amazon Associate, I earn from qualifying purchases.
Strawberry Banana Bread is a fun twist on banana bread; it's moist and flavorful and looks so pretty! Strawberries add color to an otherwise brown bread – and they brighten up the flavor, too.
I love that this is a one bowl recipe. Aside from mashing the bananas and slicing the fresh strawberries, the whole recipe is just dumping things into a bowl and mixing. You've got this!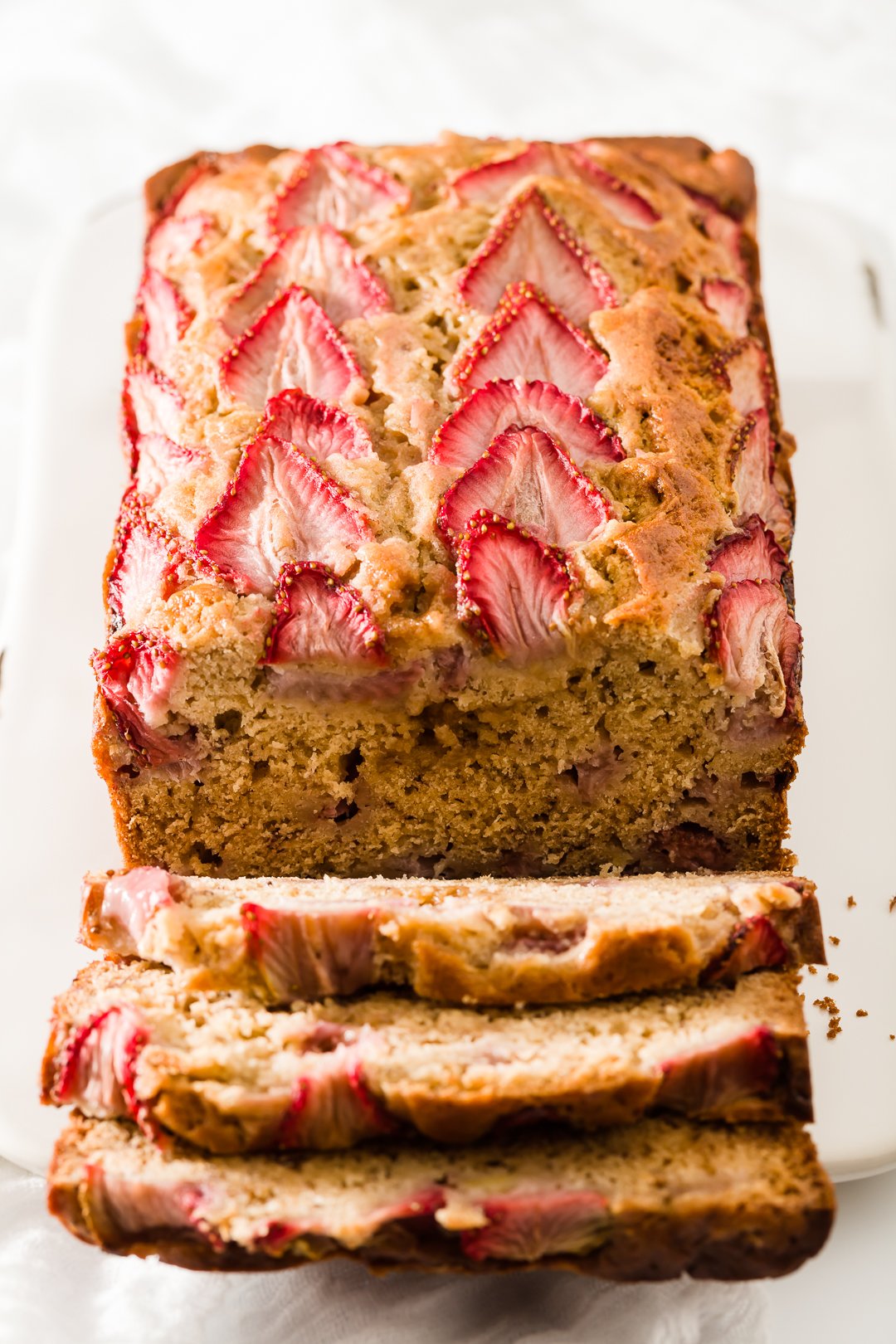 Choosing Ingredients
As with any banana cupcakes, muffins, or cookies, the bananas are the most important part of the recipe. The more ripe they are, the sweeter the bread will be. Wait for banana skins to be almost black for the best results!
If you don't have overripe bananas, peel and microwave your ripe bananas in a microwave-safe bowl for about one minute to bring out their sweetness prior to mashing them.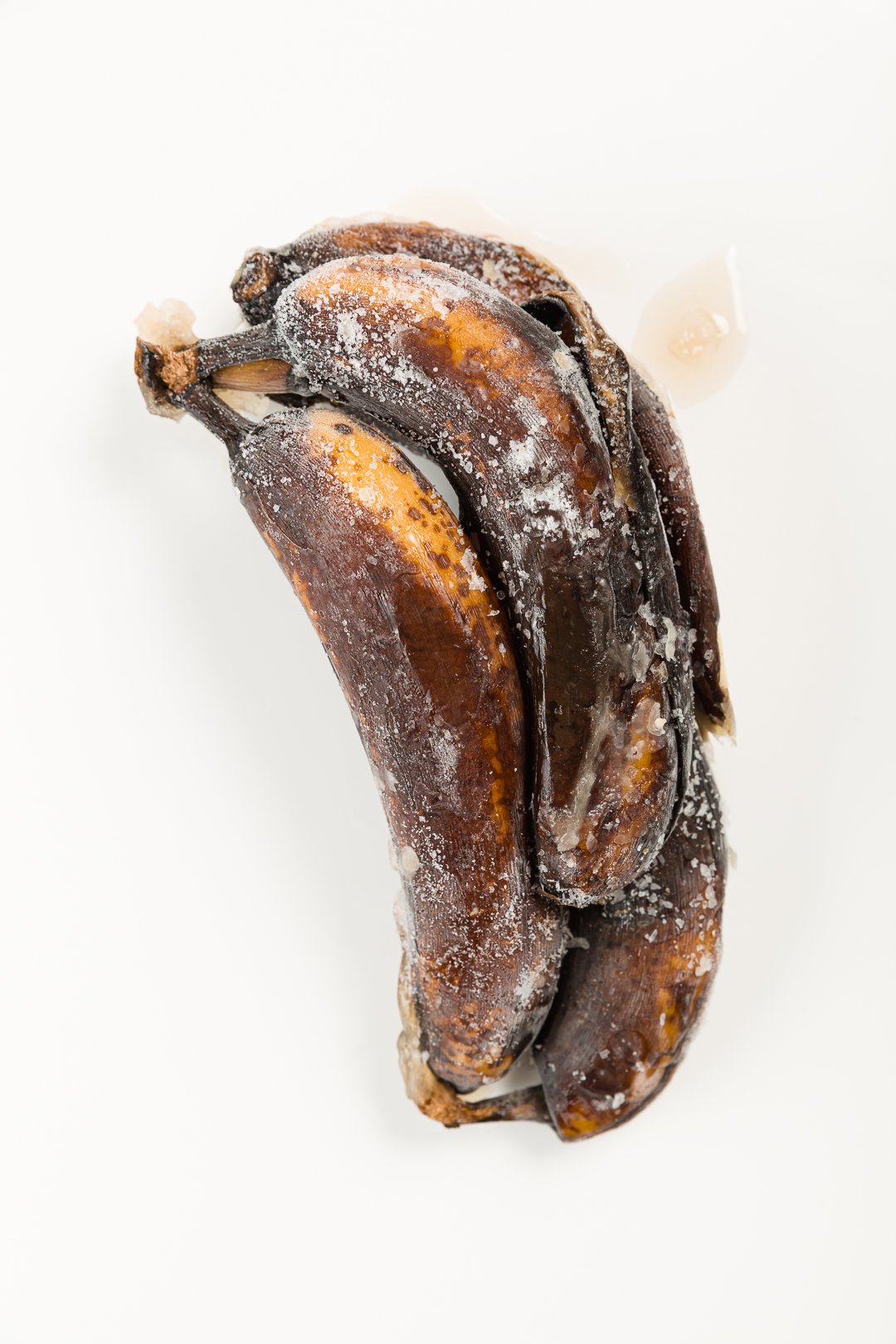 They should mash super easily, but there will still be some lumps and that's totally OK.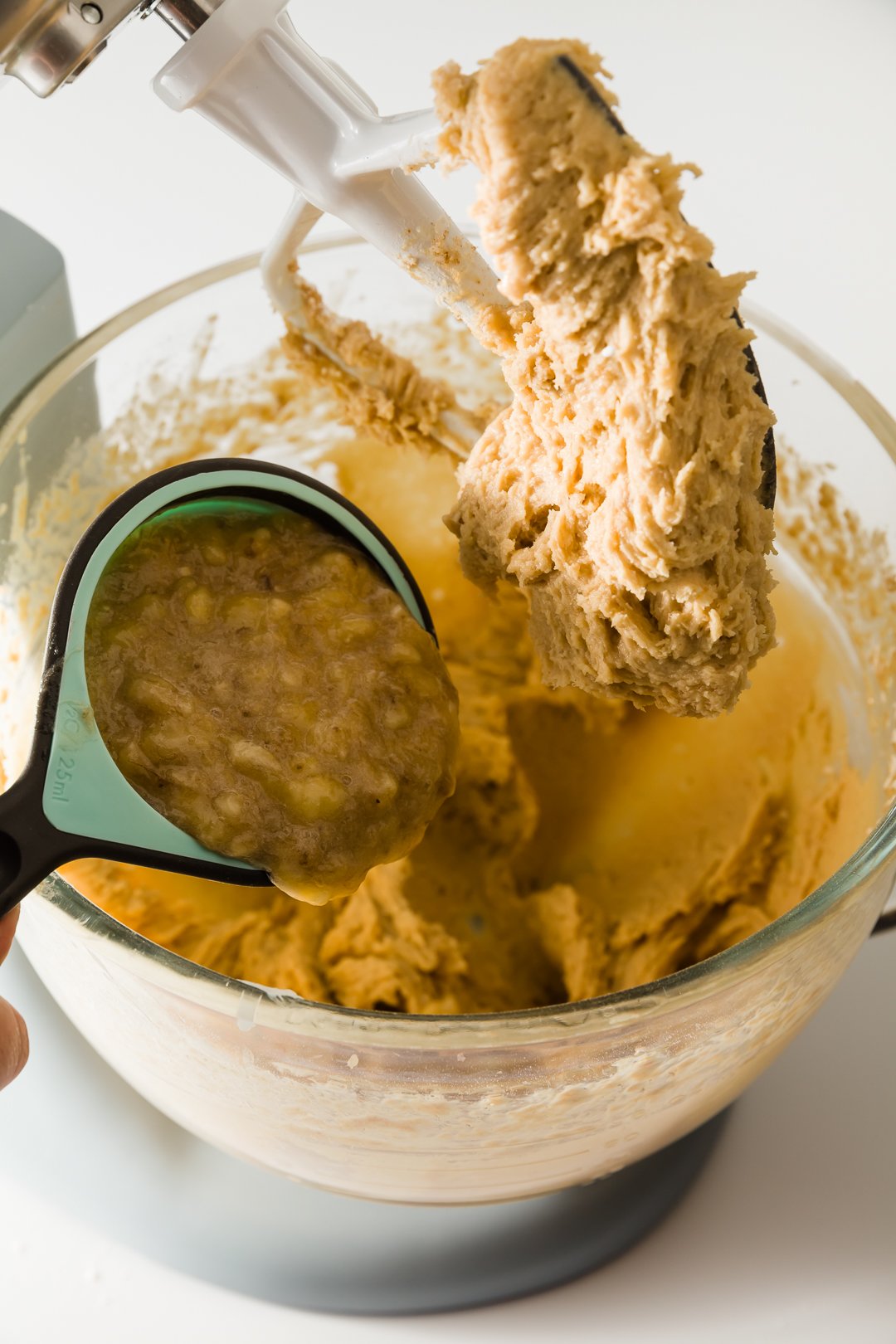 When selecting strawberries for inside of the bread and the topping, always choose fresh, ripe strawberries. Frozen strawberries have much more moisture than fresh strawberries. Don't substitute frozen strawberries as they will be too wet.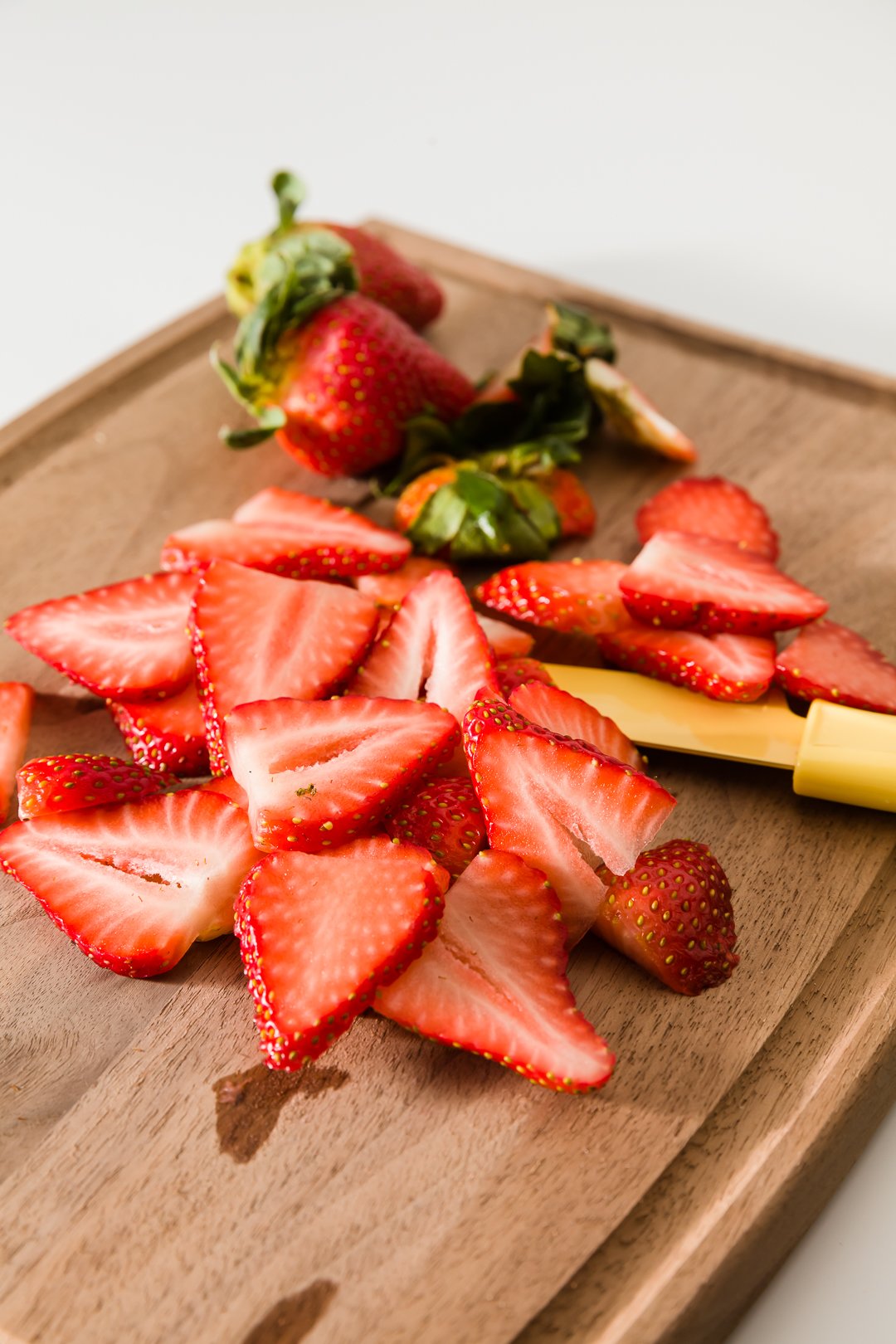 Baking Tips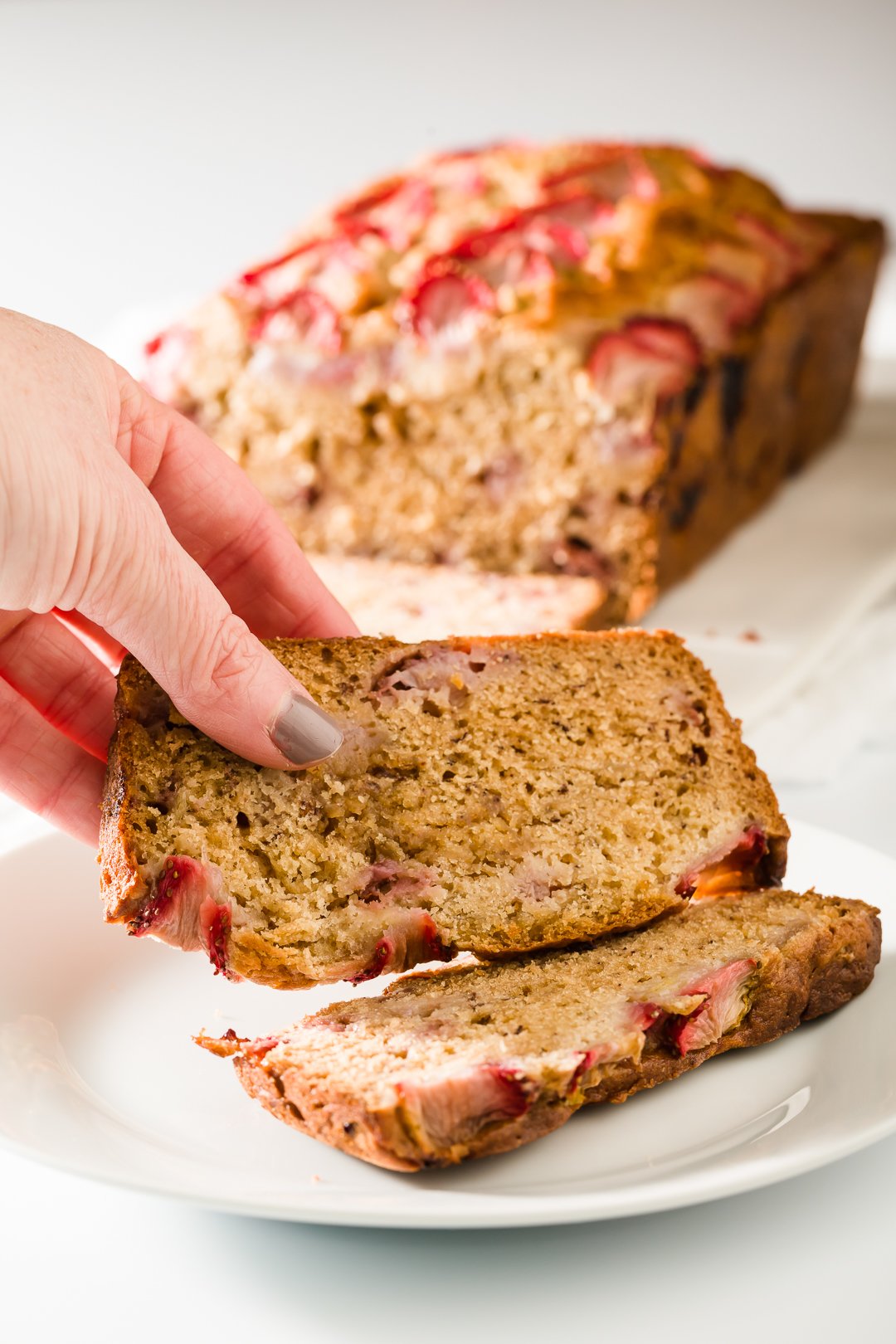 I bake this bread in a 9.25 x 5.25 loaf pan [paid link]. If your loaf pan has different dimensions, be sure to keep a close watch on the bake time. A smaller pan that is filled higher may take longer to bake.
Tip: After adding the batter to the pan, bang the loaf down on your counter a few times to even out the batter.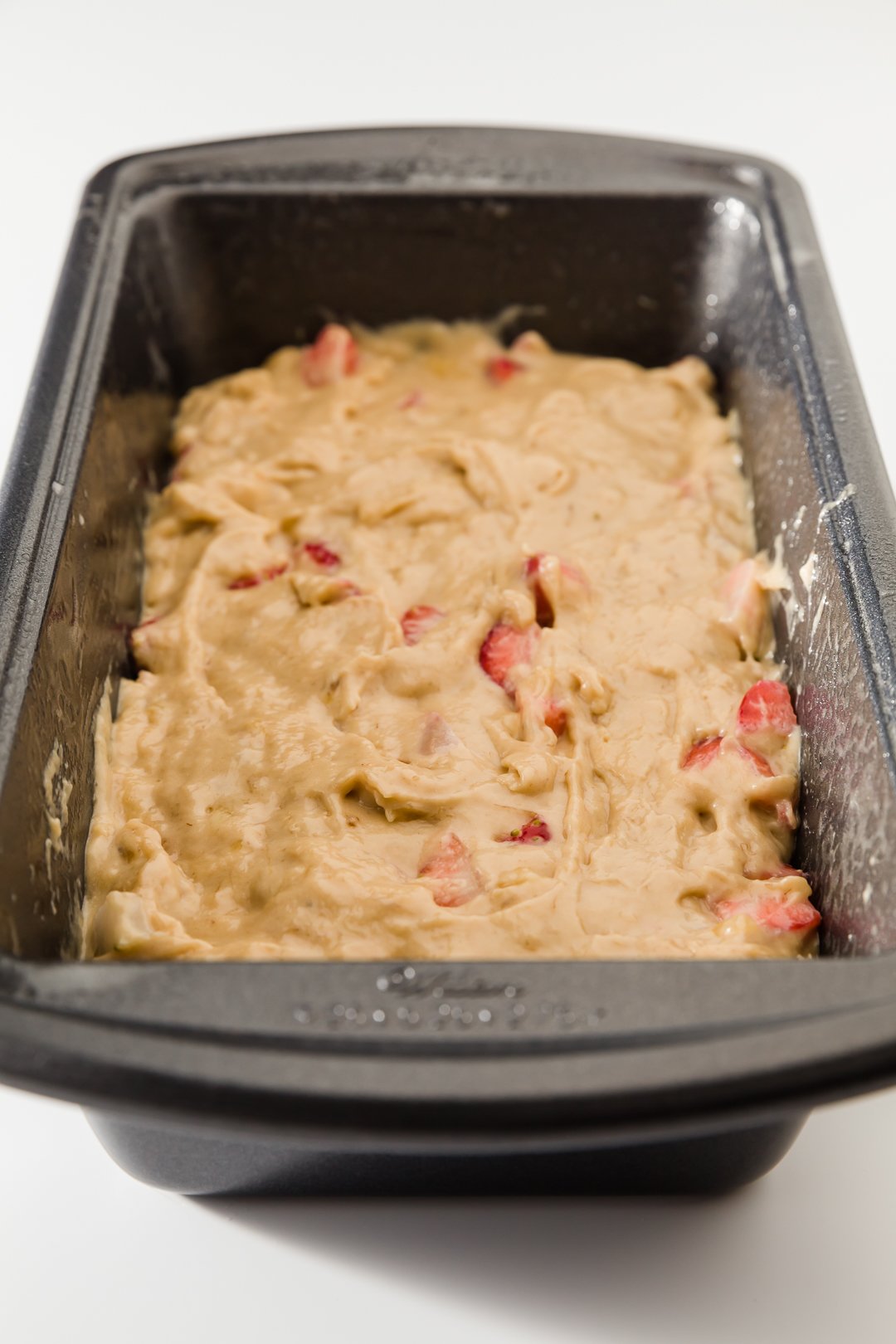 Arrange sliced strawberries on the top of the loaf. You can place them in any pattern you like. I do them as shown below.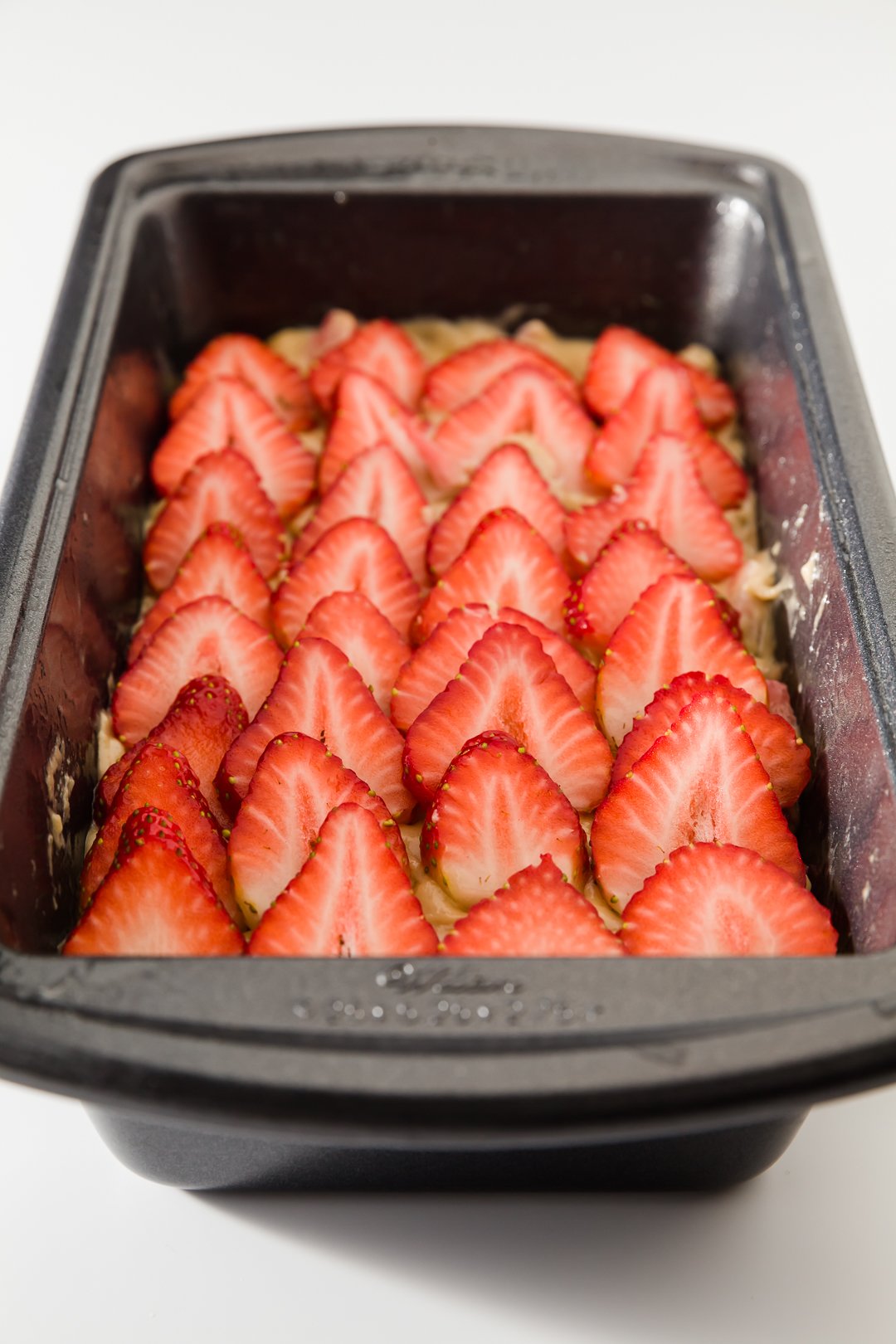 Because strawberry banana bread is so moist, it doesn't last as long as some other desserts. Keep it on the counter for up to three days or in the refrigerator for a week. If you seal the strawberry banana bread in a freezer-safe airtight container or wrap tightly in plastic wrap and foil, you can keep it in the freezer for months! Slice it before you freeze if you want to be able to grab some for breakfast – simply toast and eat!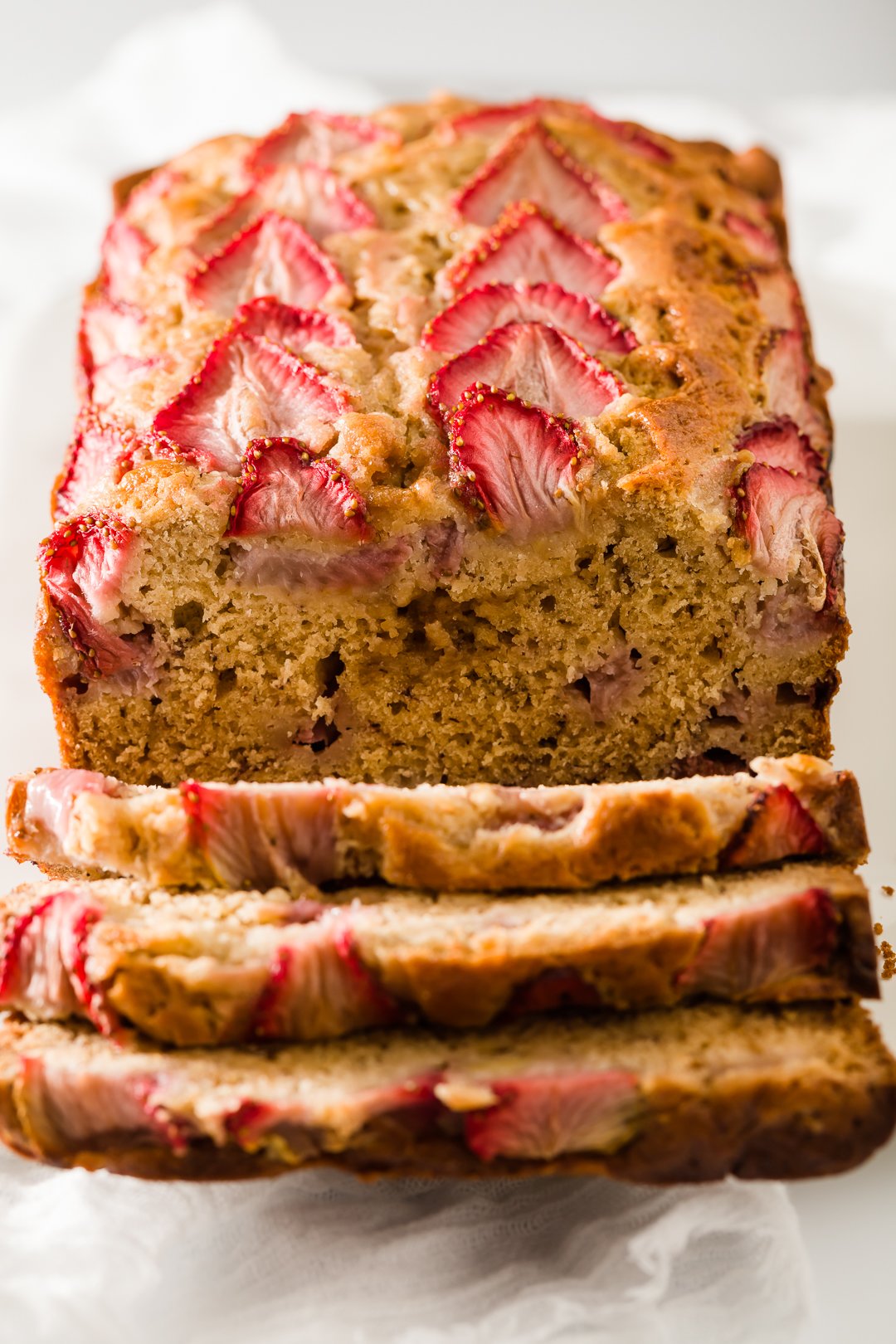 Variations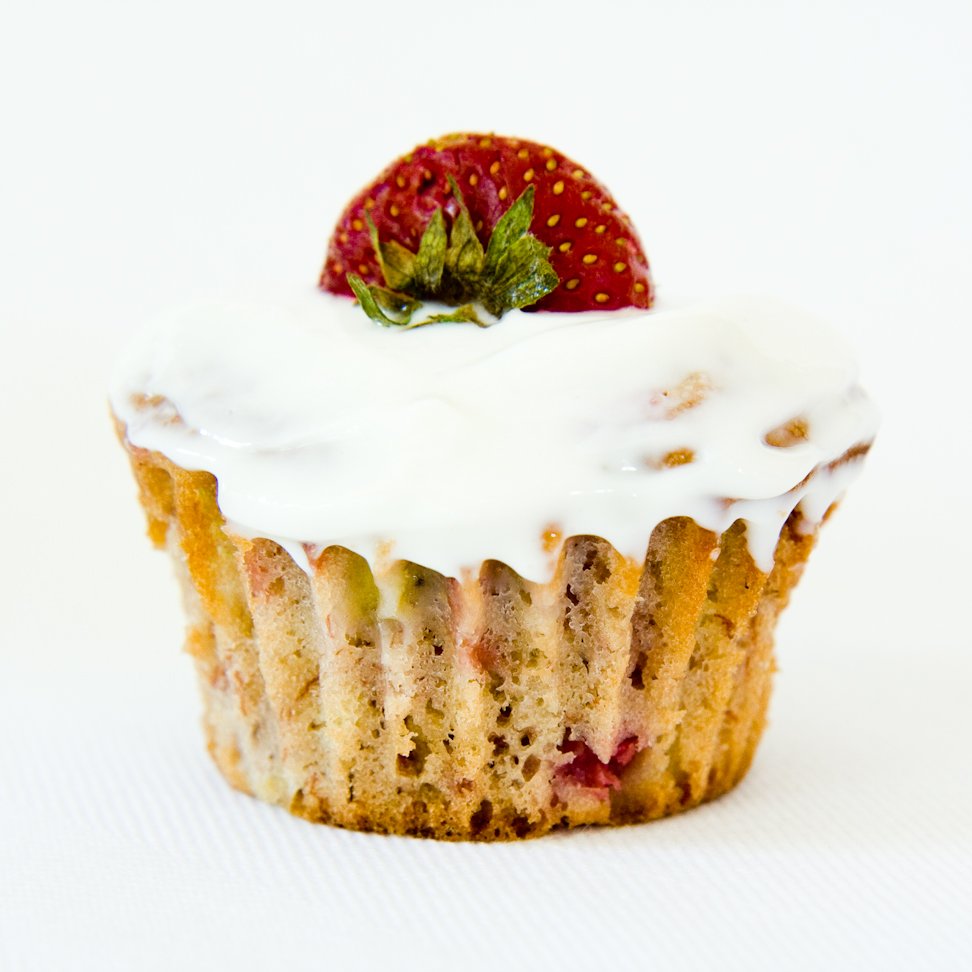 This banana and strawberry bread can easily be made as strawberry banana muffins. Just bake them in muffin tins and adjust the bake time to 20 minutes. I topped the muffins above with Greek yogurt frosting.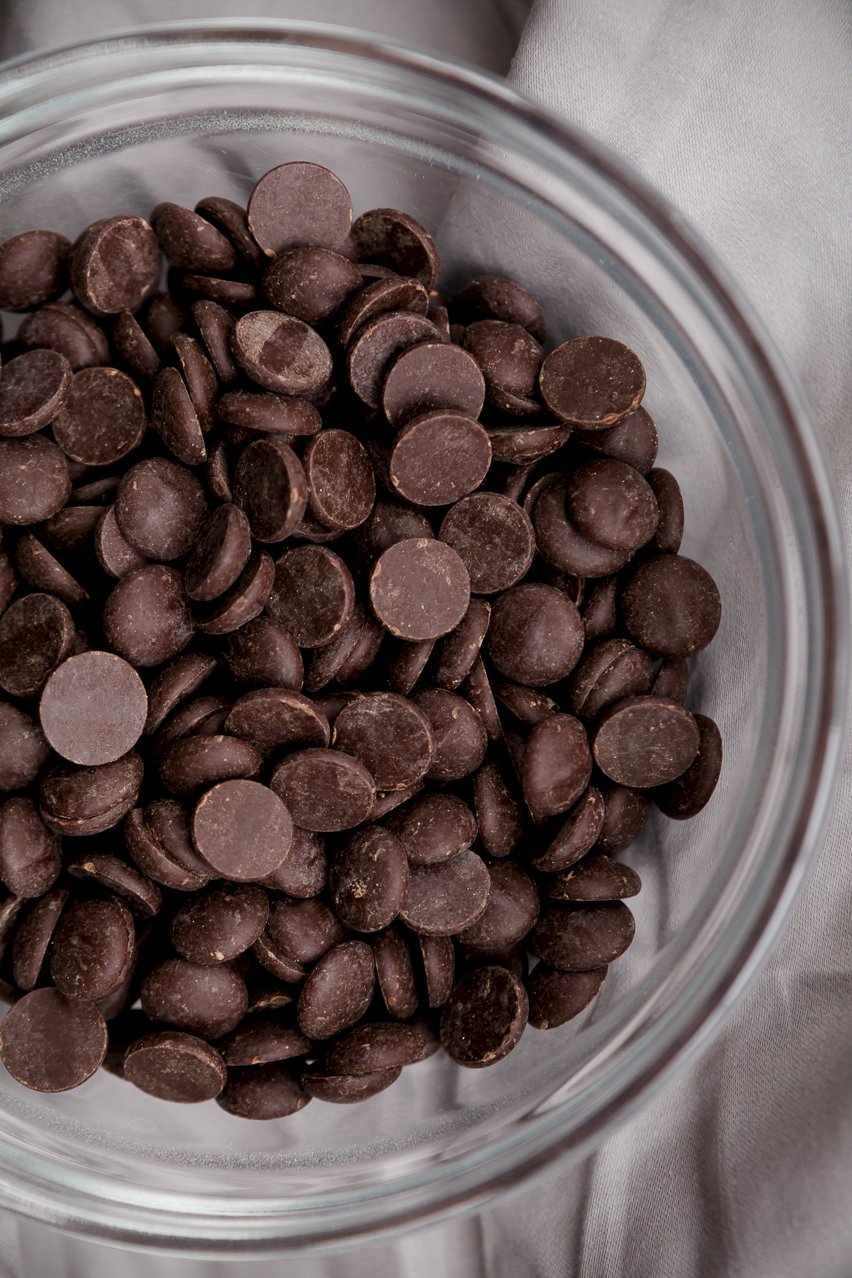 Another variation that I love is to add chocolate chips and/or nuts to the recipe! Play around and see what you like.
Blueberry banana bread is another fantastic variation. You can even combine the blueberries with strawberries to make a patriotic and summery banana bread.
Lastly, if you slap some strawberry cream cheese frosting on your banana bread, you could definitely call it a cake.
FAQs
Why is my banana bread not moist?
This is likely due to a mistake in the ratio between flour and banana. Too much flour can cause your bread to be too dry.
What happens if I put too much banana in banana bread?
On the other hand, if you add too much banana to your bread, you'll end up with a loaf that's too moist and may not stay together well.
Should I use baking soda or baking powder in banana bread?
Baking soda tends to be the preferable option, as it will naturally balance out the acidity of some of the other ingredients such as the bananas and sour cream.
Related Recipes
Strawberry Banana Bread
Strawberry banana bread is a fun variation on banana bread! It's moist and flavorful and looks so pretty!
Ingredients
1/2

cup

unsalted butter

room temperature

1/2

cup

white sugar

1/2

cup

light brown sugar

2

large eggs

1/2

cup

full-fat sour cream

1

teaspoon

vanilla extract

2

cups

all-purpose flour

1

teaspoon

baking soda

1

cup

mashed ripe bananas

about 2 bananas

1

cup

finely chopped strawberries

about 7 strawberries

6

strawberries

Slice vertically into about 6 slices per strawberry. The bread looks best if you snack on the really small slices and only use the larger ones.
Instructions
In the bowl of an electric mixer, cream butter and white and brown sugars until light and fluffy, about three minutes.

Mix in eggs, sour cream, and vanilla until fully combined.

Mix in flour and baking soda a little bit at a time until just combined.

Fold in chopped strawberries with a spatula until evenly distributed in the batter.

Transfer batter to a greased 9.25 x 5.25 inch loaf pan.

Use the sliced strawberries to decorate the top of the loaf, placing them flat on top of the cake in rows of four going down the entire loaf.

Place the loaf pan on the center rack of your oven. After 60 minutes, check to see if the top of the cake looks like it is getting to be a dark brown. If so, to prevent burning, cover the banana bread loosely with foil. Continue to bake for another ten minutes and test for doneness. If it's done, a skewer inserted into the center of the loaf will come out clean. If the skewer has crumbs on it, continue to bake, checking every five minutes for doneness.

Let the strawberry banana bread sit in the loaf pan on top of a cooling rack for ten minutes, then turn out onto the cooling rack.

Once cool, slice and serve.
Notes
Use very ripe bananas. The riper the banana, the sweeter the end result will be.
Be careful not to overmix the batter. Overmixed cakes can become gummy.
The end pieces of the bread will always be a little more dry than the center pieces. Keep that in mind when serving the bread to guests.
You can replace the sour cream with yogurt or Greek yogurt and not notice any difference at all.
If your pan is a different size than mine, watch the bake time closely as a smaller pan filled higher may take longer to bake.
Nutrition
Calories:
257
kcal
|
Carbohydrates:
37
g
|
Protein:
3
g
|
Fat:
10
g
|
Saturated Fat:
6
g
|
Cholesterol:
52
mg
|
Sodium:
113
mg
|
Potassium:
130
mg
|
Fiber:
1
g
|
Sugar:
20
g
|
Vitamin A:
345
IU
|
Vitamin C:
11.8
mg
|
Calcium:
31
mg
|
Iron:
1.3
mg
Stay Connected!
Join my mailing list - and receive a free eBook!