Lemon Buttercream Frosting
Disclosure: As an Amazon Associate, I earn from qualifying purchases.
Lemon buttercream frosting is so refreshing for summer! It's smooth and pipes really easily. I love it on lemon cupcakes, cakes, or even sandwiched between two cookies.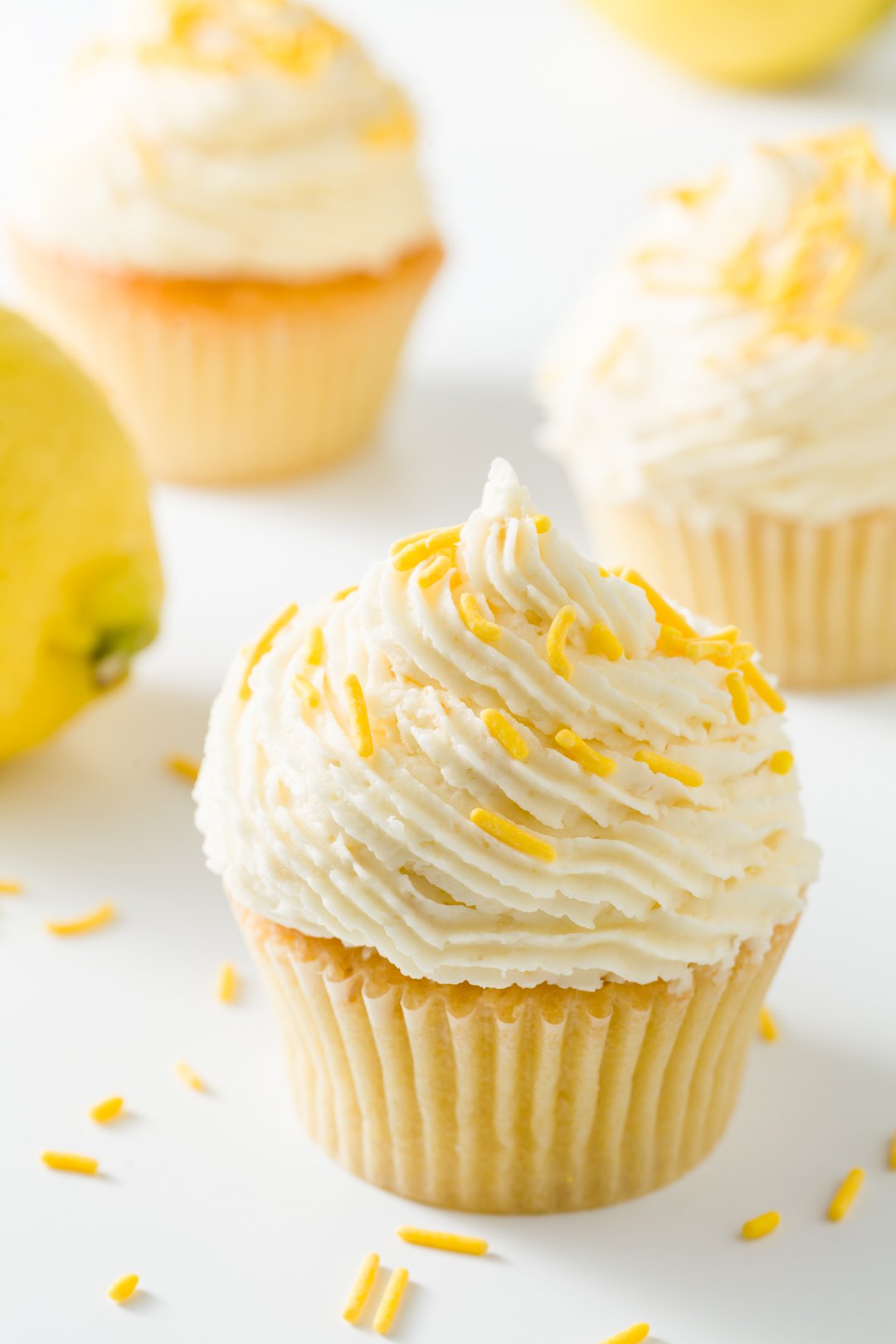 The secret to perfect lemon frosting is fresh lemons! While I enjoy lemon cream cheese frosting, lemon buttercream frosting is the best lemon frosting when you want a frosting for more intricate cake or cupcake decorations. The recipe is based on my perfected vanilla frosting and it holds its shape really well.
What are the Ingredients in Lemon Buttercream?
This frosting is considered an American buttercream frosting (See my post on cupcake frosting for a run down of all of the different types of frostings).
Tip: If you've heard that making buttercream frosting is hard, you are probably thinking of Swiss, Italian, or French buttercreams. All of those buttercreams involve eggs and much more vigorous mixing. They aren't as sweet as American buttercream and they are a little more fluffy.
My lemon buttercream contains just a few ingredients.
Butter
Buttercream frosting starts with butter. Always use unsalted butter. You can add salt later in the amount perfect for your palate.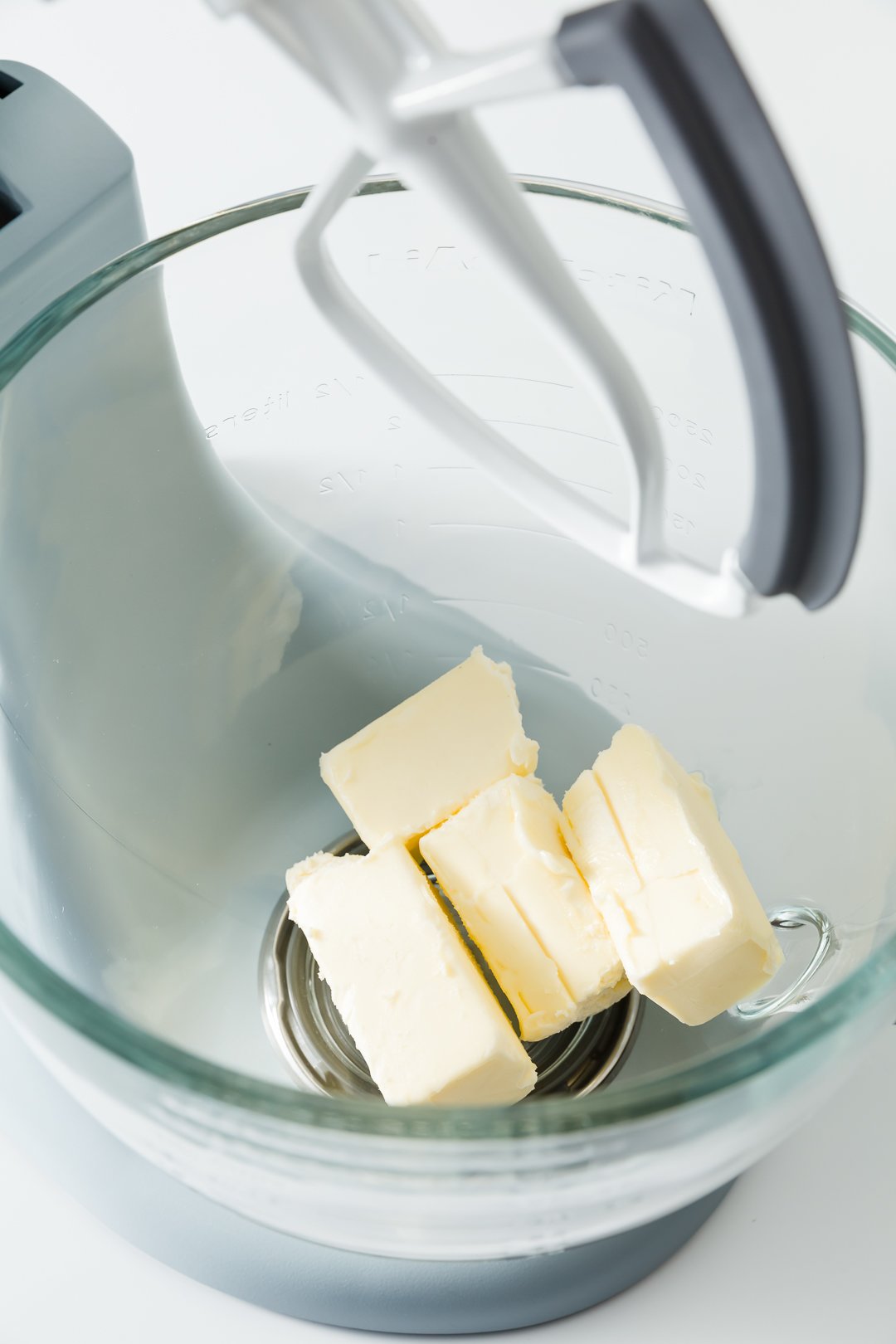 The butter must be at room temperature. You should be able to lightly press into it with your finger and leave an indentation. It's too soft if the butter smooshes completely down when you press it.
Tip: You can bring butter to room temperature by microwaving it. Microwave the butter for five seconds at a time until it reaches room temperature.
Powdered Sugar
Powdered sugar is necessary to make buttercream frosting stiff enough to pipe. It also is what makes the frosting sweet.
Use the powdered sugar quantity that I give in the recipe as a guideline. You can add more to make the frosting stiffer or less if you want it to be looser.
If your powdered sugar has hard clumps in it (which can happen over time from moisture), be sure to sift it before adding it to the recipe.
Tip: Powdered sugar and confectioners' sugar are the same thing. There is no difference.
Lemon Zest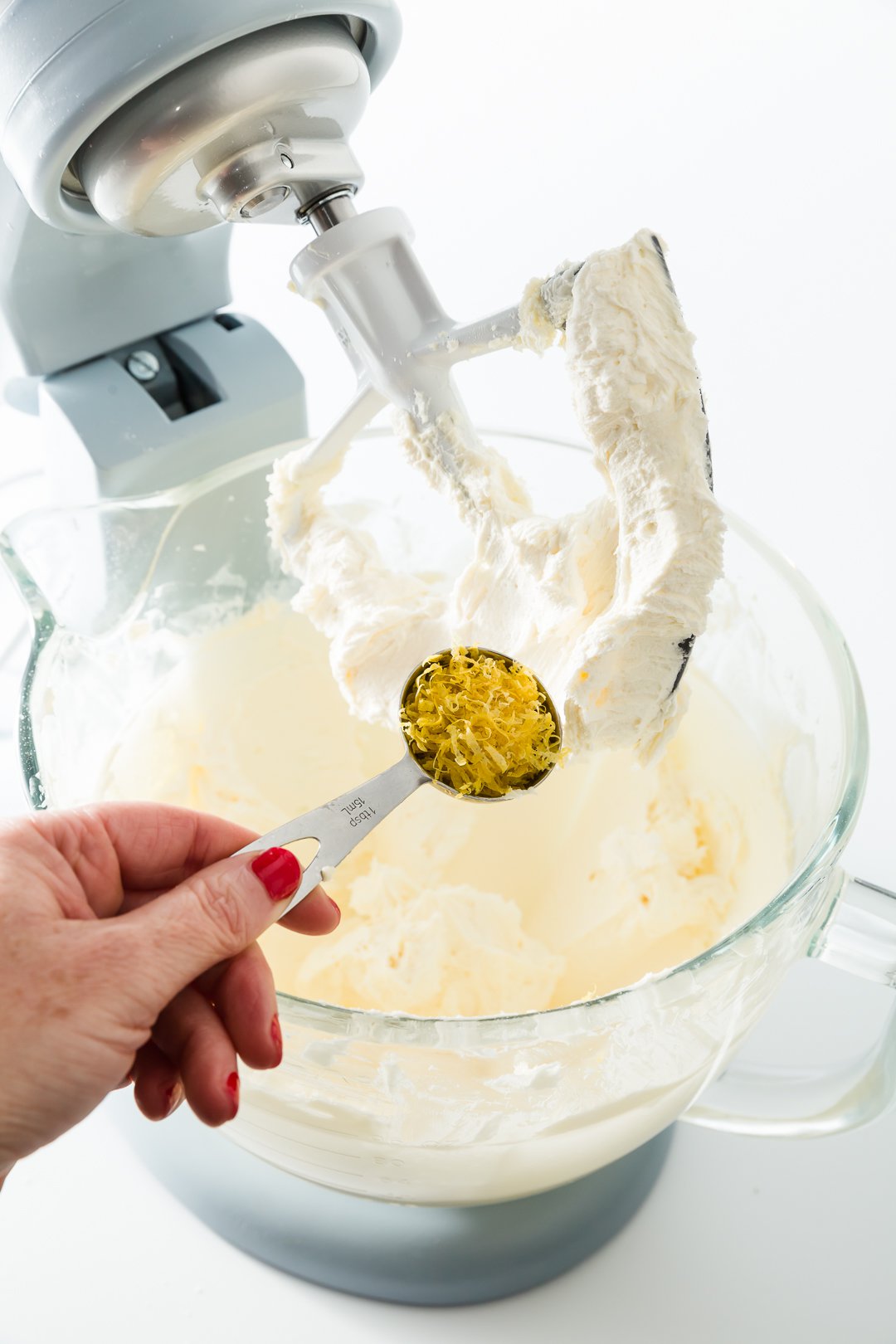 The fresh lemon flavor in this frosting comes from lemon zest. The zest is the yellow part of the lemon peel. If you hit the white pith, you've gone too far.
Salt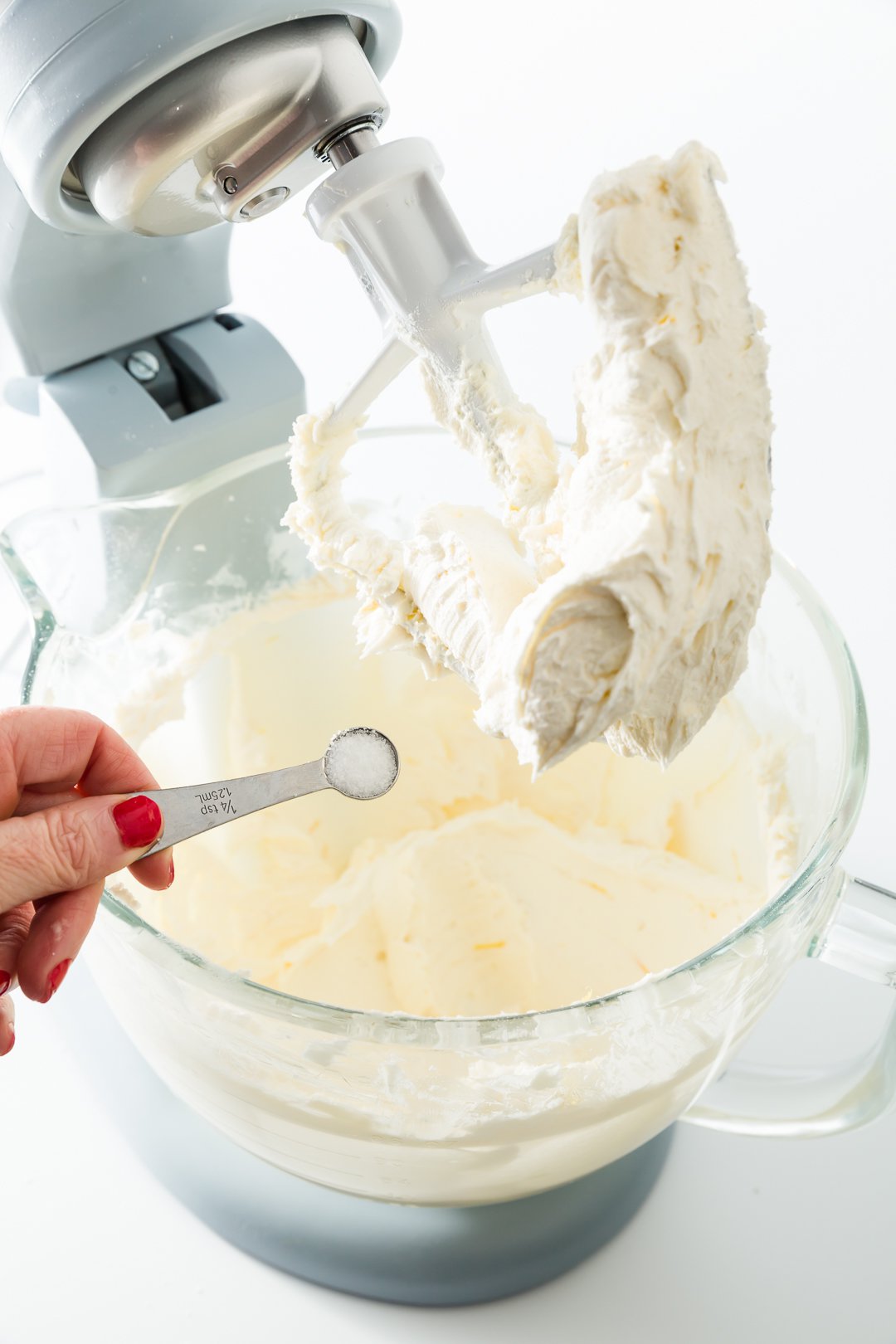 Adding salt to frosting helps to bring out the other flavors. I always add salt to buttercream frosting.
How to Make Lemon Buttercream Frosting
Aerate the Butter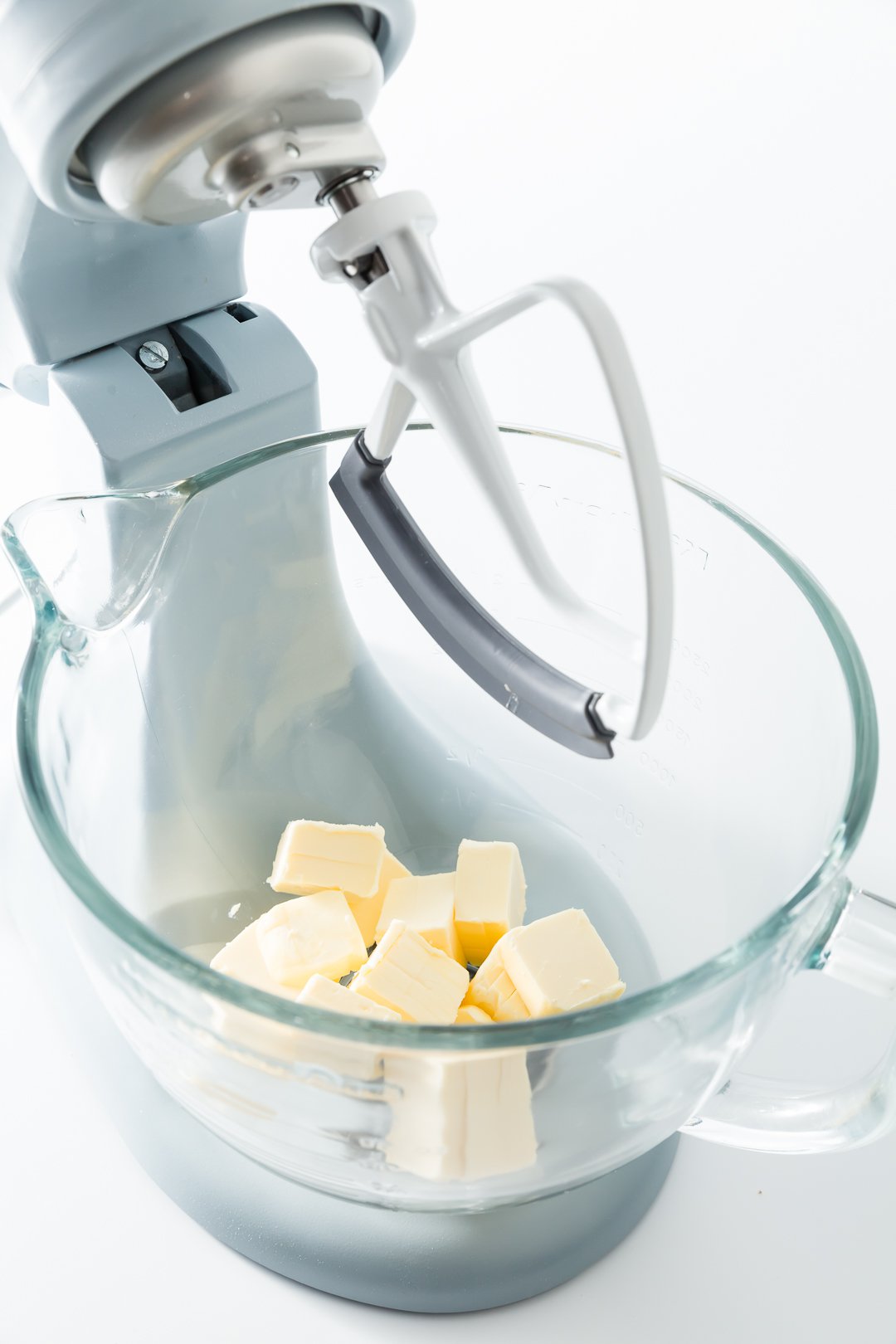 When making any buttercream, like vanilla buttercream, strawberry buttercream, or raspberry buttercream, you need to incorporate as much air into the butter as possible. The best way to do this is to use an electric mixer and beat the butter on high speed for three minutes, scraping down the sides of the bowl as needed.
It may look like the butter is mixed before three minutes, but keep going. It will get much lighter in texture and will even appear lighter in color.
Mix in the Powdered Sugar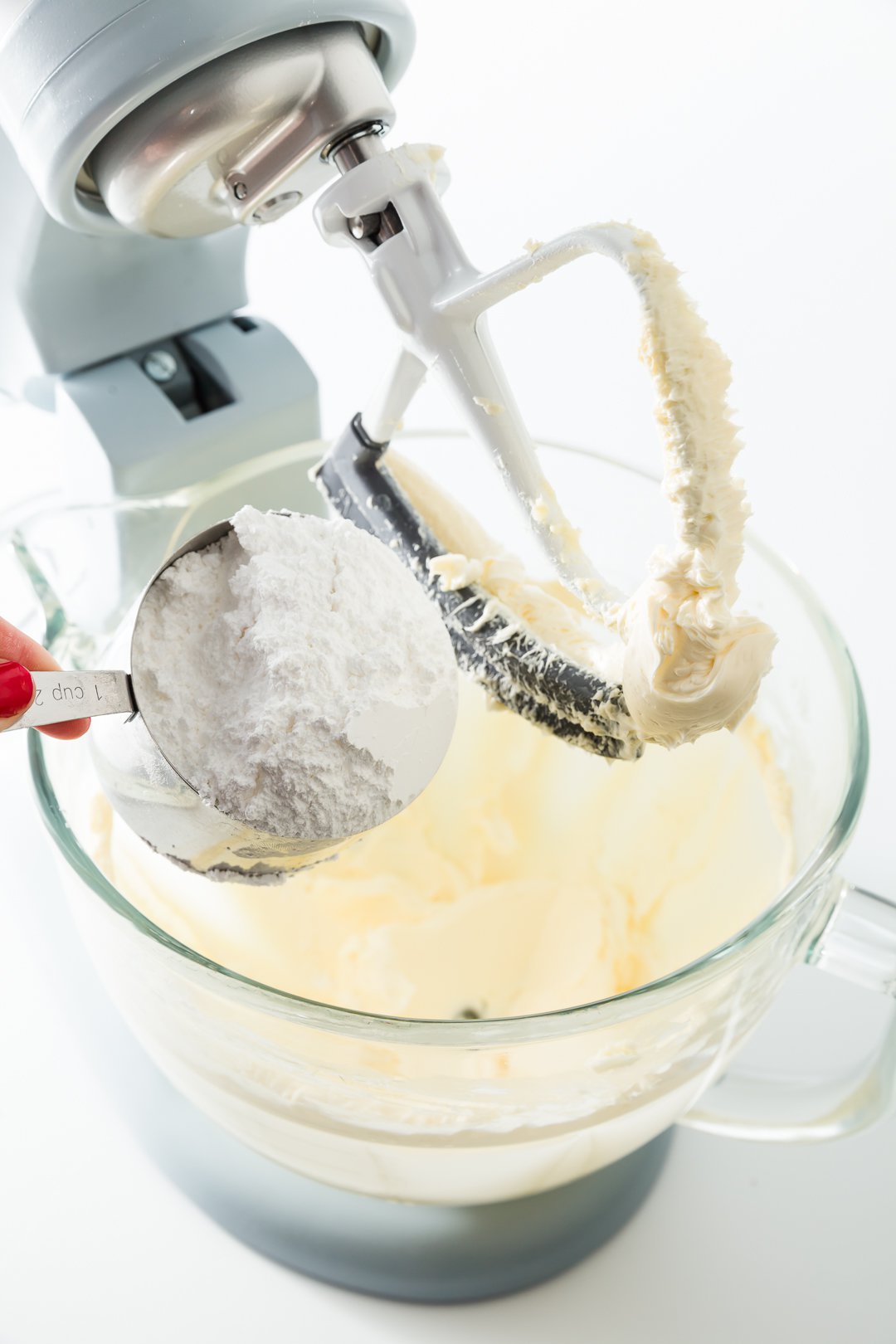 Mix in powdered sugar (also called confectioners sugar) a little bit a time. Be sure to add it on low speed; if you add powdered sugar on high speed, it will fly all over the place and give you a very messy kitchen!
You can control how stiff the frosting will be by adding more or less powdered sugar. The three cups of powdered sugar that I list in the recipe gives a fairly stiff frosting that holds its shape when you pipe it.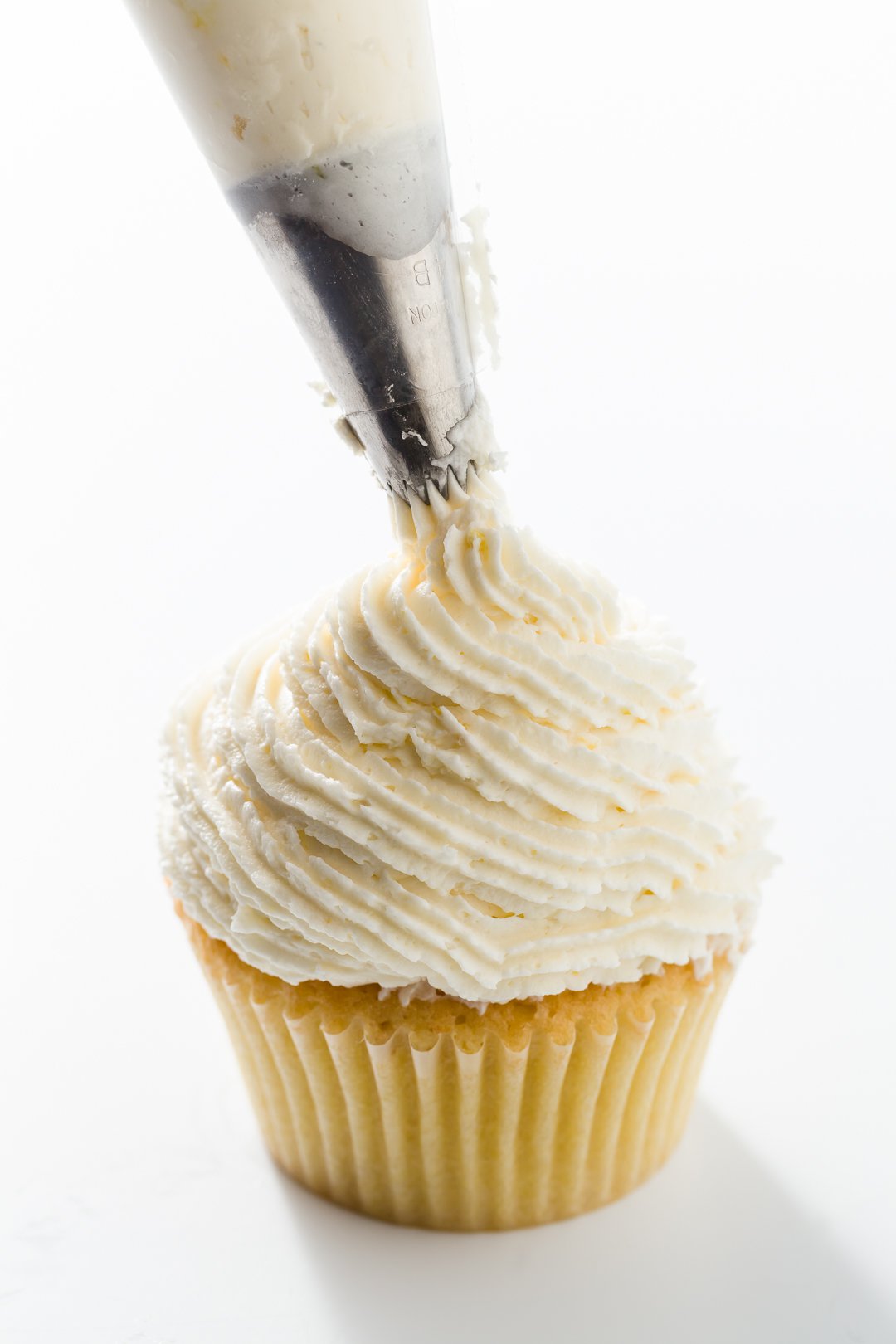 Add Lemon Zest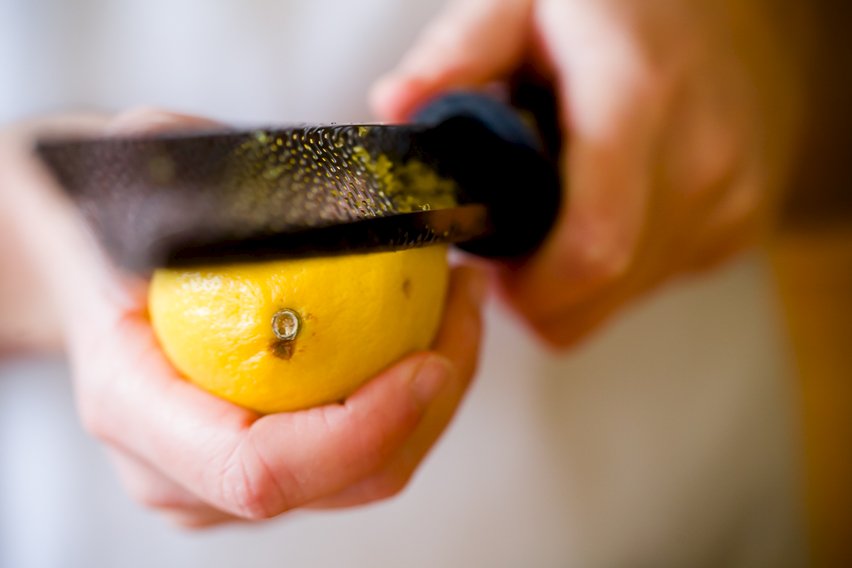 To make lemon buttercream frosting, you'll need to zest a lemon. The easiest way to do this is with a microplane grater. Run the lemon back and forth over grater to collect the zest.
One lemon yields about one tablespoon of zest.
While a microplane is the easiest way to zest, you can also zest with a knife and get even better results than with the microplane. I detail this in my post on how to zest a lemon.
Add Salt
Salt adds complexity and depth to the frosting and I think it is essential.
Does Lemon Buttercream Frosting Need to Be Refrigerated?
You can leave buttercream out on the counter for up to three days.
Tip: If you aren't going to be using it right away, store it in an air-tight container and keep it in the refrigerator for up to a week or in the freezer for up to a month. Bring frozen frosting back to room temperature by first putting it in the refrigerator overnight and then leaving it on the counter for a few hours. You will also need to re-whip it before use.
Lemon Buttercream Variations
If you don't have fresh lemons on hand, you can make lemon buttercream with lemon extract. I suggest starting with a half teaspoon of lemon extract, tasting, and and adding just a little bit more if you think you need it.
You can also also switch out the lemon zest in this recipe for lime, orange, or grapefruit zest and have equally good results. I love using my orange buttercream made with this method on gingerbread cupcakes.
I also highly recommend trying my lemon cream cheese frosting. I'm a huge cream cheese frosting fan and I know many of you are as well.
Recipes to Use Lemon Buttercream Frosting On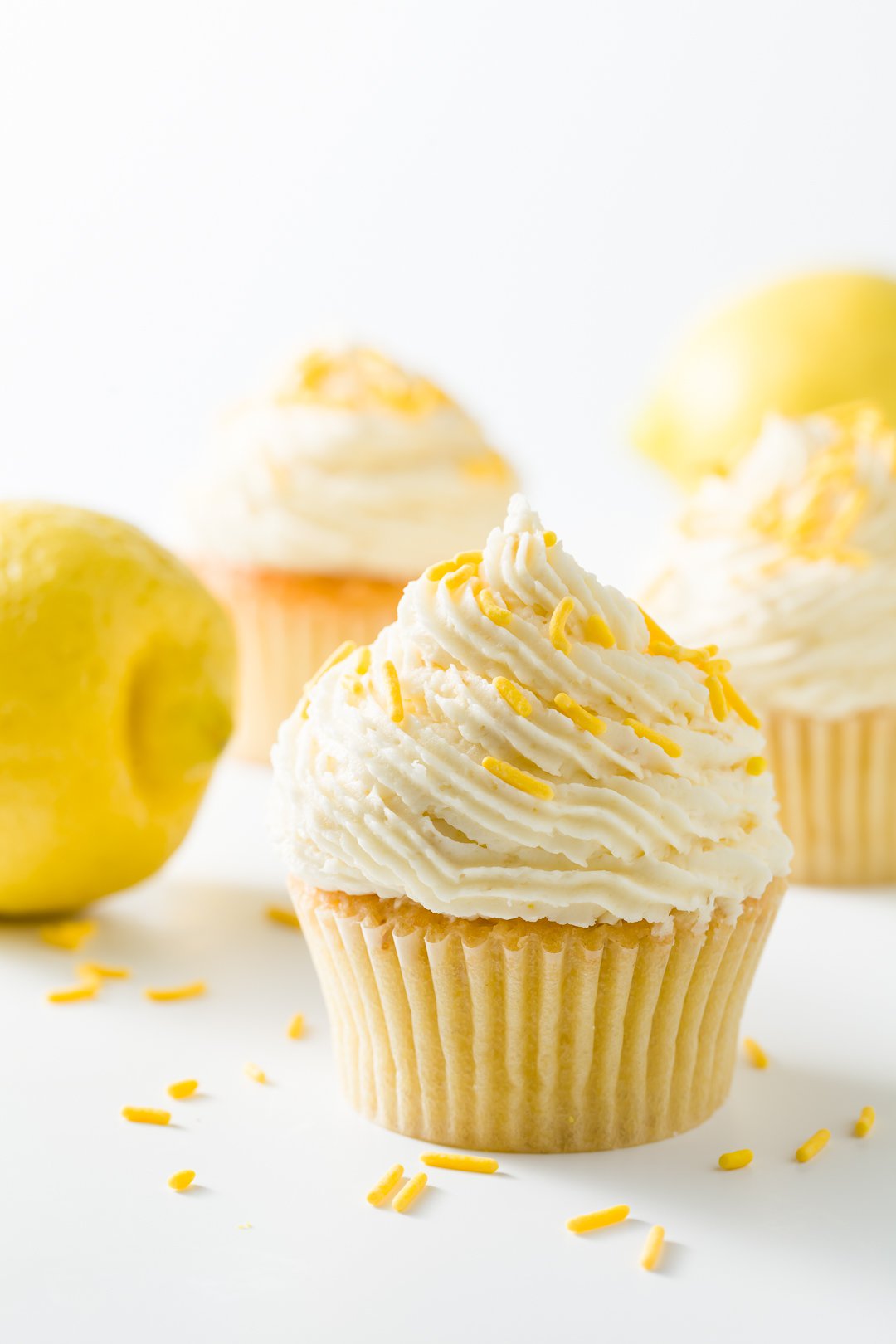 Lemon buttercream frosting goes really well on lemon cupcakes, of course! But, it also pairs well with vanilla cupcakes or strawberry cupcakes.
You can also use lemon frosting on lemon bars, lemon cake, or as a filling between two lemon cookies (such as my lemon poppyseed cookies).
Lemon Buttercream Frosting Recipe
Lemon buttercream frosting is so refreshing for summer! It's smooth and pipes really easily. I love it on cupcakes, cakes, or even sandwiched between two cookies. 
Ingredients
1

cup

unsalted butter

room temperature

3

cups

powdered sugar

add more until it reaches your preferred consistency

2

tablespoons

lemon zest

zest of 2 lemons

1/4

teaspoon

salt
Instructions
Beat butter on high speed with an electric mixer for about three minutes until light and airy.

Mix in powdered sugar a little bit at a time.

Add lemon zest and salt and continue to beat for another minute.

If desired, add more powdered sugar to make the buttercream frosting stiffer.
Notes
If you plan to make a large swirl of frosting, this recipe will only cover about 8 cupcakes. Double as needed.
The frosting will cover one 8" cake.
If you want to pipe it on cupcakes, the easiest way to achieve the perfect cupcake swirl is to use a 1M tip [paid link].
While there are many frosting recipes that you can mix by hand, the best buttercream frostings require lots of air to be incorporated into the butter. To really get this job done right, I highly recommend that you use an electric mixer. A hand mixer or a stand mixer will both work well.
You will need to stop and scrape down the side of the bowl every minute or so while you are mixing as butter will stick to the edges of the bowl. The easiest way to do this is with a silicone spatula. One way to avoid scraping down the bowl is to use a mixer that has a scraping paddle. Many mixers now come with scraping paddles, but you may be able to purchase one if yours doesn't (e.g. the beater blade [paid link]).
Sift the powdered sugar if needed. Take a look at the actual sugar to see if it has clumps (some brands are clumpier than others). Clumps of powdered sugar will not get integrated into the frosting and may end up getting stuck in your piping tip. Measure before sifting.
The frosting lasts for up to a week at room temperature or months in the freezer. You will need to bring it to room temperature and mix it again for a minute or two before you start piping.
Nutrition
Calories:
190
kcal
|
Carbohydrates:
23
g
|
Protein:
1
g
|
Fat:
12
g
|
Saturated Fat:
7
g
|
Cholesterol:
31
mg
|
Sodium:
38
mg
|
Potassium:
3
mg
|
Fiber:
1
g
|
Sugar:
22
g
|
Vitamin A:
355
IU
|
Vitamin C:
1
mg
|
Calcium:
4
mg