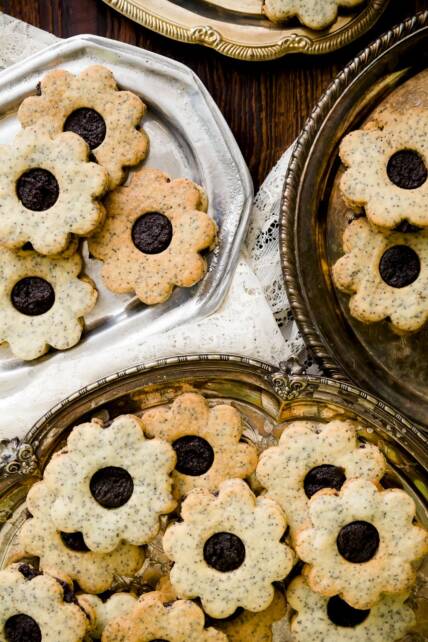 Poppy seed filling is seldom used in American cookies.  In fact, the only time I see it with regularity is in Hamantashen, and even then, I'd never heard of someone making the poppy seed filling from scratch.  I decided to experiment with from-scratch filling in these lemon poppy seed sandwich cookies.  While you could use lemon curd as a filling for these little butter cookies dotted with poppy seeds (I wouldn't fault you for making that splendid choice), filling the cookies with a poppy seed filling gives them more of a winter warmth.
Poppy seed filling, you'll find, isn't tough to make.  Once you have it on hand, you can use any extra filling as a spread on toast or crackers.
To make poppy seed filling that is smooth (not gritty and crunchy), you'll need ground poppy seeds.
Alternatively, you can buy regular poppy seeds (these should be easy to find with the spices at your local grocery store) and use a poppy seed grinder to grind them.  But, that is an expensive purchase which doesn't have much application unless you are always making desserts with poppy seeds.
If all else fails, you can use pre-made poppyseed filling.  I highly encourage you to first give making your own poppy seed filling a shot with my recipe below.
Lemon Poppy Seed Sandwich Cookie Recipe
If you've tried this recipe, please RATE THE RECIPE and leave a comment below!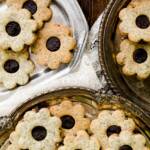 Lemon Poppy Seed Sandwich Cookies
Ingredients
Cookie Ingredients
1/2

teaspoon

baking powder

2

tablespoons

lemon juice

1/4

teaspoon

lemon extract

leave this off if you don't like a strong lemon flavor

1 3/4

cups

all-purpose flour

1/2

cup

+ 2 tablespoons unsalted butter

room temperature

1

egg yolk

1/2

cup

sugar

pinch

salt

1/4

cup

poppy seeds
Poppy Seed Filling Ingredients
1

cup

milk

1 1/2

cups

ground poppy seeds

1/2

cup

sugar

1/4

cup

honey

2

tablespoons

unsalted butter

1

teaspoon

vanilla
Instructions
Cookie Instructions
In a medium-sized mixing bowl, dissolve baking powder in lemon juice. It's fun to listen to it hiss and to watch it bubble.

Add lemon extract, flour, butter, egg yolk, sugar, and salt. Knead the batter together either with your hands or using the dough hook on a stand mixer.

Mix in the poppy seeds and form the dough into a small loaf.

Wrap in plastic and refrigerate for one hour.
Poppy Seed Filling Instructions
In a medium-sized pot on low heat, bring milk to a simmer and add poppy seeds, sugar, and honey.

Simmer for 15 minutes, stirring frequently until the poppy seeds absorb the milk and you have a thick paste.

Remove from heat and stir in butter and vanilla.

Place the whole mixture in the blender and blend until smooth.

Refrigerate for about 20 minutes to let the filling firm up.
Assembly and Baking Instructions
Preheat oven to 350 F.

Lightly flour a work surface and roll the dough to 1/8" thick.

Cut out 2 1/2" flowers or stars or whatever other shape you might like as long as there are two of each kind.

Use a cookie cutter or a fat straw to cut a one inch hole in the centers of half of the cookies.

Place cookies on a parchment-lined cookie sheet.

Bake for 10 minutes or until the edges just begin to brown.

Cool on a cooling rack.

Spread poppy seed filling on all of the cookies without holes.

Top with matching cookies to create sandwiches.
Recipe Notes
If you are able to find ground poppy seeds or have a poppy seed grinder and can grind your own, use them in this recipe and skip the blender step.
Something I learned about poppy seeds while making these cookies is that they go rancid really quickly - they have a very high oil content. If you have any extra poppy seeds from this project, be sure to store them in the freezer.