What are Bonbons and How to Make Them
Published , Last updated by
Stef
Disclosure: As an Amazon Associate, I earn from qualifying purchases.
Highly revered, chocolate bonbons are truly blissful! They're actually not that hard to make. But what exactly are they? How are they made? How are these chocolate confections different from truffles?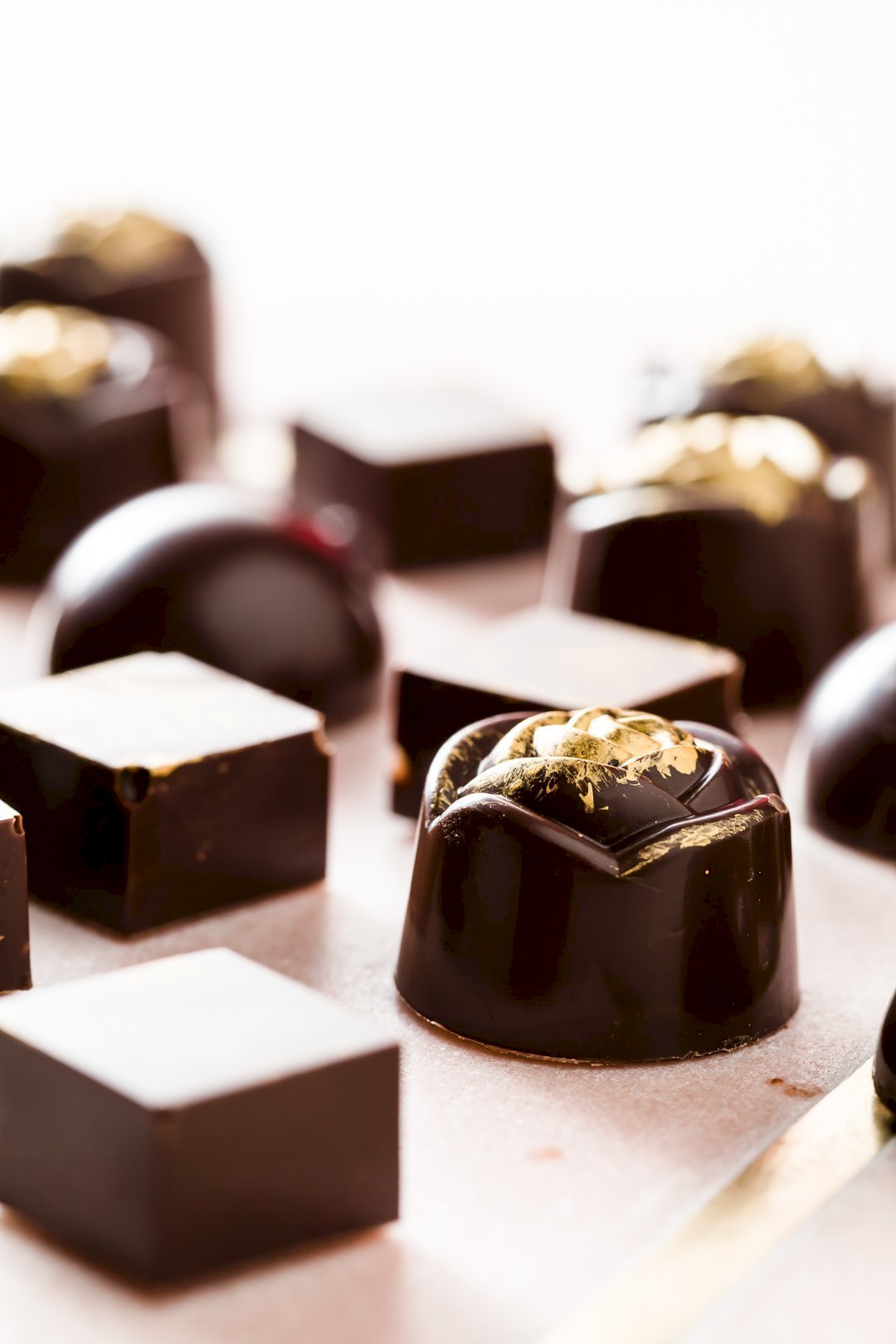 French pastry chef Clemence Pereur taught me all about these chocolate delicacies and shared three filling recipes and I'm happy to pass everything along to you here!
What are bonbons?

Bonbons are confections with a thin chocolate shell and an oozy filling that spills out when you take a bite. The sky is the limit when it comes to these fillings – caramel, oozy ganache, fruit purees and more.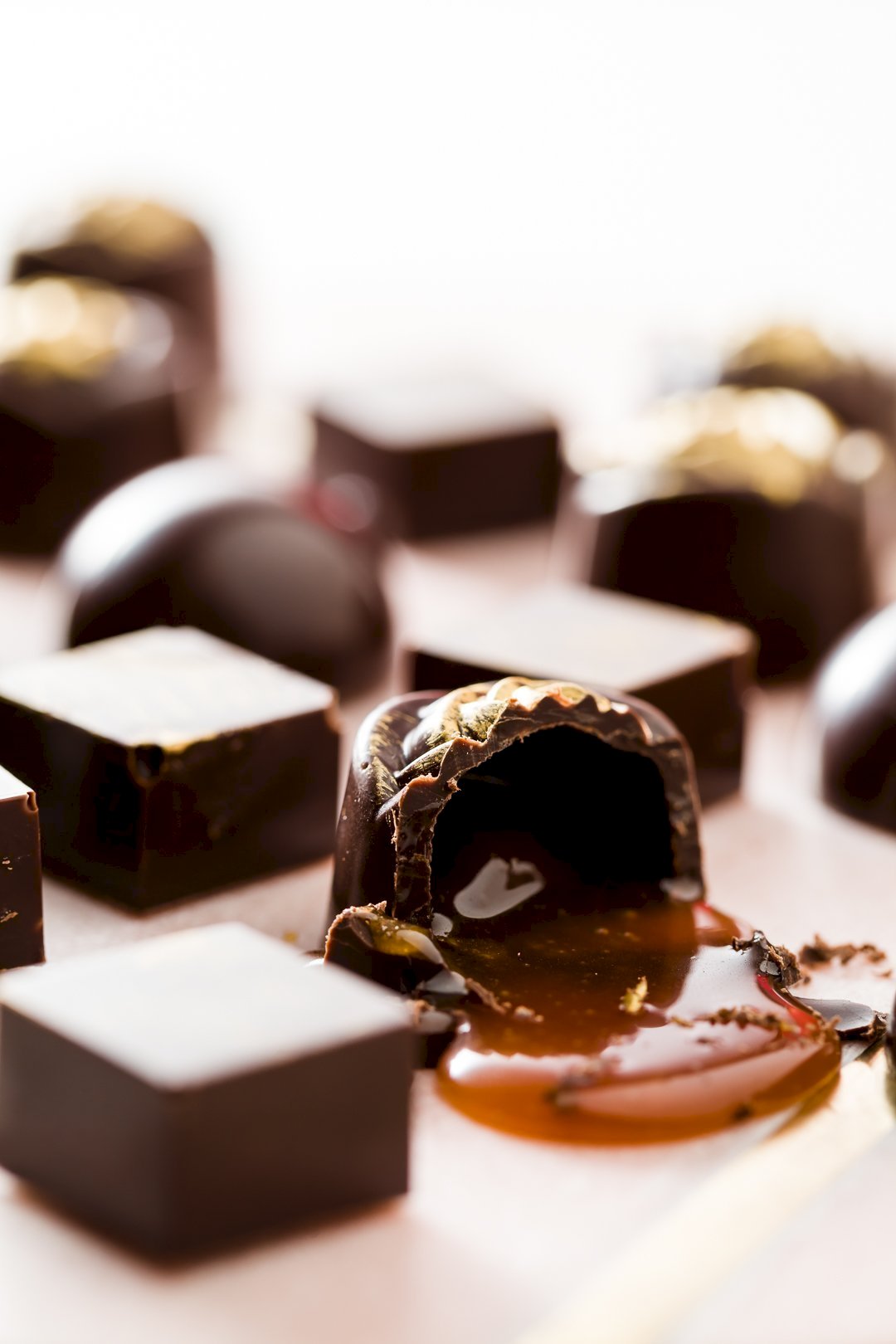 Ingredients and Equipment
Clearly, you'll need chocolate – use about 500 grams of chocolate for 24 bonbons. The higher quality the chocolate you use, the better your bonbons will taste. Plan on having more chocolate than you will actually need for the confection because some of it gets scraped away in the process. Any excess chocolate can be cooled and used for another project.
You must have a bonbon mold [paid link] to make bonbons. You can order one online and luckily they aren't too pricey.
You'll also want a bench scraper to scrape the molds. If you don't already own one, you'll wonder how you ever lived without one once you purchase it.
How It's Made
Time needed: 1 hour and 30 minutes
While bonbons are something that people typically buy, there is no reason that you can't make them at home!
Fill Bonbon Molds

Overflow each depression of your bonbon mold with melted tempered chocolate. Don't be skimpy here; we want to ensure full coverage.

Distribute Chocolate

Use a bench scraper to tap the side of the mold. This gets the chocolate to drop all of the way into the depressions. When you see little bubbles form on top of the chocolate, you know you can move on to the next step.

Remove Excess Chocolate

Turn the mold upside-down and tap some more on its side with your bench scraper. A layer of chocolate will remain, coating each depression, and the rest should come raining out.

Scrape

While the mold is inverted, run your bench scraper along the top surface to remove any remaining excess chocolate.

Cool and Fill

Set the mold in a refrigerator for about an hour or in a freezer for about ten minutes to let the chocolate harden.

Then, you're going to fill the bonbons. In the recipe section below, you'll find recipes for three of Clemence's wonderful fillings: Earl Grey ganache, passion fruit caramel (my favorite), and vanilla dark chocolate ganache. Pipe the fillings into the bonbons almost to the top of each well.

Close the Bonbons

To close them, spoon tempered chocolate over the top of the mold – just halfway across. Then, scrape across the top with your bench scraper onto the uncovered half. If needed, fill in any empty spots with additional chocolate.

Cool and Remove

Cool as before. Then, tap the molds on the counter to extract the bonbons!
Expert Tips and FAQ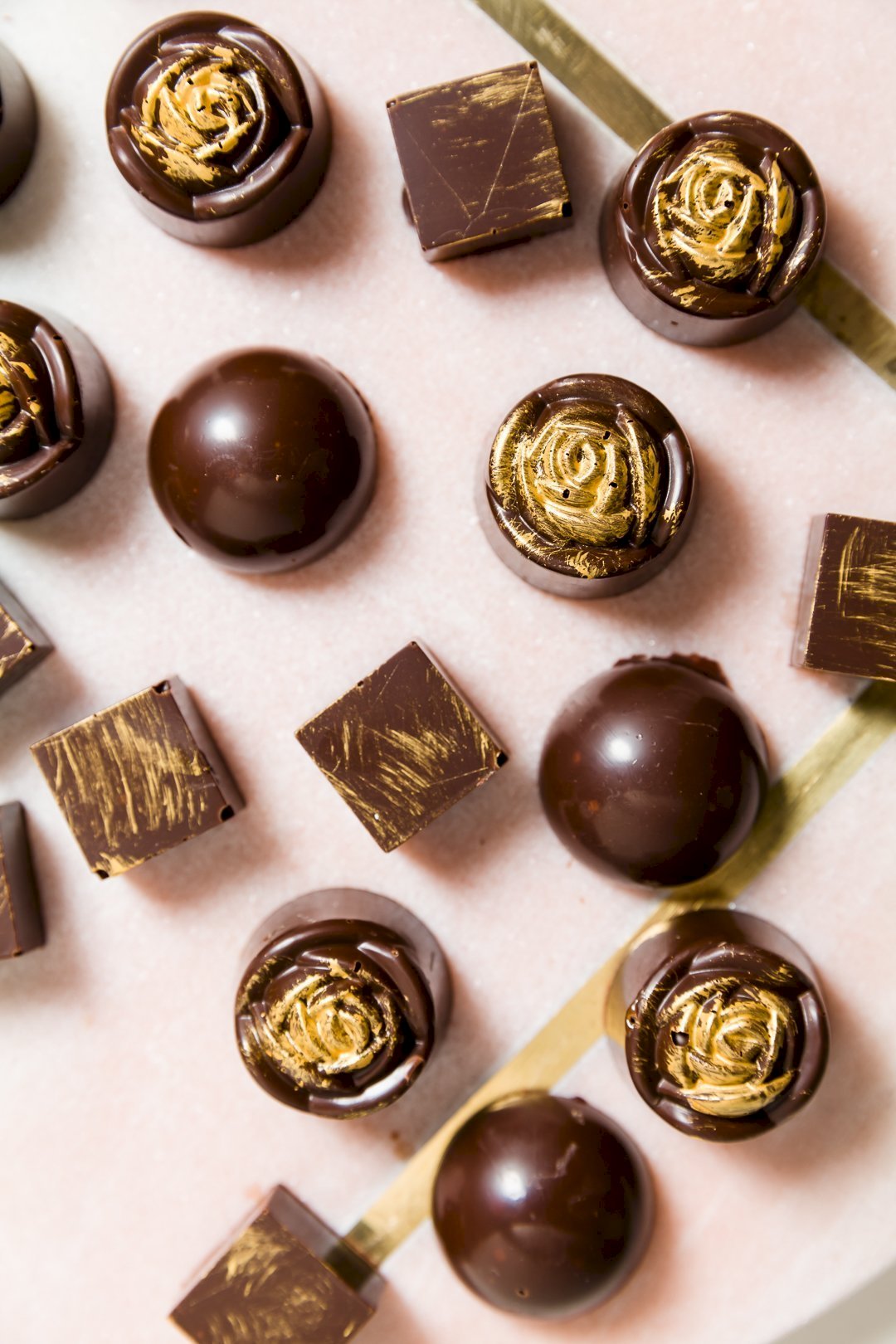 It is extremely important that the melted chocolate be well tempered. This ensures that it ends up smooth and shiny instead of grainy. I've written a complete guide to tempered chocolate, and that's a great place to start to brush up on tempering.
Making bonbons can be a messy affair. Always work over a large bowl or a big piece of parchment paper. When you are done with the project, let any extra chocolate cool and save it for the next time you are making chocolates.
What's the difference between bonbons and truffles?
Truffles are made by making a ganache (chocolate and cream filling). When it thickens to the point that the ganache can be rolled it into a ball, the ball is then dipped into a chocolate exterior (typically much thicker than the exterior of a bonbon).
How should these be stored?
Store in a cool, dark, dry place – not in the refrigerator. They can last for six months or more depending on the fillings you use.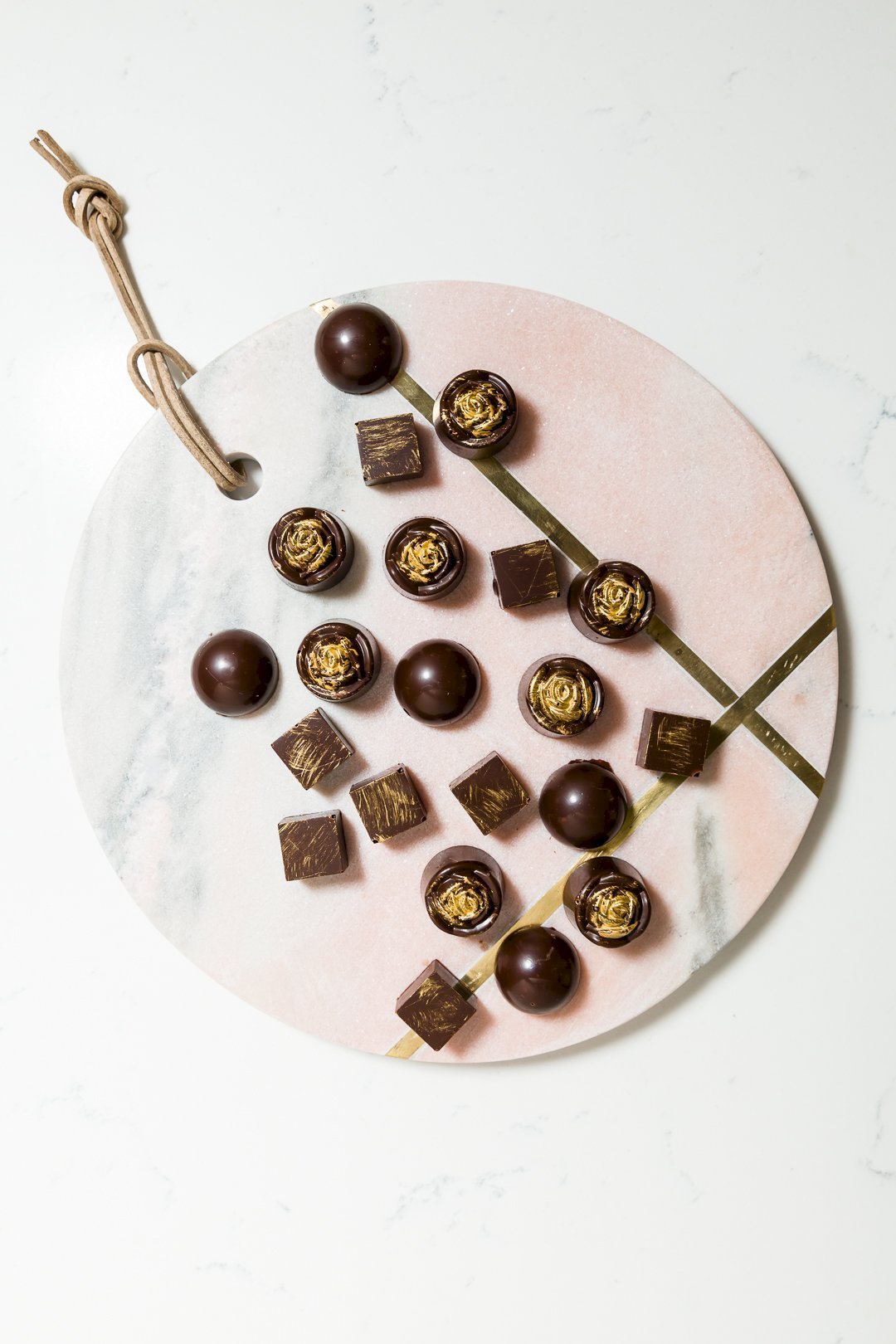 Related Recipes
Three Bonbon Filling Recipes
These three outstanding fillings are perfect for bonbons: Earl Grey, passion fruit caramel, and vanilla dark chocolate ganache.
Servings
48
bonbons filled per filling
Ingredients
Vanilla Dark Chocolate Ganache
100

grams

heavy whipping cream

100

grams

dark chocolate

5

grams

vanilla extract

10

grams

glucose

you can also use corn syrup
Earl Grey Ganache
350

grams

heavy whipping cream

15

grams

Earl grey tea

75

grams

unsalted butter

10

grams

trimoline

you can also use corn syrup

500

grams

milk chocolate
Passion Fruit Caramel
25

grams

glucose

you can also use corn syrup

250

grams

sugar

20

grams

water

100

grams

heavy whipping cream

100

grams

passion fruit purée
Instructions
Ganache Instructions (for Vanilla Dark Chocolate Ganache and Earl Grey Ganache)
Bring cream to a boil in a saucepan on medium-high heat. If making Earl Grey ganache, place tea in a tea ball in the cream during the boil. Remove from heat as soon as the liquid begins to boil.

Place remaining ganache ingredients in a large mixing bowl. Pour hot cream into the bowl and stir until chocolate is melted and all ingredients are fully integrated.

Let ganache rest until ready to use.
Passion Fruit Caramel Instructions
In a small saucepan on medium-high heat, bring glucose, sugar and water to boil until they have a dark caramel color. Do not stir.

At the same time, combine the cream and passion fruit together in another small saucepan and bring to a boil on medium-high heat. Remove from heat as soon as the liquid begins to boil.

When the caramel is done, carefully mix in the cream and passion fruit.

Let the caramel rest for at least 30 minutes before adding to the bonbons.
Notes
Nutrition information is for Vanilla Dark Chocolate Ganache.
Nutrition
Calories:
19
kcal
|
Carbohydrates:
1
g
|
Fat:
1
g
|
Cholesterol:
2
mg
|
Sodium:
1
mg
|
Potassium:
16
mg
|
Vitamin A:
30
IU
|
Calcium:
3
mg
|
Iron:
0.3
mg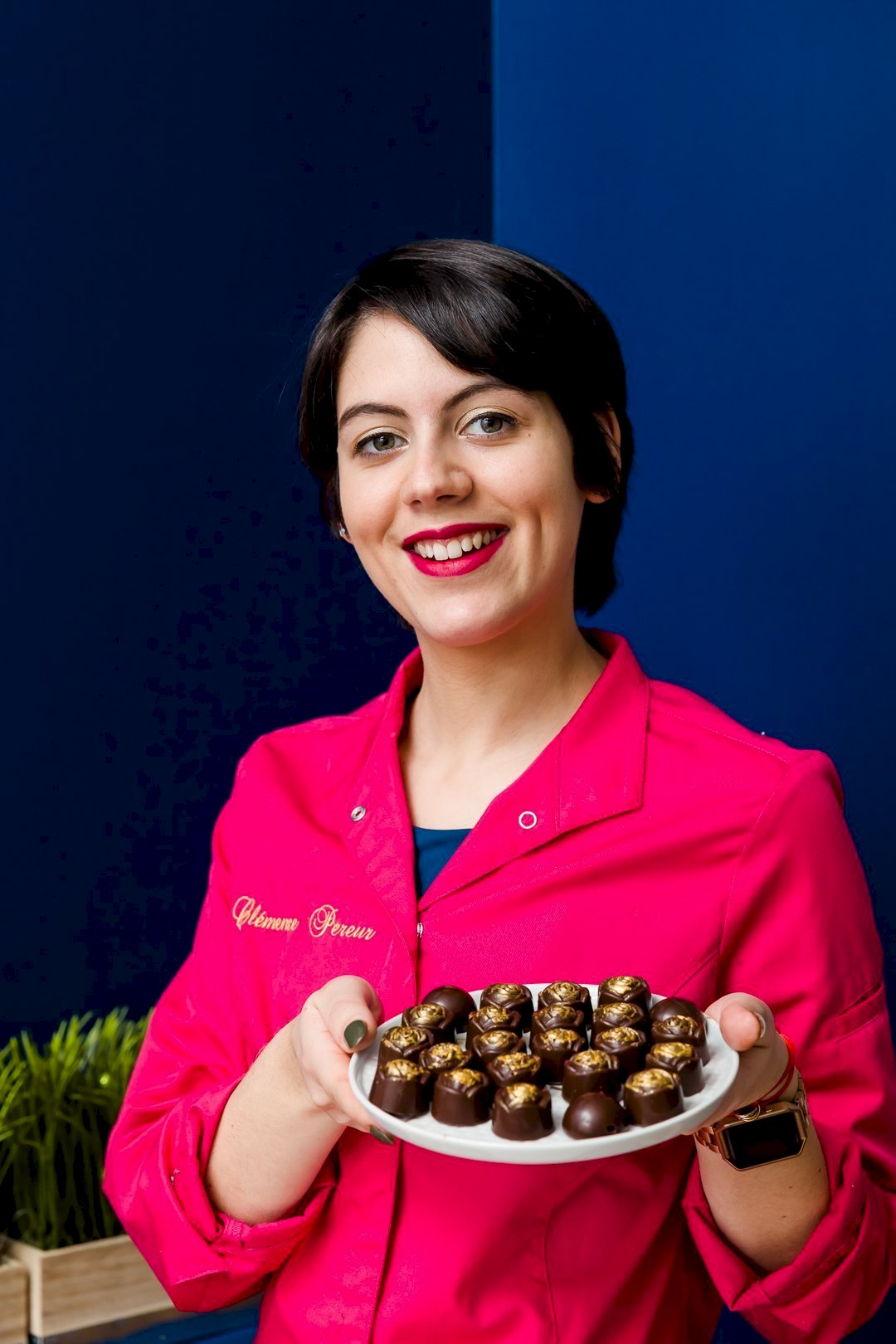 Clemence Pereur is 27 years old and from France. She started culinary school when she was 15 years old. After three years of school, she got her culinary degree. She then decided to go to pastry school for a year to the famous Alain Ducasse pastry school and got her pastry degree. Because that was not enough, she decided to go to chocolate school for an additional two year degree. When she got this degree, she went to work at FAUCHON – a really famous pastry shop in Paris. After this experience, she went to work for for Yannick Alleno at his Parisian bistro. Working in France was not enough anymore, so she decided to move to America and did an internship at the St. Louis Club in Clayton, Missouri for almost two years. After this experience, she thought that it was time for her to have her own baby – her own shop! Like Home (Comme à la Maison) is her dream come true. It's a place to eat good food and to feel like home.
Stay Connected!
Join my mailing list - and receive a free eBook!