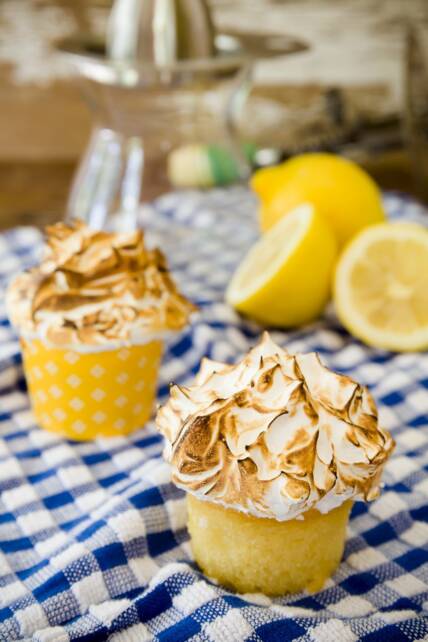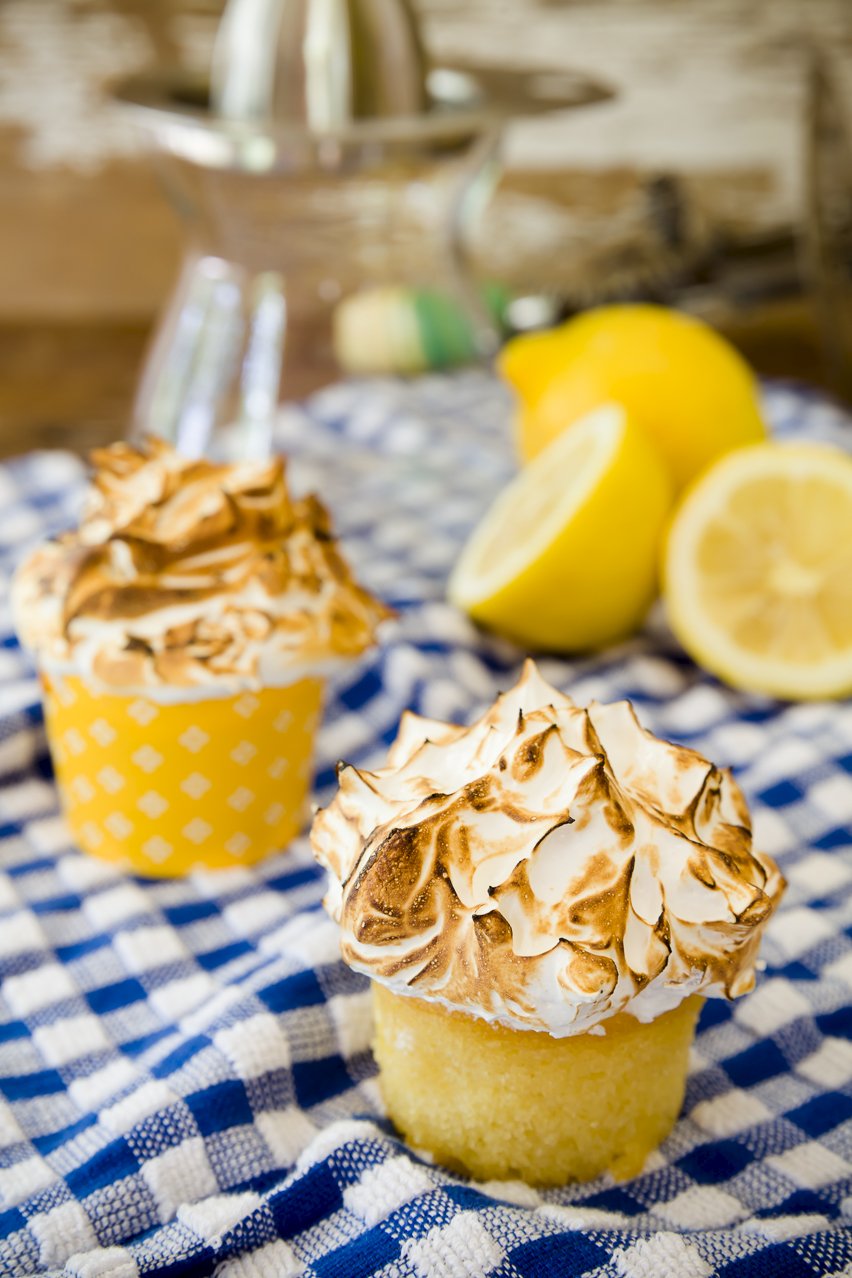 Road tripping across mid-America inevitably leads to spotting signs for world-famous mile-high pies.  If you subscribe the the belief that bigger is better, the promise of pies rising into the sky (just how tall will they really be?) calls you off the highway, past corn fields, corner stores, and timeless homes to pie shops with rocking chairs out front.  I researched these bites of Americana and crafted them into cupcakes – specifically, mile-high lemon meringue cupcakes.
To make mile-high lemon meringue cupcakes, start with Ultimate Vanilla Cupcake batter and bake a big dollop of lemon filling inside.  In the oven, the two combine to create a dense, custard-like cupcake.  Top the cupcake with as huge a pile of toasted meringue as possible.  Check out my Instagram feed to see what happened when I got a bit carried away.
Mile-High Lemon Meringue Cupcake Recipe Tips and Shoutouts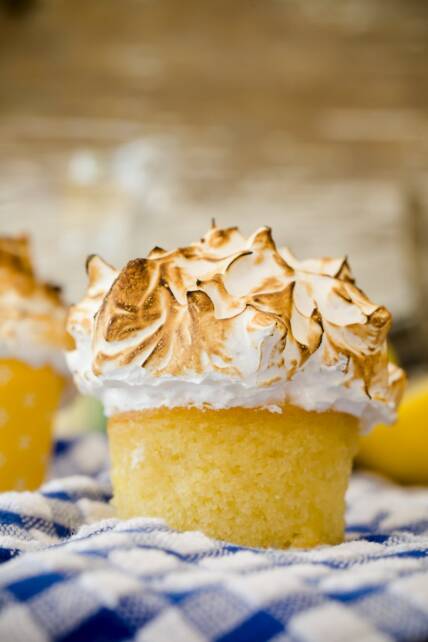 For the lemon filling in these cupcakes, I used Noble Pig's mom's mile-high lemon meringue pie filling recipe.  It's reprinted in the recipe below in my own words.
If you've tried this recipe, please RATE THE RECIPE and leave a comment below!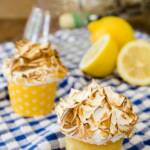 Mile-High Lemon Meringue Cupcakes
Ingredients
Vanilla Cupcake Ingredients
1/2

cup

granulated sugar

3/4

cup

+ 2 tablespoons cake flour

not self-rising

3/4

teaspoon

baking powder

1/4

teaspoon

baking soda

1/4

teaspoon

salt

2

tablespoons

unsalted butter

room temperature

1

large egg

room temperature

3

tablespoons

full-fat sour cream

2

tablespoons

canola oil or vegetable oil

1 1/2

teaspoons

vanilla extract

1/3

cup

whole milk
Lemon Filling Ingredients
3/4

cup

sugar

1 1/2

tablespoons

cornstarch

1 1/2

tablespoons

all-purpose flour

pinch

salt

3/4

cup

water

3

egg yolks

slightly beaten

1

tablespoon

lemon zest

3

tablespoons

lemon juice

1 1/2

tablespoons

unsalted butter
Toasted Meringue Topping Ingredients
7

egg whites

2

cups

sugar

pinch

salt

1

teaspoon

vanilla
Instructions
Vanilla Cupcake Instructions
Preheat oven to 350 F.

In a medium-sized mixing bowl or bowl of a stand mixer, mix together sugar, cake flour, baking powder, baking soda, and salt.

Add butter and mix on medium-low speed for three minutes. Because there is so little butter, you'll end up with a very fine crumb texture.

In a small mixing bowl, whisk together eggs, sour cream, oil, and vanilla extract until smooth.

Add the egg mixture to the flour mixture and beat on medium speed until just combined.

Slowly add milk and mix on low speed until just combined. The batter will be liquid. (Don't worry, you didn't do anything wrong. It's supposed to be that way.)

Divide batter evenly between 12 baking cups. They should be about 1/3 full.
Lemon Filling Instructions
Preheat oven to 350 F.

In a medium-sized saucepan, whisk together sugar, cornstarch, flour, and salt.

Slowly add water, stirring until well mixed.

Bring to a boil over medium heat, stirring constantly, and cook for 3 minutes.

Remove from heat and slowly pour half of the hot mixture into the egg yolks, stirring constantly. If you pour too much too quickly you can accidentally cook the eggs - bad news.

Stirring constantly, pour the eggs back into the pot, return to a boil, and cook for another 2 minutes.

Add the zest, lemon juice, and butter.

Cook for another 2 minutes, stirring to ensure that nothing sticks to the bottom of the pan.

Divide filling evenly between the baking cups on top of the cupcake batter. After adding the lemon filling, the cups should be just over halfway filled.

Bake for 18 minutes or until the cupcakes bounce back when lightly touched. They may have divots from the weight of the lemon filling and that's OK. You will be covering the surfaces up.
Toasted Meringue Topping Instructions
Set a metal mixing bowl (I suggest using the one from your stand-mixer if you own one) over a pot of boiling water and fill with egg whites, sugar, and salt.

Stir the mixture constantly for about 3 minutes or until the sugar is dissolved and the eggs reach 110 F. If you don't have a candy thermometer, don't sweat the exact temperature. The whole point is to heat the eggs a little so that they are safe to eat.

Place the bowl on a stand mixer with the whisk attachment or use a hand-held electric mixer and mix on high speed for 8 minutes.

Add the vanilla.

Mix for another 5 minutes or until the mixture forms shiny, stiff peaks.

Use a spoon to pile high onto cooled cupcakes. Have fun pulling up different sections of the meringue to sculpt peaks.

Use a culinary torch to toast the frosting - be careful not to burn the baking cups or yourself.
Recipe Notes
If you use traditional cupcake liners instead of baking cups, this recipe will yield fewer cupcakes. I haven't tried it, but my best guess would be a yield of 9 cupcakes.
If You Love Cupcakes…
I have hundreds of cupcake recipes on this site. Have a look!