Lemon Cream Cheese Frosting
Disclosure: As an Amazon Associate, I earn from qualifying purchases.
This lemon cream cheese frosting is bursting with lemon flavor! It's not too sweet and has a nice tang from the cream cheese. I love it on my fresh lemon cupcakes!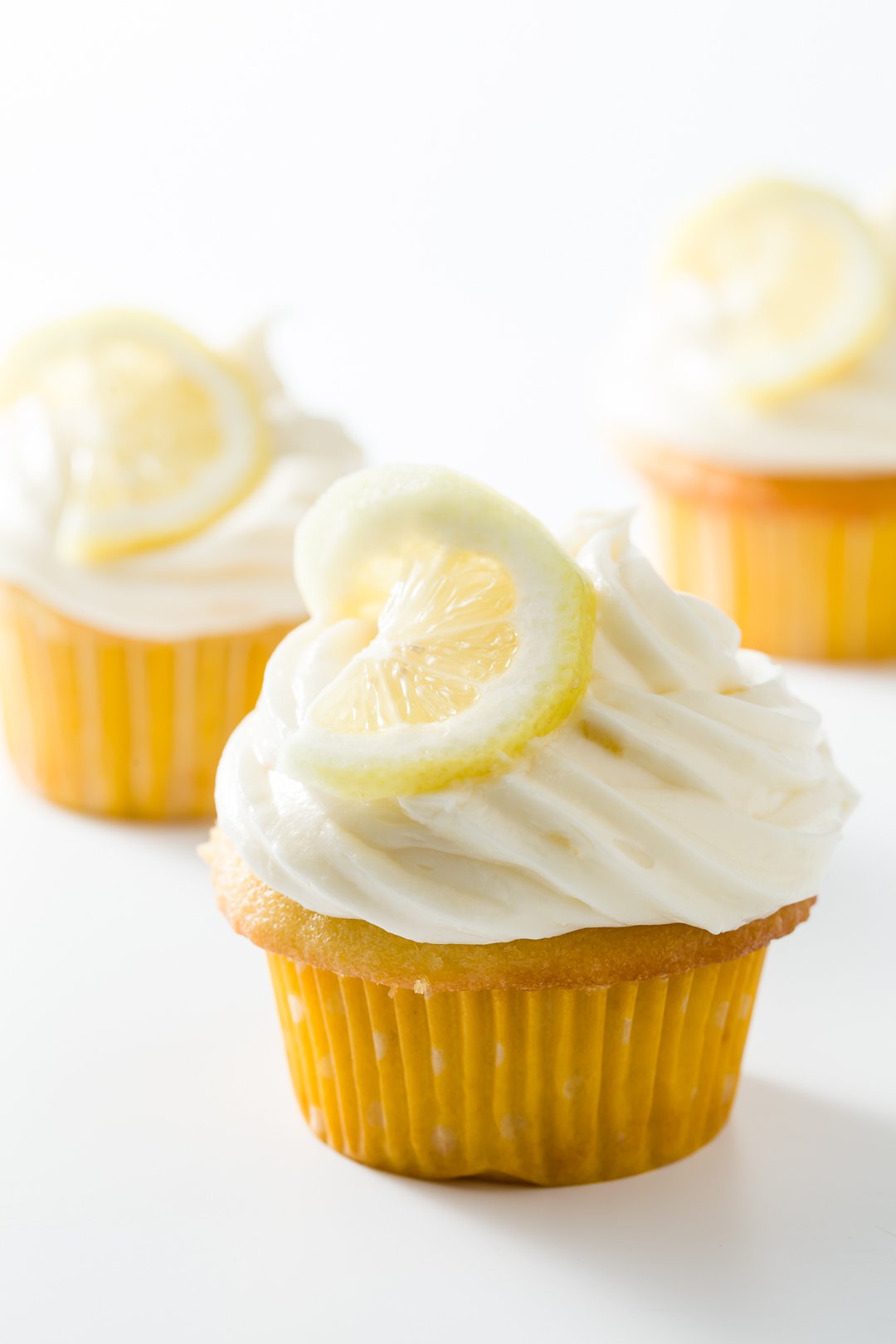 Lemon cream cheese frosting is a great alternative to lemon buttercream. I love them both, but I'd choose the cream cheese frosting if I had to pick a favorite. I'm a sucker for all cream cheese frostings! (Have you tried my chocolate cream cheese frosting and my strawberry cream cheese frosting?)
How to Make Lemon Cream Cheese Frosting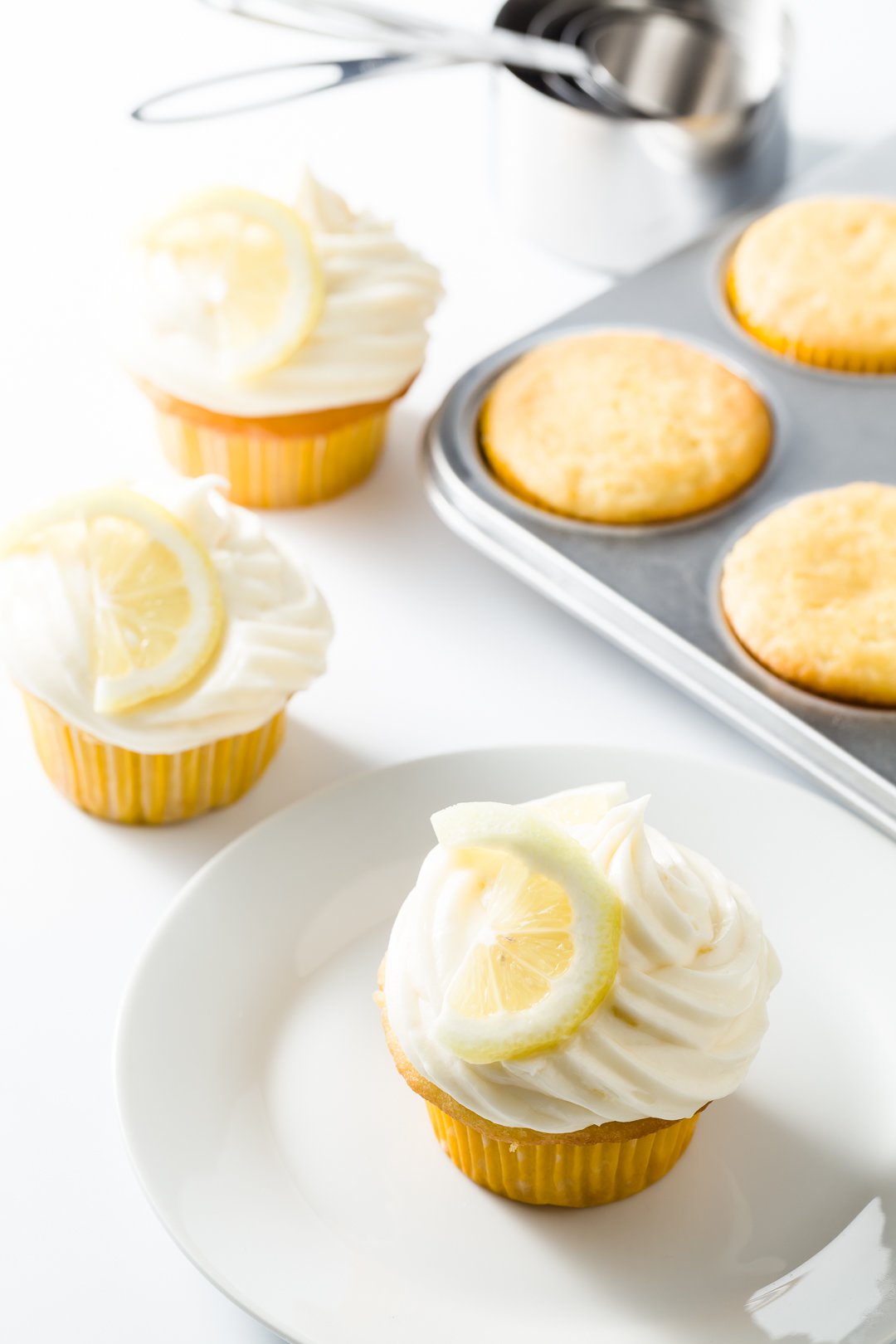 Room Temperature Ingredients are a Must
One of the biggest mistakes you can make in preparing lemon cream cheese frosting is using cold ingredients.
The cream cheese and butter must both be at room temperature. Leave them out of the counter for about three hours to ensure the correct temperature. If the cream cheese is too cold, it will not mix properly into the frosting.
Zesting a Lemon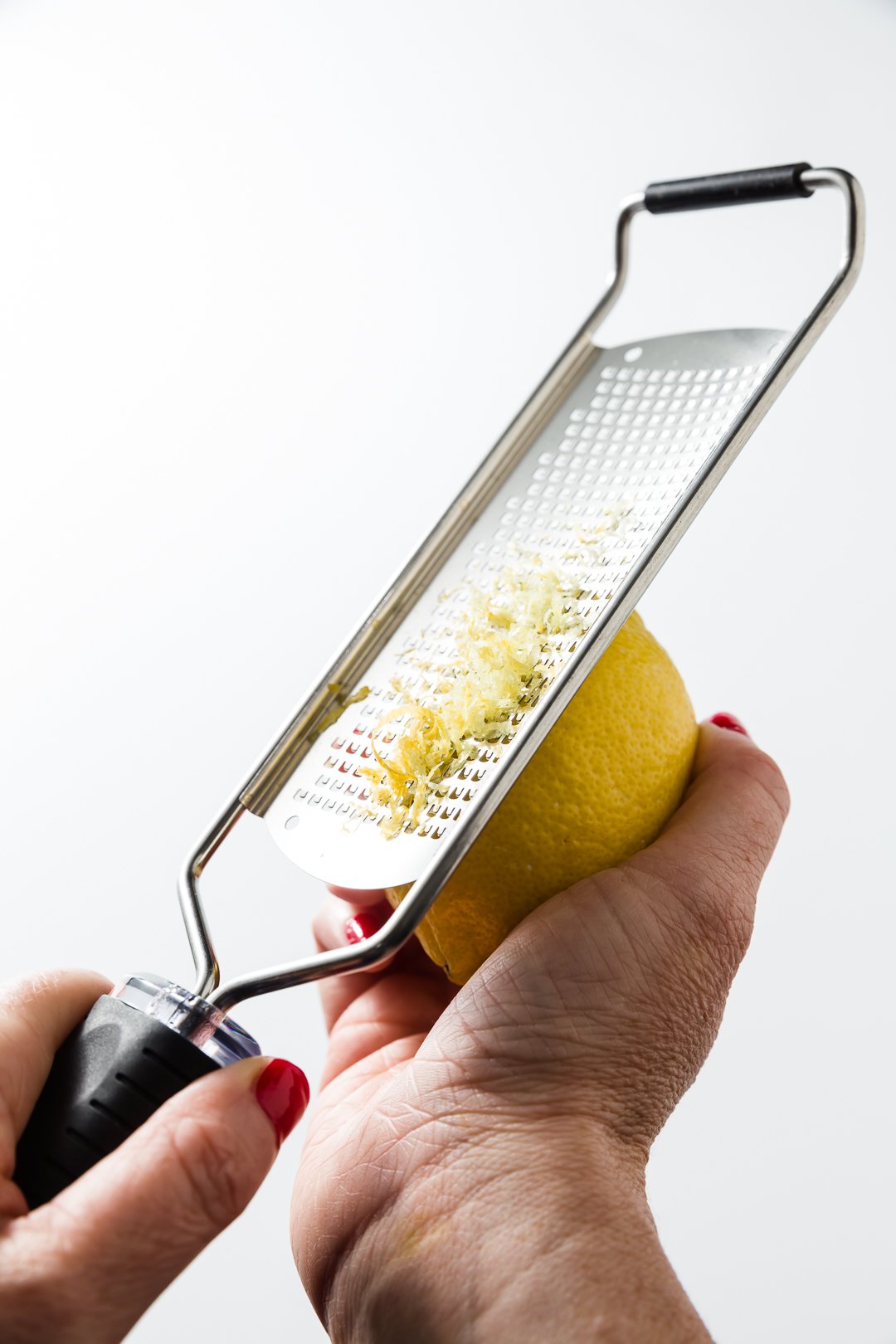 To make lemon cream cheese frosting, you'll first need to zest a lemon. Zest is the yellow part of the lemon peel. If you hit the white pith, you've gone too far.
The easiest way to zest is using a microplane grater. Run the lemon back and forth over grater to collect the zest. Although a microplane is the easiest way to zest, you can also zest with a knife and get even better results than with the microplane. I detail this in my post on how to zest a lemon.
Tip: One lemon yields about one tablespoon of zest.
Mix Cream Cheese and Butter
Mix the cream cheese and butter on high speed until smooth and light – about three minutes using an electric mixer.
Always use unsalted butter for baking because you can then more easily control how much salt is in the recipe.
Mix in Powdered Sugar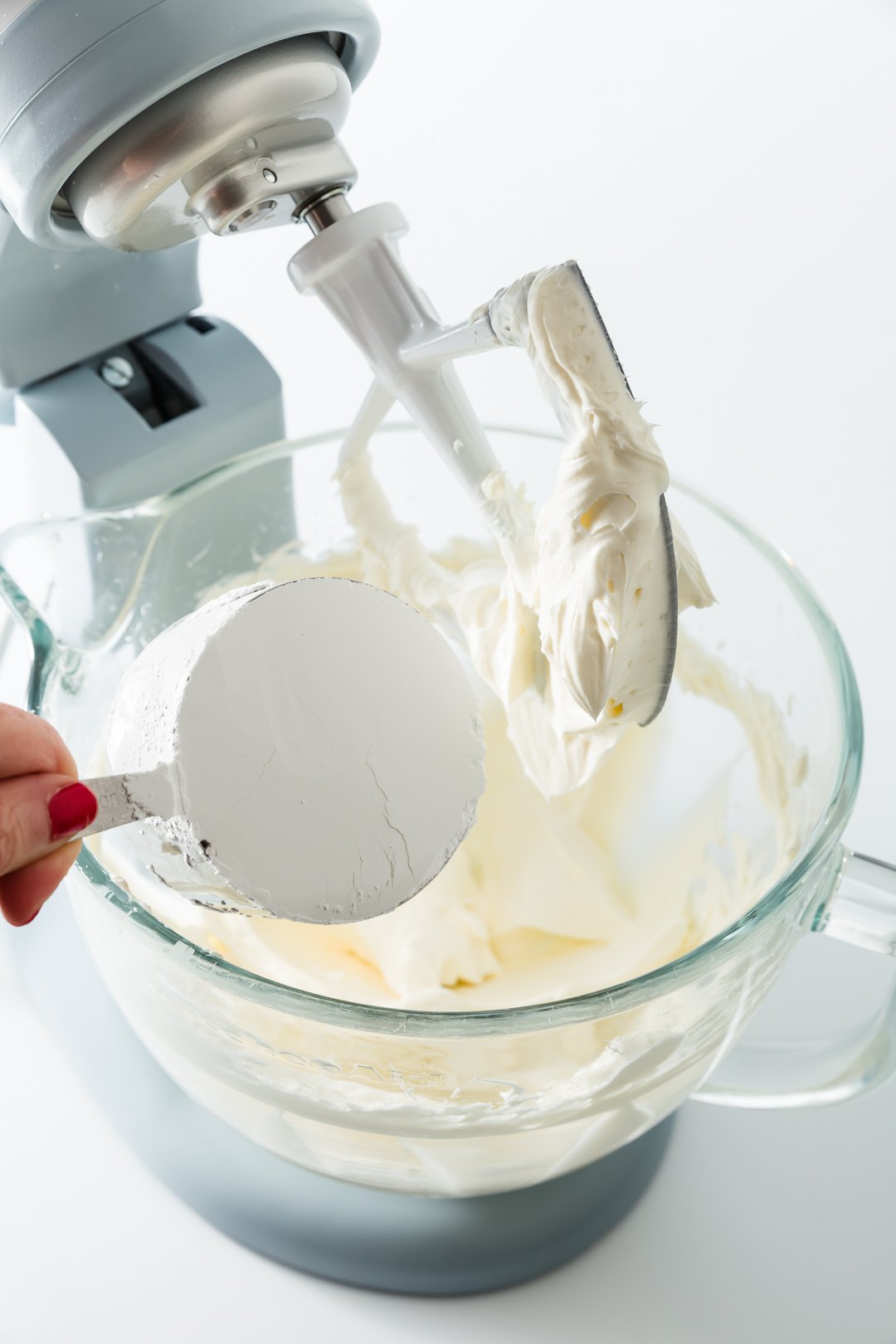 Mix in the powdered sugar a little bit at a time. Always add powdered sugar on low speed. If you start the mixer on high speed, the powdered sugar will fly out of the mixing bowl and make a giant mess.
You can adjust the amount of powdered sugar as needed if you want a stiffer frosting.
Lemon Cream Cheese Frosting Alternatives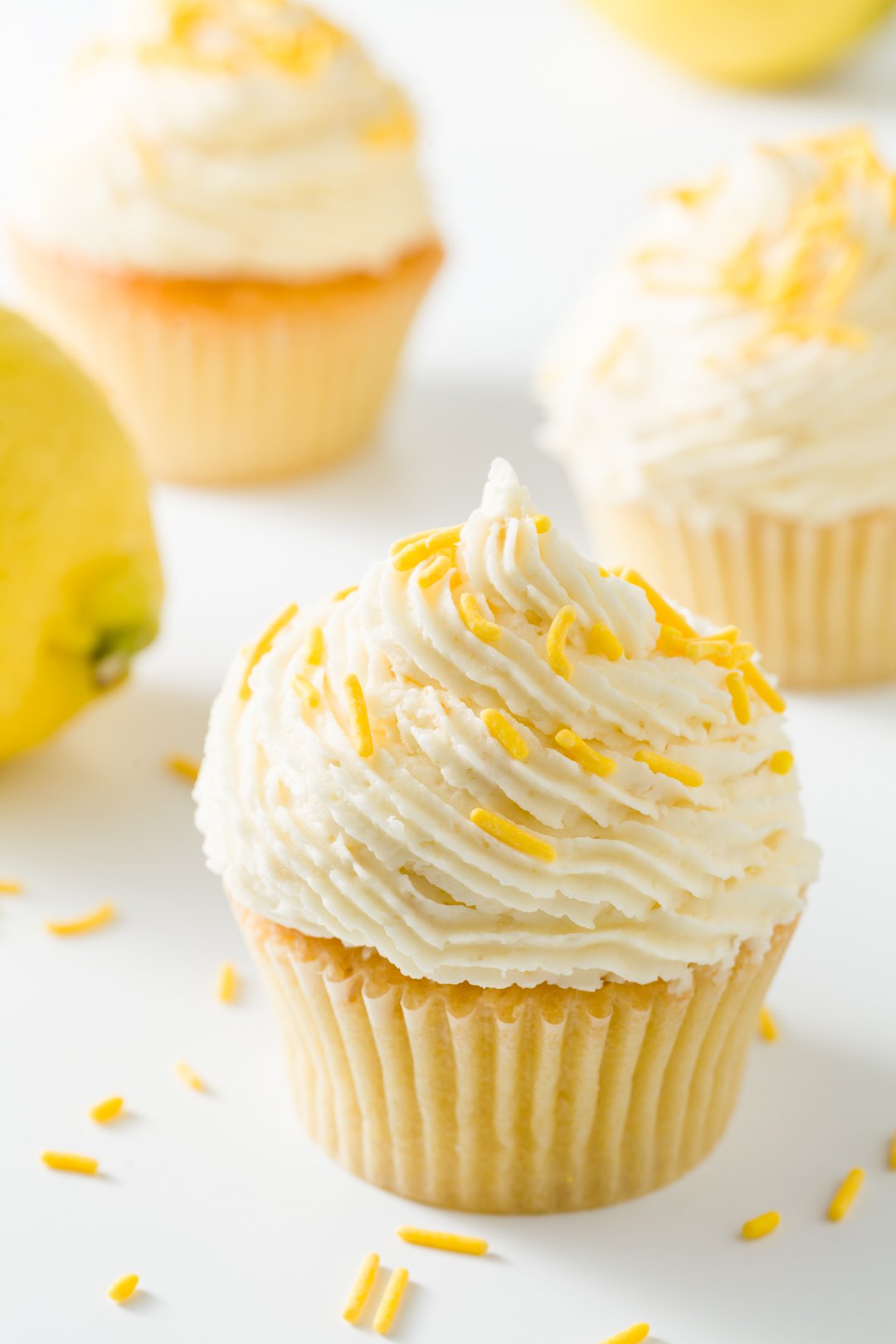 Lemon buttercream (shown above) is the obvious alternative to lemon cream cheese frosting. However, you can try frosting lemon cake or cupcakes with marshmallow frosting to make lemon meringue cupcakes or cake.
You can also substitute an equal amount of lime, orange, or grapefruit zest if that is what you have on hand or if you want to give your frosting a different flavor.
Best Recipes to Use Lemon Cream Cheese Frosting On
Lemon cream cheese frosting is wonderful as cupcake frosting on lemon cupcakes, vanilla cupcakes, or even strawberry cupcakes. You can also spread it on a lemon poppyseed cake or lemon muffins.
Lemon Cream Cheese Frosting
This lemon cheese cheese frosting is oh-so lemony and has a great tang from the cream cheese! It's perfect on cupcakes or cakes.
Ingredients
16

ounces

cream cheese

room temperature

1/2

cup

unsalted butter

room temperature

6

cups

powdered sugar

2

tablespoons

lemon zest

zest of approximately two lemons
Instructions
Use an electric mixer to mix cream cheese and butter until creamy and light, about three minutes on high speed.

Mix in powdered sugar one cup at a time. You can add more or less to get your desired consistency.

Mix in lemon zest until fully integrated.
Notes
This recipe frosts a two layer 8" cake or 16 cupcakes with a small frosting swirl.
Always make sure that all ingredients are at room temperature before starting.
Mix for several minutes to incorporate lots of air into the frosting and make it fluffy.
You can add more or less powdered sugar to the recipe to give it a stiffer or lighter texture.
The USDA considers frostings made with cream cheese to be unsafe if left unrefrigerated for more than a couple of hours, and there are a lot of food websites that echo this fear. If you have a weakened immune system, or just like to err on the side of caution, then by all means refrigerate your frosting until you are ready to serve. If you want to know what I do, though, I leave my cakes and cupcakes with cream cheese frosting out of the fridge. I have never had problems with the frosting souring, and I have certainly never had any negative health effects. 
Cream cheese frosting can be frozen! Foods with a high fat content tend to survive freezing well. You can put a plastic bag of cream cheese frosting in the freezer for weeks or maybe even months. You will need to let it thaw and re-whip it a bit when it comes out, though, before you start piping.
Nutrition
Calories:
323
kcal
|
Carbohydrates:
46
g
|
Protein:
2
g
|
Fat:
15
g
|
Saturated Fat:
9
g
|
Cholesterol:
46
mg
|
Sodium:
93
mg
|
Potassium:
39
mg
|
Fiber:
1
g
|
Sugar:
45
g
|
Vitamin A:
560
IU
|
Vitamin C:
1
mg
|
Calcium:
30
mg
|
Iron:
0.1
mg