How to Make a Stunning Pavlova
Published , Last updated by
Stef
Disclosure: As an Amazon Associate, I earn from qualifying purchases.
While a pavlova may seem like a super fancy dessert, it's actually very easy to make. It's a giant meringue with a fluffy interior.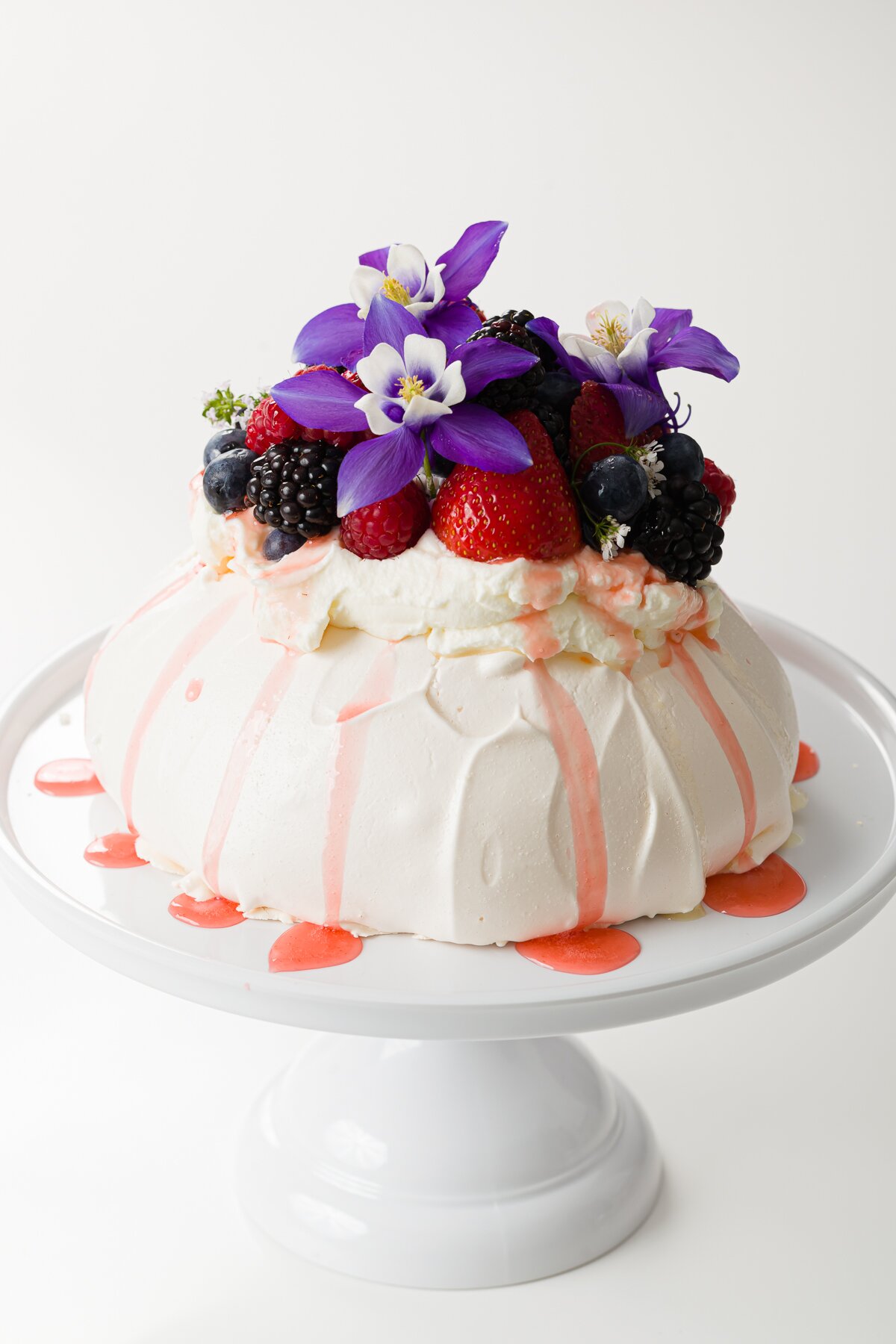 The key to elevating this dessert is topping it with Chantilly cream, berries, syrup, and beautiful flowers.
Ingredients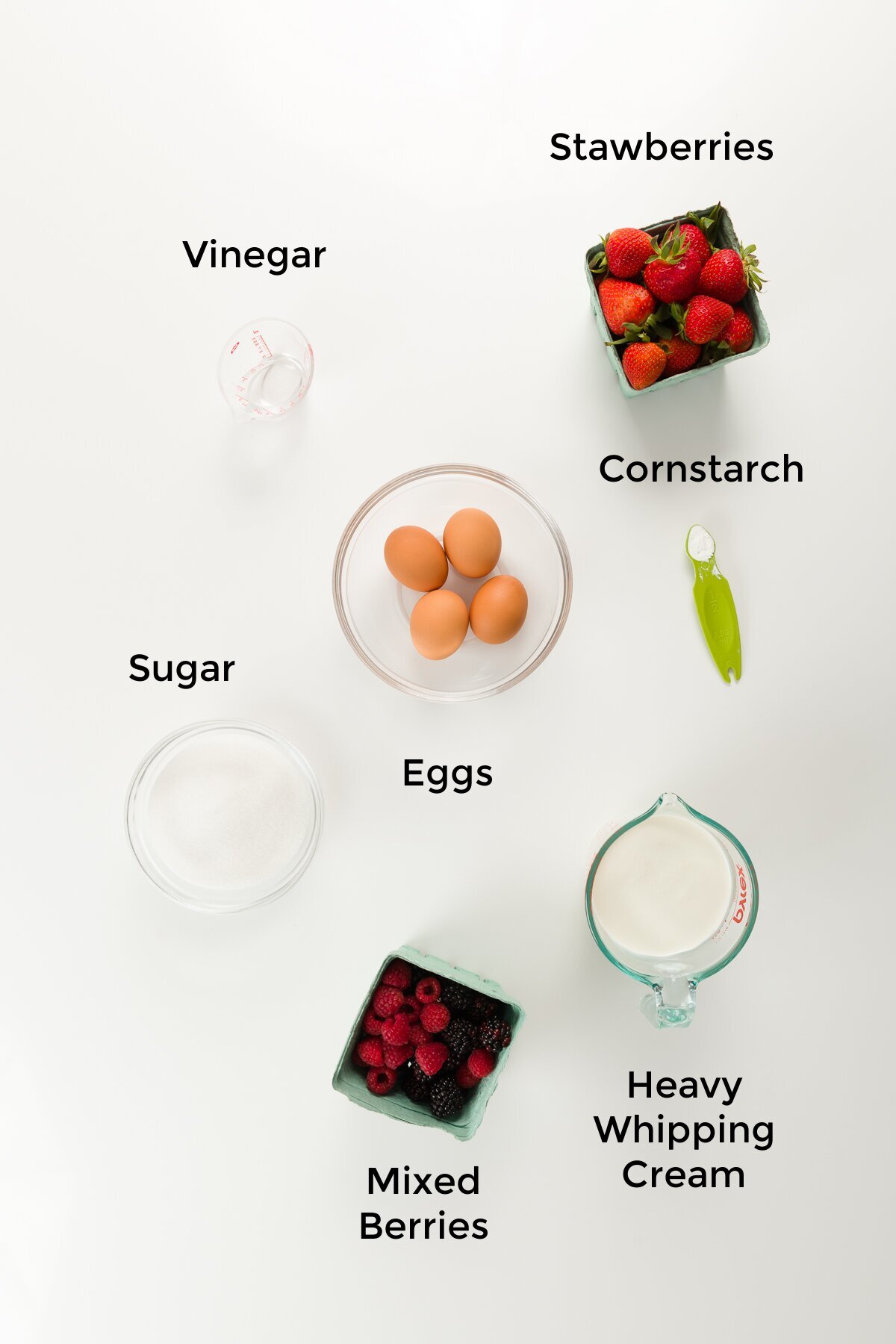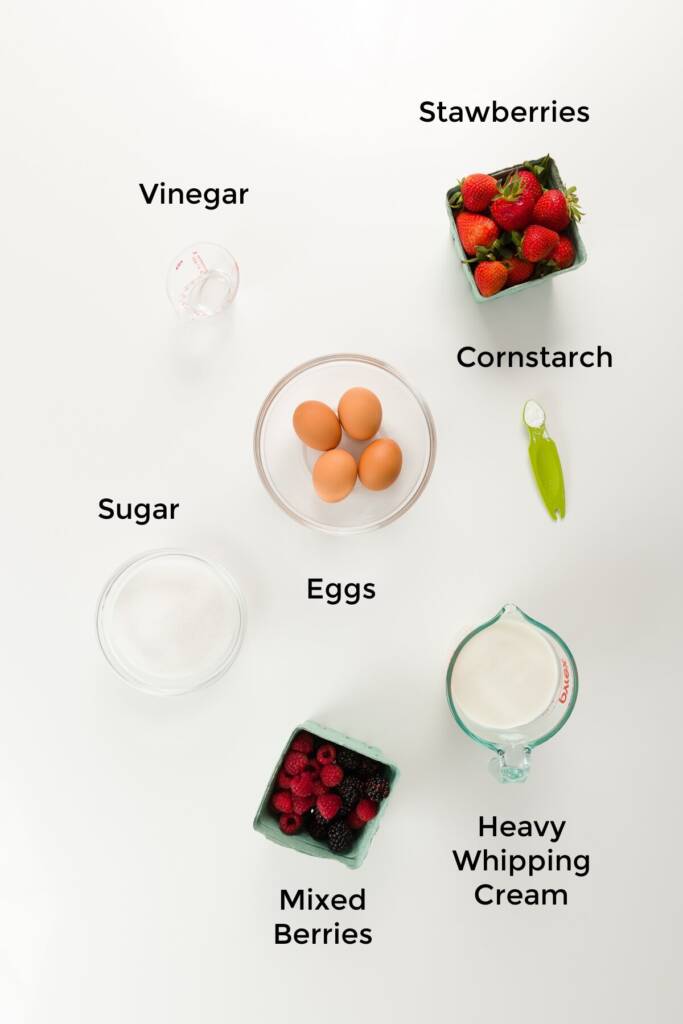 Like meringues of all kinds, pavlova requires egg whites. I use 4 whites for a 6-inch diameter one. To get the best pavlova, use fresh eggs instead of old ones.
You'll want to use superfine or caster sugar [paid link] instead of regular granulated sugar in this recipe as it will integrate better with the foamy egg whites.
Adding a slurry of distilled white vinegar and cornstarch keeps the inside of the pavlova soft and marshmallowy, differentiating it from other meringue desserts.
For decorating, you'll need heavy whipping cream, strawberries (to macerate), and other mixed berries.
If you have edible flowers, they can add a splash of color and elegance to the dessert's presentation.
How It's Made
Macerated Strawberries
I recommend macerating strawberries the night before you make your pavlova to bring out the best flavor and a lot of juice.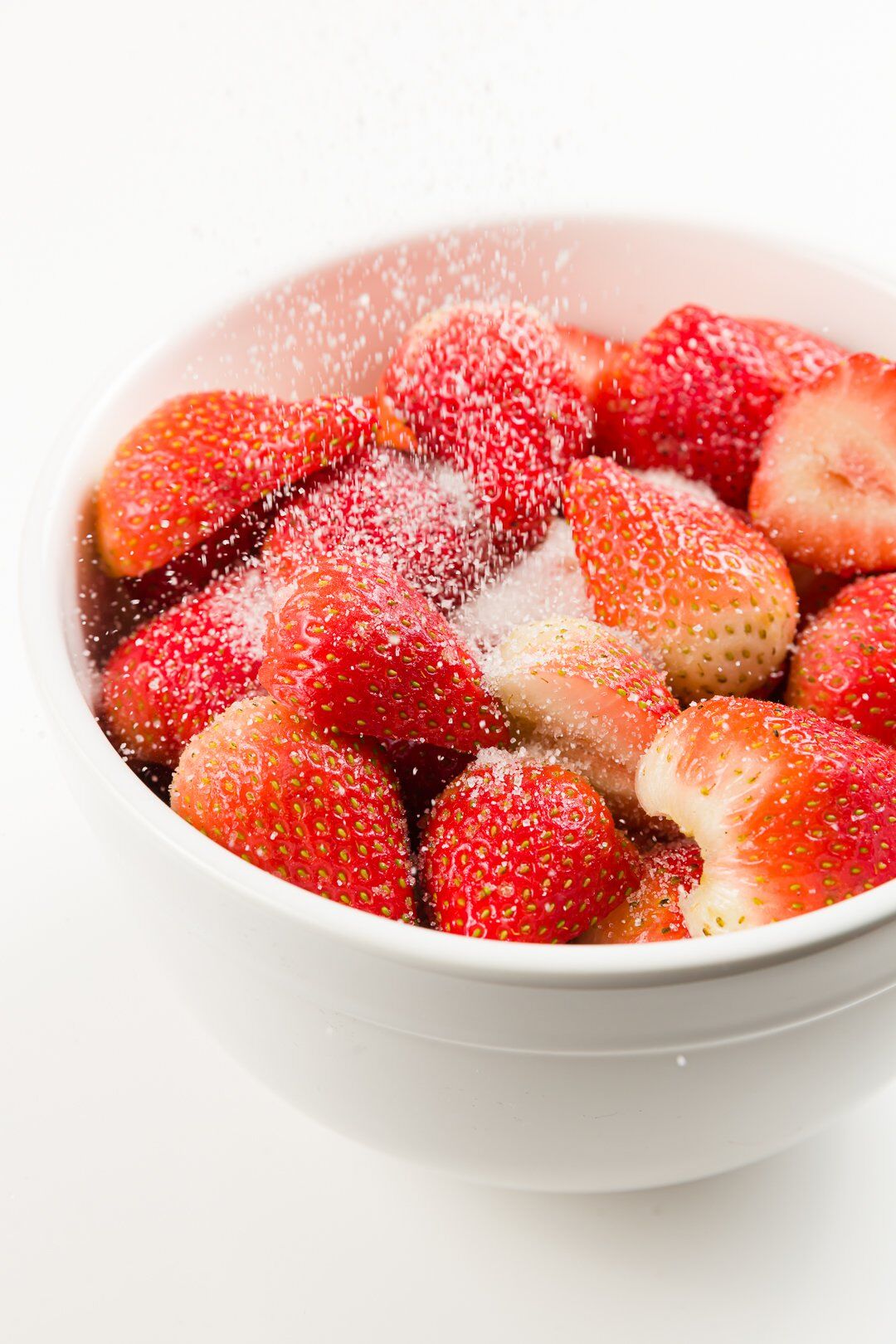 Mix strawberries and sugar in a bowl. Cover and set in the refrigerator overnight as the berries will be softer and release more liquid the longer they sit.
Tip: Take the resulting liquid and bring it to a low boil in a saucepan for a few minutes to create a thick, strawberry sauce to pour over the dessert.
Pavlova
Begin by preheating your oven and adding four egg whites to the bowl of a stand mixer (or a bowl that you plan to use with an electric mixer). You will have to use the whisk attachment for this recipe.
Start whisking on medium speed and whisk until soft peaks form. Your egg whites have reached this stage when you lift the whisk and peaks hold for just a second before falling back into themselves.
Continue mixing at medium speed while slowly adding in the sugar. Once you've added all of the sugar, you can gradually increase the speed of your mixer to high speed and whisk until stiff peaks form.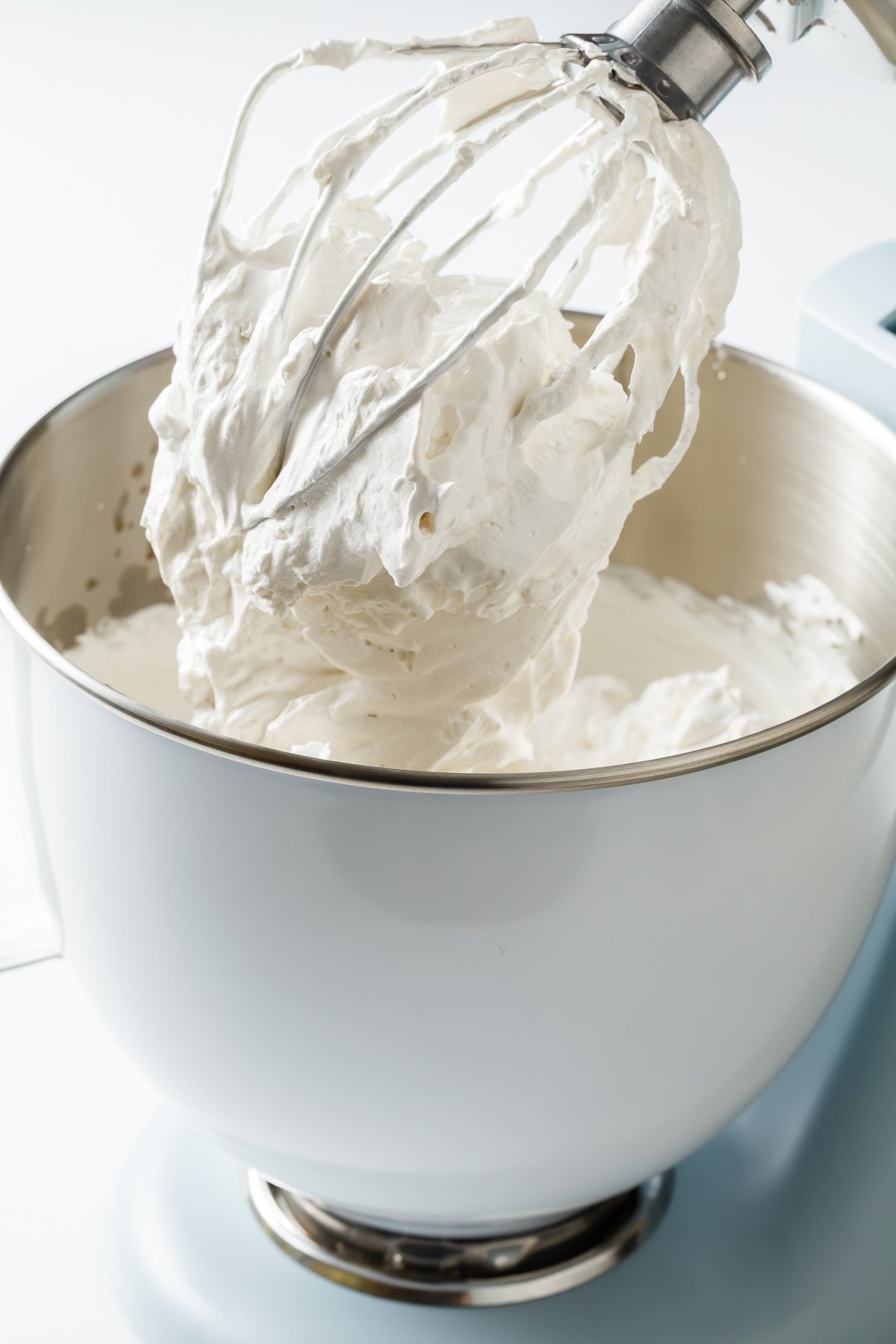 Tip: The secret to perfect pavlova (much like making meringues or marshmallow frosting) is making sure you whip the egg whites until they are nice and stiff. You know you have stiff peaks when you lift the whisk up and the egg whites hold their shape. You should see peaks (points) that don't flop over.
Stop mixing for a moment and prepare a slurry of cornstarch and vinegar by whisking the two together in a small bowl. Add the slurry to the fluffy egg white mixture while whisking at low speed, then return to high speed for just 30 seconds more to fully incorporate the slurry into the stiff peaks. Adding this mixture gives pavlova its distinctive, fluffy interior.
Shaping
Spread the stiff egg whites into a 6-inch diameter cylinder on a parchment-lined cookie sheet. To make sure that you have a perfect circle, first trace one onto parchment paper in pencil using a bowl or cake pan, then flip the parchment over and you'll still see it through the paper.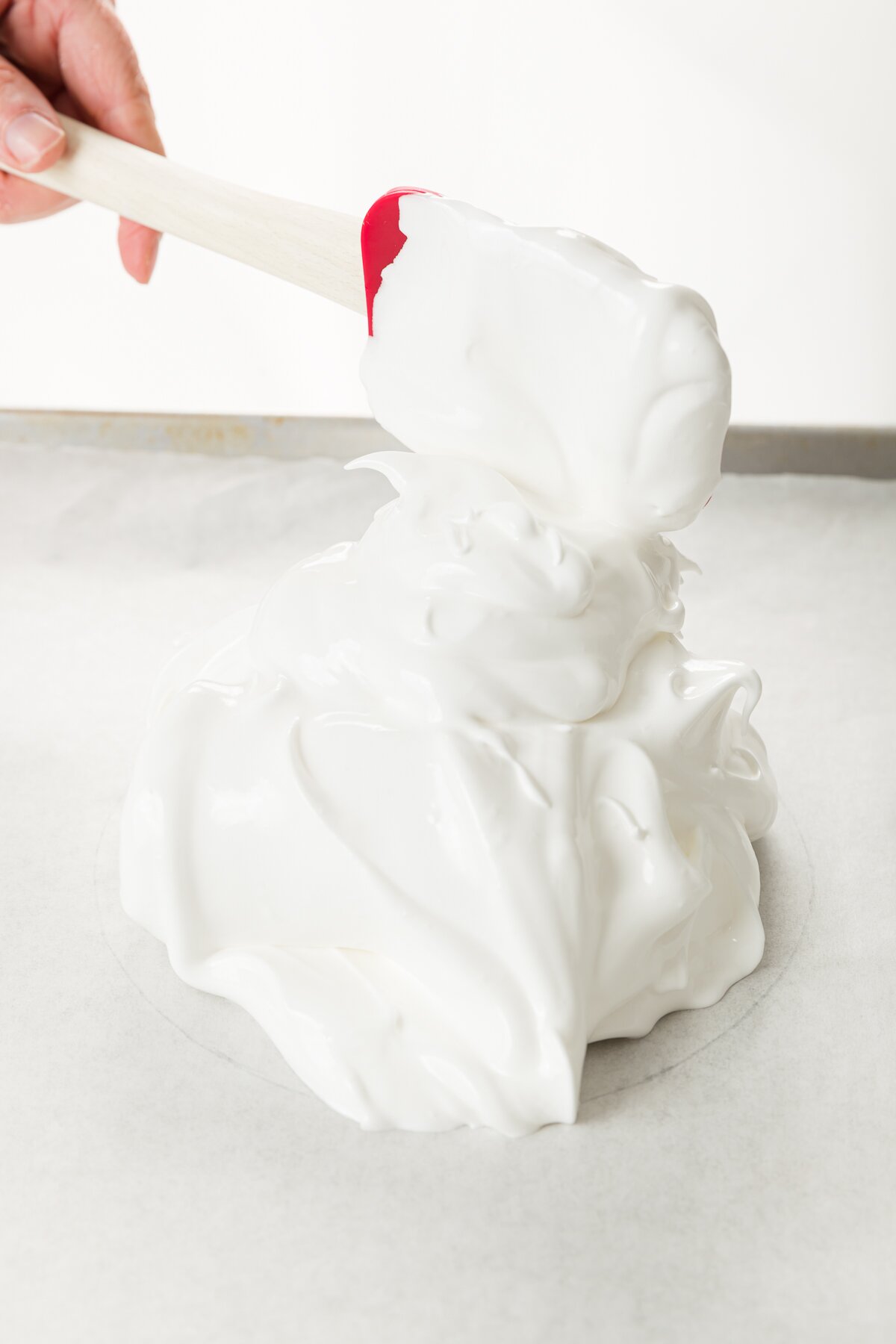 Shape it by using an offset spatula [paid link] to lift the meringue up from the base to the top. Repeat this process around the entire circumference of the fluffy mixture. Leave (or create) a slightly indented area at the top for whipped cream and berries.
Put the raw pavlova into your preheated oven and cook for 90 minutes.
Then, turn the oven off and leave the dessert in until the oven is completely cool. This may take three hours or more, but it's important to follow this step to keep the pavlova from cracking all over.
Once the pavlova has cooled, cover it and leave it out at room temperature until you're ready to decorate and serve.
Decorating
You can decorate the dessert up to a day after baking.
Pile on fresh Chantilly cream, strawberry whipped cream, or chocolate whipped cream and then add your fresh berries and macerated strawberries.
If you created a thickened strawberry syrup (see above), drizzle that over the fruit and down the sides of the pavlova. Otherwise, take the macerated strawberry liquid and add just enough to have a little strawberry juice drizzle running down the sides of the dessert.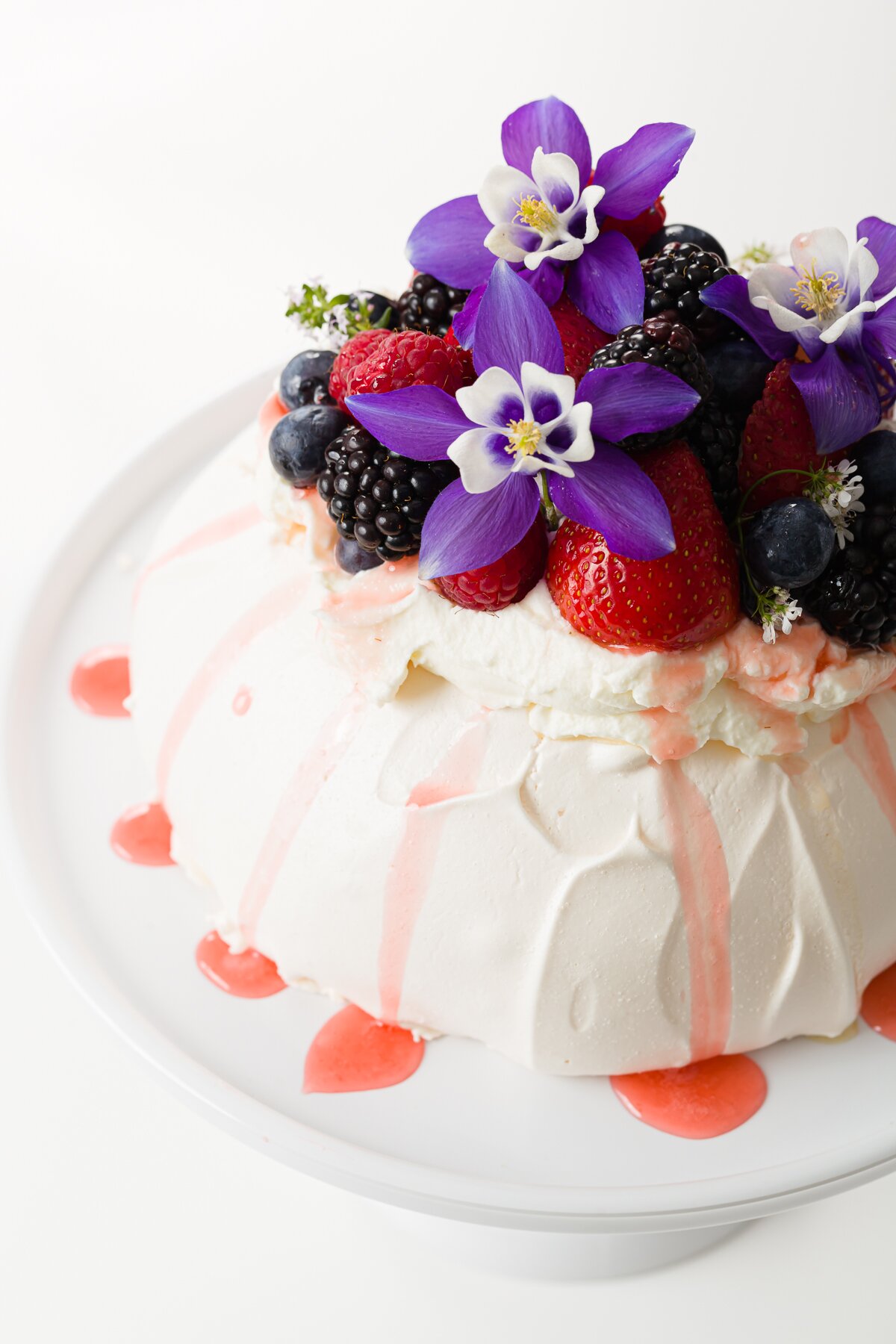 Top with fresh edible flowers and serve immediately!
Expert Tips and FAQs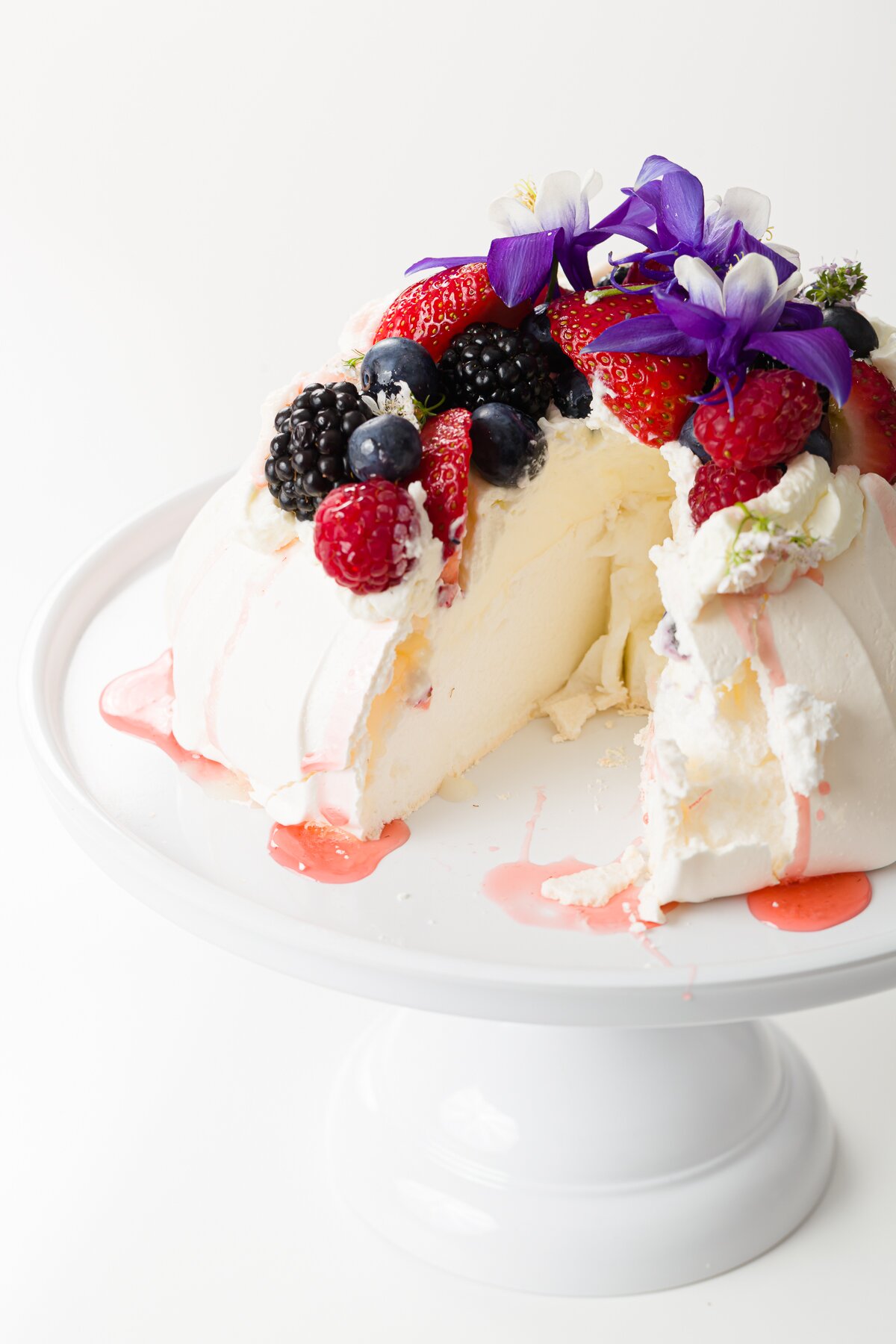 Do I need to use cornstarch and vinegar in this recipe?
The cornstarch and vinegar help stabilize the foam of the whisked egg whites. This fantastic article covers all of the details.
I don't have superfine sugar. Can I still make this recipe?
You can create superfine sugar from granulated sugar by putting it into a blender and pulsing several times until the sugar feels fine (but not powdered).
How do I make sure my pavlova doesn't brown?
Always preheat your oven to 225 F before putting in your pavlova; putting a pavlova in during preheating may cause unwanted browning.
How do I keep my pavlova from cracking?
While some cracking is expected, excessive cracking happens when the fluffy interior cools off too rapidly and the outer crust collapses. This almost always happens when the dessert cools too quickly. To make sure that your pavlova doesn't crack all over, turn your oven off after the 90 minute bake time and leave the pavlova in the oven until it cools completely, 2-3 hours.
Can you make a pavlova in other shapes?
You can shape the pavlova any way you like and add your favorite fruits or toppings. Pastry chef Sarah Osborn of the Niche Food Group makes a heart-shaped version with chocolate whipped cream, macerated berries, and sprinkles that comes out so pretty! You can see her make it in the video in this post.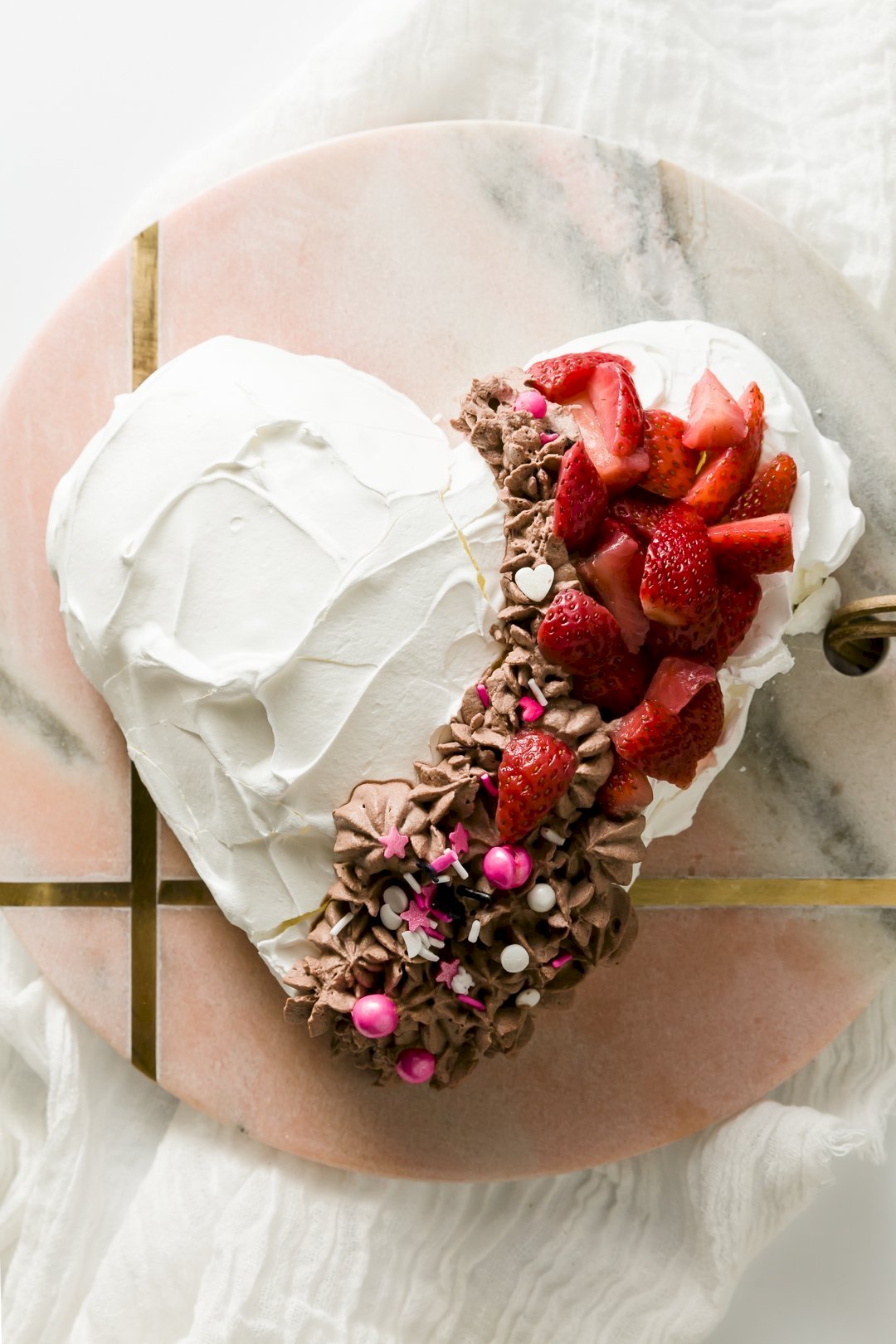 Can I make a pavlova in advance?
You can make the pavlova one day in advance, but do not decorate it until you plan to serve it. Store the undecorated pavolva in an airtight container at room temperature. Do not refrigerate. Once decorated, the pavlova must be served immediately.
Related Recipes
Stunning Pavlova Recipe
This pavlova is crispy on the outside and marshmallowy soft on the inside. It's decorated with whipped cream, berries, and flowers, and is drizzled with a thickened strawberry syrup.
Ingredients
Macerated Strawberries Ingredients
1/4

cup

superfine sugar

also called caster sugar

2

cups

strawberries

hulled and halved
Pavlova Ingredients
4

egg whites

from fresh large eggs

1

cup

superfine sugar

also called caster sugar

1/2

teaspoon

cornstarch

1

teaspoon

white distilled vinegar
Decorating Ingredients
2

cups

heavy whipping cream

cold

2

tablespoons

superfine sugar

also called caster sugar

1/2

cup

berries

blueberries, raspberries, and blackberries

edible flowers

optional
Instructions
Macerated Strawberries Instructions
Combine the sugar and the strawberries in a bowl.

Cover and refrigerate overnight.

Strain liquid from the berries and set berries aside.

For a strawberry syrup you can drizzle over the pavlova, pour the liquid into a saucepan and bring to a low boil until liquid is reduced by half. Remove this strawberry syrup from heat and allow to cool to room temperature.
Pavlova Instructions
Add egg whites to the bowl of a stand mixer fitted with a whisk attachment or use an electric mixer with a whisk attachment.

Whip on medium speed until soft peaks form.

Continue mixing at medium speed while slowly adding in sugar. Once you've added all of the sugar, you can gradually increase the speed of your mixer to high speed.

Continue whisking on high speed until stiff peaks form.

In a small bowl, mix cornstarch and white distilled vinegar together to make a slurry.

With the mixer on low speed, drizzle the slurry into the whipped egg whites.

Mix on high for 30 seconds to incorporate the slurry into the stiff peaks.

Gently transfer onto a parchment-lined baking sheet, forming a cylinder with a 6-inch . Use an offset spatula to make slightly angled sides and a slight depression in the middle of the cylinder. (You can trace the circle onto one side of your parchment paper with a pencil and a cake pan or bowl, then flip it over to use the circle as a guide.)

Turn oven off and let the pavlova remain in the warm oven until both are completely cool, about 3 hours.

Remove from the oven, carefully remove from parchment paper, and place on desired serving tray. You can keep the pavlova covered well for up to one day before decorating.
Decorating Instructions
Using a hand mixer or a stand mixer fitted with the whisk attachment, whisk the cold heavy whipping cream on high speed. As you whisk, you'll notice that the cream will begin to get bubbly and then thicken.

Keep on whisking until it is thick enough that it doesn't collapse when you lift up the whisk or place some on a spoon.

Add the sugar and give the whipped cream one final short whisk.

Dollop or pipe whipped cream onto the top of the pavlova.

Top with reserved macerated strawberries and mixed berries.

Drizzle the reduced strawberry syrup over the berries and down the sides of the pavlova.

Garnish with edible flowers.
Notes
Make sure that the egg whites reach stiff peaks. If they aren't holding their shape, keep on whisking. 
If needed, you can bake the pavlova a day in advance and leave covered at room temperature (do not refrigerate) and decorate the next day. Serve immediately after decorating. If left overnight after decorating, the outside of the pavlova will not longer be crispy.
Nutrition
Calories:
484
kcal
|
Carbohydrates:
53
g
|
Protein:
4
g
|
Fat:
30
g
|
Saturated Fat:
18
g
|
Cholesterol:
109
mg
|
Sodium:
64
mg
|
Potassium:
173
mg
|
Fiber:
1
g
|
Sugar:
49
g
|
Vitamin A:
1178
IU
|
Vitamin C:
29
mg
|
Calcium:
62
mg
|
Iron:
1
mg
Stay Connected!
Join my mailing list - and receive a free eBook!