Stunning Strawberry Pavlova
Disclosure: I may earn a commission from purchases you make through affiliate links in this post at no additional cost to you.
Strawberry pavlova may seem like a super fancy dessert, but it's actually very easy to make. Pavlova is a giant meringue with a fluffy interior. It's typically topped with fresh whipped cream and berries.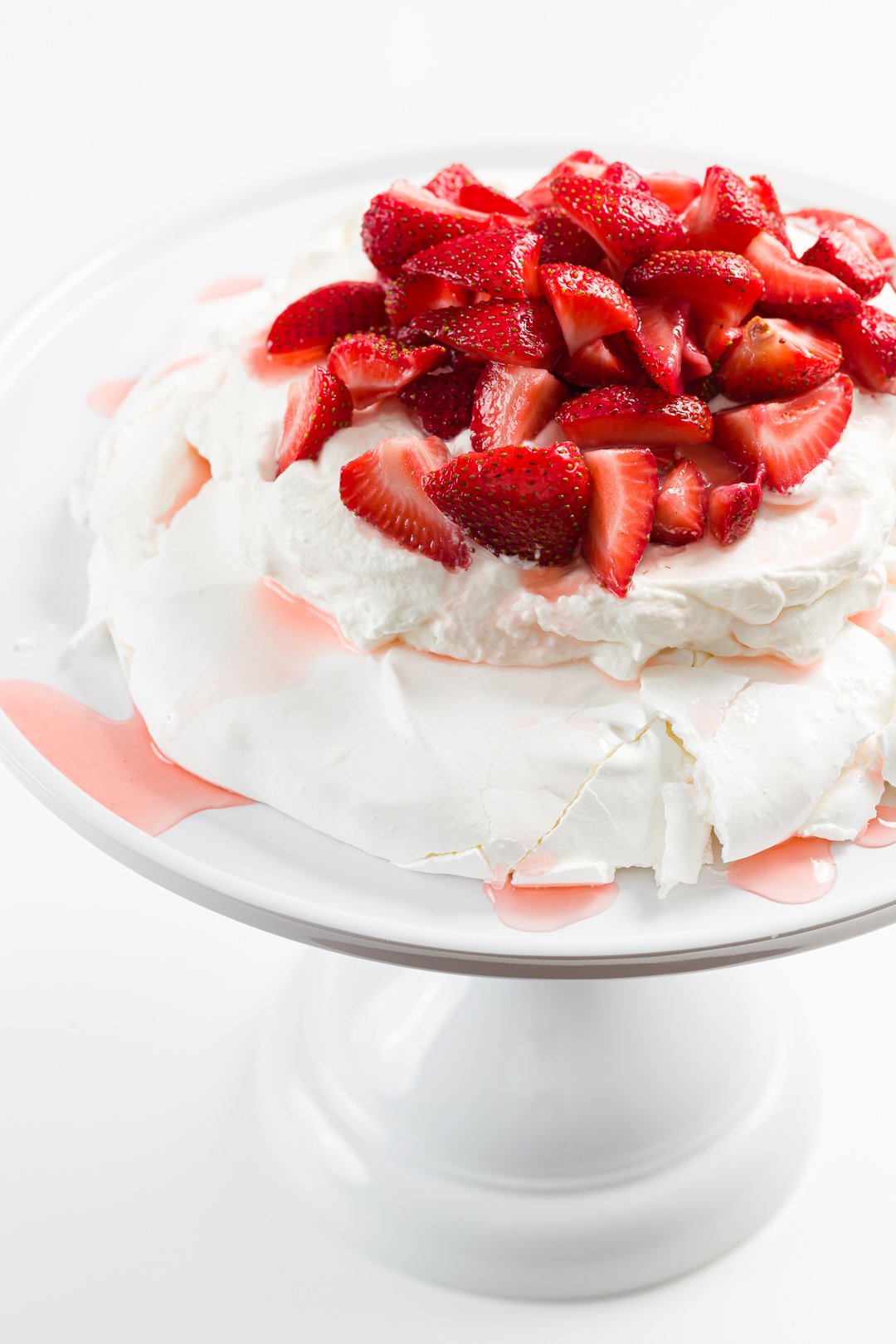 The secret to perfect pavlova (much like making meringues or marshmallow frosting) is making sure you whip the egg whites until they are nice and stiff.
You know you have stiff peaks when you lift the whisk up and the egg whites hold their shape. You should see peaks (points) that don't flop over.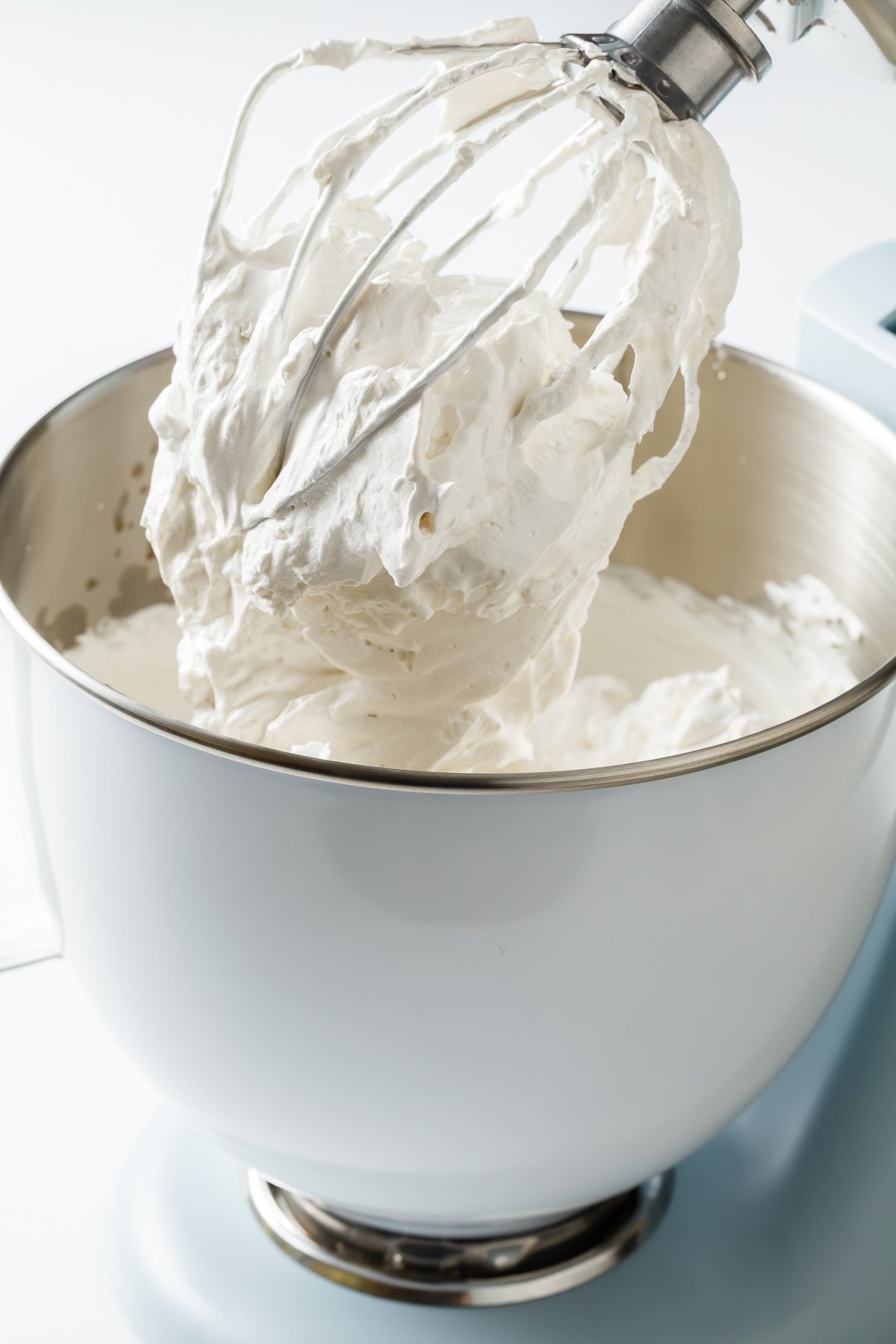 To create the fluffy interior that is distinctive to pavlova, add just a touch of cornstarch and vinegar to the whipped eggs.
Shaping
Spread the stiff egg whites into a circle on a parchment-lined cookie sheet. To make sure that you have a perfect circle, you can first trace one onto parchment in pencil using a bowl or cake pan. Flip the parchment over and you'll still see it through the paper.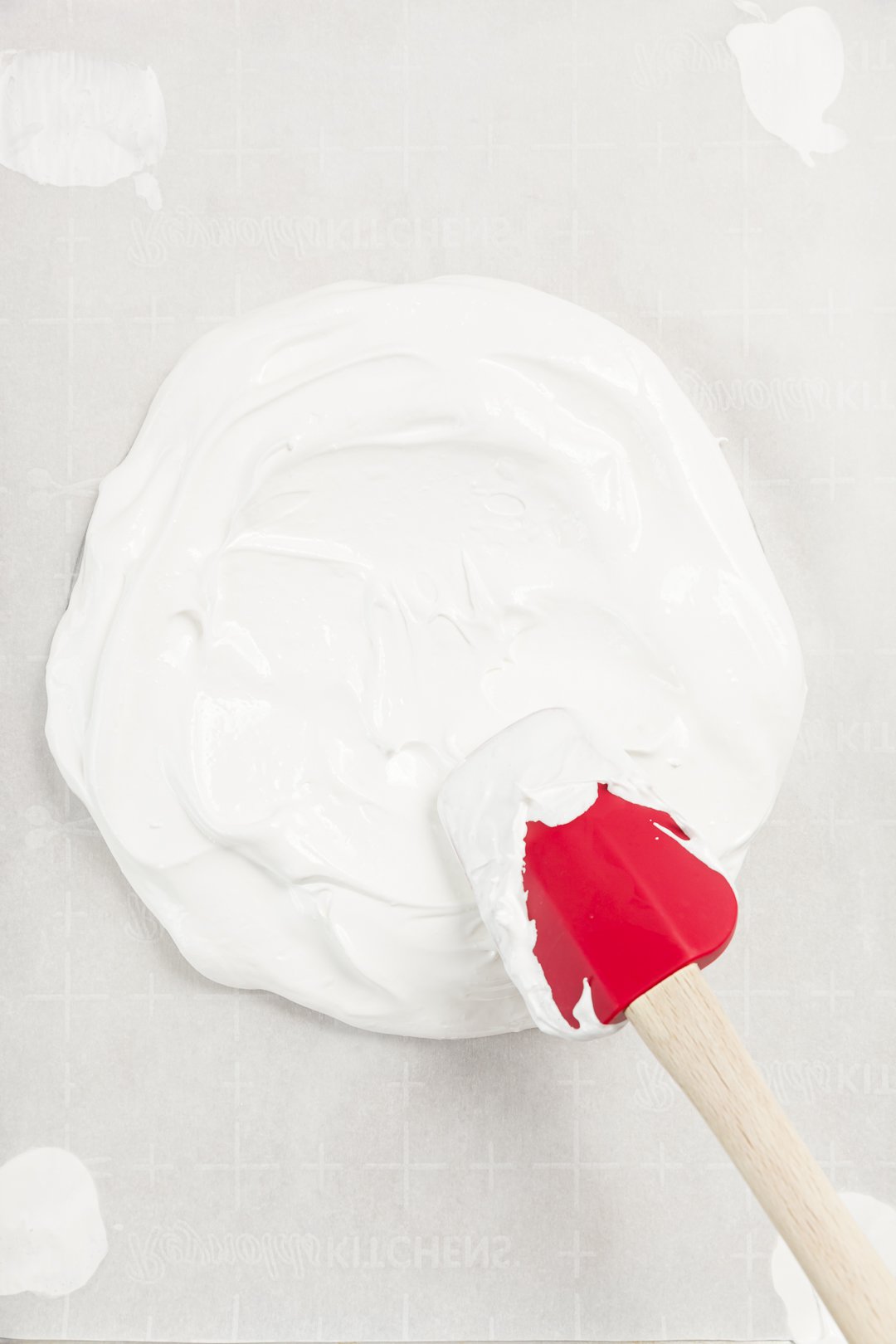 Make a small divot or indented area for the whipped cream and berries to go in.
Decorating
You can decorate up to a day after you bake the pavlova.
Pile on fresh whipped cream or chocolate whipped cream and lots of strawberries! Always use fresh berries and ideally, macerate them first. Macerating strawberries is a method of bringing out the natural juices in the berries and making them sweeter and glossy.
Strain out most of the liquid from the macerated berries and add in just enough to have a little strawberry juice drizzle running down the side of the dessert.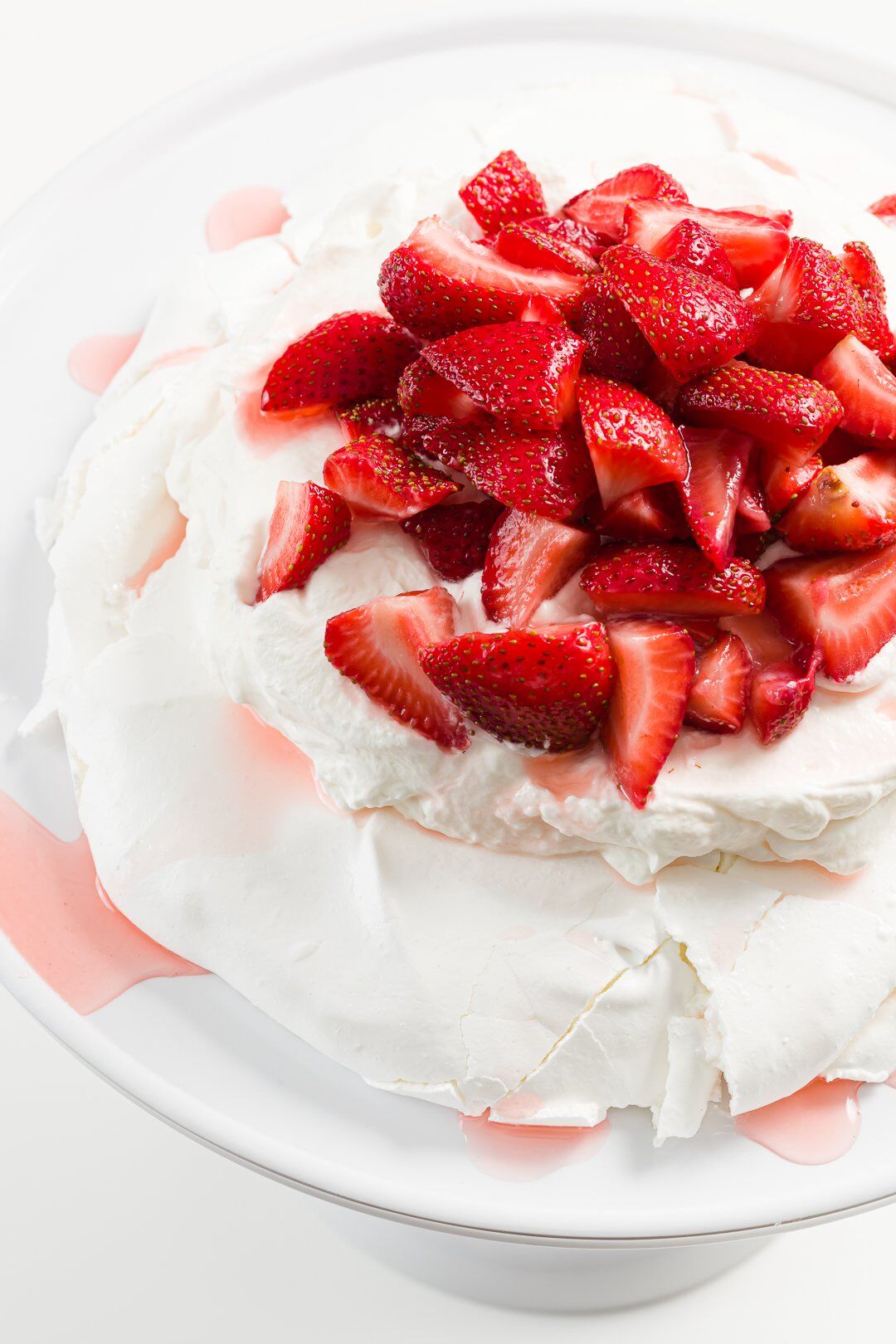 Variation
Pastry chef Sarah Osborn of the Niche Food Group makes a heart-shaped version that comes out so pretty! You can see her make it in the video in this post.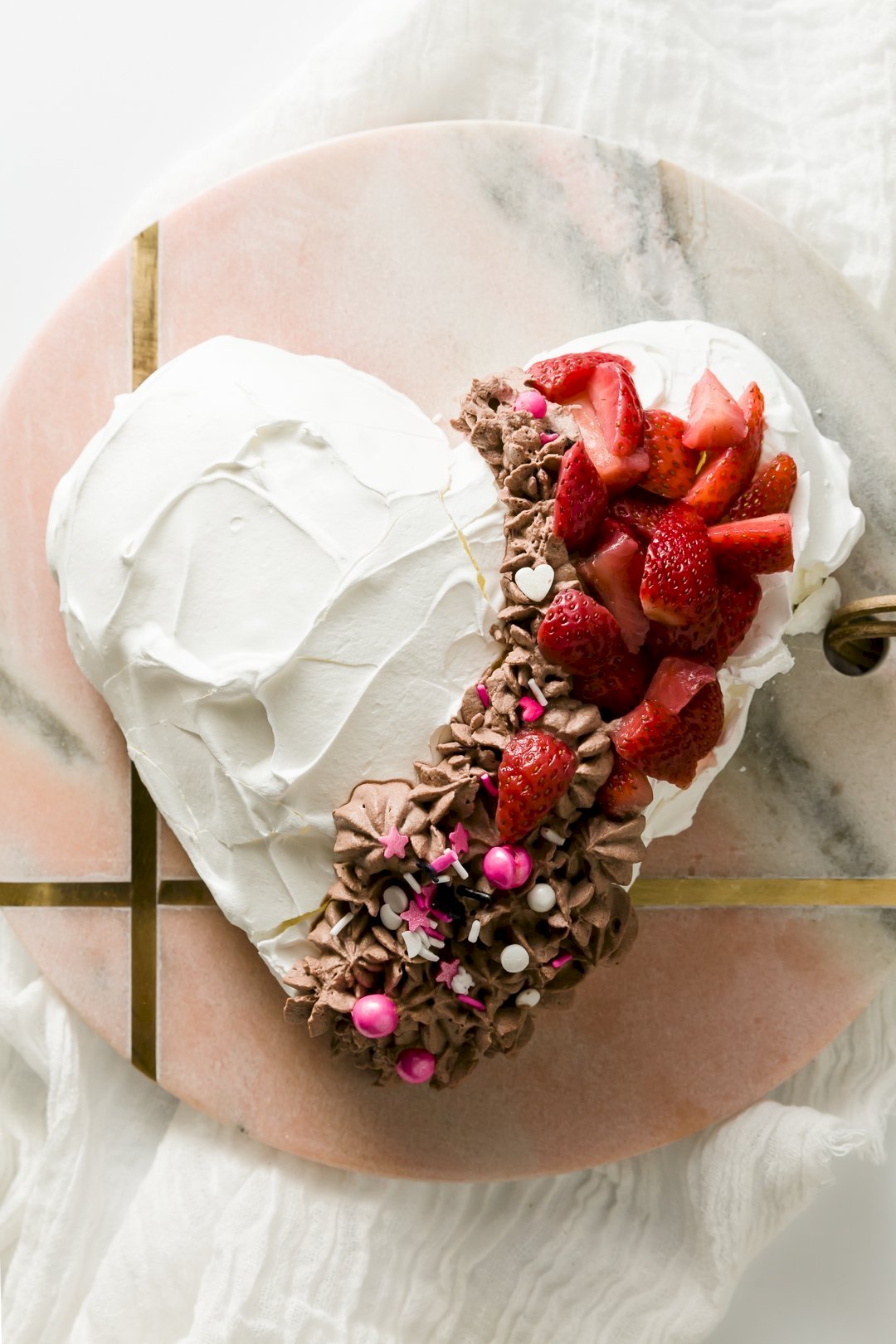 Strawberry Pavlova Recipe
This strawberry pavlova recipe is crispy on the outside and marshmallowy soft on the inside.
Ingredients
Pavlova Ingredients
4

egg whites

from large eggs

1

cup

granulated sugar

1/2

teaspoon

cornstarch

1

teaspoon

white distilled vinegar
Macerated Strawberries Ingredients
1/4

cup

sugar

2

cups

hulled and quartered strawberries

whipped cream

to taste
Instructions
Pavlova Instructions
Combine egg whites and sugar in a stand mixer fitted with a whisk attachment.

Whip on high until stiff peaks form.

In a small bowl, mix cornstarch and white distilled vinegar together to make a slurry.

With the mixer on low, drizzle the slurry into the whipped egg whites.

Mix on high to return whites to stiff peaks.

Transfer onto a parchment-lined cookie sheet and shape into an 8" diameter circle with a slight depression in the middle. (You can trace an 8" circle onto one side of your parchment paper with a pencil and a cake pan or bowl, then flip it over to use the circle as a guide.)

Bake at 200 F until the outside and the bottom have a solid shell. If you notice any browning, rotate the pavlova and keep a close eye on it.

Let cool, remove from parchment, and place on desired serving tray.
Macerated Strawberries Instructions
Combine the sugar and the strawberries.

Cover and keep in the refrigerator for at least 1 hour.

Strain liquid from the berries and set aside.

Dollop or pipe whipped cream onto pavlova.

Drizzle a little of the strawberry liquid down the sides of the pavlova.
Notes
Make sure that the egg whites reach stiff peaks. If they aren't holding their shape, keep on whisking. 
If needed, you can bake the pavlova a day in advance and decorate the next day. Serve immediately after decorating.
Nutrition
Calories:
188
kcal
|
Carbohydrates:
46
g
|
Protein:
3
g
|
Fat:
1
g
|
Saturated Fat:
1
g
|
Sodium:
34
mg
|
Potassium:
106
mg
|
Fiber:
1
g
|
Sugar:
44
g
|
Vitamin C:
28
mg
|
Calcium:
8
mg
|
Iron:
1
mg