Decorating Cakes with Edible Flowers – Flowers to Use and Decorating Ideas
Published , Last updated by
Stef
Disclosure: As an Amazon Associate, I earn from qualifying purchases.
We've all seen stunning professional cakes decorated with edible flowers. Using flowers is an extremely easy and beautiful way to decorate cakes at home, too. You can hide frosting flaws with beautiful blooms and add loads of color to your creations without ever having to use food coloring!
In this post, with help from Martine Lleonart, author of Let's Party: Unique Kids' Birthday Party Ideas, you'll learn everything you need to know about choosing and using edible flowers for cakes. I also turn to St. Louis florist Kelly Jurotich to practice some of these techniques myself.
As you'll read below, you probably don't want to dig into the flower bouquet that you received for your birthday – but there are times where you could. Even so, just because you could doesn't mean you should. Flower petals are better in small doses!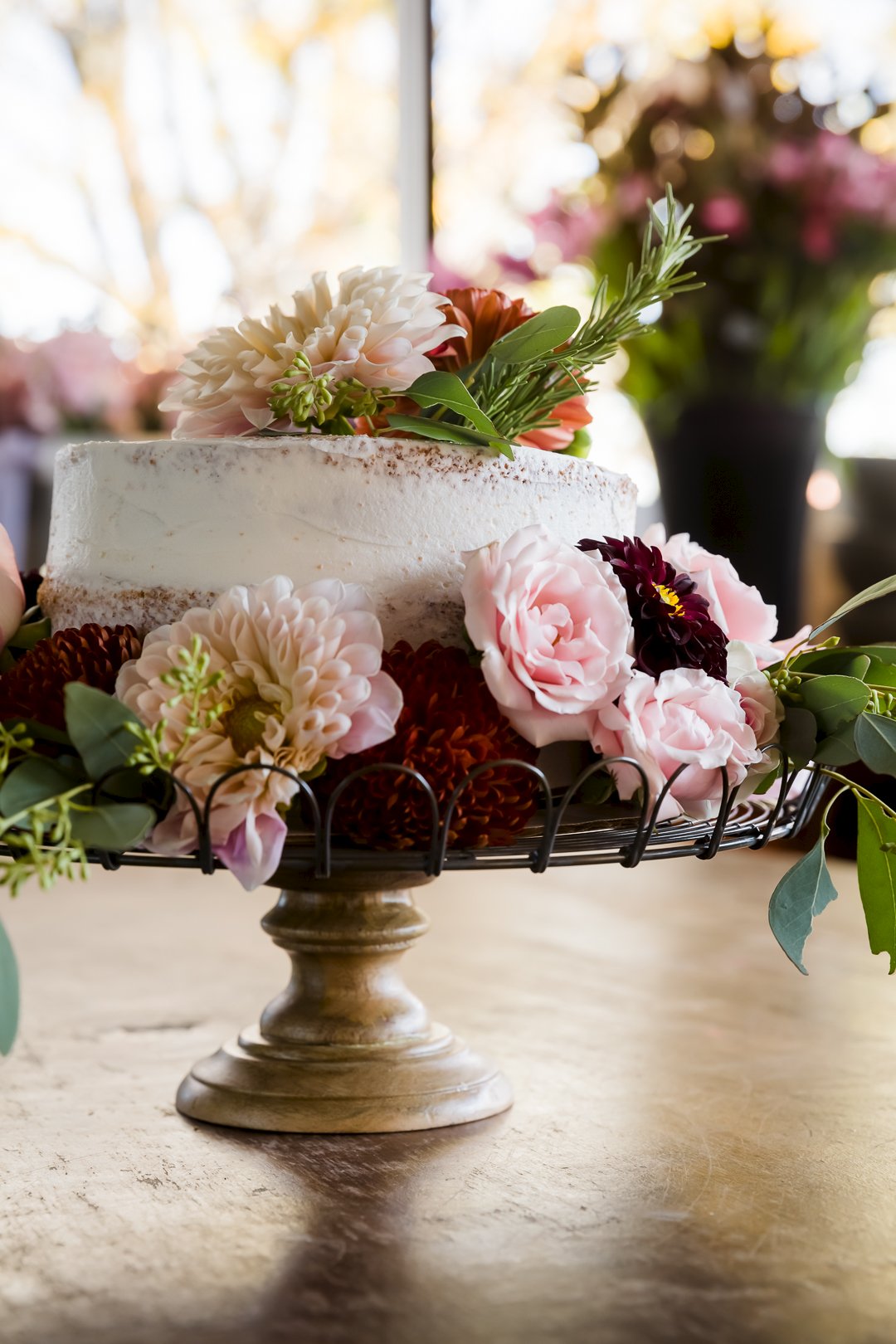 Choosing Edible Flowers for Cakes
Edible flowers have become very popular recently, and with good reason: edible flowers are a simple and fun way to make any dish beautiful.
Before you go throwing handfuls of flowers onto your food, there are a few things to note:
Not all flowers are edible. In fact, some are poisonous.
Many flowers grown commercially are sprayed with pesticides and fertilizers. Be sure to check with your florist where they sourced their flowers and what conditions they were grown in.
Don't be tempted to pluck a few blooms grown on the side of the road. Not only are they grown with all those yucky car fumes, but you never know what the local council has sprayed on them.
Always wash flowers before you use them.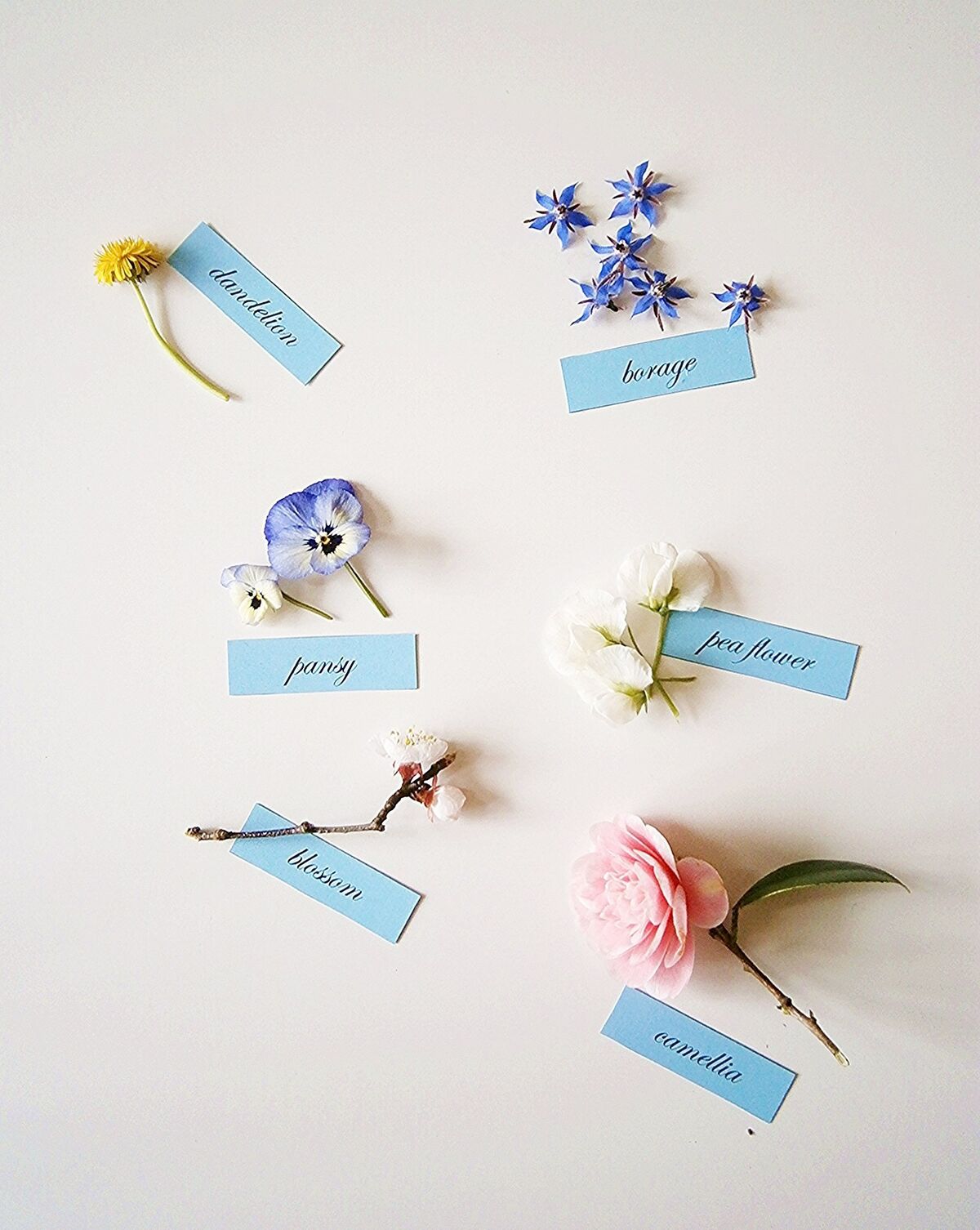 The following flowers are edible:
bean flowers
blossom (apple, apricot, peach, pear, plum)
borage
camellia
chive flowers
clover
cornflower (bachelor's button)
crabapple
dahlia
dandelion
fuchsia
hibiscus
lavender
lilac
nasturtium
pansy
primrose
rose
snapdragon
snow pea flowers (not sweet peas)
thyme
viola
violet
zucchini flowers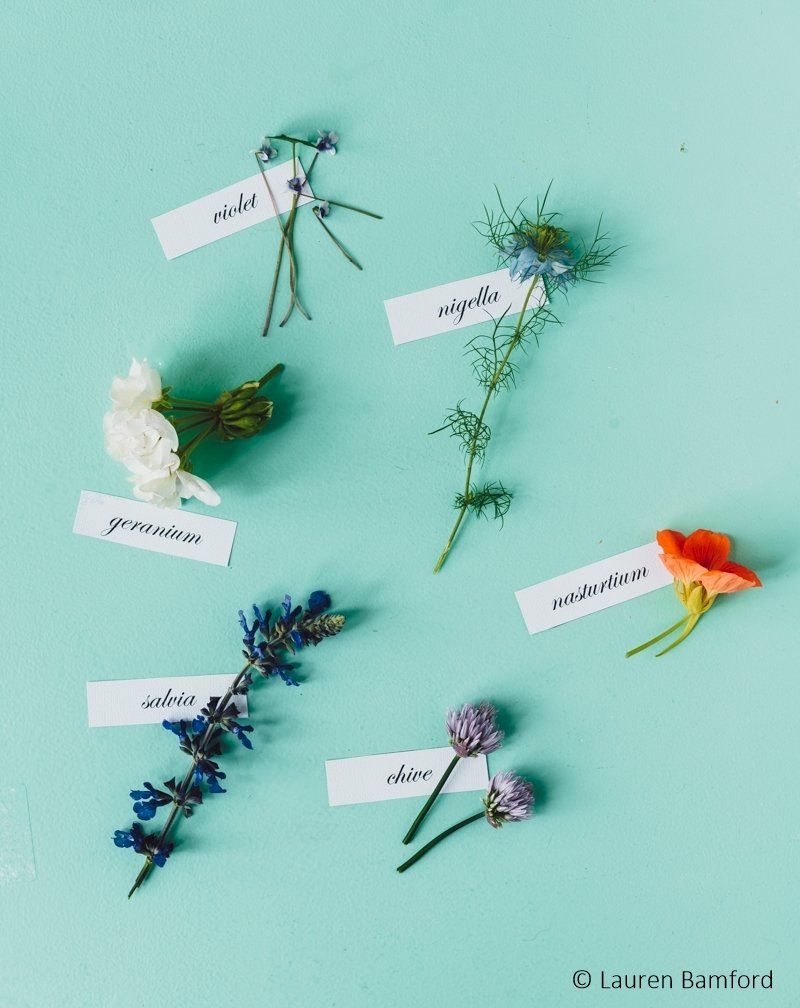 A Note On Taste
Although the flowers may be edible, that doesn't necessarily mean that they actually taste good. Generally speaking, the flowers from herbs, violets, nasturtiums and roses offer some of the best flavors.
Preparing Edible Flowers
Before putting edible flowers onto cakes, you will need to prepare them. This involves washing and trimming them.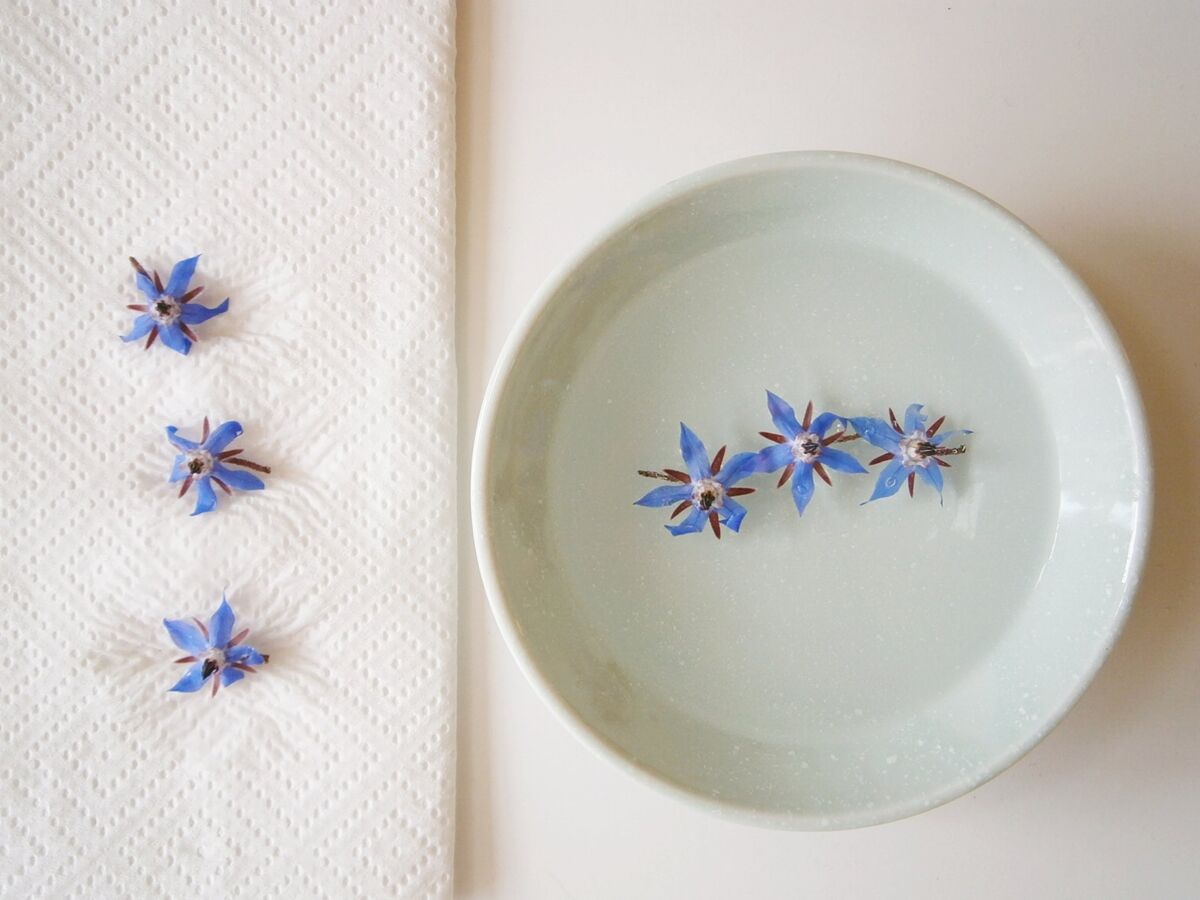 Washing the Flowers
Depending on the size and quantity of flowers I am using, I use one of two methods to wash flowers.
For small, delicate flowers, I bathe the flowers in a bowl of water and then let them dry on kitchen paper (paper towels). For larger flowers, I give them a shower. Hold them by their stems under a fine spray of water, then give them a gentle shake and let them dry on a cooling rack or kitchen paper.
Edible Flower Food Safety
It is generally recommended to remove the pistil and stamen from flowers before serving. This is because some people are allergic to pollen.
Another source of concern is the stem of the flower. Some people advocate wrapping the stems of flowers in floral tape because the sap may be an irritant or poisonous. This all depends on the flower. If you cut the stem and sap comes out (particularly milky sap), you should probably wrap it.
Best Ways to Decorate Cakes
You'll notice that some flowers like violets, borage, and pansies are very small. These are the pop-in-your-mouth type of edible flower. Don't be afraid to place these little floral beauties straight onto your food (assuming you've washed them).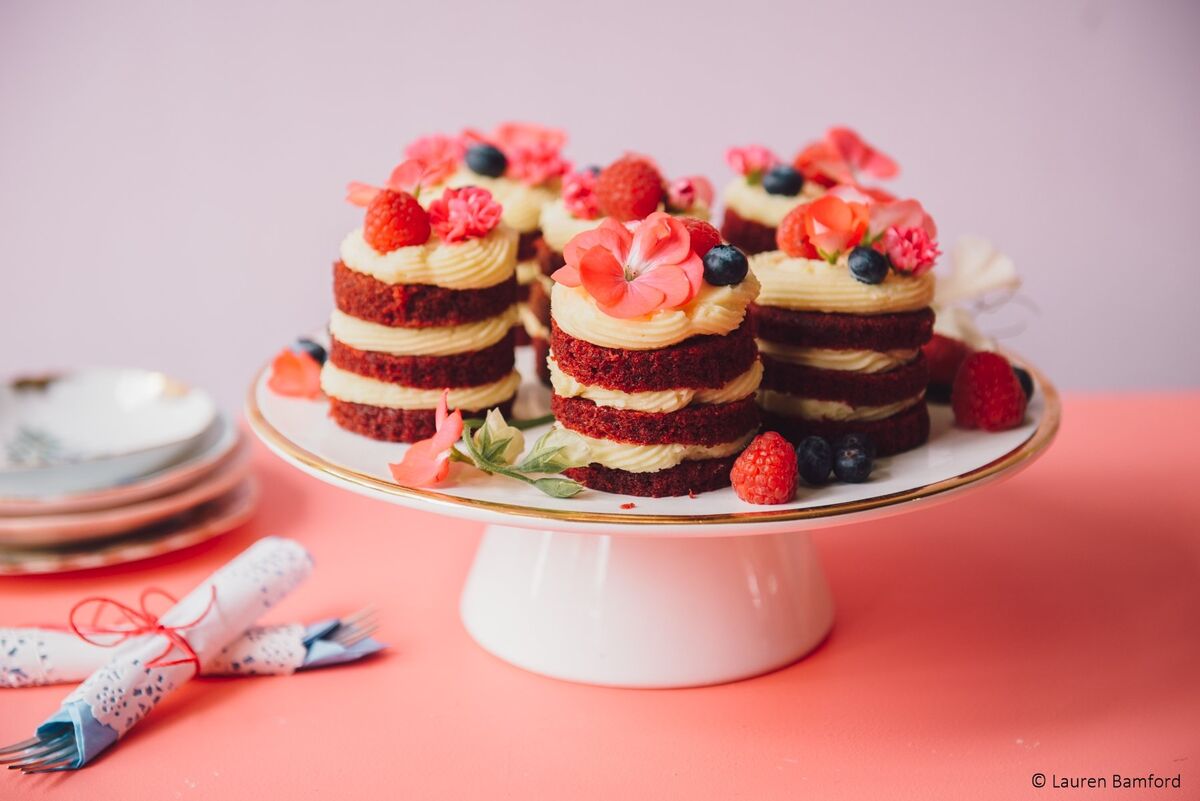 Larger flowers – such as roses, camellia and carnations – are probably not going to actually be eaten (unless you are dining with a goat or Stef), but they serve as a lovely decoration that you can pop to the side of your plate while you daintily cram that last piece of cake into your mouth.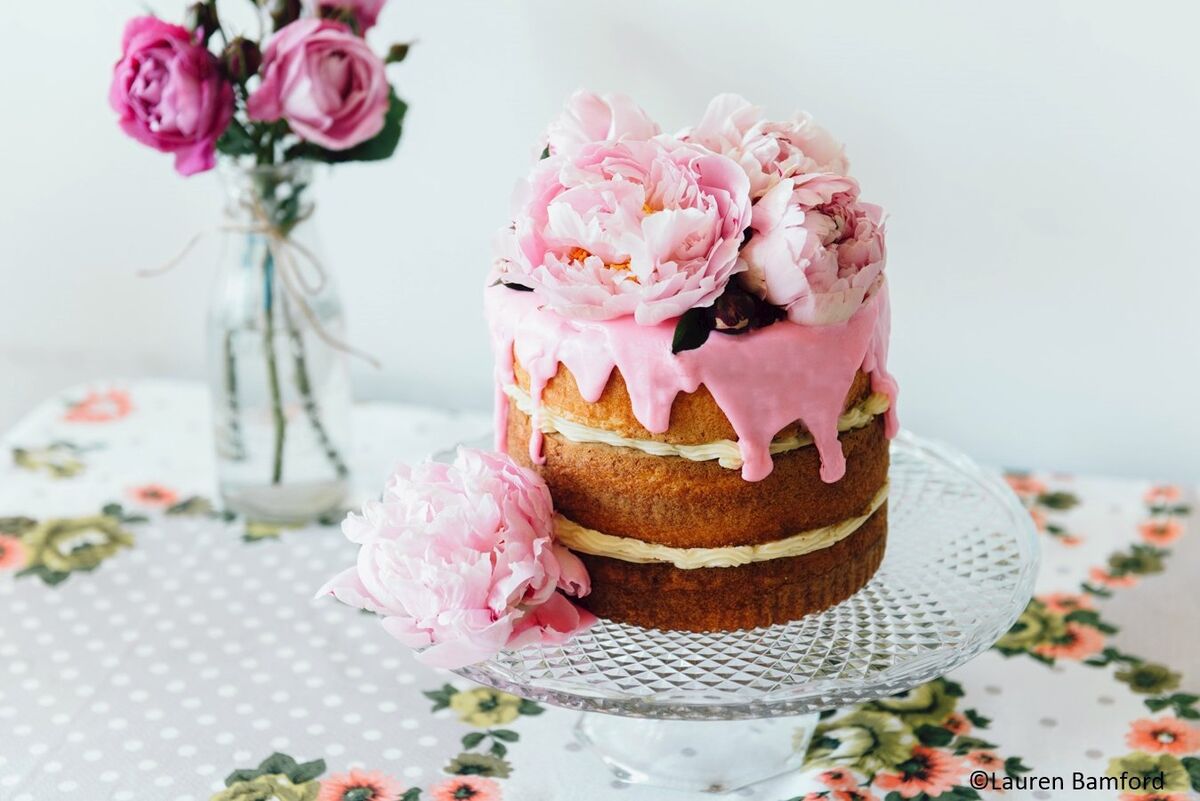 When using large fresh flowers on cakes, there are a few different ways you can go about decorating:
You can insert the flower stem into a lollypop stick and poke that into the cake to ensure it doesn't come into direct contact with the cake.
You can use florist wire and floral tape. Cut your flower stem to about ½ an inch, then poke a 4-inch piece of florist wire into the stem until it touches where the flower attaches to the stem. Fold the wire in half and wrap the wire together with the floral tape. Now your flower is ready to use. Never poke florist wire directly into a cake. Wire has the potential to rust inside the cake if left too long.
If you're going to use a lovely big pile of flowers on your cake, first place a sheet of parchment where the flowers are going to go, then go ahead and place your flowers.
When adding flowers to your food, place them on the cake just before serving so that they don't wilt.
Other Uses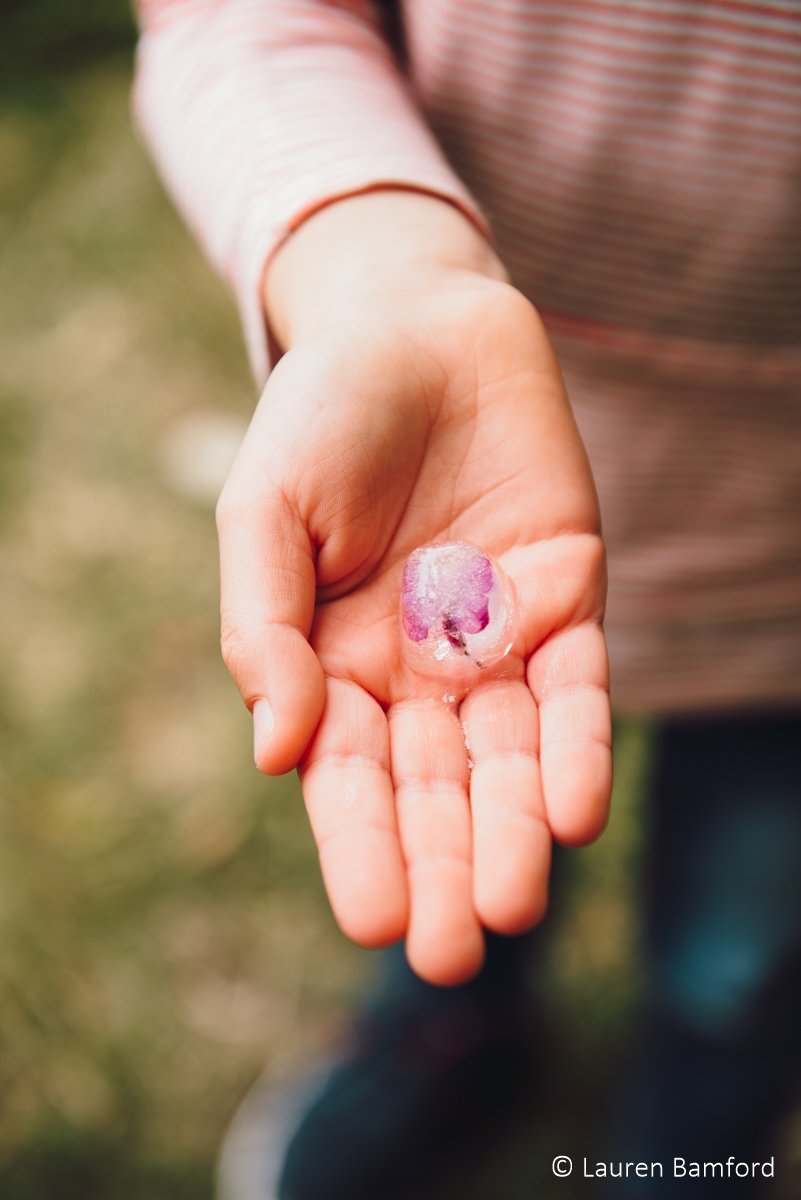 Edible flowers aren't just for cakes!
Nasturtium and borage are lovely in traditional salads. Carnations greatly enhance fruit salads.
Fancy up your afternoon tea by placing some violets on top of lovely little sandwiches (served alongside crumpets and clotted cream).
Freeze small flowers or individual petals into ice cubes to make summer drinks. These ice cubes work especially well in floral infusions like rosehip, chamomile, or hibiscus tea.
Pop chive flowers on top of scrambled eggs on toast.
The options are endless!
Other Cake Decorating Ideas
If you're still scared of using edible flowers to decorate cakes, or if you want to double down on creative cake decorating, try some of these other ideas:
About the Contributor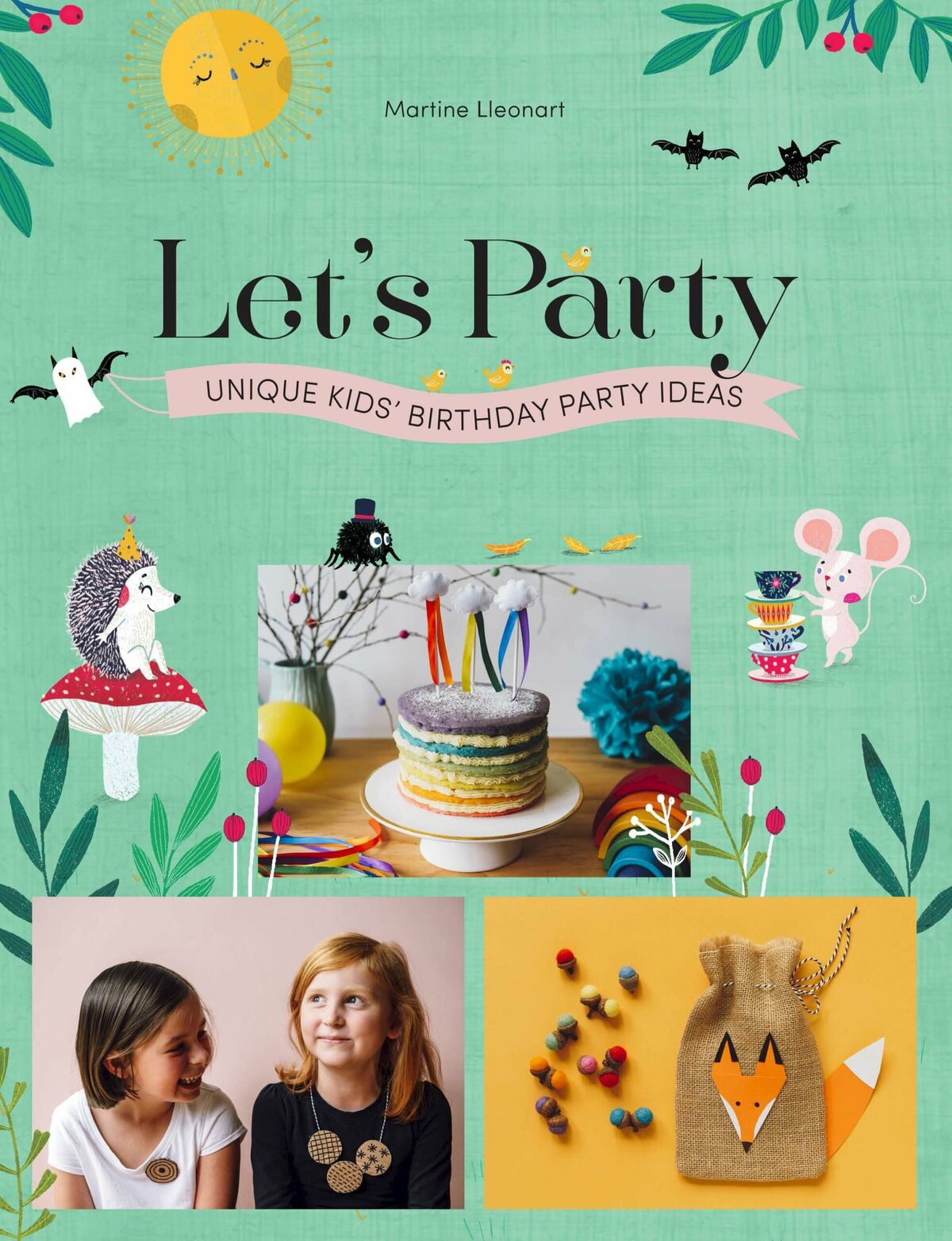 Martine Lleonart lives in Melbourne, Australia, with her husband and two children. Her first book, Let's Party: Unique Kids' Birthday Party Ideas, is filled with cake tips, recipes, and heaps of other fun things! It's published by Hardie Grant Books. When she's not tending her ramshackle garden or making pompoms, she works as a freelance editor and writer for a range of cookbooks, gardening books, and other print and online publications.
Stay Connected!
Join my mailing list - and receive a free eBook!