These chocolate cupcakes are moist, super chocolately, and test baked by over fifty people. You may have just found your perfect chocolate cupcake recipe!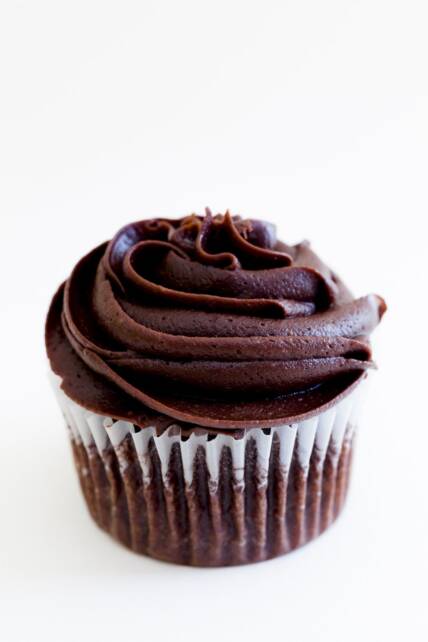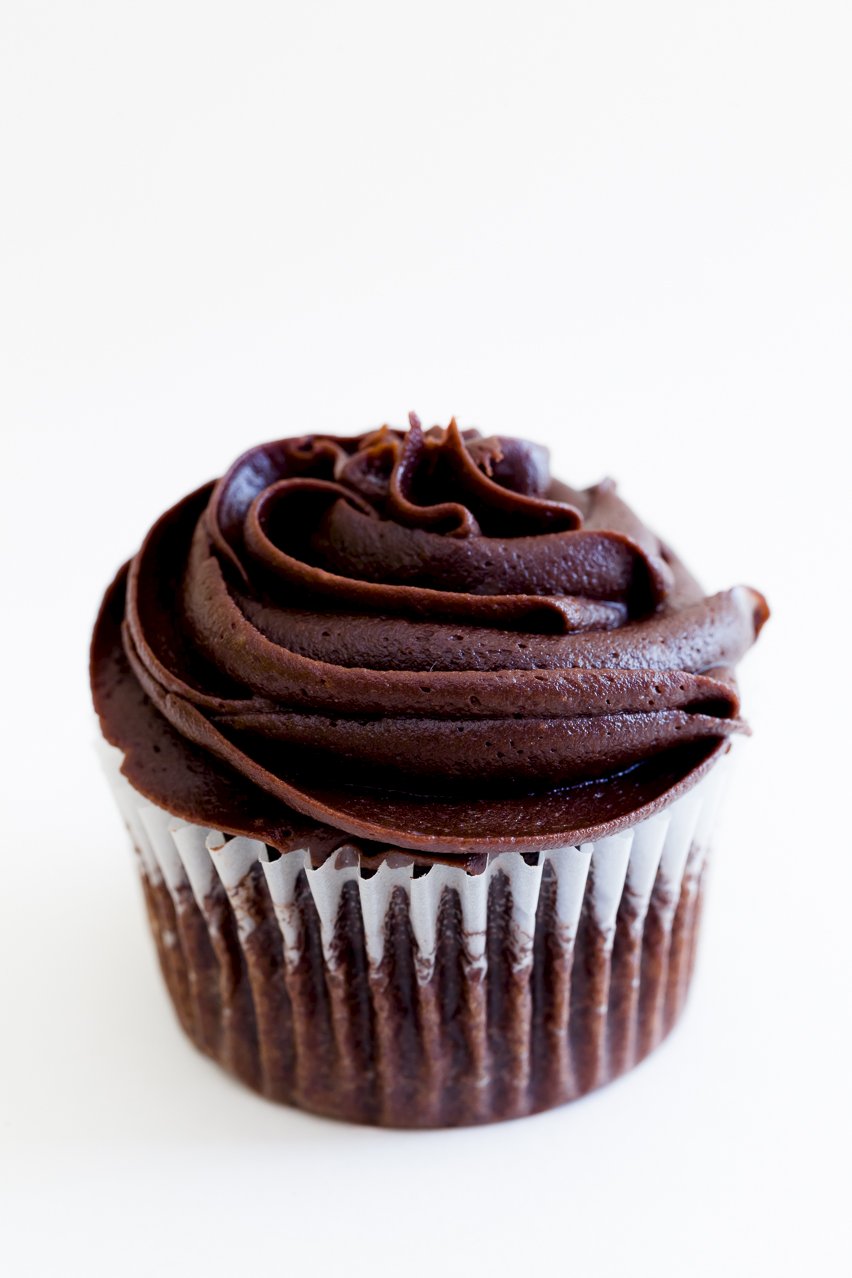 There are so many chocolate cupcake recipes out there that don't have a strong chocolate flavor. My chocolate cupcake recipe is moist and light, domes wonderfully, and has an amazing chocolate taste.
I am so proud of this recipe. I spent a year developing and testing the recipe. You can read about the testing process at the end of this post.
Even though they are easy enough to make that a total beginner baker can bake them, most people think that they are better than any cake mix and just as good, if not better, than the cupcakes at their favorite bakery.
Is it Better to Use Cocoa Powder or Melted Chocolate in Chocolate Cupcakes?
After a year of experimentation, I found that the best chocolate flavor comes from a combination of cocoa powder and melted chocolate.
Which Cocoa Powder to Use in Chocolate Cupcakes?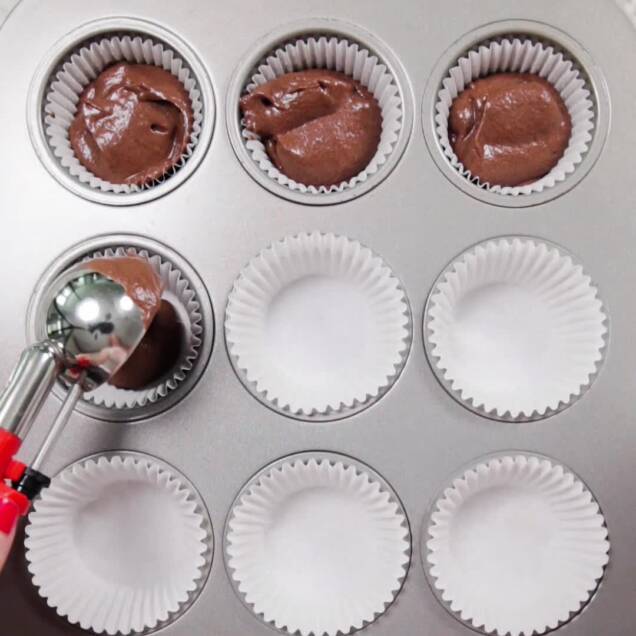 This chocolate cupcake recipe has been tested with many different kinds of cocoa powder, both Dutch-processed and natural.  All varieties work well!
Yes, using different cocoa powders will alter the taste of the cupcakes, but you really can't go wrong – it's all chocolate!
If you've only ever tried one brand of cocoa powder, I suggest experimenting with some new ones to see which flavor profile you prefer.
This recipe has been tested successfully with all of the following:
Hershey's Cocoa, Natural Unsweetened, Hershey's Cocoa, Special Dark, Nestle Toll House Cocoa, Bensdorp Dutch-process cocoa, Ghirardelli Chocolate Baking Cocoa, Unsweetened, Cadbury Fry's Premium Cocoa, Penzeys Dutch-processed Cocoa Powder, Scharffen Berger Unsweetened Natural Cocoa Powder, Pernigotti Cocoa, Penzeys Natural Cocoa Powder, Trader Joe's Cocoa Powder, Unsweetened, and Valrhona Chocolate Cocoa Powder and Cacao Barry.
I have about ten different cocoa powders in my pantry right now – including many of the ones on the list above – and I happily switch between them.
Which Chocolate to Use in Chocolate Cupcakes?
You can use any plain chocolate that you like in this recipe except white chocolate or candy melts.
The chocolate doesn't have to be one typically earmarked for baking – any chocolate bar that isn't flavored and doesn't contain mix-ins like nuts, Rice Krispies, nougat, etc. will work.
This way, you can choose whatever type of chocolate you prefer to eat: milk, dark, or even flavored chocolate bars.
This recipe has been tested successfully with all of the following:
Ghirardelli Chocolate Baking Chips, 60% Cacao Bittersweet Chocolate, Callebaut Chocolate Callets Semisweet (small discs), Lindt Classic Recipes Milk Chocolate, Hershey's Unsweetened Chocolate Baking Bar, Guittard French Vanilla Semisweet Chocolate, E. Guittard Bittersweet Chocolate 72% Cacao Disc Wafers, Baker's Semi-Sweet Baking Chocolate Squares, Hershey's Milk Chocolate Bar, Whole Foods 365 Dark Chocolate, 56%, Ghirardelli Chocolate Baking Chips, Milk Chocolate, Olive & Sinclair 75% Cacao, Toll House Semi Sweet Morsels, Trader Joe's Fair Trade Organic Belgian Milk Chocolate Bar, Green & Black's Organic Milk Chocolate Bar, and Mast Brothers.
If the only chocolate you have in your house is leftover chocolate chips from a batch of cookies, that's fine.
When I want something extra special and I'm willing to spend a little more money, I reach for chocolate with less sugar and a more complex flavor.  A melted Patric Chocolate bar yielded my favorite version of these cupcakes to date.  I also enjoy TCHO, Scharffen Berger, and often buy Callebaut discs since they are sold at the Whole Foods near my house.
Using Coffee in Chocolate Cupcakes
Many people insist that coffee enhances the flavor of the best chocolate cupcakes.  These folks say that you can't taste the coffee in the cupcakes; I often can and the chocolate itself has enough caffeine for me.  So, I wrote the recipe with a choice.  You make the call, coffee or not.
Why Use Oil and Butter in Cupcakes
After extensive recipe testing (we're talking nearly a year), I learned that to make the perfect chocolate cupcake, you need a combination of butter and oil.
The oil is absolutely necessary to keep the cupcake moist and the butter is needed for the flavor that it provides.
Which Oil to Use in Baking
For making chocolate cupcakes, I use any mild vegetable oil. I've used canola oil, generic vegetable oil, and safflower oil.
While I love using flavored oils in baking, keep in mind that they will change the flavor of these cupcakes.
You can experiment with using non-neutral oils and try baking these cupcakes with pistachio oil, for example, to get a totally different taste.
Sour Cream Versus Yogurt in Baking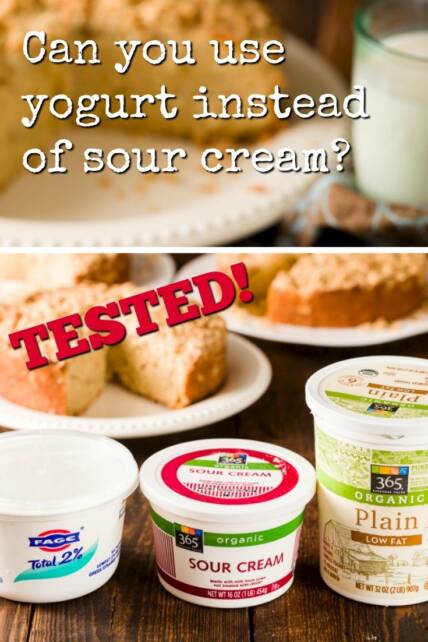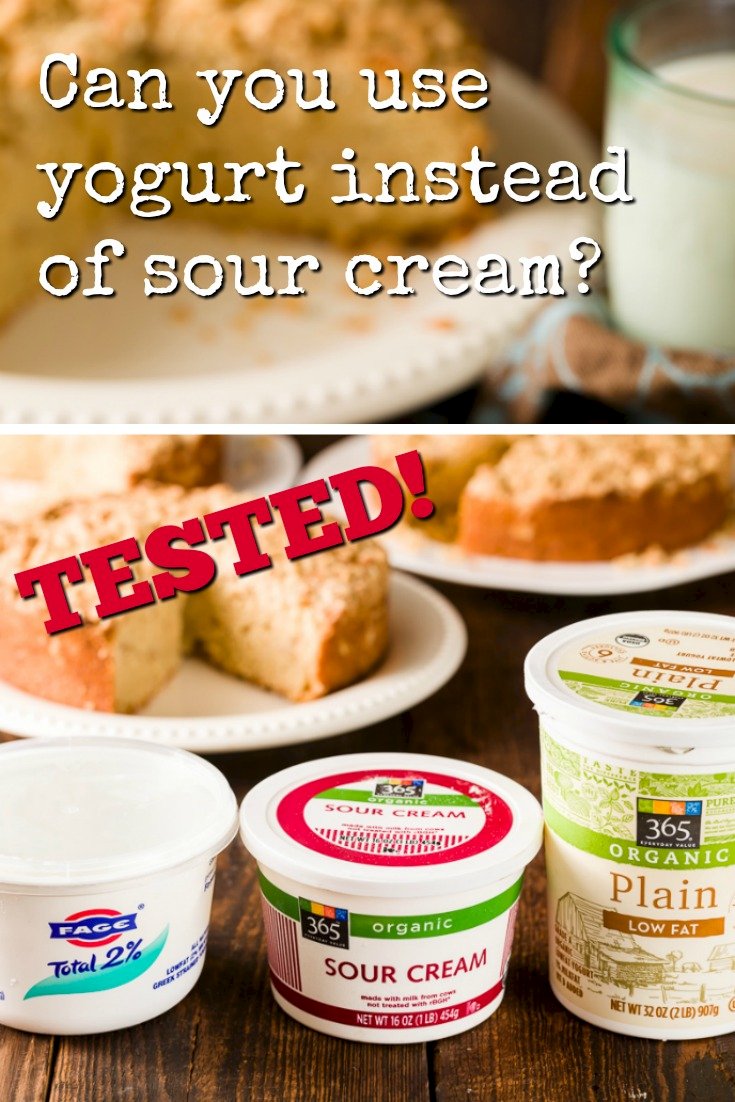 This recipe uses sour cream. The sour cream gives the cupcakes a subtle tang that enhances their flavor while also adding more dairy/fat to the recipe.
If you don't have sour cream in the house, I've done extensive testing and found that yogurt works perfectly as a substitute for sour cream.
What Frosting to Use on Chocolate Cupcakes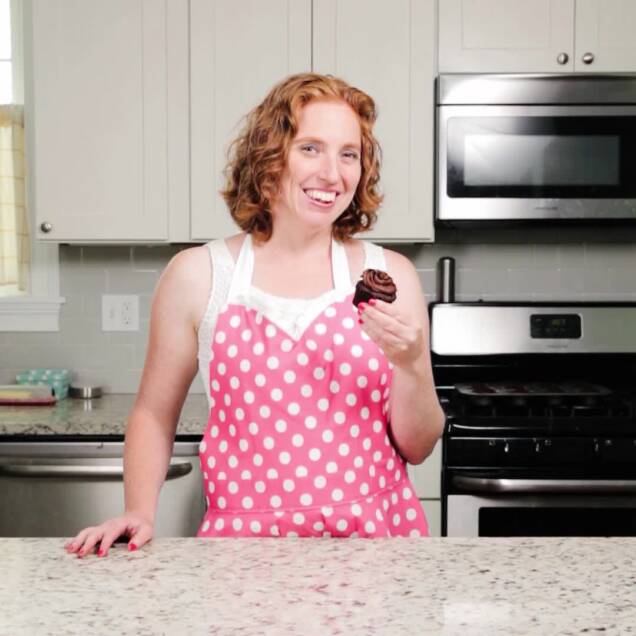 You can frost the best chocolate cupcakes with any frosting that you choose.  Check out my top ten frostings for some ideas to get you started and you can also peruse all of my frosting recipes if that wasn't enough for you. However, for the full chocolate experience, I suggest frosting with chocolate cream cheese frosting.
However, if chocolate on chocolate sounds like too much for you, I strongly recommend my vanilla frosting. And I don't think you could go wrong with my fluffy and irresistible tiramisu frosting, either.
The Best Chocolate Cupcakes
Best Chocolate Cupcakes
This is the best chocolate cupcake you will ever eat!
Ingredients
1/4

cup

unsalted butter

room temperature

1

cup

sugar

2

ounces

chocolate

Choose your favorite. You can use any plain chocolate that you like except white chocolate or candy melts. The chocolate doesn't have to be one typically earmarked for baking - any chocolate bar that isn't flavored and doesn't contain mix-ins like nuts, Rice Krispies, nougat, etc. will work.

2

large eggs

room temperature

2

large egg yolks

room temperature

9

tablespoons

vegetable oil

This is the same as 1/2 cup + 1 tablespoon - measure in a liquid measuring cup

2

teaspoons

vanilla extract

1/3

cup

full-fat sour cream

1

cup

all-purpose flour

1/2

teaspoon

salt

1/2

teaspoon

baking soda

1/2

cup

cocoa powder

natural or dutched will both work with this recipe

1/2

cup

water

room temperature, measured in a liquid measuring cup
Instructions
Preheat oven to 350 F.

In a medium-sized mixing bowl or the bowl of a stand mixer, mix butter and sugar until fully combined. The end result should look like wet sand.

Melt the chocolate in the microwave or in a double boiler.

Once the melted chocolate is cool enough to touch, add it to the butter/sugar mixture and mix until just combined.

Mix in eggs and egg yolks one at a time until just combined.

Mix in oil, vanilla, and sour cream until just combined.

Sift together flour, salt, baking soda, and cocoa powder into a separate medium-sized bowl. Use a fork or a whisk to ensure that the ingredients are mixed well after sifting.

Add dry ingredients to wet ingredients in three additions, mixing until just combined after each addition.

Mix in water until just combined.

Fill cupcake liners 2/3 full and put in the oven.

Check for doneness at 18 minutes - a toothpick inserted into the center of a cupcake should come out clean. If they are not done, check again every three minutes until they are done.

Immediately remove cupcakes from the cupcake tin and place on a cooling rack or on the counter to cool to room temperature. Although they are really good when they are hot, be sure to wait until they are room temperature to give your evaluation.
Notes
If you would like to add coffee to the recipe, either add 1 teaspoon espresso powder or instant coffee granules along with the sifted dry ingredients, or replace the water with room temperature brewed coffee.
Nutrition
Nutrition Facts
Best Chocolate Cupcakes
Amount Per Serving
Calories 218
Calories from Fat 126
% Daily Value*
Total Fat 14g 22%
Cholesterol 54mg 18%
Sodium 121mg 5%
Potassium 76mg 2%
Total Carbohydrates 22g 7%
Protein 2g 4%
* Percent Daily Values are based on a 2000 calorie diet.
The Testing Process
WINNER WINNER WINNER! Search no more, you have created the Ultimate Chocolate Cupcake! These were hands-down the BEST chocolate cupcakes I have ever tasted, let alone baked myself. I am a sucker for cupcake bakeries and I honestly don't believe any of the cupcakes I have paid $5 a piece for come even close to these.
That was a quote from Amy Hendricks, one of the Chocolate Cupcake Recipe Cupcake Project Explorers (my team of 50 test bakers that helped perfect the chocolate cupcake recipe by baking seven rounds of cupcakes and providing feedback).
The team consisted of professional bakers and beginners because I wanted to make sure that these cupcakes would be perfect for beginner bakers and pros alike.
You should know, that just like when we developed my vanilla cupcakes, the Explorers did not go easy on me.  When I sent them the first recipe, I was sure that it would be the best chocolate cupcake recipe.
It only got a 25% approval rating – ouch!  I went back to the mixing bowl and came up with a second recipe for the Explorers to try.
"Surely, this will be the one," I thought.  It took 7 rounds of Explorer testing and a total of 69 different chocolate cupcake recipes baked by me before we found the best chocolate cupcake recipe.
I learned that, for the most part, the Explorers wanted the best chocolate cupcake to be moist, light and fluffy (not brownie-like), and with an intense chocolate flavor.  It was a hard balance to find.
As I made the cupcakes lighter, they tended to become less chocolatey; packing in cocoa powder made the cupcakes too heavy.  It took almost a year of experimentation to nail down the perfect combination of ingredients.
Then, there was the question of the chocolate itself.  Some Explorers preferred milk chocolate, while others liked deep, dark chocolate, and the rest liked everything in between.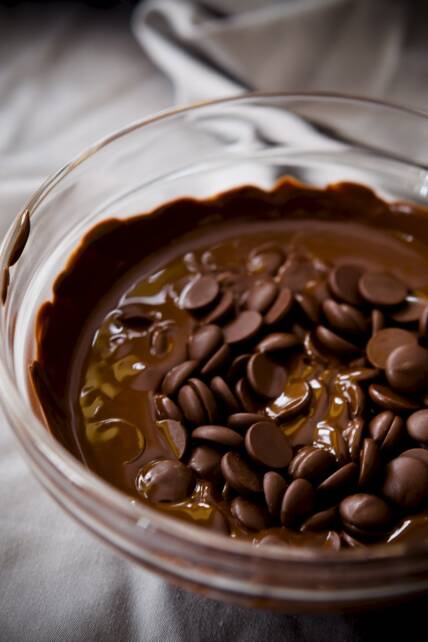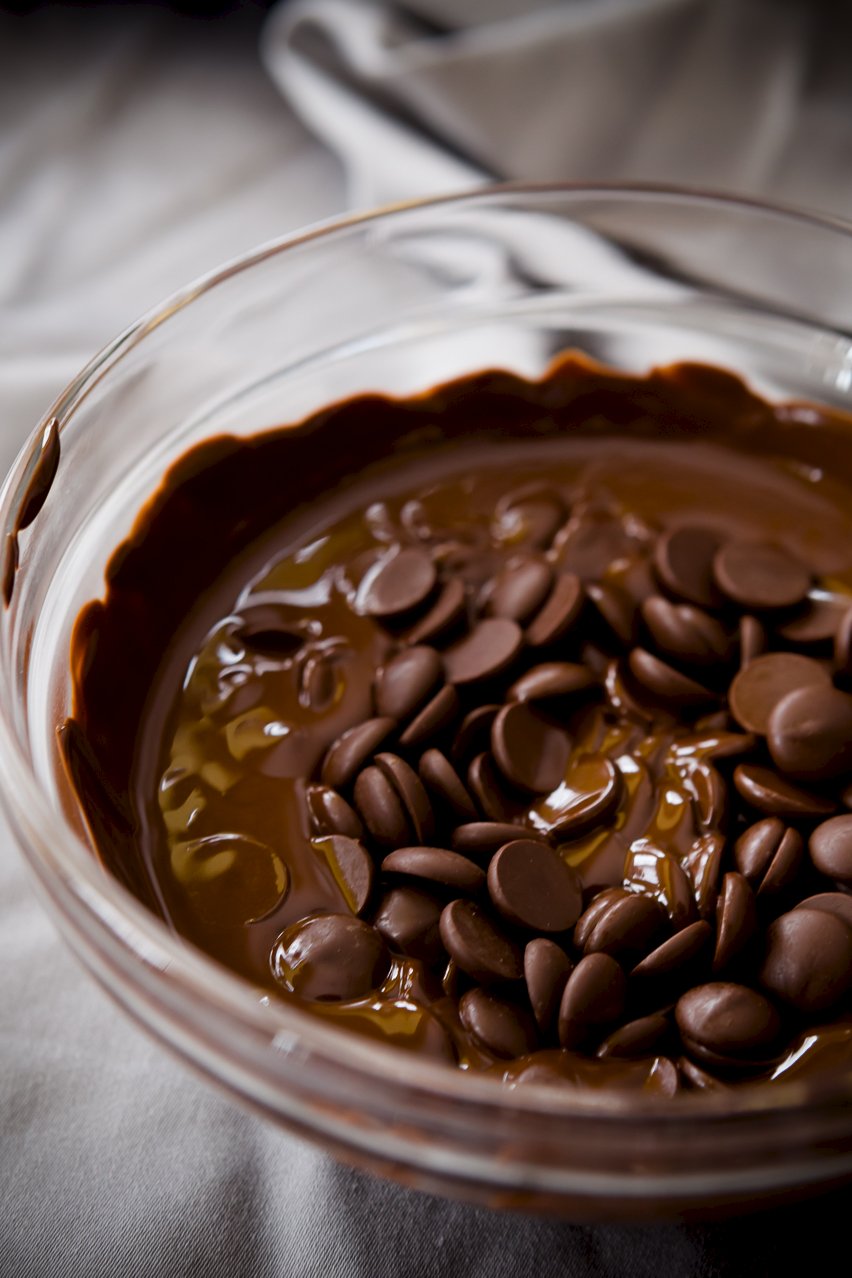 How could I please everyone?  I almost gave up – more than once.
The recipe that I created for round 7 (the one that you read the quote about above) took all of the Explorers' feedback into play. I created chocolate cupcakes where the cake was moist and light with an unmistakable chocolate flavor.
They got an approval of 63%.  If that sounds low, consider that more than half of all tasters not only thought that the chocolate cupcake recipe was good, but also thought that it was the best chocolate cupcake recipe they have ever tasted.
It's a number that I'm extremely proud of.
Chocolate Cupcake Reviews
Here's what some of the Explorers had to say about the Ultimate Chocolate Cupcake recipe:
Chocolate, chocolate, chocolate is the only way to describe the taste in my mouth. Sweetness is perfect. Cake is not dry. Cake practically melts in my mouth. It's impossible to take one bite of cake. After one taste, my mouth wants more. Delicious. The ultimate chocolate cupcake.
What can I say? Perfect!
I have participated in all seven rounds of the cupcake experiment, and I will even admit I have labeled past trials as "perfect" and as The Ultimate; however, THIS IS IT.  THIS IS THE ONE.  If others don't agree, so be it, but this is the one for me.  I will more than likely not continue the process because I simply can not imagine a chocolate cupcake that tops this version.  Everything about it was, for lack of a better word, PERFECT!
I remember really tasting chocolate on my first bite and not having to search for it like you do on many standard chocolate cakes.
Winner Winner Chicken Dinner!  The best ever!
I am usually the one who likes the frosting the best.  I was pleasantly surprised on the taste of the cupcake.  It had a nice chocolate taste and was not overpowering.  The flavor was so good it didn't really even need any frosting.
I've had way too many brown-colored cakes that taste faintly of dust. But this cupcake tastes chocolatey without overdoing it.
I felt like the bite I took just melted in my mouth. One person said she preferred the cupcake without icing because it was that good. I would definitely make this one of my "go to" recipes.
These babies, in my opinion, are the honest-to-goodness ultimate chocolate cupcake!
I can sleep soundly at night with these as the Ultimate Chocolate Cupcake!  The texture, appearance and taste were all just right – a perfect combination.
Though I have loved the past several rounds, each time I do agree that they get even better – which I didn't think was possible!
Lovely. Just lovely.
Whoop! I think we really found it this time! Perfect in every way!! :)
Absolutely the best!
The immediate reactions both from myself and my taste testers make me feel that this chocolate cupcake is a winner! Good chocolate taste, excellent texture had us all making yummy noises!
Even my friends who aren't big dessert people asked for a second cupcake. I can't imagine a better recipe!
It is by far the best made-from-scratch chocolate cupcake I've ever had.
Perfect in all aspects of a cupcake!
Easy to bake, easy to eat!
Read More about the Best Chocolate Cupcakes
As a special thanks for being Cupcake Project Explorers, I've promised the team that I would share any blog posts they write about this recipe and the Explorer process.  As their posts come in, I will add links to them right here.
Coffee with Cathy
Cake Deco
There's No Place Like Oz

Is This Your Ultimate Chocolate Cupcake Recipe?
While you may not have been an official Cupcake Project Explorer, I'd love to hear what you thought of this recipe.  If you bake it, please share your thoughts in the comments.
What cocoa powder and chocolate did you use?  Did you use coffee? What did you frost with, and did you use any fillings?  Did you make any changes that people might want to hear about?
Let's all learn from each other!
If You Like Chocolate Cupcakes, You'll Also Like…