S'mores cupcakes are perfect for s'mores lovers! They are rich and chocolaty with a toasted marshmallow frosting. Don't forget to top with graham crackers, chocolate, mini marshmallows, and chocolate syrup!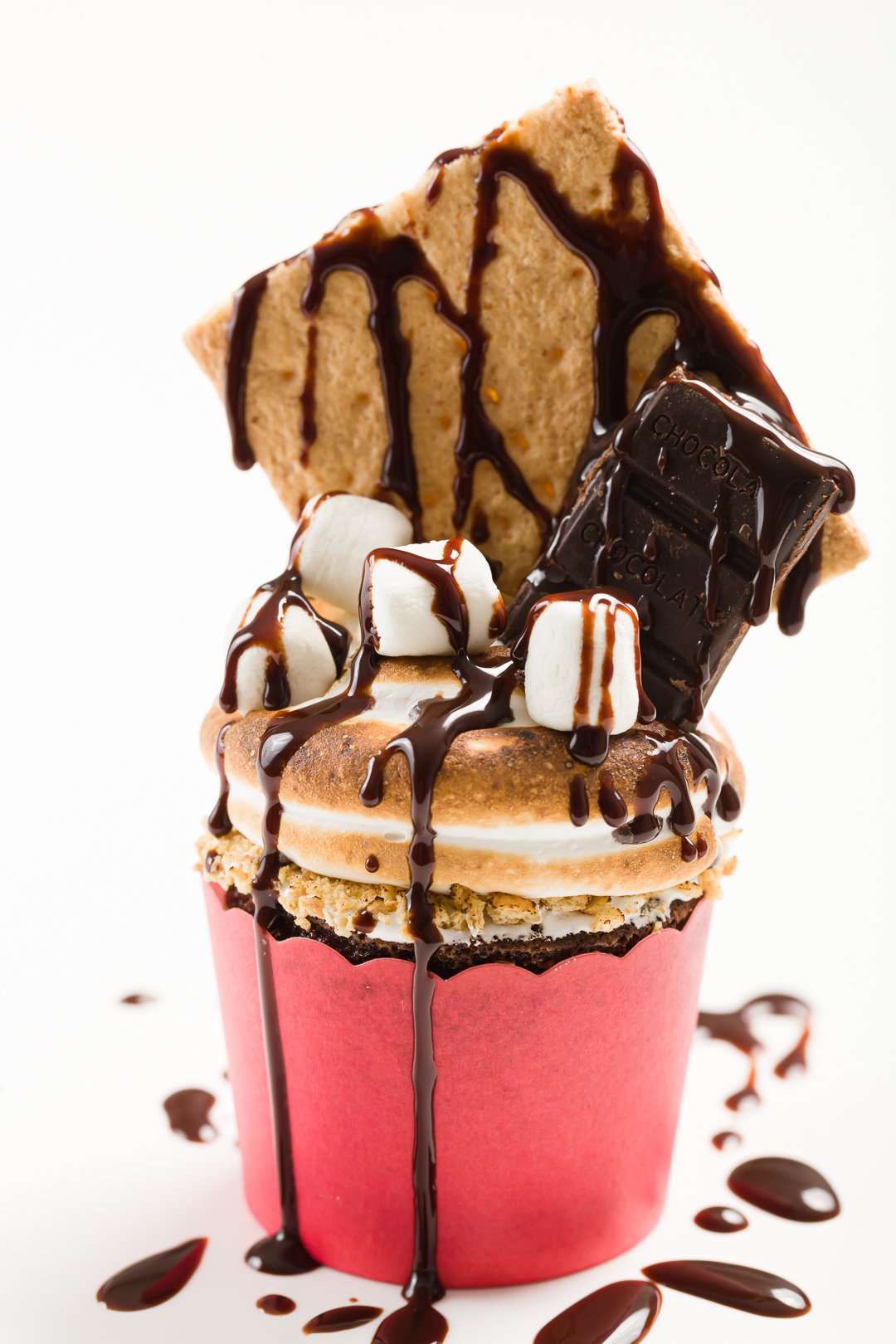 This post is proudly sponsored by Paper Eskimo.
Start by making your favorite chocolate cupcake recipe. I highly suggest my homemade recipe, but even a box mix will do in a pinch.
Load the batter into cupcake liners or baking cups.
If you use Paper Eskimo's baking cups like I did, you won't need a muffin tin! You can bake cups directly on a cookie sheet.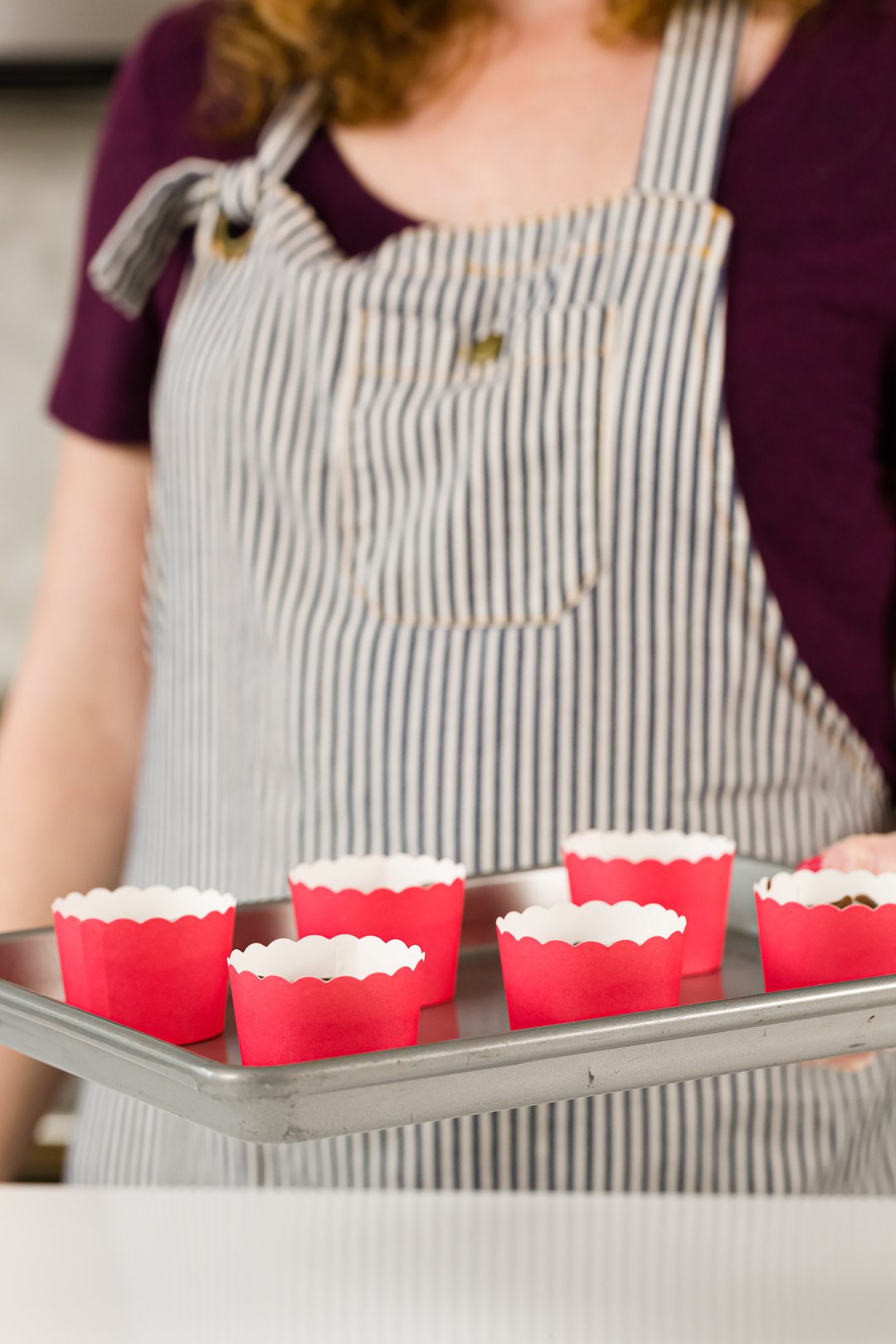 Plus, they look super cute and coordinate perfectly with the rest of the supplies that you'll want for your party.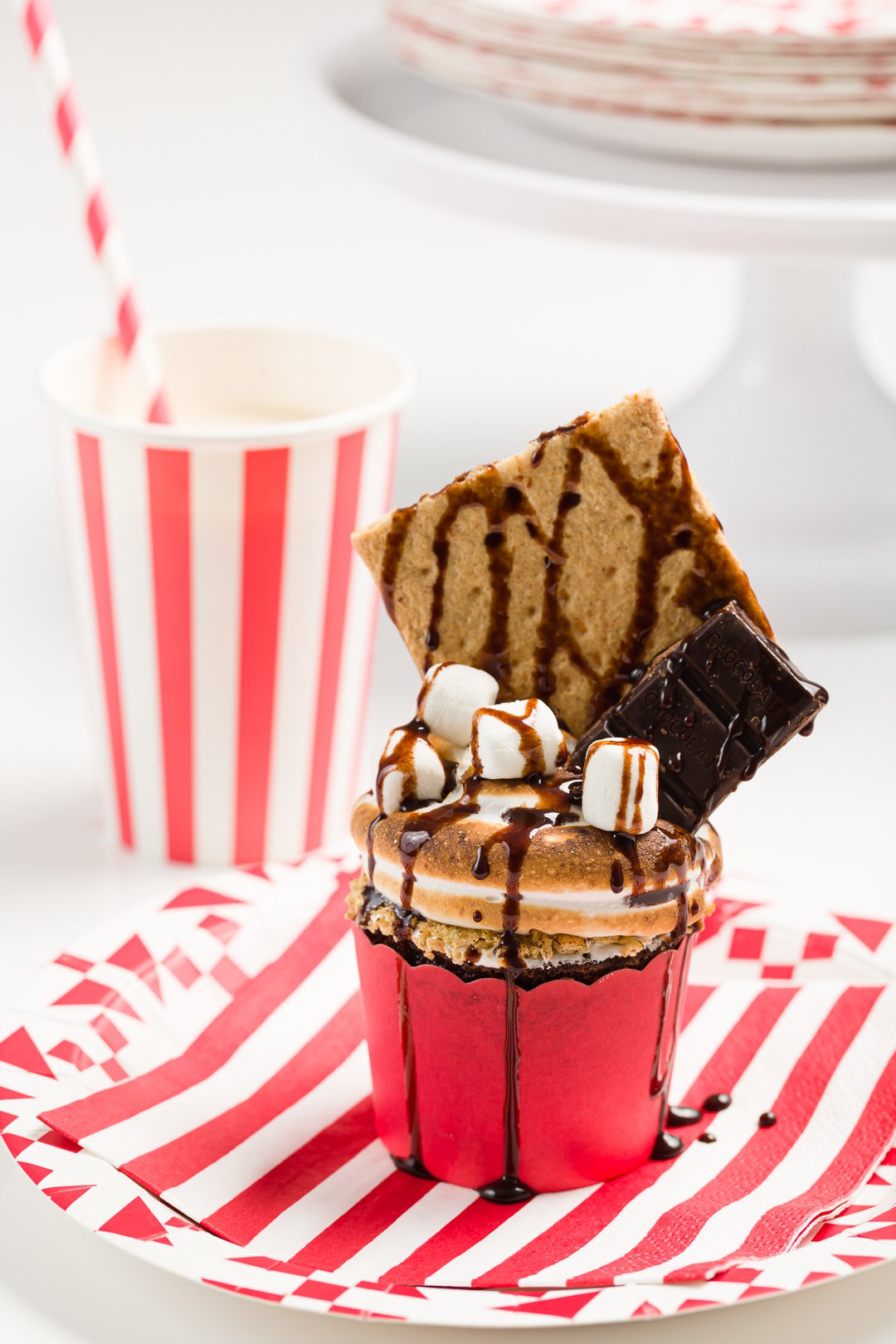 Next, make a batch of marshmallow frosting. This is also known meringue frosting.
It's made by heating egg whites with sugar and vanilla over a double boiler (or a bowl set over a pot of boiling water).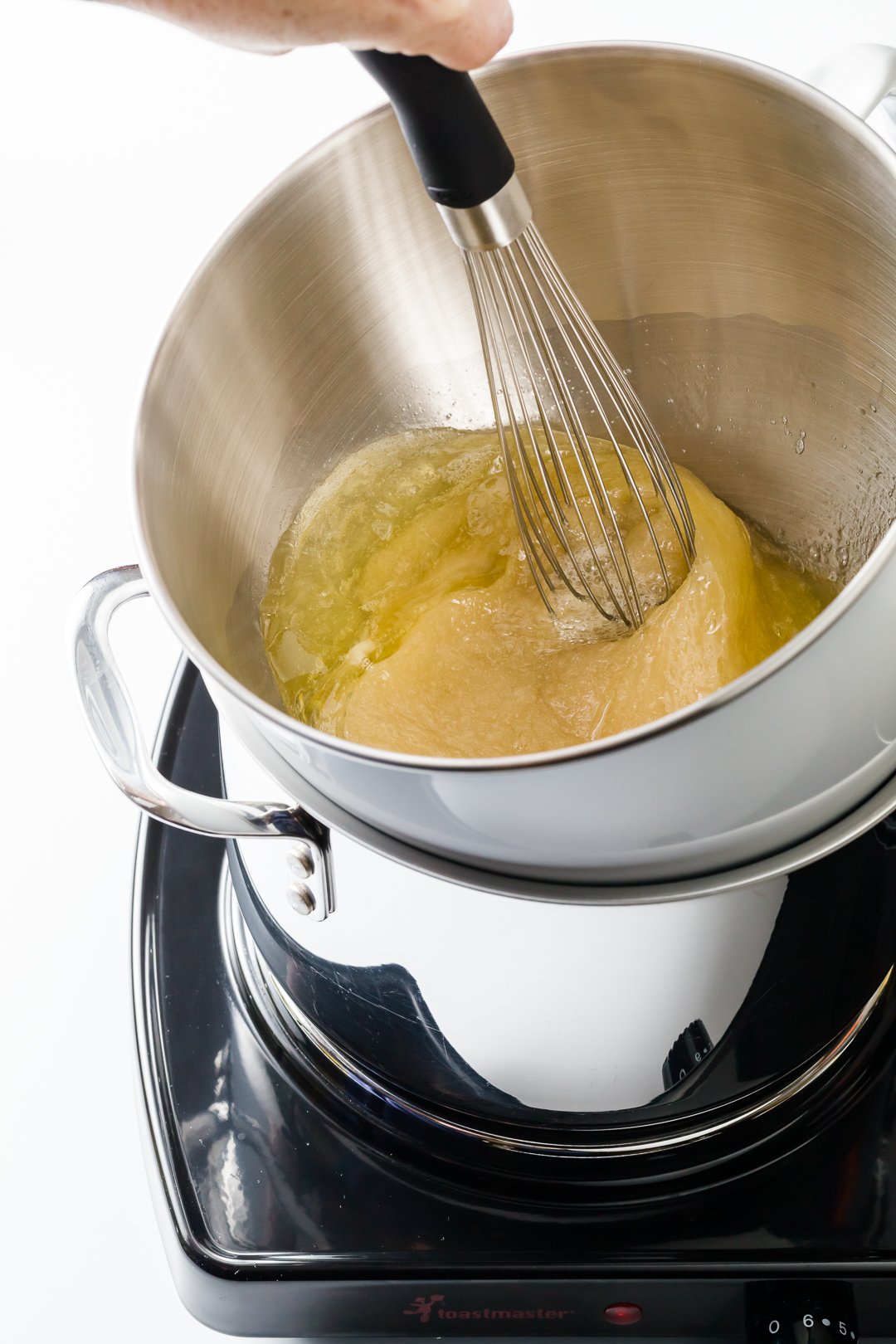 After you've heated the mixture, whisk those ingredients for nearly 20 minutes with an electric mixer until you have stiff glossy peaks. I don't suggest trying to do this by hand.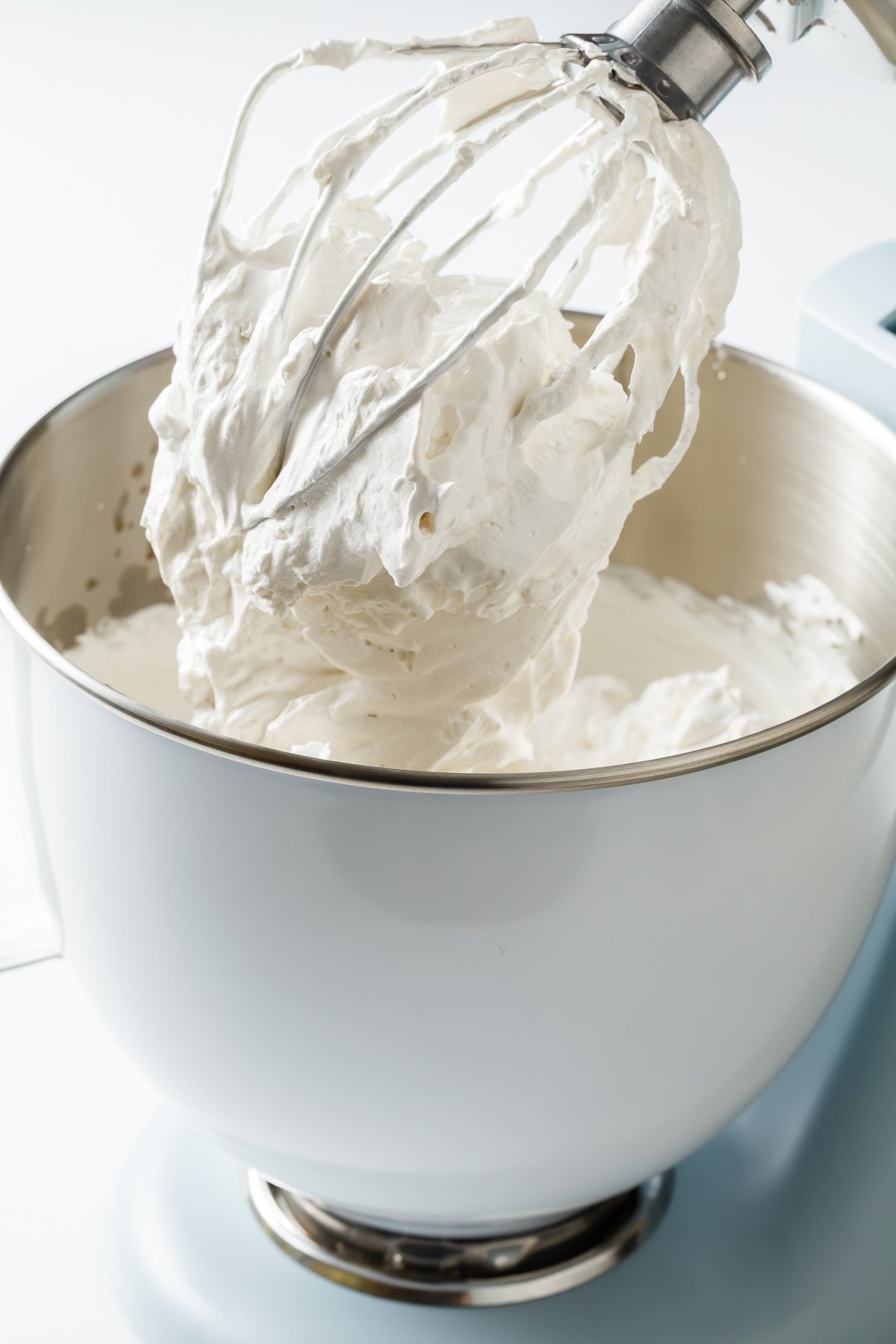 The most fun part of the s'mores cupcakes is the decorating. Spread a little bit of the frosting over a cooled chocolate cupcake – just enough to serve as a glue for the graham cracker crumbs.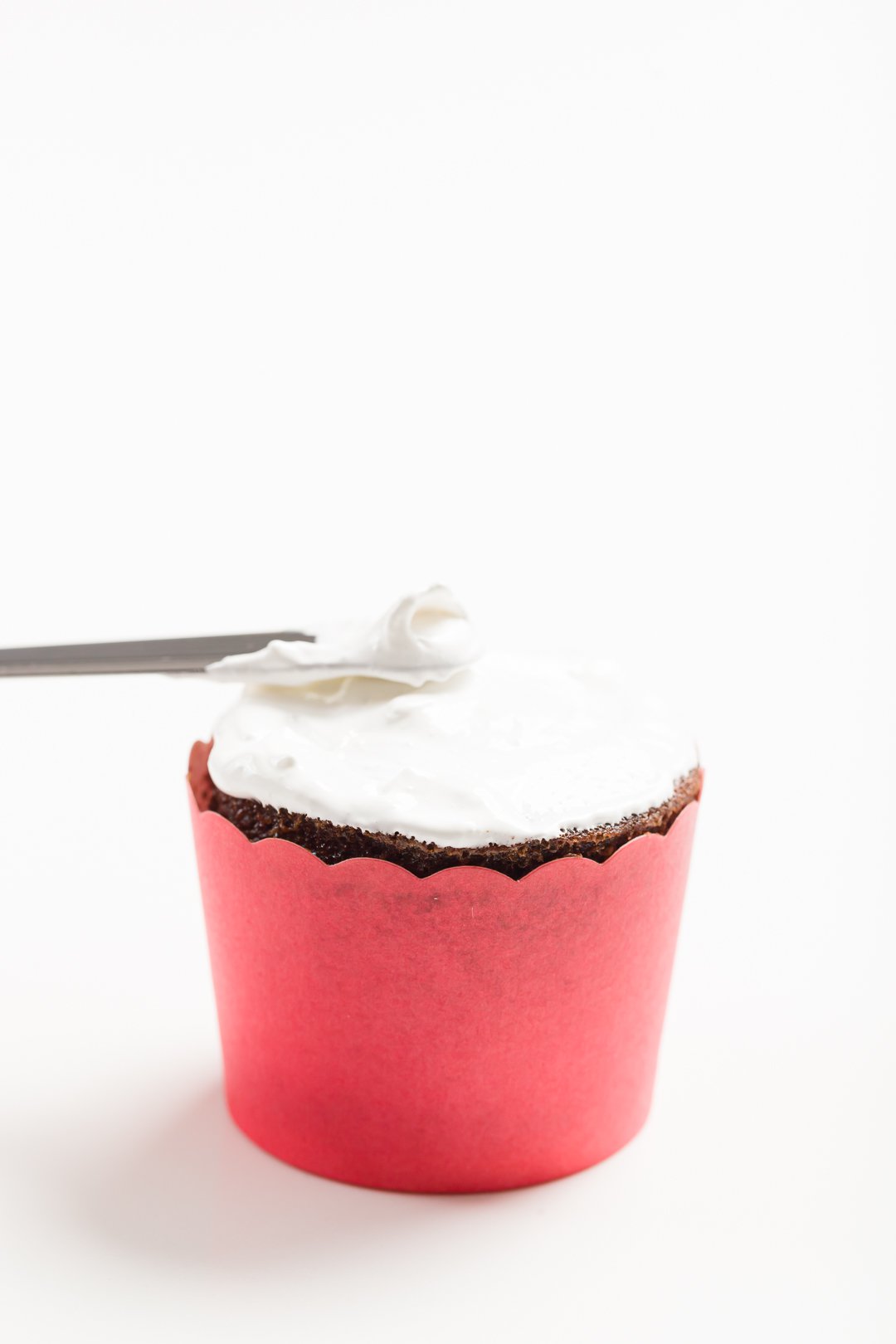 Then, invert the cupcake onto a plate of crushed graham crackers. They will stick to the frosting.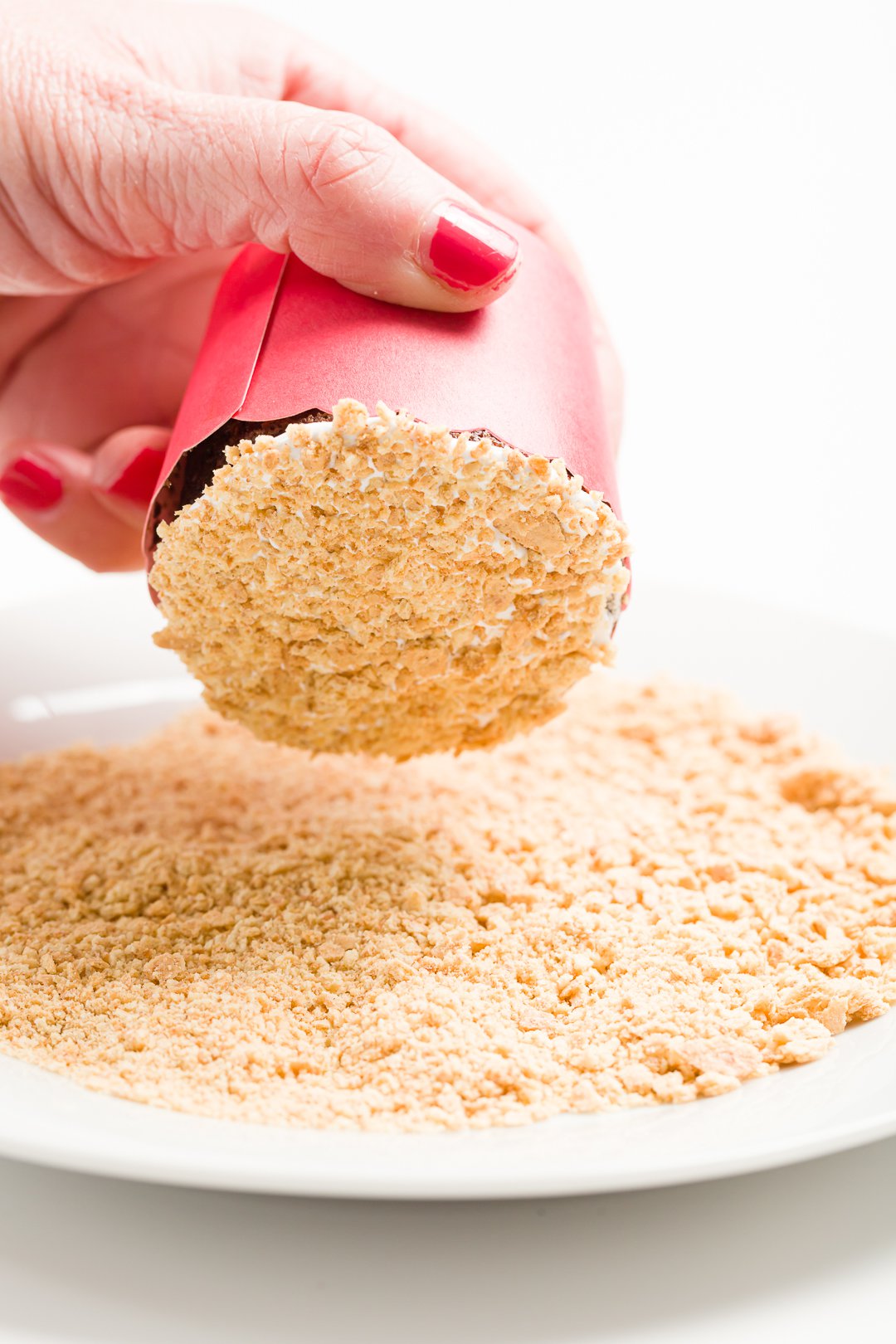 Fill a piping bag fitted with a large round tip with marshmallow frosting and frost big, plump swirls of frosting onto each cupcake – leaving some graham cracker crumbs showing along the edge.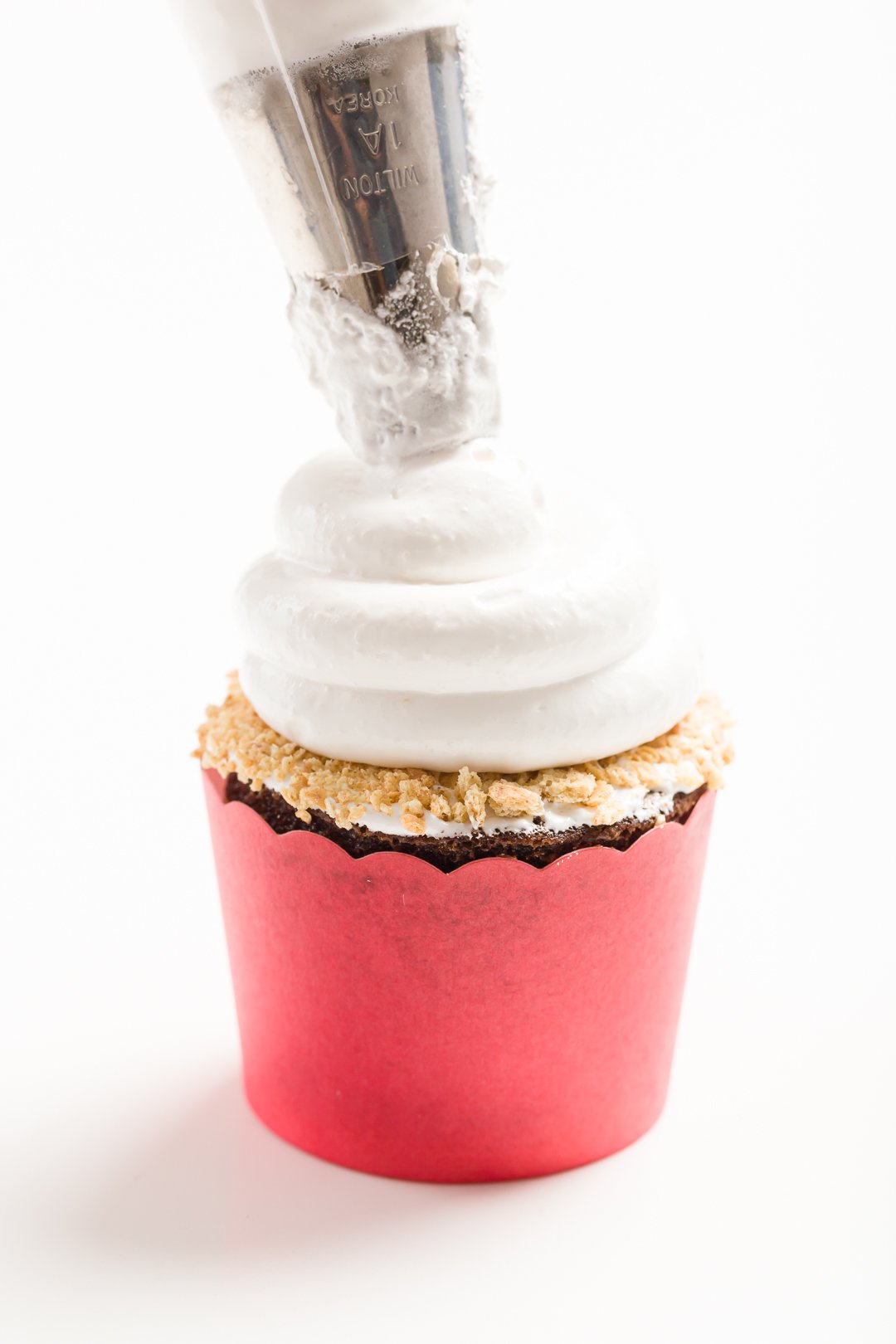 Grab your culinary torch and toast the frosting!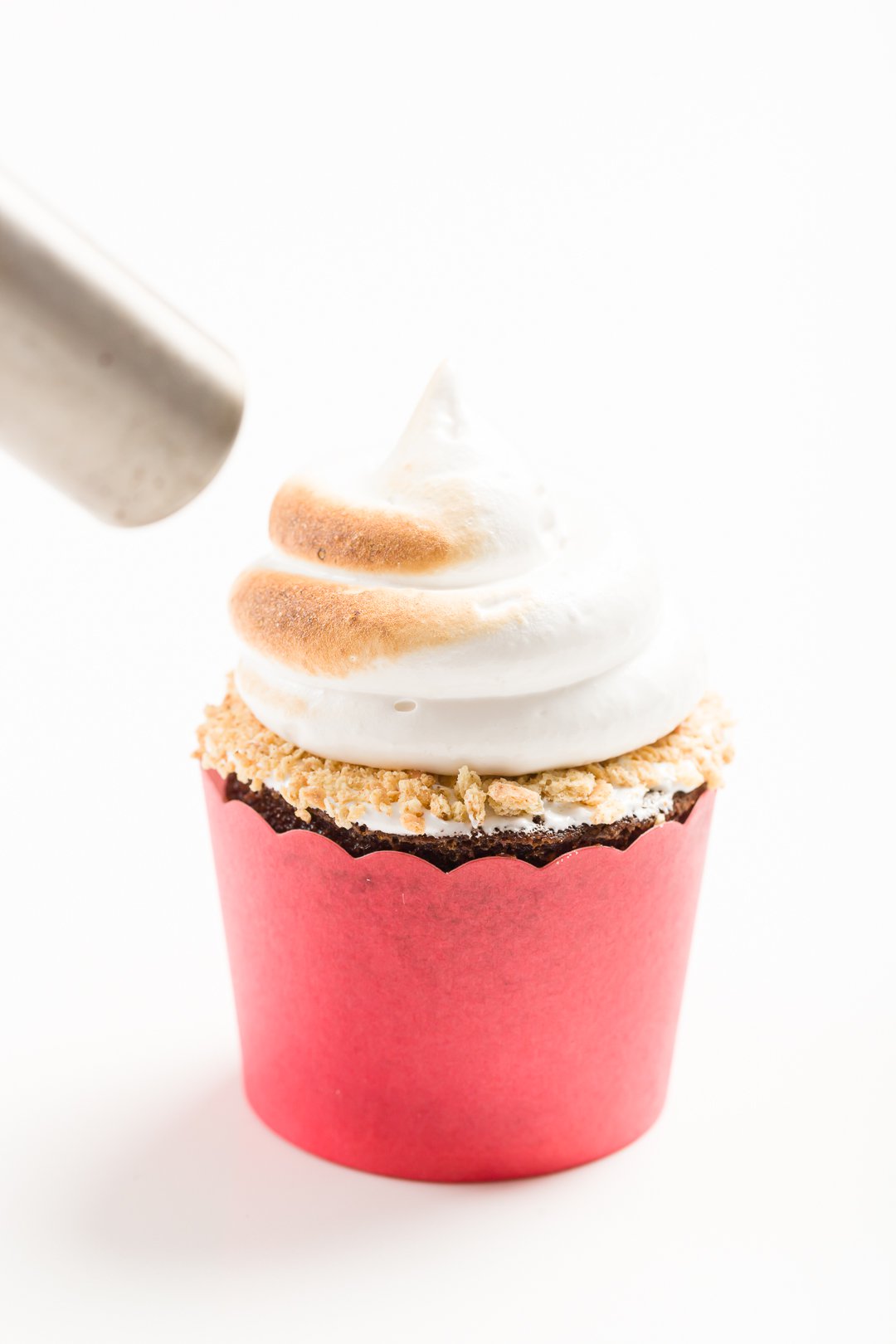 Top the cupcakes with a graham cracker square, chocolate, and mini marshmallows. Tip: Depending on how sturdy and tall your frosting is, you may need to stick a toothpick or skewer behind the graham cracker and into the cupcake to help hold it up.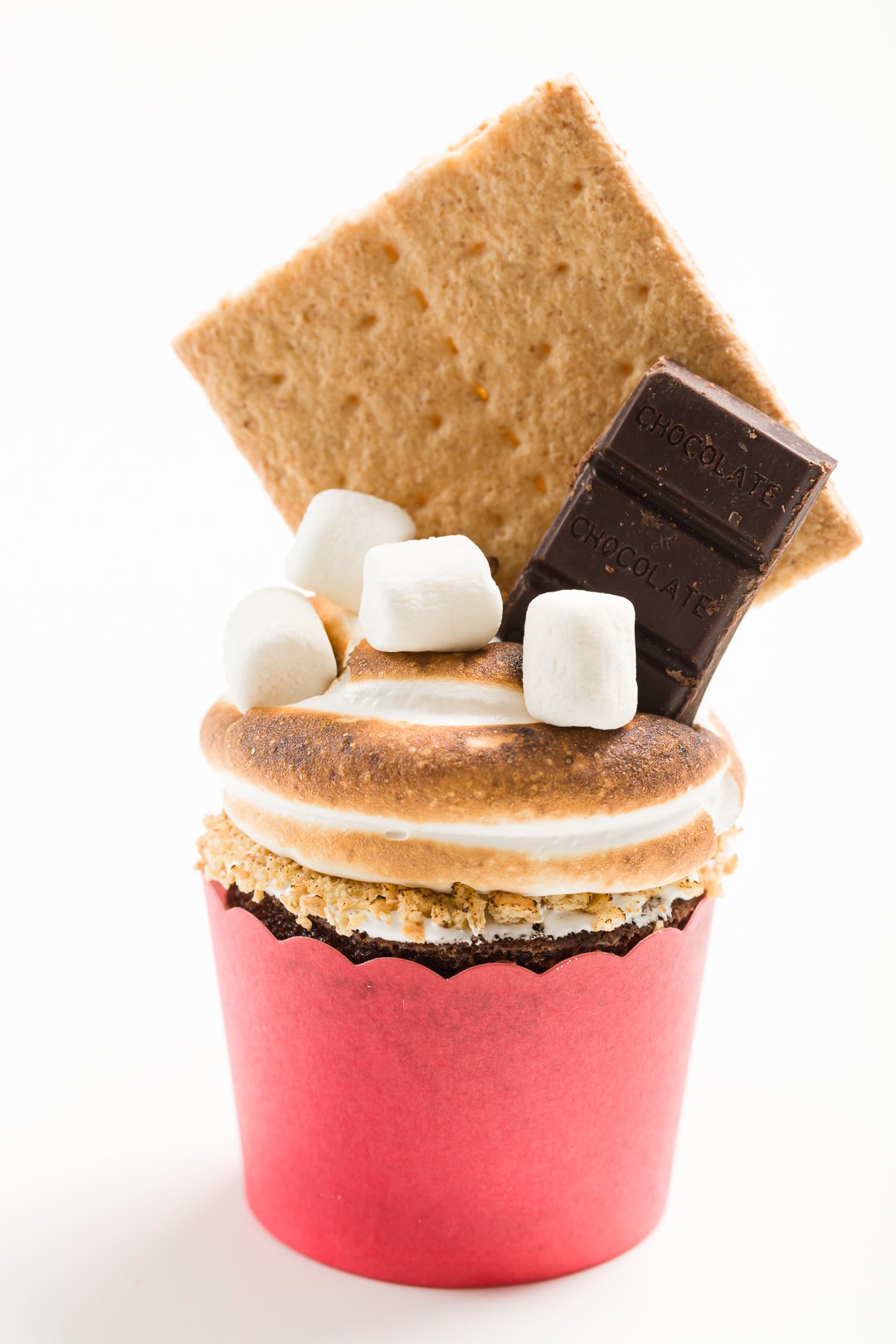 Drizzle with lots of chocolate syrup.
These are best when served within 24 hours.
Fun fact: I make cookies with leftover buttercream frosting. With leftover marshmallow frosting, you can make meringues! Just pipe any extra onto a cookie sheet, sprinkle with any spices that you like, and bake at 200 F for 40 minutes. Turn the oven off and let them cool in the oven.
S'mores Cupcakes
S'mores cupcakes are chocolate cupcakes with a toasted marshmallow frosting!
Ingredients
7

large egg whites

2

cups

sugar

1 1/2

teaspoons

vanilla extract

4

graham cracker squares

crushed

12

graham cracker squares

3

chocolate bars

60

mini marshmallows

chocolate syrup

to taste
Instructions
Combine egg whites, sugar, and vanilla extract in the metal mixing bowl of your stand mixer and set over a pot filled with boiling water on a range, creating a double boiler.

Whisk by hand for a few minutes until the mixture reaches 110 F on a candy thermometer.

Place the bowl on a stand mixer fitted with the whisk attachment. Whisk on medium speed for 10 minutes.

Increase to high speed and whisk until stiff glossy peaks form, about 5 to 10 minutes more.

Spread a thin layer of marshmallow frosting over each cupcake.

Dip each cupcake into crushed graham crackers.

Use a piping bag fitted with a large round tip to pipe a generous swirl of frosting on each cupcake, leaving a small edge of graham cracker crumbs showing.

Using a culinary torch, toast the marshmallow frosting.

Top each cupcake with a graham cracker square, a piece of chocolate, mini marshmallows, and chocolate syrup.

Serve within 24 hours (otherwise the graham cracker will get soggy).
Notes
When making the marshmallow frosting:
Make sure the inside of the bowl is totally dry before beginning.
Make sure there are no egg yolks mixed in with the egg whites.
Keep on whisking – don't stop early.
If the graham cracker doesn't stay upright on top of the cupcakes, you can place a small toothpick behind it to support it.
Nutrition
Calories:
386
kcal
|
Carbohydrates:
71
g
|
Protein:
5
g
|
Fat:
9
g
|
Saturated Fat:
3
g
|
Cholesterol:
1
mg
|
Sodium:
236
mg
|
Potassium:
136
mg
|
Fiber:
1
g
|
Sugar:
55
g
|
Vitamin A:
22
IU
|
Vitamin C:
1
mg
|
Calcium:
70
mg
|
Iron:
2
mg