S'mores Cupcakes with Marshmallow Frosting
Published , Last updated by
Stef
Disclosure: As an Amazon Associate, I earn from qualifying purchases.
These S'mores Cupcakes are favorites around here! They are rich chocolate cupcakes topped with toasted Marshmallow Frosting. Don't forget to add graham crackers, your favorite chocolate, mini marshmallows, and chocolate syrup for the perfect look and taste!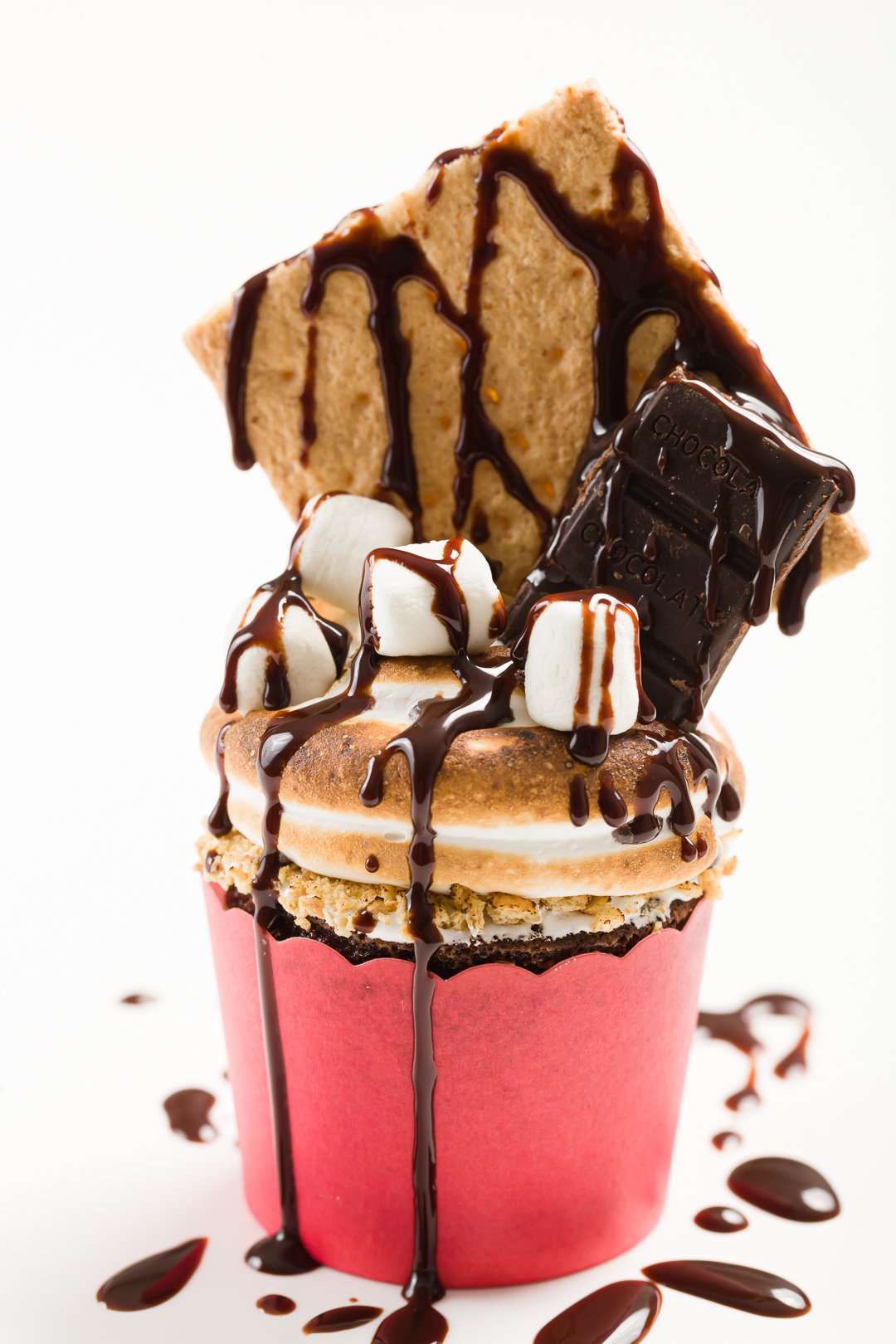 I love toasting s'mores around a campfire and this dessert makes me feel like I'm fireside! They are great for birthday parties and other gatherings. This recipe will teach you how to make s'mores at home in the form of yummy cupcakes!
Ingredients for S'mores Cupcakes
To make these, you'll need:
Unfrosted chocolate cupcakes – I highly suggest my chocolate cupcake recipe, but even a box mix will do in a pinch. You can follow the instructions for making my recipe below.
Egg whites – You'll need these to make the fluffy marshmallow frosting. For best results, make sure there is no yolk mixed in.
Sugar and vanilla – These sweeten and flavor the marshmallow frosting.
Graham crackers, chocolate, and mini marshmallows – You'll definitely want to decorate your cupcakes with these!
Chocolate syrup – This is needed to drizzle over the cupcakes.
How It's Made
Chocolate Cupcakes
Tip: If you've never baked a cupcake from scratch before, I suggest you take a minute to read my post on how to make cupcakes. And, for the full description of these cupcakes and ingredient suggestions, make sure to read my chocolate cupcake post.
Start by whisking together the dry ingredients – all-purpose flour, baking soda, cocoa powder, and salt.
Tip: It's really important to sift cocoa powder as it often clumps and won't properly integrate with the other ingredients without sifting.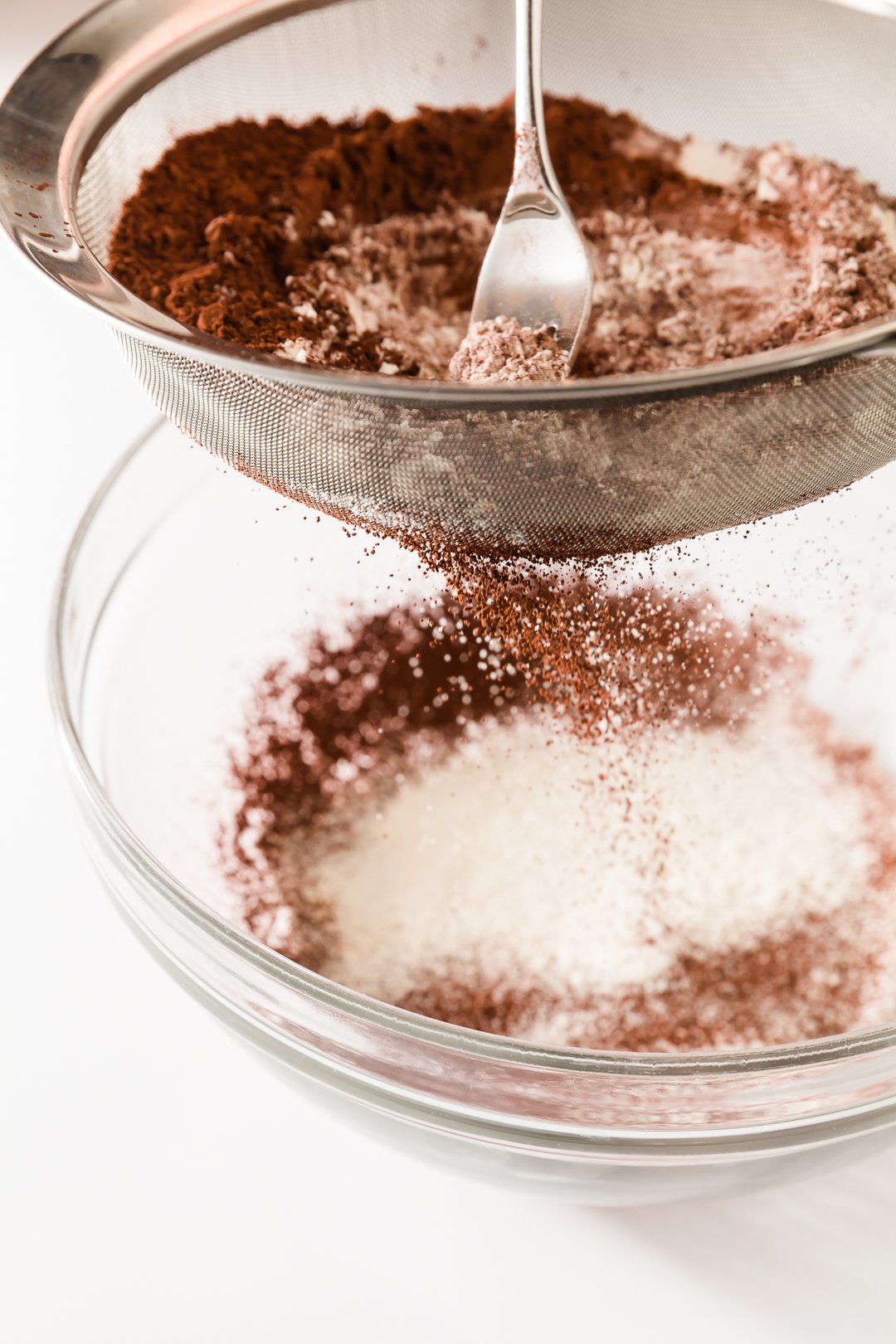 Mix butter and sugar. The mixture will end up looking like wet sand because there is only a little butter in the recipe.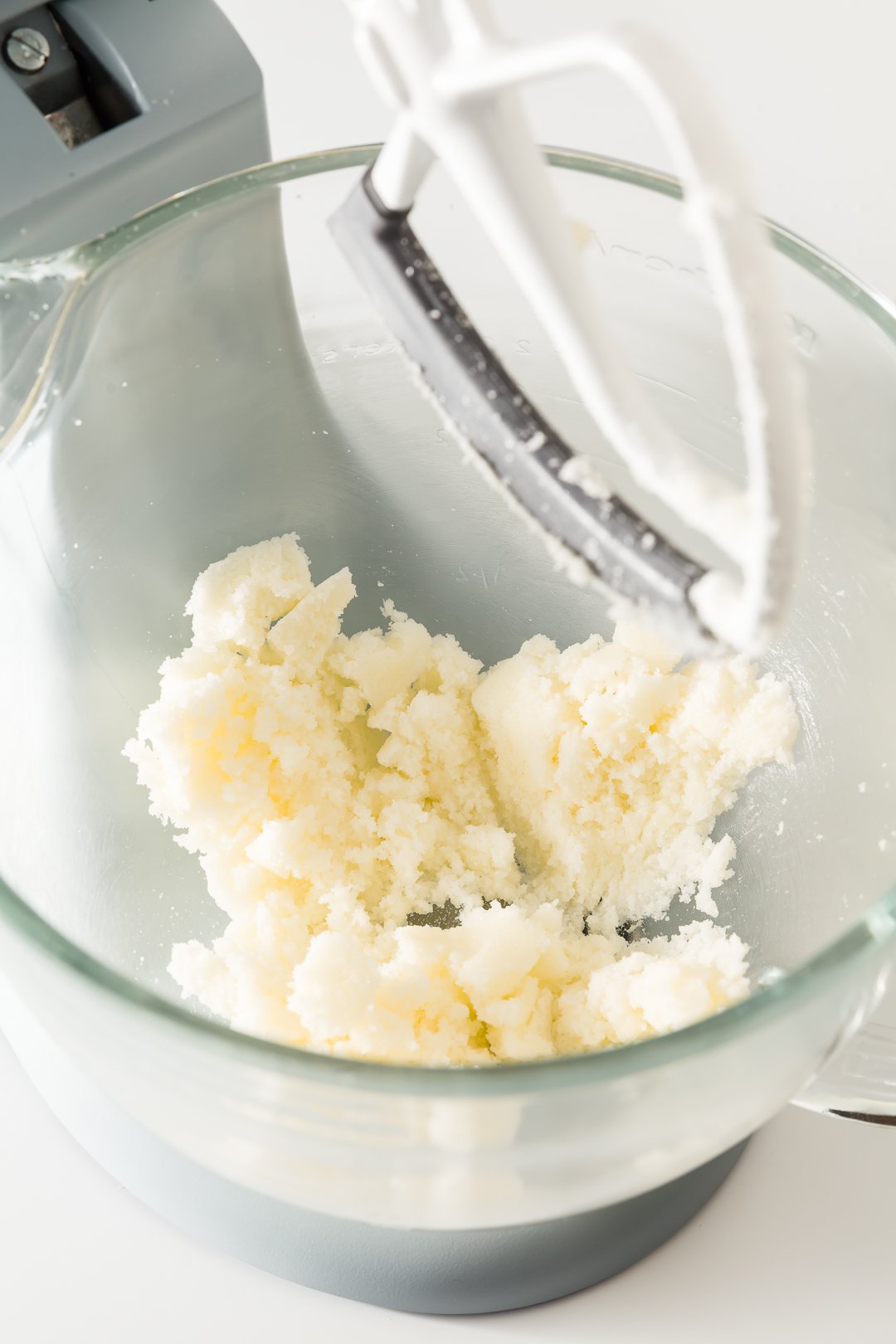 Mix in melted chocolate. Melt chocolate in the microwave by breaking or chopping the chocolate into small piece. Add to a microwave-safe bowl then heat for 20 second bursts, stirring after each burst until all of the chocolate is melted.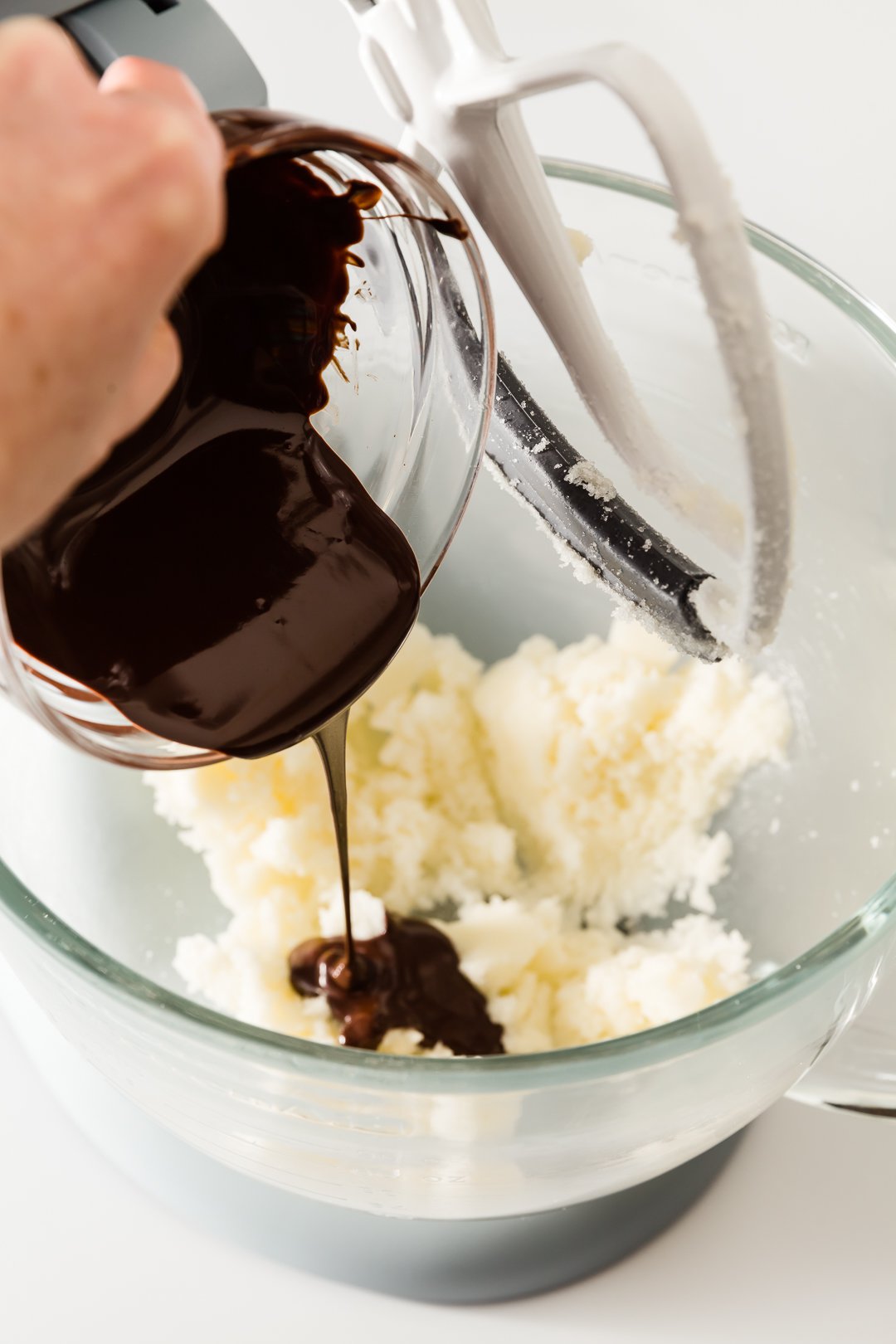 Mix in eggs and egg yolks, one at a time. The extra yolks give the recipe a little more moisture and fat content.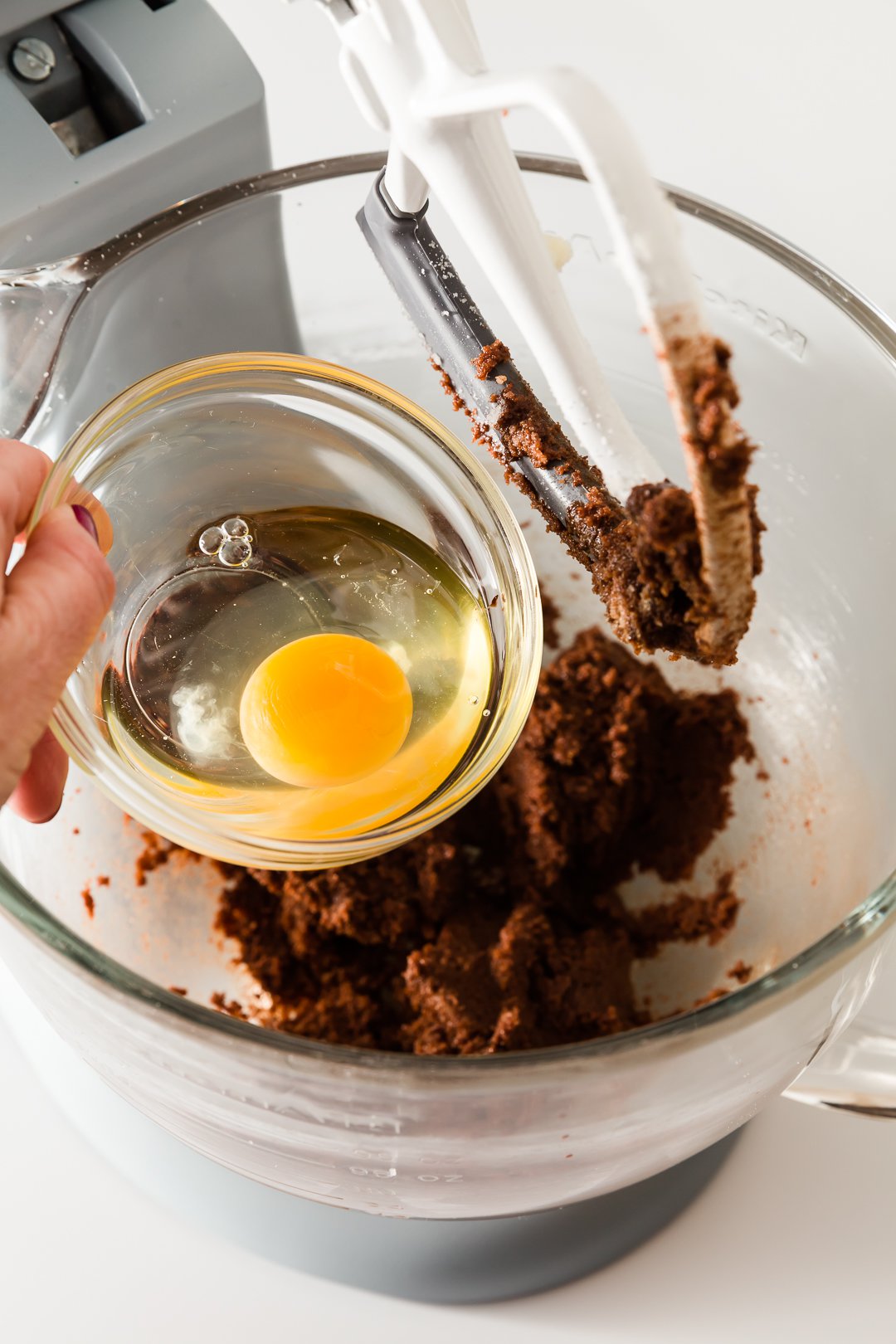 Mix in sour cream and oil. The sour cream's tang enhances their flavor of these cupcakes and adds more dairy and fat to the recipe.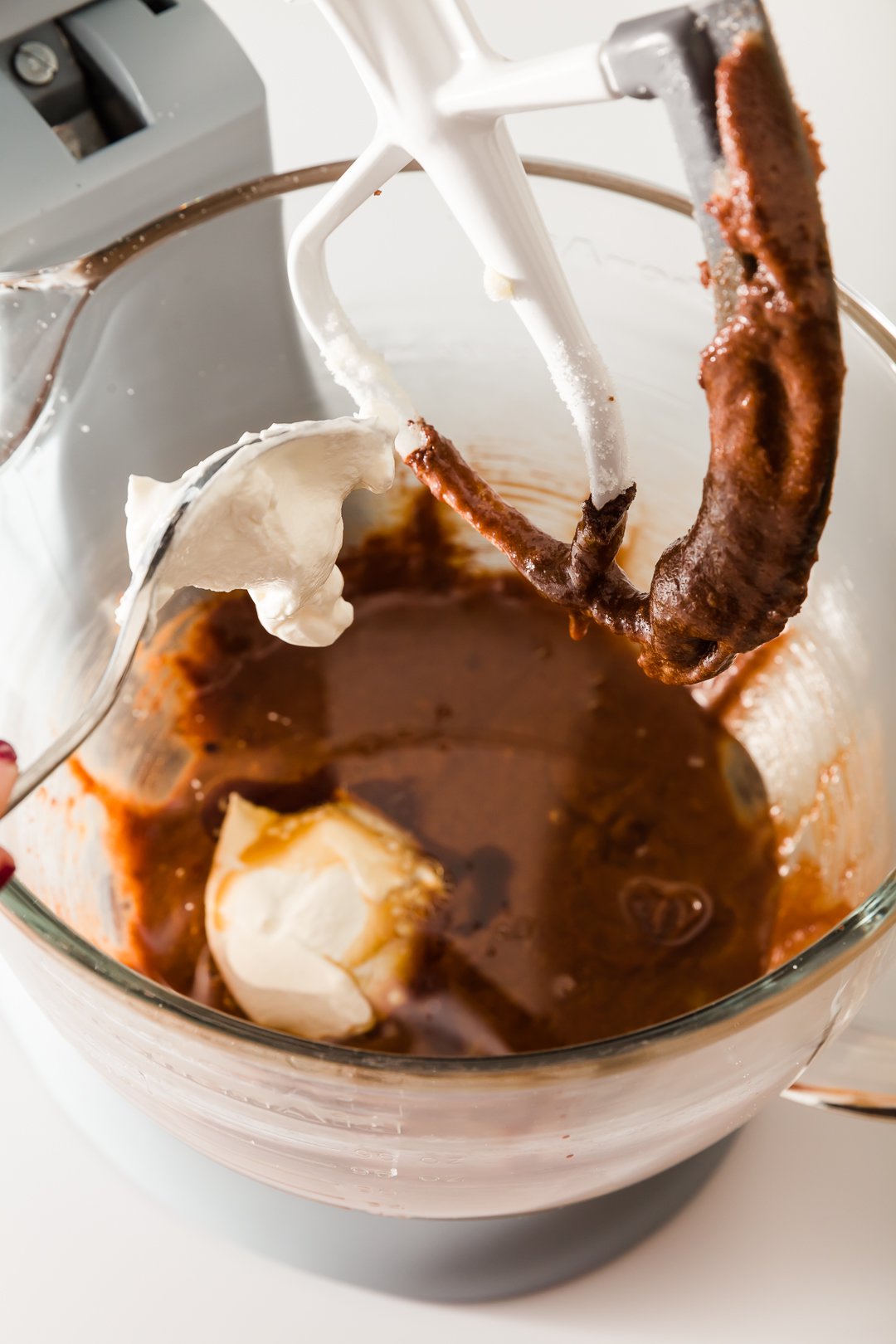 Mix in the dry ingredients in three additions. Stir only until just combined; over-mixing can cause the cupcakes to become gummy.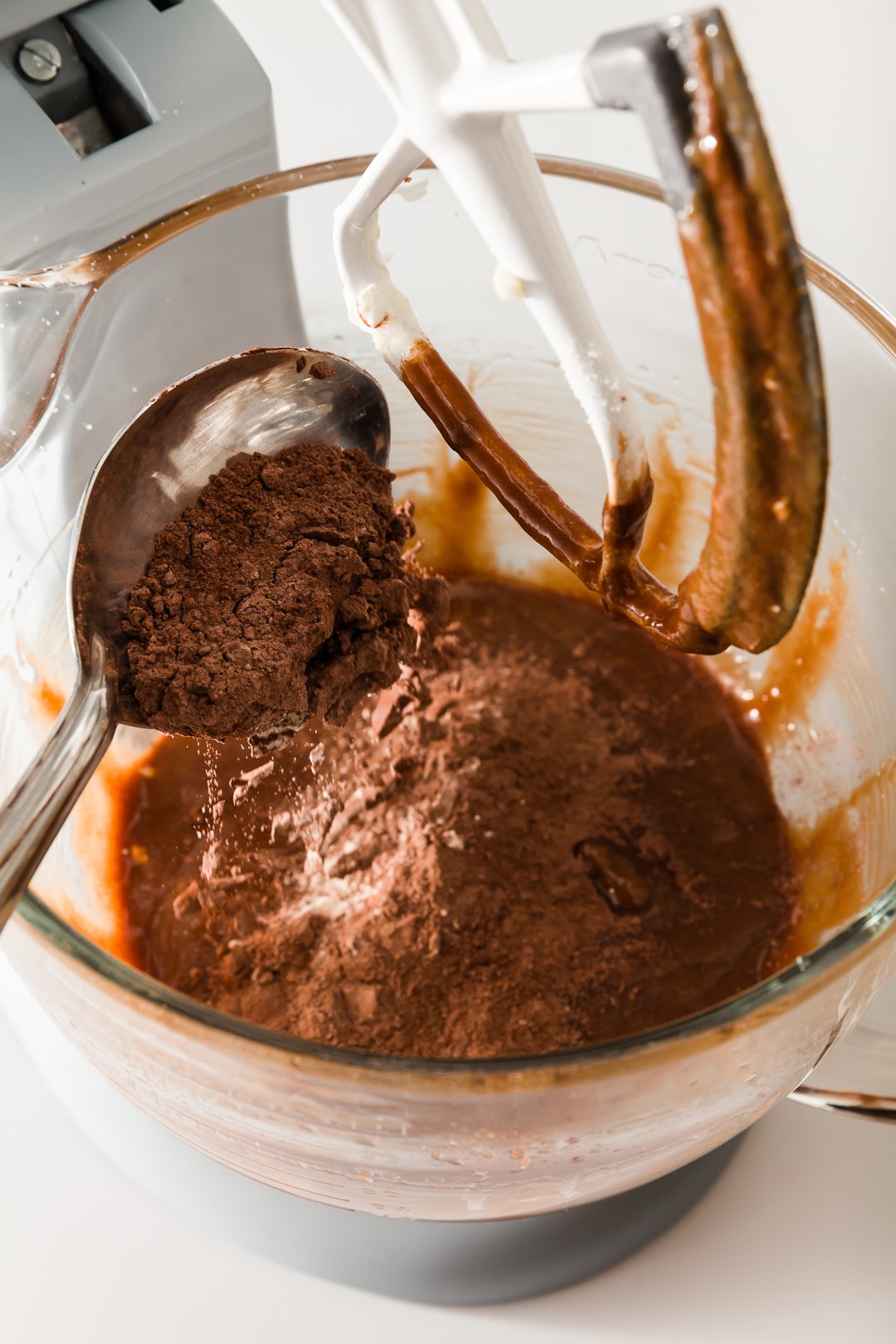 Mix in water or brewed coffee. Perfect cupcake batter should be runny, so adding more liquid gets it to the correct consistency.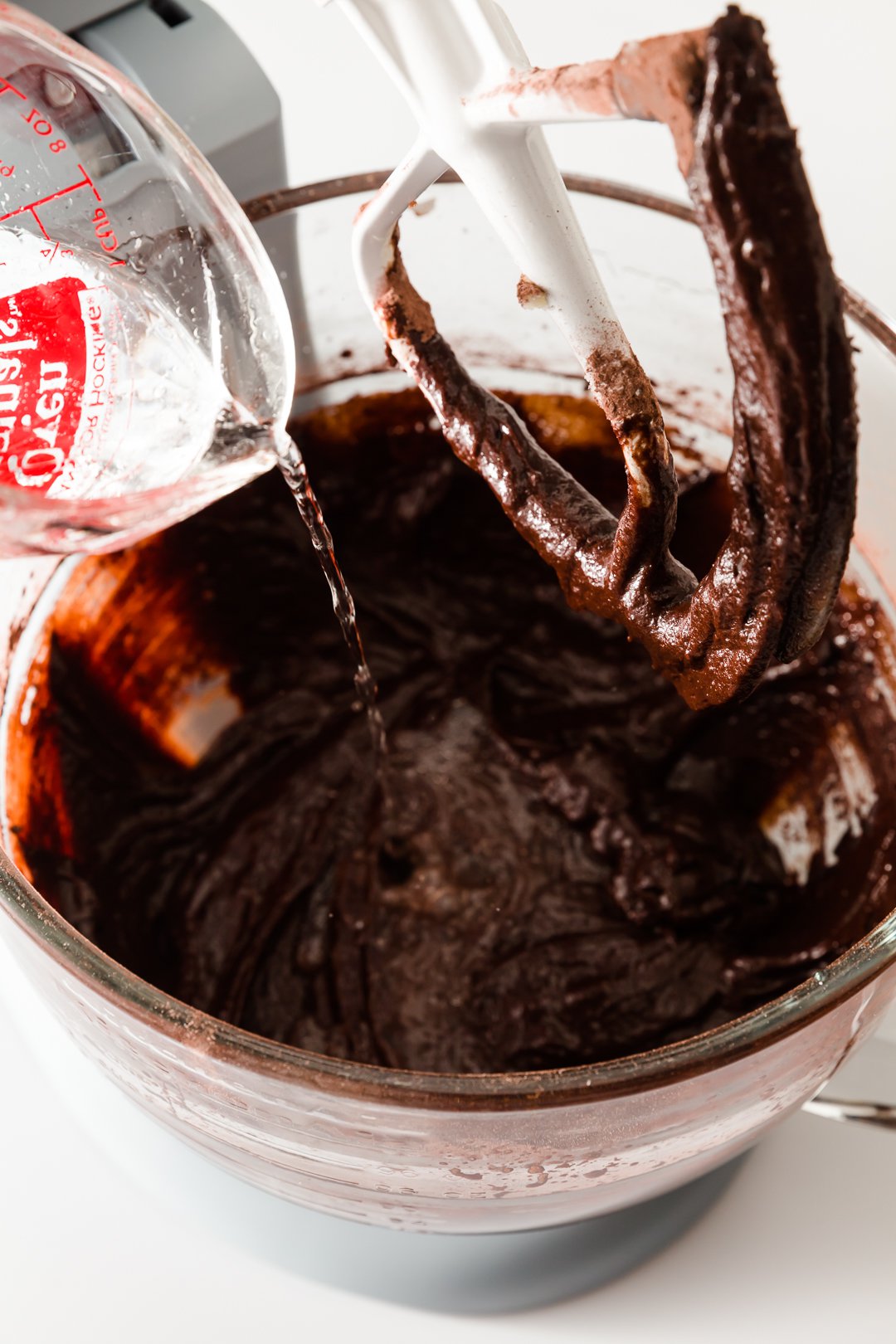 Fill cupcake liners and bake. You won't need a muffin tin or liners if you use baking cups like I did.
Tip: I find that using an ice cream scoop (disher) is the easiest way to fill cupcake liners.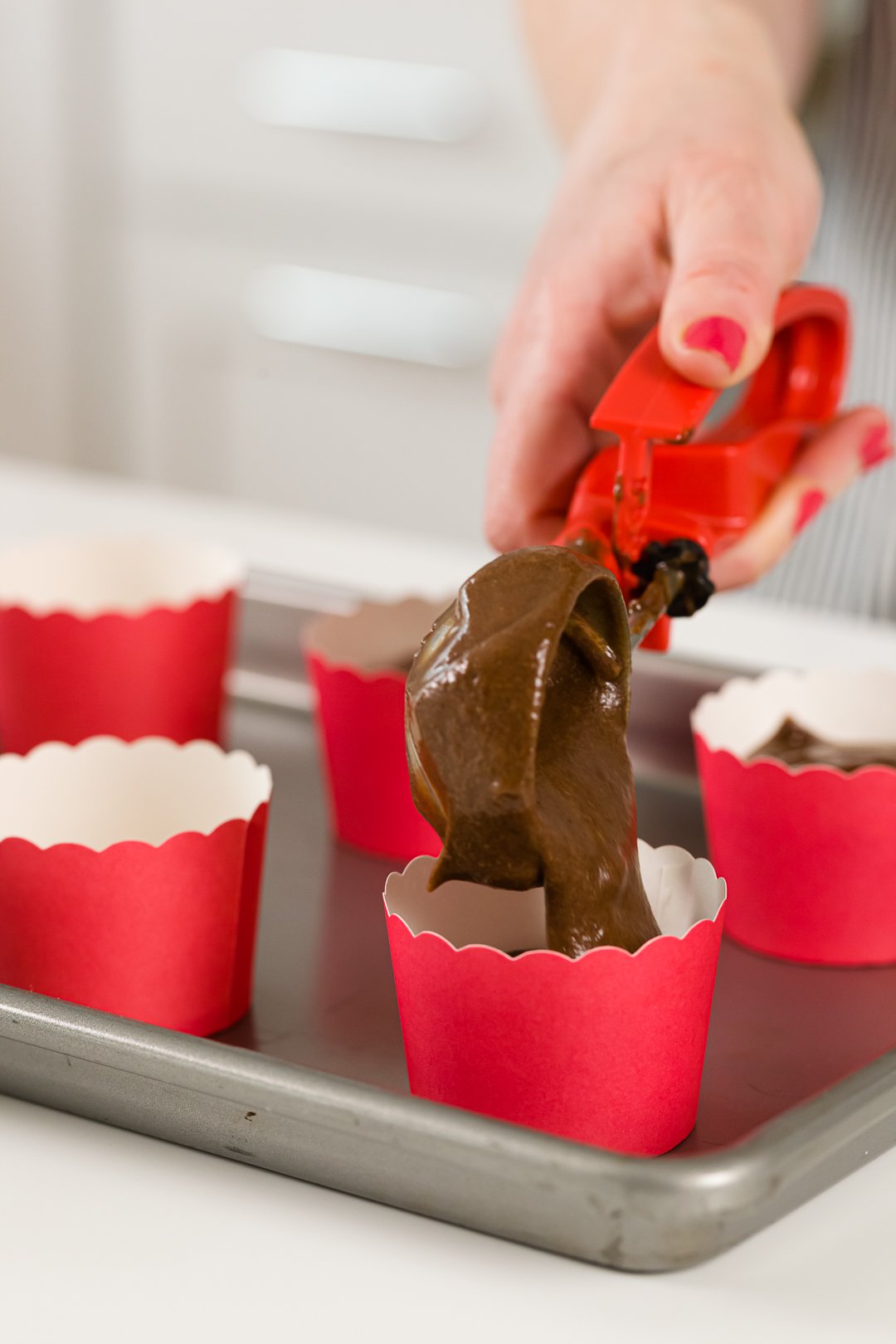 You'll know that the chocolate cupcakes are done when a toothpick inserted into a cupcake comes out dry and the tops bounce back when lightly touched. Put cupcakes on a cooling rack or on the counter and allow to cool while you make the marshmallow frosting.
Marshmallow Frosting
Start by making the frosting. Heat egg whites with sugar and vanilla over a double boiler (or a bowl set over a pot of boiling water).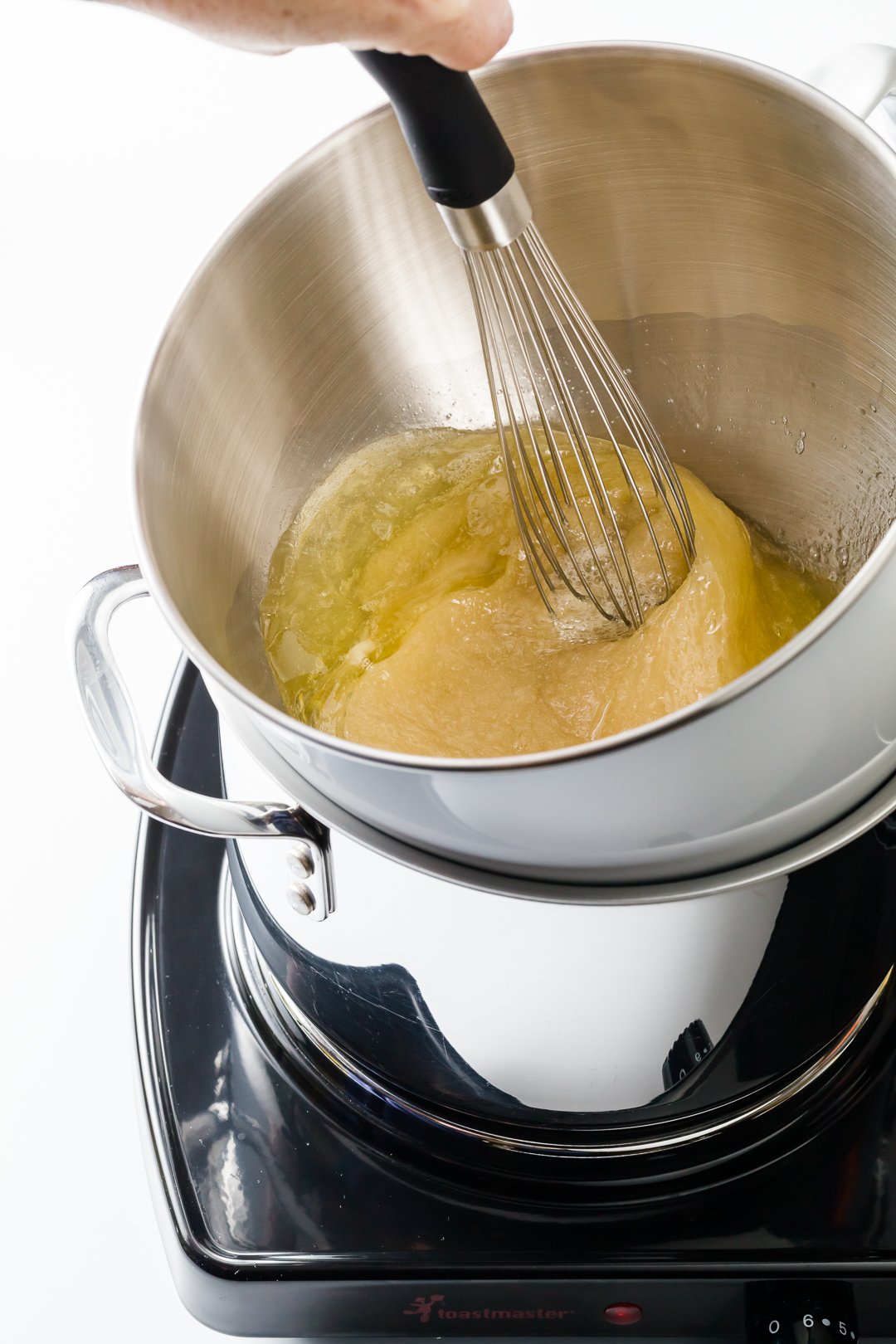 After you've heated the mixture and the sugar has dissolved, whisk those ingredients using an electric mixer for nearly 20 minutes until you have stiff, glossy peaks. I don't suggest trying to do this by hand.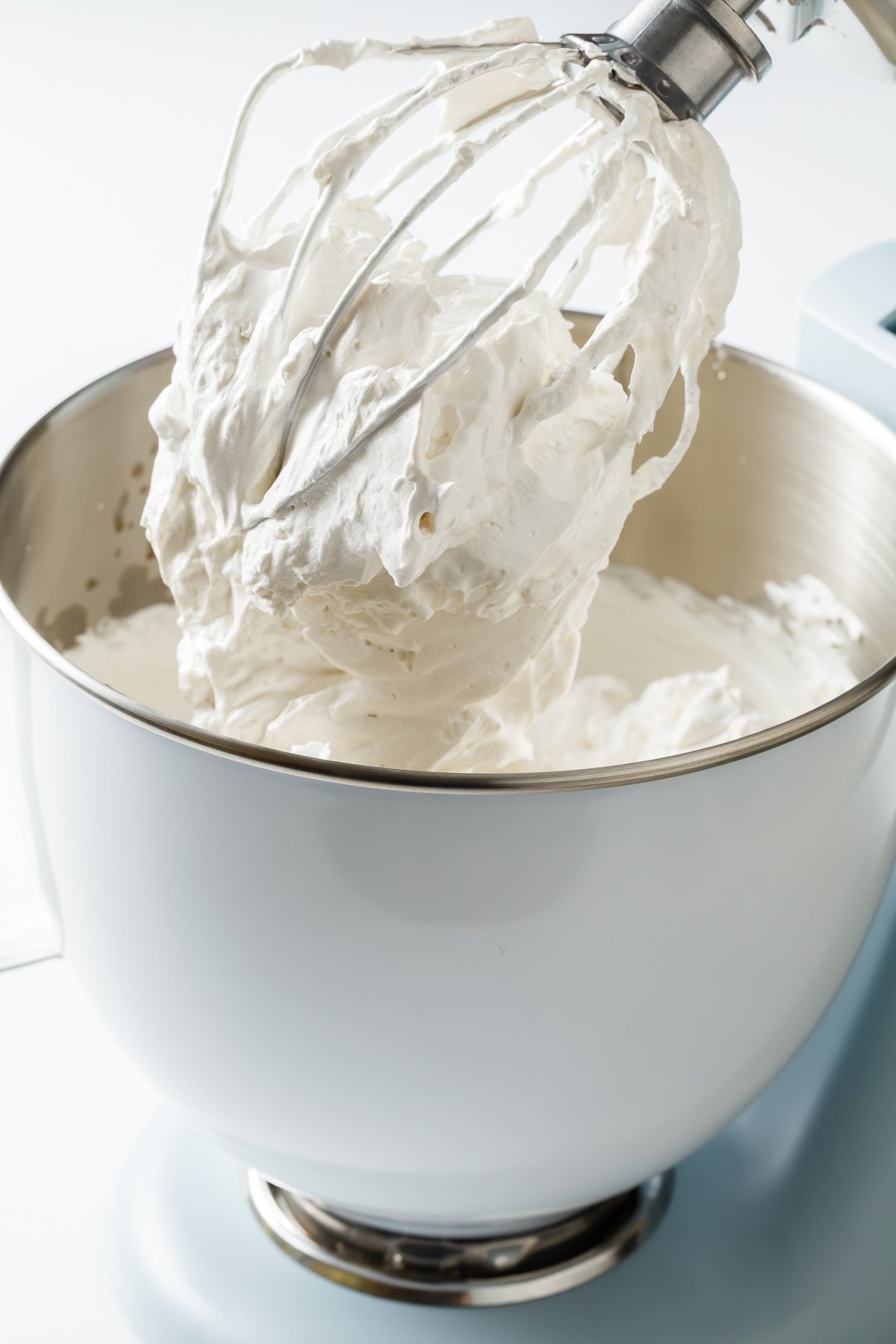 Decorating
Now it's time for the fun part – decorating. Spread a thin layer of the frosting over a cooled chocolate cupcake – just enough to serve as glue for the graham cracker crumbs.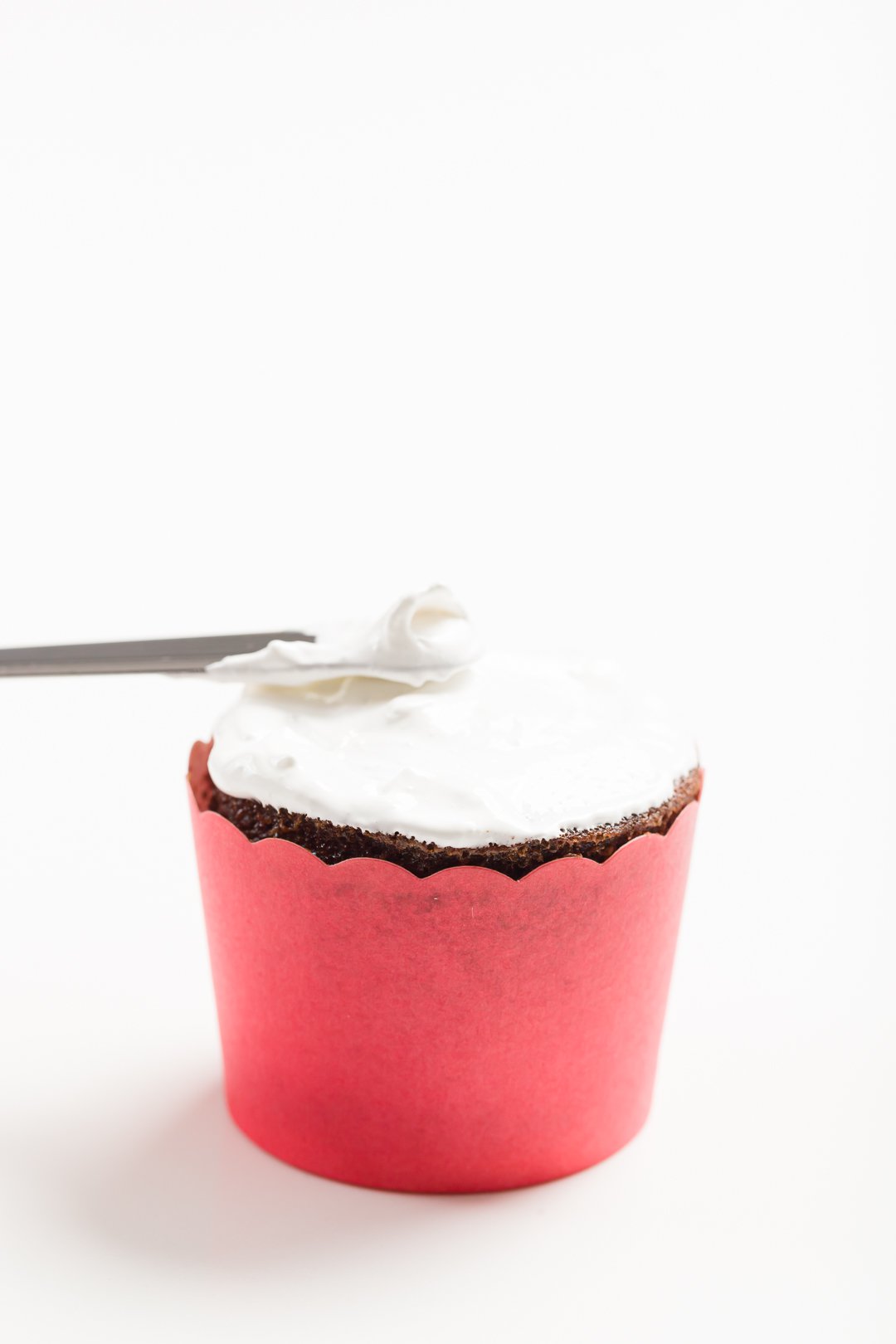 Then, invert the cupcake onto a plate of crushed graham crackers. They will stick to the frosting.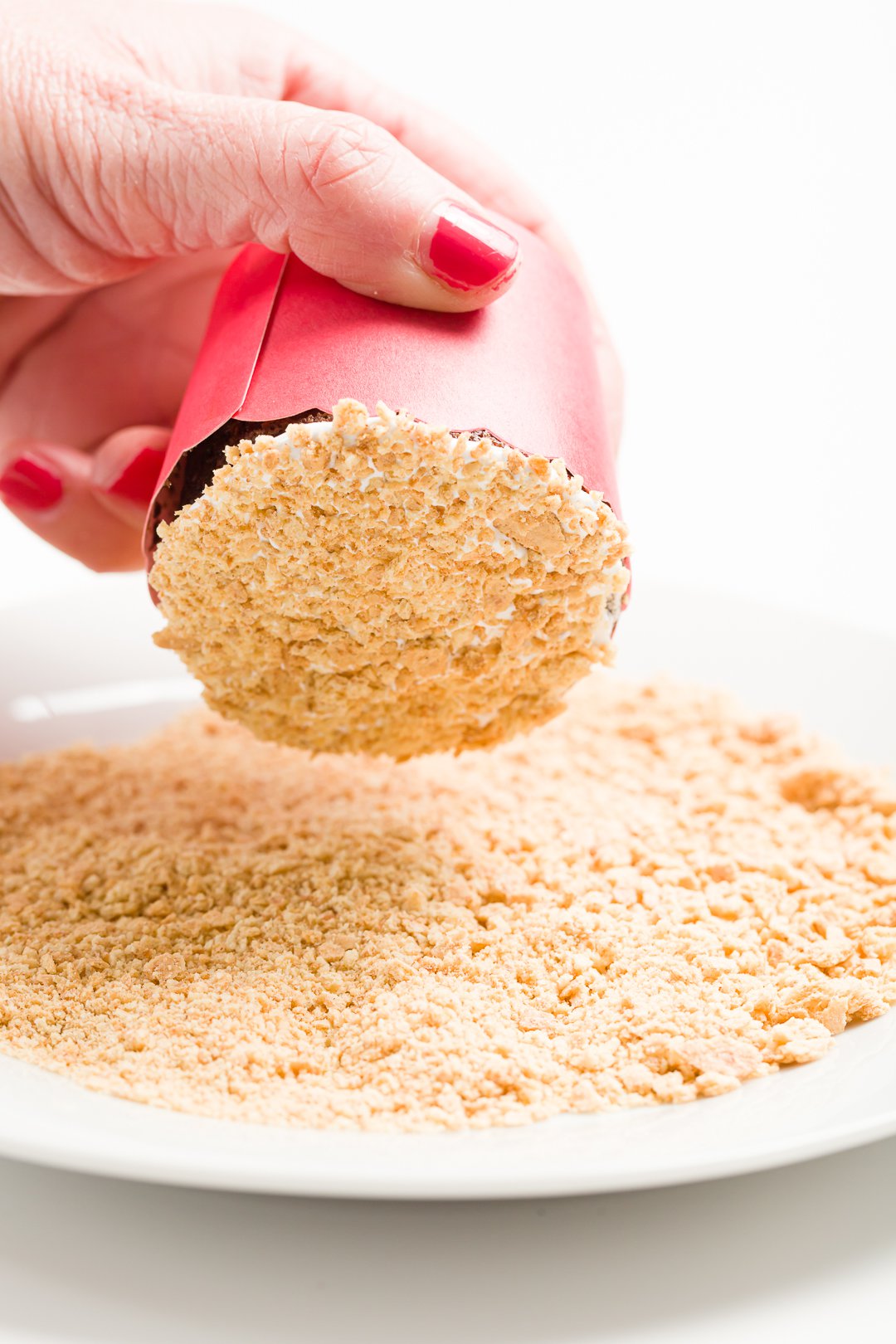 Fill a piping bag fitted with a large round tip with marshmallow frosting and frost big, plump swirls of frosting onto each cupcake – leaving some graham cracker crumbs showing along the edge.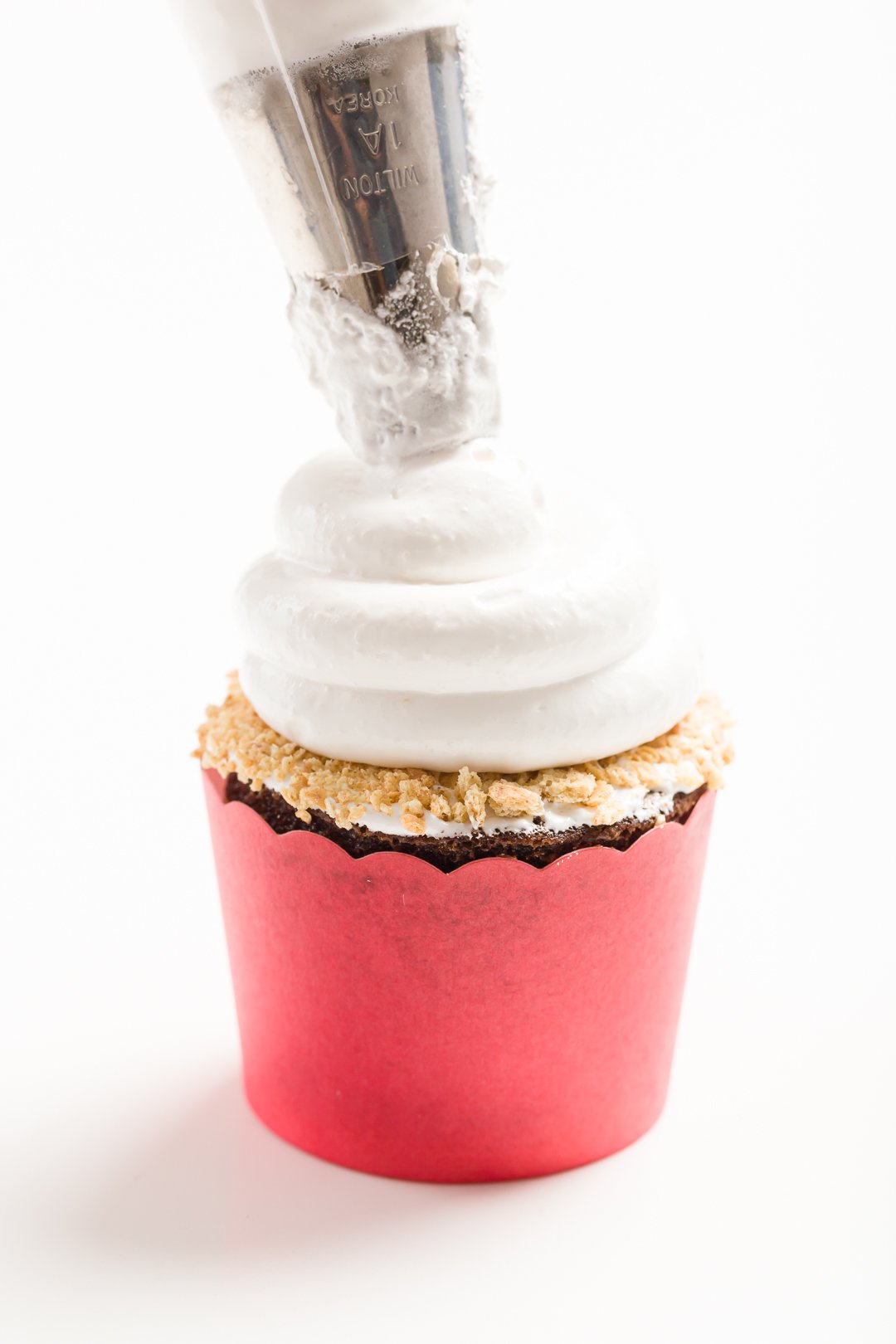 Grab your kitchen torch and toast the frosting! Start off with the torch's lowest heat setting so you don't accidentally burn anything.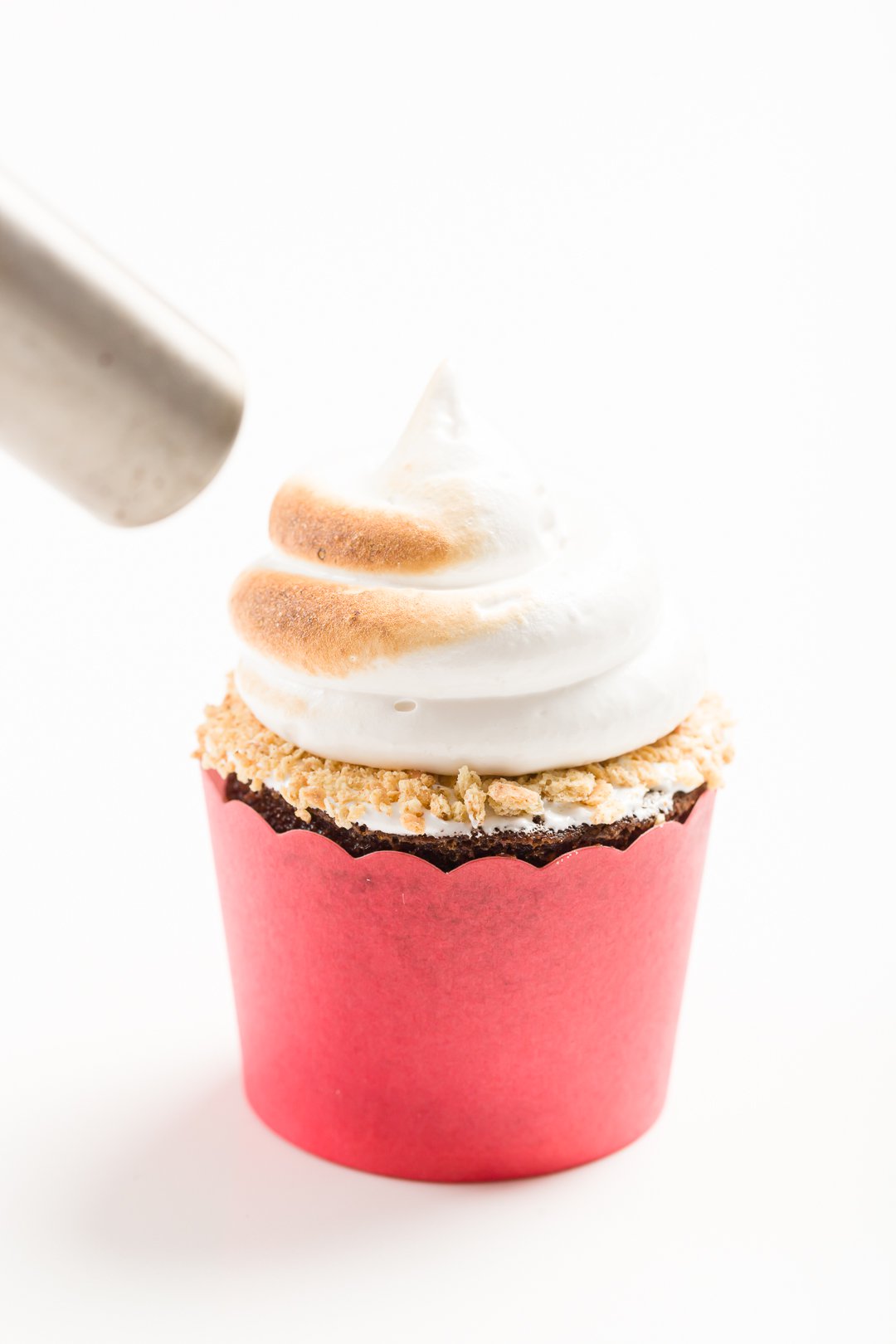 Top the s'mores cupcakes with a graham cracker square, chocolate, and mini marshmallows.
Tip: Depending on how sturdy and tall your frosting is, you may need to stick a toothpick or skewer behind the graham cracker and into the cupcake to help hold it up.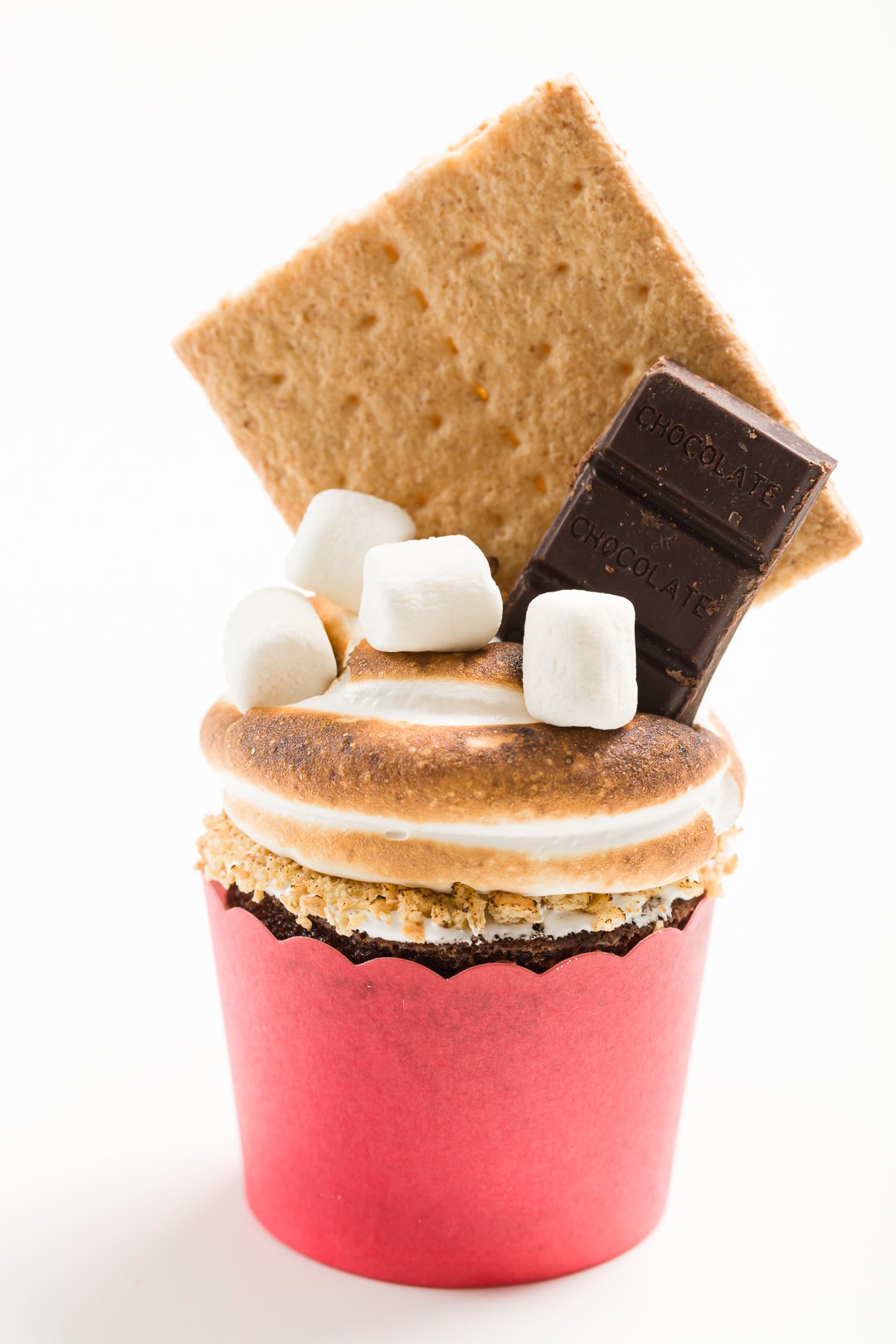 Drizzle with lots of chocolate syrup and serve!
Expert Tips and FAQs
Decorating
While you can use any cupcake liners for your cupcakes, I highly suggest trying baking cups. They look so cute! You can bake cups directly on a cookie sheet and you won't need a muffin tin.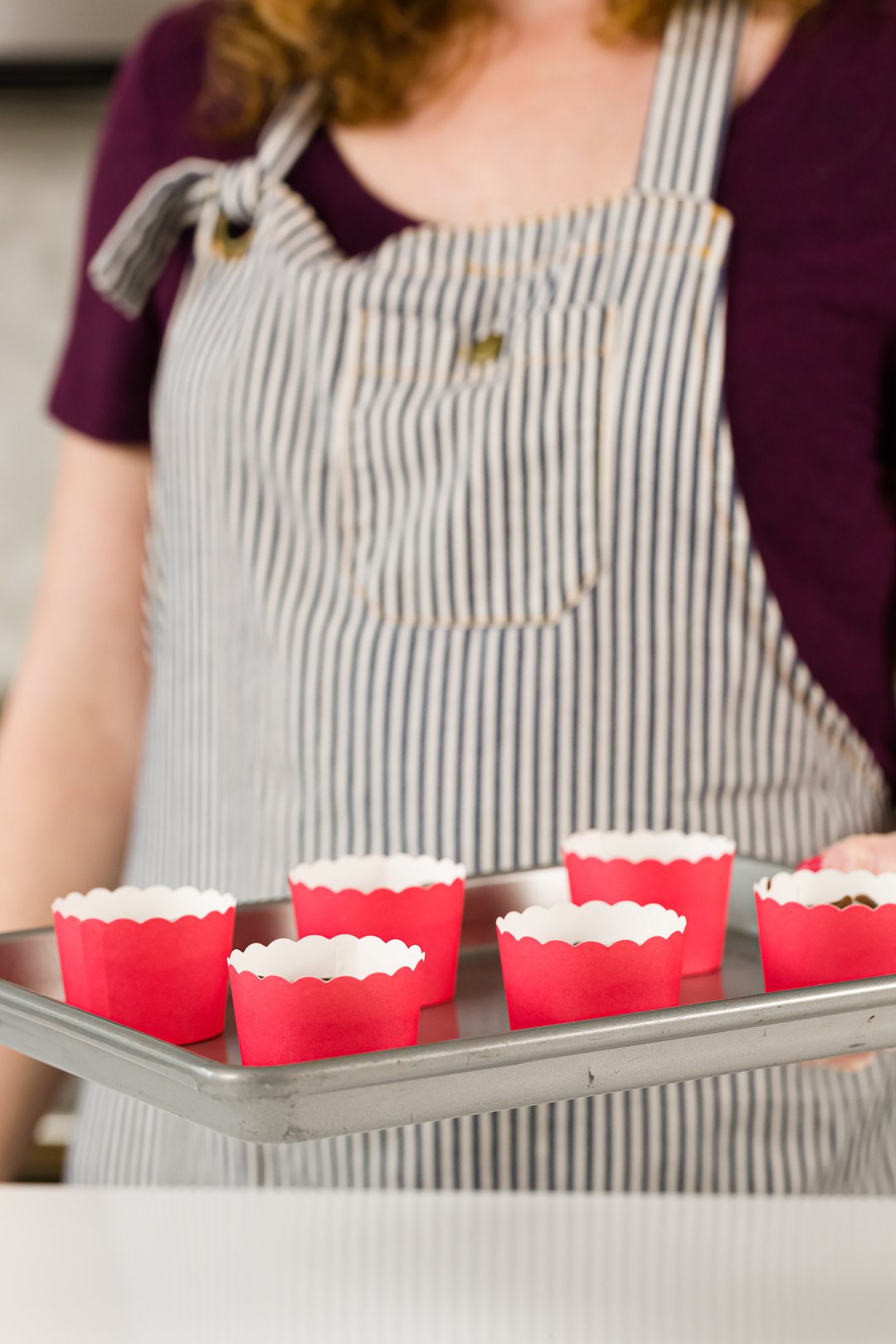 If you use my chocolate cupcake recipe, I suggest you stick a regular liner inside of the baking cup to guarantee that the cupcakes look their best after the bake.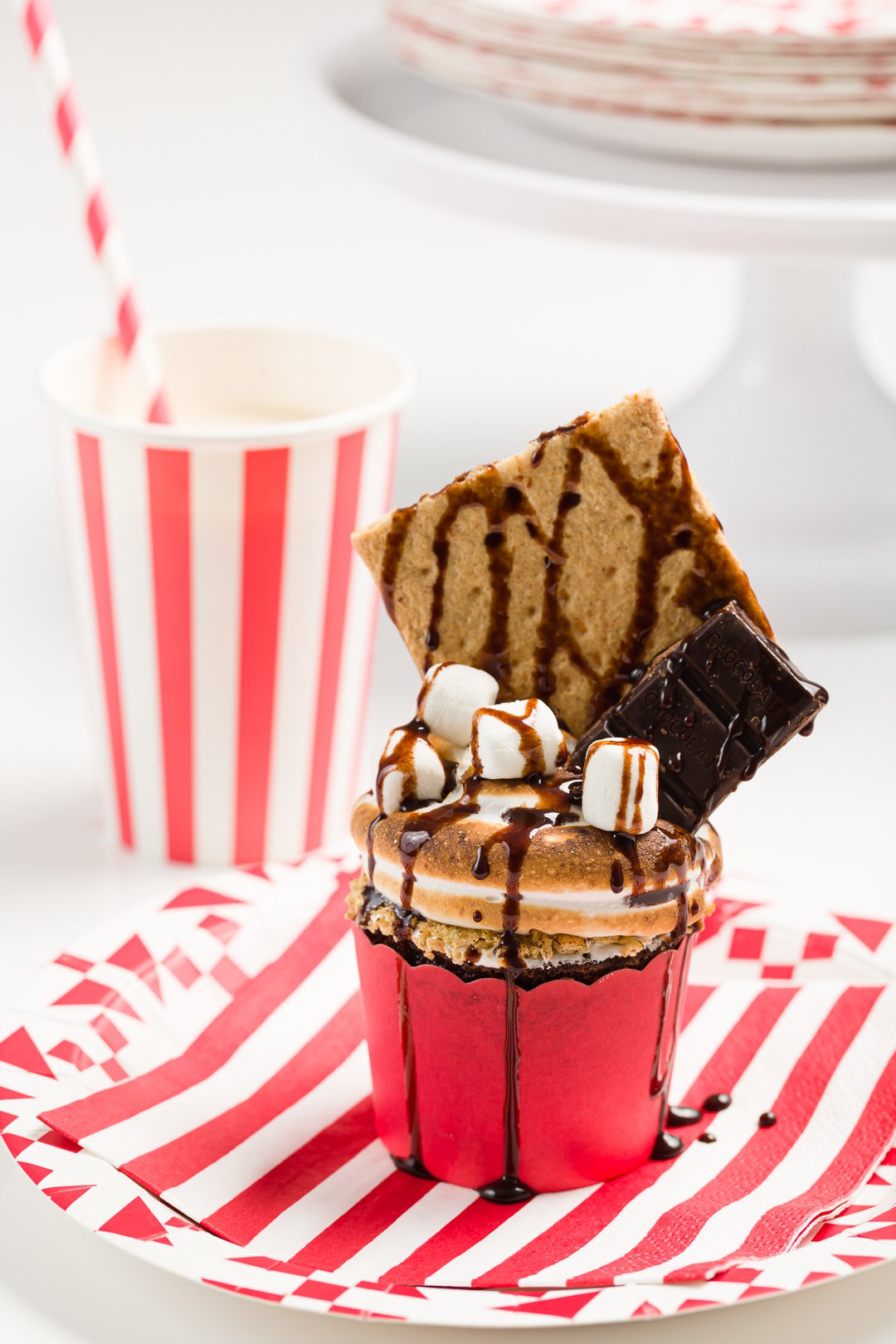 FAQs
How long will these S'mores cupcakes last?
Once frosted and decorated, they are best when served within 24 hours.
What can I do with leftover marshmallow frosting?
I make cookies with leftover buttercream frosting. With leftover marshmallow icing, you can make meringue cookies! Just pipe any extra onto a cookie sheet, sprinkle with any spices that you like, and bake at 200 F for 45 minutes. Turn the oven off and let them cool in the oven for at least 30 minutes.
Do I have to use marshmallow creme frosting for S'mores cupcakes?
For the most authentic flavors, I do recommend the marshmallow icing. For a shortcut, use some marshmallow fluff instead, but be aware it may not hold its shape the same way. You could also try something like a Swiss meringue or similarly light and sweet frosting. A marshmallow buttercream is also a fantastic option.
How else can I customize S'mores cupcakes?
If you really love the graham cracker component, feel free to use some cracker crumbs in the bottom of your cupcake liners or baking cups to create a graham cracker crust layer.
Related Recipes
S'mores Cupcakes
S'mores cupcakes are chocolate cupcakes with a toasted marshmallow frosting!
Equipment
Candy thermometer

Stand mixer
Ingredients
Cupcake Ingredients
1

cup

all-purpose flour

1/2

teaspoon

salt

1/2

teaspoon

baking soda

1/2

cup

cocoa powder

natural or Dutched will both work with this recipe

1/4

cup

unsalted butter

room temperature

1

cup

sugar

2

ounces

chocolate

Choose your favorite. You can use any chocolate that you like except white chocolate or candy melts. The chocolate doesn't have to be one typically earmarked for baking – any chocolate bar that doesn't contain mix-ins like nuts, Rice Krispies, nougat, etc. will work.

2

large eggs

room temperature

2

large egg yolks

room temperature

9

tablespoons

vegetable oil

this is the same as 1/2 cup + 1 tablespoon – measure in a liquid measuring cup

2

teaspoons

vanilla extract

1/3

cup

full-fat sour cream

1/2

cup

water

room temperature, measured in a liquid measuring cup
Frosting Ingredients
14

large egg whites

4

cups

sugar

3

teaspoons

vanilla extract

6

graham cracker squares

crushed

18

graham cracker squares

5

chocolate bars

90

mini marshmallows

chocolate syrup

to taste
Instructions
Cupcake Instructions
Preheat oven to 350 F.

Sift together flour, salt, baking soda, and cocoa powder into a separate medium-sized bowl. Use a fork or a whisk to ensure that the ingredients are mixed well after sifting. Set aside.

In a medium-sized mixing bowl or the bowl of a stand mixer, mix butter and sugar until fully combined. The end result should look like wet sand.

Melt the chocolate in the microwave or in a double boiler.

Once the melted chocolate is cool enough to touch, add it to the butter/sugar mixture and mix until just combined.

Mix in eggs and egg yolks one at a time until just combined.

Mix in oil, vanilla, and sour cream until just combined.

Add dry ingredients to wet ingredients in three additions, mixing until just combined after each addition.

Mix in water until just combined.

Fill cupcake liners or baking cups 2/3 full and put in the oven.

Check for doneness at 18 minutes – a toothpick inserted into the center of a cupcake should come out clean. If they are not done, check again every three minutes until they are done.

Immediately remove cupcakes from the cupcake tin or baking sheet (if using baking cups) and place on a cooling rack or on the counter to cool to room temperature.
Frosting Instructions
Combine egg whites, sugar, and vanilla extract in the metal mixing bowl of your stand mixer and set over a pot filled with boiling water on a range, creating a double boiler.

Whisk by hand for a few minutes until the mixture reaches 110 F on a candy thermometer.

Place the bowl on a stand mixer fitted with the whisk attachment. Whisk on medium speed for 10 minutes.

Increase to high speed and whisk until stiff glossy peaks form, about 5 to 10 minutes more.
Decorating Instructions
Spread a thin layer of marshmallow frosting over each cupcake.

Dip each cupcake into crushed graham crackers.

Use a piping bag fitted with a large round tip to pipe a generous swirl of frosting on each cupcake, leaving a small edge of graham cracker crumbs showing.

Using a culinary torch, toast the marshmallow frosting.

Top each cupcake with a graham cracker square, a piece of chocolate, mini marshmallows, and chocolate syrup.

Serve within 24 hours (otherwise the graham cracker will get soggy).
Notes
For the chocolate cupcakes (see more extensive notes on that post):
If you would like to add coffee to the recipe, either add 1 teaspoon espresso powder or instant coffee granules along with the sifted dry ingredients, or replace the water with room temperature brewed coffee.
Using different cocoa powders will alter the taste of the cupcakes, but you really can't go wrong. All varieties of cocoa powder work well.
The chocolate in these cupcakes doesn't have to be one typically earmarked for baking – any chocolate, bar, chips, or discs that don't contain mix-ins (like nuts, Rice Krispies, nougat, etc.) will work. This way, you can choose whatever type of chocolate you prefer to eat: milk, dark, or even flavored chocolate bars.
Yogurt will work well as a substitute for sour cream if you don't have any on hand.
For making these cupcakes, use any mild vegetable oil – generic, canola, and safflower are all good choices.
When making the marshmallow frosting:
Make sure the inside of the bowl is totally dry before beginning.
Make sure there are no egg yolks mixed in with the egg whites.
Keep on whisking – don't stop early.
If the graham cracker doesn't stay upright on top of the cupcakes, you can place a small toothpick behind it to support it.
You will likely have extra marshmallow frosting. You can bake that into meringue cookies by piping onto parchment paper and baking at 200F for about 45 minutes, then leaving in the warm oven for another 30 minutes.
Nutrition
Calories:
482
kcal
|
Carbohydrates:
78
g
|
Protein:
6
g
|
Fat:
17
g
|
Saturated Fat:
11
g
|
Polyunsaturated Fat:
1
g
|
Monounsaturated Fat:
4
g
|
Trans Fat:
1
g
|
Cholesterol:
49
mg
|
Sodium:
214
mg
|
Potassium:
195
mg
|
Fiber:
2
g
|
Sugar:
63
g
|
Vitamin A:
165
IU
|
Vitamin C:
1
mg
|
Calcium:
33
mg
|
Iron:
3
mg
Stay Connected!
Join my mailing list - and receive a free eBook!