Tiramisu Cupcakes
Published , Last updated by
Stef
Disclosure: I may earn a commission from purchases you make through affiliate links in this post at no additional cost to you.
Tiramisu cupcakes are perfect little single serving tiramisu treats! They have all of the components of a classic tiramisu dessert: ladyfingers, coffee, rum, mascarpone, whipped cream, and chocolate.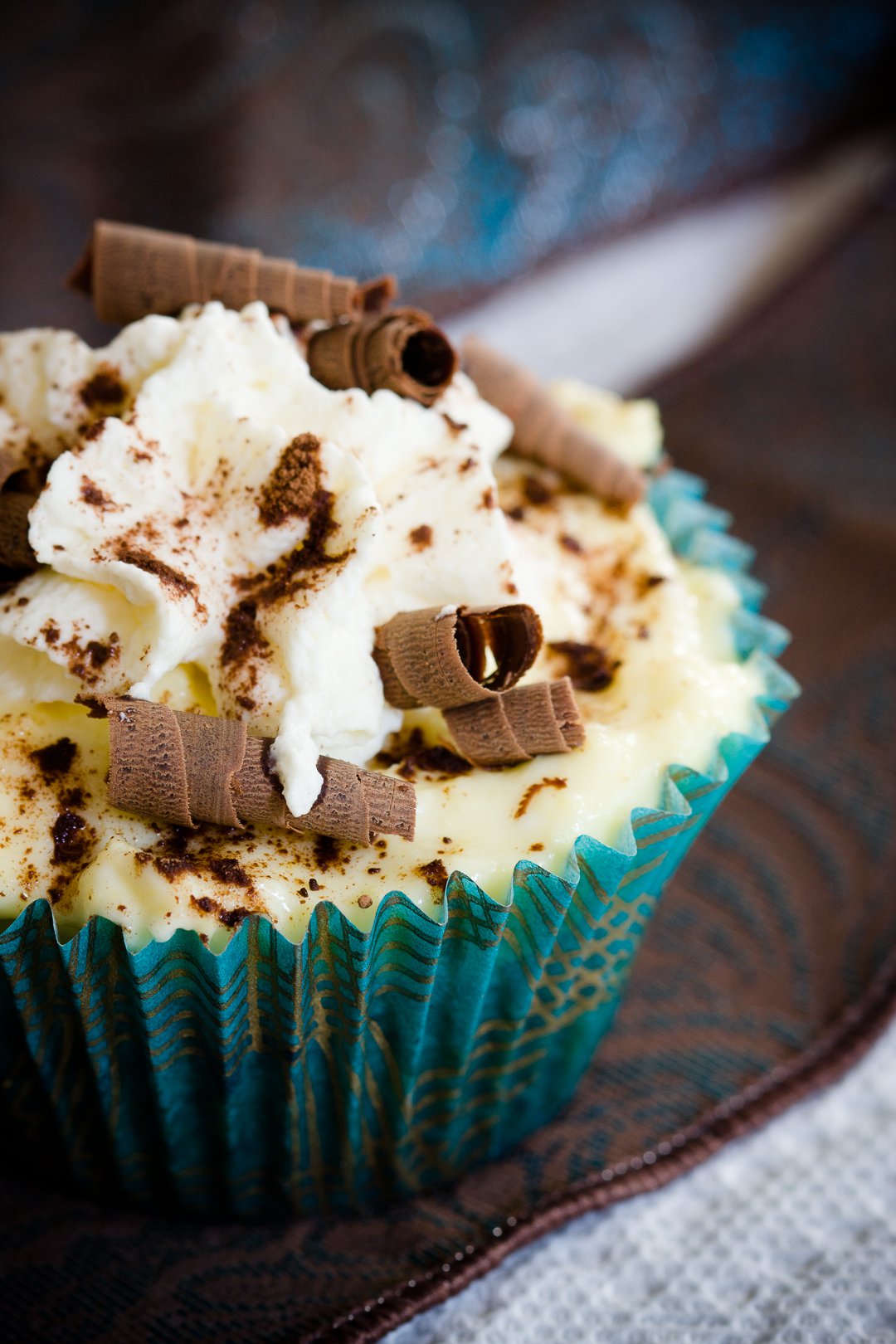 The common way of making tiramisu cupcakes is to start with a vanilla cupcake, flavor it with rum and coffee, and to top it with mascarpone, whipped cream, and cocoa powder (or tiramisu frosting).
While I would never turn down tiramisu cupcakes made that way, that version misses out on what is to me the key feature of tiramisu – the topping to cake ratio.
Tiramisu has very little cake (ladyfingers) and LOTS of mascarpone and whipped cream topping.
Tiramisu's ladyfingers are like circus ringmasters: they keep everything together, but no one goes home talking about them. The rum, coffee, mascarpone, whipped cream, and chocolate are the clowns, elephants, aerialists, unicycle rider, and man flying out of a cannon. You simply won't forget them.
What Makes These Tiramisu Cupcakes Special
Because my tiramisu cupcakes start with just a small amount of "cupcake" (ladyfingers baked into cupcake wrappers), there is a TON of room for all of the toppings!
Witness: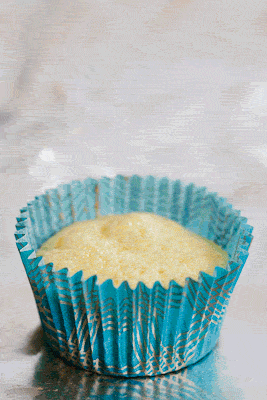 How to Make Tiramisu Cupcakes
Ladyfingers
Tiramisu starts with ladyfingers. Instead of buying ladyfingers and putting them at the bottom of a wrapper, these cupcakes use a homemade ladyfinger recipe as the base.
Bake the ladyfinger batter into the cupcake wrapper. It will rise just halfway, leaving plenty of room for the toppings.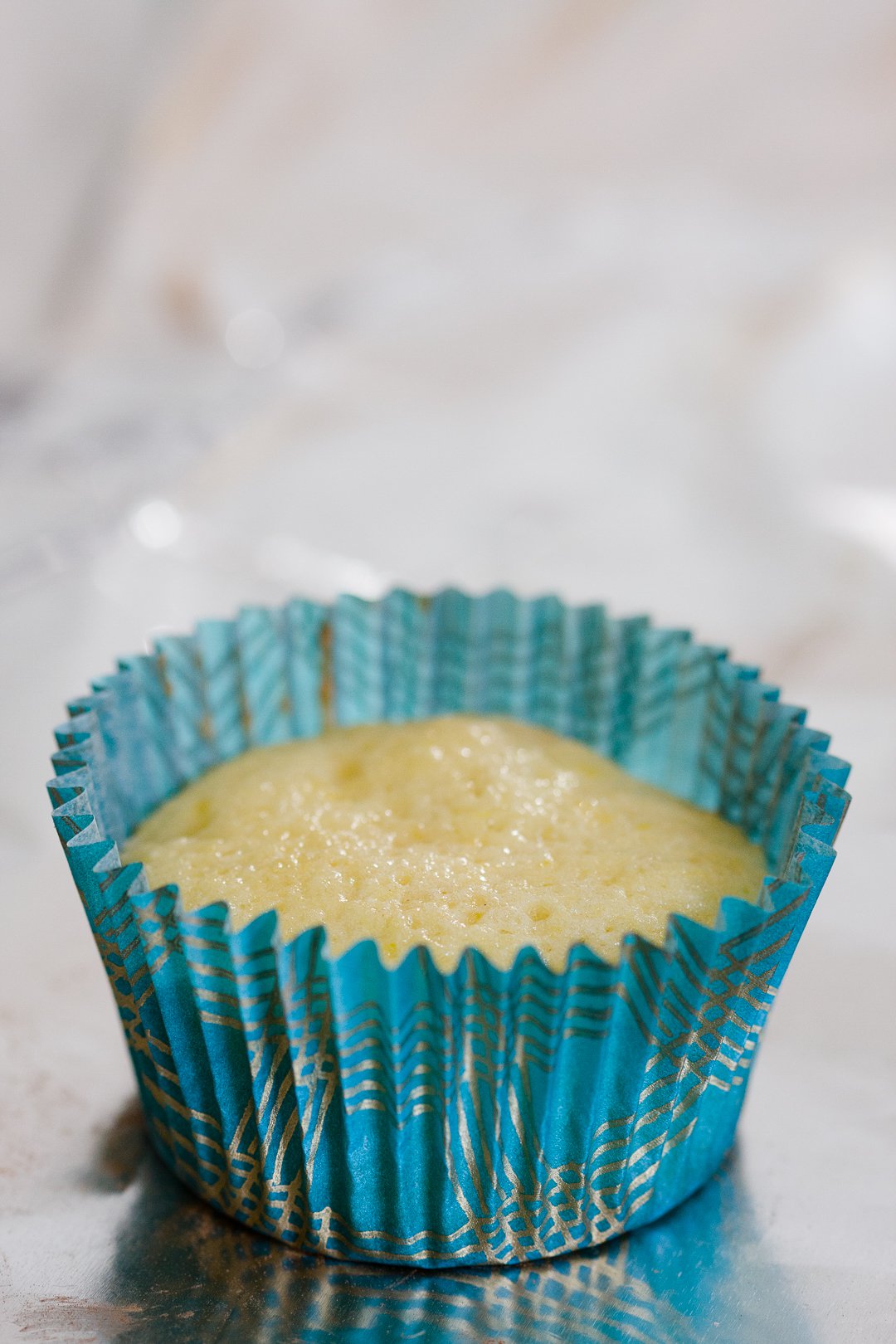 Coffee and Rum
Poke holes in the ladyfinger cupcakes and drizzle with a mixture of coffee and rum.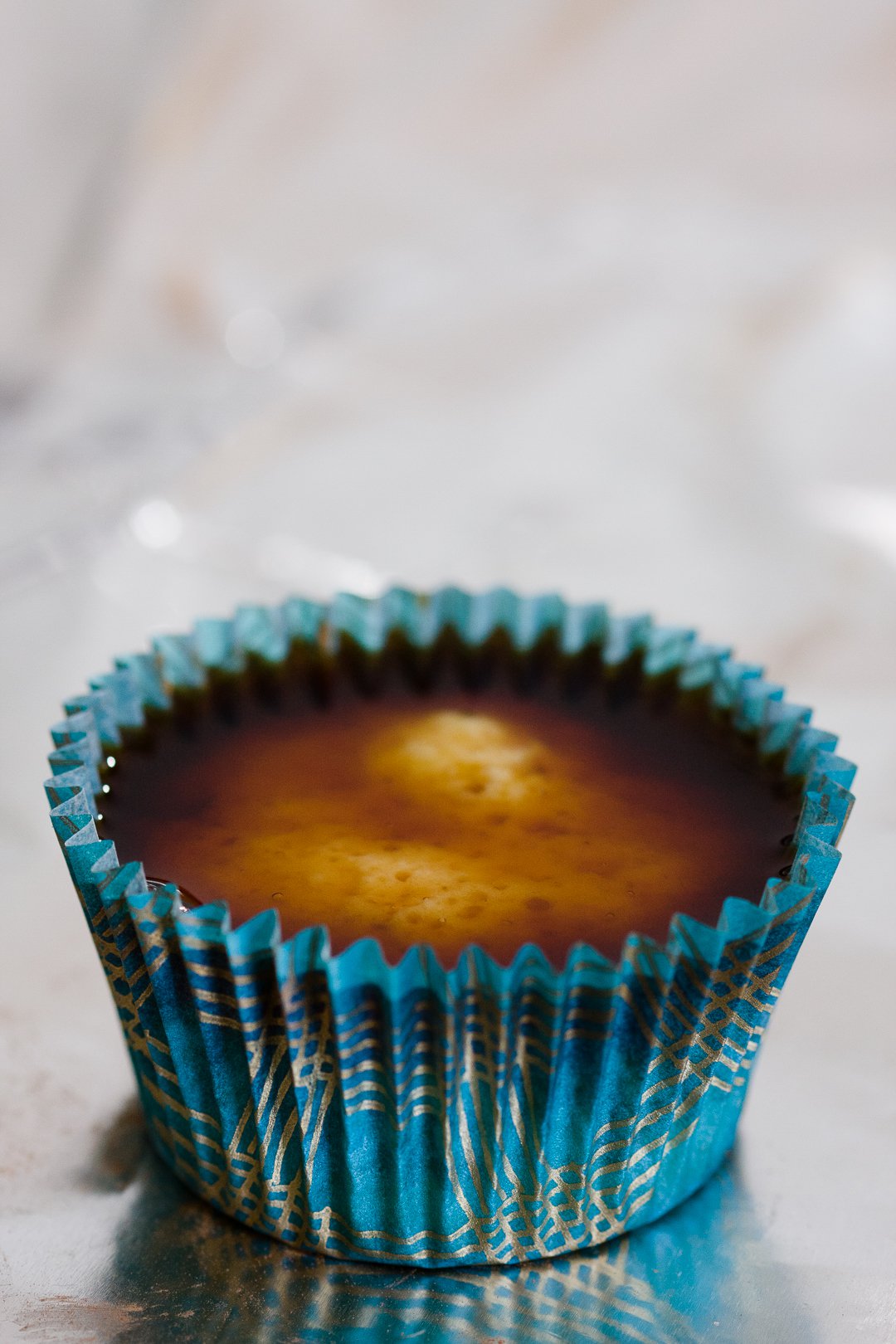 The mixture will absorb into the ladyfingers. Once that happens, add even more and let it absorb as well!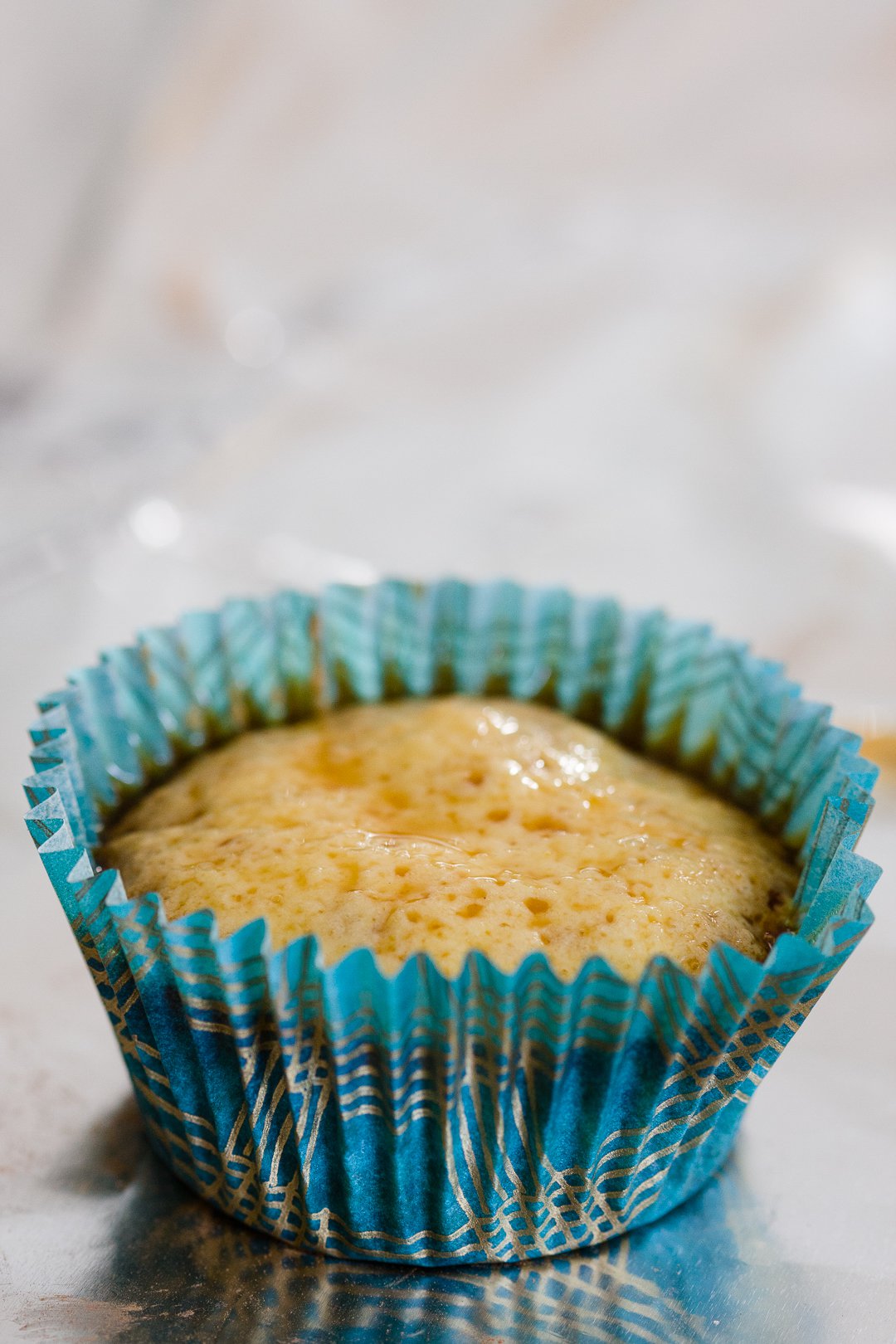 Mascarpone
Top the soaked cupcakes with a layer of mascarpone topping.
The topping is a mixture of mascarpone cheese, egg yolks, sugar, and milk.
Whipped Cream
Top the mascarpone layer with sweetened whipped cream (chantilly cream).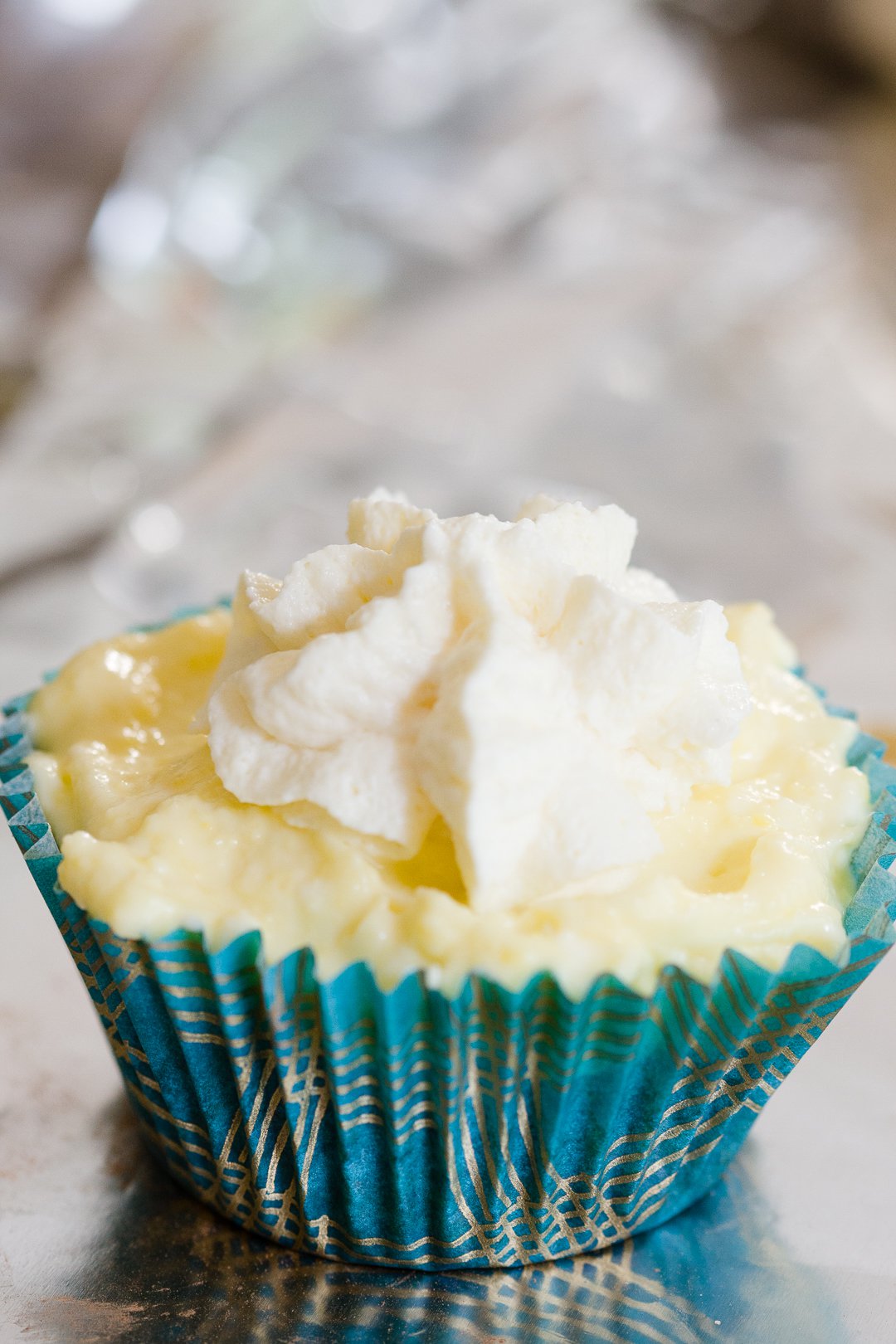 Chocolate
Sprinkle with cocoa powder and chocolate curls.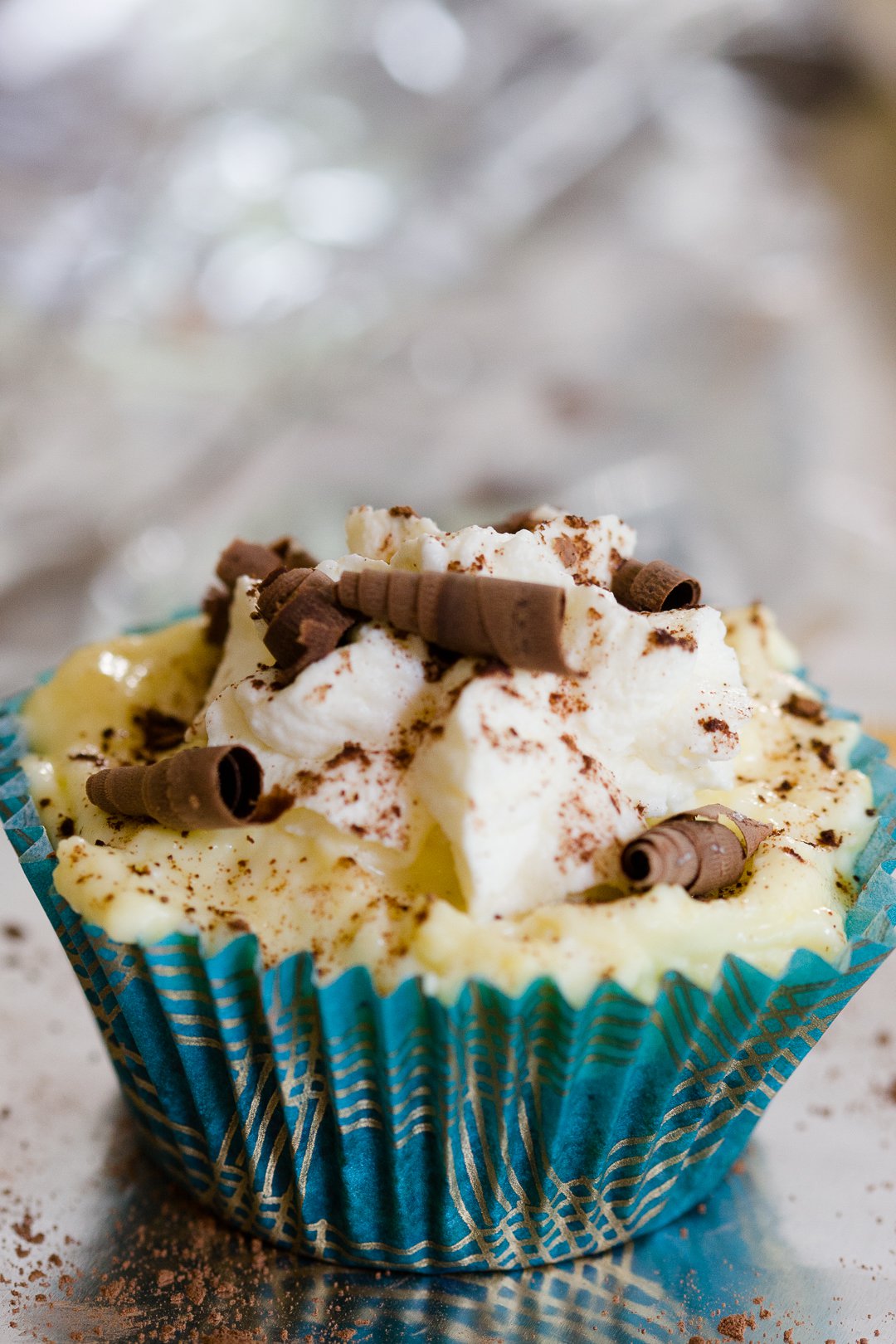 Tip: You can make chocolate curls by running a vegetable peeler along a chocolate bar. Or, you can buy chocolate curls to save yourself the effort.
Best Tip for Making These Cupcakes
Make the cupcakes the day before you plan to serve them. The cupcakes taste better after resting in the refrigerator overnight. It gives the flavors time to meld together.
Once assembled, the cupcakes will last about three days in the refrigerator.
Variations
For a twist, try making these using chocolate ladyfingers instead of regular ones.
Or, make them extra boozy by using Kahlua instead of coffee.
Tiramisu Cupcakes
Tiramisu cupcakes are perfect little single serving tiramisu treats! They have all of the components of tiramisu: ladyfingers, coffee, rum, mascarpone, whipped cream, and chocolate. 
Ingredients
Mascarpone Topping Ingredients
6

large egg yolks

3/4

cup

granulated sugar

2/3

cup

milk

1

pound

mascarpone cheese
Ladyfinger Cupcake Ingredients
2

large eggs

separated

1/3

cup

granulated sugar

1/2

cup

all-purpose flour

1/4

teaspoon

baking powder
Whipped Cream Ingredients
1 1/4

cup

heavy cream

1/2

teaspoon

vanilla extract
Assembly Ingredients
ladyfinger cupcakes

from above

1

cup

strong brewed coffee

room temperature

2

tablespoons

rum

mascarpone topping

from above

1

tablespoon

unsweetened cocoa powder

72

chocolate curls
Instructions
Mascarpone Topping Instructions
In a medium saucepan, whisk together egg yolks and sugar until well blended.

Whisk in milk and cook over medium heat, stirring constantly, until mixture boils.

Boil gently for 1 minute, remove from heat, and allow to cool slightly.

Cover tightly and refrigerate for 1 hour.

Remove from refrigerator and whisk in mascarpone until smooth. Set aside.
Ladyfinger Cupcake Instructions
Place egg whites in a bowl and beat on high until soft peaks start to form.

Slowly add

2

tablespoons of the sugar and continue beating until stiff and glossy.

In another bowl, beat egg yolks and remaining sugar until thick and very pale in color.

In a small bowl, whisk together flour and baking powder.

Fold half the egg whites into the egg yolk mixture. Fold in flour, and then add remaining egg whites.

Fit large pastry bag with a plain 1/2 inch round tube. (If you don't have one, cut off the end of a Ziploc bag.) Transfer mixture to the pastry bag (or Ziploc bag) and pipe the batter evenly between 12 cupcake liners. The cupcake liners will not be filled to the top.

Bake for 8 minutes or until a toothpick comes out clean.
Whipped Cream Instructions
In a medium bowl, beat cream with vanilla extract until stiff peaks form. Set aside.
Assembly Instructions
In a small bowl, combine coffee and rum.

Use a toothpick or skewer to poke holes into each ladyfinger cupcake.

Drizzle approximately

5

teaspoons of the coffee/rum mixture over each pre-baked ladyfinger cupcake. Add it a little at a time and wait for it to absorb into the ladyfinger cupcakes before adding more. When it stops absorbing, stop adding more.

Spread the mascarpone mixture evenly over the soaked ladyfingers.

Pipe or spread the whipped cream over the mascarpone mixture.

Sprinkle with cocoa powder.

Top with chocolate curls. Make the chocolate curls using a vegetable peeler on a chocolate bar. It works best if the chocolate is slightly warm but not melting.

Cover and refrigerate 4 to 6 hours, until set.
Nutrition
Calories:
434
kcal
|
Carbohydrates:
28
g
|
Protein:
7
g
|
Fat:
32
g
|
Saturated Fat:
19
g
|
Cholesterol:
198
mg
|
Sodium:
52
mg
|
Potassium:
120
mg
|
Fiber:
1
g
|
Sugar:
21
g
|
Vitamin A:
1085
IU
|
Vitamin C:
1
mg
|
Calcium:
107
mg
|
Iron:
1
mg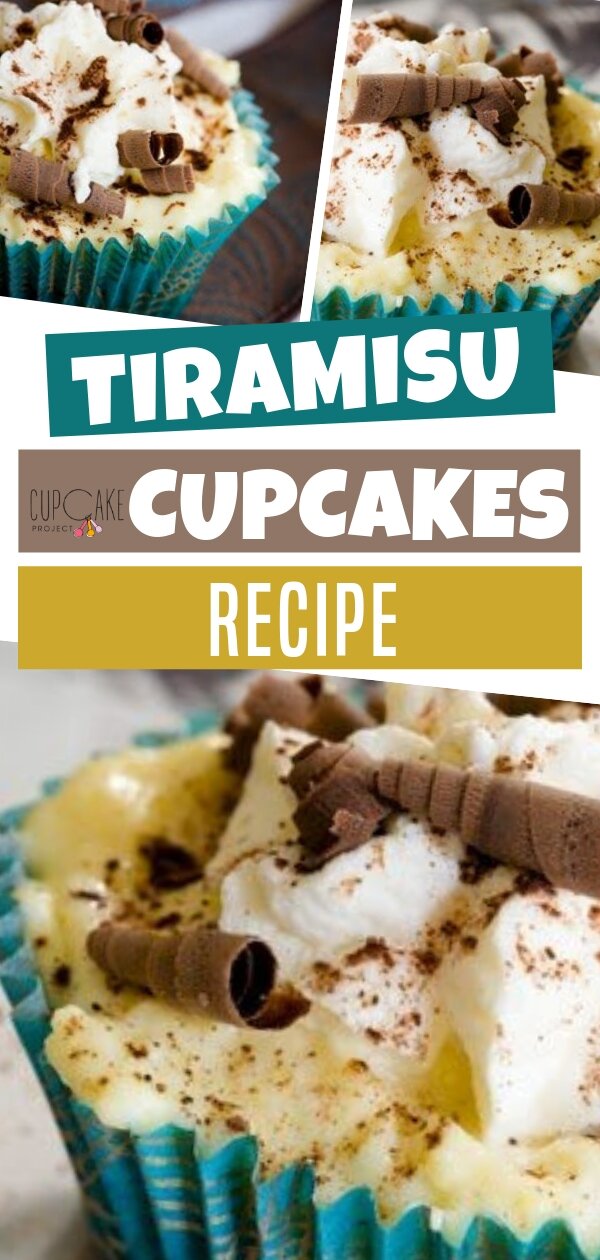 Stay Connected!
Join my mailing list - and receive a free eBook!