Coffee Cookies
Disclosure: I may earn a commission from purchases you make through affiliate links in this post at no additional cost to you.
Attention coffee lovers: These delicious coffee cookies are flavored with real coffee beans! They have a soft interior, and a crunchy exterior – think coffee-flavored crinkle cookies!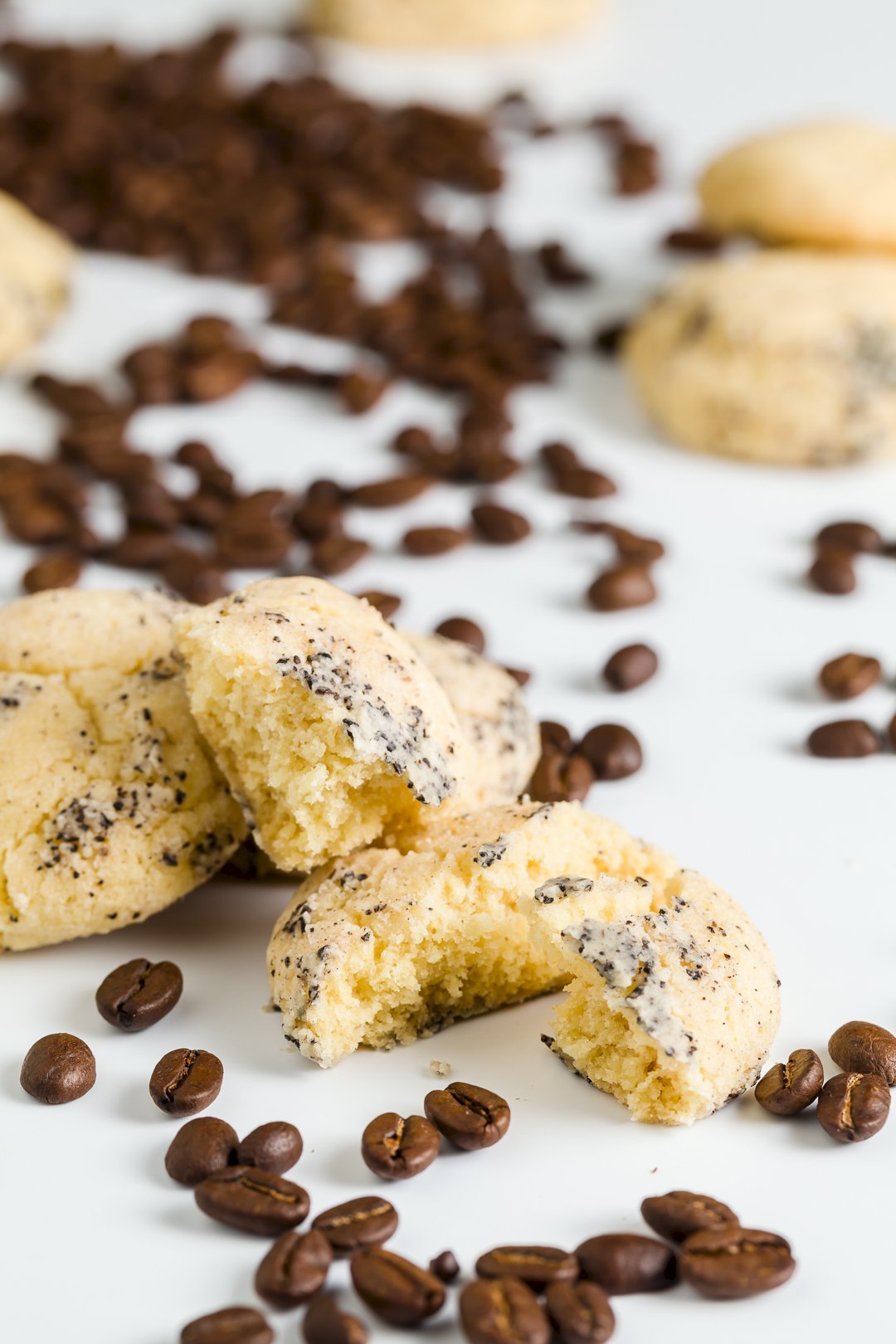 Coffee cookies aren't just great for eating with coffee; the cookies themselves have a subtle coffee flavor.
I store the cooled cookies in a plastic container with the lid slightly popped (that keeps the exterior crunchy). I occasionally stop by and take a big whiff (even if I'm not eating a cookie just then) and the cookies smell like freshly-brewed coffee.
Product for this post was provided by Fair Trade USA. I wholeheartedly believe in their mission.
How to Make Coffee Cookies
There are a variety of ways to make coffee cookies.
The most common way is to use instant espresso powder. This works nicely and adds a strong coffee flavor to the baked goods.
If the recipe calls for milk or cream, a great way to get a coffee flavor is to infuse the milk using whole coffee beans. I talk in more detail about this in my post on coffee desserts.
The option I use is to make coffee butter. This works wonderfully in recipes that have a lot of butter. To up the coffee flavor in your cookies, you can also roll them in a mixture of powdered sugar and ground coffee before baking.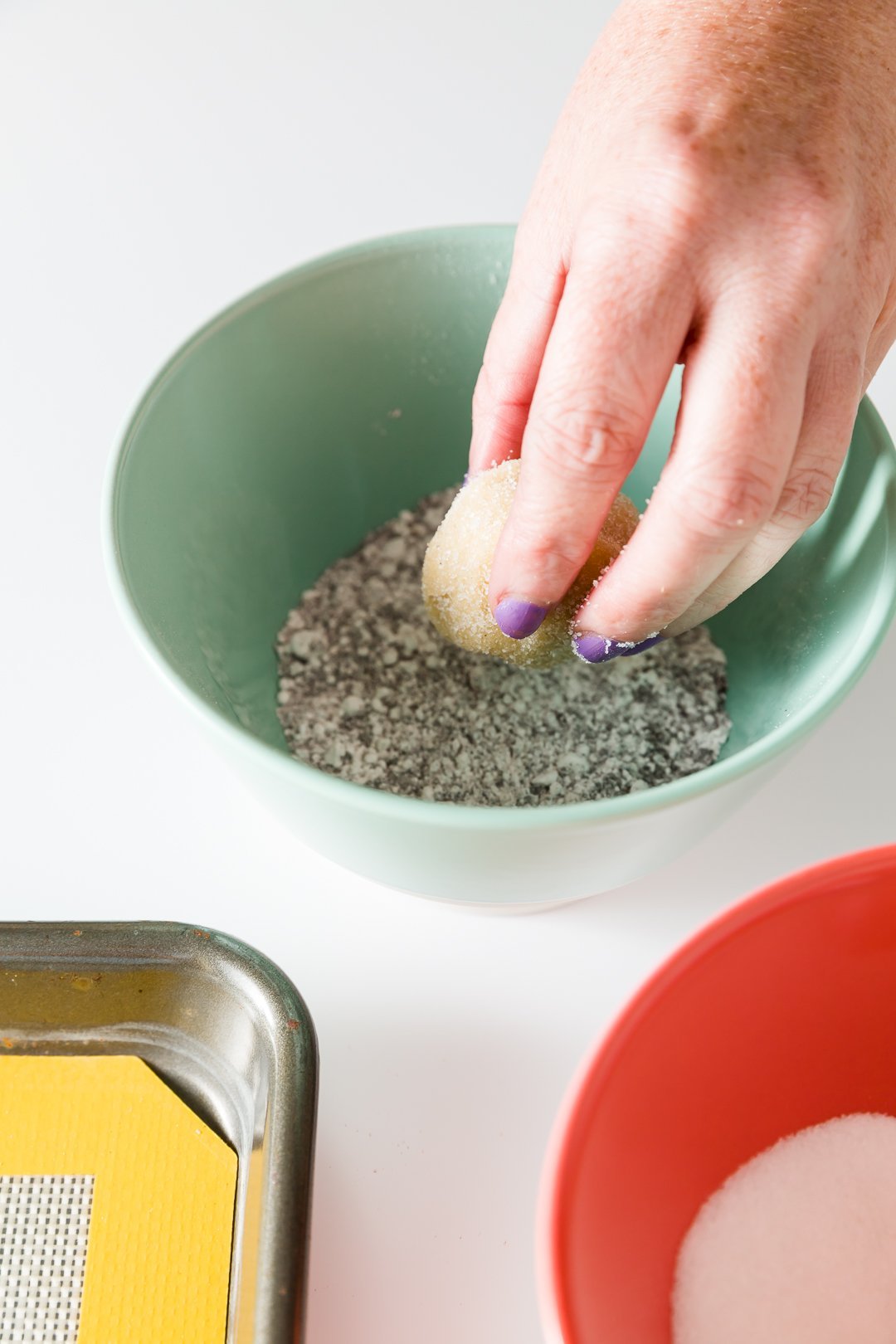 How to Make Coffee Butter
To make coffee-flavored butter, simmer melted butter and your favorite coffee beans.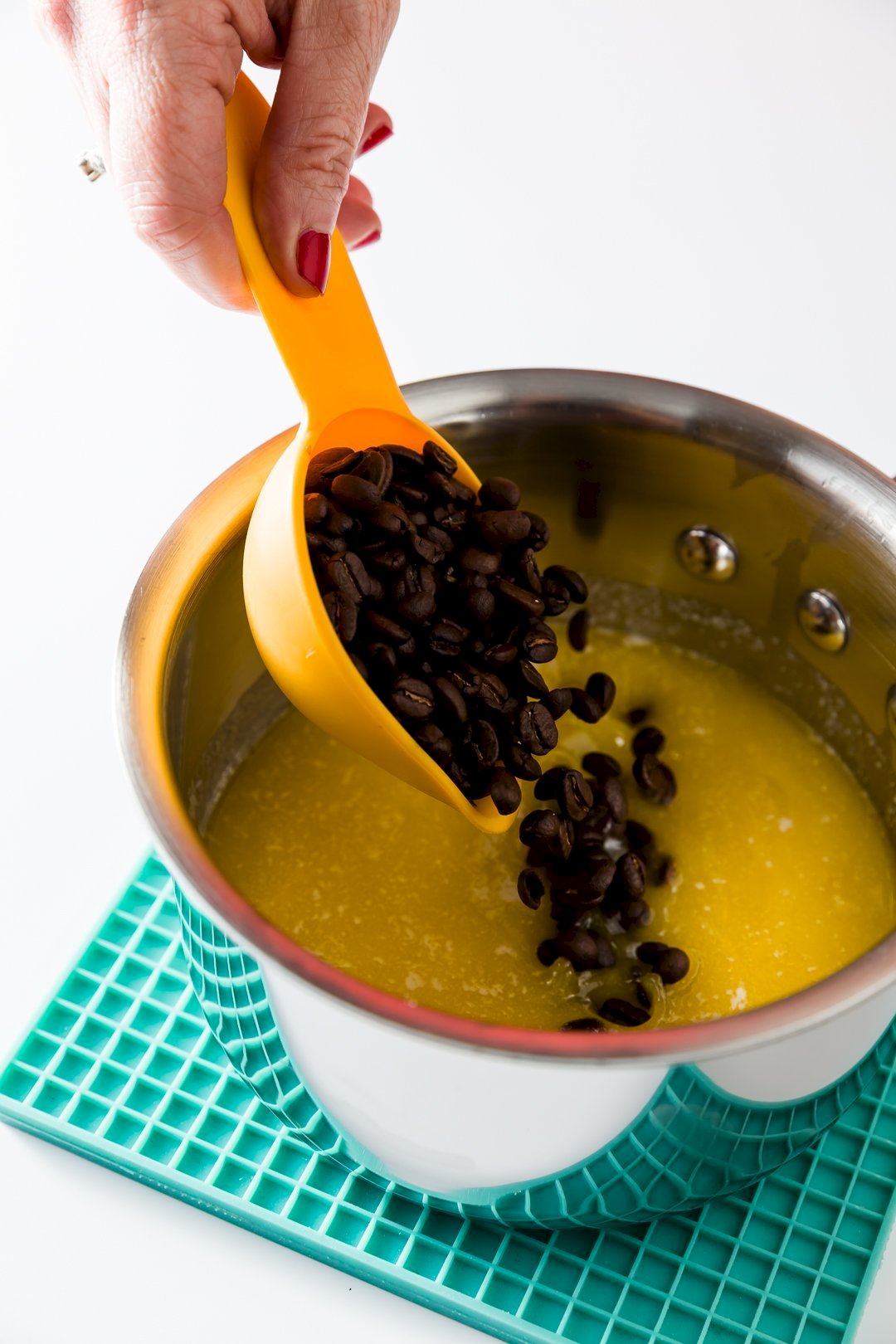 Then, let the mixture rest…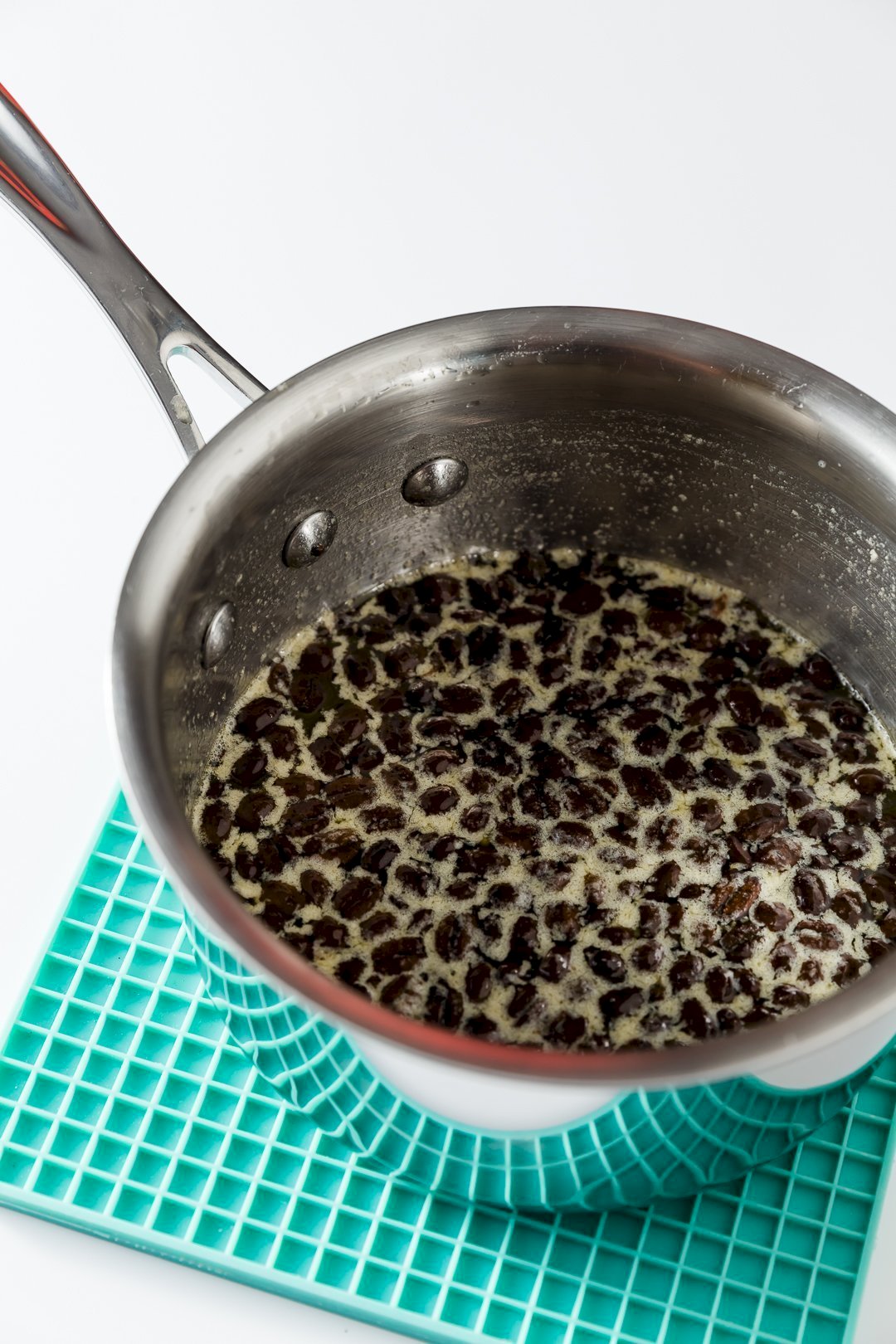 …and strain out the beans.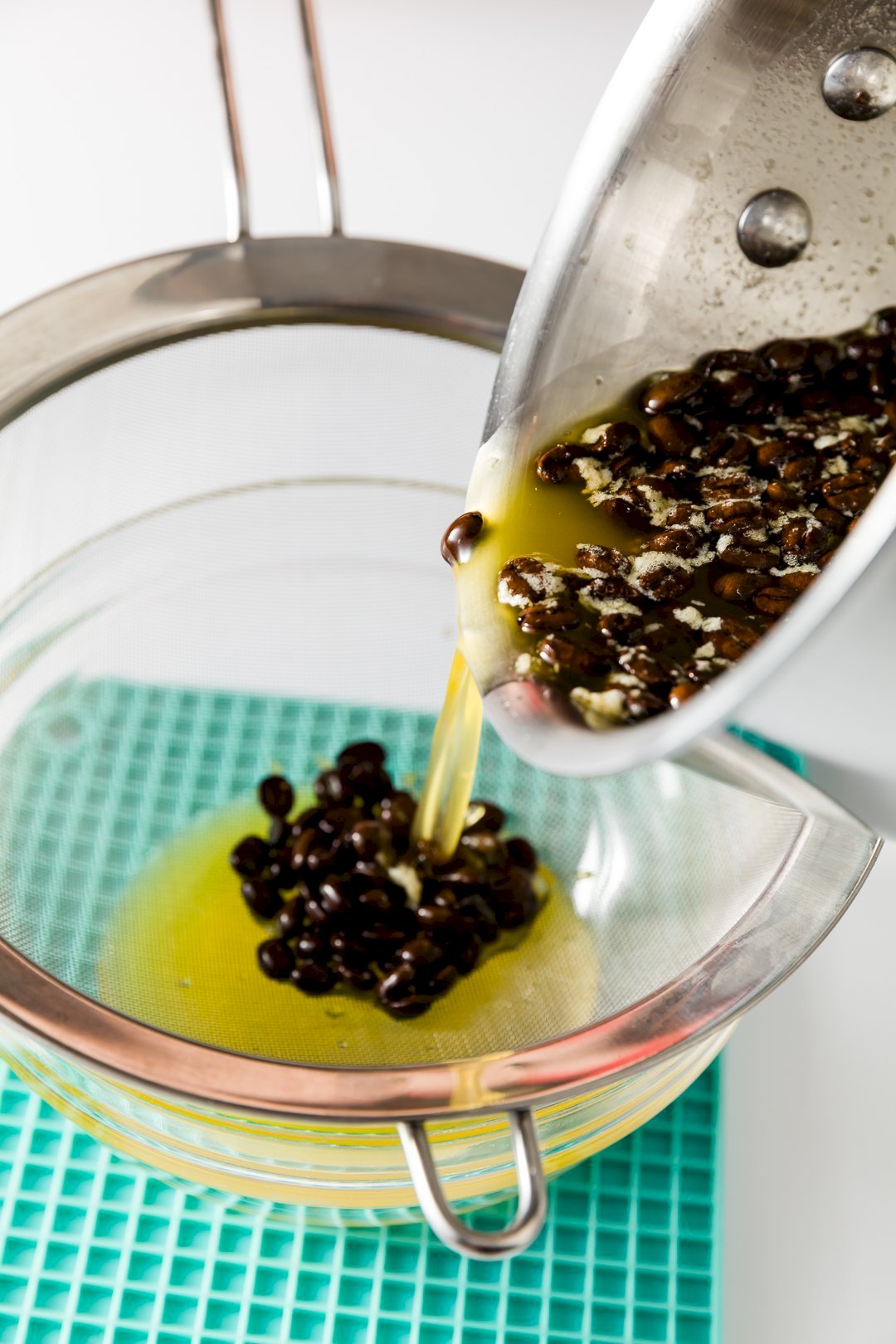 The resulting butter has an amazing coffee flavor! It's great not only for baking, but also for spreading on toast!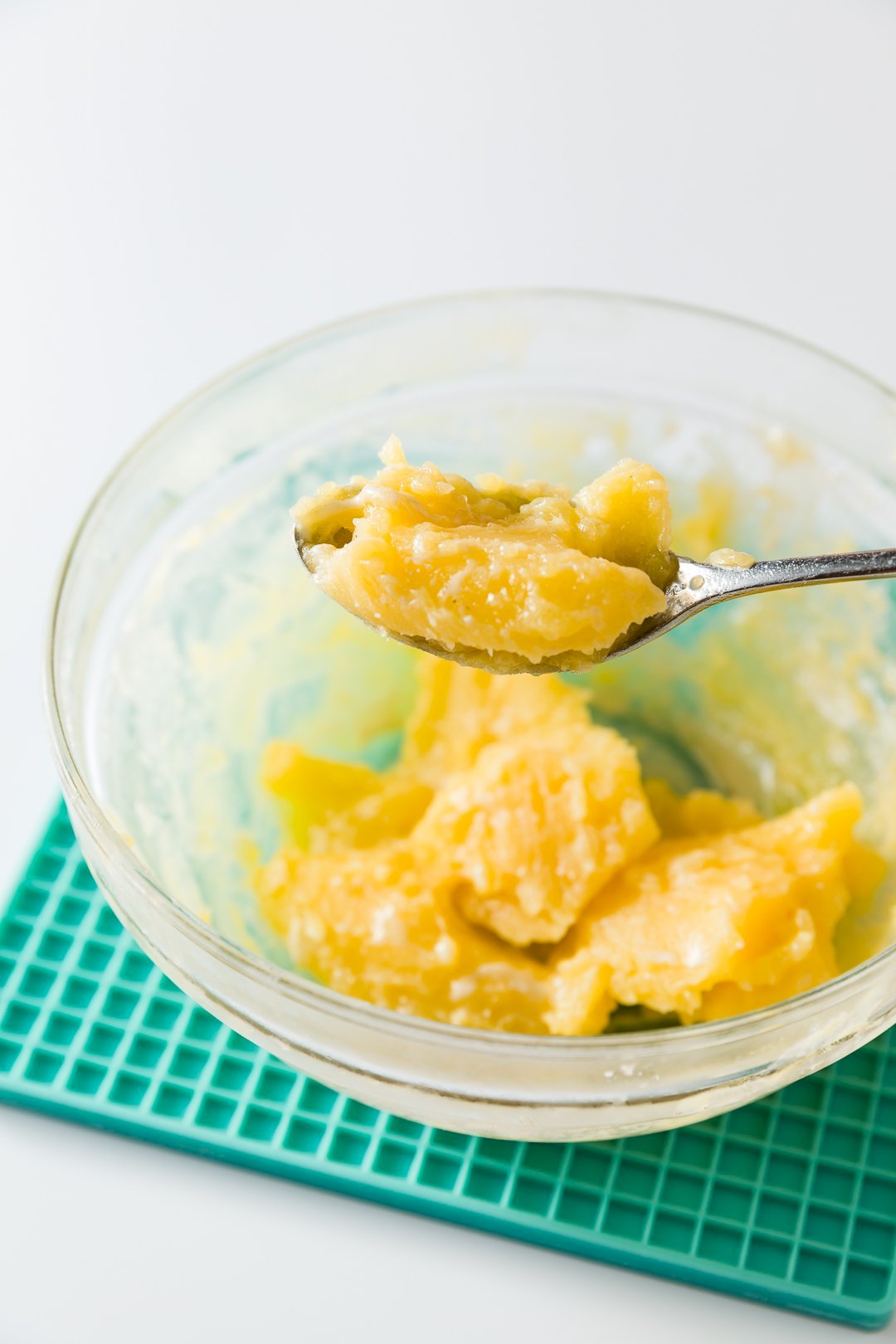 The Best Coffee To Use for Coffee Cookies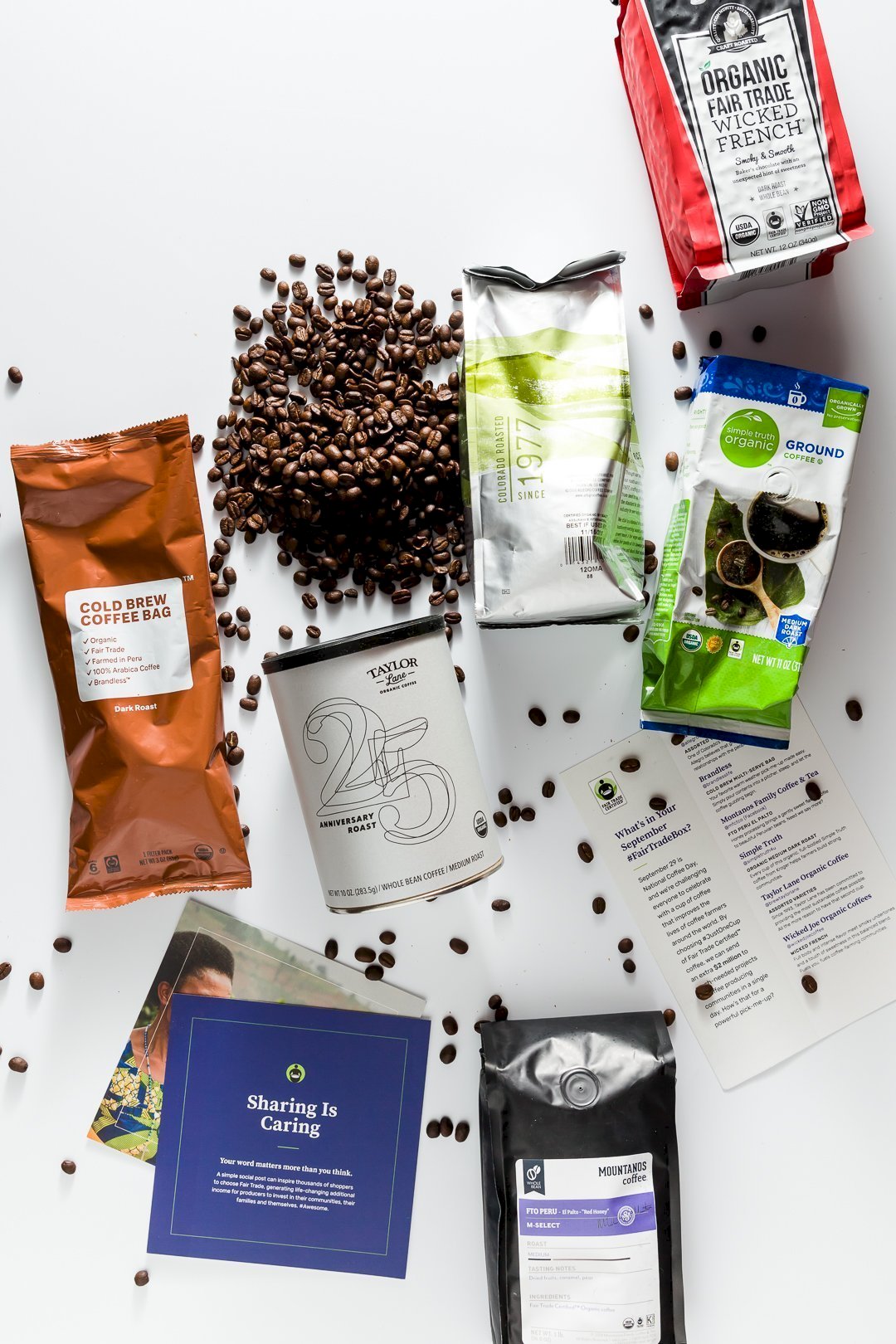 I always recommend using Fair Trade Coffee. This ensures that the coffee is made according to a set of strict standards that encourage environmental sustainability as well as ensuring that the people involved in production were treated and compensated fairly.
When I traveled to Ecuador with Fair Trade USA, I got a chance to learn firsthand the huge impact that Fair Trade has on the lives of growers and workers.
I was so moved by the experience. It isn't just words. These are real people whose lives you are helping with your dollars.
What Makes These Cookies Have Crinkled Tops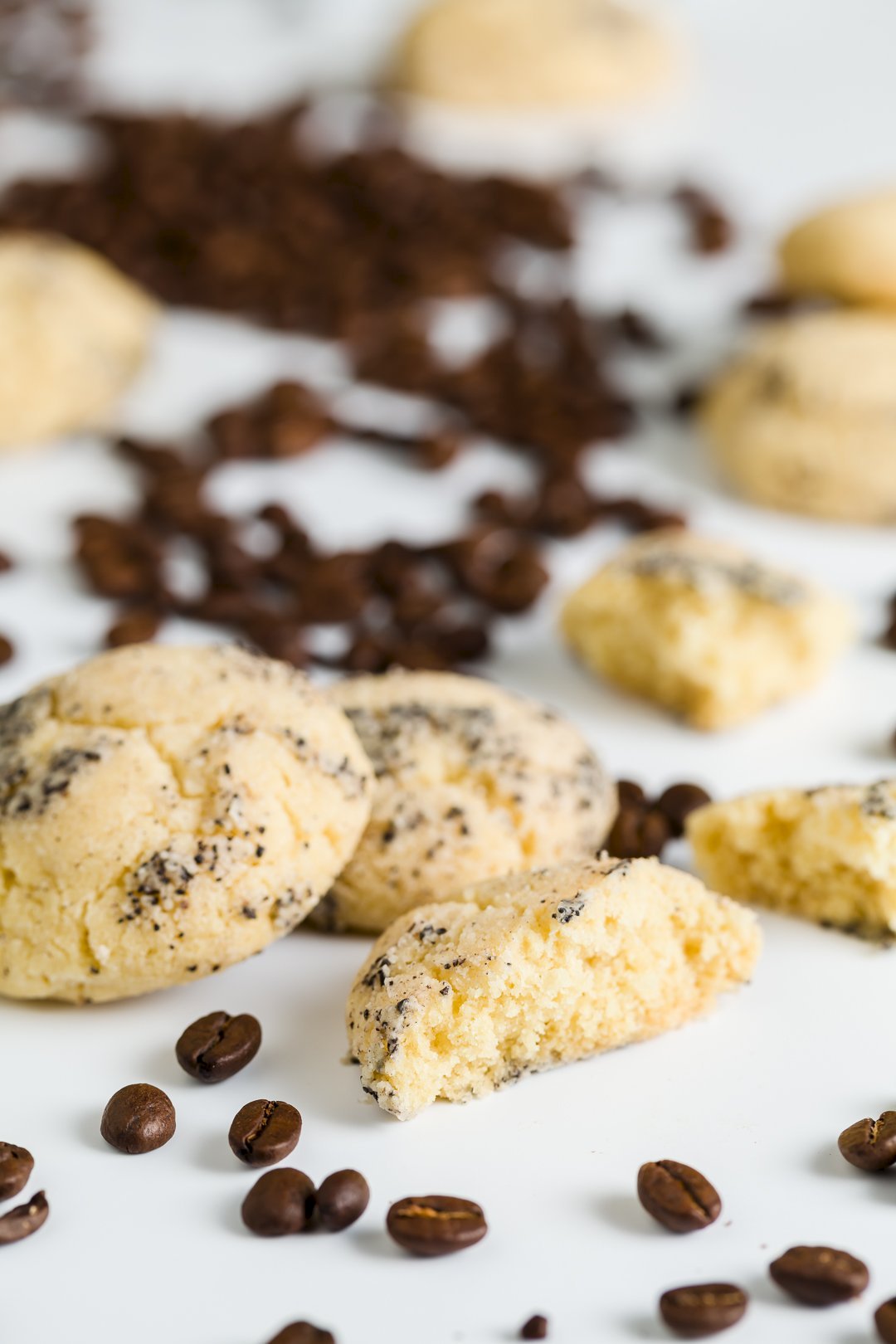 My coffee cookies are crinkle cookies, meaning they have a crinkled rather than smooth top.
I learned from America's Test Kitchen's fabulous post on crinkle cookies that crinkle cookies use a combination of both baking powder and baking soda to give the right amount of lift and spread. Without one or the other, the cookies end up smooth on top.
Also, rolling the crinkle cookies in sugar is not just for decoration. By rolling the cookies in sugar and powdered sugar, the top surface dries out before the cookie is finished spreading and rising. It then hardens, cracks, and pulls apart, producing a crinkly, cracked exterior.
The powdered sugar obviously shows more on dark crinkle cookies, but don't leave the step off on any crinkle cookies if you want to get crinkles!
Coffee Cookies
Coffee-flavored cookies that are crunchy on the outside and soft on the inside
Ingredients
Coffee Butter Ingredients
3/4

cup

unsalted butter

1/3

cup

coffee beans
Cookie Ingredients
1 1/2

cups

flour

1

teaspoon

baking powder

1/2

teaspoon

baking soda

1/4

teaspoon

salt

4

ounces

coffee butter

from above, room temperature

2/3

cup

granulated sugar

1

large

large egg

1/2

teaspoon

vanilla extract
Topping Ingredients
1/4

cup

granulated sugar

1/4

cup

powdered sugar

1

tablespoon

ground coffee
Instructions
Coffee Butter Instructions
Melt butter in a small saucepan on high heat.

Add coffee beans and lower heat so the beans and butter come to a simmer.

Simmer for five minutes.

Remove from heat and cover. Let sit for ten minutes.

Use a sieve to remove the beans.

Let the butter come to room temperature. Then, refrigerate until it is no longer a liquid or freeze until no longer a liquid (if you need to use it quickly). You should have about four ounces of coffee butter. You lose some butter due to evaporation and sticking to the coffee beans.
Cookie Instructions
Preheat oven to 325 F.

In a small bowl, whisk together flour, baking powder, baking soda, and salt.

In a medium-sized mixing bowl or the bowl of a stand mixer, mix together coffee butter, sugar, egg, and vanilla extract until fully-combined.

Mix the dry ingredients into the wet ingredients a little bit at a time until just combined.
Topping Instructions
Place granulated sugar in a small bowl and mix powdered sugar and ground coffee in another bowl.

Scoop rounded tablespoon-sized balls of cookie batter. Roll each ball first in the sugar and then in the powdered sugar/coffee.

Place cookie balls a couple of inches apart from each other on a cookie sheet lined with a silicone mat or parchment paper.

Bake on the middle oven rack for 20 minutes or until the cookies are set. Repeat with second batch if needed.

Cool on a cooling rack.
Nutrition
Calories:
225
kcal
|
Carbohydrates:
22
g
|
Protein:
1
g
|
Fat:
14
g
|
Saturated Fat:
9
g
|
Cholesterol:
48
mg
|
Sodium:
126
mg
|
Potassium:
44
mg
|
Sugar:
13
g
|
Vitamin A:
460
IU
|
Calcium:
18
mg
|
Iron:
0.6
mg
If You Like Coffee-Flavored Desserts, You'll Also Like…