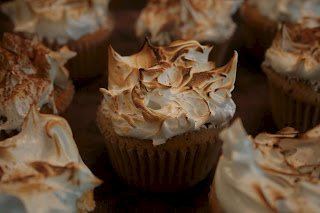 As I progress in this cupcake project, I find myself becoming obsessed with cupcakes. I look at more pictures of cupcakes than I care to admit and I've actually begun to see cupcakes where they don't even exist.
A popular cupcake type these days is the ice cream cone cupcake. For those that don't look at cupcakes all day long, here's a nice sampling, compliments of Flickr.
I was out on a hot night at the Muny and a child next to me had an ice cream cone (you know, the normal kind with stuff on it that is cold and melts) and the first thought that came to my mind was, "What a pretty looking cupcake." I may need an intervention.
Anyway, the bride-to-be put in a request for coffee cupcakes. I don't typically take requests, but I happen to really like coffee-flavored foods. Coffee itself I tend to find a bit too bitter, but coffee candy, ice cream, shakes, etc. are great. I decided to give coffee cupcakes a go.
I wanted the cupcake to look frothy at the top, like an espresso. Scanning my mental album of cupcake photos, it seemed that meringue looked the most like froth. Regardless of that, meringue cupcakes always look beautiful. This was a great excuse to try my hand at it.
The Cake
For the cake I opted for Chockylit's Vietnamese Coffee Cupcakes.
She promised a strong coffee flavor and we already had Vietnamese coffee in the house. The cupcakes turned out to be really tasty. However, they tasted like great coffee cake (i.e. a cake that you eat with coffee, not one that has coffee in it). The coffee flavor in the cake was really mild. It was good enough though, that I will try it again and endeavor to enhance the coffee. My initial thought for next time would be to add a teaspoon or two of coffee extract to the batter. The second option requires outside help.
An engaged couple came over to taste the cupcakes. These are not the bride and groom I am making the cupcakes for. This bride-to-be is from Seattle and her man is from right here in the Midwest. While the Seattle gal is of course a coffee connoisseur, turns out the Midwestern man is just as much if not more into his coffee. He recommended grinding some coffee in his special grinder until it forms a powder. Note that our grinder did not cut it for this. His definition of powder was more like dust. He felt that his grinds would give a much stronger coffee flavor to the cupcake. I may let him produce this magical coffee dust for me for the next making.
The Meringue
For the meringue I also used a modified version of Chockylit's recipe but from a different cupcake.
If you've tried this recipe, please RATE THE RECIPE and leave a comment below!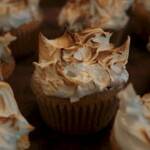 Coffee Cupcakes: The Magic of Meringue
Ingredients
Meringue Ingredients
1

cup

egg whites

from approximately 7-8 eggs

2

cups

sugar

1

t

coffee extract
Instructions
Meringue Instructions
Combine the ingredients into the mixing bowl of your stand mixer and set over a bain marie (water bath).

Whisk by hand for a few minutes until the sugar is dissolved or preferably until the mixture reaches

110 degrees fahrenheit

Beat on medium speed for 10 minutes

Beat on high speed until stiff glossy peaks form, about 5 to 10 minutes more.

Dollup a heaping tablespoon of meringue on top of a cooled cupcake.

Using your finger, poke the frosting to make a nice shape and some interesting peaks.

Using a blow torch, brown the meringue.
Making meringue is a slow process, but it is so much fun. There is one point in the recipe where you beat the eggs and sugar for 10 minutes. I actually just left them alone in the Kitchen Aid and went upstairs (I most likely went to my computer and looked at cupcake pictures). When I returned downstairs, the eggs and sugar had turned into a big poofy white substance. To me, this is just like being able to create a cloud. It brings me back to when I was a kid and I used to watch shrinky dinks turn from big sheets of plastic like paper to tiny glass like figurines.
As if the wonder of eggs turning to a complete different substance isn't enough, you then get to put that substance onto each cupcake, design a Cinderella castle of peaks on every one, and paint them with fire. How cool is that!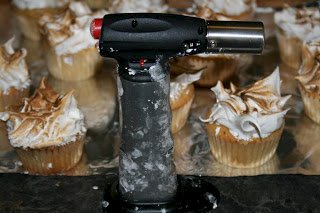 I bought a culinary torch just for the occasion. I've never used one before and was a bit concerned about burning myself with it. Turns out it is really easy to use and relatively safe assuming you pay close attention to where you aim.
I caught a cupcake wrapper on fire, but that easily blew out. Other than that, the only thing I lit up was the meringue – just as planned. As for my husband, that's a different story. He lit leaves and paper towels and sticks. I think he'll like this new toy just as much as me.
Now that I've covered how fun it was to make the meringue I should point out that even though I'd seen countless photos of meringue, I couldn't quite picture how it would taste. Turns out it tastes just like marshmallow. I don't like marshmallow :(. I will only occasionally eat marshmallows if I'm camping and I roast them so much that all marshmallow flavor is gone and I'm left with simply burnt sugar.
Good news is that most people love marshmallow and most people LOVED this meringue. The bride (the one that counts) just took one look at these cupcakes and her eyes lit up. As she started eating she made "mmmmm" sound effects. I think this is the most enthusiasm for a cupcake I've seen from her yet.
So despite my rule of not baking things I don't like, I will make meringue frosting again so others can enjoy it and I can have the fun art project of making it.
One change I would make is to add a bit more coffee extract. The meringue did not have much of a coffee flavor. Another idea would be to dust the top with espresso powder. I just dusted the top with cinnamon.
Overall, these cupcakes were winners in both appearance and taste. Thanks, Chockylit, for the recipes!