Caramel Buttercream Frosting
Disclosure: I may earn a commission from purchases you make through affiliate links in this post at no additional cost to you.
Caramel buttercream is a must-try for all caramel lovers! Don't be confused by the glorious drizzle of caramel in the photo below; this frosting itself is created using caramel and you make it similarly to how you would make a simple vanilla buttercream.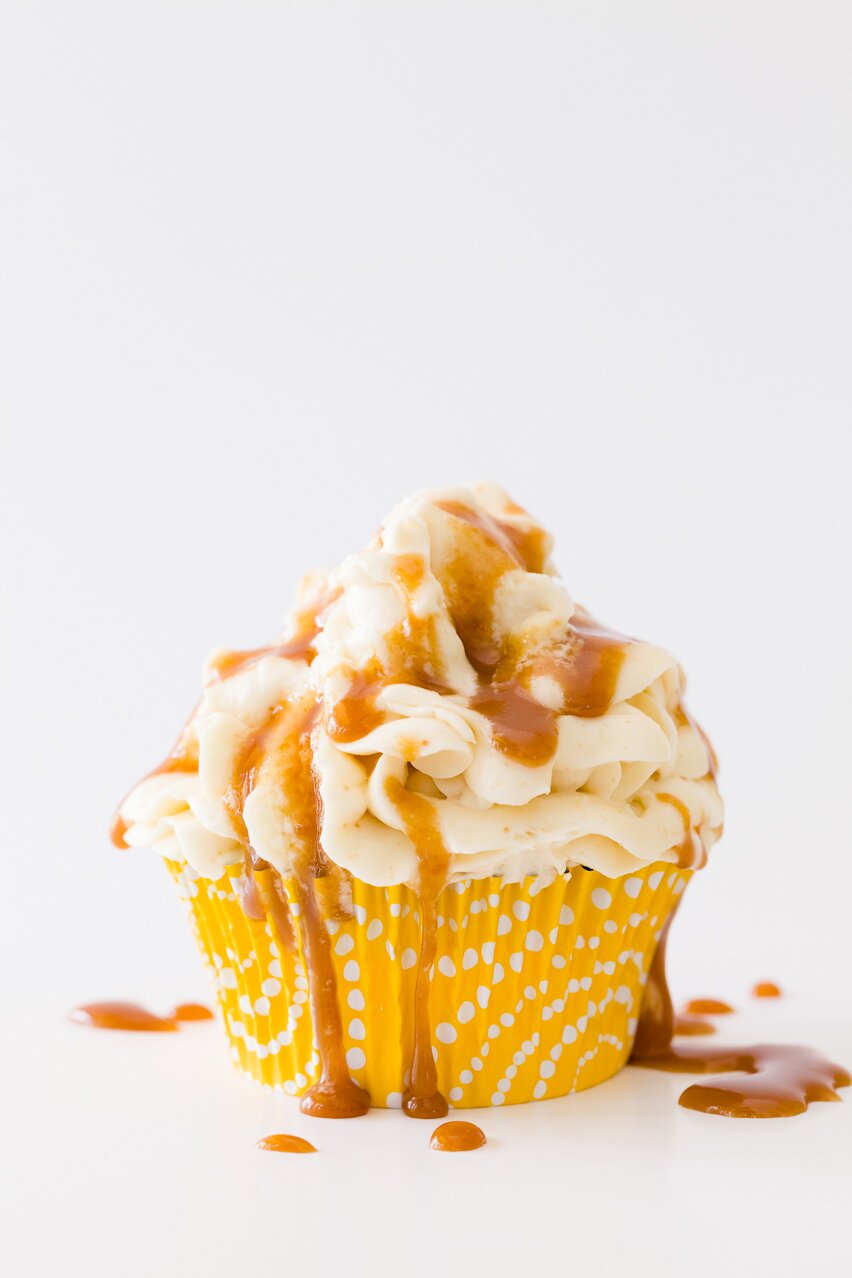 This caramel buttercream frosting is wonderful as a frosting for cupcakes or cakes and can be made with homemade or store-bought caramel sauce.
What You Need to Make Caramel Buttercream
To make caramel buttercream, you'll need:
Butter – Use unsalted butter when baking. You can control the amount of salt you are using through other ingredients in the recipe. In this case, I suggest using a salted caramel!
Powdered sugar – Powdered sugar is also called confectioner's sugar. They're the same thing!
Caramel sauce – You can buy store-bought caramel sauce or make your own.

Always buy or make extra caramel to drizzle over the top of your dessert

; you can't have too much!
How to Make Caramel Sauce
If you choose to make your own homemade caramel sauce, there are many ways to do it. Most methods, including the one in this post, involve closely monitoring a pot on the stove. If you are completely new to making caramel sauce, I suggest reading this guide to caramel sauce as a primer.
But, if you want a caramel sauce that is really easy and still homemade, I highly suggest that you try using dulce de leche (shown below). It's not technically caramel, but it's a very close cousin. Dulce de leche is ridiculously easy to make and works perfectly in this frosting!
Important: Caramel sauce can vary greatly in thickness.
If your caramel sauce is really thick, increase the amount of caramel in this recipe.
If your caramel is thin, like the texture shown below, use the amount listed in this recipe.
You can add more caramel sauce when it's thicker because a thicker caramel will not thin out the buttercream as much as a thinner one. The goal is to get the texture just right – stiff but pipeable.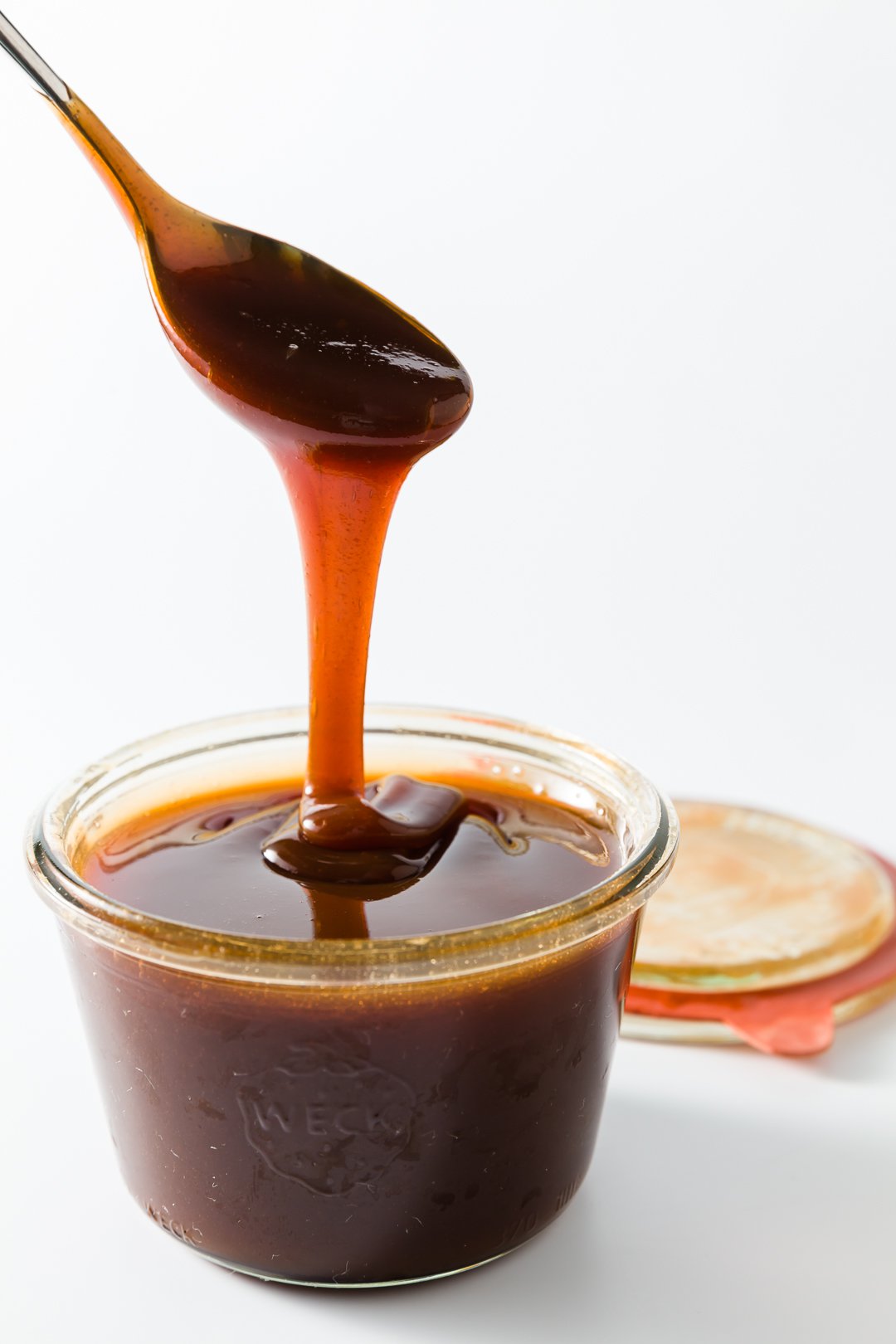 How to Make Caramel Buttercream
The first step is to beat the butter for three minutes at high speed in a stand mixer. Mixing for the full amount of time is very important to aerate the butter. If you don't mix long enough, the frosting will be very dense.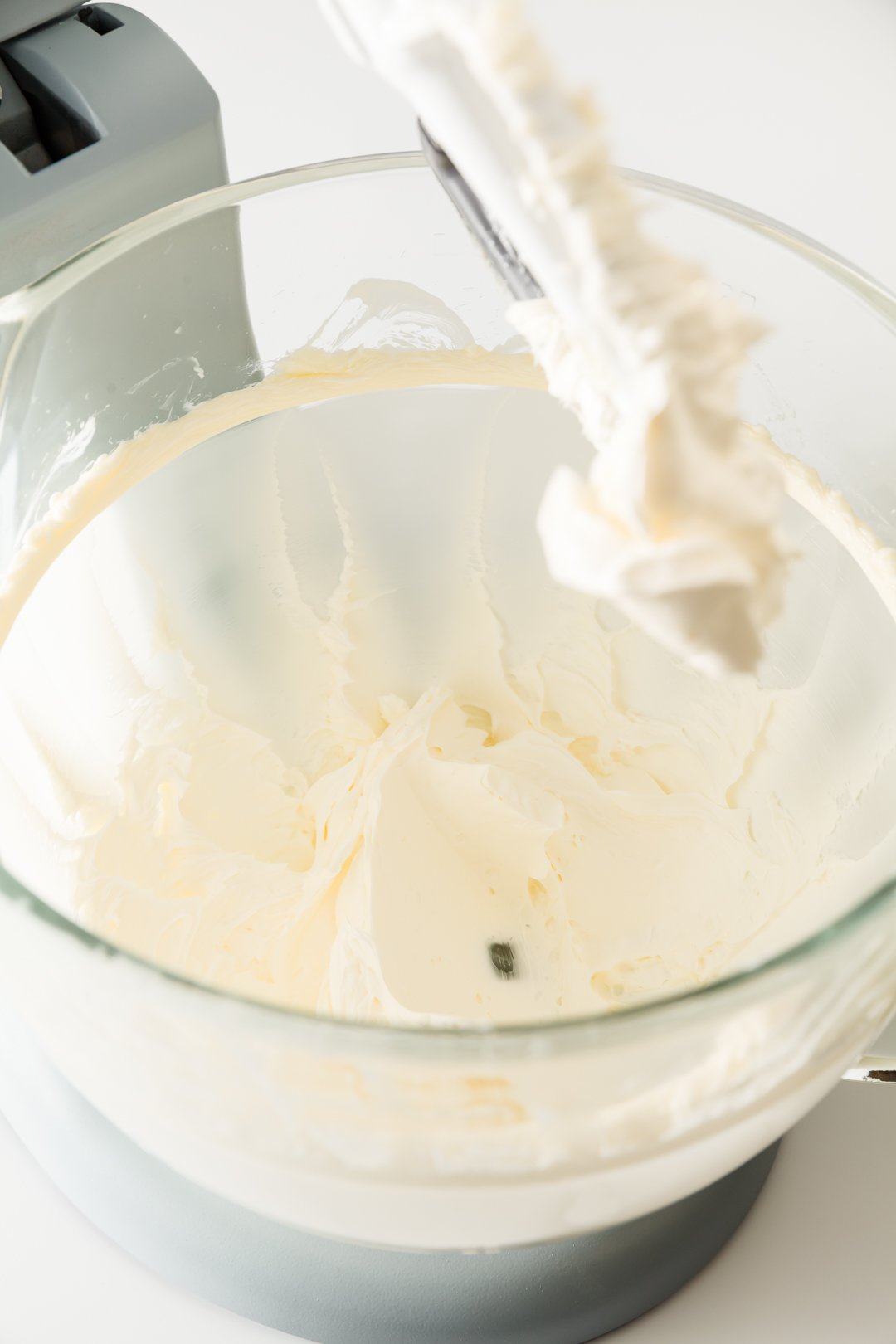 Next, mix in the caramel sauce – making sure it's fully combined with the butter
Finally, mix in the powdered sugar. Add the powdered sugar a little bit at a time and always start the mixer on low speed. If you start on high speed, the sugar may end up flying all over your kitchen.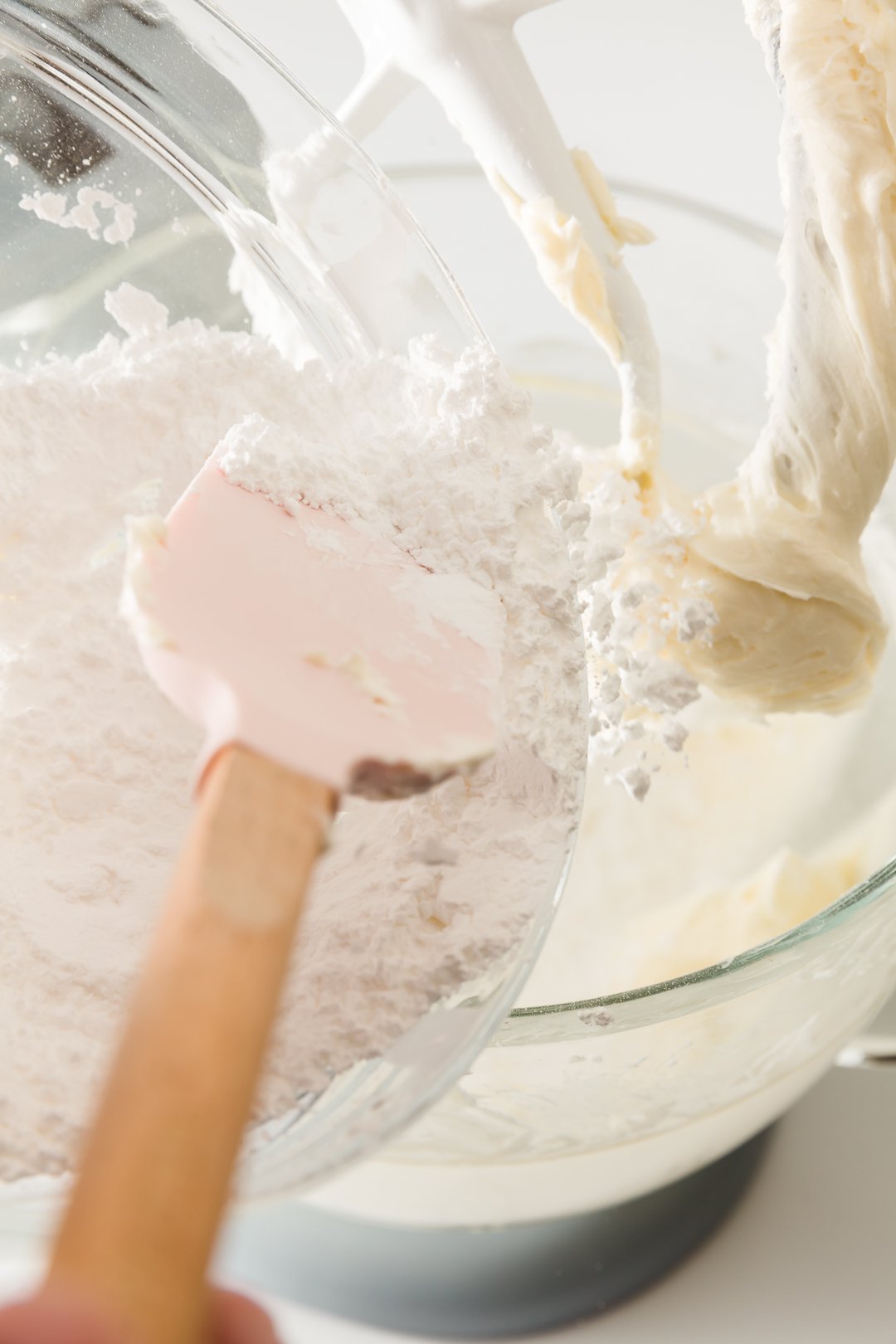 What to Use Caramel Frosting On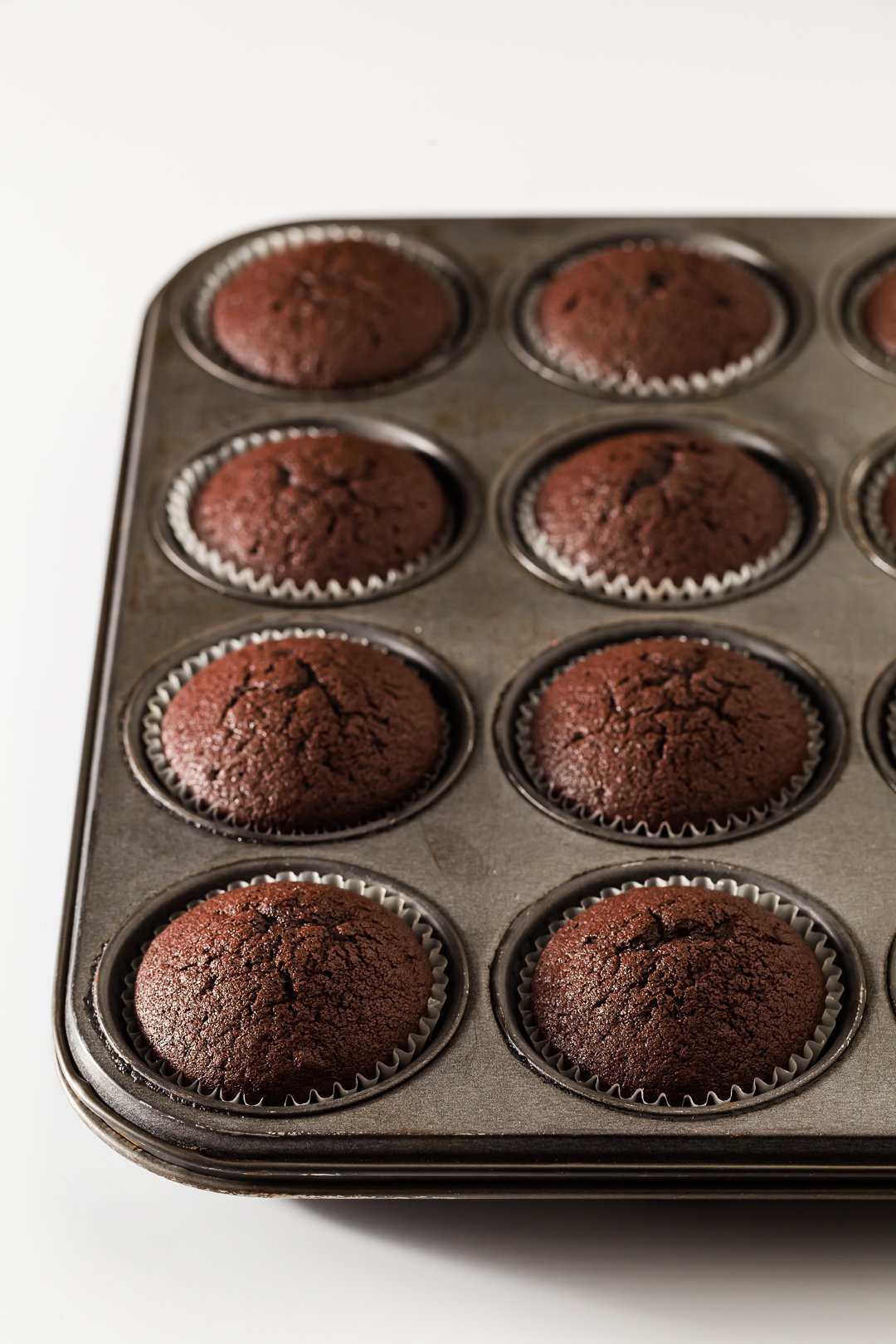 Caramel buttercream goes really well on both vanilla cupcakes and chocolate cupcakes. I also love it on apple cupcakes, banana cupcakes, and pumpkin cupcakes! The sky is the limit!
Try it on your favorite cake recipes as well!
Best Tips for Making Caramel Frosting
You can spread caramel buttercream frosting on anything. If you want to pipe it on cupcakes, the easiest way to achieve the perfect cupcake swirl is to use a 1M tip.
While there are many frosting recipes that you can mix by hand, the best buttercream frostings require lots of air to be incorporated into the butter. To really get this job done right, I highly recommend that you use an electric mixer. A hand mixer or a stand mixer will both work well.
You will need to stop and scrape down the side of the bowl every minute or so while you are mixing as butter will stick to the side of the bowl. The easiest way to do this is with a silicone spatula. One way to avoid scraping down the bowl is to use a mixer that has a scraping paddle. Many mixers now come with them, but you may be able to purchase one (e.g. the beater blade) if yours doesn't.
Sift the powdered sugar if needed. Take a look at the actual sugar to see if it has clumps (some brands are clumpier than others). Clumps of powdered sugar will not get integrated into the frosting and may end up getting stuck in your piping tip. Measure your quantities before you start sifting.
The frosting lasts for up to a week at room temperature or months in the freezer. You will need to bring it to room temperature and to mix it again for a minute or two before you start piping.
Caramel Icing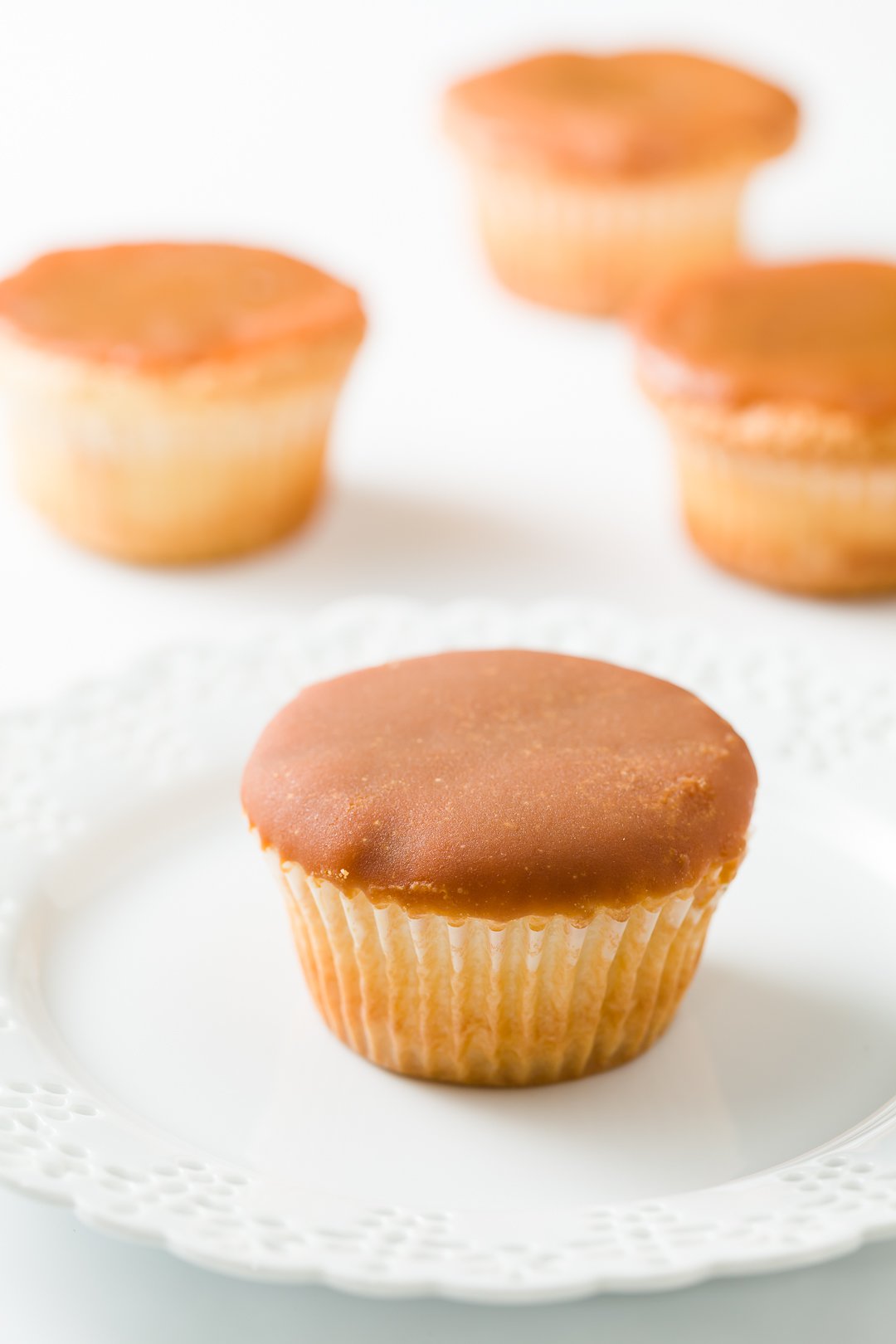 If you love caramel and want to switch things, try my caramel icing. Sometimes, a layer of smooth caramel icing is just as good as pile of buttercream.
Caramel Buttercream Frosting
Caramel buttercream is a must-try for all caramel lovers! It's wonderful on cupcakes and cakes and can be made with homemade or store-bought caramel sauce.
Ingredients
Caramel Sauce Ingredients
1/2

cup

granulated sugar

3

tablespoons

unsalted butter

cut into 3 pieces

1/4

cup

evaporated milk

heavy whipping cream may also be used

3/4

teaspoon

sea salt
Buttercream Ingredients
1

cup

unsalted butter

room temperature

2

tablespoons

caramel sauce

from above

2

cups

powdered sugar
Instructions
Caramel Sauce Instructions
In a medium saucepan on medium heat, heat sugar, stirring constantly until it is all melted, about 5 minutes.

Immediately add the butter and stir until butter is completely melted, 2-3 minutes.

Slowly add the evaporated milk. The mixture will rapidly bubble when you do this, so be careful. Boil for one minute without stirring.

Remove from heat and stir in sea salt.

Cool to room temperature.
Buttercream Instructions
Beat butter on high speed in a stand mixer until light and fluffy, about 3 minutes.

Mix in caramel sauce until fully combined.

Mix in powered sugar a little bit at a time until fully combined.

Spread or pipe on cupcakes, cake, or cookies.
Notes
If you follow this caramel recipe, you will have leftover caramel. This is a good thing. Eat it or drizzle it over your desserts!
If you use a different caramel recipe or buy store-bought caramel, the caramel will vary in thickness. The caramel recipe here makes a very thin caramel. If your caramel sauce is really thick, increase the amount of caramel in this recipe. I've used as much as a 1/2 cup of caramel when I've used a really thick caramel.
Nutrition
Calories:
222
kcal
|
Carbohydrates:
22
g
|
Protein:
1
g
|
Fat:
15
g
|
Saturated Fat:
10
g
|
Cholesterol:
41
mg
|
Sodium:
14
mg
|
Potassium:
5
mg
|
Fiber:
1
g
|
Sugar:
20
g
|
Vitamin A:
473
IU
|
Calcium:
6
mg