These banana cupcakes are quick, easy, and delicious. Better yet, these banana cupcakes are based on one of my favorite recipes from Grandma's recipe book!
Grandma makes her banana cupcakes with vanilla as the only spice, but when my son Myles and I make them, we like to add a slew of spices to the recipe.
Spices or no spices, this recipe is top banana!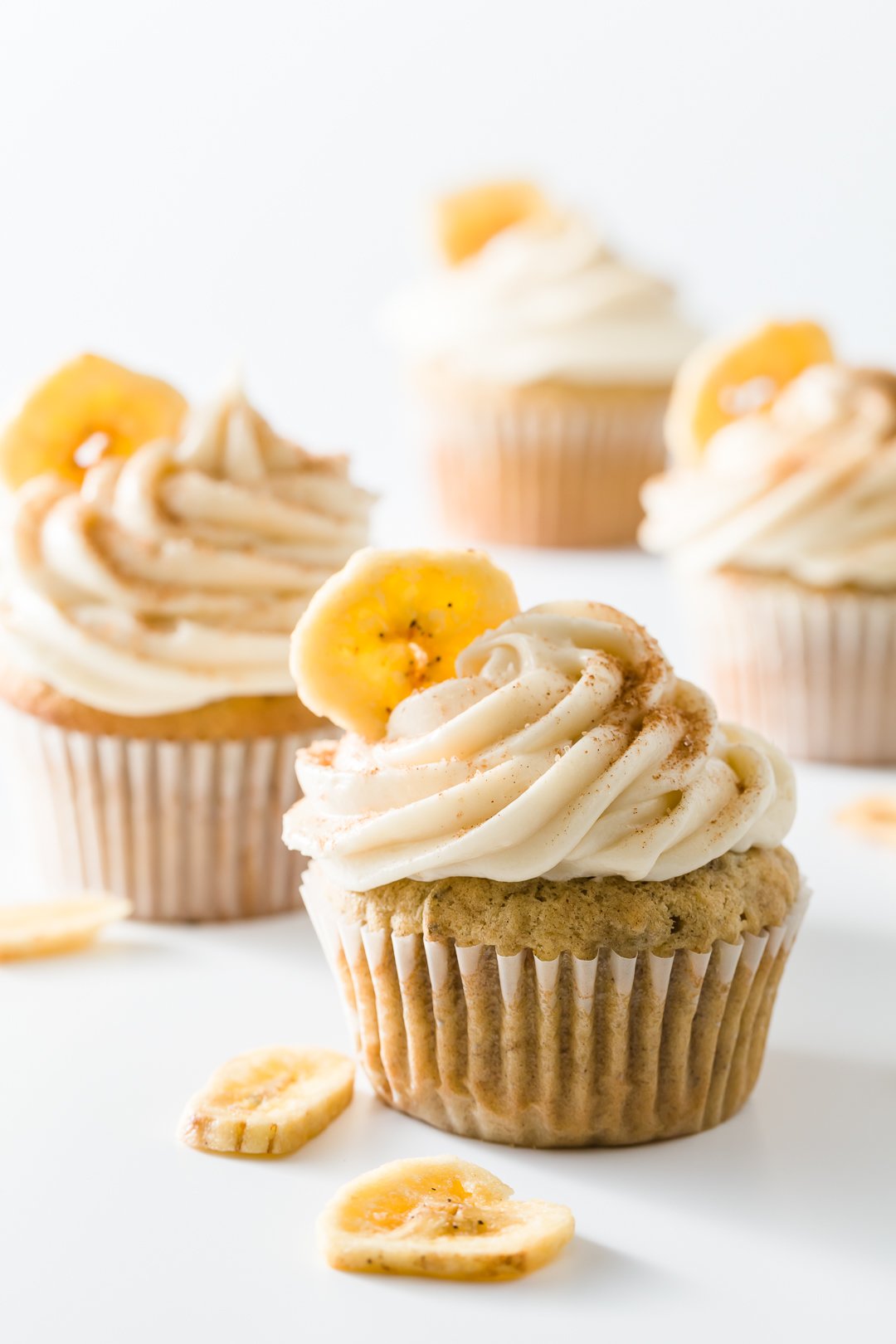 Tips for Making the Best Banana Cupcakes
Banana cupcakes are best with super ripe – almost black – bananas. If you don't have any ripe bananas around, you can peel your bananas and microwave them until they they get super soft, almost liquidy (this typically takes about 45 seconds). This will make them nice and sweet.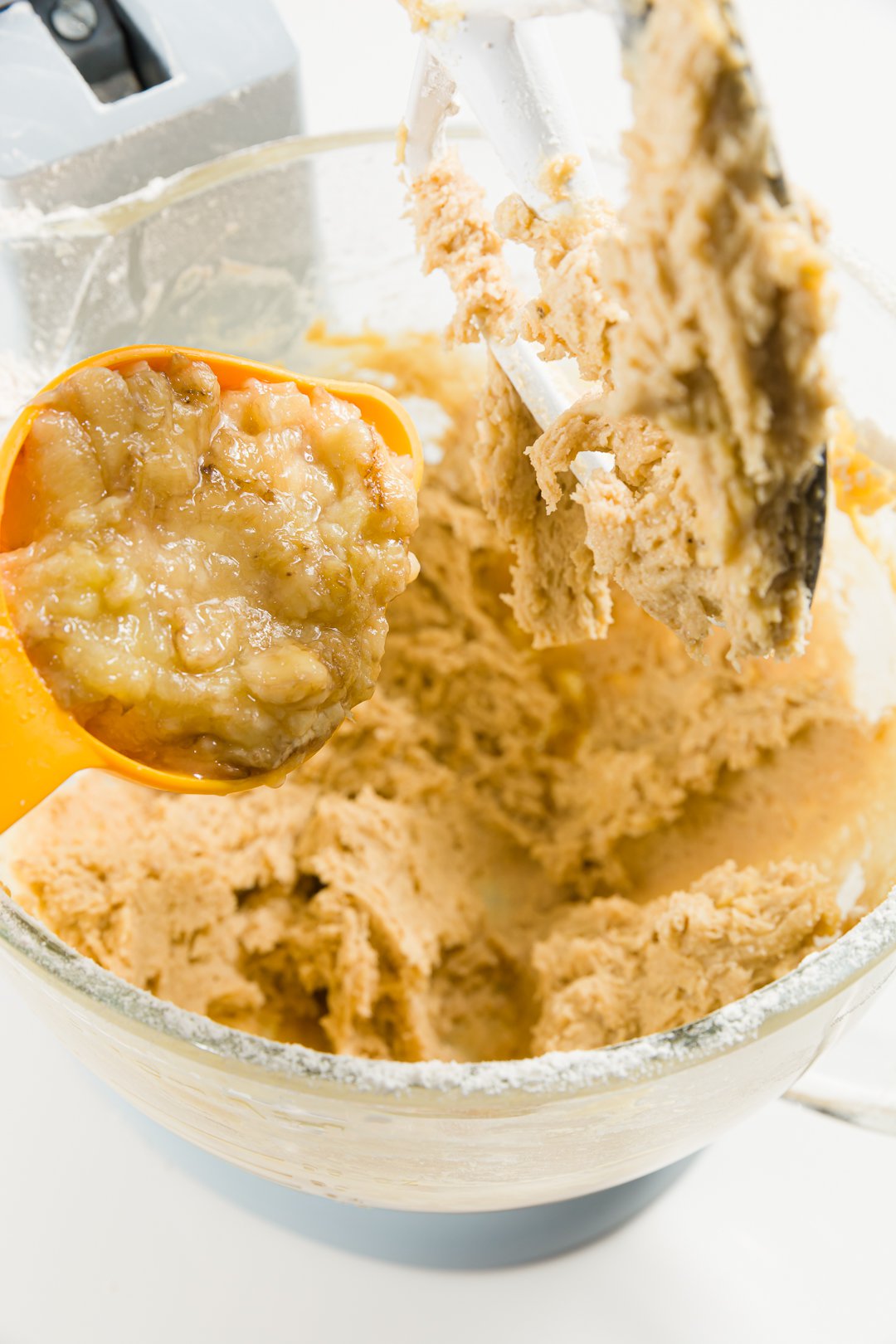 (If you have extra barely-ripe bananas and you want to make something special with them, I suggest making caramelized bananas and using them to make Bananas Foster French toast.)
Add spices! Myles and I like to put cinnamon, ginger, allspice, nutmeg, and cardamom in our banana cupcakes.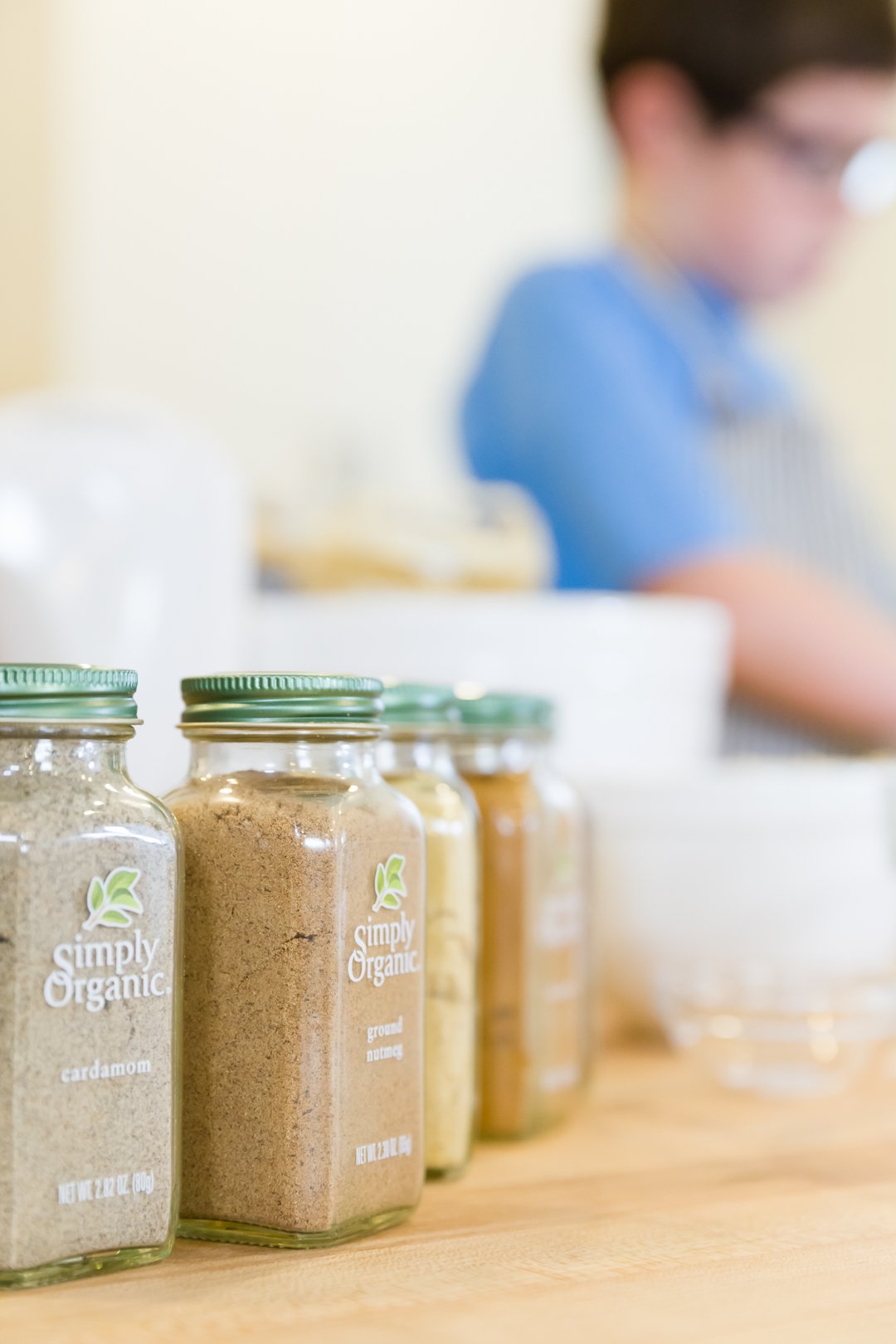 If you don't like any of these spices, simply leave them off. We highly recommend you try them, though!
Frosting for Banana Cupcakes
While I use vanilla cream cheese frosting, you can frost the cupcakes with any frosting that you choose. They are amazing with cinnamon cream cheese frosting, peanut butter frosting, chocolate cream cheese frosting, or my strawberry whipped cream frosting.
What's the Difference Between a Banana Cupcake and a Banana Muffin?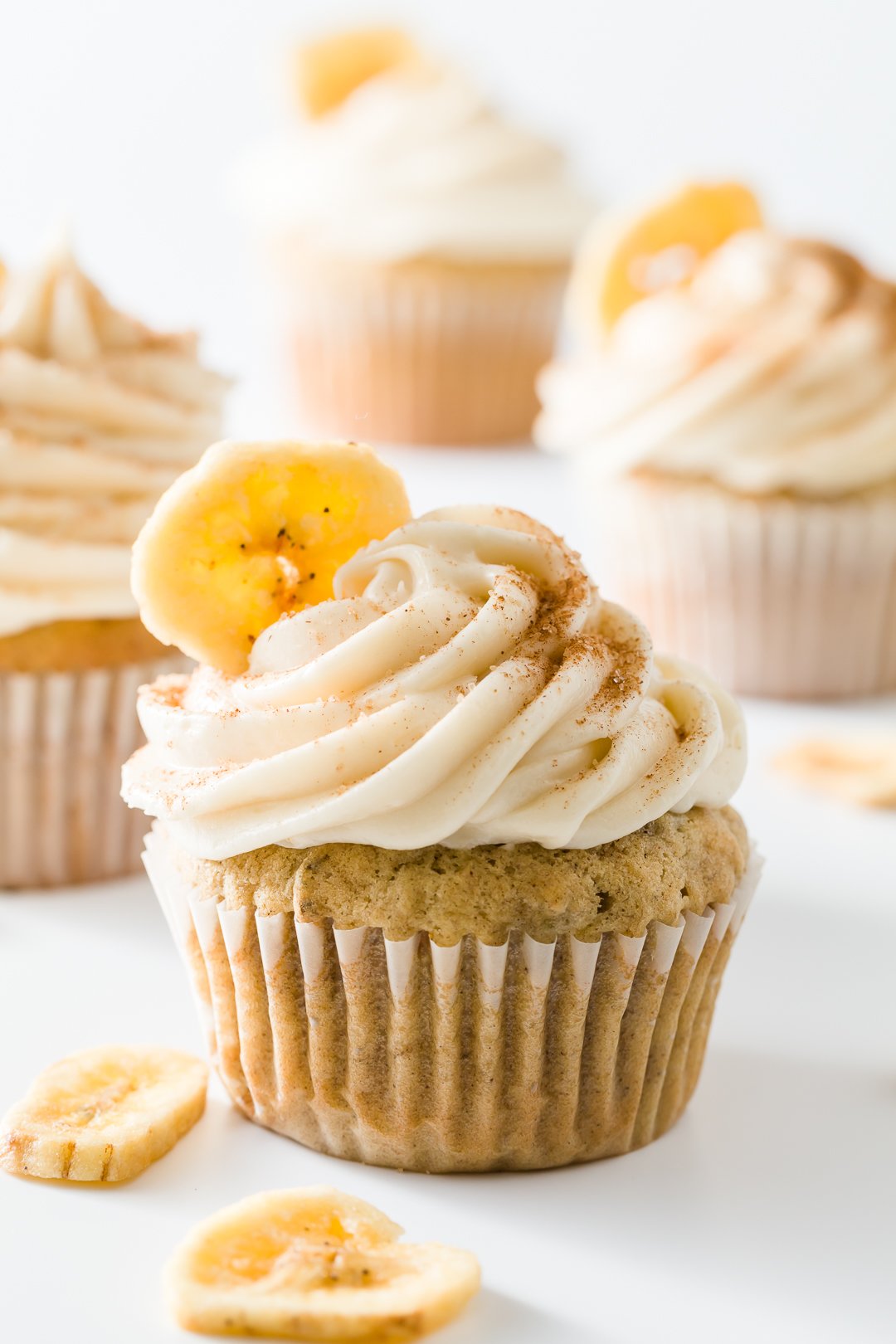 My banana cupcakes are much lighter than what you would expect from banana muffins. But, they still have a strong banana flavor.
Also, banana muffins aren't frosted and my banana cupcakes have a heaping swirl of a vanilla cream cheese frosting!
If you prefer banana muffins, I highly recommend my banana oatmeal chocolate chip muffins and you'd probably also love my strawberry banana bread.
Variations
You can make these cupcakes as a cake! Put the batter into a greased 8″ x 8″ square baking dish and increase the baking time to about 30 minutes, testing for doneness starting at 20 minutes.
Also, try making hummingbird cupcakes. They are similar to banana cupcakes, but with the addition of pineapple and pecans.
Banana Cupcakes
Easy banana cupcakes with vanilla cream cheese frosting
Ingredients
Cupcake Ingredients
1/2

cup

unsalted butter

room temperature

1

cup

sugar

2

large eggs

1/2

cup

full-fat sour cream

2

cups

all-purpose flour

1

teaspoon

baking soda

1

teaspoon

ground cinnamon

1/4

teaspoon

ground allspice

1/2

teaspoon

ground ginger

1/4

teaspoon

ground nutmeg

1/2

teaspoon

ground cardamom

1

teaspoon

vanilla extract

1/2

cup

mashed ripe bananas

pack the mashed bananas down and allow to overflow slightly, about 2 bananas worth
Vanilla Cream Cheese Frosting and Topping Ingredients
8

ounces

cream cheese

room temperature

1/4

cup

unsalted butter

room temperature

2

teaspoons

vanilla extract

4

cups

powdered sugar

cinnamon sugar

to taste

16

banana chips
Instructions
Cupcake Instructions
In a medium-size mixing bowl, mix butter and sugar until light and fluffy.

Mix in sour cream, flour, baking soda, and spices until just combined.

Mix in vanilla and mashed bananas until just combined.

Divide batter evenly between cupcake liners. Bake for 20 minutes or until the cupcakes bounce back when lightly touched.
Vanilla Cream Cheese Frosting and Topping Instructions
In a medium-sized mixing bowl, mix the cream cheese and butter until light and fluffy.

Mix in the powdered sugar a little bit at a time until fully combined.

Spread or pipe onto cooled cupcakes.

Sprinkle with cinnamon sugar and top each cupcake with a banana chip.
Notes
Double the frosting recipe if you like large swirls.
Nutrition
Nutrition Facts
Banana Cupcakes
Amount Per Serving
Calories 382
Calories from Fat 135
% Daily Value*
Fat 15g23%
Cholesterol 62mg21%
Sodium 129mg5%
Potassium 84mg2%
Carbohydrates 57g19%
Protein 3g6%
Vitamin A 535IU11%
Vitamin C 0.7mg1%
Calcium 31mg3%
Iron 1mg6%
* Percent Daily Values are based on a 2000 calorie diet.
A Family That Loves Bananas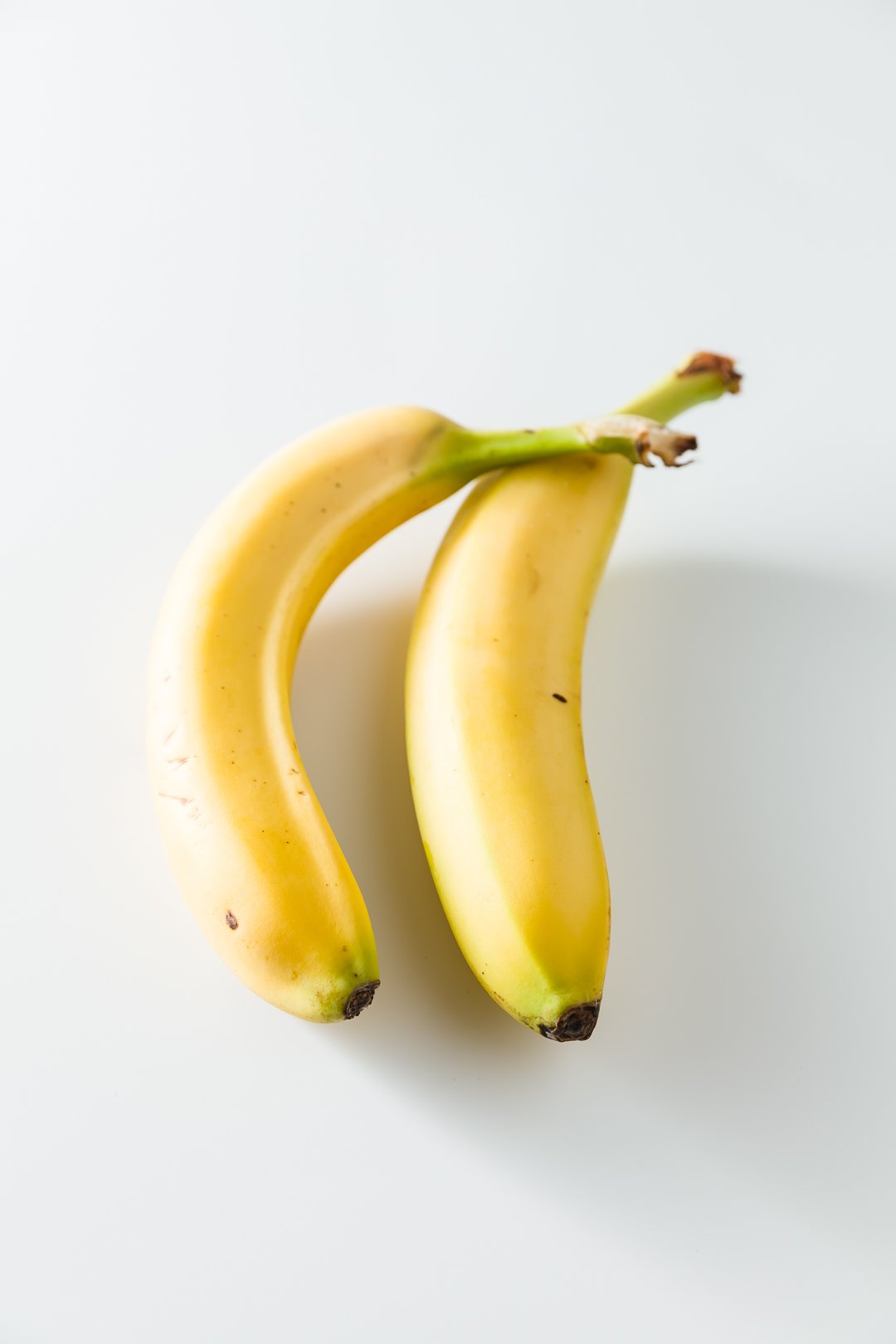 My Grandma did not at first understand my husband's love for bananas. On our premier trip together to Florida (home of all Jewish grandparents, at least those originally from New York), my grandparents took my husband (boyfriend at the time) and me out for a typically early Floridian dinner. We returned to their condo and my husband headed to the kitchen for a banana. Had he reached for a piece of her golden glow cake or a scoop of ice cream, the world order might have been maintained. However, "Who eats a banana after dinner?" Surely my husband must be a strange bird with some kind of eating problem.
Grandma sent Grandpa out to the store the next day to buy more bananas. My husband was sure to eat them out of house and home – at least in terms of bananas.
During future visits, my grandparents learned to prepare in advance, keeping plenty of bananas on hand to avoid any big scares (like an empty banana bowl).
I even heard Grandma mention to my husband that eating bananas must be what keeps him so slim. "Everyone should eat more bananas." I guess she's come to terms with his second love, 94011 (the PLU code for organic bananas). Phew.
As even further evidence of Grandma's lack of concern about over-consumption of bananas, she sent me her favorite banana cake recipe and encouraged me to give it a go as cupcakes. I think she also liked the idea of the fame of being mentioned in my blog.
The nice thing about all of Grandma's recipes is that they are easy. The week that I first made these cupcakes, I logged 62 hours at work. I also had a brunch to go to on Sunday and banana sounded like a good breakfast cupcake flavor.
These are some of the easiest and best cupcakes I have ever made. I love them!
This was all before Myles was born.
It turns out that he ended up being a banana lover too!
One of his first words ever ended up being, "Banan," and today, at age nine, a day isn't complete for him if he doesn't eat two bananas. The boy is a little obsessed.
If you have a banana-loving family, I hope you love these cupcakes as much as we do!