EASY Basque Burnt Cheesecake
Published , Last updated by
Stef
Disclosure: As an Amazon Associate, I earn from qualifying purchases.
One of my favorite kinds of cheesecake is Basque burnt cheesecake! It's smooth, creamy, and – unlike most other varieties – it's SO easy to make. This recipe is nearly impossible to mess up.
This recipe doesn't have a separate crust; instead, baking it at high heat lets it form its own deep brown exterior. People call it burnt, but our son had it right when he described the browning as tasting like crème brûlée!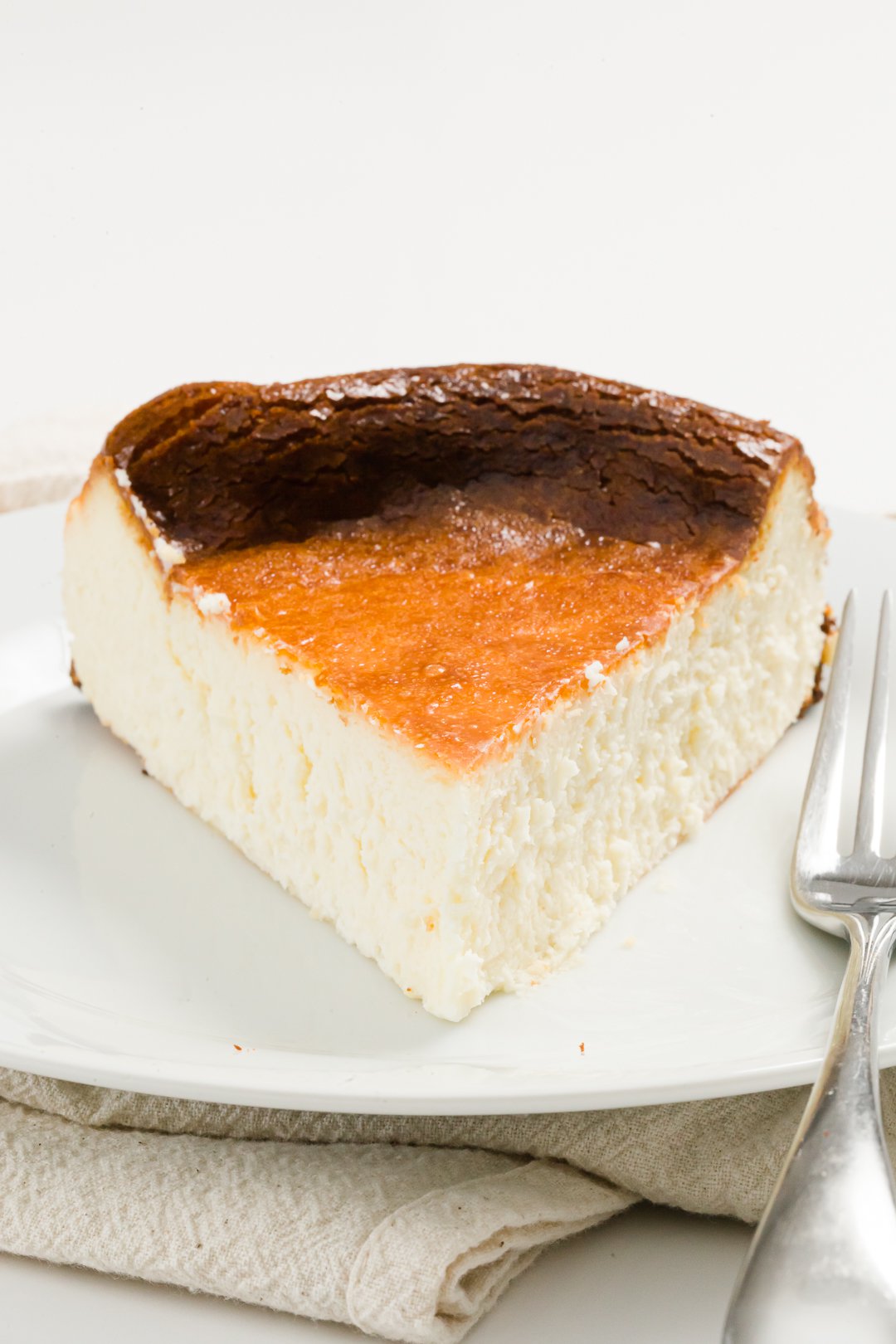 Throw out many of the rules you know from making New York-style cheesecakes. You don't need a water bath and you don't need to let the dessert cool super slowly in the oven once it's set. In fact, you don't even have to use a springform pan (although I did).
Ingredients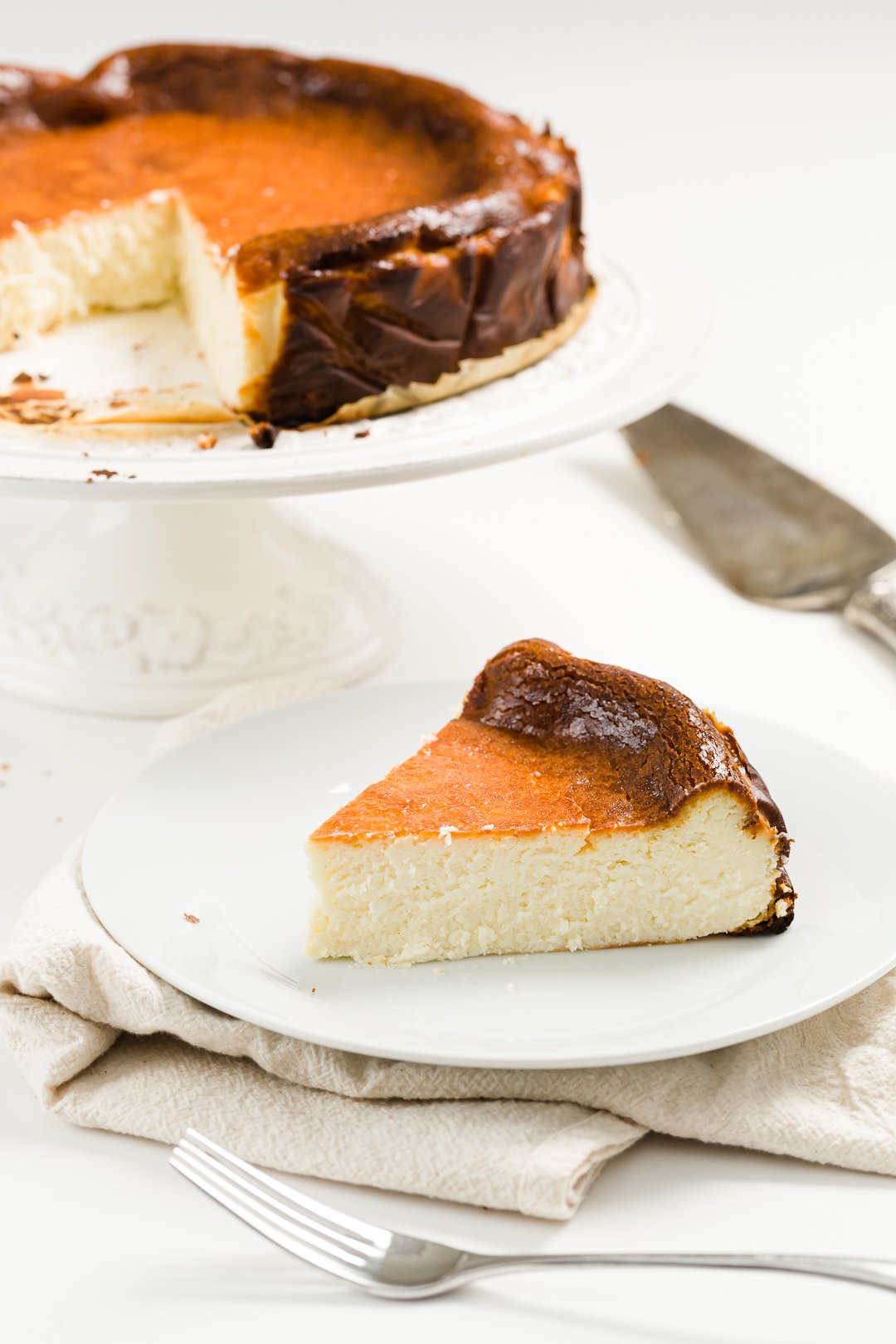 There are no fancy ingredients in this recipe. You'll need cream cheese, sugar, salt, all-purpose flour, vanilla extract, eggs, and heavy whipping cream.
Make sure that you are using real, full-fat cream cheese (the kind that comes in a brick, not the whipped kind). My friend made it with a cream cheese substitute and it didn't come out nearly as good.
Every one of your ingredients must be at room temperature. This applies any time you are working with cream cheese, including cream cheese frosting and cookies. Cold cream cheese produces lumps in your batter.
How It's Made
This is a one bowl recipe!
Mix the cream cheese, salt, sugar, and flour together until there are no lumps. If everything was at room temperature, this should go smoothly. I mix in a stand mixer, but you could do it by hand – it will just take a little longer.
Next, mix in the vanilla, eggs, and heavy whipping cream. Mix until everything is combined, then stop. Over-mixing can make the cake gummy.
Use parchment paper to line your entire pan – the bottom and up and over the sides. Adding a little butter to the pan and the parchment will help it to stick. Make the paper as smooth as you can, but don't worry if there are some creases. You want those! They add to the rustic look of the cheesecake.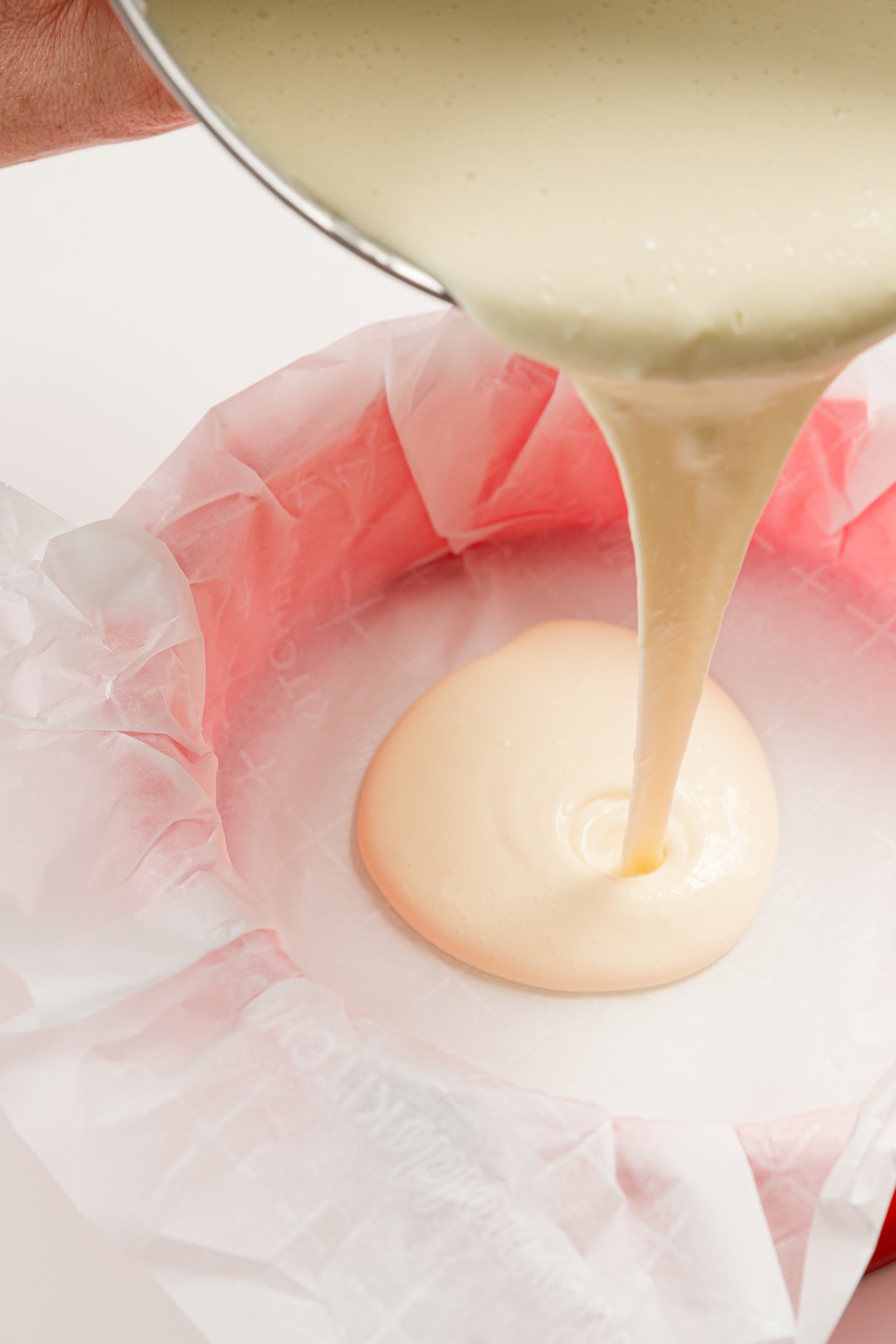 Bang the pan on the counter before putting in the oven to bring any air bubbles to the top. This helps to keep the cake silky smooth.
Bake until the top looks poofed up and almost burnt; the inside will still be quite jiggly.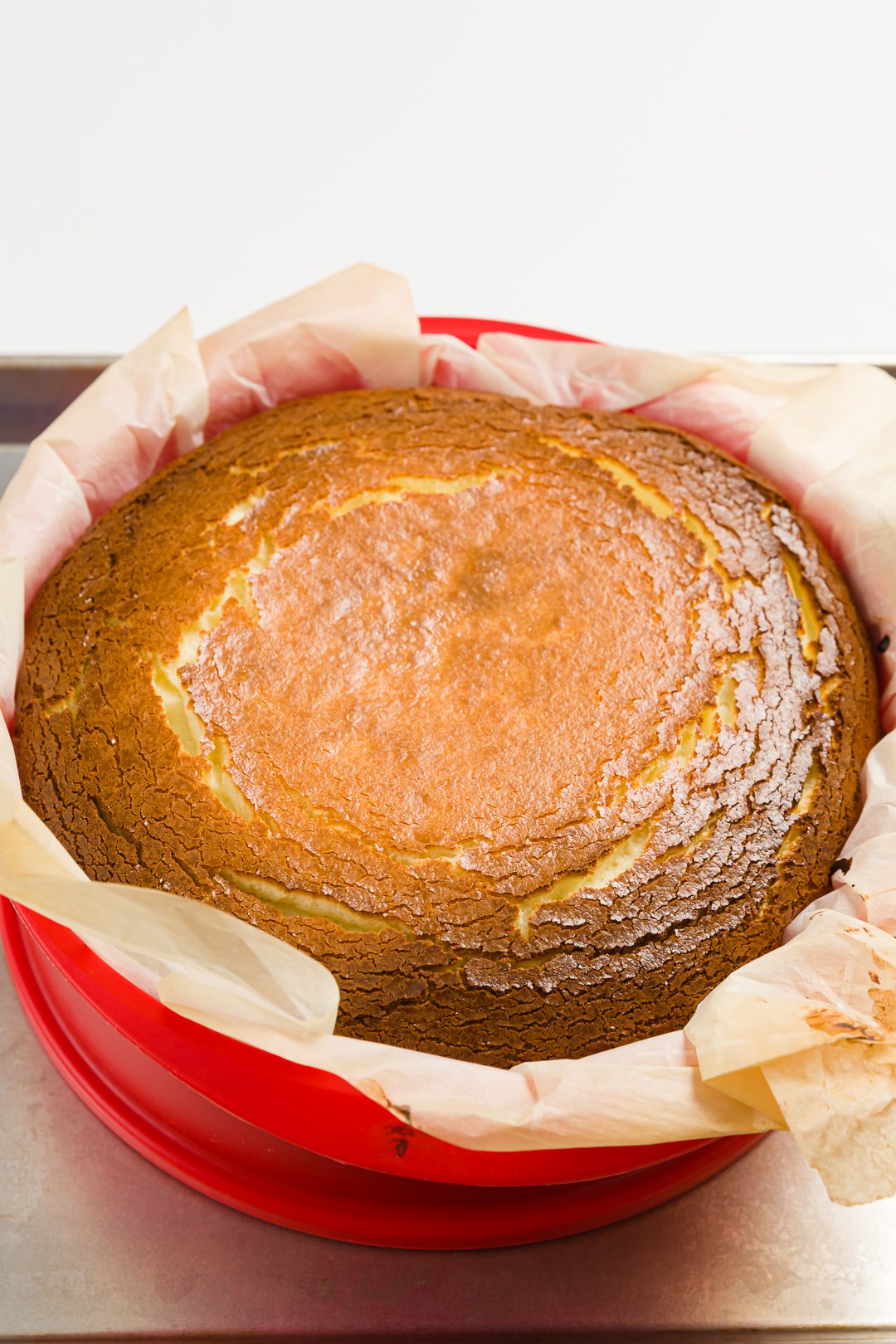 The center of cake will sink significantly as it cools to room temperature.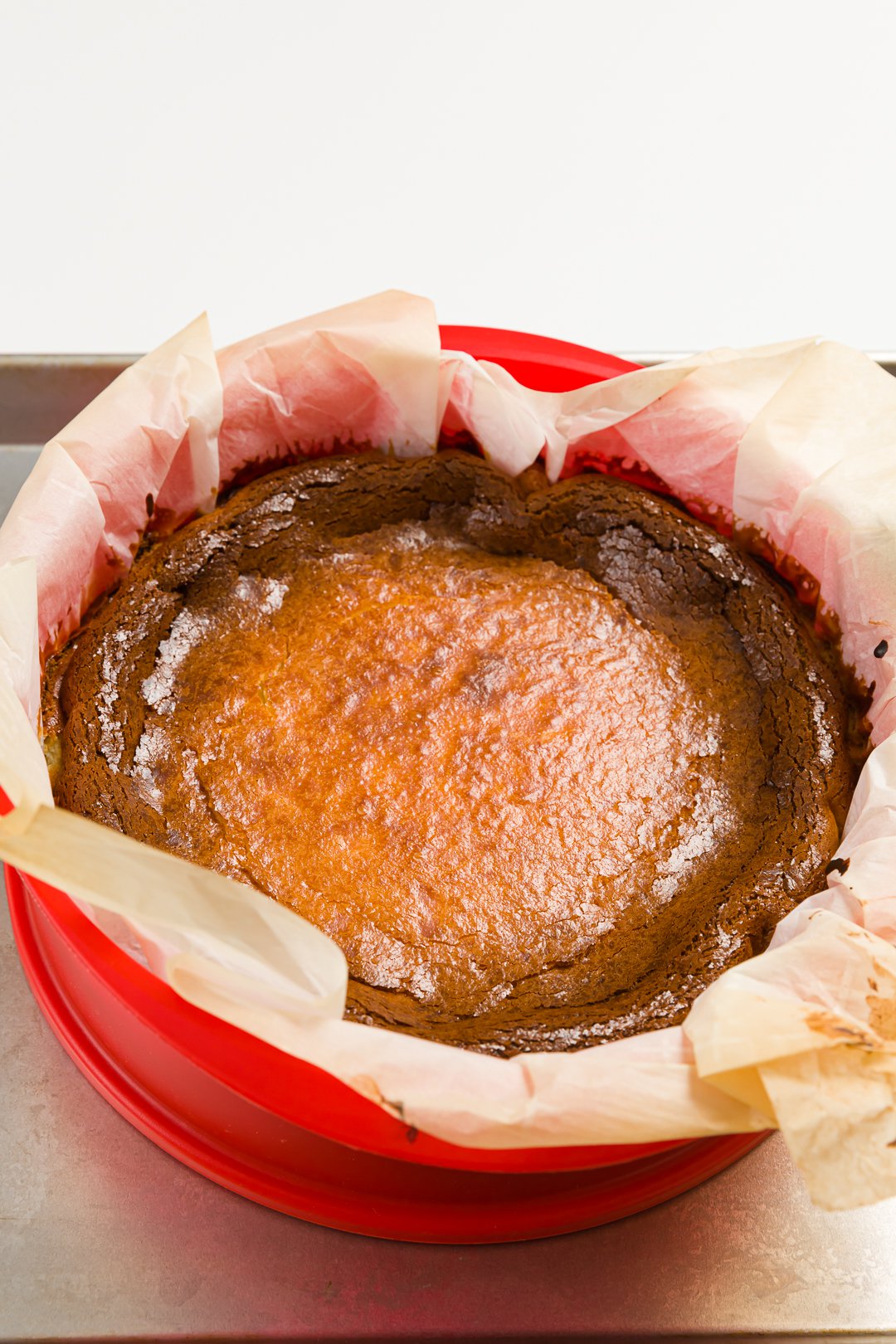 Refrigerate overnight before serving.
Because there is no bottom crust, removing the parchment under the cake can be difficult. To save you the worry of messing your cake up, simply trim the parchment back with scissors.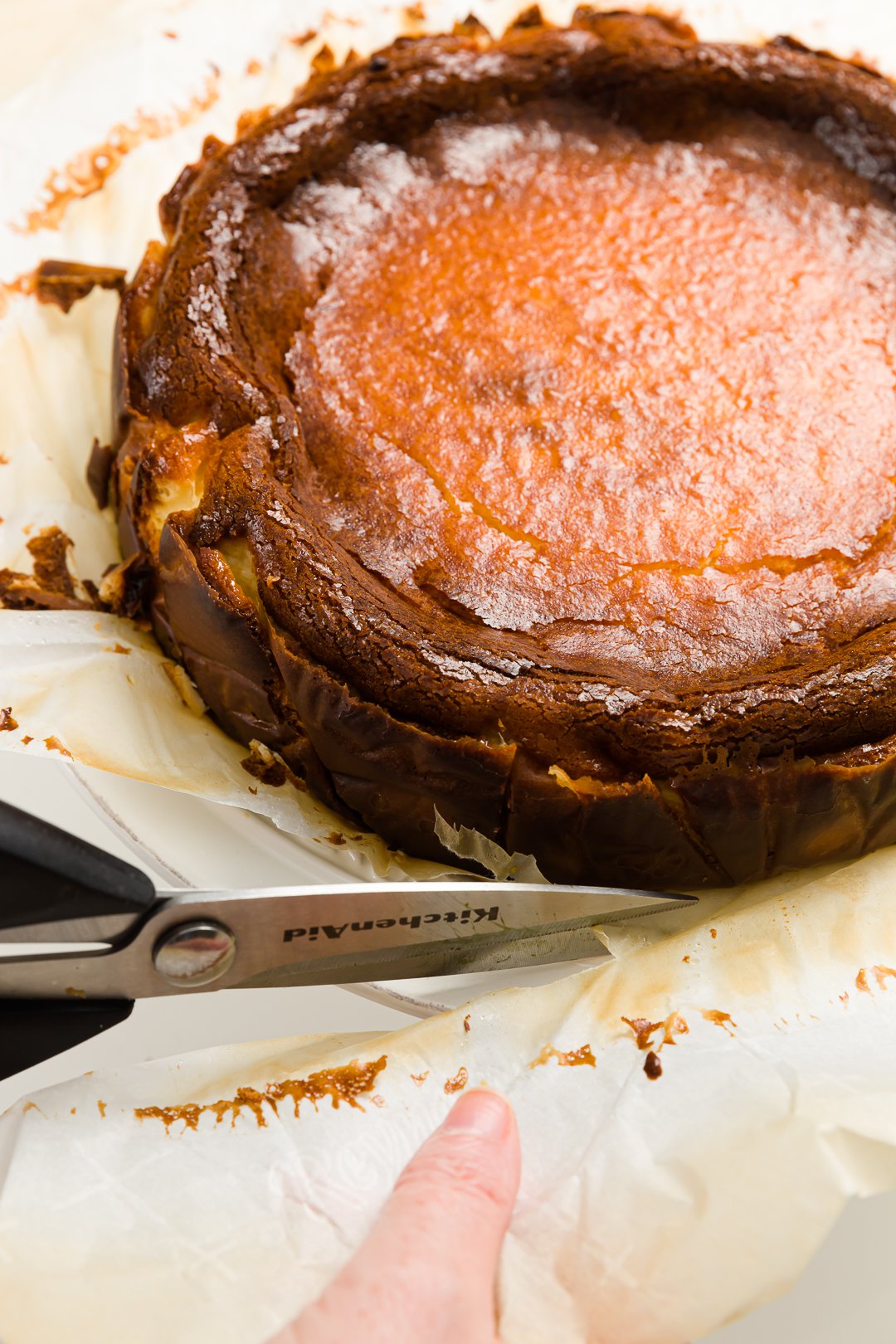 Expert Tips and FAQs
My batter has lumps. What can I do about that?
If there are lumps in your batter, it's probably because your ingredients were too cold. Push the batter through a sieve to strain it before pouring into the prepared pan.
I baked this recipe according to your instructions; why doesn't the top look brown?
If the cheesecake doesn't look brown on top, keep it in the oven a little longer. Ovens vary and yours may run a little cooler than mine.
Related Recipes
Burnt cheesecake is typically served bare. However, the big divot in its center is wonderful for all kinds of toppings:
Basque Burnt Cheesecake
This Basque burnt cheesecake is smooth, creamy, and SO easy to make. It develops its own crust that tastes like crème brûlée!
Ingredients
24

ounces

cream cheese

room temperature

1

cup

granulated sugar

1/2

teaspoon

salt

1/4

cup

all-purpose flour

1

teaspoon

vanilla extract

5

large eggs

room temperature

1 1/2

cups

heavy whipping cream

room temperature
Instructions
Preheat the oven to 400 F.

Mix cream cheese, sugar, salt, and flour together in a large mixing bowl until smooth. There should be no lumps in the batter.

Mix in the eggs one at a time until fully combined.

Mix in the heavy whipping cream until fully combined.

Line a 9" cake pan or springform pan with parchment paper, completely covering the bottom and sides of the pan. Use butter on the paper and the pan to help it stick to the pan. Smooth out any creases as best you can. (There will always be some creases remaining and that adds to the rustic look of the cake.)

Pour batter into the lined pan. Bang the pan onto the counter a few times to bring any air bubbles up to the top.

Bake for 50 minutes.

Increase oven temperature to 425 F and continue to bake for another 15 minutes or until the top of the cake looks almost burnt.

Cool to room temperature and then chill in the refrigerator overnight.

When ready to serve, remove the cake from the pan and peel off or cut back the parchment so it isn't visible.
Notes
The cheesecake will last up to one week in the refrigerator and for several months in an airtight container in the freezer.
Nutrition
Calories:
398
kcal
|
Carbohydrates:
22
g
|
Protein:
7
g
|
Fat:
32
g
|
Saturated Fat:
18
g
|
Cholesterol:
171
mg
|
Sodium:
316
mg
|
Potassium:
126
mg
|
Fiber:
1
g
|
Sugar:
19
g
|
Vitamin A:
1298
IU
|
Vitamin C:
1
mg
|
Calcium:
85
mg
|
Iron:
1
mg
Stay Connected!
Join my mailing list - and receive a free eBook!