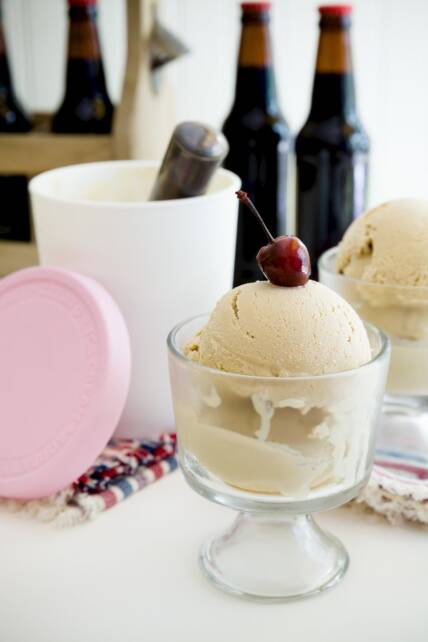 Cola is such a refreshing summer flavor and it's even better in ice cream format!  My cola ice cream is rich, smooth, and creamy (just like ice cream should be) and tastes just like cola!  If you are a cola lover (or know one), add this recipe to your summer bucket list!
These days, it's easy to access concentrated cola flavor – the secret ingredient to perfect cola ice cream.
I based the ice cream recipe on Alton Brown's Vanilla Ice Cream.  In my adaptation, I reduced the sugar to account for the sugar in the cola concentrate, which I used instead of vanilla.
If you've tried this recipe, please RATE THE RECIPE and leave a comment below!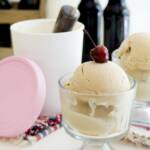 Cola Ice Cream
Ingredients
3

cups

half-and-half

1

cup

heavy whipping cream

7

large egg yolks

1/4

cup

sugar

2 1/4

cups

SodaStream cola mix
Instructions
In a medium-sized saucepan on medium heat, bring half-and-half and heavy whipping cream just to a simmer, stirring periodically.

Remove from heat.

In a medium-sized mixing bowl, whisk the egg yolks until they lighten in color.

Gradually add the sugar and whisk to combine.

Add the cream mixture a little bit at a time into the eggs until you've added 1/3 of the mixture. If you add it too quickly, you can accidentally cook the eggs.

Pour egg mixture back into the saucepan with the remaining cream and place on low heat.

Cook until the mixture thickens slightly and coats the back of a spoon (the temperature should be around 175 F). This will happen very quickly.

Remove from heat and let sit for 30 minutes to cool to room temperature.

Stir in cola mix.

Refrigerate until the entire mixture is cold (about 4 hours).

Pour into an ice cream maker and proceed according to the manufacturer's instructions.

Remove from ice cream maker and place in a sealed container in the freezer for 3-4 hours until the ice cream hardens.

Enjoy!
For extra fun use this cola ice cream to make vanilla cola ice cream sandwiches!