This amazing strawberry whipped cream is made with fresh strawberries and heavy whipped cream! It's a refreshing topping for any dessert or eaten all on its own!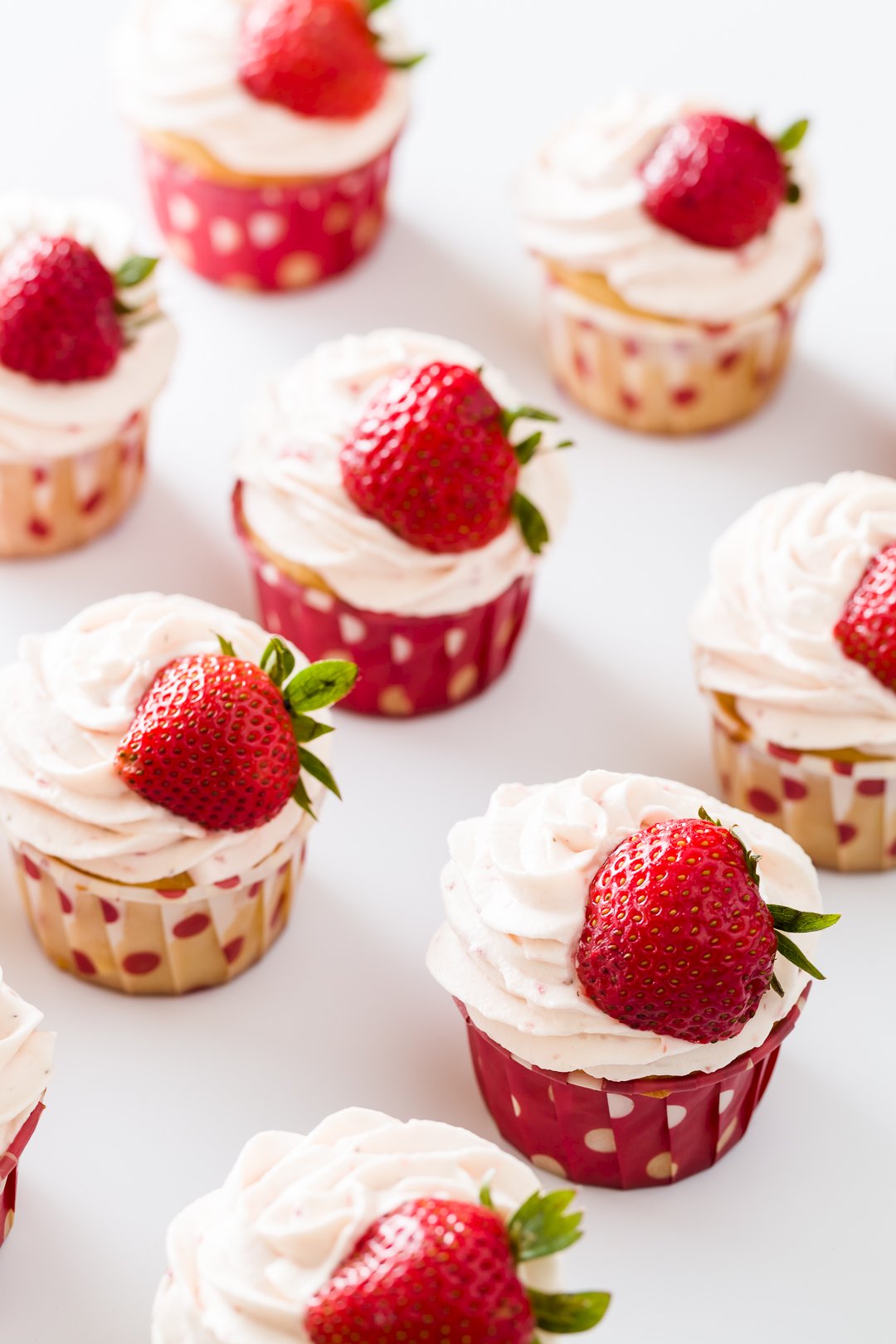 Strawberry whipped cream is a lighter alternative to other strawberry frostings like strawberry cream cheese frosting and strawberry buttercream. While vanilla frosting and chocolate cream cheese frosting are always great on cupcakes or cake, using whipped cream with fresh strawberries is so refreshing!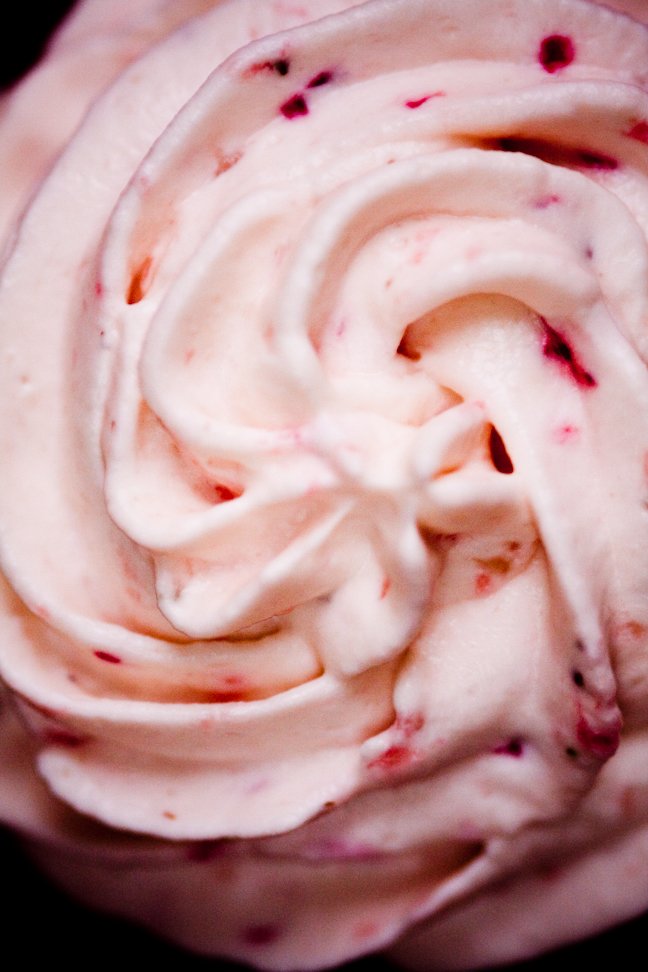 How is Fresh Whipped Cream Made?
Whipped cream (sometimes called chantilly cream) is is made exactly as the name sounds, by whipping cream (sold in stores as heavy whipping cream). As you whip the cream, air is incorporated and it becomes light and fluffy.
Tip: The heavy whipping cream must be cold in order to make whipped cream. Keep it in the refrigerator until ready to use.
The easiest way to make whipping cream is to use an electric mixer with the whisk attachment.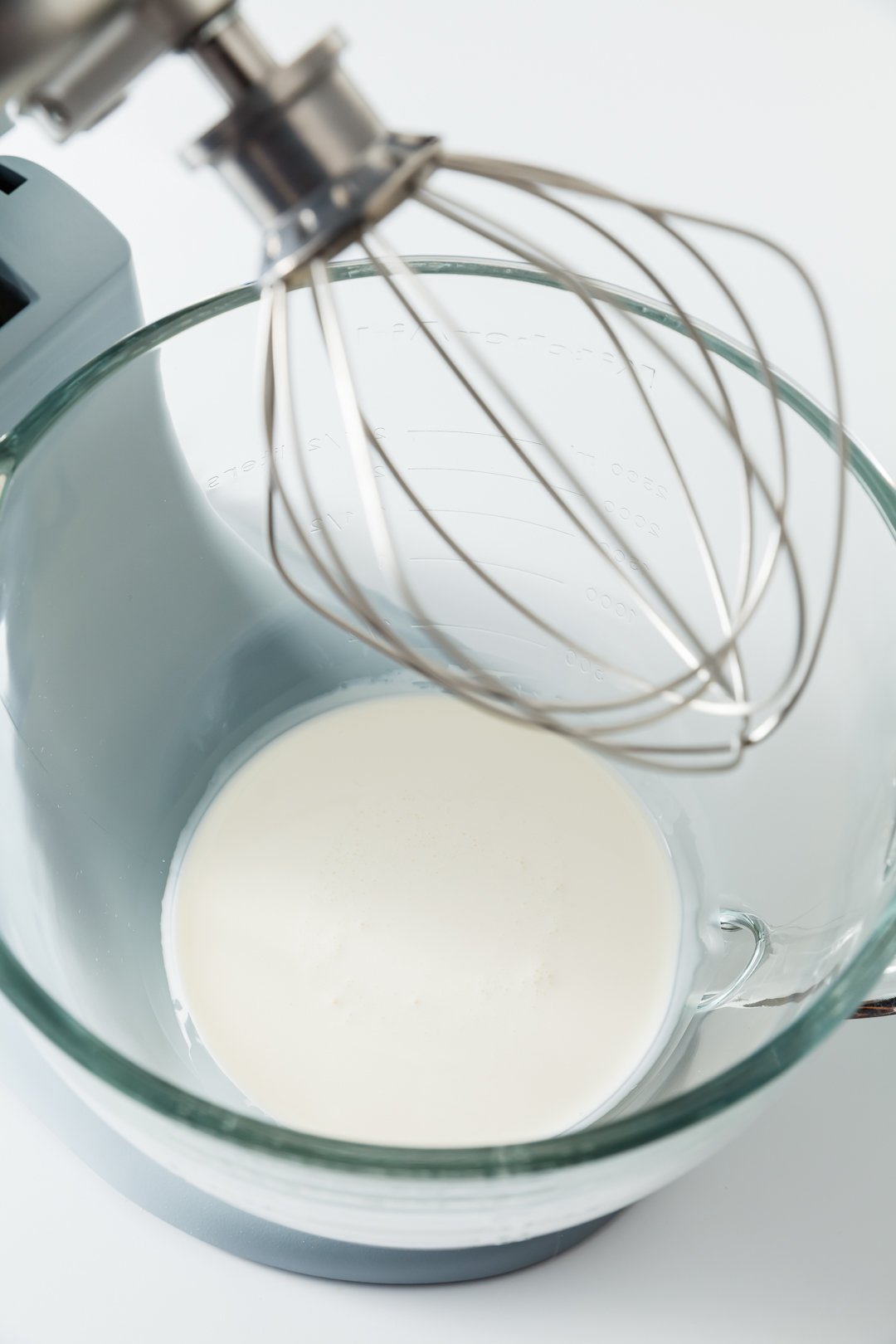 Whisk on high speed until it holds a peak.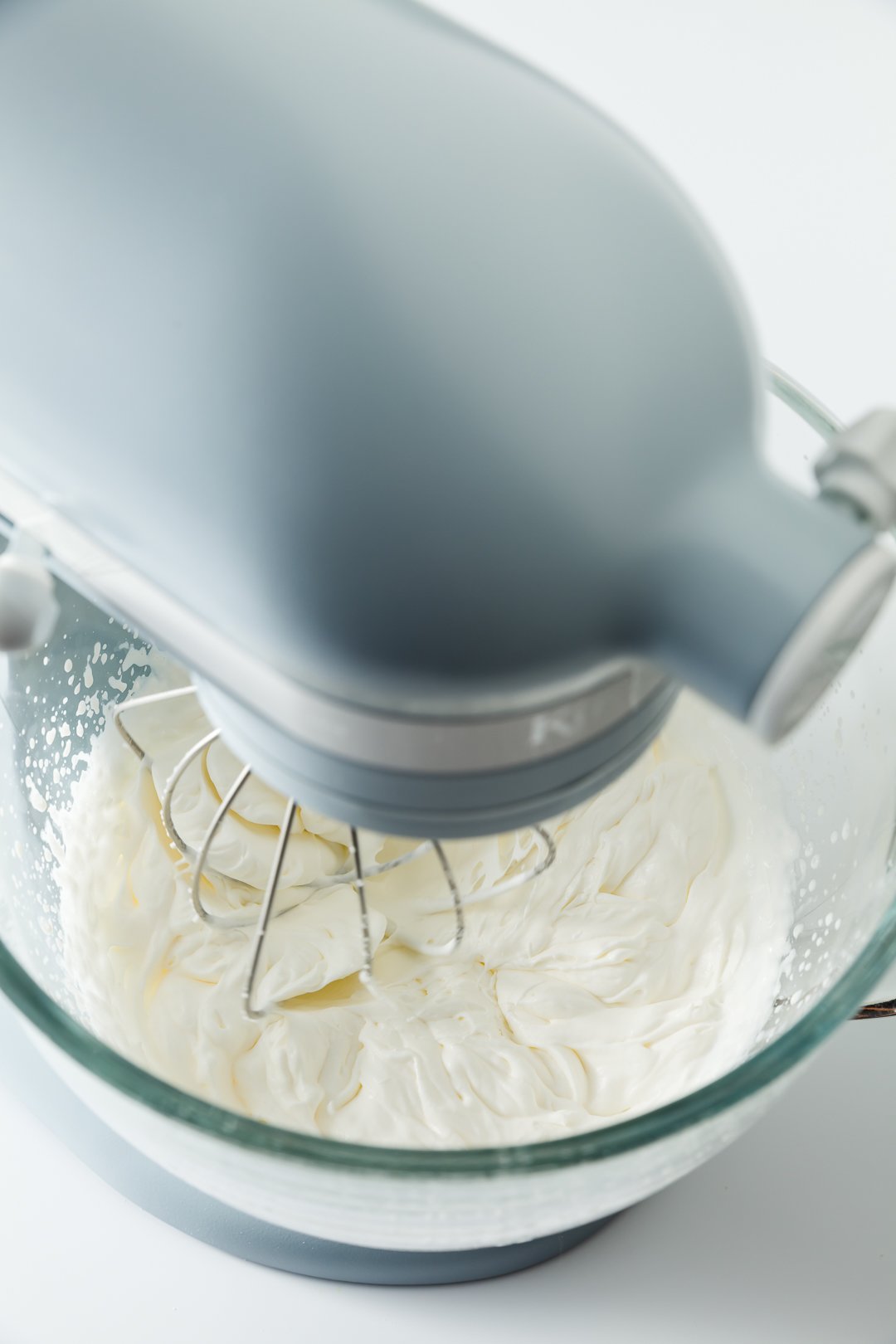 If you don't have an electric mixer, you can make whipped cream by hand using a whisk. Just be patient. This process can take five minutes or more and your arms are likely to get tired.
You can also make whipped cream in a blender.
Tip: Once the whipped cream has reached the correct consistency, stop whisking. If you over-whisk the cream, it will start to fall apart. If this happens, whisk in some more heavy whipping cream to get the consistency back to where you want it to be.
Can You Use Cool Whip Instead of Whipped Cream?
Yes, you can mix fresh strawberries into Cool Whip and make strawberry Cool Whip. But, once you try fresh strawberry whipped cream, you won't go back.
Can You Sweeten Whipped Cream?
Yes, most people sweeten whipped cream and I certainly do so in my strawberry whipped cream recipe.
To sweeten whipped cream, first whip the cream, then whisk in sugar or powdered sugar (either will work) to your taste.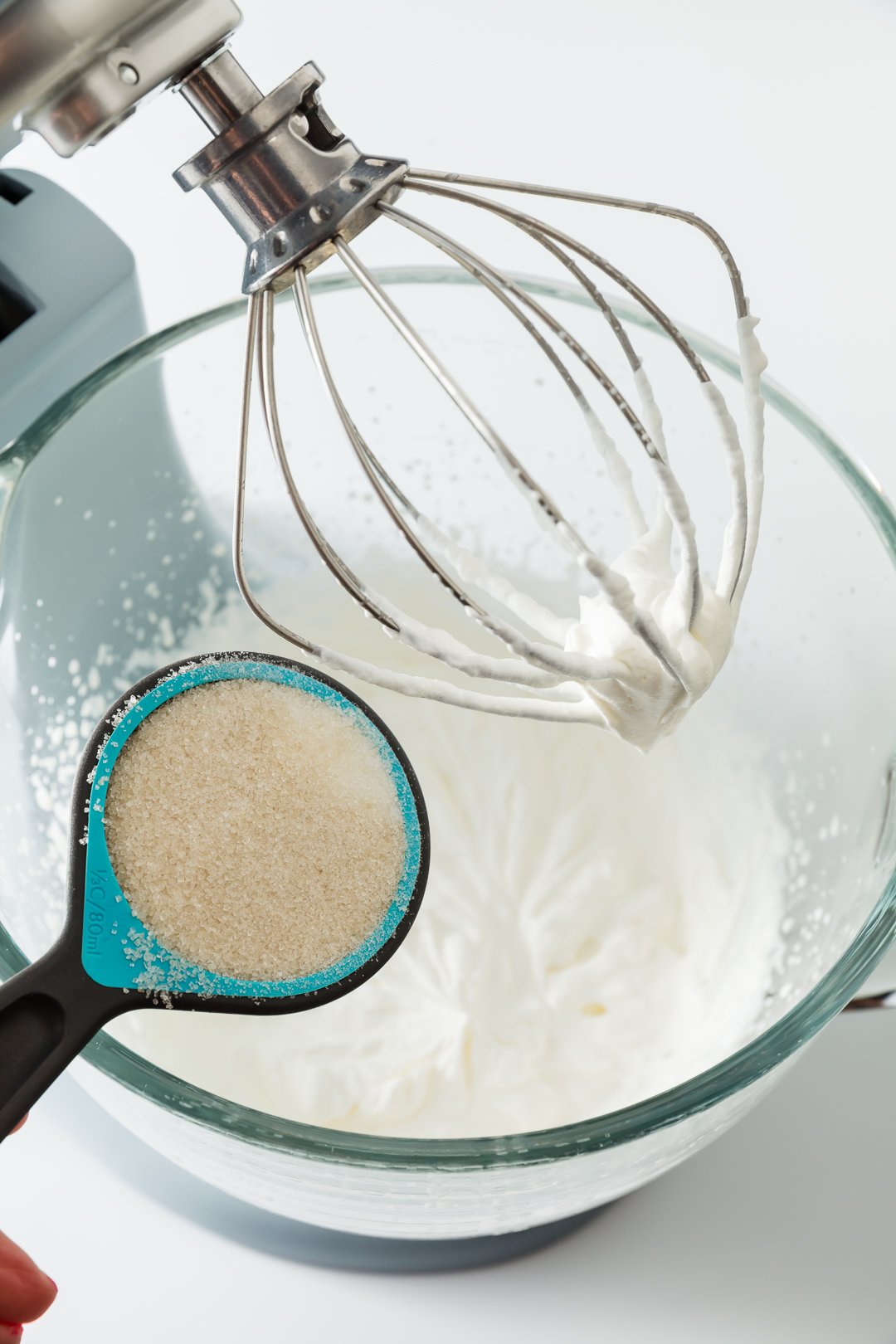 Tip: Don't add the sugar until you've whipped the cream or it will keep the cream from aerating properly.
Do You Need to Refrigerate Whipped Cream?
Whipped cream must be kept refrigerated.
For this reason, whipped cream frosting is not the best choice if you are going to summer picnic where your treats will be kept outdoors.
Tip: If you must serve whipped cream frosting on a dessert that will be sitting out in warm weather for a prolonged time, make stabilized whipped cream using jello.
How to Make Strawberry Whipped Cream
Wash and remove the tops from fresh strawberries. Place them in a food processor or blender.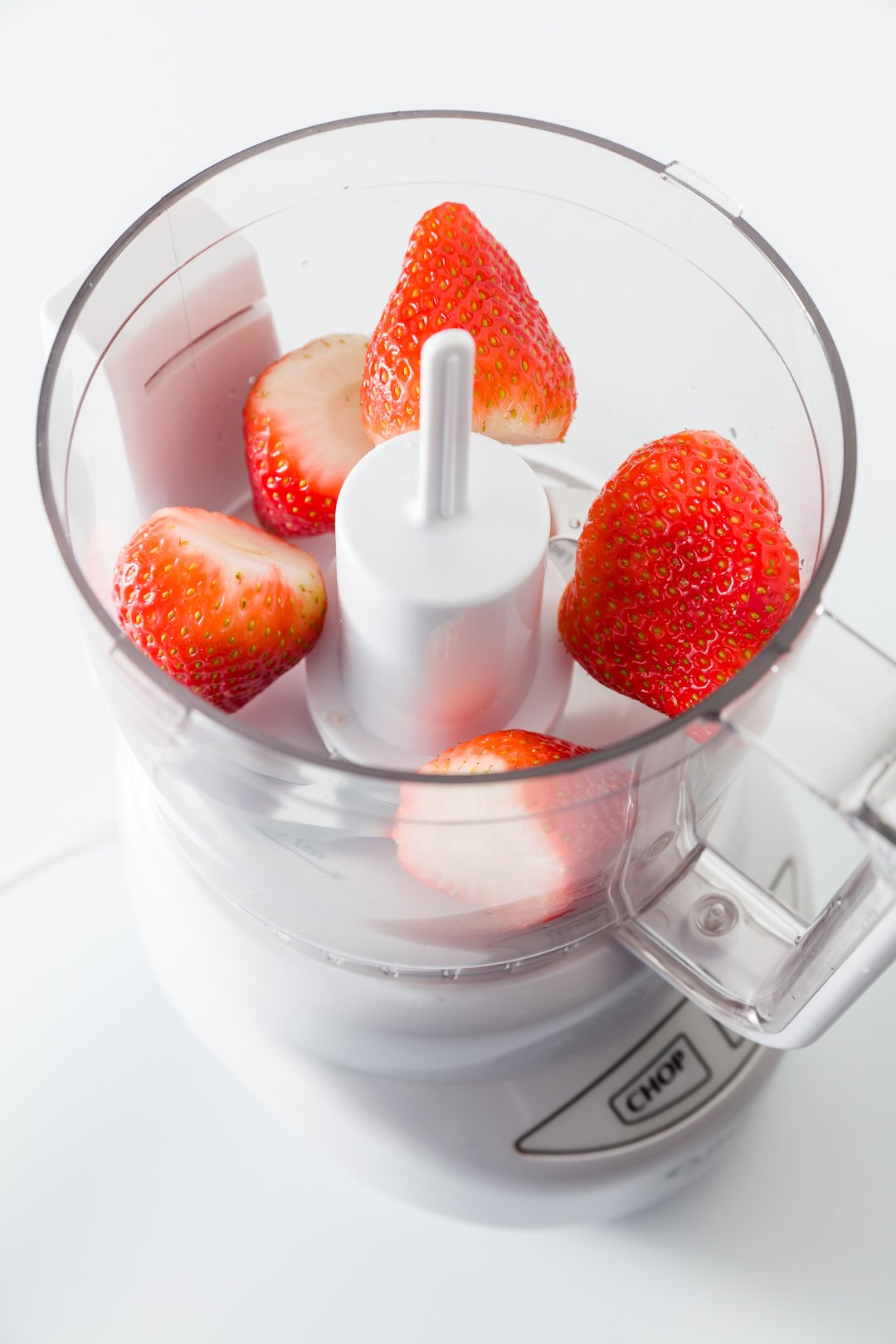 I find that my mini food processor is perfect for this task.
Process the strawberries until you have a thick, seedy liquid.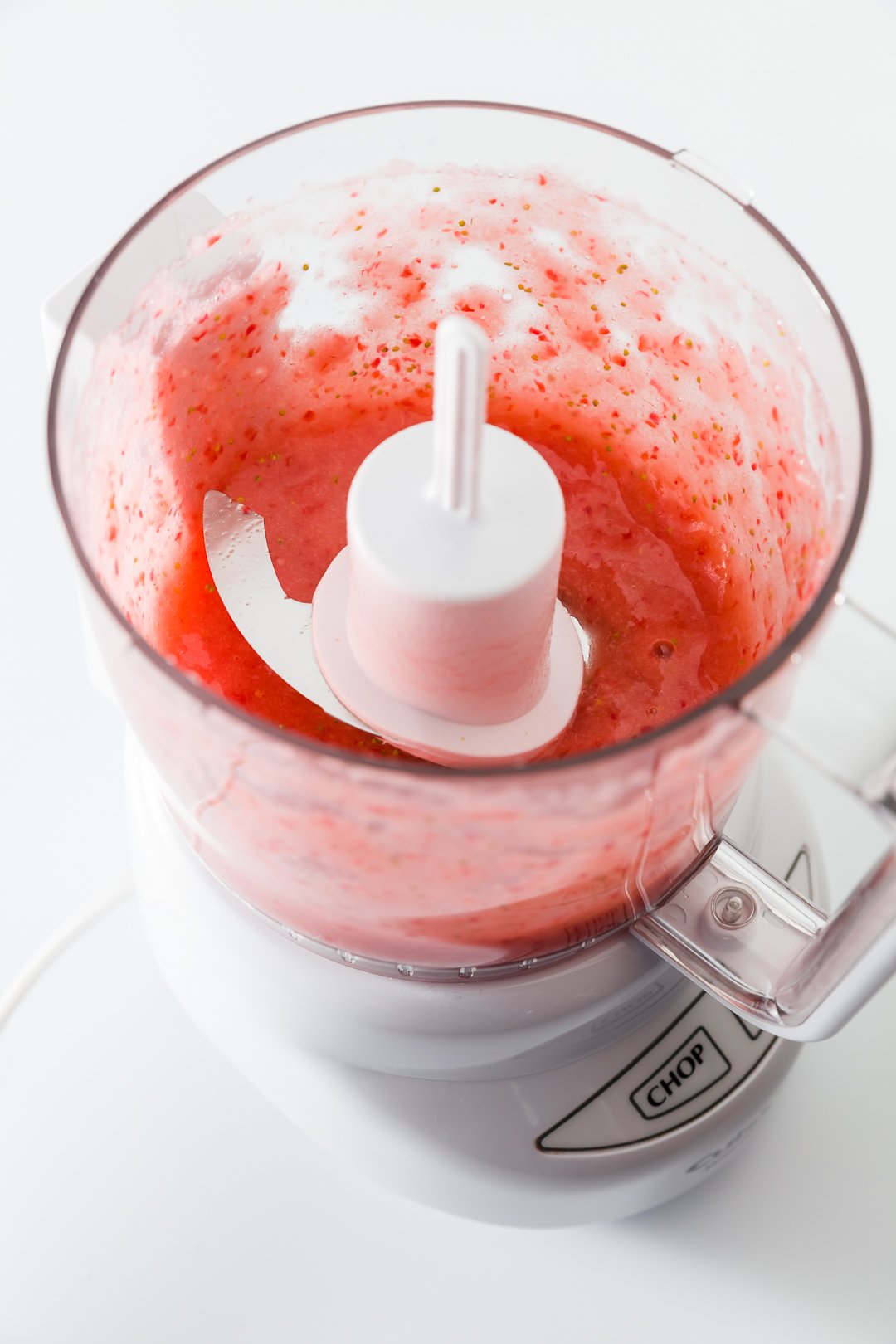 Whisk the strawberry liquid into whipped cream.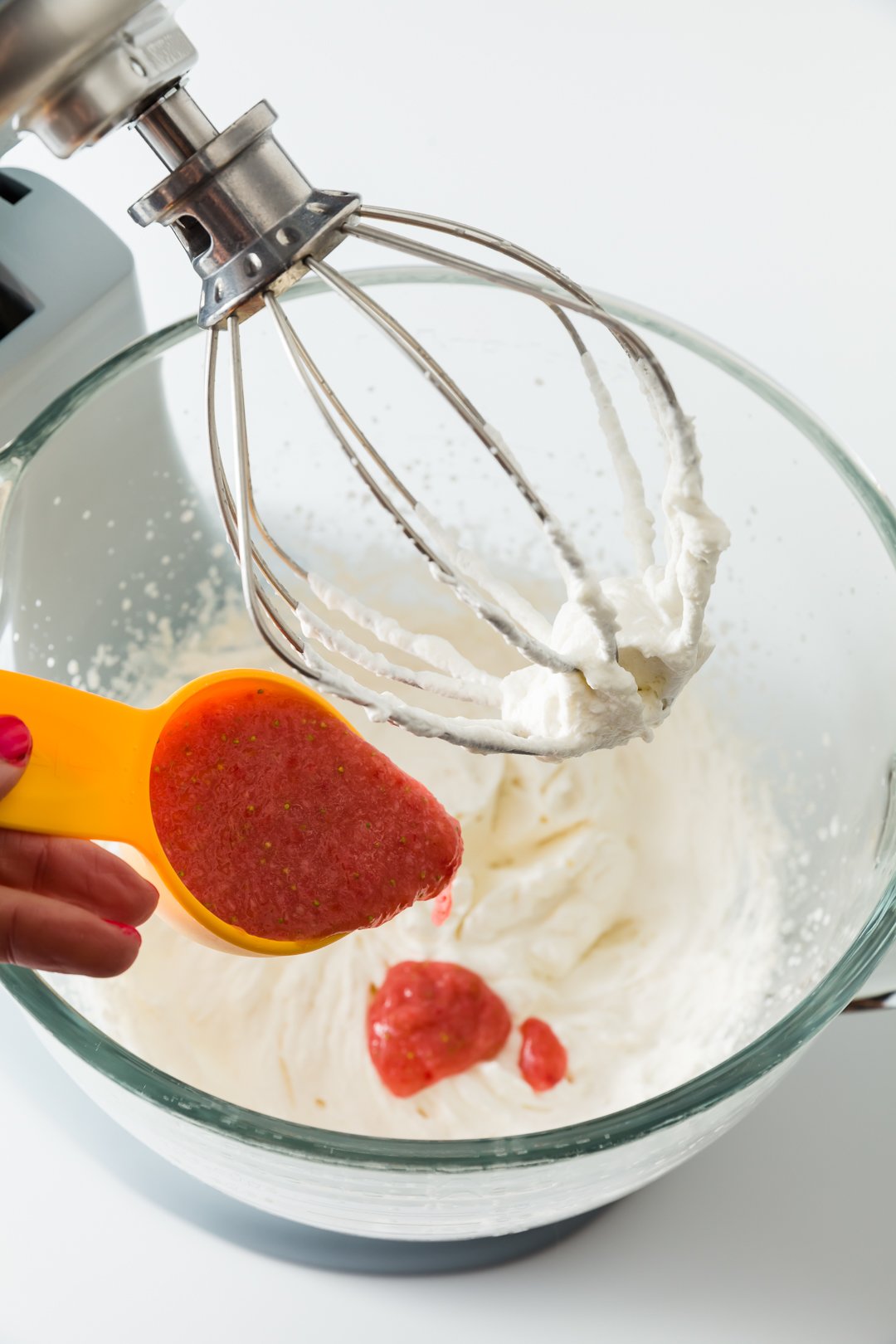 The whipped cream will be a pale pink and have a strong strawberry flavor – like eating strawberries and cream!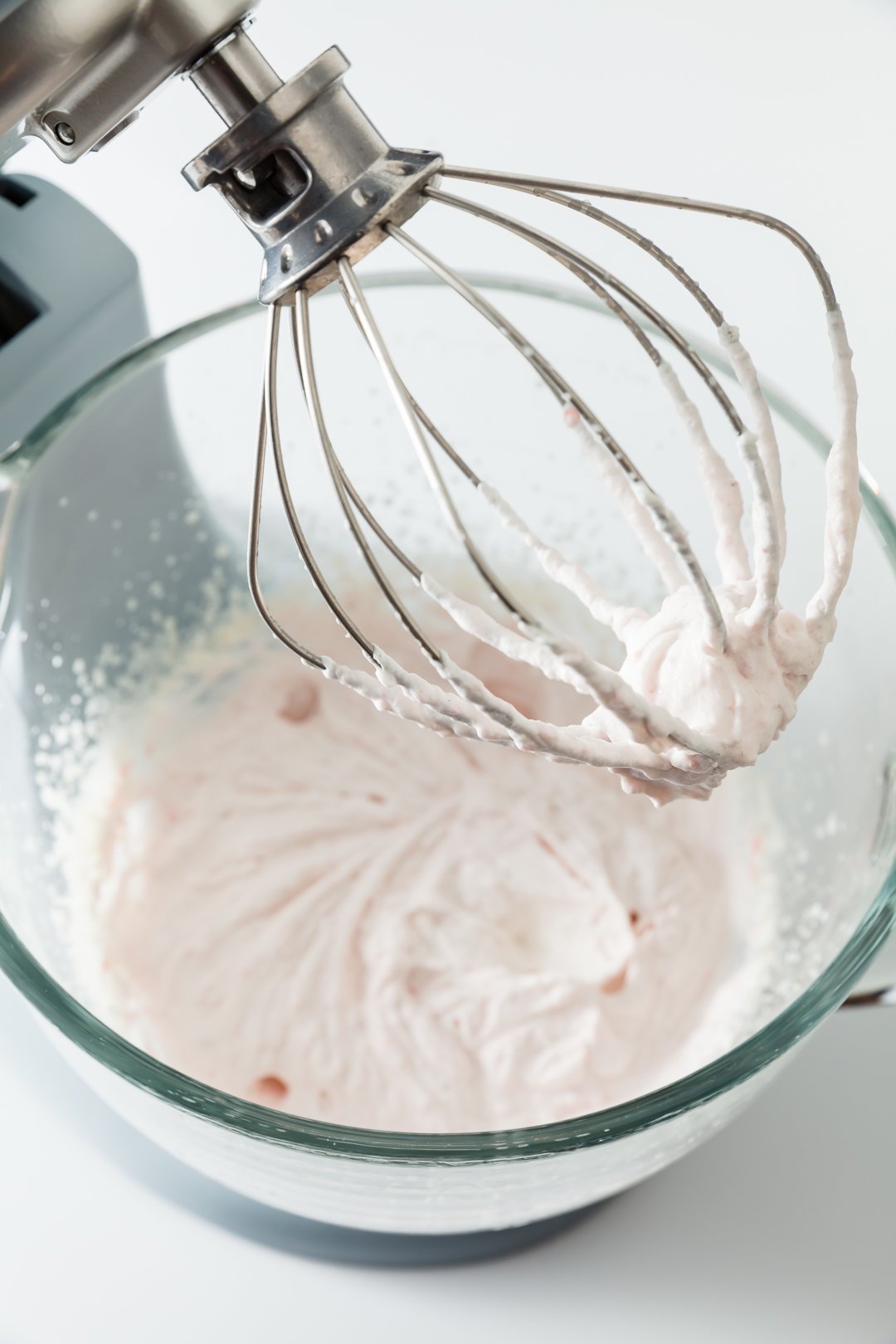 Can You Use Frozen Strawberries to Make Strawberry Whipped Cream?
You can use frozen strawberries to make strawberry whipped cream, but it will require some extra steps.
First, defrost the strawberries by leaving them in the refrigerator for at least four hours.
You'll see that the defrosted strawberries have much more liquid than fresh strawberries.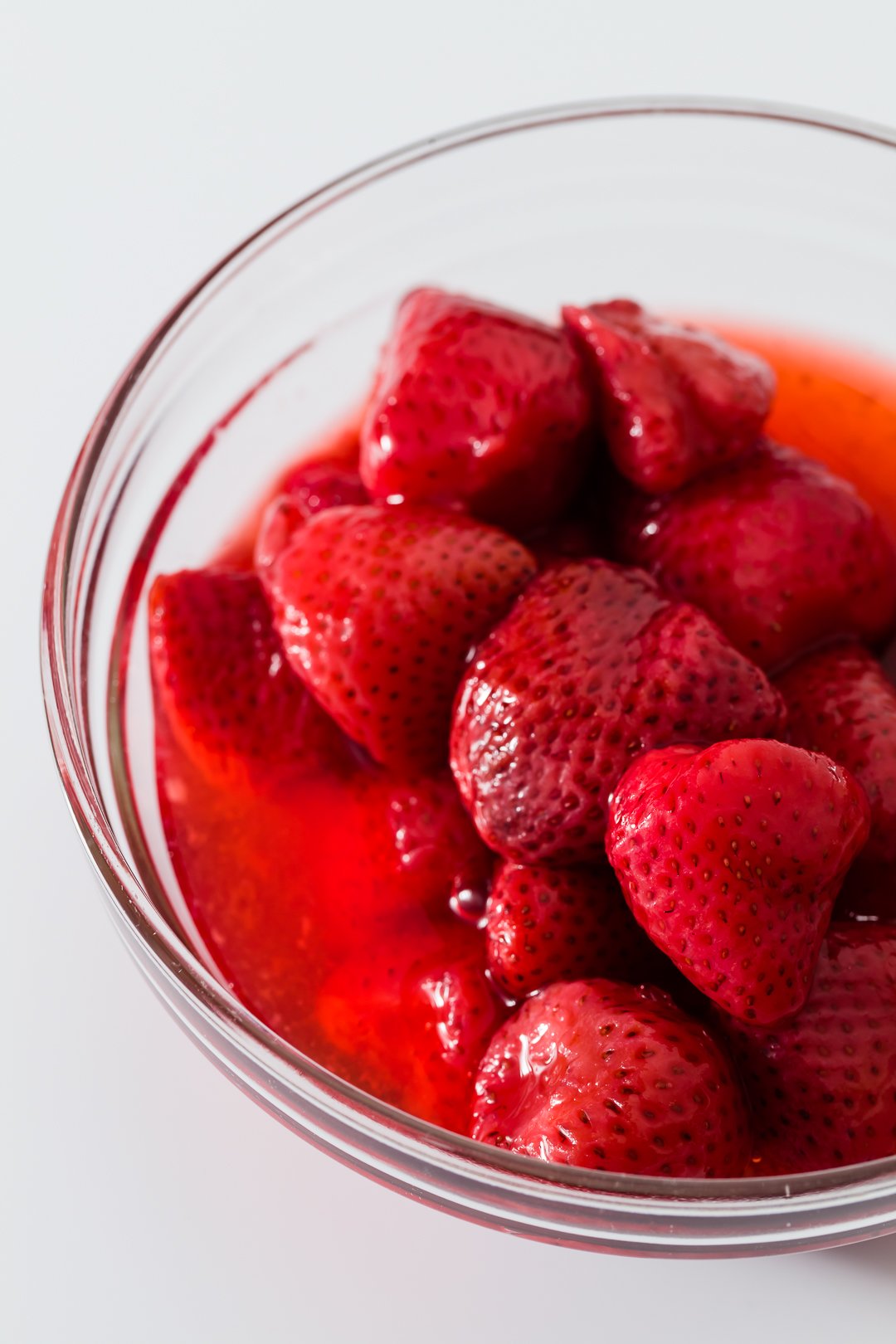 Before food processing the strawberries, use a sieve to strain off all of the extra liquid. If you skip this step, your whipped cream will be way too wet!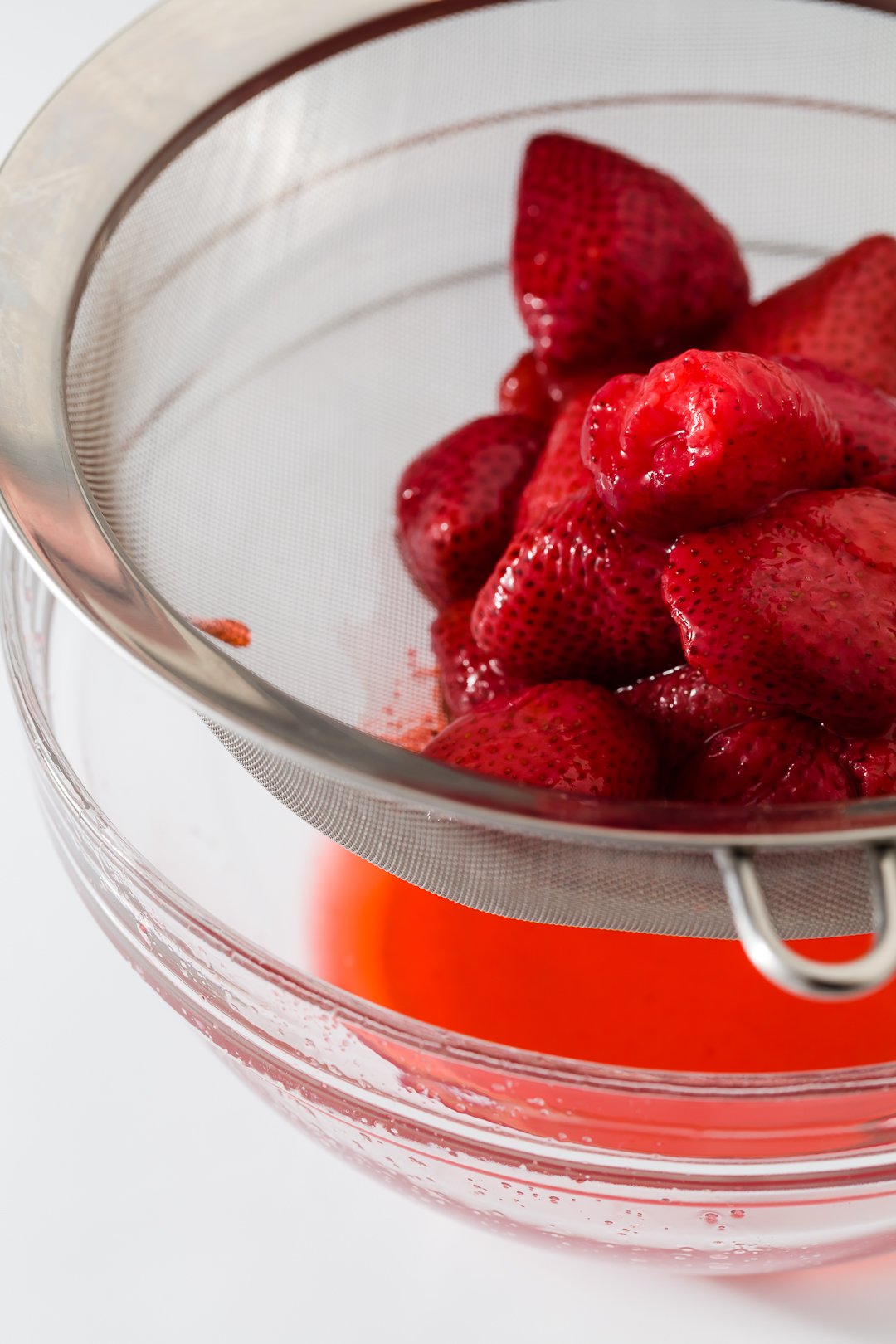 Best Ways to Use Strawberry Whipped Cream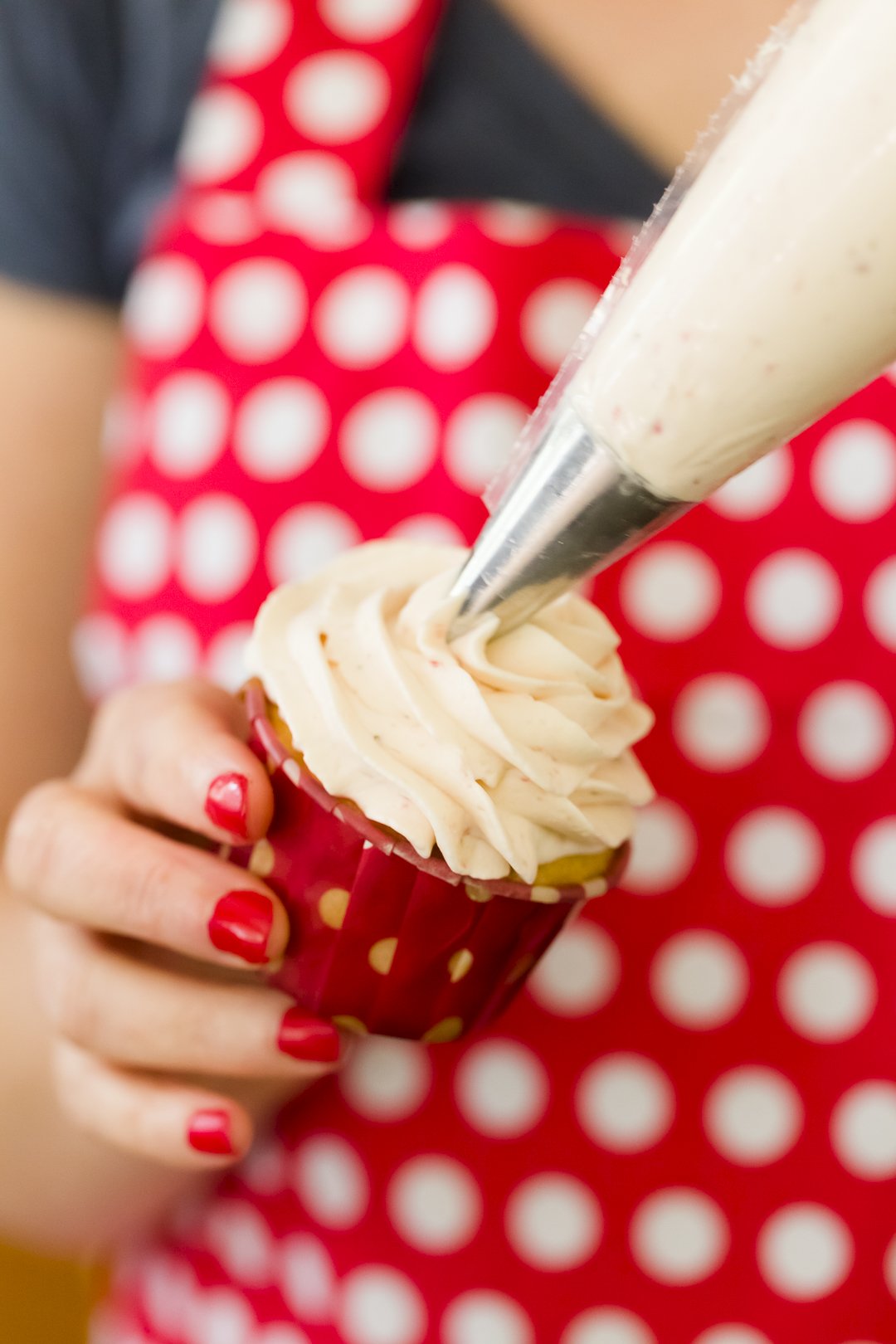 Strawberry whipping cream is perfect for topping cupcakes:
You can never go wrong with switching up the frosting on the ultimate chocolate cupcakes or the ultimate vanilla cupcakes by using strawberry whipped cream instead. These cupcakes have both been EXTENSIVELY tested and you'll see when you read the comments that hundreds of people have raved about them.
You might also love strawberry frosting on strawberry cupcakes.
Strawberry whipped cream is also fabulous on top of ice cream and would be wonderful with cake like my crumb cake or a strawberry cake (like Cookie Rookie's strawberry cake).
You can also use it to top pies like my chocolate pie!
Strawberry Whipped Cream Variations
This recipe would also work really well other kinds of berries like raspberries and blackberries.
You can also use stone fruit like I do in my peach whipped cream.
Finally, you can add some cocoa powder like I do in my chocolate whipped cream and make a chocolate strawberry whipped cream. So good!
Why This Recipe Works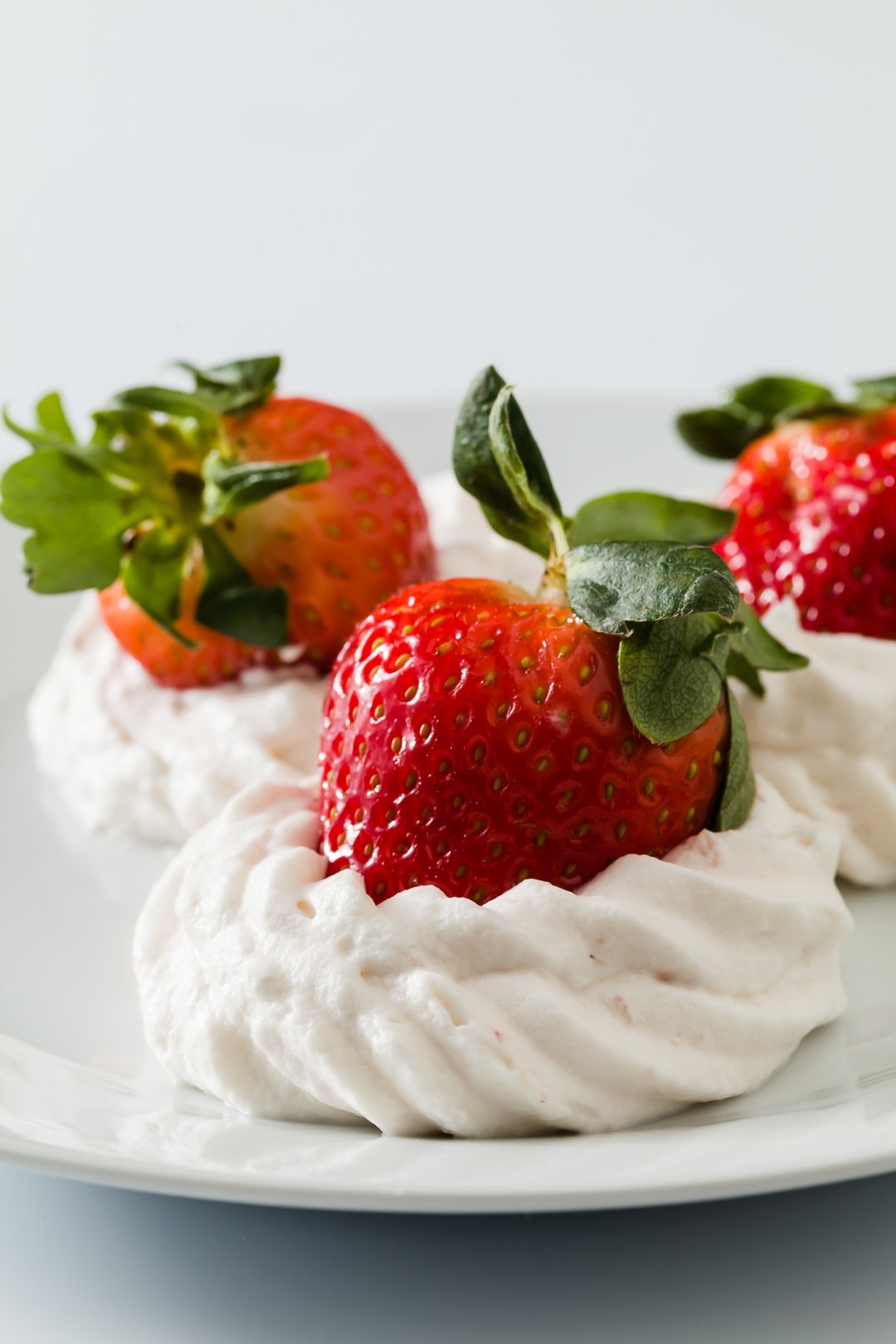 Strawberries and cream are a classic combination. Adding fresh strawberries to fresh whipped cream gives you that same strawberries and cream flavor with every taste!
Best Tips for Making Strawberry Whipped Cream
Make sure to use cold heavy whipping cream.
If your strawberries were frozen, be sure to drain off any extra liquid.
Always refrigerate whipped cream once made.
Strawberry Whipped Cream Recipe
Strawberry Whipped Cream Recipe
A delicious whipped cream made with fresh strawberries.
Ingredients
1

cup

heavy whipping cream

cold

1/3

cup

sugar

4

tablespoons

pureed strawberries

about 5 large strawberries food processed until they are a thick, seedy liquid
Instructions
Whip cream using an electric mixer on high speed fitted with the whisk attachment until it can hold a peak.

Mix in sugar.

Whisk in pureed strawberries until just combined.

Keep refrigerated until ready to eat.
Notes
Make sure to use cold heavy whipping cream.
If your strawberries were frozen, be sure to drain off any extra liquid.
Always refrigerate whipped cream once made.
This recipe yields about two cups of frosting. This should be enough to frost twelve cupcakes. Double the recipe to frost a two layer eight-inch cake.
Nutrition
Nutrition Facts
Strawberry Whipped Cream Recipe
Amount Per Serving
Calories 91
Calories from Fat 63
% Daily Value*
Fat 7g11%
Cholesterol 27mg9%
Sodium 7mg0%
Potassium 22mg1%
Carbohydrates 6g2%
Vitamin A 290IU6%
Vitamin C 3.1mg4%
Calcium 13mg1%
* Percent Daily Values are based on a 2000 calorie diet.