Mini cupcakes are perfectly-sized treats that are always a hit at parties. Let's look at how to turn any cupcake recipe into a mini cupcake recipe (it's simple to do!) and then I'll share the best mini vanilla cupcake recipe!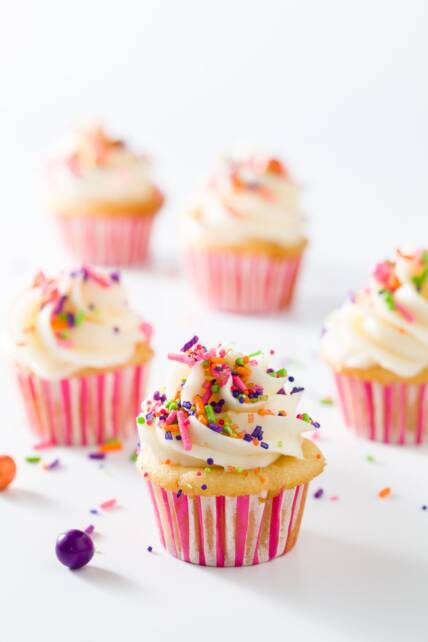 What You Need to Make Mini Cupcakes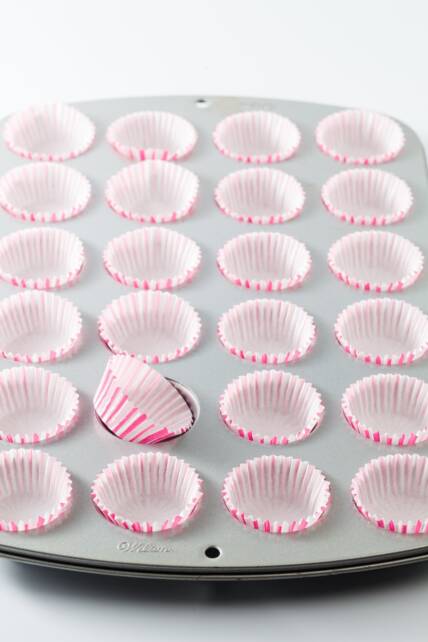 To make mini cupcakes, you'll need mini cupcake liners and a mini muffin tin. 
Mini muffin tins typically hold 24 mini cupcakes.
Converting a Cupcake Recipe's Ingredients to Make Mini Cupcakes
You don't need to alter a cupcake recipe's proportions or ingredients to convert it into a mini cupcake recipe. The exact same recipe that you love for large cupcakes will also work for minis with respect to ingredients and mixing. The alterations you'll have to make come in when filling and baking.
How Many Mini Cupcakes Does a Cupcake Recipe Make
When converting a cupcake recipe to mini cupcakes, you will have three times as many mini cupcakes as cupcakes.
If your cupcake recipe makes 12 cupcakes, you'll have 36 minis. If your cupcake recipe makes 24 cupcakes, you'll have 72 minis.
How to Fill Mini Cupcake Liners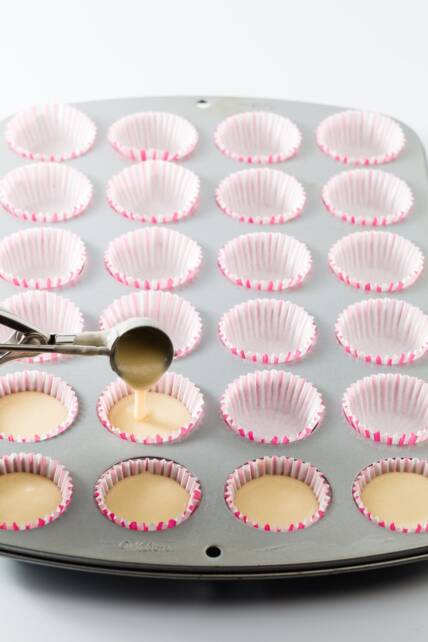 There are several ways to fill mini cupcake liners.
Use a small disher (basically an ice cream scoop with a lever). I suggest using disher size 50 – which holds about .65 ounces.
Place the batter in a large piping bag and pipe it into the liners. This works best if you have a thick batter rather than a liquid batter.
Use a batter dispenser. This is a very neat way to fill the liners, but it is an extra gadget that takes up a lot of space. If you do get one, though, it works really well for pancakes!
How High to Fill Mini Cupcake Liners
Different recipes call for filling cupcake liners different amounts. The same rules that apply to regular cupcakes also apply to mini cupcakes. If a cupcake recipe says to fill the liner 2/3 full, do the same thing with your mini cupcakes.
Baker's Tip: If the recipe doesn't say how high to fill the liners, always do a test cupcake. Fill one liner about halfway and bake just that one cupcake. See how much it rises and use that information to determine how high to fill the other liners. Doing this means that you won't mess up the whole batch by over- or under-filling the liners.
How Long to Bake Mini Cupcakes
Because they are smaller, mini cupcakes take less time to bake than full-sized cupcakes. They are typically done somewhere between nine and fifteen minutes.
Test for doneness at nine minutes by inserting a toothpick or cake tester into a cupcake and seeing if the toothpick comes out dry. If it's dry, the cupcakes are done. If it is still moist, return to the oven for three more minutes and test again.
How Much Frosting Do You Need for Mini Cupcakes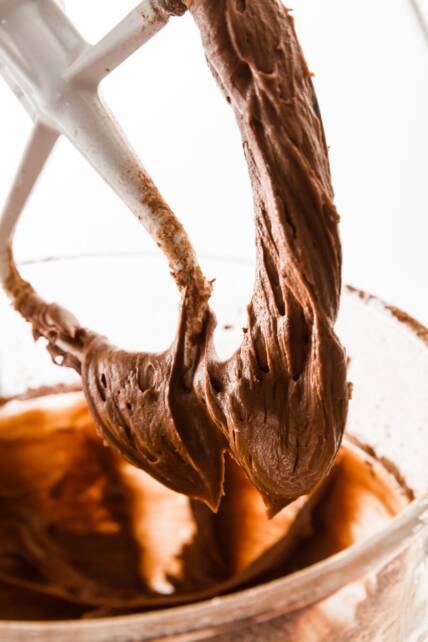 If you like to put tall frosting swirls on your cupcakes, you end up with a greater frosting to cake ratio on minis than you do on regular cupcakes.
You'll multiply the amount of frosting that you would typically use on a batch of regular cupcakes by 1.5.
You can use the same piping tip that you would use for standard-sized cupcakes. I recommend a Wilton 1M tip.
Mini Cupcake Recipe Ideas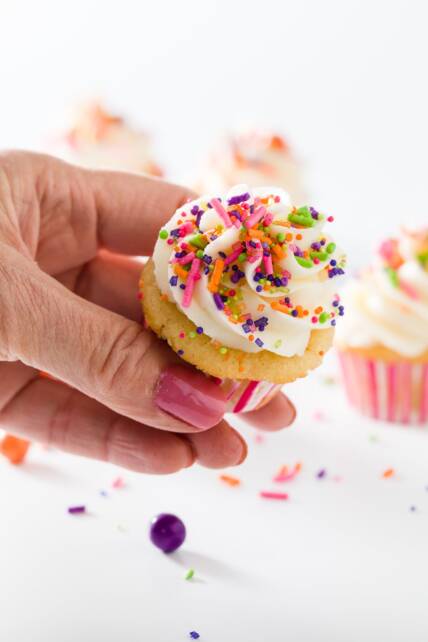 Below you'll find my recipe for vanilla mini cupcakes. Here are some other ideas for mini cupcakes to get you started.
Mini Vanilla Cupcake Recipe
This is the best mini vanilla cupcake you will ever have!
Servings
48
mini cupcakes
Ingredients
1

cup

granulated sugar

1

vanilla bean

1 3/4

cups

cake flour, not self-rising

1 1/2

teaspoons

baking powder

1/2

teaspoon

baking soda

1/2

teaspoon

salt

1/4

cup

unsalted butter

room temperature

2

large eggs

room temperature

1/3

cup

full-fat sour cream

1/4

cup

canola oil

you can also use vegetable oil

1

tablespoon

vanilla extract

use pure, not imitation

2/3

cup

whole milk

room temperature
Instructions
Preheat oven to 350 F (175 C).

In a small bowl, combine sugar and seeds from the vanilla bean. (For those of you who are new to using vanilla beans, watch the video in this post to see how it's done.)

Using the back of a spoon, move around the bowl and apply pressure to break up any clumps of seeds and to better infuse the vanilla flavor into the sugar. Set aside.

In a medium-sized mixing bowl or bowl of a stand mixer, mix together cake flour, baking powder, baking soda, and salt.

Add the vanilla bean sugar and mix until well combined.

Add butter and mix on medium-low speed for three minutes. Because there is so little butter, you'll end up with a very fine crumb texture.

In a small mixing bowl, whisk together eggs, sour cream, oil, and vanilla extract until smooth.

Add the egg mixture to the flour mixture and beat on medium speed until just combined.

Slowly add milk and mix on low speed until just combined. The batter will be liquid. (Don't worry, you didn't do anything wrong. It's supposed to be that way.)

Fill cupcake liners just over 1/2 full.

Bake for 10 minutes and then test to see if they are done. They are done when a toothpick comes out without wet batter stuck to it. The cupcakes should appear white with specks of vanilla bean. They should not turn a golden brown. If they are not done, test again in two minutes. If they are still not done, test again in another two minutes.

When the cupcakes are done, remove them immediately from the tins and leave them on a cooling rack (or just on your counter if you don't own a cooling rack) to cool.
Notes
Use a vanilla bean for the best vanilla flavor. If you don't have one, you can leave off the bean and skip related instructions and the mini cupcakes will still be amazing!
Use cake flour for a lighter crumb. If all you have on hand is all-purpose flour, that will work fine.
Be careful not to over-mix the batter.
Use room temperature ingredients - everything will mix together more smoothly that way.
Because everyone's oven is just a bit different and your liners may be a slightly different size than mine, I highly recommend that you bake a test cupcake before baking your whole batch of mini vanilla cupcakes.
Nutrition
Nutrition Facts
Mini Vanilla Cupcake Recipe
Amount Per Serving
Calories 60
Calories from Fat 27
% Daily Value*
Fat 3g5%
Cholesterol 11mg4%
Sodium 41mg2%
Potassium 26mg1%
Carbohydrates 8g3%
Protein 1g2%
Vitamin A 55IU1%
Calcium 13mg1%
Iron 0.1mg1%
* Percent Daily Values are based on a 2000 calorie diet.