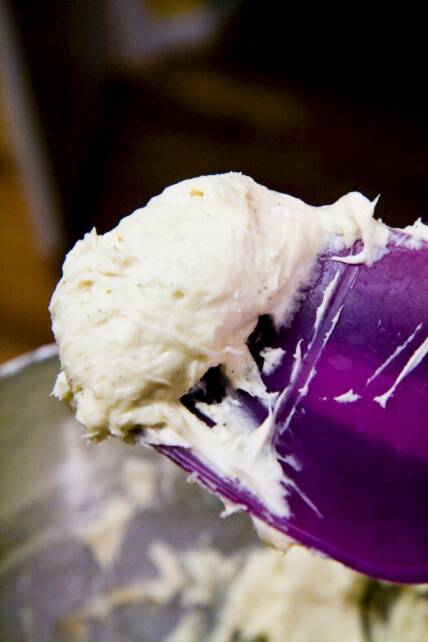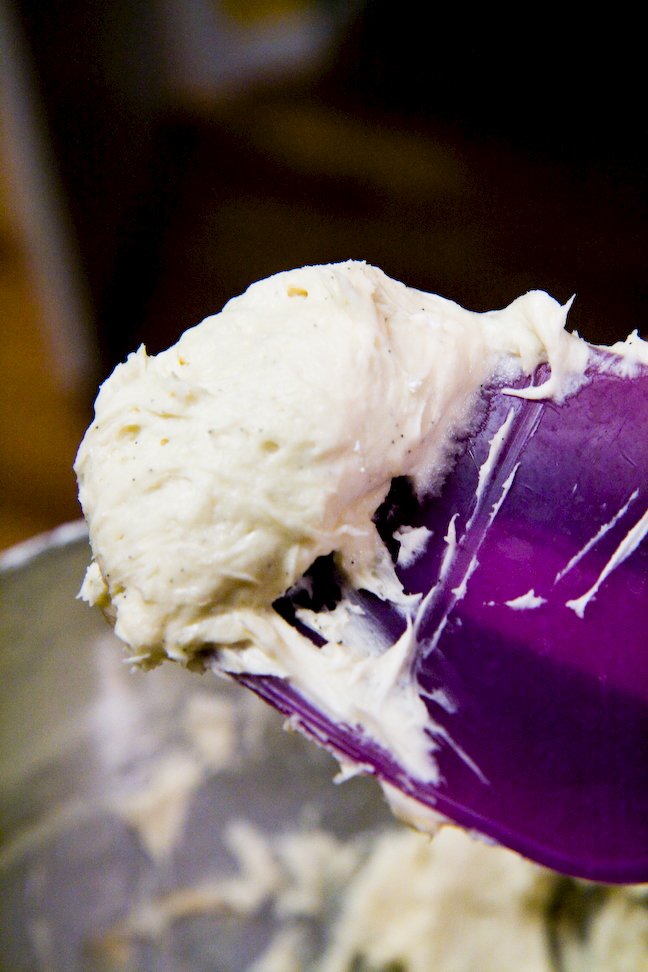 This vanilla buttercream recipe is so much better than your everyday vanilla frosting. Regular readers may know that I don't typically like vanilla frosting. I typically make chocolate cream cheese frosting, mascarpone frostings, or glazes. However, this vanilla frosting recipe is an exception. It tastes just like melted vanilla ice cream. In fact, I used it on top of my pumpkin cup-pies (mini pumpkin pies) instead of ice cream.
How to Make Vanilla Bean Frosting versus Vanilla Frosting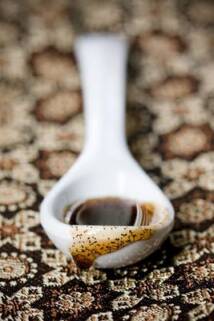 While vanilla frosting uses vanilla extract, vanilla beans frosting has actual vanilla beans in it. You can buy vanilla beans and scrape out the seeds, but the secret easy way to make vanilla bean buttercream is to use 
vanilla bean paste
.  Vanilla bean paste is like vanilla extract, but it has vanilla beans mixed into it, saving you the step of of buying vanilla beans, but gaining you the beautiful speckled look of vanilla beans and a strong vanilla flavor.
How to Pipe Vanilla Frosting on Cupcakes
You can spread vanilla bean buttercream frosting on anything. But, if you want to pipe it on cupcakes, the easiest way to acheive the perfect cupcake look is to use a
1M tip
.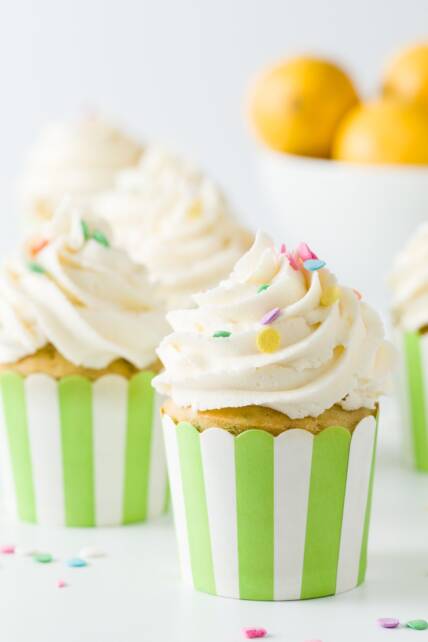 Do You Need to Use a Stand Mixer to Make Frosting?
While there are many recipe that you can mix by hand, the best buttercream frostings require lots of air to be incorporated into the butter. To really get this job done while, I highly recommend using an electric mixer. A hand mixer or a stand mixer will both work well.
How to Scrape the Mixing Bowl While Making Frosting
If you are using a hand mixer or a stand mixer, you will need to stop and scrape down the sides of the bowl every minute or so while you are mixing as butter will stick to the edges of the bowl. The easiest way to do this is with a silicone spatula. One way to avoid scraping down the bowl is to use a mixer that has a scraping paddle. Many mixers now come with scraping paddles, but if yours doesn't you may be able to purchase one.
Do You Need to Sift the Powdered Sugar in Buttercream Frosting?
The question of whether powdered sugar in buttercream recipes needs to be sifted depends on the brand of powdered sugar you are using. You should be able to tell when you look at your sugar whether it is clumpy or not. If it is very clumpy, it may end up getting stuck in your piping tip. In that case, I would definitely sift the sugar. I measure my sugar before sifting.
Is it Important to Use Unsalted Butter in Buttercream Frosting?
When you use unsalted butter in buttercream frosting or in any frosting, you can then add just the right amount of salt for the recipe. If you only have salted butter in the house, go ahead and use it, but leave off the salt in this recipe.
Vanilla Bean Buttercream Frosting Recipe
This frosting is like vanilla bean ice cream, but in frosting format!!
Ingredients
1 1/2

cup

confectioners' sugar

add more until it reaches your preferred consistency

1/2

cup

unsalted butter

room temperature

2

teaspoons

vanilla bean paste

add more to taste

1/4

teaspoon

salt

1

tablespoon

milk
Instructions
Mix together sugar and butter until they are blended and creamy, about three minutes on high speed.

Add vanilla bean paste, salt, and milk and continue to beat for another minute.

If desired, add more vanilla bean paste to taste, or more confectioners' sugar to make it stiffer.
Notes
If you plan to make a large swirl of frosting, this recipe will only cover about 6 cupcakes. Double as needed.
Nutrition
Nutrition Facts
Vanilla Bean Buttercream Frosting Recipe
Amount Per Serving
Calories 130
Calories from Fat 63
% Daily Value*
Total Fat 7g 11%
Cholesterol 20mg 7%
Sodium 1mg 0%
Total Carbohydrates 15g 5%
* Percent Daily Values are based on a 2000 calorie diet.
How About Chocolate Frosting Instead?