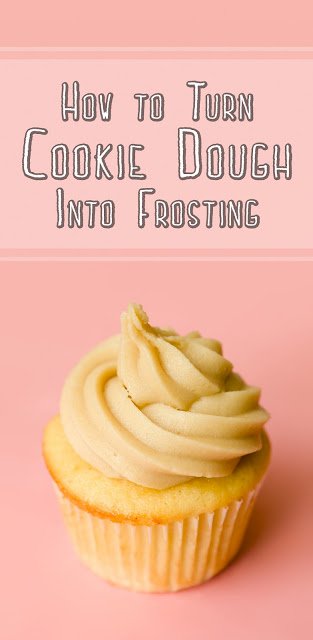 I've posted about cookie dough frosting before (see my posts on chocolate chip cookie dough frosting and peanut butter cookie dough frosting), but did you know that you can easily create your own cookie dough frosting out of any cookie dough?  The next time that you bake cookies and find yourself licking the beater, take a moment to think about how incredible that cookie dough would taste on top of a cake or cupcake.  Imagine oatmeal raisin cookie dough frosting on maple cupcakes, snickerdoodle cookie dough frosting on pumpkin cupcakes, or shortbread cookie dough frosting on apple cupcakes.
How to Turn Cookie Dough Into Frosting
Start with any cookie recipe.
If there are eggs in the recipe, leave them out.  Although I eat raw cookie dough with eggs (tsk, tsk) all of the time, you can get sick from raw eggs.
Remove any baking powder or baking soda from the recipe.  These are in the recipe to help the cookies rise.  Since you aren't baking cookies, you don't need leavening agents.
Remove any mix-ins from the recipe. Instead of mixing raisins, chocolate chips, dried fruit, etc., into your cookie dough, sprinkle them on top of the cookie dough frosting as decoration.
Mix all remaining ingredients together in a large bowl.  Don't worry about the order that you add the ingredients.  Since you aren't baking the cookies, the specific recipe instructions don't matter.
Evaluate the thickness of the batter.  If it's too thin (unlikely since most cookie batters are thick), add flour a tablespoon at a time until the batter is a good consistency to pipe. If the batter is too thick, add milk a tablespoon at a time until the batter is a good consistency to pipe.
Pipe or spread on cooled cupcakes or cake.
I don't promise that this method will work for every single cookie dough out there, but it should work with most of them.  I'd love to hear what recipes you experiment with and how they come out.  Leave a comment on this post or share photos on the Cupcake Project Facebook page.