Peanut Butter Cookie Dough
Disclosure: I may earn a commission from purchases you make through affiliate links in this post at no additional cost to you.
Why does cookie dough always refer to chocolate chip cookie dough? For that matter, why does 90% of cookie dough ice cream use a vanilla ice cream base?
In the name of variety and a flavor combination that's hard to go wrong with, I present a recipe for edible peanut butter cookie dough that's safe to eat raw (no eggs!). You can eat peanut butter cookie dough just as you would ice cream – with sprinkles and toppings galore.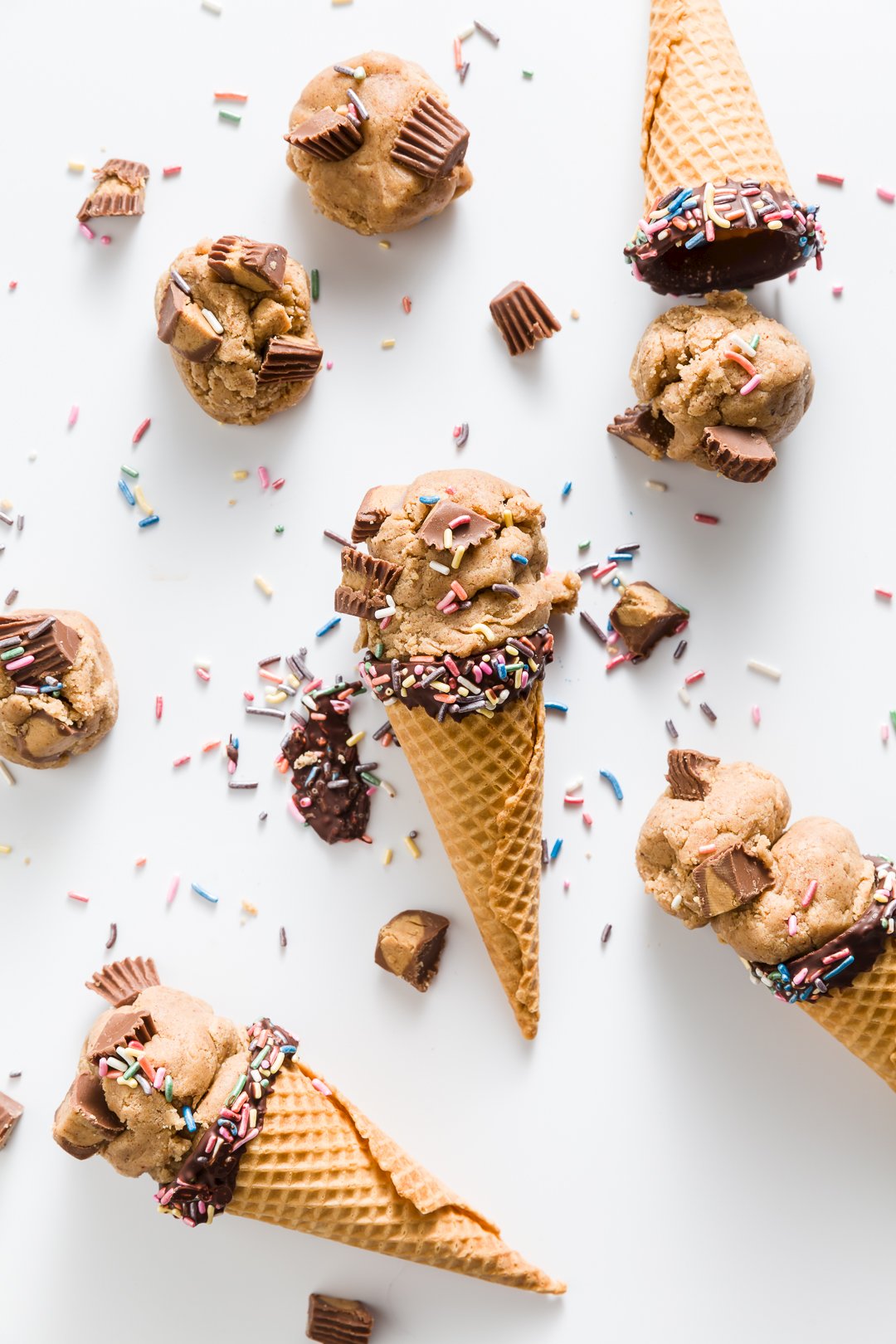 Or, you can serve peanut butter cookie dough with ice cream (I suggest chocolate ice cream!).
Tips for Making Edible Peanut Butter Cookie Dough
When making peanut butter cookie dough, you needn't worry about ingredient order, mixing speeds, temperature, or times. You aren't going to bake the cookie dough, so you can disregard all that you've learned about baking chemistry – just mix and eat!
UPDATE: The FDA now warns that it's not just raw eggs that we need to worry about, but also raw flour. I've updated the recipe to include heating the flour in the microwave to kill any e. coli present. This is not a 100% proven method. Consume at your own risk – I do!
Speaking of safety, if you want your dog to share some peanut butter goodness with you, don't give them this cookie dough. Instead, make them some homemade peanut butter dog treats!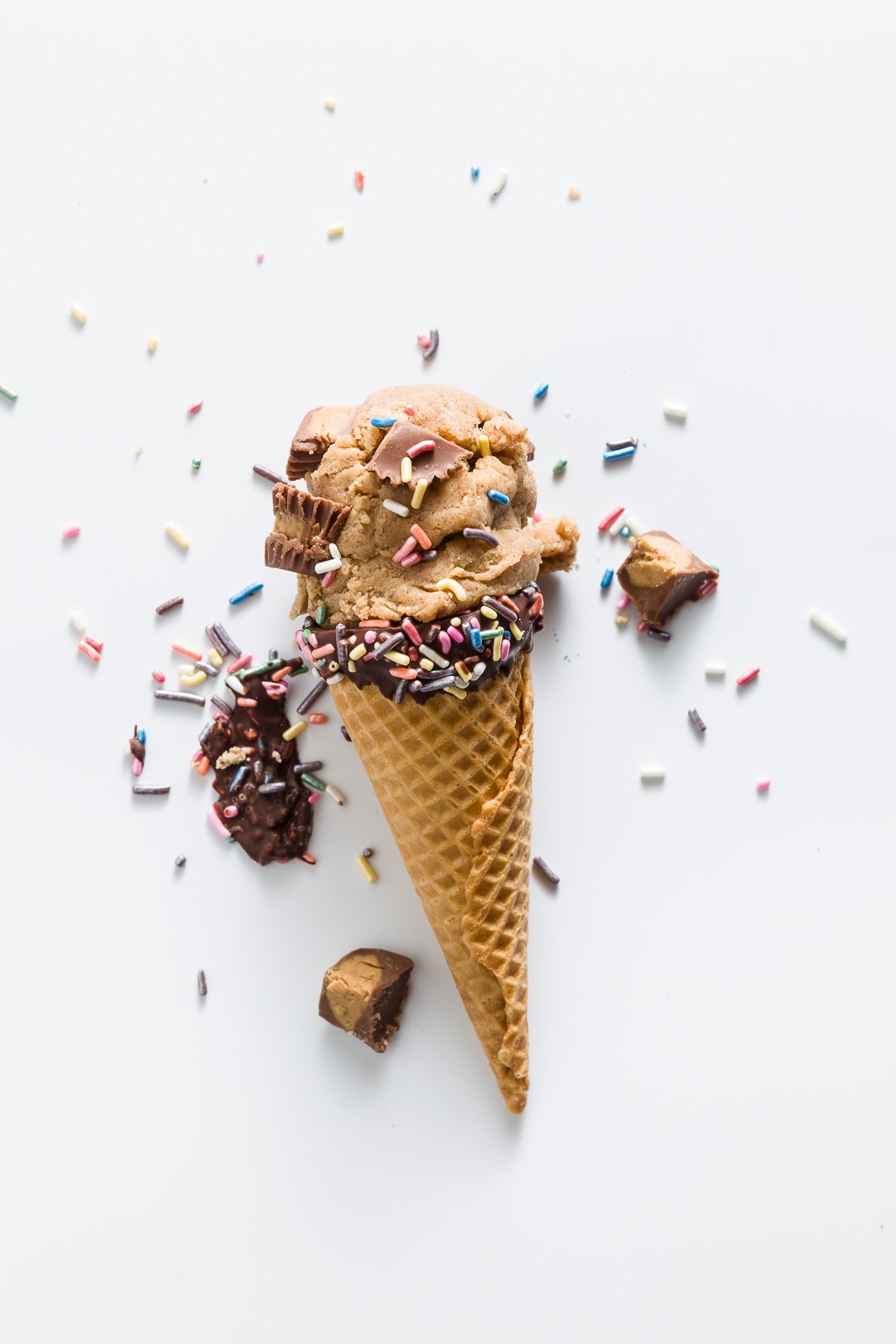 Peanut Butter Cookie Dough That's Safe to Eat
Safe peanut butter cookie dough that's meant to be eaten raw, not baked.
Servings
20
About 2 cups of peanut butter cookie dough
Ingredients
3/4

cup

all-purpose flour

1/16

teaspoon

a pinch of salt

1/4

cup

unsalted butter

room temperature

1/2

cup

peanut butter

chunky or smooth will both work, so pick your favorite kind

1/4

cup

granulated sugar

1/4

cup

brown sugar

1 1/2

teaspoons

whole milk

add more if you prefer a more wet dough

1

teaspoon

vanilla extract

Any amount of any mix-in you'd like
Instructions
Heat flour in the microwave in 15 second intervals, stirring after each interval, until a thermometer placed into the center of the flour reads 160 F.

Mix everything in a big mixing bowl.

Eat!
Notes
Remember: this is a recipe for raw cookie dough. If you bake the peanut butter cookie dough, it won't turn into perfect peanut butter cookies; it does not contain baking powder, baking soda, or eggs. The peanut butter cookie dough is meant to be eaten straight from the bowl - just like you would anyway, but without the guilt.
Of course, calorie count cannot include what you decide to mix in.
Nutrition
Calories:
96
kcal
|
Carbohydrates:
10
g
|
Protein:
2
g
|
Fat:
5
g
|
Saturated Fat:
2
g
|
Cholesterol:
6
mg
|
Sodium:
38
mg
|
Potassium:
50
mg
|
Sugar:
5
g
|
Vitamin A:
70
IU
|
Calcium:
6
mg
|
Iron:
0.4
mg
Want More?
Now that you know how to make cookie dough, you might want to know how to turn cookie dough into frosting.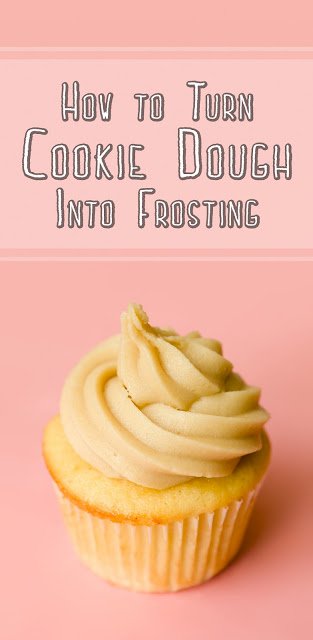 Or, how to make chocolate chip cookie dough!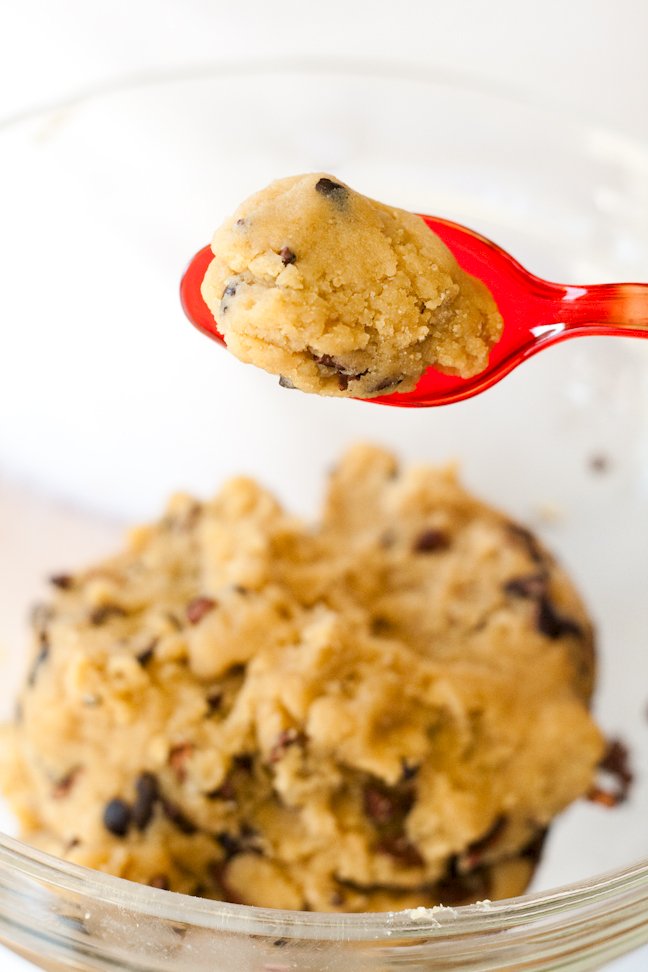 Or, how to make cookie dough cupcakes.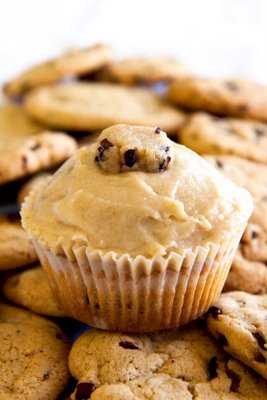 Credits
Thanks to Janice Willis for her idea to make peanut butter cookie dough. She left me a note on my Facebook page requesting a recipe. If there is ever something you'd like me to try, let me know. No promises, but I'll do my best to either make it or point you in the right direction to find a recipe.