Cookie Cupcakes
Published , Last updated by
Stef
Disclosure: As an Amazon Associate, I earn from qualifying purchases.
These cupcakes are actually chocolate chip cookies baked in cupcake tins. I love topping them with cookie dough frosting to make them extra special!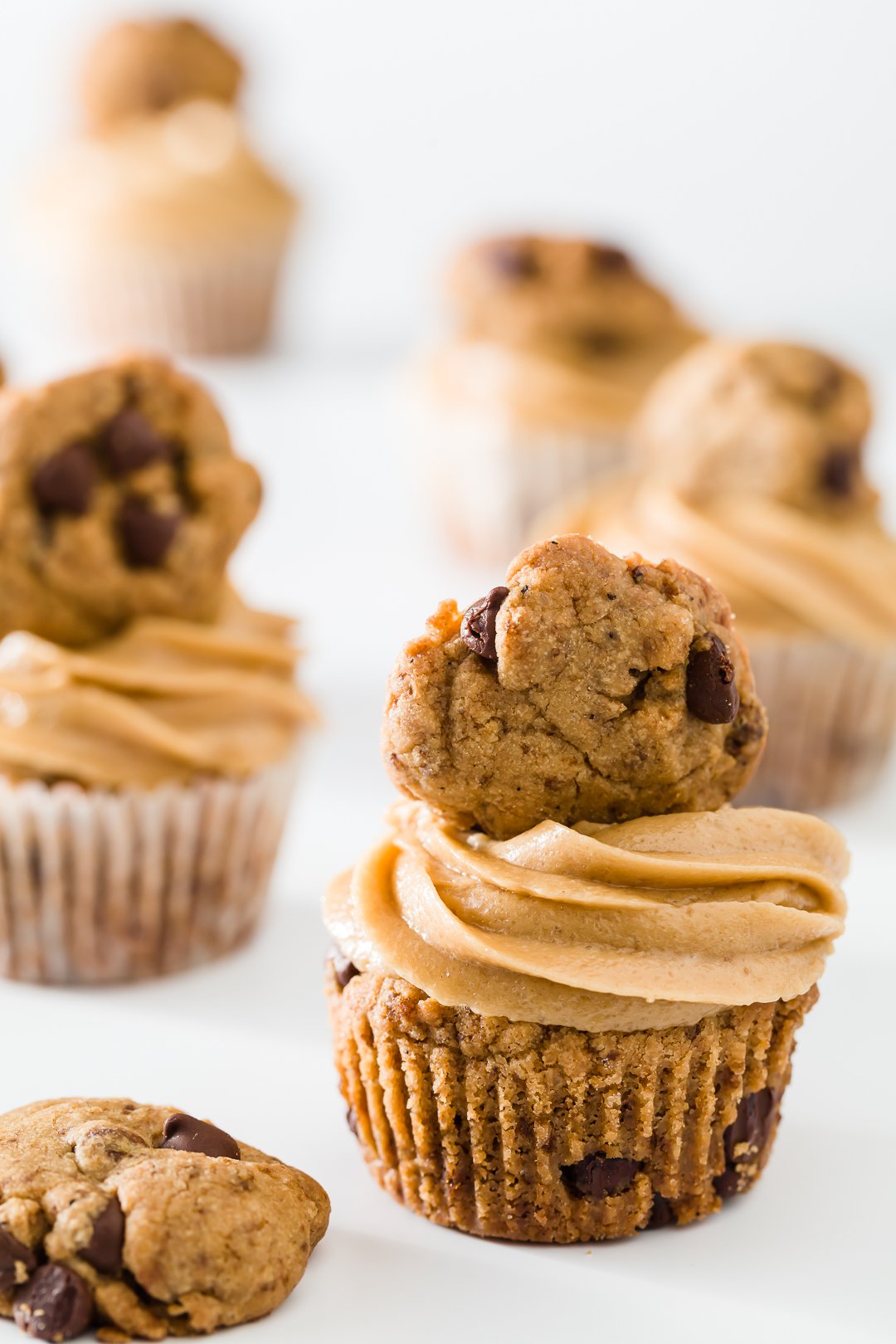 This recipe is super easy to make, and it works with most cookie dough recipes.
Ingredients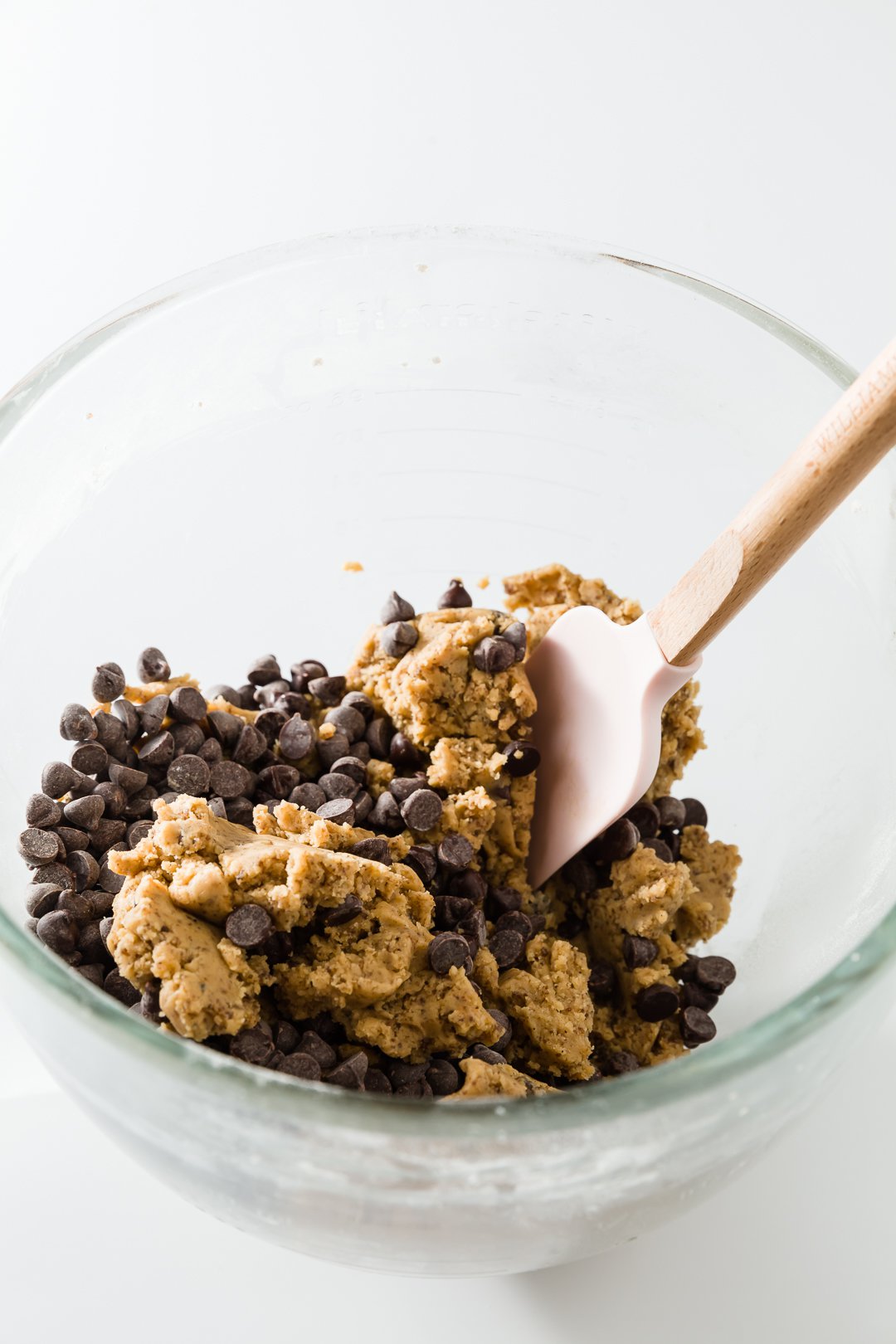 Chocolate chip cookie dough – You'll need about 2 cups of cookie dough to make six cupcakes. I highly recommend that you use my brown butter chocolate chip cookie recipe below, but almost any cookie dough you like should work. (See the FAQ section below for more information about which recipes work best.)
Safe to eat cookie dough – If you plan to make the cookie dough frosting, you'll want safe to eat cookie dough. You can buy tubs of it at the store or make your own. It has heat-treated flour and no eggs (or only pasteurized eggs) so you won't get e. coli or salmonella. Important:

If you plan to pipe the frosting, don't add chocolate chips to the cookie dough

– they will get stuck in the piping tip.
Milk – You'll need to thin out the safe to eat cookie dough so that it can be piped as frosting. The amount of milk you'll need varies based on the recipe you choose, but I used 1/2 cup in mine.
How It's Made
Fill your liners almost all of the way to the top since the cupcakes won't rise much during the bake.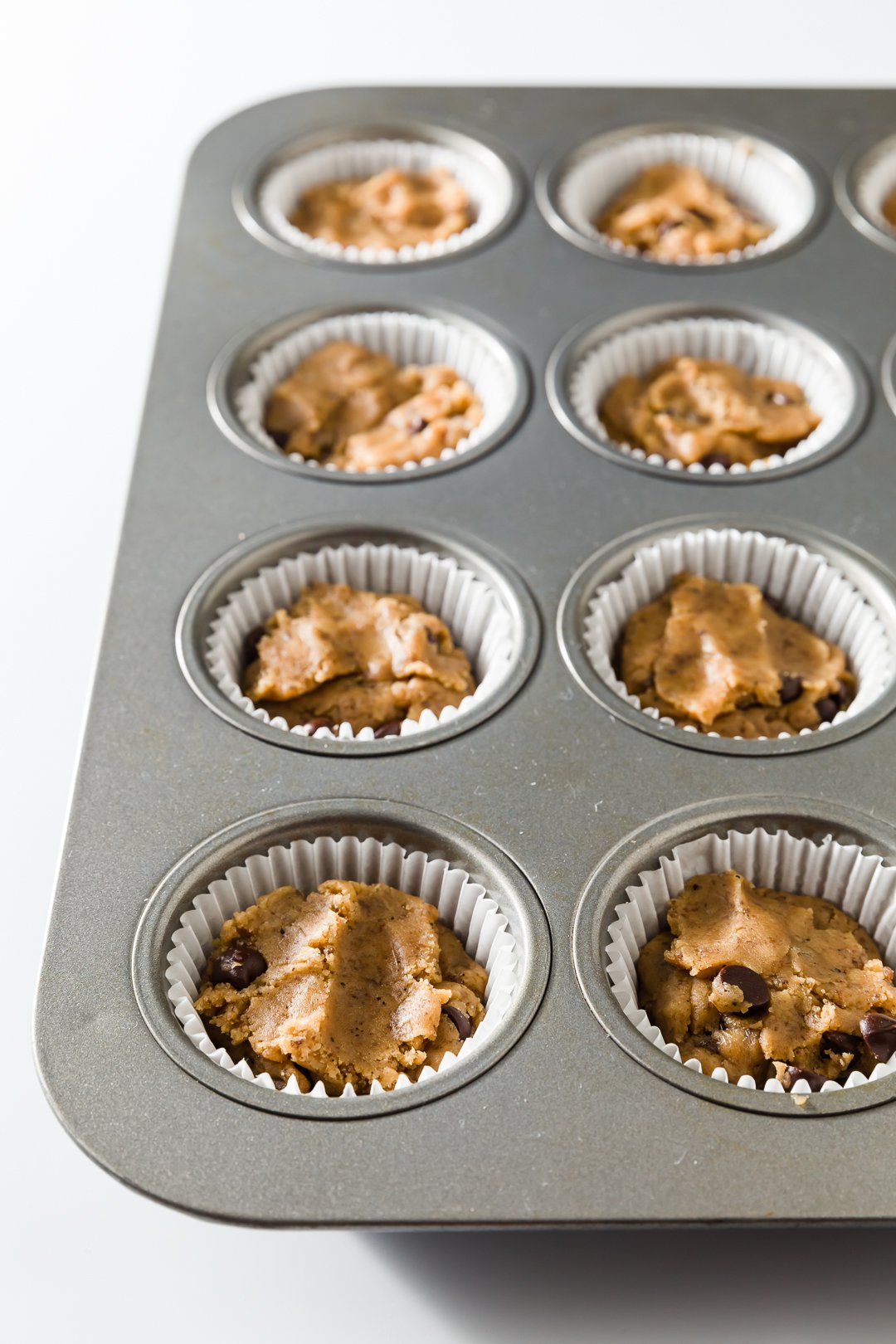 These will take much longer to bake than cookies since they are so thick. Start checking for doneness at about 20 minutes – some recipes may take up to thirty minutes.
You'll know they are done when a toothpick inserted into the center of a cupcake comes out dry. You can under-bake them on purpose if you like your cookies softer.
You can eat them right away if you want, or you can leave them on the counter to cool and frost.
If you opt to cool them, you can pipe on cookie dough frosting! The frosting is simply edible cookie dough without chocolate chips.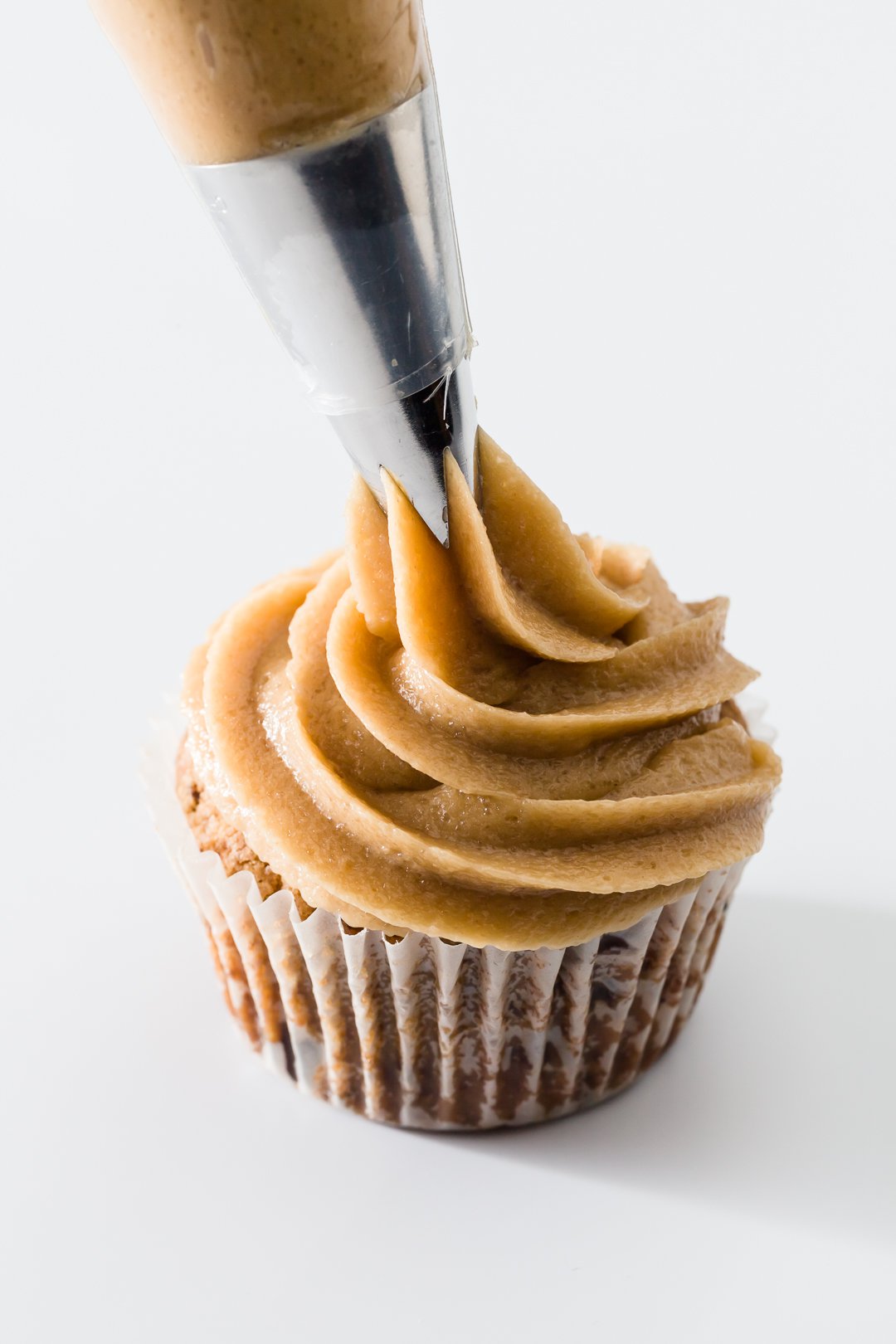 Decorate with a small cookie!
Expert Tips and FAQs
How much cookie dough will I need?
You'll use about 1/4 cup of dough per cupcake. For 12 cupcakes, you'll want 3 cups of cookie dough.
Can I make these as mini cupcakes?
Yes! You might want to do this if a big cookie with cookie dough frosting sounds too rich to you or if you like a larger ratio of frosting to cupcake. Start checking for doneness at around 15 minutes for minis.
Do they taste like cookies?
They taste more like cookie cake or cookie bars.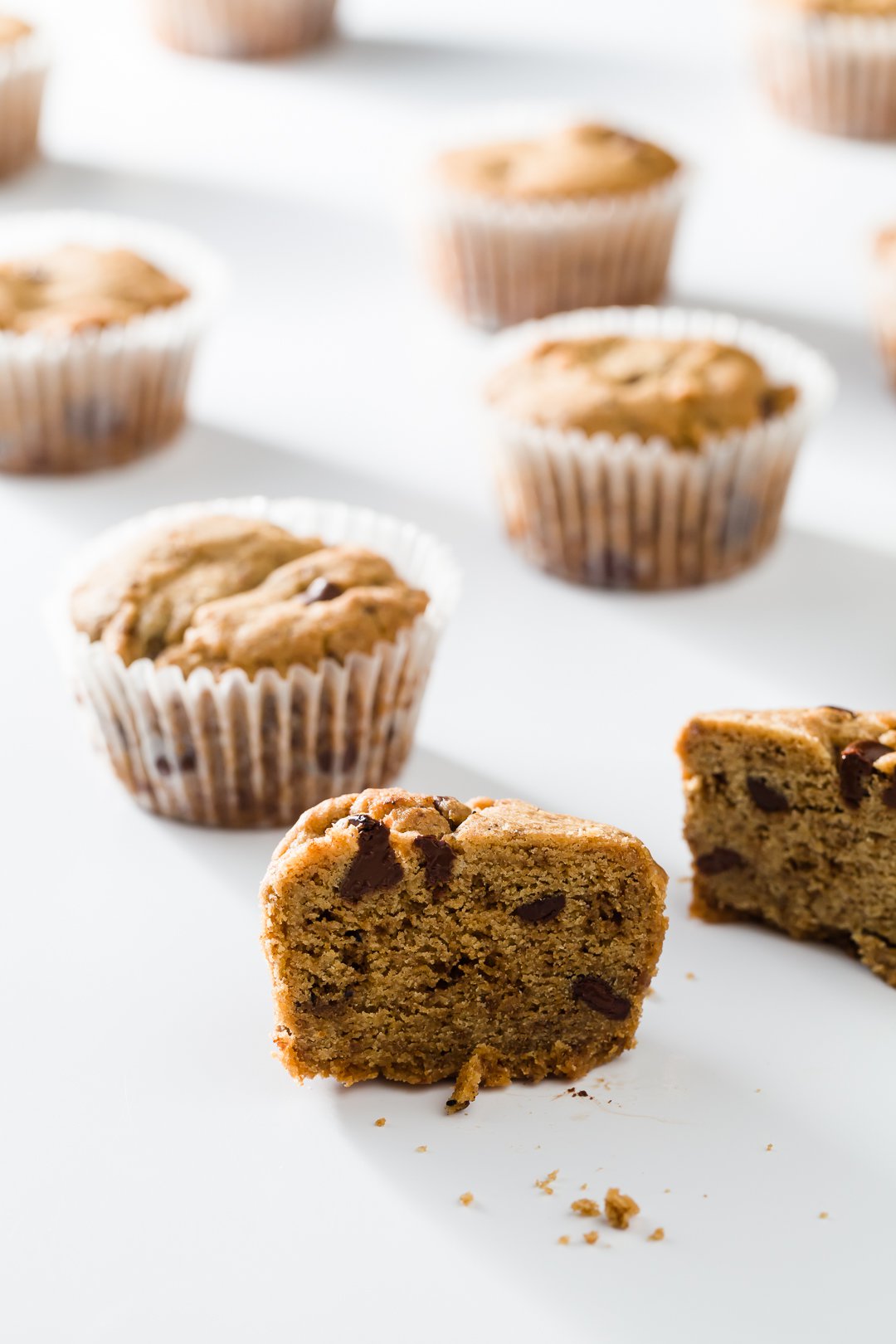 Why did my cupcakes sink?
Sinking can be a result of under-baking or using a recipe that was designed to yield a really soft cookie, such as the Doubletree recipe.
What can I do if the cookie dough is too thick to pipe as frosting?
Make sure it's at room temperature so it's softer. If it still won't pipe, thoroughly mix in more milk a little bit at a time until it can be piped.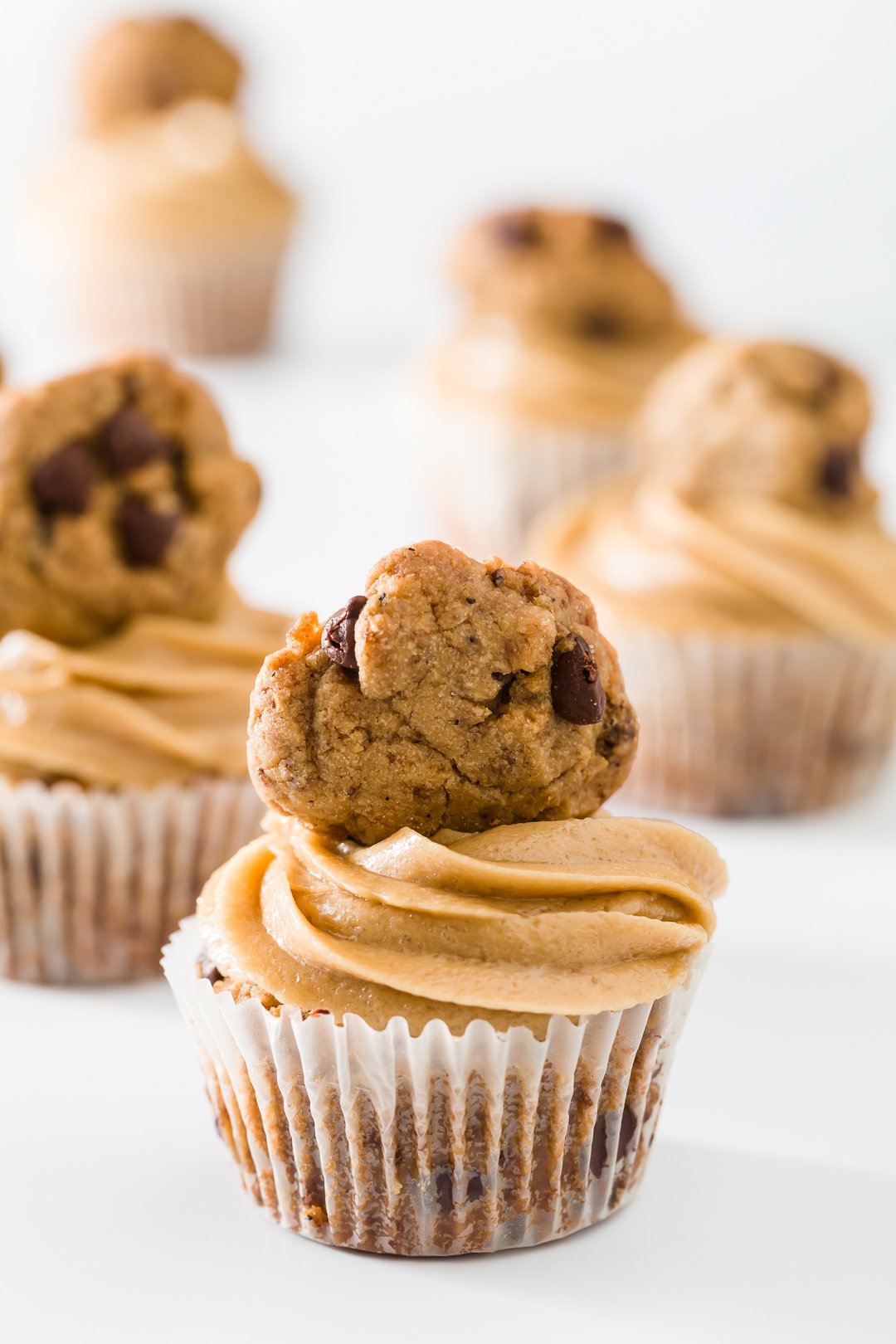 Related Recipes
Cookie Cupcakes
Bake cookie dough in muffin tins and you have cookie cupcakes! Top them with cookie dough frosting to make them extra special! 
Ingredients
Cupcake and Cookie Ingredients:
1

cup

unsalted butter

1

cup

light brown sugar

packed

1/2

cup

granulated sugar

2

large eggs

room temperature

1

teaspoon

vanilla extract

2 1/2

cups

all-purpose flour

1/2

teaspoon

baking soda

1/2

teaspoon

salt

3/4

cup

semi-sweet chocolate chips
Cookie Dough Frosting Ingredients
2

cups

all-purpose flour

1/2

teaspoon

salt

3/4

cup

unsalted butter

melted

1

cup

brown sugar

packed

1/2

cup

granulated sugar

1

tablespoon

vanilla extract

1/2

cup

milk
Instructions
Cupcake and Cookie Instructions:
Preheat oven to 350 F.

Melt butter over medium heat in a small skillet or heavy-bottomed pot.

Continue to heat the butter, stirring periodically, until it turns brown (10-15 minutes).

The butter will first boil with big bubbles (it's not done then). Then, the bubbles will get smaller. Turn up the heat slightly and monitor closely until the butter looks more brown (that's when it's done).

Remove butter from heat and cool to room temperature.

In a medium-sized mixing bowl, mix cooled brown butter, brown sugar, and granulated sugar until just combined.

Mix in the eggs.

Mix in the vanilla, flour, baking soda, and salt until just combined.

Fold in the chocolate chips.

Fill cupcake liners in a cupcake tin almost to the top with cookie dough.

Bake cupcakes for 25 minutes or until tops just begin to get dark brown. Cool in cupcake tins.
Cookie Dough Frosting Instructions
Heat flour in the microwave in 15 second intervals, stirring after each interval, until a thermometer placed into the center of the flour reads 160 F/70 C.

Mix flour with the rest of the ingredients in a big bowl.

Let the frosting sit for a few minutes while the flour absorbs some of the melted butter.

Pipe or spread onto cooled cupcakes and top with a cookie.
Notes
You can use light or dark brown sugar in this recipe. Dark brown sugar will yield more of a molasses flavor.
If you want to bake these as mini cupcakes, the recipe will make 24. Bake them for 15 minutes and make 24 smaller cookies with the extra dough.
If you want cookies on top of the cupcakes, make 12 cupcakes as use the rest of the dough to make cookies. Those take 15 minutes to bake.
Nutrition
Calories:
697
kcal
|
Carbohydrates:
95
g
|
Protein:
7
g
|
Fat:
32
g
|
Saturated Fat:
19
g
|
Cholesterol:
100
mg
|
Sodium:
270
mg
|
Potassium:
194
mg
|
Fiber:
2
g
|
Sugar:
57
g
|
Vitamin A:
890
IU
|
Calcium:
68
mg
|
Iron:
3.3
mg
Stay Connected!
Join my mailing list - and receive a free eBook!