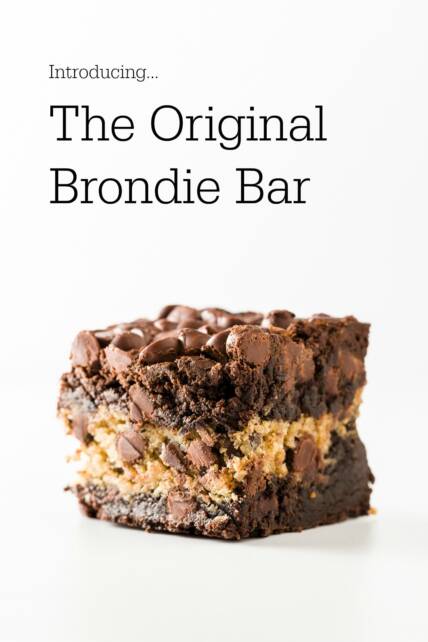 Get ready for chocolate overload! Brondie bars are here!
Brondie bars deserve a place alongside some of the world's best mashed up desserts like the cronut (croissant plus donut) and duffin (donut plus muffin). Brondies are a blondie plus brownie mashup made with a layer of brownie, a layer of blondie, and then another layer of brownie! Oh, and don't forget the extra chocolate chips on the top!
Brondie bars are for serious chocolate lovers only. They are wonderfully dense due to the sheer number of chocolate chips used in the recipe – 2 full pounds!  The inside remains soft and moist, though, just like you would expect from a blondie.
Brondies are wonderful warm and melty but just as good (and far less messy) at room temperature. I've been cutting off small slivers of brondies all week trying to fool myself into believing that I won't be having another ten small slivers.
You can experiment with making brondies using your favorite brownie and blondie recipes. However, I highly suggest that you choose a more dense brownie versus a cakey brownie. Combining two recipes works best if they have similar bake times and batter consistencies.
I make my brondies using my double chocolate brownie cookie recipe shown below (Those cookies are insanely good all on their own. Try them if you never have!) and the Nestle Toll House Blondie recipe (because it's easy and forever my favorite).
In the recipe below, I share how it all comes together!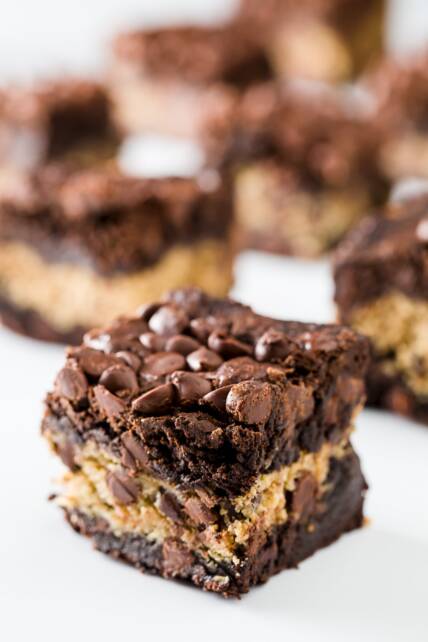 If you've tried this recipe, please RATE THE RECIPE and leave a comment below!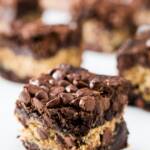 The Original Brondie Bars
Servings
9
" x 13" pan of brondies
Ingredients
Double the ingredients for my Double Chocolate Brownie Cookies as if you were making two batches

use semi-sweet chocolate chips instead of chopped chocolate

Ingredients for Original Nestle Toll House Chocolate Chip Pan Cookie

I choose to leave out the nuts, but feel free to include them.

2

ounces

chocolate chips
Instructions
Evenly press half of the batter into a parchment-lined 9" x 13" baking pan. You should still have 4 ounces of chocolate chips set aside from that recipe. Hang tight. You will use them later.

Preheat oven to 375 F.

Top with the remaining brownie batter.

Sprinkle the 4 ounces of chocolate chips plus the extra 2 ounces of chocolate chips over the top of the brownie batter.

Bake for 30 minutes. Cover with foil and return to the oven.

Bake for another 20 minutes or until the brondies no longer jiggle in the center when you agitate the pan.

Cool to room temperature before cutting.
Special thanks to everyone who chimed in on my Instagram feed with naming suggestions for this dessert, and congrats to Emily Blaney (@emblaney) who was the first to suggest the winning name, the brondie!