Cacao Nib Cookie Recipe – Unique and Delicious
Disclosure: As an Amazon Associate, I earn from qualifying purchases.
Cacao nib cookies are to chocolate chip cookies as vanilla bean ice cream is to French vanilla ice cream – each has its place.
Some of you will question why I would bake a recipe that removes a sweet, melty chocolate chip and replace it with a hard, bitter, nut-like thing. I see your point.
You may be surprised to find that the bitter nibs are the perfect complement to a sweet cookie and allow you to truly enjoy the essence of the cacao in your cookie bites. While they are not a replacement for the chocolate chip cookie, cacao nib cookies are a nice change and will be treasured by chocolate lovers.
These cacao nib cookies were brought on by Fancy Food Show loot. I'm definitely going to make it back there in future years (though I tend to doubt that I'll be able to pull off my seven hours straight of noshing while carting around a baby).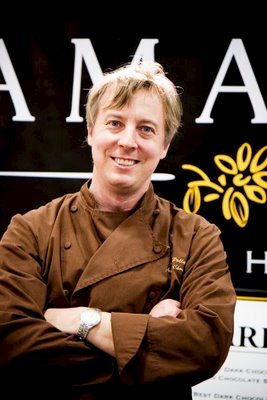 At the show, Jonathan and I stopped by to say hi to Art Pollard of Amano Artisan Chocolate. While I had interviewed him for my now basically defunct (or should I say on prolonged hiatus) blog, Food Interviews, I had never met him in person.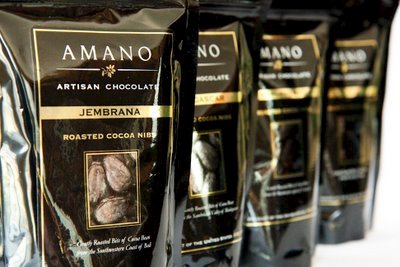 Art sent me away with four different kinds of cacao nibs to try. I think he meant to give me all five varieties, but accidentally gave me two bags of the Madagascar (as it turns out, that one was my favorite, so that was fine by me!).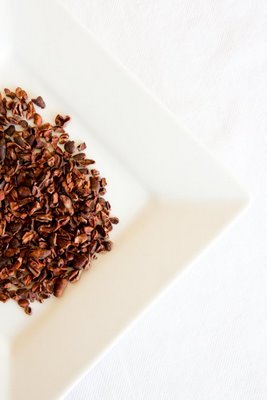 Eating the nibs in cookies, salads, or anywhere you would use nuts is a treat, but the best part of the nib experience is opening and smelling the contents of the bags. Taking a big whiff of each open bag makes you feel like you are right in the chocolate factory – and each bag smells different. There is no way you could smell these cacao nibs and leave saying, "chocolate is chocolate."
I baked some cookies with each of the four nib flavors that I had (Accra, Barlovento, Jembrana, and Madagascar), kept them separate, and had a taste-off. Of the four participants, two liked the Accra the best, one liked the Jembrana the best, and I liked the Madagascar the best. I guess you will just have to try them and see what your favorite is!
The Cacao Nib Cookie Recipe
I got the recipe for the cacao nib cookies straight from Allrecipes. They were labeled "Best Big, Fat, Chewy Chocolate Chip Cookies." They were not big, fat, or chewy (could it be that the nibs affected the cookie texture?). These cookies were best right out of the oven when they were chewy, soft, and warm. After cooling, they became hard and crispy. But, if you put a cookie on a paper towel in the microwave for 15 seconds, it's back to its fresh from the oven perfection.
Because these cookies required the trip to the microwave, I wouldn't call this the ideal recipe, but if you don't mind the 15 second wait, these cookies are tops!
If you have a favorite chocolate chip cookie recipe, simply replace the chocolate chips with nibs and enjoy!
Here is my reprinting of the recipe from Allrecipes, with my slight change from chips to nibs:
Cacao Nib Cookies
While they are not a replacement for the chocolate chip cookie, cacao nib cookies are a nice change and will be treasured by chocolate lovers.

Ingredients
2

C

all-purpose flour

1/2

t

baking soda

1/2

t

salt

3/4

C

unsalted butter

melted

1

C

packed brown sugar

1/2

C

white sugar

1

T

vanilla extract

1

large egg

1

large egg yolk

2

C

cacao nibs

or more, to taste
Instructions
Preheat the oven to 325 F (165 C). Grease cookie sheets or line them with parchment paper.

Sift together the flour, baking soda and salt; set aside.

In a medium bowl, cream together the melted butter, brown sugar, and white sugar until well blended.

Beat in the vanilla, egg, and egg yolk until light and creamy.

Mix in the sifted ingredients until just blended.

Stir in the cacao nibs by hand using a wooden spoon.

Drop cookie dough 1/4 cup at a time onto the prepared cookie sheets. Cookies should be about 3 inches apart.

Bake for 15 to 17 minutes in the preheated oven, or until the edges are lightly toasted.

Cool on baking sheets for a few minutes before transferring to wire racks to cool completely.
Nutrition
Calories:
201
kcal
|
Carbohydrates:
22
g
|
Protein:
2
g
|
Fat:
11
g
|
Saturated Fat:
7
g
|
Cholesterol:
30
mg
|
Sodium:
81
mg
|
Potassium:
27
mg
|
Fiber:
1
g
|
Sugar:
13
g
|
Vitamin A:
200
IU
|
Calcium:
13
mg
|
Iron:
0.6
mg
Food History Facts
I thought about entering these cookies into Sugar High Friday's event – The Test of Time. In order to do so, the dish had to be over one hundred years old or a reinvention of a dish that was one hundred years old. "Surely, chocolate chip cookies were invented over one hundred years ago," I thought.
Not so.
Ruth Wakefield invented chocolate chip cookies in 1930 at the Toll House inn she and her husband Keneth ran near Whitman, Massachusetts. Like a bed and breakfast she made food for her guests. One evening in 1937 she got the idea to make a chocolate butter cookie so she broke up one of the bars of semi-sweet chocolate that Andrew Nestle gave her. She thought that it would mix together with the dough & make all chocolate cookies . Needless to say, it didn't. However the cookies came out decent so she served them. They of course were so good they had to be done again. She published the recipes in several newspapers and the recipe became very popular.
Even then, the cookies were still called chocolate crunch cookies. Apparently, pre-chocolate chip, Nestle tried including small choppers with their bars of chocolate so that people could more easily make the cookies. I wonder if the choppers at all resembled the chocolate chopper [paid link] I have that is one of my favorite kitchen gadgets.
Before you believe the entirety of the story on Kitchen Project, be sure to also read the Wikipedia page on chocolate chip cookies which stirs up a bit of controversy and is one of those sad big company screwing the little gal stories.