Update: These pickle and ice cream cupcakes were featured in People magazine and on FOX 2 news!!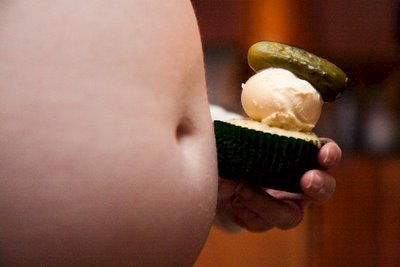 Yes, that's me! While you might think my belly is just big from eating so many cupcakes, that is not the case! I'm having a baby! To answer the questions that I've been asked a million times:
Yes, we are going to find out the sex – that will be in March.
No, we don't care either way, as long as it's healthy.
I'm due on Aug. 8.
No, I haven't had morning sickness. However, my stomach does feel weird most of the time and I have a constant request in to Jonathan to press on my stomach – hard.
Yes, I have cleared with my OB that this will not hurt the baby.
No, I have not had any weird food cravings.
Despite my lack of cravings, I simply couldn't announce my pregnancy here on Cupcake Project without making pickle and ice cream cupcakes. I like pickles and I like ice cream, but I fully expected these cupcakes to taste NASTY!
Did the Pregnant Lady (Me) Like The Pickle and Ice Cream Cupcakes?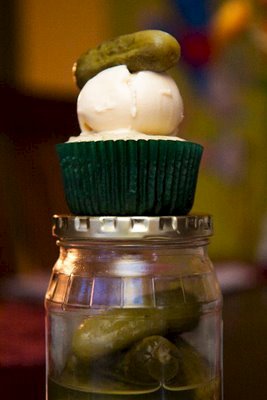 Shockingly, I really liked the pickle and ice cream cupcakes. The cupcakes themselves tasted like a pickle in cake form. The prominent flavor was definitely dill and they were somewhat eggy like a dill quiche – not very sweet. If you like dill and you like pickles or you have a pregnant woman in your life who has a good sense of humor, you might consider making these cupcakes.
But, my favorite part of eating these cupcakes was actually dipping the pickle in the ice cream and sucking it off. I couldn't believe that I liked that combination of flavors. Weird! Do pregnant women like pickles and ice cream because they are phallic? Do I realize that my grandma reads this?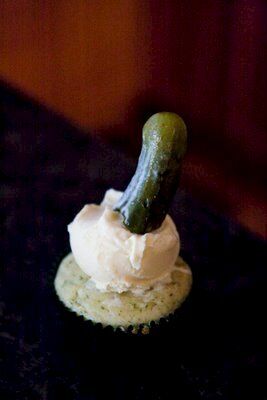 Pickle Cupcake Recipe
If you've tried this recipe, please RATE THE RECIPE and leave a comment below!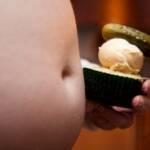 Pickle and Ice Cream Cupcakes
Ingredients
1

C

flour

3/4

t

baking powder

1/4

t

baking soda

1/2

t

ground dill

1/2

t

salt

1/4

t

onion powder

6

T

butter

room temperature

1/3

C

sugar

1

egg

1/3

C

sour cream

1/3

C

dill pickle juice

the liquid from the pickle jar

1/3

C

finely chopped dill pickles
Instructions
Whisk flour, baking soda, baking powder, dill, salt, and onion powder in a medium-sized bowl.

Beat butter and sugar in a large bowl until light and fluffy.

Beat in eggs and sour cream until blended.

Alternately fold in flour mixture and pickle juice, beginning and ending with the flour.

Fold in the chopped pickles.

Fill cupcake liners 3/4 full.

Bake at 350 F for about 25 minutes or until a toothpick comes out of the cupcake clean.
Recipe Notes
The Ice Cream
I topped the cupcake with vanilla ice cream. Can anyone think of a flavor that would go better with pickle? The topic had never come up for me before and I figured vanilla would be a safe bet.