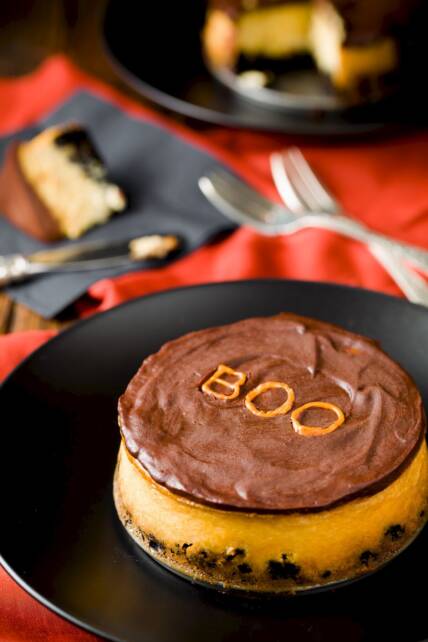 I'm more than a little obsessed with this orange cheesecake recipe!  The orange flavor in the cheesecake pairs perfectly with the Oreo crust and the dark chocolate ganache topping.  Plus, the texture is just the way that I like cheesecake – not too heavy and not super light and fluffy.
I also adore the size of these cheesecakes.  Each one is just 4.4″ in diameter.  One mini cheesecake is the perfect size for my family to dig into after a meal.  And, because we've just cut into one of the four mini cheesecakes, we can pop the others into the freezer and break them out when we want a special treat or need something to bring with us to a small dinner gathering.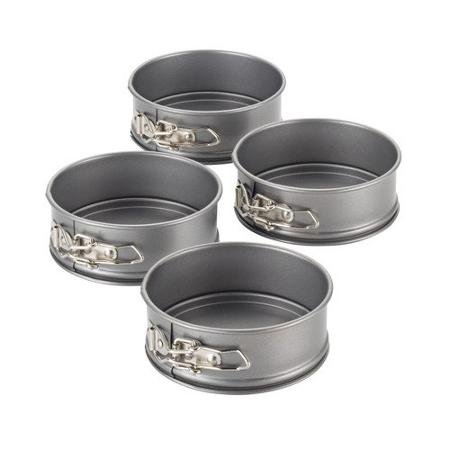 I baked these orange cheesecakes using Cake Boss Baking's 4.4″ diameter spingform pans.  Cake Boss has sponsored this post and I'm honored to be working with them again.
I also used the Cake Boss Letter and Number Fondant Impression Set on these cheesecakes.  The Impression Set helps make uniform and evenly spaced lettering on cakes easier.  Writing on cakes (or, let's be honest, handwriting in general) has never been a strong suit of mine, so I'm all for this tool!  Although it is meant for fondant, it worked nicely on my cooled ganache to write the word "BOO".  Here's Buddy himself demoing the Impression Set:
Pretty neat, eh?
Get the Chocolate Glazed Orange Cheesecake Recipe
The full recipe for my chocolate glazed orange cheesecake is located on Cake Boss Baking's site.  Have a look!