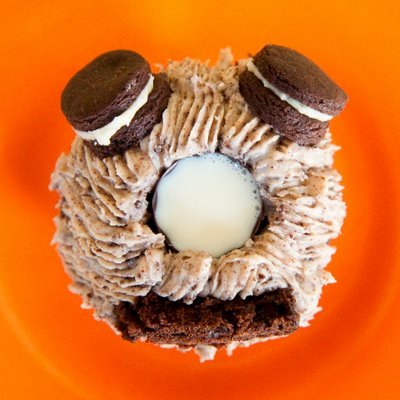 Oreo cupcake + Oreo cream cheese frosting + mini homemade Oreo cookies + chocolate liqueur cup filled with milk = fun + yum!
Oreo Cupcake Shout-Out
Before I detail how to make the Oreo cupcake and also present some key tips on how to eat it without getting milk everywhere, I have to give a major shout-out to Kendall from Res-o-puh-leese. I get reader questions all the time, and I'm always happy to help where I can. However, I LOVE answering questions that are really challenging – questions that I have never thought of before.
Kendall emailed me saying, "I'm co-hosting a St. Patrick's Day party next month, and I had the idea to make shot glass cupcakes–cupcakes hollowed out around a container holding some Bailey's." I was immediately enamored with the concept of a cupcake with a built-in cup. I decided to try it out with more of a kid theme – but wouldn't the Bailey's idea be fantastic?! Be sure to visit Res-o-puh-leese, Kendall clearly has some great ideas!
Now.. onto to the Oreo cupcake details…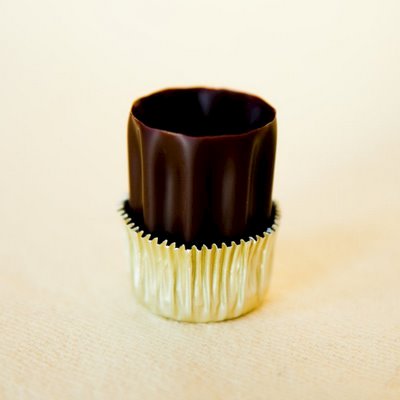 Aside from Oreos, Bissinger's liqueur cups were the key ingredient in these Oreo cupcakes. The cups are the perfect size to fit inside the cupcakes and they are able to hold the milk (which soon turns into chocolate milk) without it leaking into the cupcake.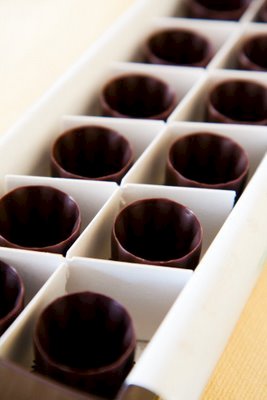 The liqueur cups come in a 12 pack and you can buy them at Sur La Table. (UPDATE: It looks like they are sold out. You could buy this similar product on Amazon.) Since I'm in St. Louis, we have Bissinger's shops all over and I was able to pick them up locally. You could, of course, make your own chocolate cups. I don't imagine it would be all that hard – just time intensive.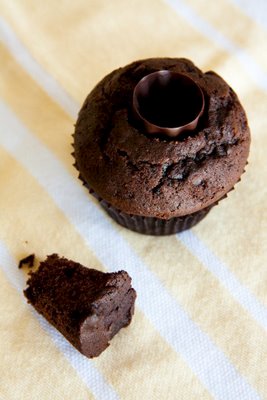 The Oreo cupcakes rose nice and high, which left tons of room to put the chocolate cup in the cupcake. If you are going to use this technique with a different kind of cupcake, make sure that the cupcake is tall and domed, not flat. Before putting the liqueur cup in the cupcake, make sure that the cupcake is COMPLETELY cooled. You do not want to melt the chocolate.
Use a small paring knife to cut a wedge out of the cupcake and then stick the cup in the void. I used some cake from the wedges to make the mouths on my cupcakes. The wedges are also perfect to simply snack on!
I found that the easiest way to fill the cup with milk was to use a small funnel. Don't fill the cups until right before you are ready to serve the cupcakes.

Just like there are many ways to eat an Oreo, there are many ways to eat an Oreo cupcake. However, there is one key guideline: Do not bite into the cup until you have drunk all the milk or you will end up with mess! I had twelve cupcakes with cups and only one taster ended up with a milky mess -Alan of Patric Chocolate. Alan claimed that it had nothing to do with him biting into the cup and everything to do with his cup having a crack. I'm still inclined to blame user error.
You can use up the milk by dunking Oreos in the cup as shown above. This works best if you have mini Oreos. I used my homemade Oreos. You could also just break up full-sized ones up into pieces.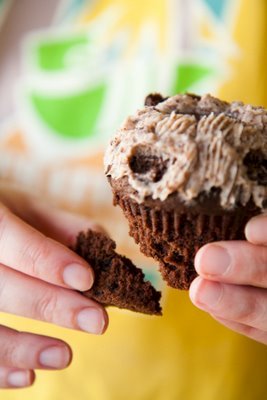 Another idea is to break of the bottom of the cupcake and dunk pieces of the cake in the milk. To get those last few sips, just hold the cupcake up to your face and drink! Don't worry if you get frosting on your face – just look in the mirror, smile, and then lick it off!
Oreo Cupcake Recipe
I got the Oreo cupcake recipe from Heaven is Chocolate, Cheese, and Carbs. It is a really good, basic chocolate cupcake with Oreo bits mixed in. You could use any chocolate or yellow cake cupcake recipe you like in place of this one and simply mix in Oreo bits. I converted the recipe (shown below) from its original metric to US customary units, and added my notes.
Oreo Cupcakes
The Oreo cupcakes rose nice and high, which left tons of room to put the chocolate cup in the cupcake. Before putting the liqueur cup in the cupcake, make sure that the cupcake is COMPLETELY cooled.
Ingredients
3/4

C

butter

room temperature

2 1/4

C

brown sugar

8

oz

dark chocolate

melted

3

large eggs

separated

2

t

vanilla extract

2

C

all-purpose flour

1

t

baking powder

1

t

baking soda

1 3/4

C

milk

8

Oreo cookies

smashed to bits
Instructions
Beat butter and sugar until light and fluffy.

Mix in egg yolks.

Mix in vanilla and chocolate.

In a separate bowl, mix the flour, baking soda, and baking powder.

Alternate adding the flour mixture and milk to the butter/sugar mixture.

Stir in Oreos.

In a separate bowl, whip egg whites until peaks form.

Fold the batter into the egg whites.

Fill cupcake liners almost to the top - remember that you want these to be tall.

Bake for 20-25 minutes at 350 F or until a toothpick comes out clean.
Notes
*Only 12 got the special cup treatment. The rest just got slathered with Oreo cream cheese frosting.
Nutrition
Nutrition Facts
Oreo Cupcakes
Amount Per Serving
Calories 349
Calories from Fat 135
% Daily Value*
Total Fat 15g 23%
Cholesterol 50mg 17%
Sodium 193mg 8%
Potassium 224mg 6%
Total Carbohydrates 48g 16%
Protein 4g 8%
* Percent Daily Values are based on a 2000 calorie diet.