Chiffon pie consists of a feather-light and fluffy filling nestled within a standard pastry or cookie crust. Here, contributor Jessica Touchette shares a recipe for a flavor-packed spiced orange chiffon pie.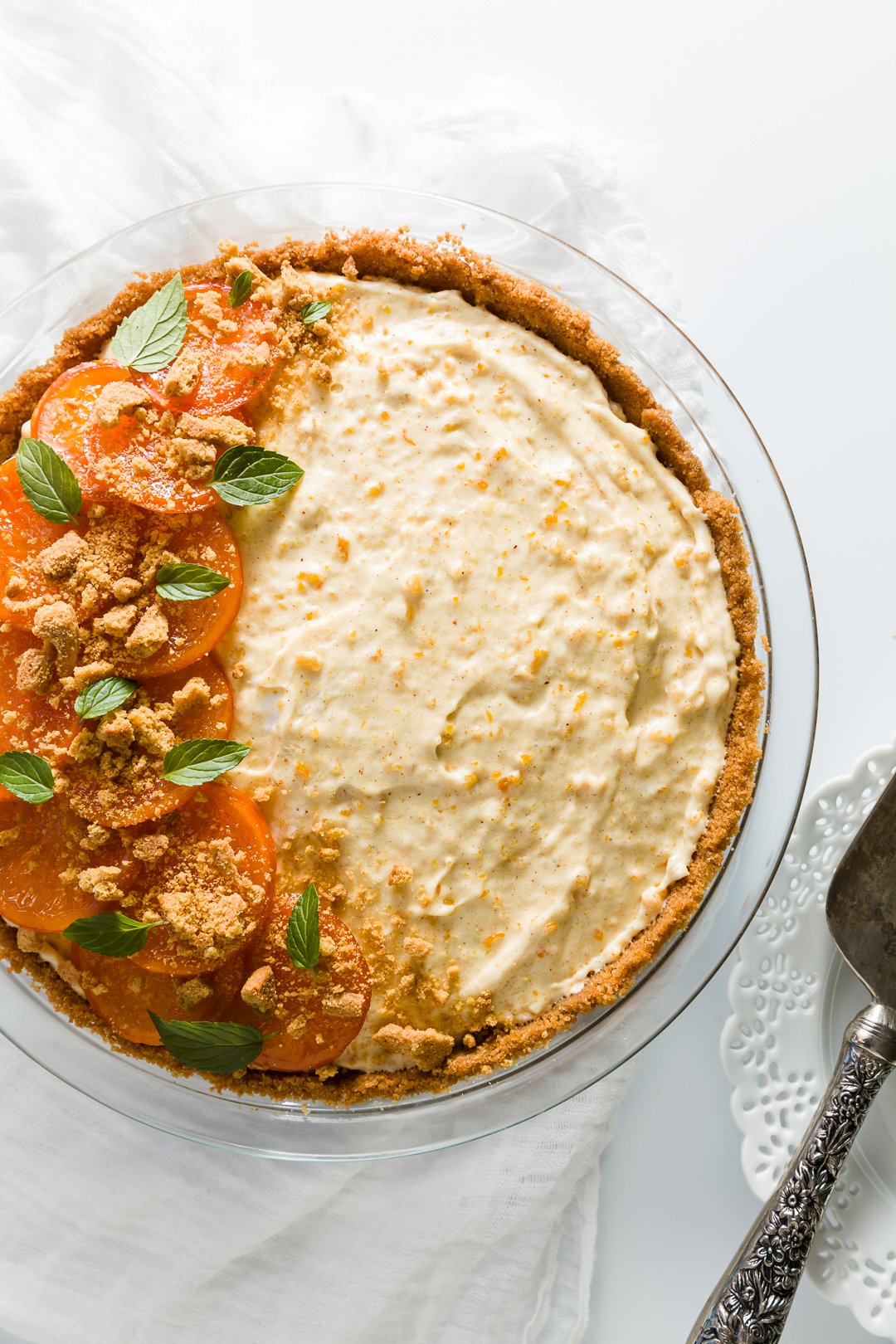 If you're looking to up your pie game this holiday season, chiffon is the way to go. The unbaked filling consists of a flavored egg yolk and gelatin base through which meringue or whipped cream is folded.
The meringue or cream lightens and supports the flavored mixture, turning what would otherwise be a thick custard into a light and silky confection.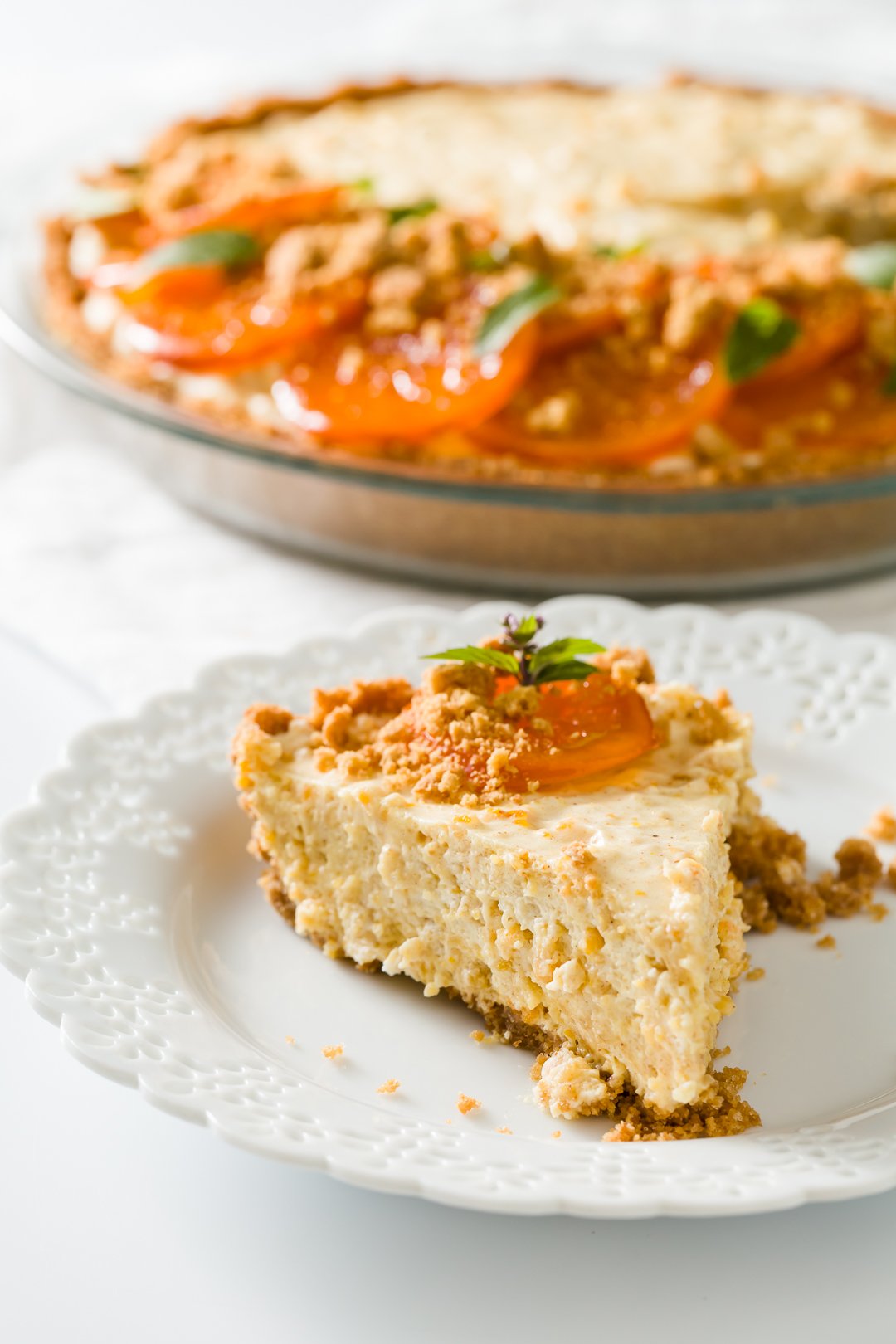 Nearly any pie flavor, from strawberry rhubarb to pumpkin, can be reinterpreted as chiffon.
History of Chiffon Pie
Chiffon pie was developed by Californian Monroe Boston Strause in the 1920s.
The teenaged Strause was working as a baker's apprentice when he set out to improve upon the popular, cornstarch-thickened cream pies that he found to be manifestly unappealing. According to a 1945 article written by Clementine Paddleford for the Los Angeles Times, he turned to an éclair's cream filling for inspiration.
The cream was made from sugar syrup beaten into stiff egg whites, which was then folded through a flavored cornstarch filling. Strause began to play around with using additional egg whites for lightness and dropping the cornstarch in favor of a tasteless, new-fangled setting agent: gelatin.
The result was what Paddleford called a "filling ethereal," which Strause's mother said looked "like a pile of chiffon."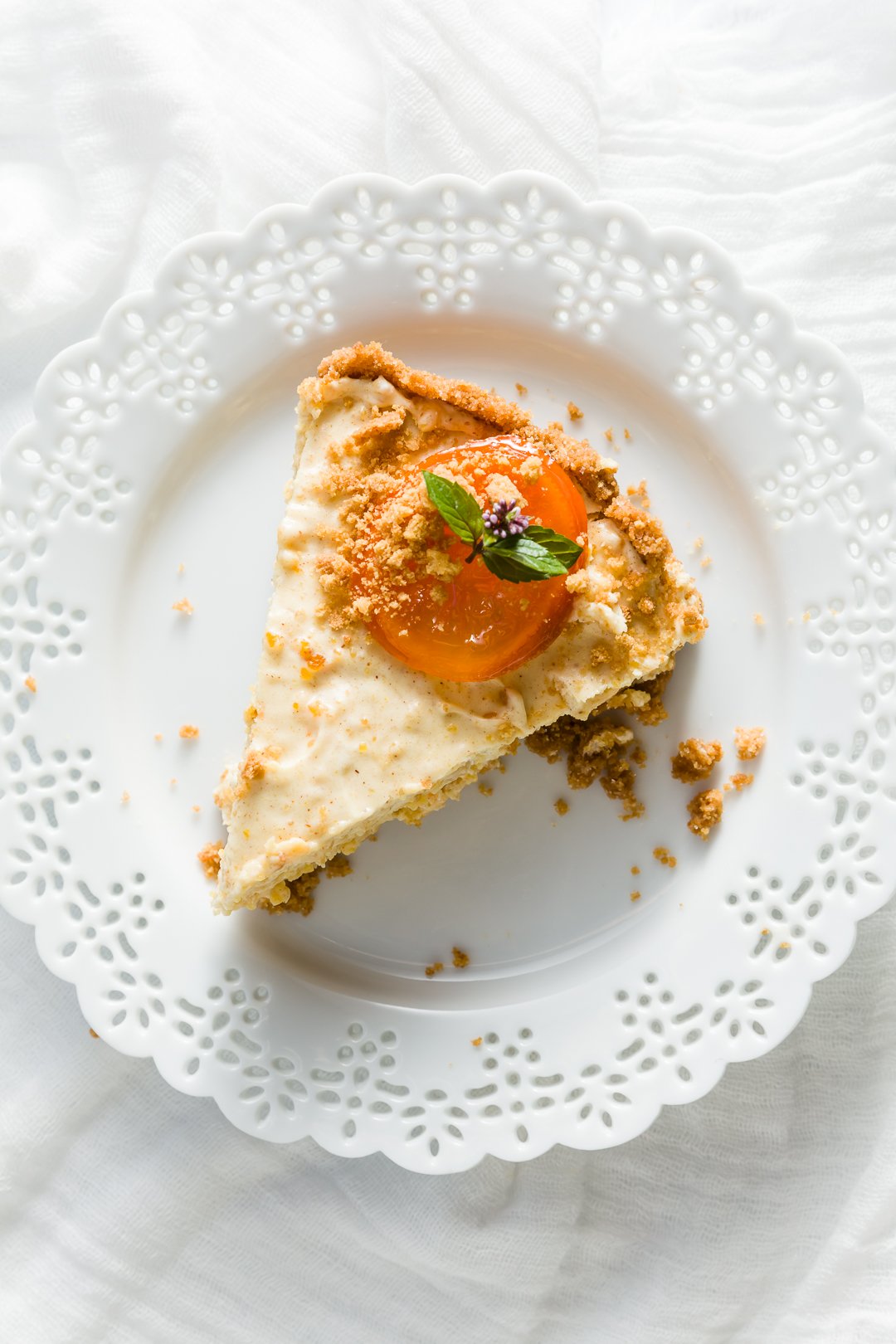 Strause's chiffon pie was not a revolutionary invention, for it grew out of the gelatin and soufflé pies featured in cookbooks of the early 1920s. Nevertheless, both Strause and his chiffon pie catapulted into fame.
Strause made a career out of pie baking, lauded at times as both a "pie engineer" (don't you wish that had been on your kindergarten radar?) and the "Pie King."
Recipes for chiffon pie began to crop up in cookbooks and women's periodicals as early as 1929 when a recipe for pumpkin chiffon debuted in the Beverly Hills Women's Club's Fashions in Food.
Despite sugar rationing, the pie managed to maintain its popularity throughout WWII. This is a feat widely credited to Irma Rombauer, who printed a recipe for lemon chiffon pie in the 1931 edition of her massively popular Joy of Cooking, and included a whole section on chiffon in subsequent editions.
Does Chiffon Pie Have Raw Eggs?
Chiffon pie experienced a brief dip in popularity in the 1980s when raw eggs were first associated with salmonella poisoning. However, bakers and food manufacturers soon found a way around this problem, substituting whipped cream for beaten egg whites in the pie's unbaked filling.
Today, chiffon pie might be made with meringue, cream, or a mix of the two.
I use cream in my pie.
To make your pie more authentic:
Use 1 cup of egg whites and 1/2 teaspoon of cream of tartar rather than the cream.
Whisk the egg whites until soft peaks form, then gradually beat in the sugar to get stiff peaks.
Which Pie Crust to Use for Chiffon Pie?
I used a gingersnap crust for this pie. However, any pie crust (short crust pastry, cookie, or graham cracker) will work, so you needn't feel wedded to the gingersnap crust.
Try it with the brown sugar crust that Stef uses on her Carrot Pie.
How to Decorate Spiced Orange Chiffon Pie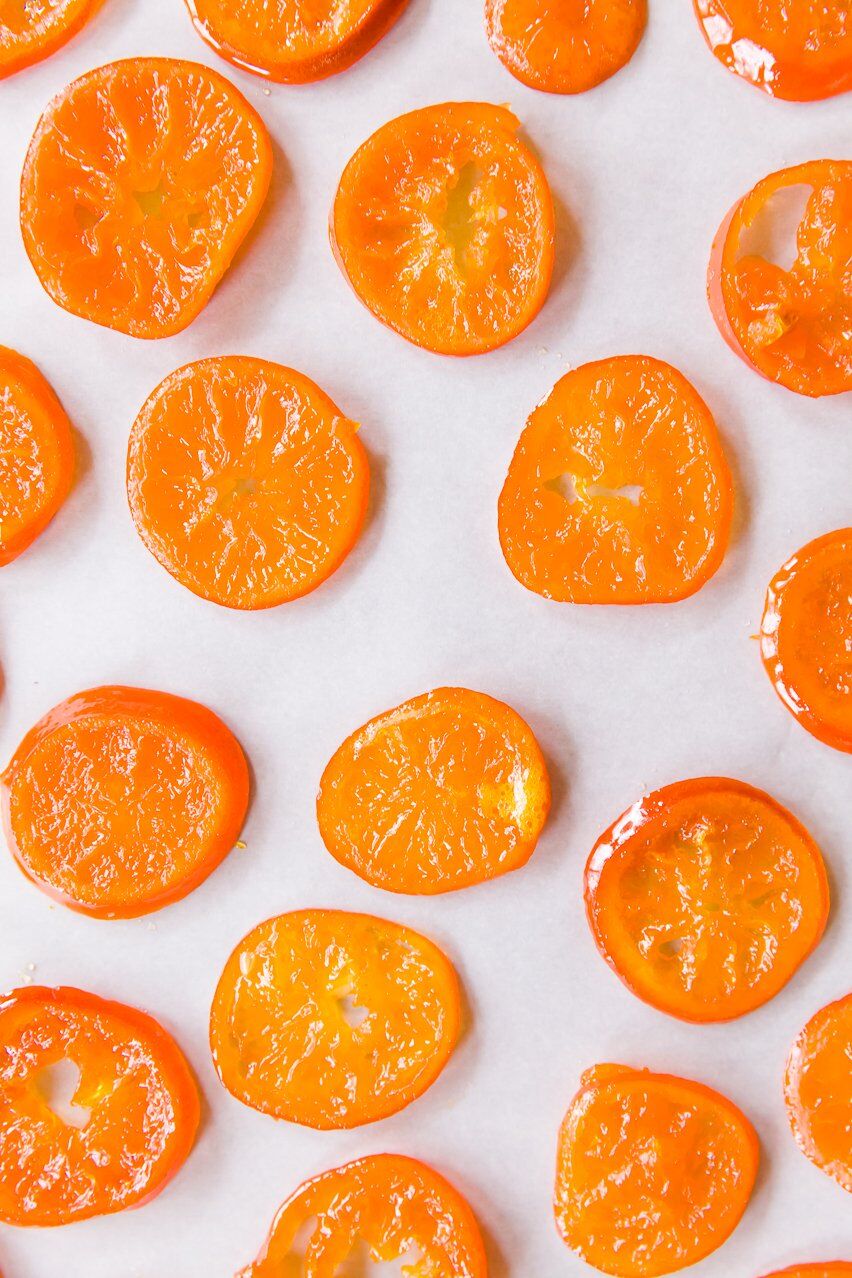 I decorated this pie with candied clementines, crushed gingersnaps, and fresh mint. You could also top it with whipped cream and call it a day.
Spiced Orange Chiffon Pie Recipe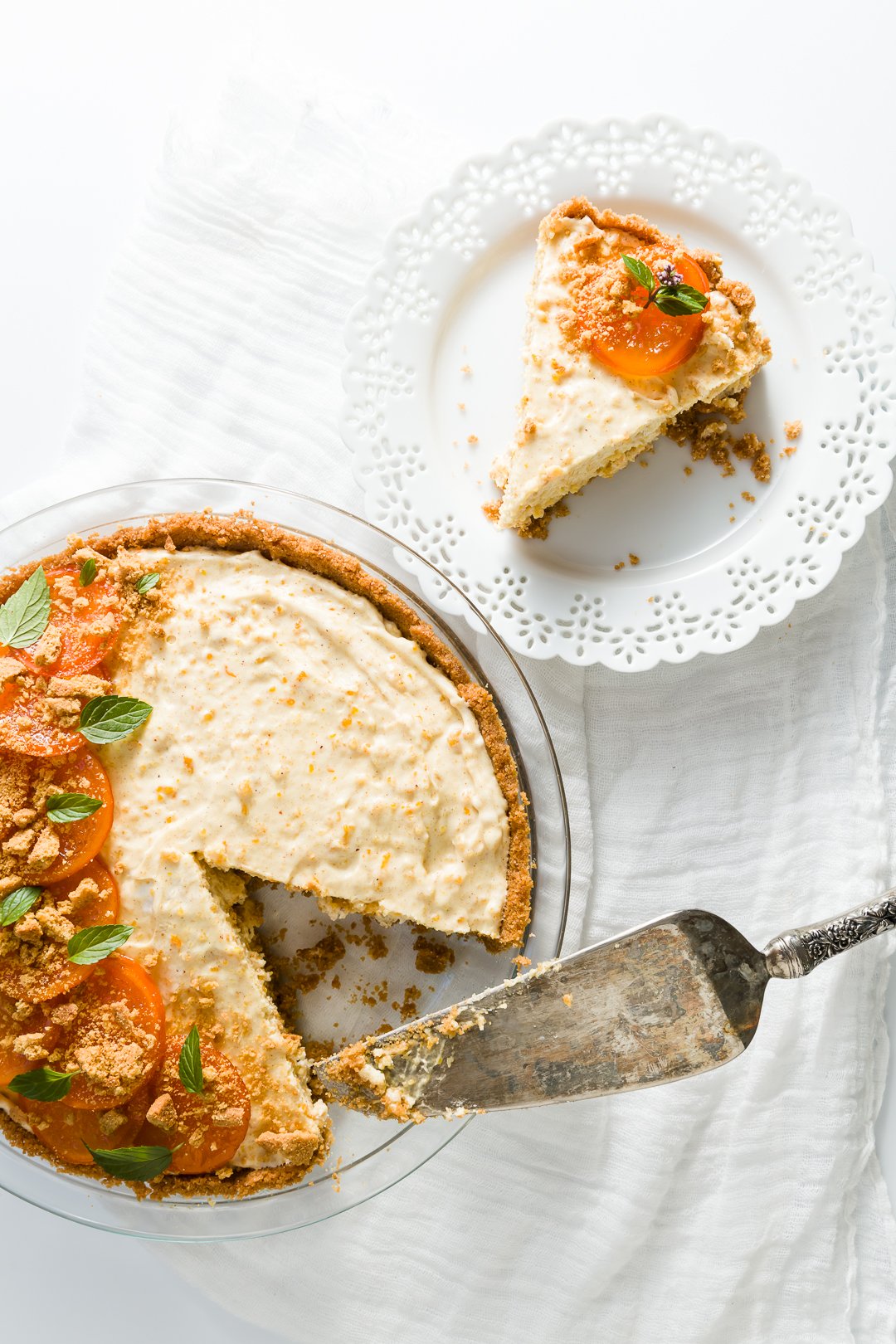 In developing a recipe for spiced orange chiffon, I combined a classic inspiration – a recipe from Joy of Cooking – with the modern method of subbing in whipped cream for egg whites. My pie is based on Irma Rombauer's "Lemon or Lime Chiffon Pie" from the 1981 edition of Joy of Cooking. I used orange rather than lemon or lime (an option Rombauer suggests), added some warming winter spices, and (because I have been brainwashed into thinking that raw eggs have murderous intent) used whipped cream in lieu of egg whites.
Spiced Orange Chiffon Pie
A flavor-packed spiced orange chiffon pie with a gingersnap crust
Ingredients
Gingersnap Crust Ingredients
2

cups

gingersnap cookies

broken into chunks

2

tablespoons

sugar

1/4

cup

unsalted butter

melted

1

teaspoon

ground ginger

optional
Pie Filling Ingredients
1/2

cup

sugar

1

cup

orange juice

4

egg yolks

1

packet gelatin

zest of one orange

1

teaspoon

vanilla extract

1/2

teaspoon

cinnamon

1/4

teaspoon

ground nutmeg

1/8

teaspoon

ground cloves

1

cup

heavy whipping cream

1/3

cup

sugar
Instructions
Gignersnap Crust Instructions
Preheat oven to 350 F.

Blend gingersnap cookies into a coarse crumb in a food processor.

Add sugar, melted butter, and ginger to the food processor, blending until mixture reaches the consistency of wet sand.

Press into the bottom and up the sides of a greased 9" pie pan.

Bake for 10 minutes. Cool completely before filling.
Pie Filling Instructions
Make a double boiler by setting a metal mixing bowl over a saucepan of water on medium-low heat.

In the bowl of the double boiler, combine 1/2 cup sugar, orange juice, egg yolks, and gelatin, stirring until thick.

Add orange zest, vanilla, and spices.

Chill mixture in the refrigerator until thick enough to form small mounds when dropped from a spoon. Start checking at around ten minutes and keep a close eye on it after. As you can imagine, it's next to impossible to fold an airy cream (or meringue) through a solid, gelatinous mixture and end up with a homogenous filling.

In a separate bowl, whisk 1 cup heavy whipping cream with remaining 1/3 cup sugar.

Fold cream lightly through orange mixture until just combined.

Pour pie filling into crust and allow to set fully in the refrigerator.
Decorating Instructions
To serve, decorate with candied clementines, crushed gingersnaps, and fresh mint.
Nutrition
Nutrition Facts
Spiced Orange Chiffon Pie
Amount Per Serving
Calories 273
Calories from Fat 126
% Daily Value*
Fat 14g22%
Cholesterol 102mg34%
Sodium 105mg4%
Potassium 127mg4%
Carbohydrates 33g11%
Protein 2g4%
Vitamin A 540IU11%
Vitamin C 10.5mg13%
Calcium 39mg4%
Iron 1.4mg8%
* Percent Daily Values are based on a 2000 calorie diet.
If you Like This Chiffon Pie, You Should Also Try…
You also might want to read about the differences between chiffon cake and angel food cake. While angel food cake is more popular, I happen to think chiffon is better!