Easy Strawberry Mousse Cake
Published , Last updated by
Stef
Disclosure: As an Amazon Associate, I earn from qualifying purchases.
This strawberry mousse cake has an intoxicating strawberry smell and a heavenly taste. This is a mousse cake recipe that you can finish with a mirror glaze, but it certainly doesn't demand one.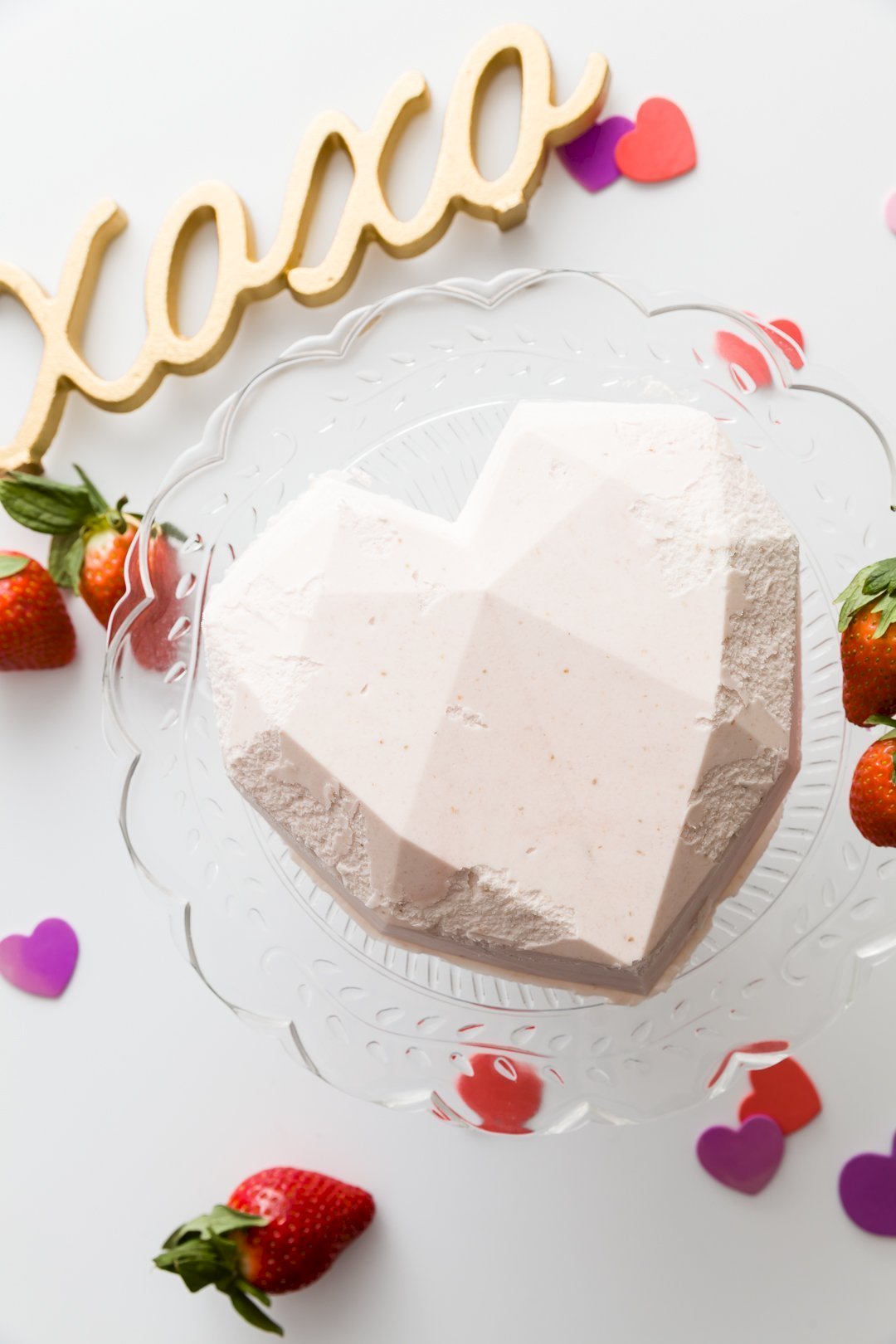 As with any layer cake, this strawberry mousse layer cake requires more work than a basic dump cake. But unlike most layer cakes, you'll assemble this one upside down inside of a cake pan. As a result, you don't need to worry about the cake being crooked or lopsided.
And, because the layers are all covered on the outside by the strawberry mousse filling, you can relax a little bit about getting them completely even.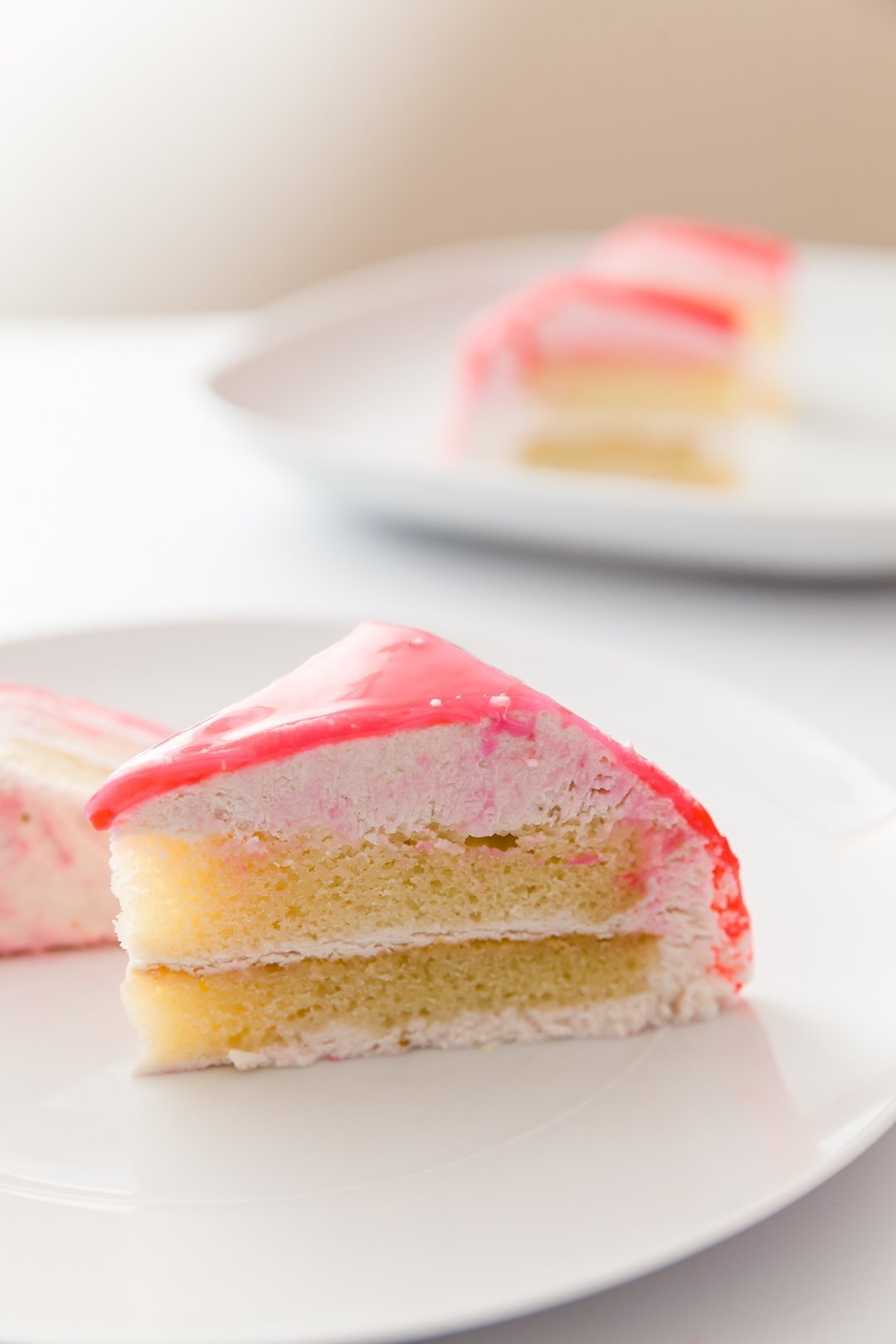 How to Make Mousse Cake
Here's the gist of how this mousse cake assembly works:
Bake a vanilla cake. I, of course, suggest that you use my ultimate vanilla cake. If you're a box mix person, there is no reason that won't work here. You can bake the cake in the same sized pan that you'll be using for the layer cake or something larger. It doesn't matter that much, as you'll be cutting it down afterwards.
Make the strawberry mouse.
Put a one inch layer of mousse at the bottom of the cake pan you plan to make the layer cake in. I strongly suggest using a silicone pan as it will make it easier to remove the cake when you are done. I used a heart shape pan [paid link].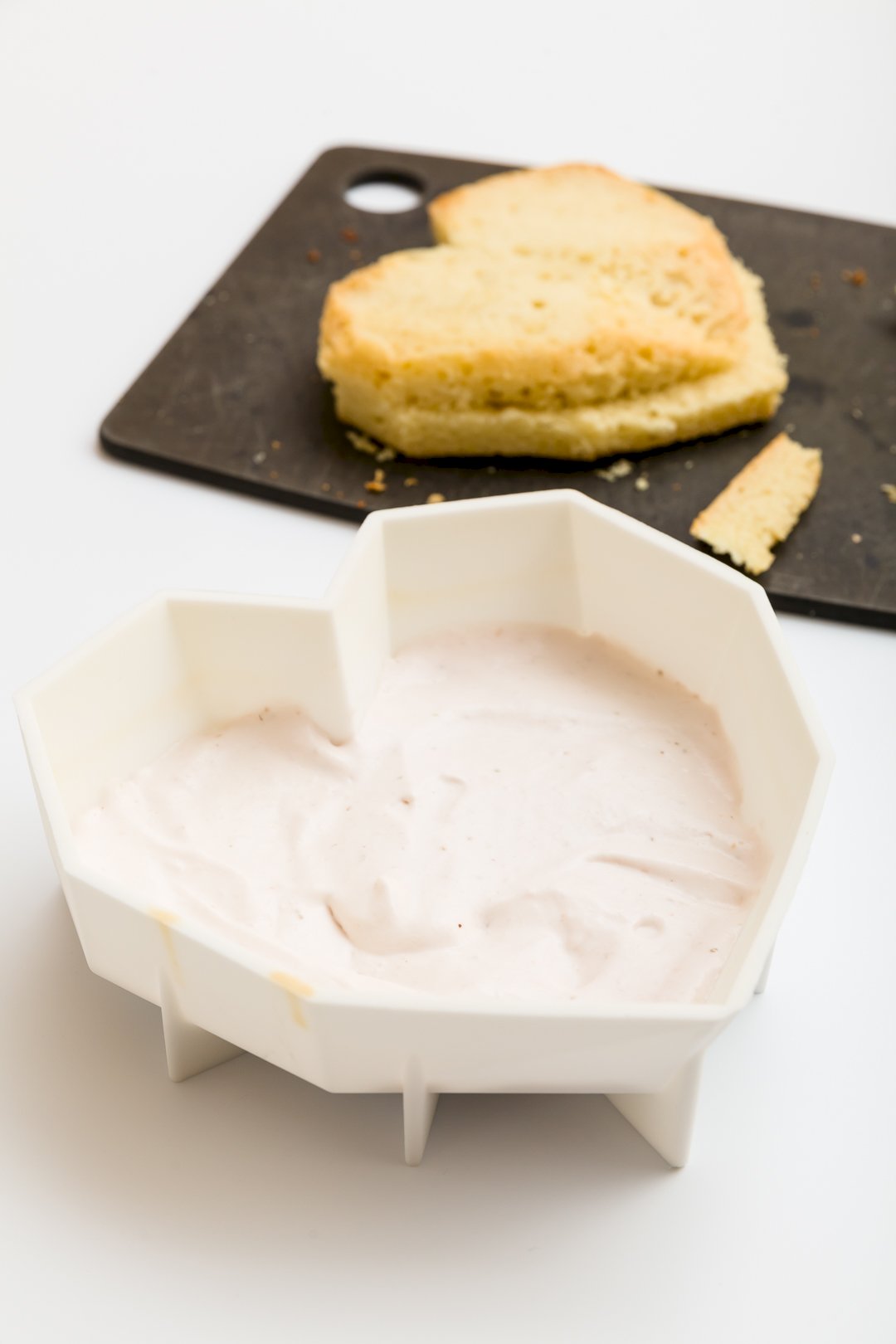 When the mousse layer is set (the freezer is easiest for this), cut your cooled cake to be the same shape but a slightly smaller circumference than the cake pan you are using.
Cut it horizontally into thin layers.
Add a layer of cake on top of the mouse.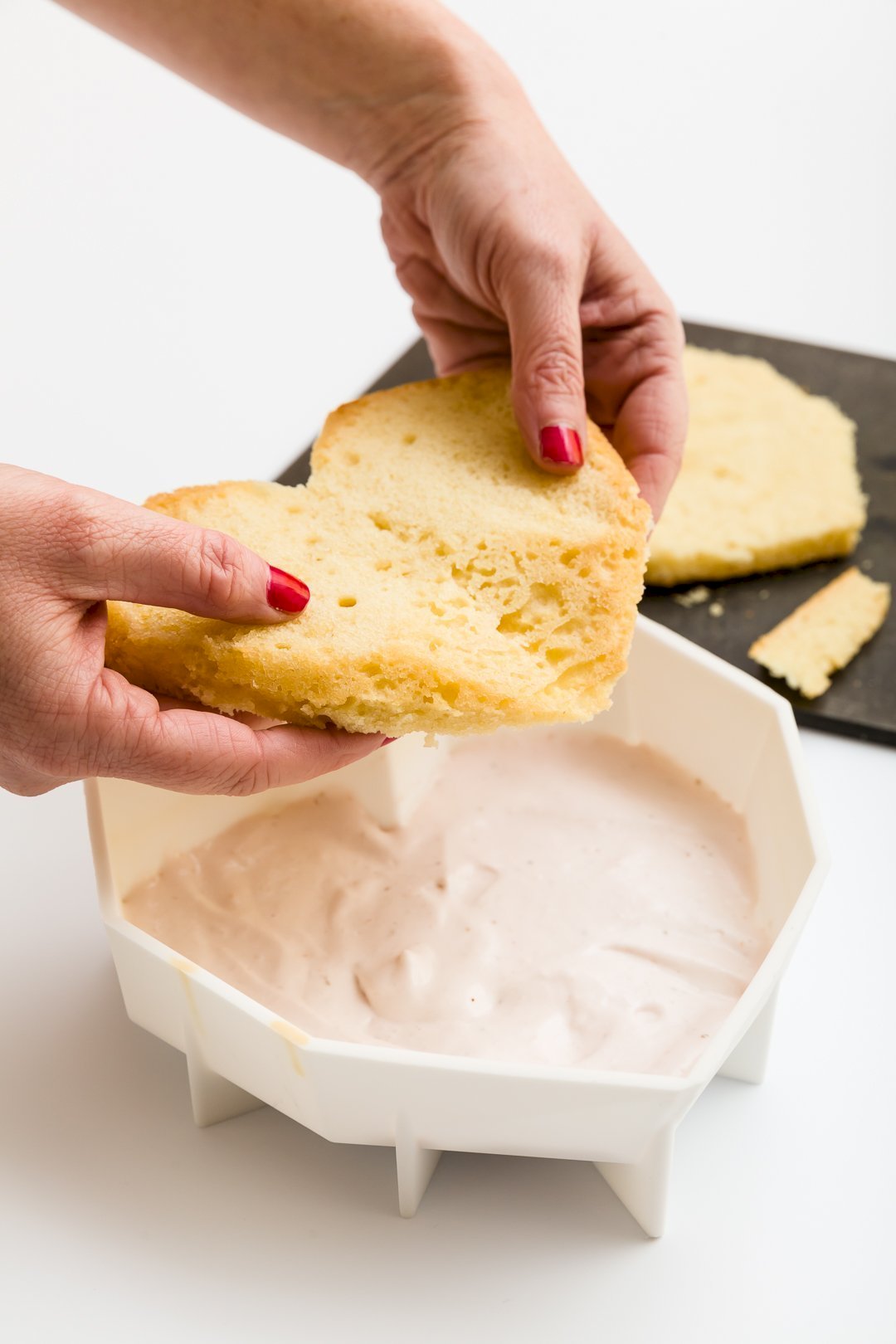 Add more strawberry mousse over top.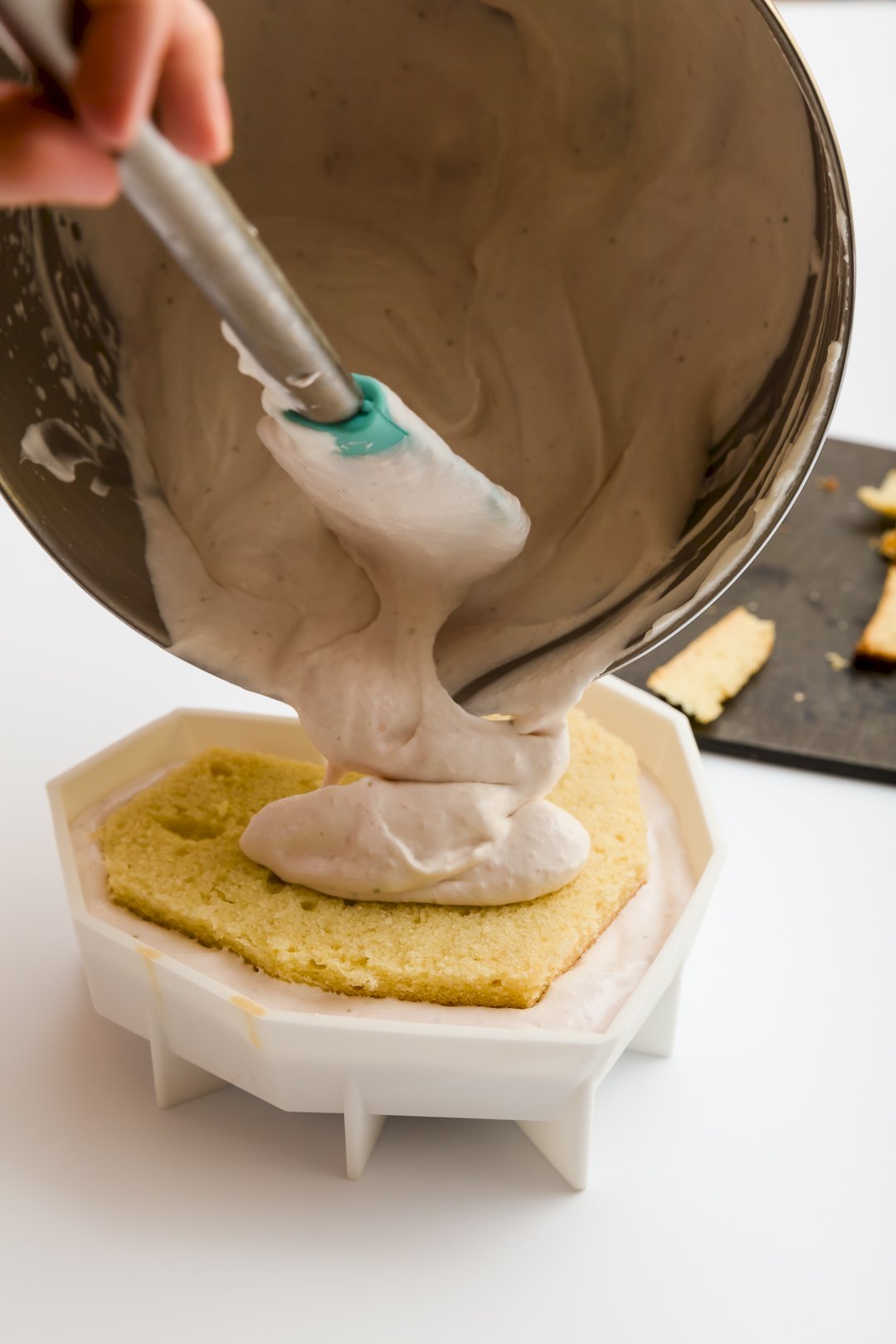 Top with another layer of cake.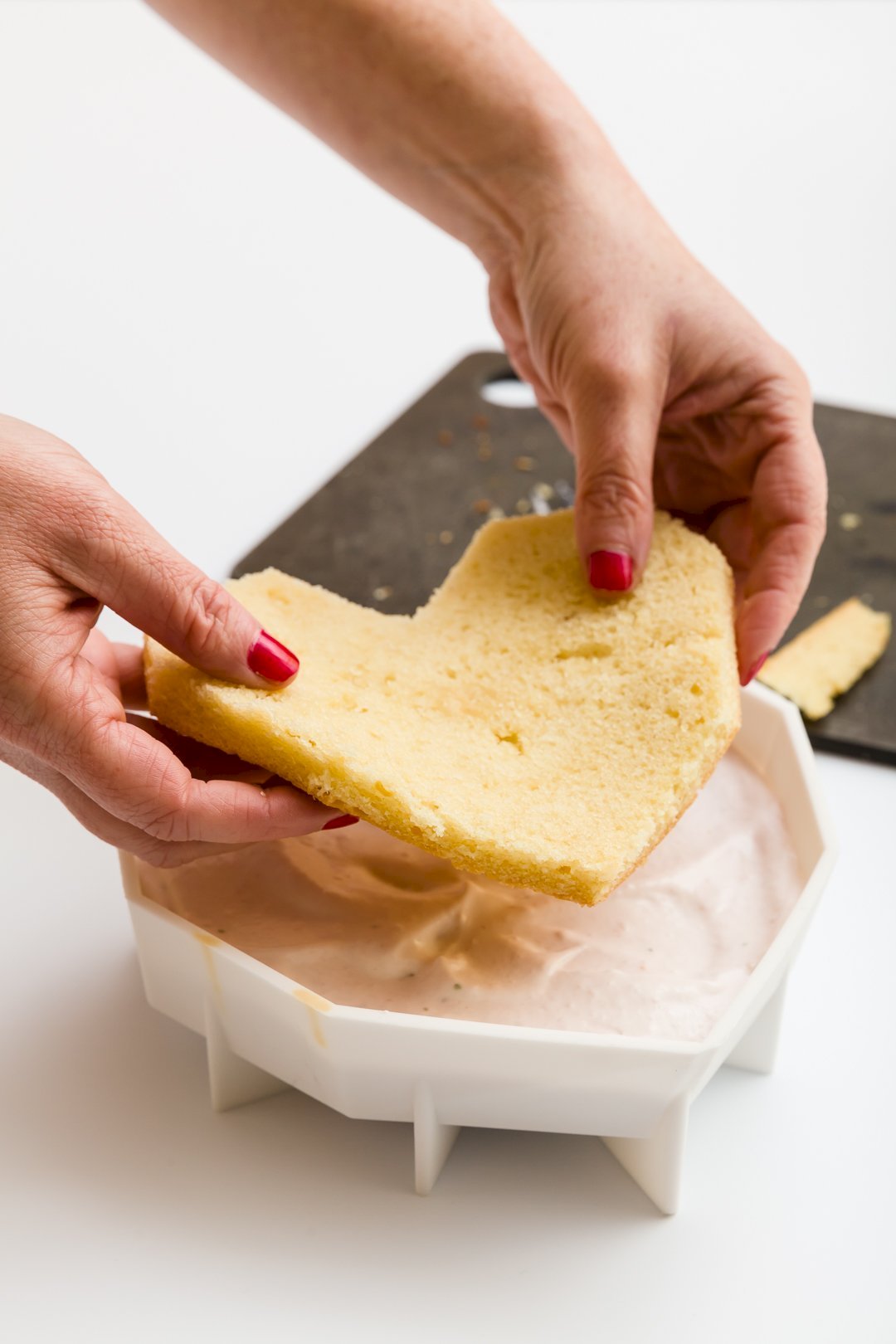 Fill the remainder of the pan with mouse and level with a bench scraper.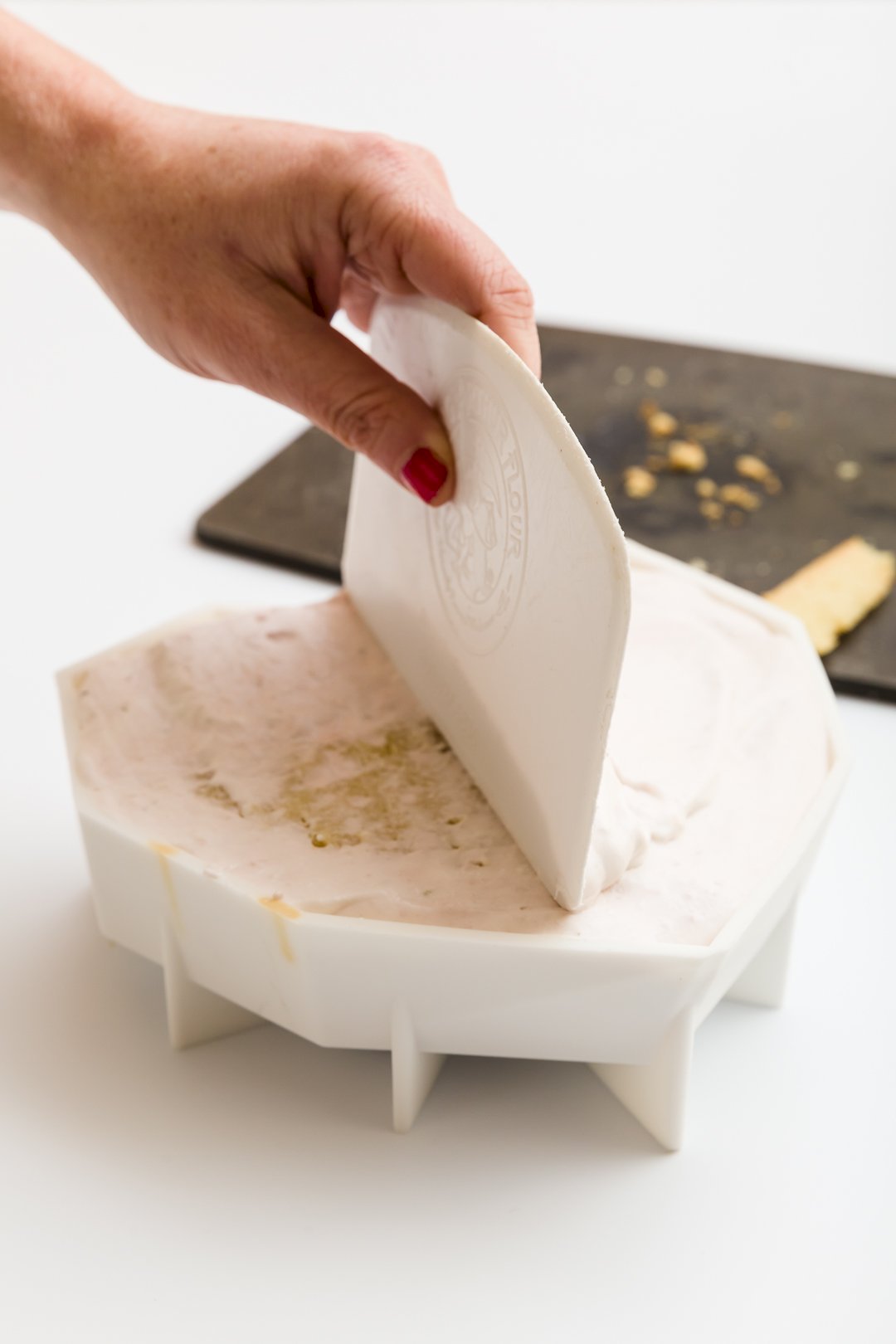 Freeze for at least three hours to let the cake set. Then, remove from the pan and invert. Spend a minute smiling at how pretty it looks. But, bring to room temperature before serving.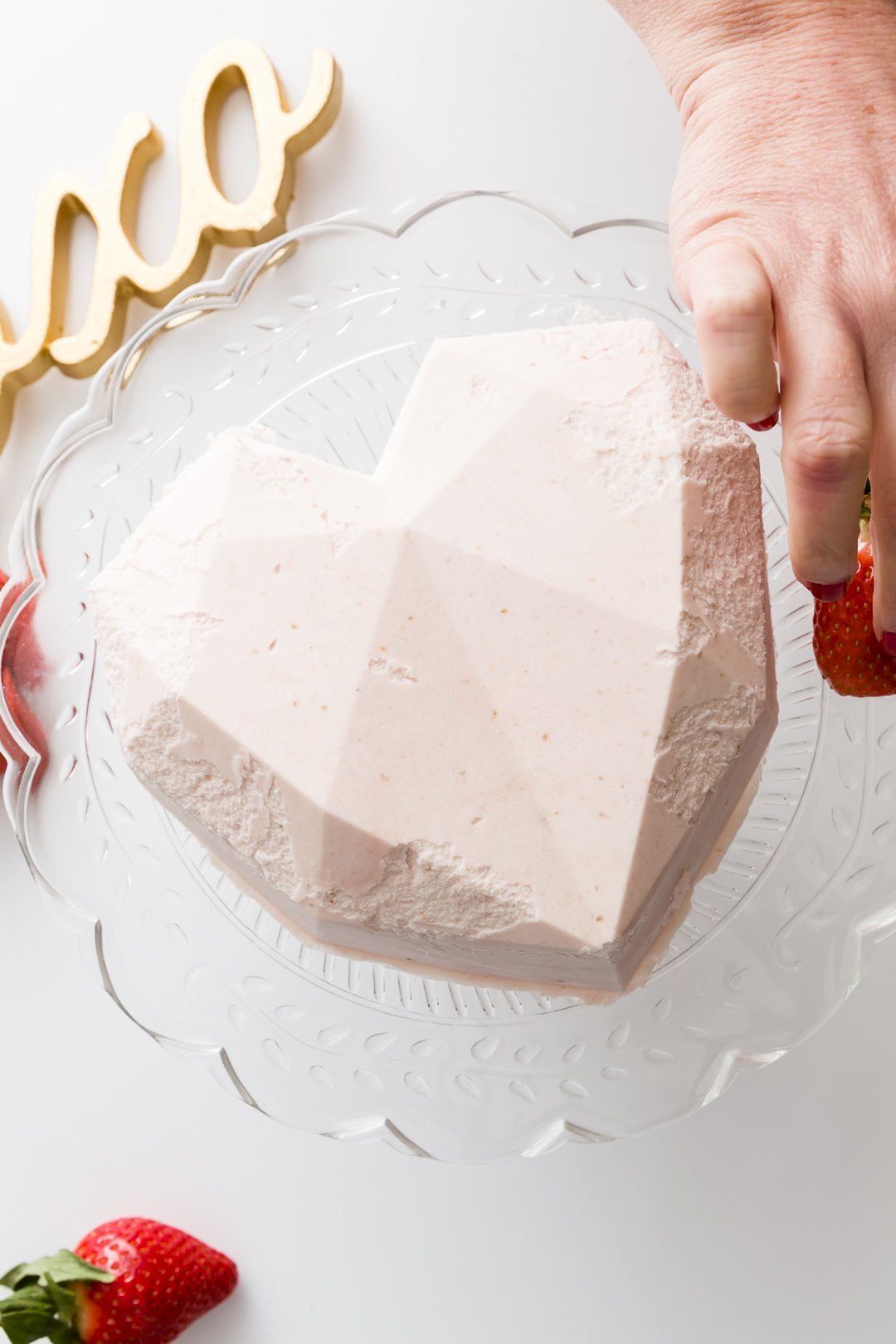 FAQs
What is strawberry mousse made of?
This strawberry mousse is made with a combination of fresh strawberries, milk, gelatin, cream cheese, and heavy cream. A more simple mousse can be made with just strawberries and cream. The texture won't be as substantial, but it will still taste yummy.
Why is my strawberry mousse runny?
This is likely due to not enough time in the freezer to set. If you find your mousse is still thin or runny, allow the dessert more time to set up and that should solve the issue. A few hours should do it, but overnight may be the safest bet.
What can go wrong when making mousse?
It's possible to overwhip the cream when adding it to the rest of the ingredients. This can actually turn the cream into something closer to butter. This will give your mousse a somewhat grainy and separated texture. Be sure to whip only until soft/medium peaks form.
Can I use something aside from strawberry mouse?
Sure! Strawberry buttercream is another potential option. Just be aware that the buttercream may be a bit more rich and dense than strawberry mousse.
Related Recipes
In the recipe below, I walk through all of this in more detail with instructions specific to the pan that I used. Feel free to hit me up in the comments with any questions that you have.
Strawberry Mousse Cake
This cake layered with strawberry mouse and vanilla cake is as pretty as it is tasty.
Ingredients
1

recipe

vanilla cupcake batter

unbaked

8

ounces

fresh strawberries

washed and hulled

1/2

cup

whole milk

4

ounces

cream cheese

room temperature

1 1/4

cups

heavy whipping cream

1/2

cup

powdered sugar

13

grams

gelatin

one packet
Instructions
Preheat oven to 350 F.

Bake for 40 minutes or until a toothpick inserted into the center of each cake comes out clean.

Turn cakes out to a cooling rack to cool. Wash and dry cake pans thoroughly.

Blend strawberries and milk in a blender until fully combined.

Pour 1/3 of the strawberry mixture into a heatproof bowl.

Sprinkle gelatin on top, a little bit at a time, whisking well after each addition. Be sure to evenly distribute gelatin when you are sprinkling so as to avoid clumps.

Place the bowl over a pot of simmering water and whisk until gelatin completely dissolves.

Return contents of the bowl to the blender along with the cream cheese and blend to combine with remaining strawberry mixture.

Pour into a medium-sized bowl, cover in plastic wrap, and refrigerate for 10 to 15 minutes or until the mixture thickens to the consistency of Greek yogurt.

Whip heavy whipping cream and powdered sugar until soft peaks form.

Gently fold whipped cream into strawberry mixture a little bit at a time until fully incorporated.

Pour strawberry mousse into the bottom of each cake pan, filling to about one inch. (If you are using a pan that isn't silicone, line the pan with plastic wrap pulled as smoothly as possibly). Cover with plastic wrap and freeze for 15 minutes. Cover the remaining mousse with plastic wrap and refrigerate.

Cut each vanilla cake into three thin layers for a total of six layers. You'll only need four of the six layers. (I trust that you can find something to do with the extra ones. Eating them immediately comes to my mind.)

Trim the border of the four cake layers by about 1/4 inch.

Place a layer of cake on top the mousse layer in each cake pan.

Top with another layer of mousse.

Top each with the remaining cake layer.

Cover with remaining mousse and level with a bench scraper.

Cover with plastic wrap and freeze overnight.

Unmold and bring to room temperature before serving.
Notes
This recipe makes two small cakes.
Nutrition
Calories:
234
kcal
|
Carbohydrates:
6
g
|
Protein:
1
g
|
Fat:
9
g
|
Saturated Fat:
5
g
|
Cholesterol:
34
mg
|
Sodium:
34
mg
|
Potassium:
55
mg
|
Sugar:
4
g
|
Vitamin A:
380
IU
|
Vitamin C:
8.4
mg
|
Calcium:
30
mg
|
Iron:
0.1
mg
Stay Connected!
Join my mailing list - and receive a free eBook!