Ultimate Vanilla Cake Recipe
Published , Last updated by
Stef
Disclosure: As an Amazon Associate, I earn from qualifying purchases.
This vanilla cake recipe has been years in the making!
While a yellow cake or a white cake can be the same as a vanilla cake, my version is differentiated by the fact that it has a strong vanilla flavor – it has real vanilla beans in the batter and gobs of vanilla extract. It tastes like the very best vanilla bean ice cream in cake format!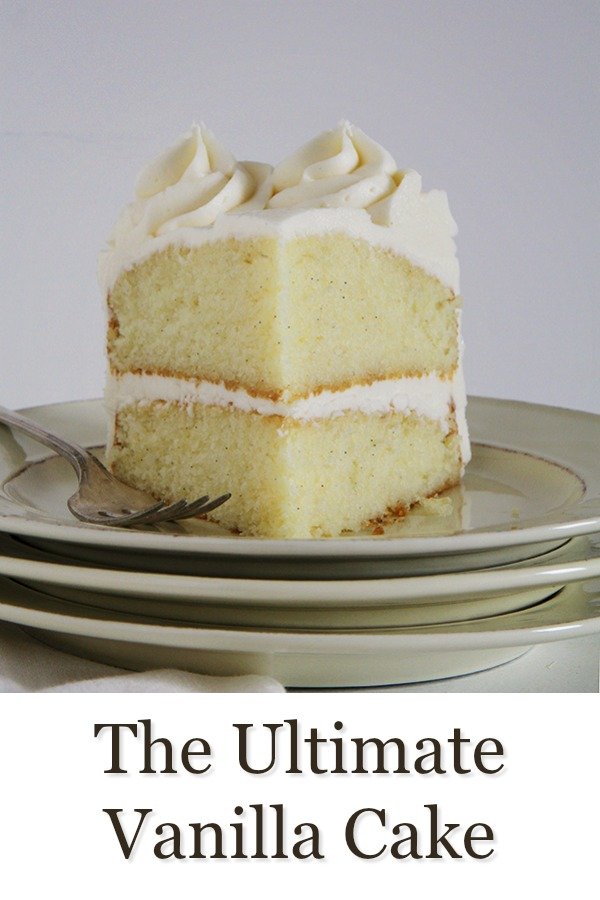 After I posted my ultimate vanilla cupcake recipe, I was asked about converting it into a cake recipe at least twice a month.
That post has over 400 comments, most of them talking about how it's one of the best vanilla cupcake recipes ever. It's definitely my favorite and I've used it as a base recipe for countless other cupcake recipes.
So, of course, readers always want to know how much cake the recipe would make and if anything would need to be changed about the recipe to convert it. At the time, I didn't make cakes at all; I only made cupcakes. So, instead of saying, "Sorry, I'm not really sure," I decided to turn to a cake baking expert for some help.
Amanda of iambaker originally contributed this content to answer your questions and to share her experience converting my cupcake recipe to a cake.
Thank you so much, Stefani, for letting me hang out in your beautiful online home today! I am honored to have been able to contribute some insight into your Ultimate Vanilla Cupcake recipe because, seriously, it is amazing!
Stefani thought it would be a great idea to convert her world-famous recipe into a cake and I can't help but think that is brilliant.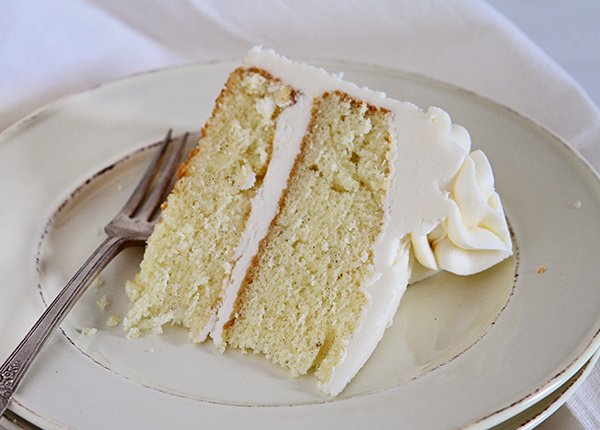 On my blog, iambaker, I make a lot of cakes. I have tried more vanilla cake recipes then I care to admit and have only been truly satisfied a few times.
I would definitely rank this recipe as one of the best vanilla cakes I have ever had!
How It's Made
I didn't make any changes to the recipe for vanilla cupcakes because, really, why mess with perfection? But, I do have some tips to use when converting the cupcakes to a vanilla cake:
The recipe yields about 3 1/4 cups of cake batter. So, I divided the batter into two 8-inch round cake pans, using just over 1 1/2 cups per pan. While a perfect dome is essential in a cupcake recipe, it's not always the best result for a cake maker. I adore this recipe so much that I didn't want to waste one single crumb, so I used a number of tricks to help create a level cake. Every trick, that is, except leveling the cake with a knife. Did I mention that I didn't want to waste a single crumb? In the end there was still a slight dome, but that is easy enough to work with.
I baked the cake at 350 F for 19 minutes in my convection oven. I recommend checking the cake at 18 minutes; simply insert a toothpick into the cake and if it comes out clean the cake is done. Make sure the cake has pulled away from the sides of the pan as well.
Allow cakes to cool to room temperature in the pan, then invert onto a wire rack.
Since this cake has such a beautiful fine crumb, I chilled my layers prior to frosting. If the cake is too soft when applying frosting, it can tear and crumble. I wanted to avoid that at all costs with this masterpiece!
All in all, I would say that this is a fantastic and delicious cake.
Thanks so much for your generous hospitality, Stefani!
Expert Tips and FAQs
What Makes a Cake Light and Fluffy?
After lots of trial and error, I learned that a mix of butter and oil made for the lightest cake while still maintaining a great flavor. Also, using cake flour instead of all-purpose flour helps to lighten up the cake.
What is Cake Flour?
Cake flour is milled from soft wheat and contains the lowest amount of protein when compared to other flours, around 5 to 8%. I recipe tested this recipe with cake and all-purpose flour and the cake flour made a huge difference.
Can You Replace the Sour Cream with Yogurt?
Yes! You can replace the sour cream in this recipe with Greek yogurt. I did a ton of testing on replacing sour cream with yogurt and found that you can barely tell the difference.
What is the Best Frosting for Vanilla Cake?
If you want to stick with the full-on vanilla experience with your best vanilla cake recipe, I suggest frosting this vanilla cake with vanilla frosting. My vanilla frosting is loaded with actual vanilla bean seeds so it tastes like melted vanilla ice cream; you won't find a homemade frosting that is easier to make.

You might also like trying rolling this cake in sprinkles to make a sprinkle cake! It can be decorated any way you like. It's a great base for an occasion cake like a baby shower cake, too.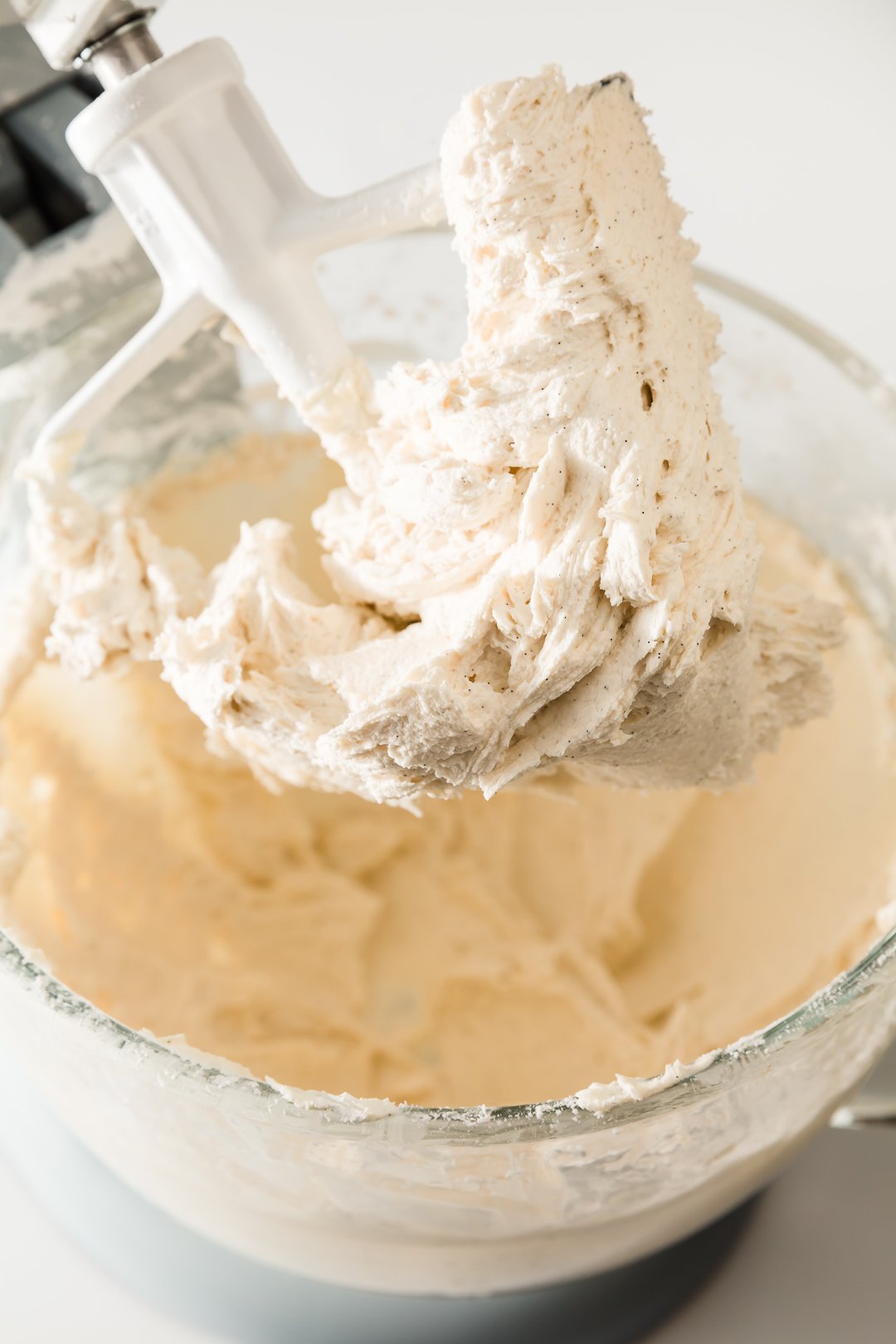 Related Recipes
Best Vanilla Cake Recipe
This is the best vanilla cake you will ever have!
Ingredients
1

cup

granulated sugar

1

vanilla bean

1 3/4

cups

cake flour, not self-rising

1 1/2

teaspoons

baking powder

1/2

teaspoon

baking soda

1/2

teaspoon

salt

1/4

cup

unsalted butter

room temperature

2

large

large eggs

room temperature

1/3

cup

full-fat sour cream

1/4

cup

canola oil

you can also use vegetable oil

1

tablespoon

vanilla extract

use pure, not imitation

2/3

cup

whole milk
Instructions
Preheat oven to 350 F (175 C).

In a small bowl, combine sugar and seeds from the vanilla bean. (For those of you who are new to using vanilla beans, check out

this video

to learn how to get the seeds out of the bean.)

Using the back of a spoon, move around the bowl and apply pressure to break up any clumps of seeds and to better infuse the vanilla flavor into the sugar. Set aside.

In a medium-sized mixing bowl or bowl of a stand mixer, mix together cake flour, baking powder, baking soda, and salt.

Add the vanilla bean sugar and mix until well combined.

Add butter and mix on medium-low speed for three minutes. Because there is so little butter, you'll end up with a very fine crumb texture.

In a small mixing bowl, whisk together eggs, sour cream, oil, and vanilla extract until smooth.

Add the egg mixture to the flour mixture and beat on medium speed until just combined. Be sure to scrape down the sides of the mixture as needed to make sure that everything is incorporated into the batter.

Slowly add milk and mix on low speed until just combined. The batter will be liquid. (Don't worry, you didn't do anything wrong. It's supposed to be that way.)

Divide the batter evenly between two 8″ round cake pans.

Bake for 18 minutes and then test to see if they are done. They are done when a toothpick comes out without wet batter stuck to it. The cakes should appear white with specks of vanilla bean. They should not turn a golden brown. If they are not done, test again in two minutes. If they are still not done, test again in another two minutes.

When the cakes are done, place them on a cooling rack (or just on your counter if you don't own a cooling rack) to cool to room temperature. Then, refrigerate before frosting.
Nutrition
Calories:
180
kcal
|
Carbohydrates:
23
g
|
Protein:
2
g
|
Fat:
8
g
|
Saturated Fat:
3
g
|
Cholesterol:
31
mg
|
Sodium:
124
mg
|
Potassium:
79
mg
|
Sugar:
13
g
|
Vitamin A:
165
IU
|
Calcium:
39
mg
|
Iron:
0.3
mg
Stay Connected!
Join my mailing list - and receive a free eBook!