This apple crumble pie (or Dutch apple pie) is easy to make and has a sweet and buttery crumb topping and juicy apple filling. Have some whipped cream or ice cream ready to top off this scrumptious apple dessert!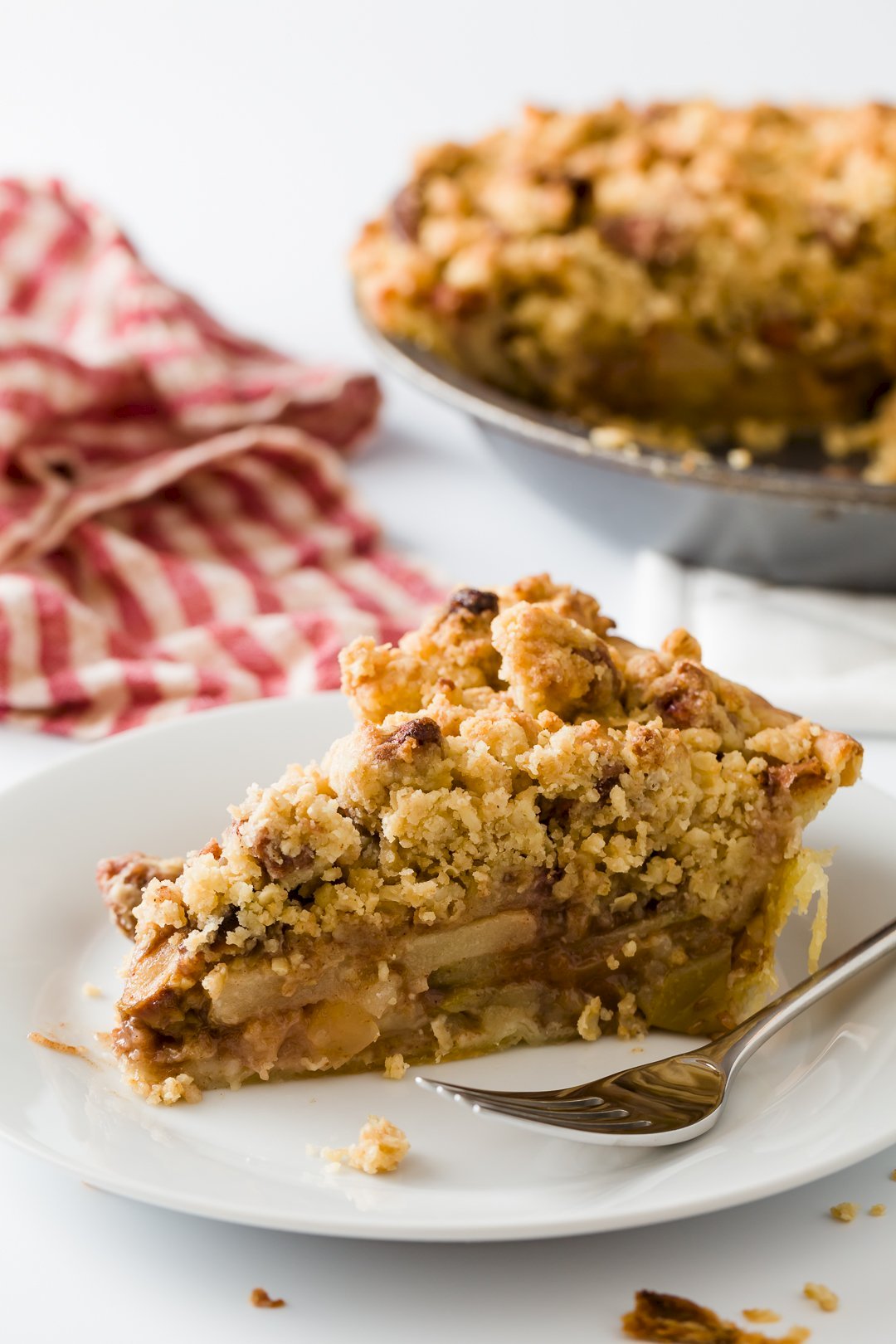 I'm excited to partner with Brandless for this apple crumble pie recipe post. All opinions and the recipe are my own.
Crumb topping on apple pie has always been my favorite. I love sneaking over to the pie pan throughout the day to pick off big fat crumbs. Does anyone else do this?
In fact, crumb topping is such a favorite of mine that I add it to as many desserts as possible.
What is Apple Crumble Pie Made Of?
Many of us know what goes into making an apple pie recipe. But here's a refresher:
Essentially, pie crust is just a flour mixture of all-purpose flour combined with unsalted butter, salt, and water. Some cooks insist on adding a splash of white or apple cider vinegar as well. My favorite pie crust recipe is from Stella Parks (aka, BraveTart), with the addition of lemon zest.
Tart apple slices (Tart apples are always better for baking. They are a must for apple cupcakes!)
Lemon juice and zest
Granulated sugar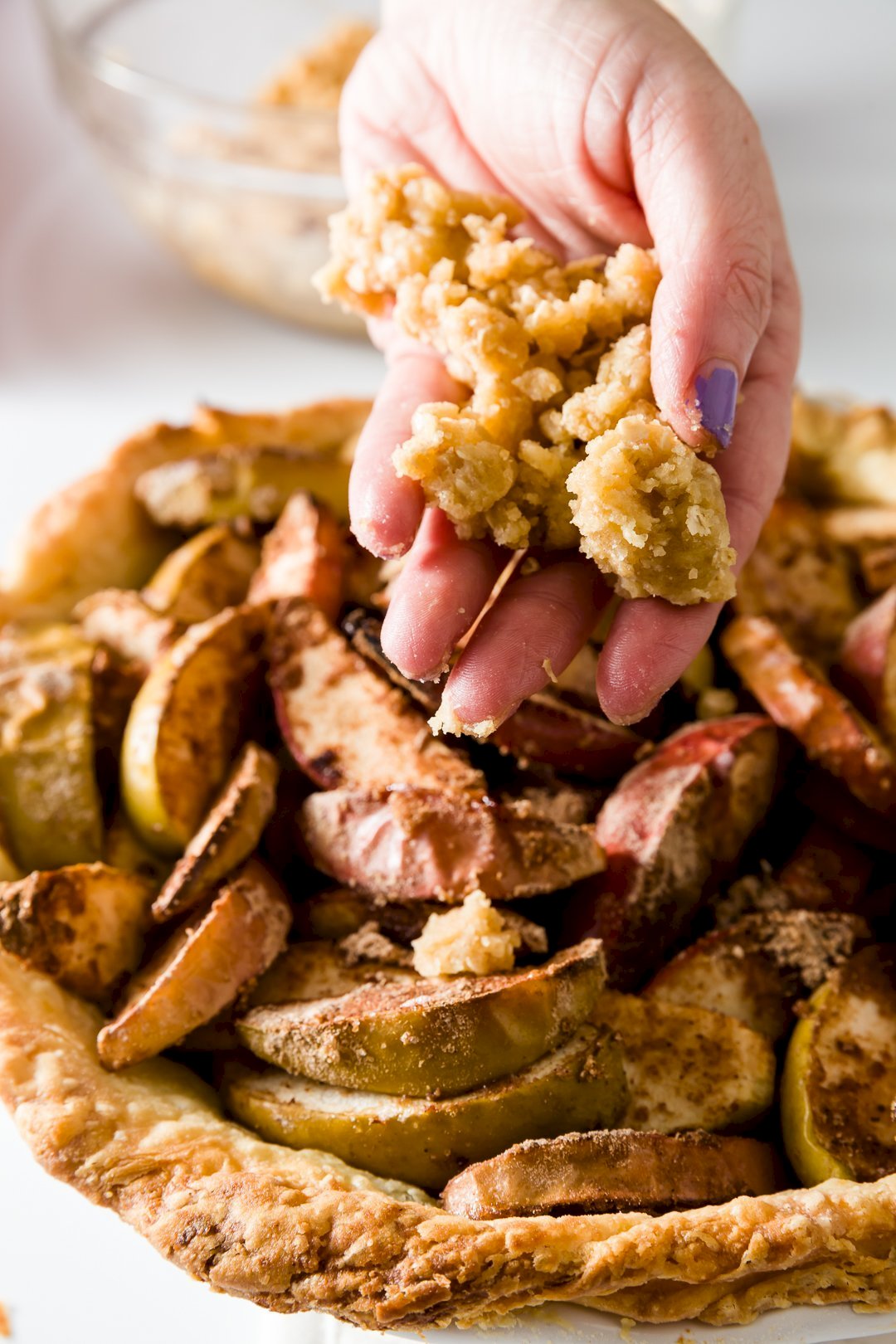 What's the Difference Between Regular Apple Pie and Dutch Apple Pie?
There is just one difference between a regular apple pie recipe and a Dutch apple pie recipe – the topping.
Traditional apple pie has a double crust – one on the bottom and one on the top. Country apple pie is similar to regular apple pie, with the addition of a sprinkling of granulated sugar on the top crust.
A Dutch apple pie only has a bottom crust. Instead of a top crust, crumble topping covers the apple pie filling.
BTW: Dutch apple pie isn't actually Dutch. If you want to try a true Dutch dessert, try Arnhemse Meisjes cookies or Biscoff cookies.
We'll discuss the topping shortly. For now, let's talk about what makes the best apple pie filling for a Dutch apple pie!
Best Apple Pie Filling
I make apple pie filling with fresh apples. It produces a flavor that canned pie filling cannot compete with. The ingredients you need to make Dutch apple pie filling for a 9″ pie plate are:
2 pounds tart apples
2 tablespoons sugar
2 tablespoons brown sugar
2 teaspoons ground cinnamon
1 teaspoon ground ginger
1 teaspoon ground nutmeg
1/4 teaspoon ground cloves
1/4 cup all-purpose flour
The best apples for pie have a firm flesh. As a result, they hold their shape and won't break down as much during the baking process.
Because there is a good amount of sugar in the filling, tart apples are usually best for apple pie. I like to use a mix of red Gala and green Granny Smith apples, sliced into 8-10 slices per apple. You don't need to peel them but you can if you prefer them that way.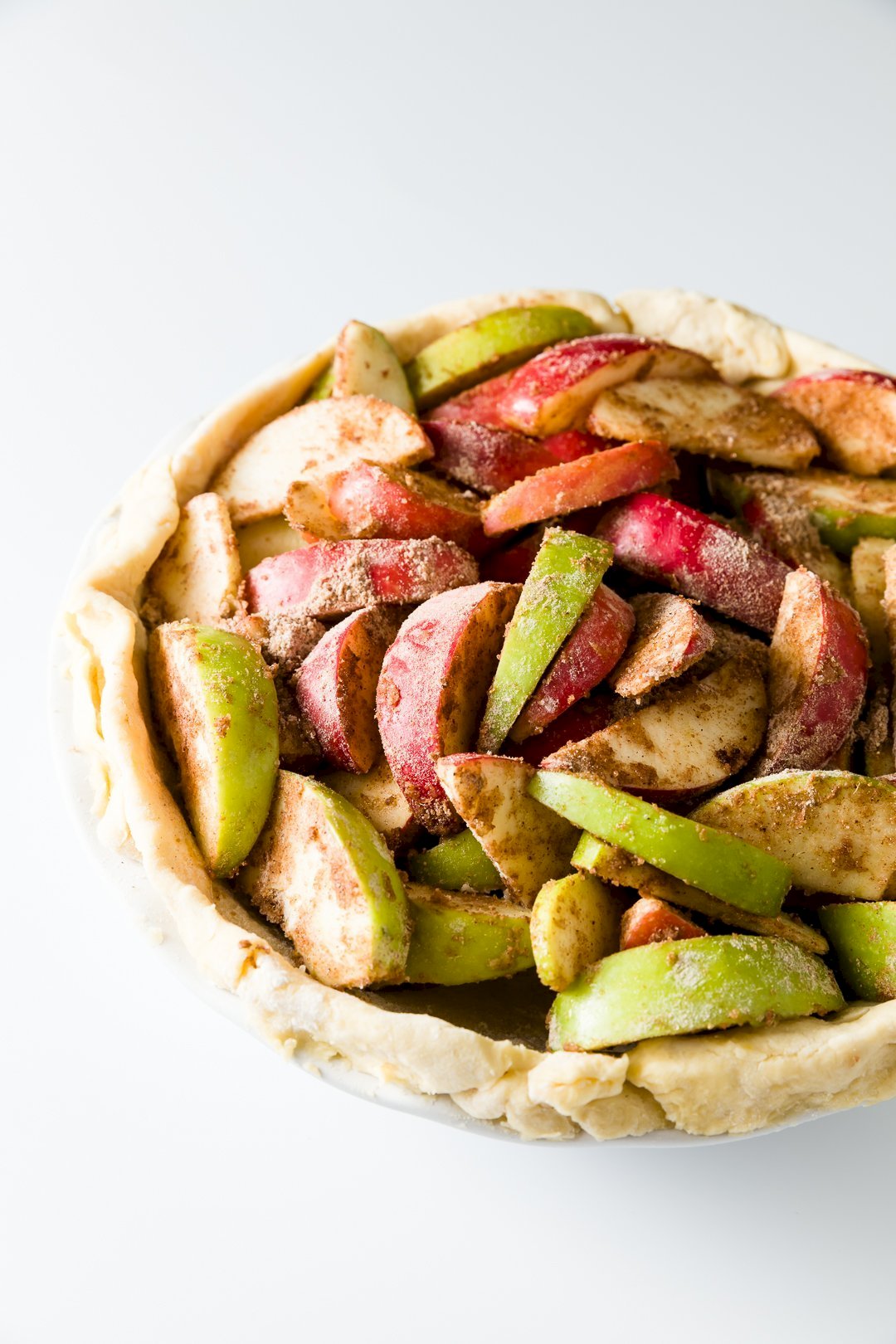 Apple Crumble Pie Topping
Crumb topping has four primary ingredients:
Topping Add-Ins
Some people prefer a little more crunch and flavor to their crumble topping. If this is you, feel free to add a handful of any of the following ingredients into your topping mixture.
Chopped nuts – These can be plain nuts or candied nuts, like Brandless Glazed Almonds.
Granola
Cinnamon
Cardamom
Ginger
Allspice
Ground cloves
Nutmeg
I think adding granola is a fun way to switch up an apple pie with crumb topping.
Although Brandless Oats & Honey Granola, Blueberry Flax Granola, and Cocoa Granola all work for a crumb topping, my favorite is the Cocoa Granola.
I love the little touch of chocolate with the apple flavor of the pie filling.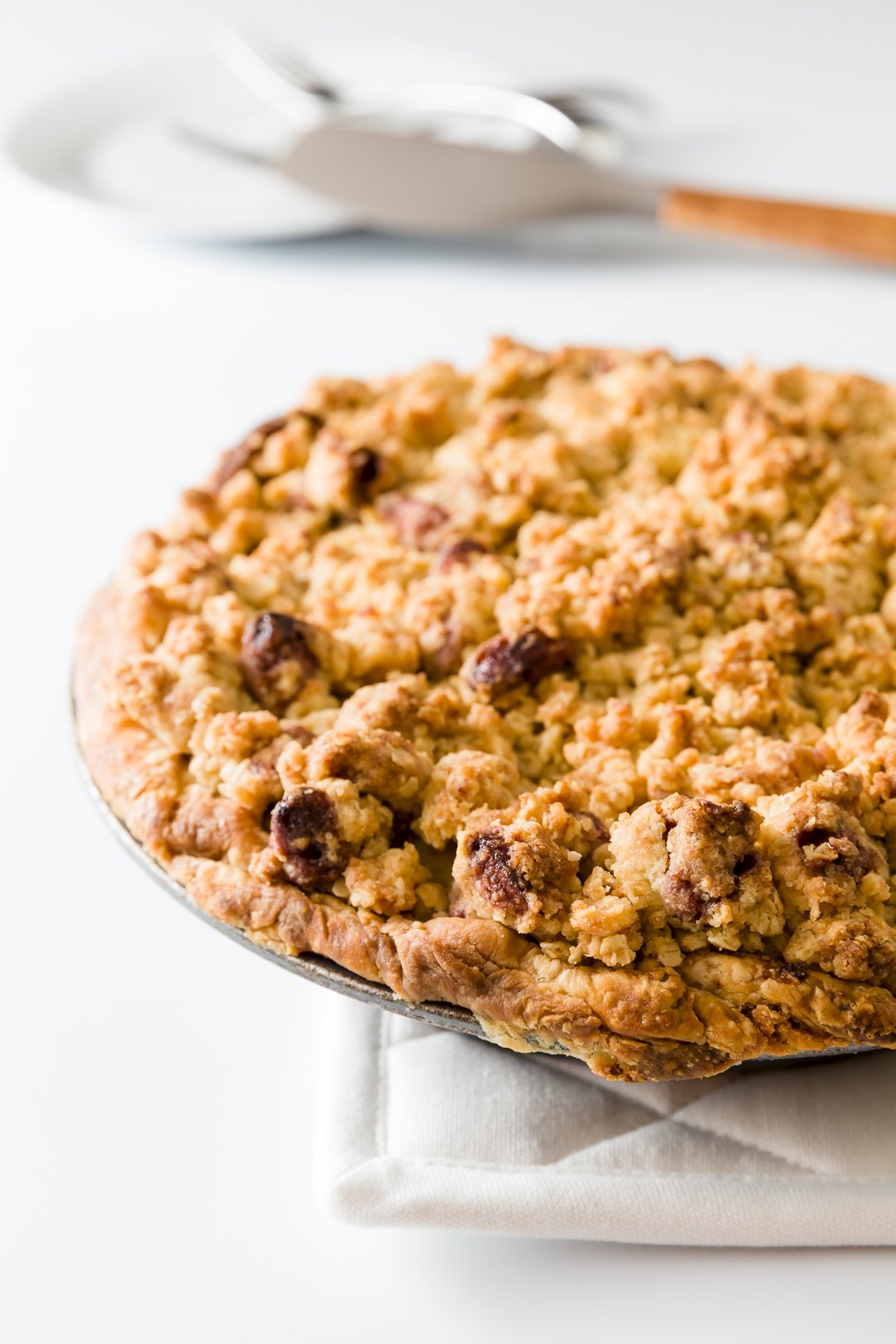 It's best to mix the crumb topping together by hand. If you use a mixer, it will be overmixed and the crumb will break down too much.
You can buy all of these products (except for the butter) at Brandless for $3.00 each. You see, everything at Brandless is $3.00 or less (even the measuring spoons shown above)!
I love the clear labeling on all of their products that tells you about all of the goodness inside. Brandless has quality standards for all of their products. You'll find organic, non-GMO, and sustainability to be commonplace when you shop there.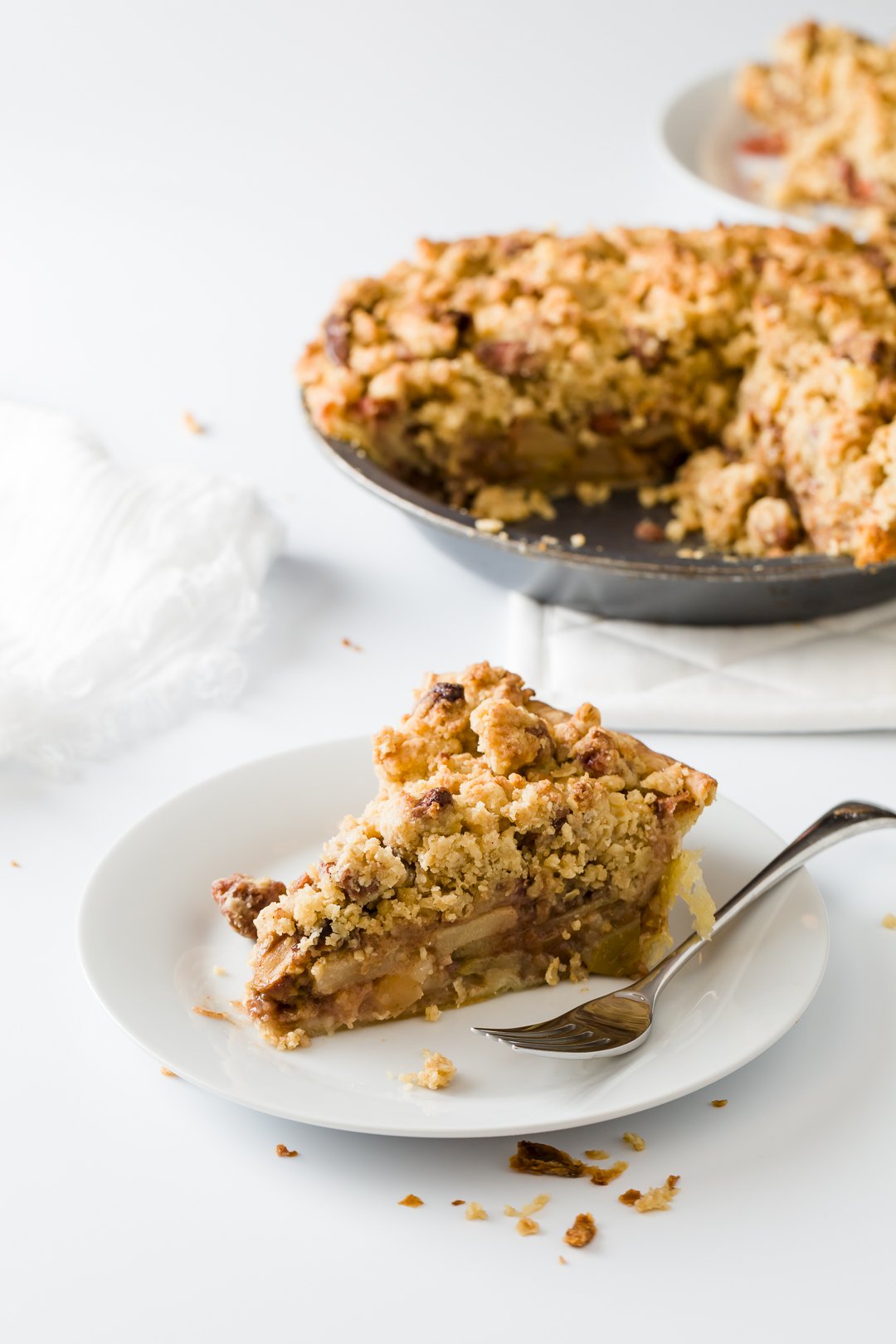 How Long to Bake an Apple Pie with Crumb Topping?
It takes crumb topping about twenty minutes to bake. If it is on the pie in the oven for longer than twenty minutes, it is likely to burn.
Bake the Dutch apple pie until there are only twenty minutes left, then take the pie out of the oven. Add the crumble topping and return to the oven to finish baking.
Depending on your crust recipe, it is usually a good time to add a pie guard to the crust at the same time as the topping. This will keep the crust from burning.
You can also cover the crust with foil if you don't have a pie guard.
For this Dutch apple pie recipe, bake at 400 F for 40 minutes, then add the crumb and a pie guard and bake for another 20 minutes.
You can see the nuts in the finished pie. They are happy little surprises while you are eating.
Variation
The apple pie filling that I use in this pie works super well in hand pies. Read my post on cranberry hand pies for all the details on how to make hand pies.
If You Like Crumb Topping, You'll Also Like…
Apple Crumble Pie
This apple crumble pie (or Dutch apple pie) is easy to make and has a sweet and buttery crumb topping and juicy apple filling,


Ingredients
Pie Ingredients
2

pounds

tart apples

a mix of red and green, sliced into 8-10 slices per apple (no need to peel them)

2

tablespoons

sugar

2

tablespoons

brown sugar

2

teaspoons

ground cinnamon

1

teaspoon

ground ginger

1

teaspoon

ground nutmeg

1/4

teaspoon

ground cloves

1/4

cup

all-purpose flour

1

9" pie crust
Crumb Topping Ingredients
3/4

cup

unsalted butter

melted

1 3/4

cups

all-purpose flour

1/2

cup

brown sugar

1/2

cup

rolled oats

you can substitute this for granola

4

ounces

nuts

any variety of nuts or candied nuts will work; optional
Instructions
Pie Instructions
Preheat oven to 400 F.

Mix all ingredients (except the crust) together in a large bowl.

Pour apple pie filling into prepared pie crust at and bake for 40 minutes.
Crumb Topping Instructions
While the pie is baking, mix all crumb topping ingredients in a small bowl until large crumbs form. I suggest doing this with your hands. Stop as soon as you have large crumbs. Do not overmix.

At 40 minutes when you remove the pie from the oven, top evenly with crumbs. Cover crust with a pie guard if it is getting brown.

Bake for another 20 minutes. Crumbs should be dark brown but not burnt.

Cool for at least three hours before cutting into pie.
Notes
My favorite pie crust recipe is from Brave Tart with the addition of the zest of one lemon. You can also use any store-bought pie crust.
Nutrition
Nutrition Facts
Apple Crumble Pie
Amount Per Serving
Calories 403
Calories from Fat 189
% Daily Value*
Fat 21g32%
Cholesterol 31mg10%
Sodium 65mg3%
Potassium 198mg6%
Carbohydrates 51g17%
Protein 5g10%
Vitamin A 395IU8%
Vitamin C 3mg4%
Calcium 34mg3%
Iron 2mg11%
* Percent Daily Values are based on a 2000 calorie diet.