How to Make Apple Chips
Published , Last updated by
Stef
Disclosure: As an Amazon Associate, I earn from qualifying purchases.
Apple chips are such a perfect, healthy fall snack! These come out so crispy and they are super easy to make – they're baked, not fried! We find ourselves snacking on them all day long.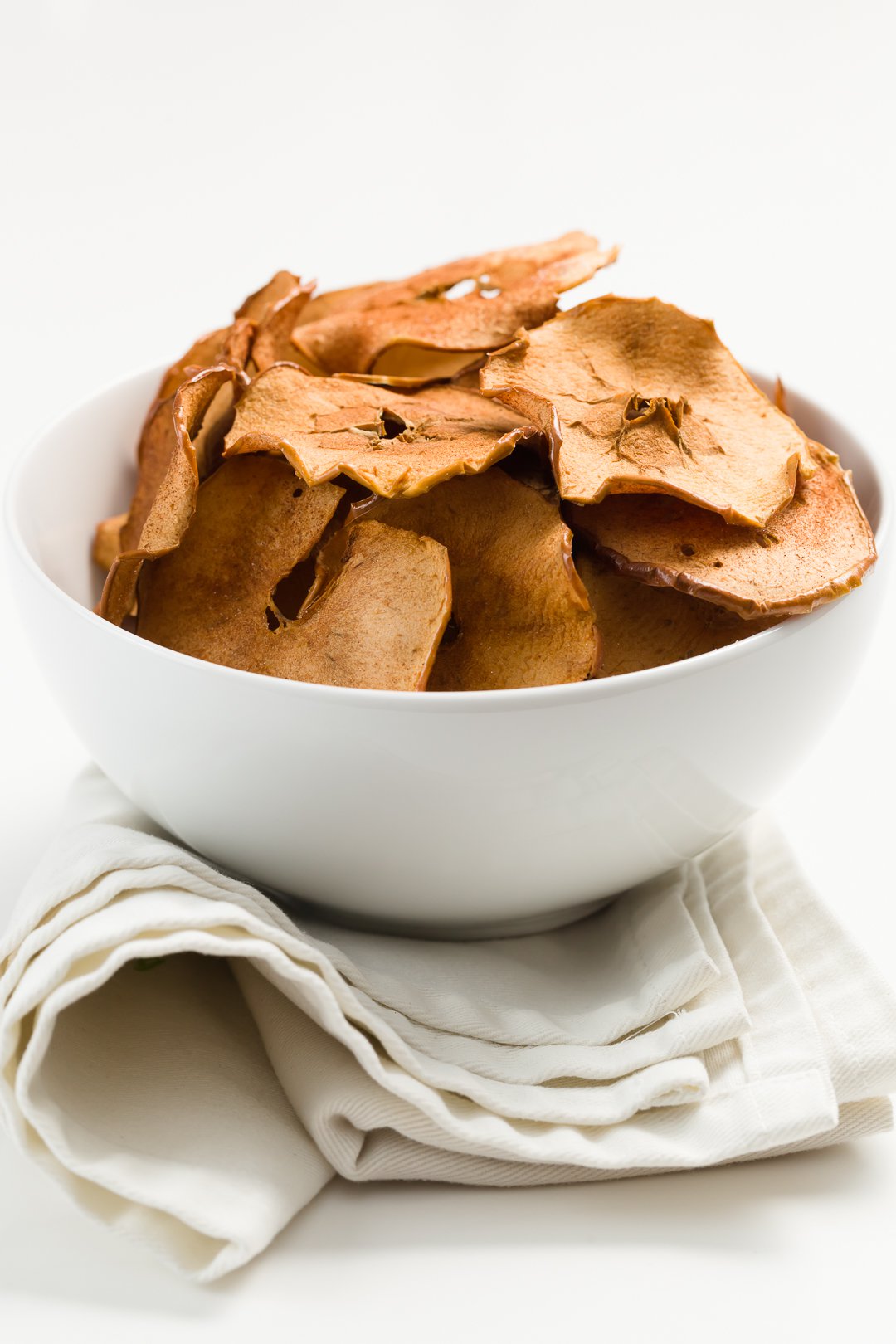 We love going apple picking, and we are always looking for something different to do with the apples. My go-tos are apple cupcakes and apple crumble pie, but when I want something healthier, this is my favorite option!
Ingredients
All you need to make this recipe is apples and a little cinnamon and sugar! (You can also experiment with other spices like pumpkin pie spice or gingerbread spice.)
You can make these with any kind of apples. If your apples are particularly sweet, you can leave the sugar off and enjoy their natural sweetness.
There is no need to peel apples before turning them into apple chips. Although peeling them is totally fine, having the peel on the apples doesn't affect the recipe.
How It's Made
Start by washing and drying the apples and slicing them into 1/8″ thick slices. The thinner the slices, the crispier the chips will be. I highly recommend slicing with a mandoline [paid link] and always using the guard that comes with it to make sure that you don't cut yourself. If you don't own a mandoline, use a sharp knife and cut the apples as thinly as you can.
Lay the apple slices on a sheet of parchment paper so they do not overlap. I often use silicone mats in baking, but I always use parchment when drying fruit for crispier results.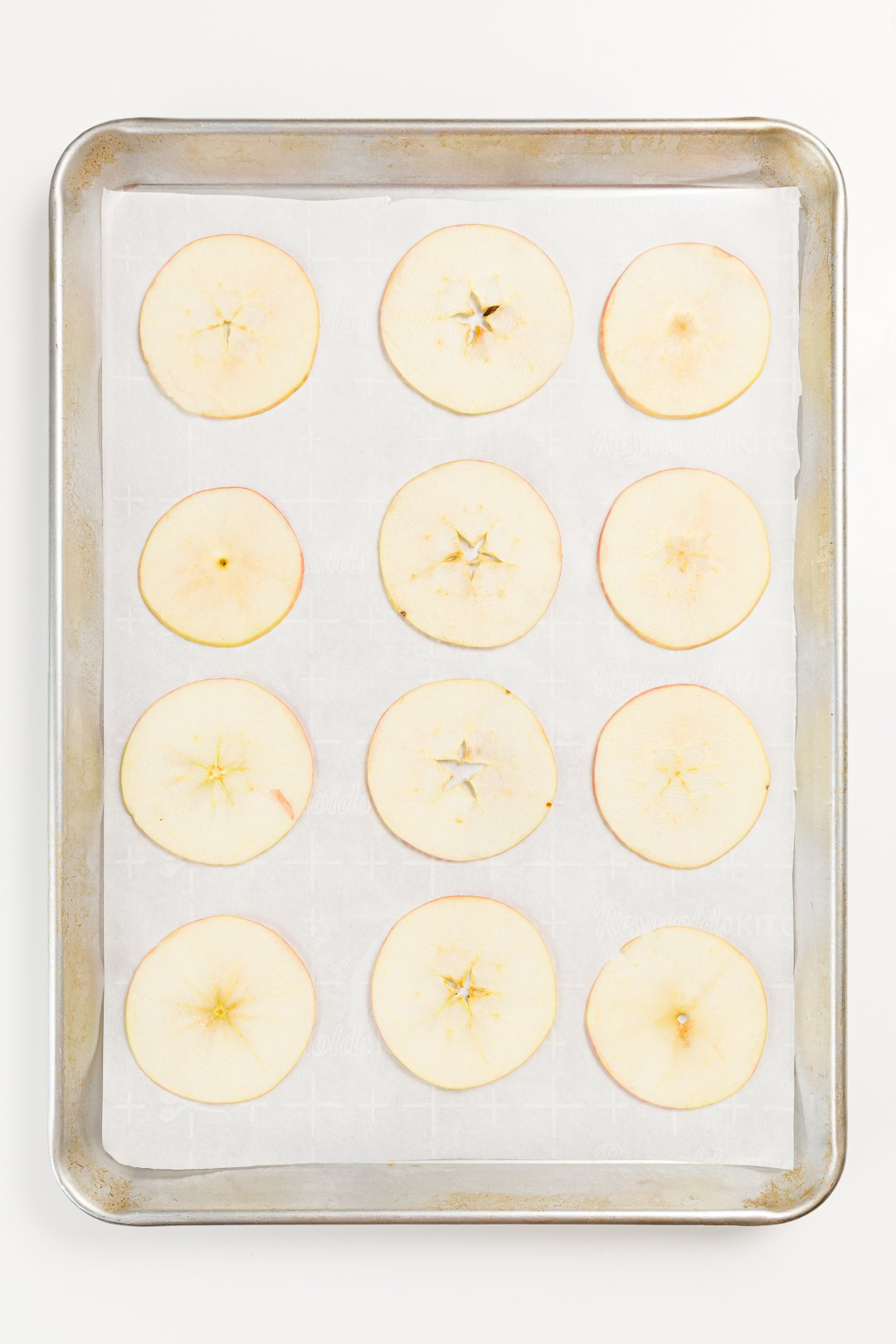 Sprinkle with cinnamon and sugar – just enough to lightly coat the top of each apple.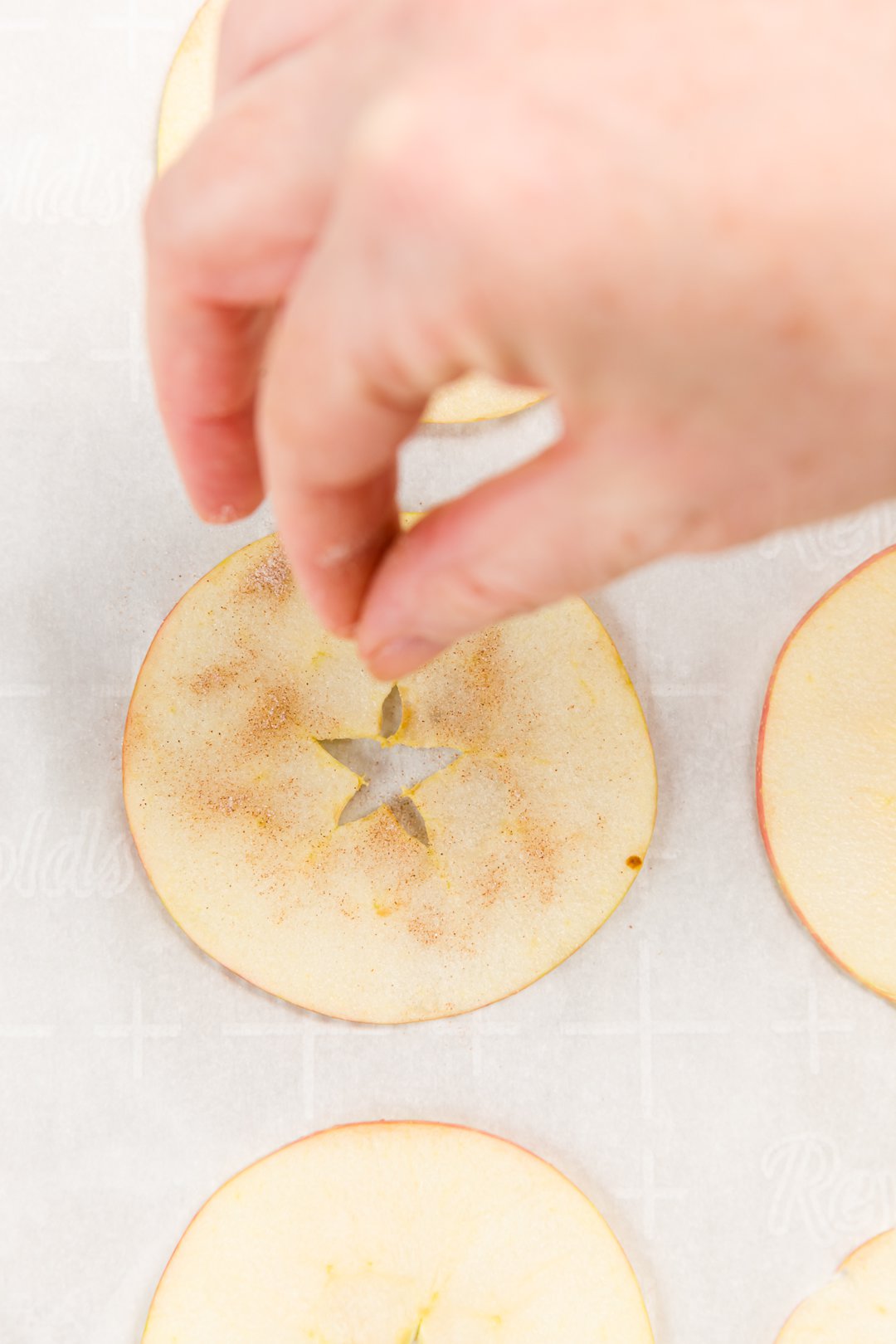 Bake for about two hours at 200 F, flipping slices halfway through. To test if they are done, remove a single apple chip from the oven, wait three minutes, and see it it is crispy. If it is, pull the rest from the oven!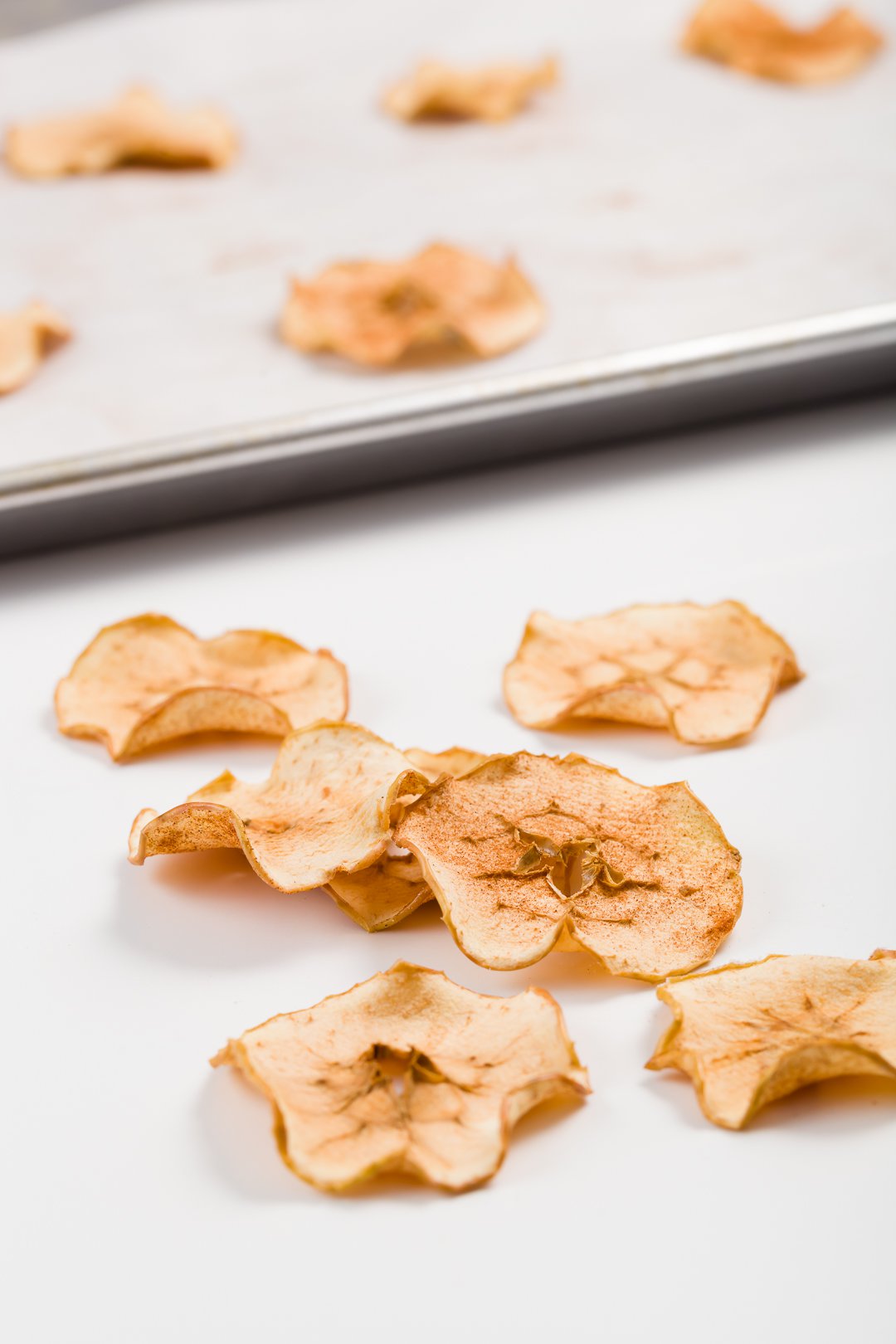 To keep the chips crispy for a few days, store them in an airtight container. They will get soggy if you leave them on the counter and will need to be put back in the oven to get their crisp back.
Variations
If you enjoy chewy apple chips, cut thicker pieces. The bake time will also be much longer – about 5 hours.
To create shapes with your apple chips, use cookie cutters to cut the apple slices into shapes. I used tiny harvest cookie cutters [paid link] to cut my apple pieces into leaf and apple shapes.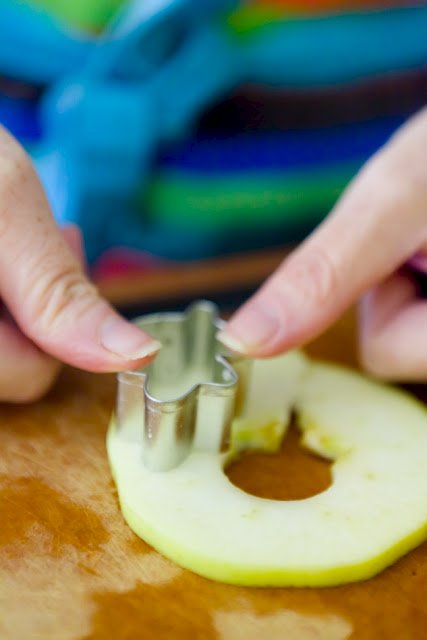 Related Recipes
Apple Chips
Apple chips are a perfect snack! They are made with just a touch of cinnamon and sugar and are easy, healthy, and delicious.
Ingredients
2

apples

Use any variety of apple that you like.

1

tablespoon

ground cinnamon

less or more, to taste

1

tablespoon

granulated sugar

less or more, to taste
Instructions
Preheat oven to 200 F.

Slice apples to 1/8" thick using a mandoline or sharp knife.

Line two cookie sheets with parchment paper and fill with apple slices – making sure that no slices overlap.

Mix the cinnamon and sugar in a small bowl and sprinkle over apple slices.

Bake for one hour and then flip the apple slices.

Bake for a second hour and pull a single chip out of the oven and set it down to cool for a few minutes. If it crisps up, pull the rest, If it doesn't crisp up, test another chip in ten minutes.
Notes
Store in an airtight container for up to three days. If the chips get soggy, you can re-crisp them at 200 F for about 20 minutes.
You can leave off the sugar if your apples are really sweet. You can also experiment with other spices like pumpkin pie spice or gingerbread spice.
Nutrition
Calories:
64
kcal
|
Carbohydrates:
17
g
|
Protein:
1
g
|
Fat:
1
g
|
Saturated Fat:
1
g
|
Polyunsaturated Fat:
1
g
|
Monounsaturated Fat:
1
g
|
Sodium:
1
mg
|
Potassium:
106
mg
|
Fiber:
3
g
|
Sugar:
12
g
|
Vitamin A:
55
IU
|
Vitamin C:
4
mg
|
Calcium:
26
mg
|
Iron:
1
mg
Stay Connected!
Join my mailing list - and receive a free eBook!