Crumb Topping
Disclosure: As an Amazon Associate, I earn from qualifying purchases.
Over the years, I've developed the perfect crumb topping recipe that I use on basically any recipe that I want to make even better!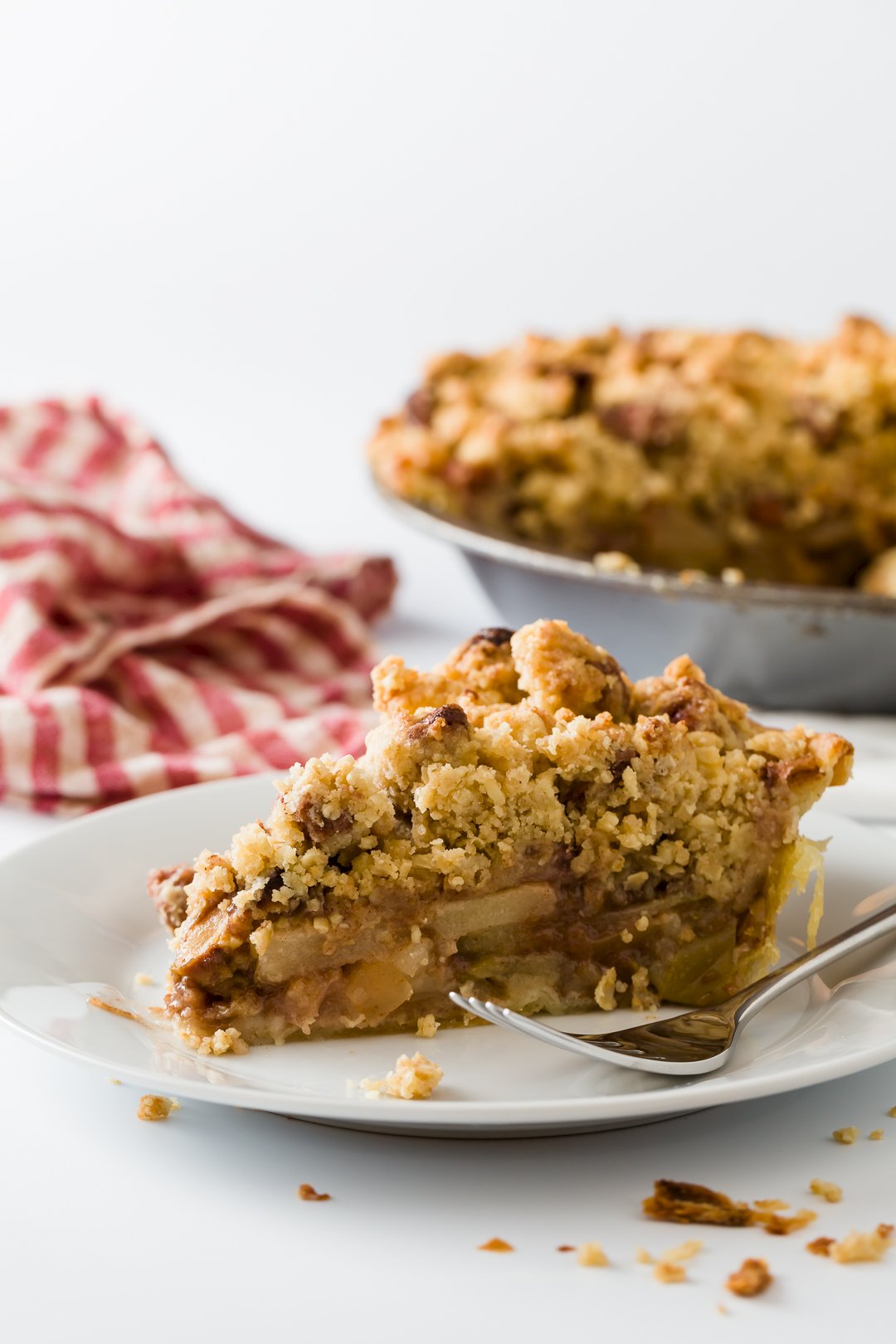 This crumb topping comes together really easily and there are so many ways to use it!
What are the Ingredients in a Crumb Topping?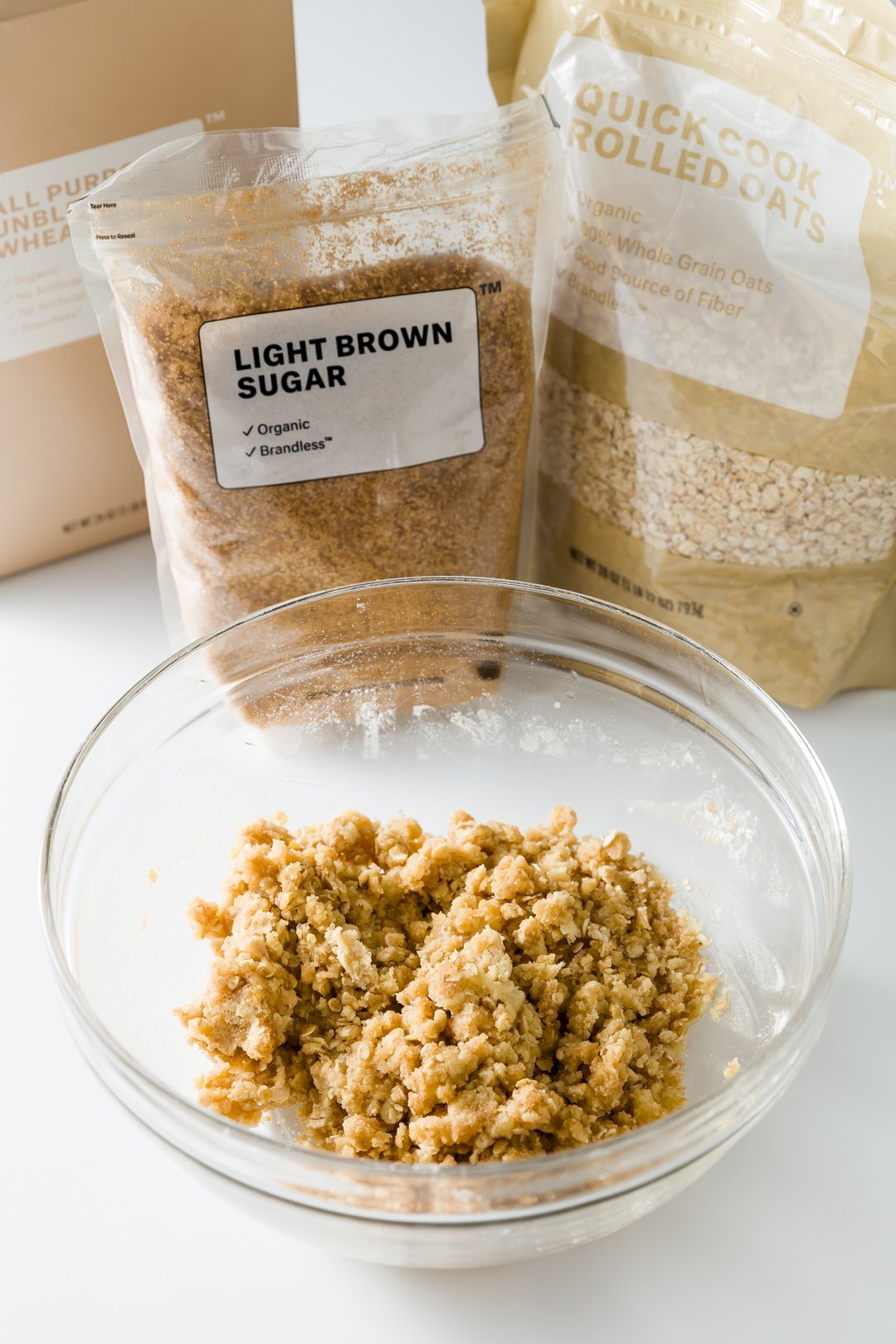 A crumb topping consists of butter, sugar, and flour.
I always also add rolled oats to my crumb topping as I love the added texture. Some people call this an oatmeal crumb topping.
Crunchy Granola Crumb Topping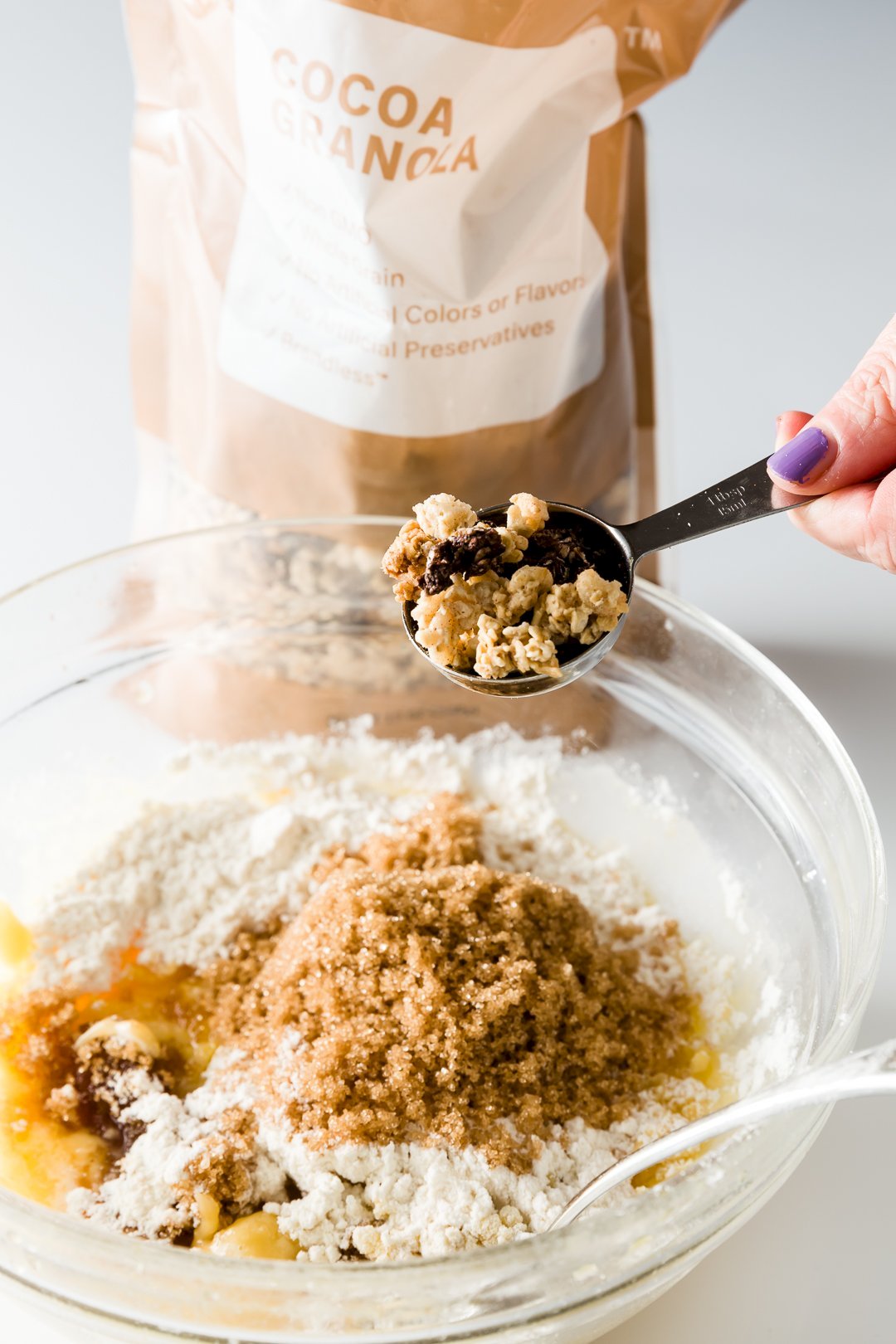 If you want a crunchier crumb topping, you can replace the oats in this recipe with granola.
You can also add plain or candied nuts to the crumb topping.
Spiced Crumb Topping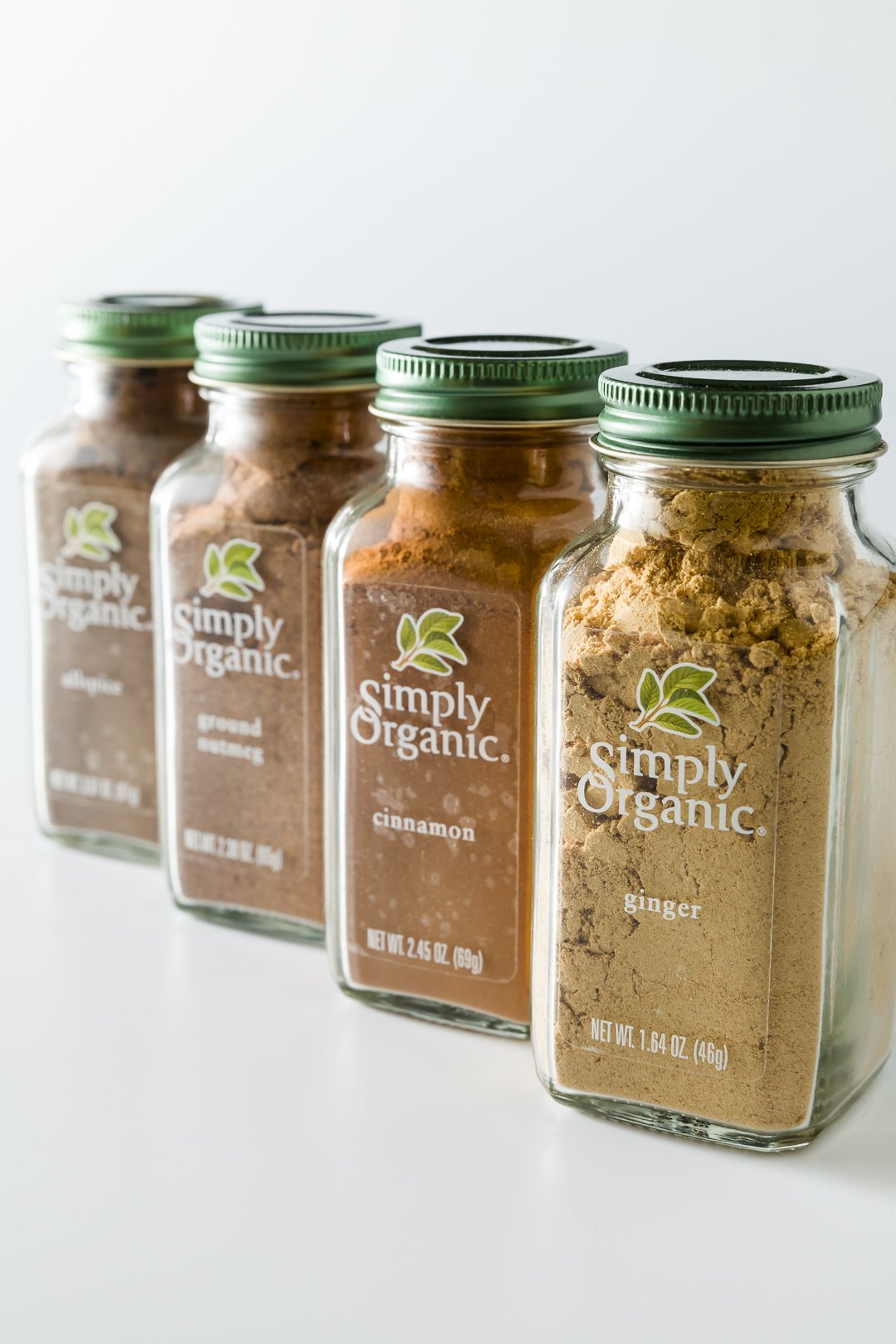 Although you don't need it, it's easy to jazz up your crumb topping with spices.
My favorite spices to add to crumb topping are:
cinnamon
ginger
nutmeg
allspice
clove
Streusel vs Crumb Topping
A streusel is another word for a crumb topping.
Streusel and crumb topping can be used interchangeably.
How to Add Crumb Topping to Desserts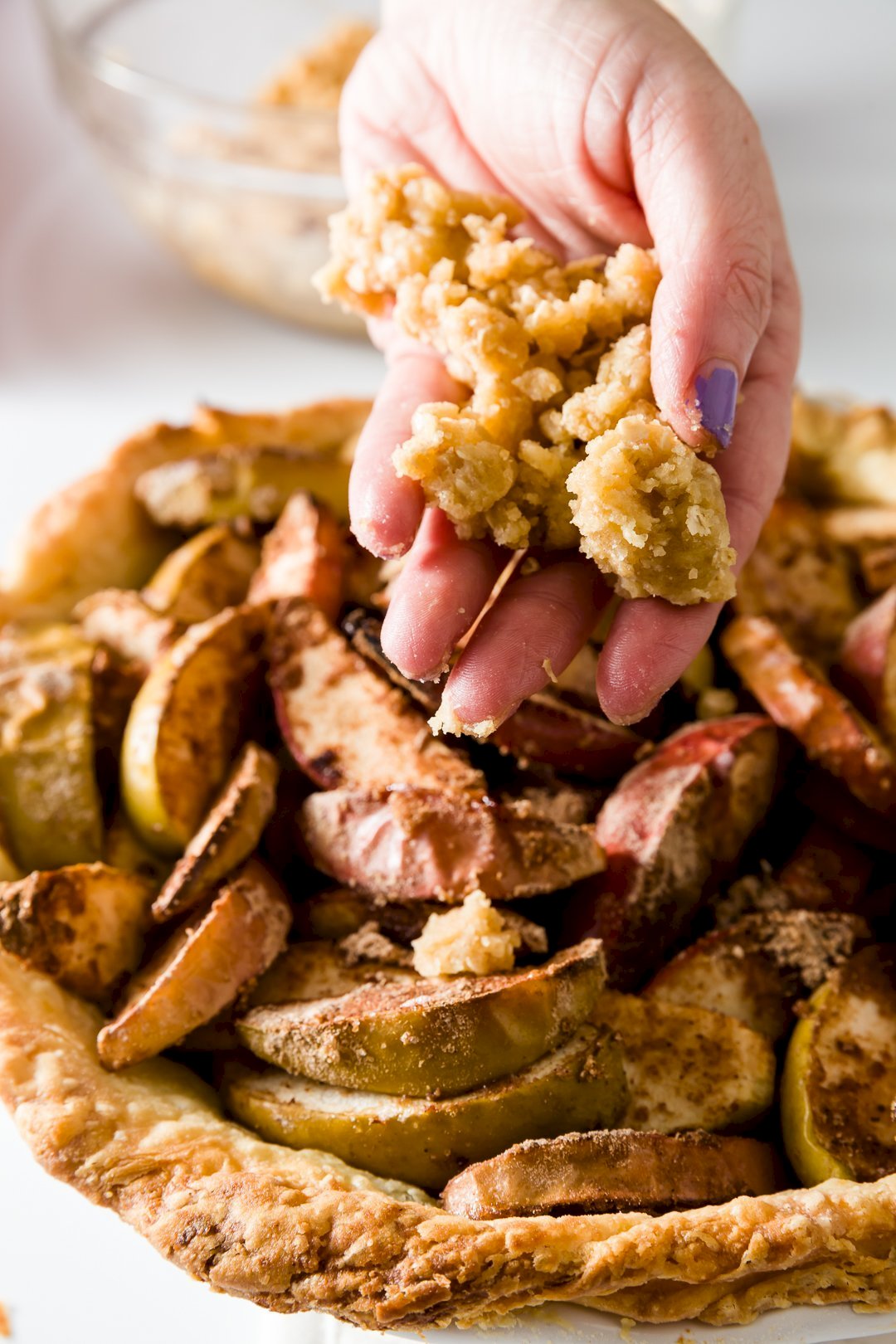 Crumb topping can burn if baked at over 350 F for more than 20 minutes.
If your recipe is baked over 350 F, remove the recipe from the oven when there are twenty minutes remaining, add the crumb topping, and return to the oven.
Otherwise, you can sprinkle the crumb topping over the batter, just before baking.
Can You Freeze Crumb Topping?
The great thing about this crumb topping is that it cooks so easily and stores so well.
If you want to make enough for one coffee cake, it's no trouble to whip up enough for one dish.
But, if you really love it (like I do) and know that you are going to want to use it every now and again, you can quadruple the recipe and freeze it in a freezer-safe storage bag until you need it.
If you've got too much fruit and you need to find something to do with it, throw on some crumb topping.
If you've got a cupcake or muffin that needs a little jazz, but either you don't want to bother with frosting or you think it would be too much, just reach into the freezer and sprinkle a little crumb topping before you throw them in the oven.
Crumb Topping for Muffins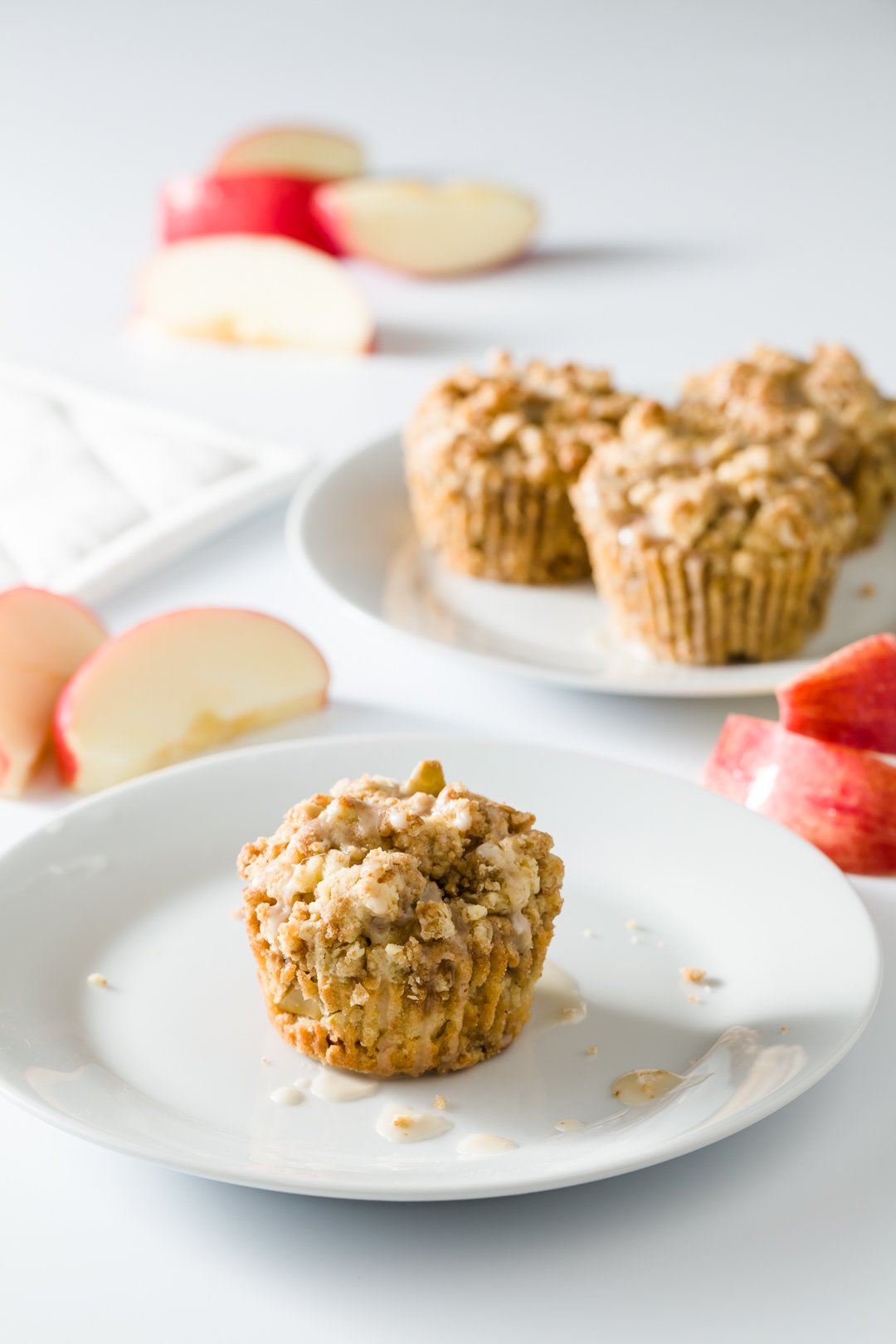 This crumb topping recipe works wonderfully on muffins. Just sprinkle some of the topping onto the muffins just before baking.
Crumb Topping for Apple Pie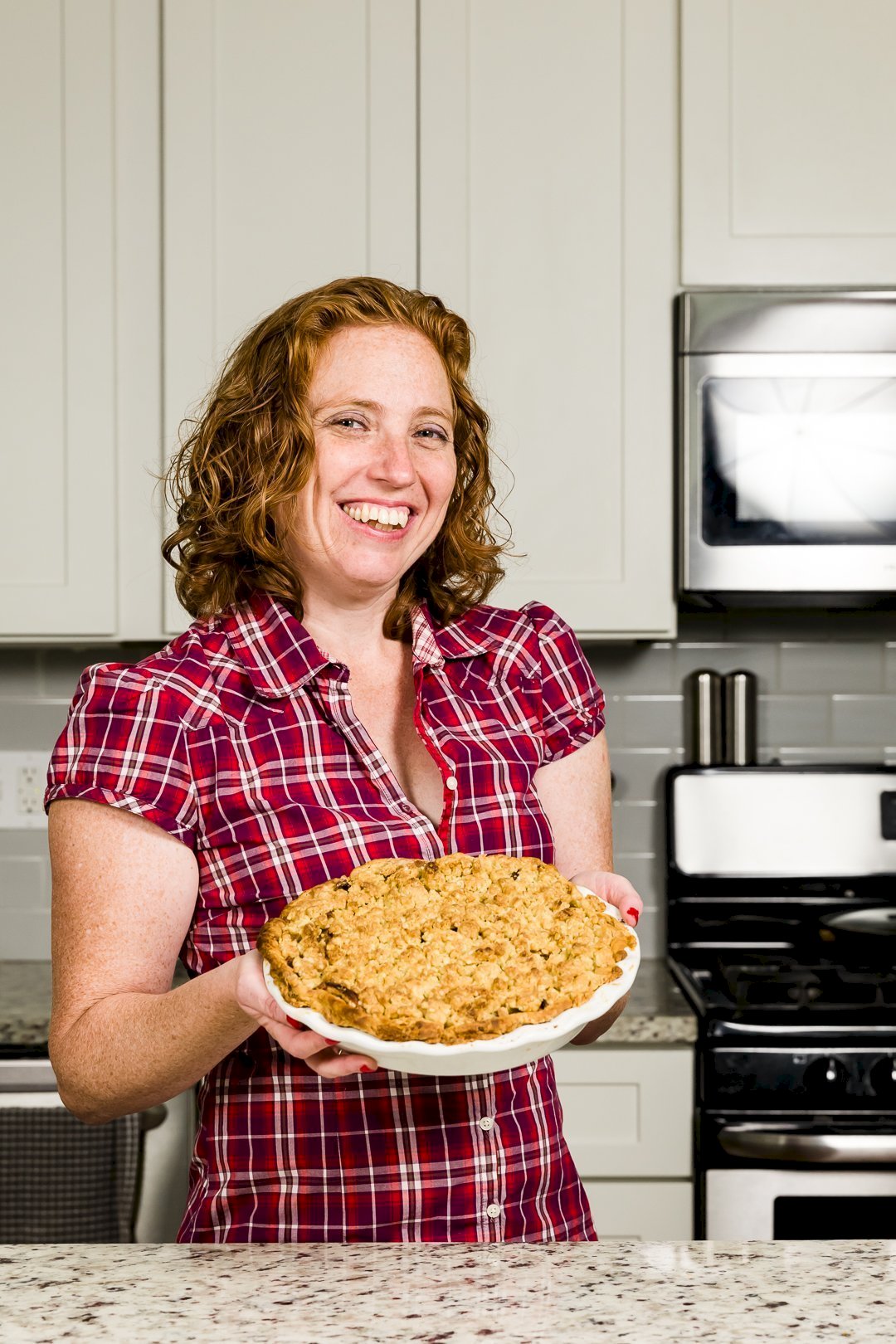 For a 9″ apple crumb pie, you'll need to triple this crumb topping recipe.
Add the crumb topping to the pie when there are twenty minutes remaining in the bake.
You will also want to cover the crust with a pie guard [paid link] at that time to prevent burns.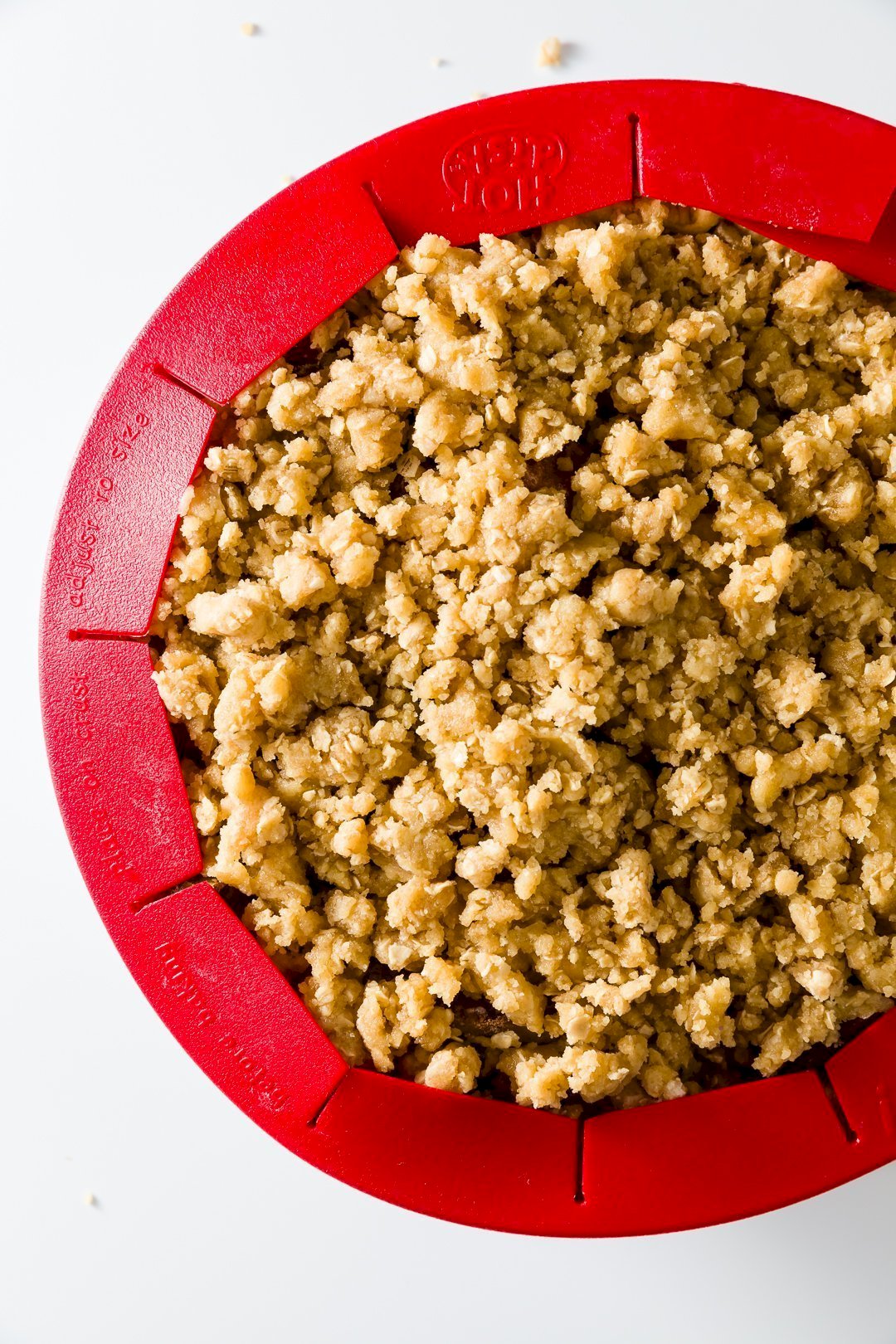 I have detailed instructions on this in my post on on crumb topping for apple pie.
This same technique can work for other fruit pies.
Crumb Topping for Scones
Crumb topping is not common on scones, but it is oh, so delicious!
Place the crumb topping on top of the scone batter just before baking to have crumb topped scones. Here's the crumb topping on raspberry scones:
Crumb Topping on Coffee Cake
For a crumb topped coffee cake, place the crumb topping on the coffee cake batter just before baking like in this sour cream coffee cake: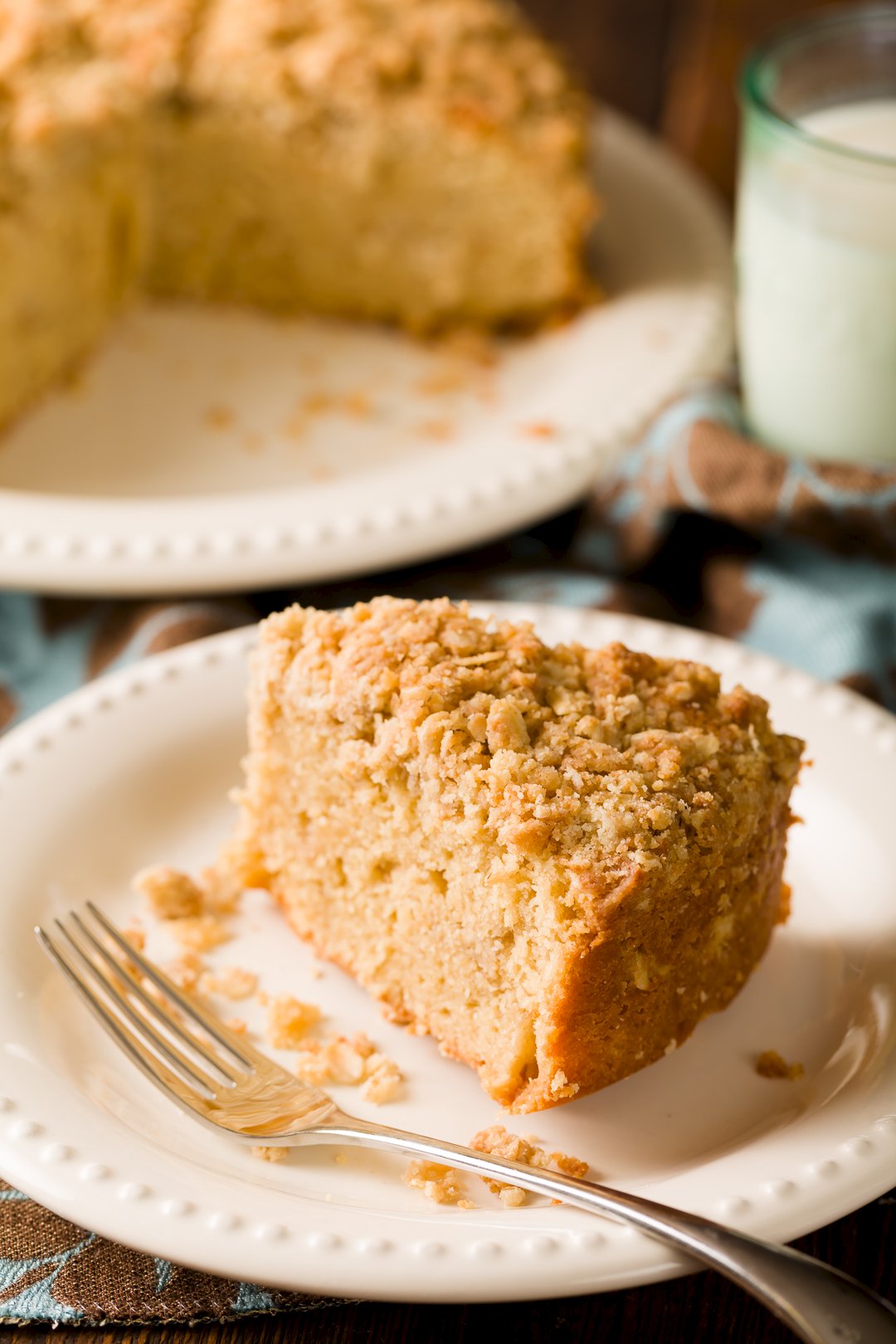 A Cookie Made of Crumbs
I call this a crumb cookie! It's literally a cookie made entirely of crumbs! If you love picking crumbs off of crumb cake, this is for you!
I challenge you to find me an easier cookie recipe.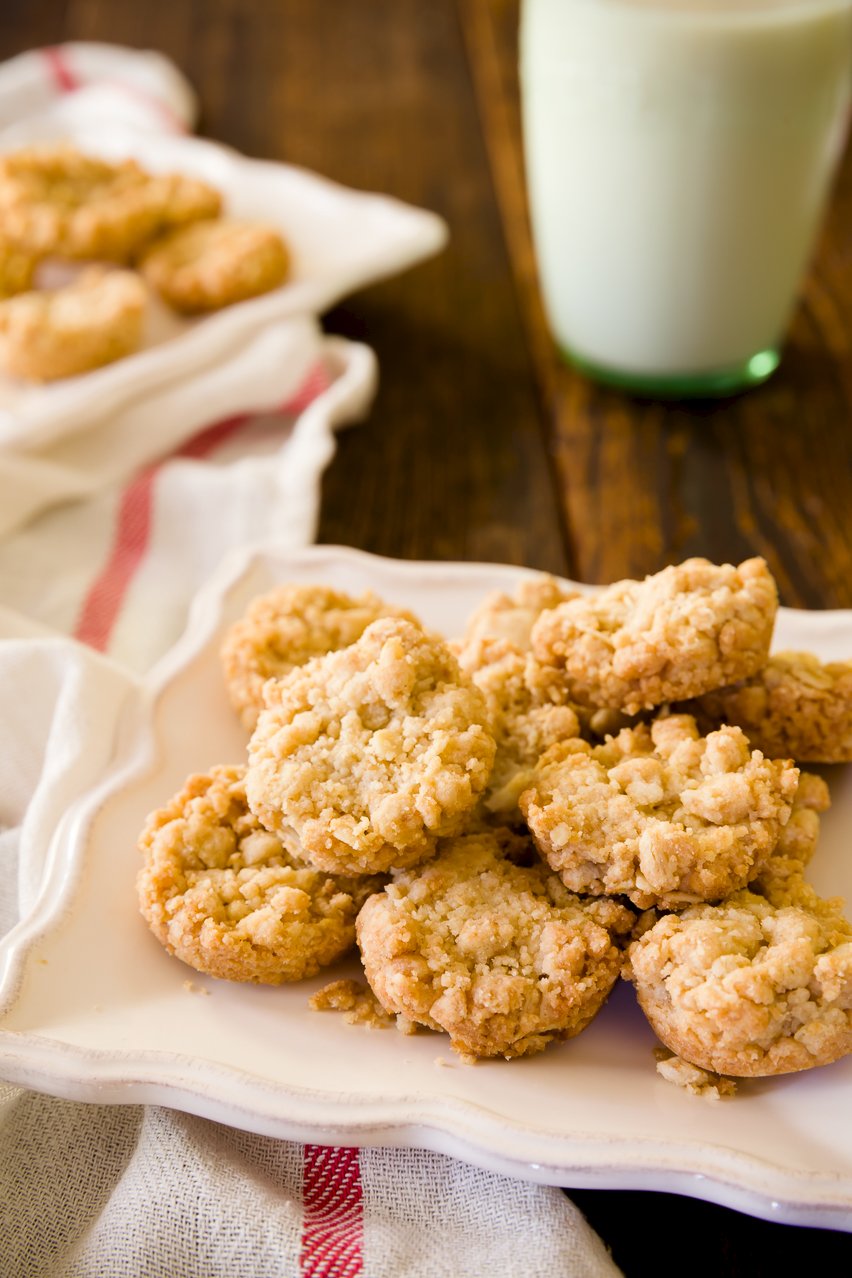 What's the Difference between a Crumb, Crisp, Crumble, Cobbler, Buckle . . . ?
There are a lot of words out there where I kind of know what they mean—I can use them in a sentence, I can nod knowingly when someone says them to me, etc.—but if I had to actually rattle off a definition, all that would come out are a few unhelpful words and then an embarrassing silence.
For most people (myself included until I did some research for this post) these dessert terms are like that.
Because of this, terms like "cobbler," "crisp," and even more obscure ones like "grunt," "slump," "sonker," and "brown Betty" get thrown around pretty fast and loose.
One person's crumble is another person's crisp.
In one part of the country a cobbler has to have a crumb crust, and in another part of the country, they would look at you like you were an idiot if you called it that and then handed them anything without a dough topping.
So please understand that when I start to define these terms, I am not saying that there is only one way to use them.
Crumble
Traditionally, a crumble is what you get when you put crumb topping on top of a bunch of sweetened fruit of some kind. Take my peach crumble and Noble Pig's blackberry crumble as examples.
For some people, adding oats to the mix (like I do for mine) means that you should call it a "crisp." But for most Americans, "crisp" and "crumble" are essentially interchangeable.
Cobbler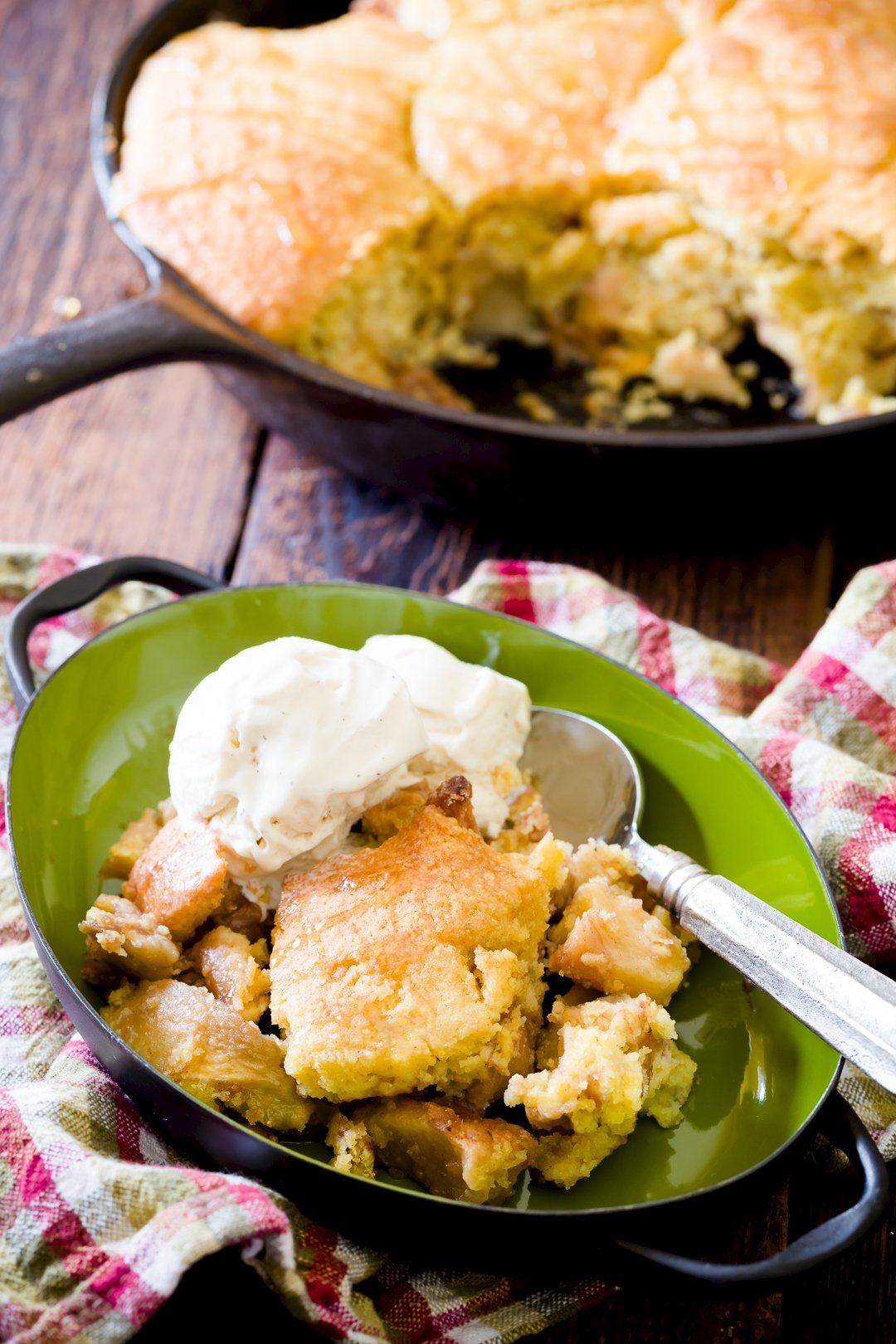 While many people use the term "cobbler" to refer to what I call here a "crumble," technically a cobbler is sweetened fruit with a batter of some kind spooned on top.
The spooned dough gives the topping the appearance of being "cobbled together," hence the name.
A cobbler does not use a crumb topping.
Buckle
And last but not least you have the "buckle," which has been having a renaissance of sorts in the last few years.
A buckle is made by adding fresh berries to what is essentially a cake batter and cooking in a cast-iron pan, with the result that the dough "buckles up" in the middle while cooking.
To make it more confusing, a lot of people add a crumb topping to the top, as well.
Other Ways to Use Crumb Topping
No matter how you choose to use this crumb topping recipe, you can't go wrong.
Of course, you can throw it on top of your favorite fruit for a crumble or crisp (or maybe even a cobbler!). But it is just as much at home on top of a coffee cake, a muffin, or a loaf of quick bread.
And, I would be hard pressed to think of a pie recipe that wouldn't taste just great with this on top.
Please share pictures of your crumb-topped desserts on Instagram with the hashtag #cupcakeproject so I can see them all!
How to Make Perfect Crumb Topping
A perfect crumb topping that can be added to the top of your choice of dessert just before baking.
Ingredients
3/4

cup

unsalted butter

melted

1 3/4

cup

all-purpose flour

1/2

cup

brown sugar

1/2

cup

rolled oats
Instructions
Mix all ingredients in a small bowl until large crumbs form. I suggest doing this with your hands. Stop as soon as you have the crumbs. Do not overmix.

Top your favorite dessert with the crumbs just before baking.

Bake according to the recipe's instructions.
Notes
This recipe makes enough crumbs to top a 9" pie. It can easily be halved or doubled depending on your needs.
Adding crumbs may cause the bake time of your recipes to change. Be sure to check your dessert for doneness before removing it from the oven.
Nutrition
Calories:
216
kcal
|
Carbohydrates:
25
g
|
Protein:
2
g
|
Fat:
12
g
|
Saturated Fat:
7
g
|
Cholesterol:
31
mg
|
Sodium:
5
mg
|
Potassium:
47
mg
|
Fiber:
1
g
|
Sugar:
9
g
|
Vitamin A:
355
IU
|
Calcium:
16
mg
|
Iron:
1.1
mg