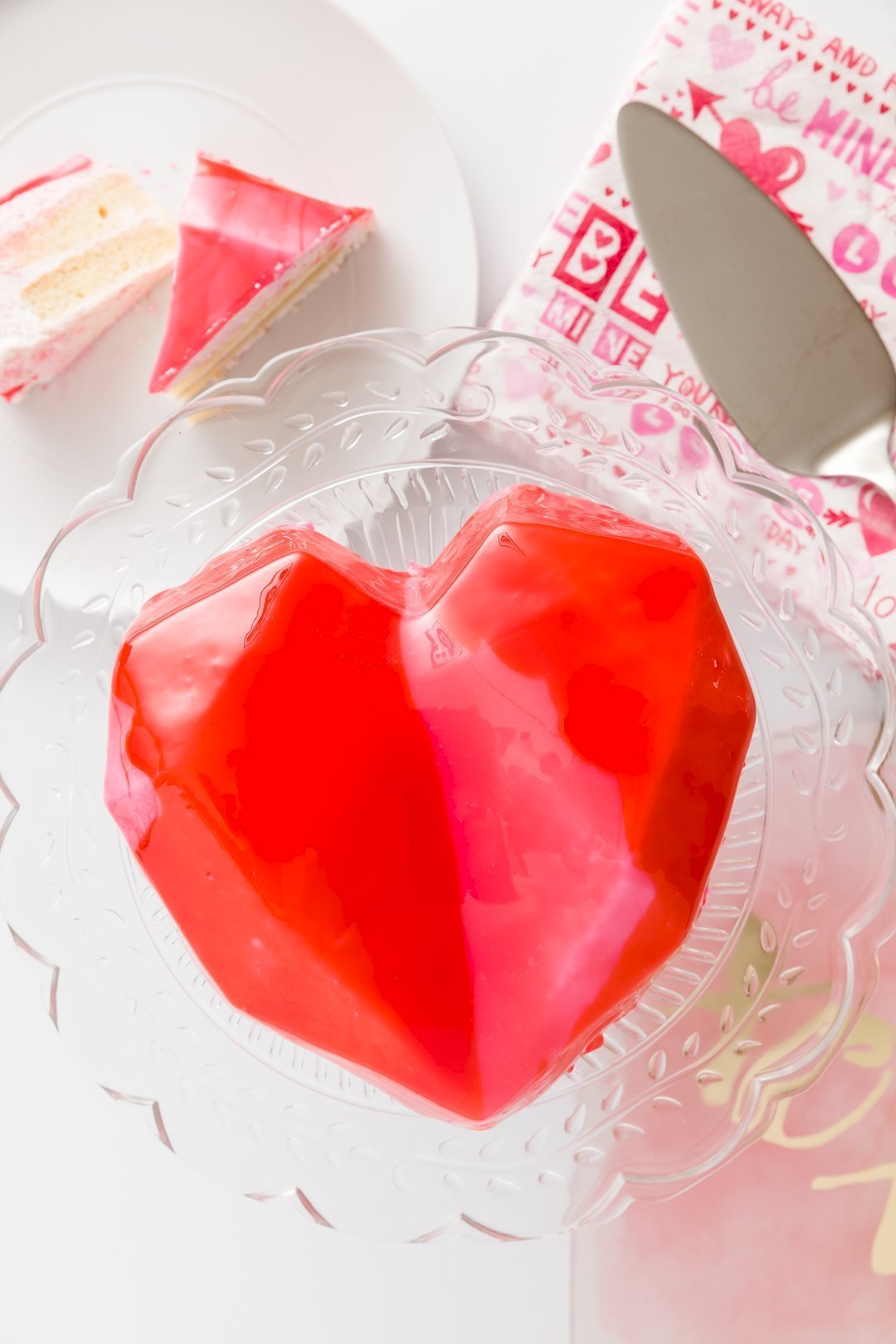 I spend far more time than the average human being looking at desserts on Instagram. Last year, I started to see mirror glaze cakes popping up all over the place. The glaze is poured over the cake and dries super fast into a shiny surface so mirror-like that you could use it instead of your cell phone camera to check for gunk in your teeth.
As trendy as mirror cakes were/are, I held off on making one because a) I'm not that hip of a person, b) I questioned whether this was within the range of my skills, and c) I generally shy away from food-colored desserts.
But, when my friend Julia suggested that we tackle a mirror glaze cake together, I decided to give it a go. I wanted to see just how hard it would be and, having never eaten one, I also wondered what the texture and taste would be like.
So, what's the deal with mirror glaze cakes?
Here's what I learned about mirror glaze cakes:
They aren't that hard to make. But, because the glaze dries so quickly, if you pour and you aren't happy with how it looks, you're out of luck. I call this a high-risk/high-reward dessert. It might not be the dessert you choose to make when your mother-in-law is coming over for dinner for the first time.
Mirror glaze is basically like fondant. You don't make it because it tastes amazing. You make it because it creates a great look. That being said, I didn't flavor mine with any extracts or flavored oils, which would have helped to make it taste better. I also would like to try making dark chocolate or salted caramel mirror glaze. Those variations could fix the flavor problem!
Mirror glaze is a little gummy – like a cross between fruit leather and jello.
While it might look like you can cover a mirror glaze cake in plastic wrap to store it, don't even think about it! I touched the glaze on my finished cake with a tiny bit of plastic wrap and when I lifted the wrap, it pulled the whole glaze off of the cake.
You can mirror glaze any kind of cake as long as you freeze it first, but the glaze works much better if the cake is smooth to begin with. See the photo below.
How to Make Mirror Glaze Cakes
To show you how to mirror glaze a cake, let's start with a video and then I'll break it down.
Mirror Glaze Cake
How to make a mirror glaze cake.
Ingredients
20

grams

powdered gelatin

3 packets

270

grams

water

divided

300

grams

white chocolate

I suggest Guittard or Ghirardelli. Nestle white chocolate chips are surprisingly hard to melt.

200

grams

sweetened condensed milk

300

grams

sugar

150

grams

corn syrup

Food coloring

your choice of amount and colors

2

small

mousse cakes

frozen overnight
Instructions
Sprinkle gelatin over 120 grams of water a little bit at a time, whisking to combine. Try not to drop a lot of gelatin in one place to avoid large clumps.

Let gelatin sit for 15 minutes to bloom (absorb the liquid).

In a medium-sized bowl, combine white chocolate, condensed milk, and bloomed gelatin.

In a small sauce pan, boil 150 grams of water with the sugar and corn syrup until it reaches 217 F.

Pour boiled mixture over the white chocolate mixture.

Let sit for a few minutes until chocolate starts to melt.

Use an immersion blender to blend until smooth, keeping the blender entirely submersed to avoid bubbles.

Pour glaze through a fine sieve and separate into as many vessels as you would like colors.

Add food coloring to each vessel to create your desired colors.

Cover tightly with plastic wrap, pressing plastic wrap directly against the surface of each glaze, and cool to 95 F.

Place two drinking glasses on top of a cookie sheet and set your frozen cakes on top of the glasses.

Slowly but generously, pour one color glaze over the cake, being careful to avoid getting air bubbles.

Quickly, before the glaze fully hardens, pour any other colored glazes over the first one and gently mix colors however you'd like using an offset spatula.

Carefully pick up each cake up by using both palms and reaching under the cakes. To remove any glaze hanging down off the sides of the cakes, run a knife across the dangling glaze so that it sticks to the knife, and gently twirl the knife to remove. Place the cakes on serving plates.

To use the extra mirror glaze, heat it back up to 95 F in the microwave or set over a bowl of simmering water. If not using immediately, store in an air-tight container in the refrigerator.
Video
Notes
The glaze ingredients make enough to cover four small cakes, but I've written the instructions to cover two cakes. This is because you'll want far more glaze than you actually need so it can run down the cake without you worrying about running out.
Instead of covering the cake with each glaze color separately, you can also swirl the colors together slightly into one bowl and then pour the combined swirled glaze onto the cakes.
The nutrition facts are for the glaze only, as you can use it with any cake.
The glaze recipe is slightly adapted from Kara's Couture Cakes.
Nutrition
Nutrition Facts
Mirror Glaze Cake
Amount Per Serving
Calories 162
Calories from Fat 36
% Daily Value*
Fat 4g6%
Cholesterol 5mg2%
Sodium 28mg1%
Potassium 66mg2%
Carbohydrates 29g10%
Protein 2g4%
Vitamin A 25IU1%
Vitamin C 0.2mg0%
Calcium 50mg5%
Iron 0.1mg1%
* Percent Daily Values are based on a 2000 calorie diet.