How to Make Pretzel Pie Crust
Published , Last updated by
Stef
Disclosure: As an Amazon Associate, I earn from qualifying purchases.
A pretzel pie crust is wonderful when you want to make your dessert both sweet and salty. It's the dessert version of having a drink with a salted rim!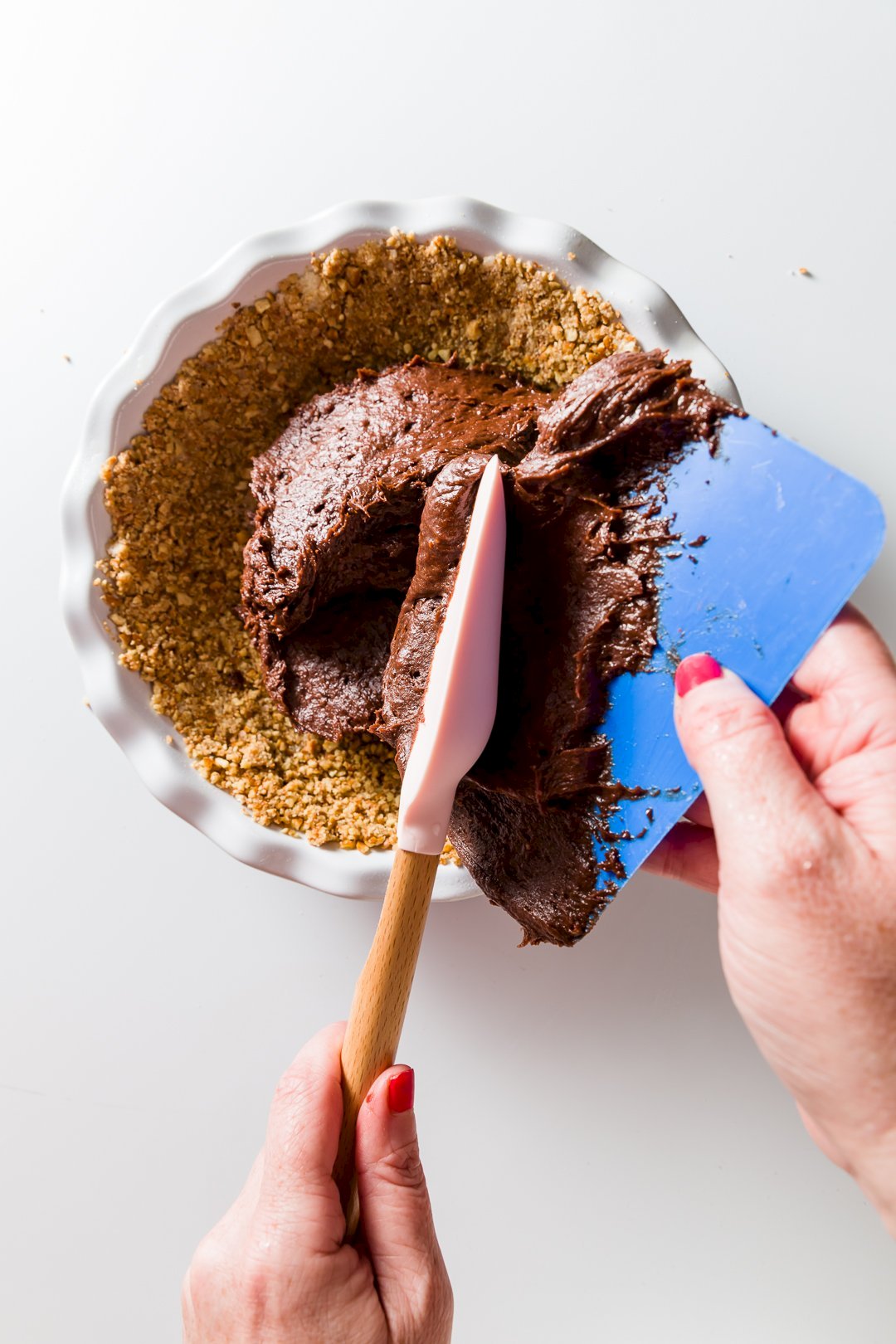 I love using it on all kinds of pie recipes – baked, no-bake, and ice cream pies. Try using this crust anywhere you would normally use a graham cracker crust or Oreo crust for a surprise salty twist!
Ingredients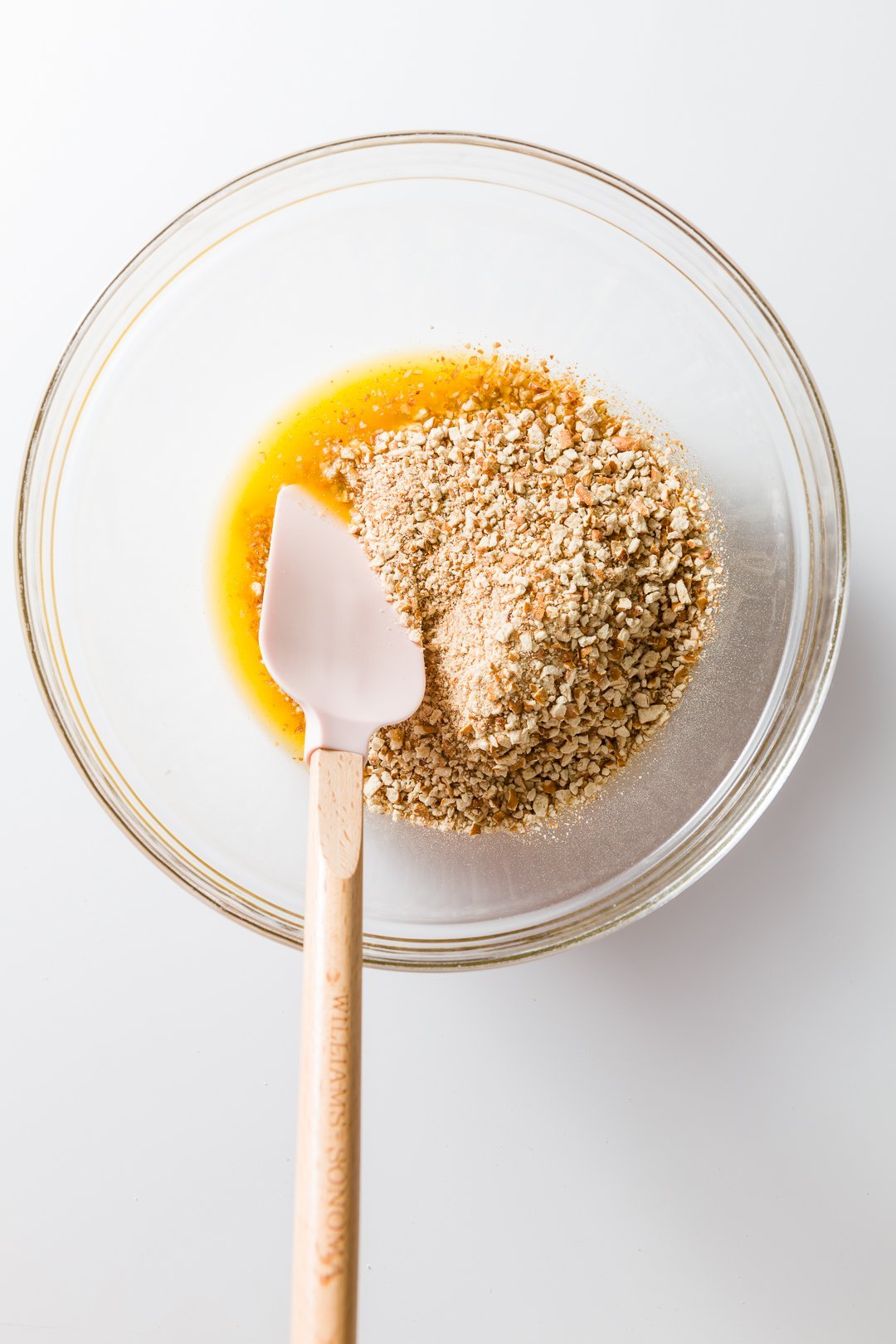 There are just three ingredients in pretzel pie crust: pretzels, butter, and sugar.
I like to use tiny twist pretzels because they are easy to crush and they have a good proportion of pretzel to salt. Speaking of salt, make sure to use salted pretzels. If you don't, you will miss out on the whole point of pretzel pie crust – getting the sweet and salty combination in your pies.
The butter is necessary to make the pretzel crust hold together. I suggest using unsalted butter. We want a salty flavor, but using salted butter in addition to salted pretzels will make the pie crust too salty.
How It's Made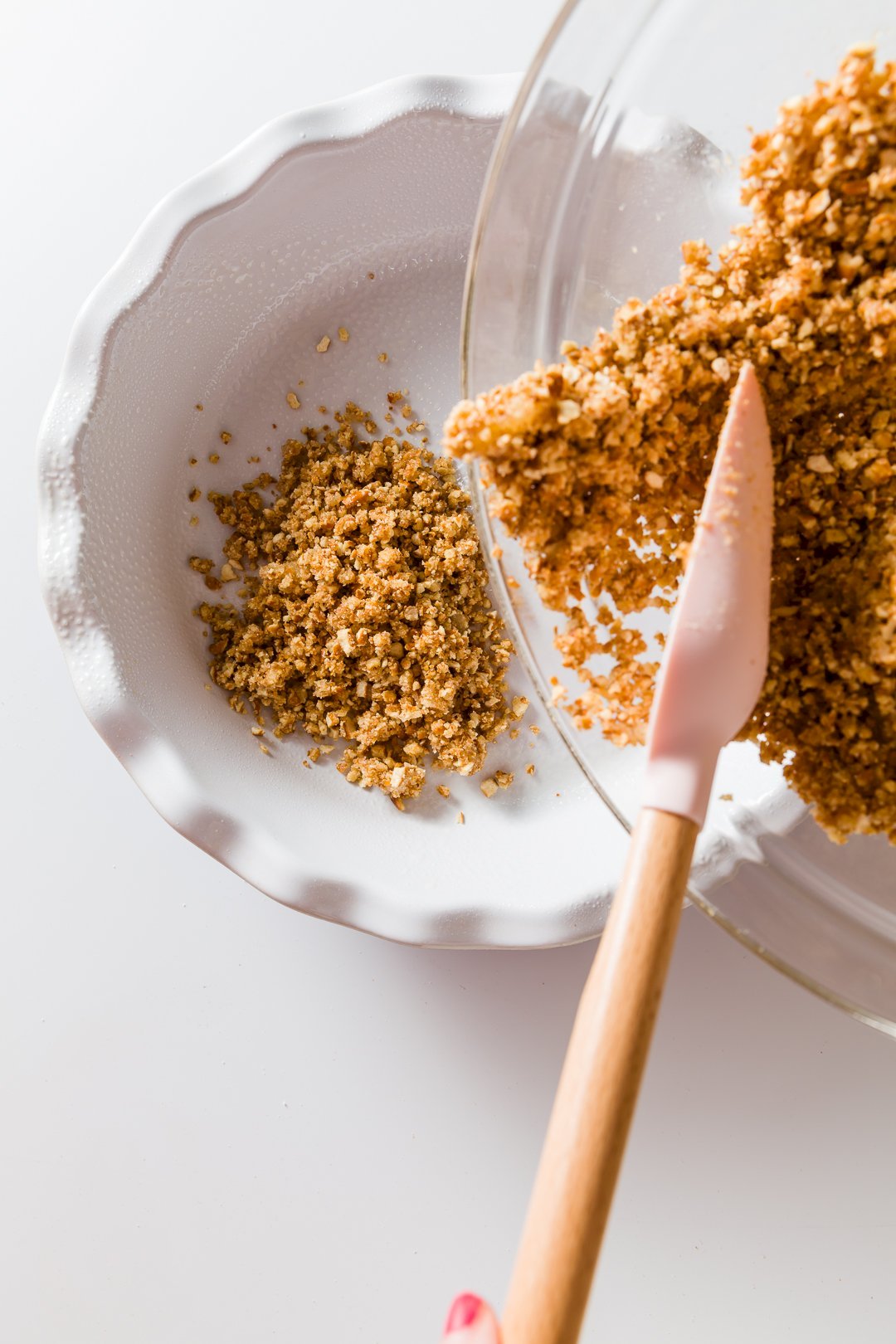 Pretzel pie crust is super easy to make – so so much easier than a classic butter crust.
The hardest part is crushing the pretzels, which I do in a mini food processor. I simply add all ingredients and start processing.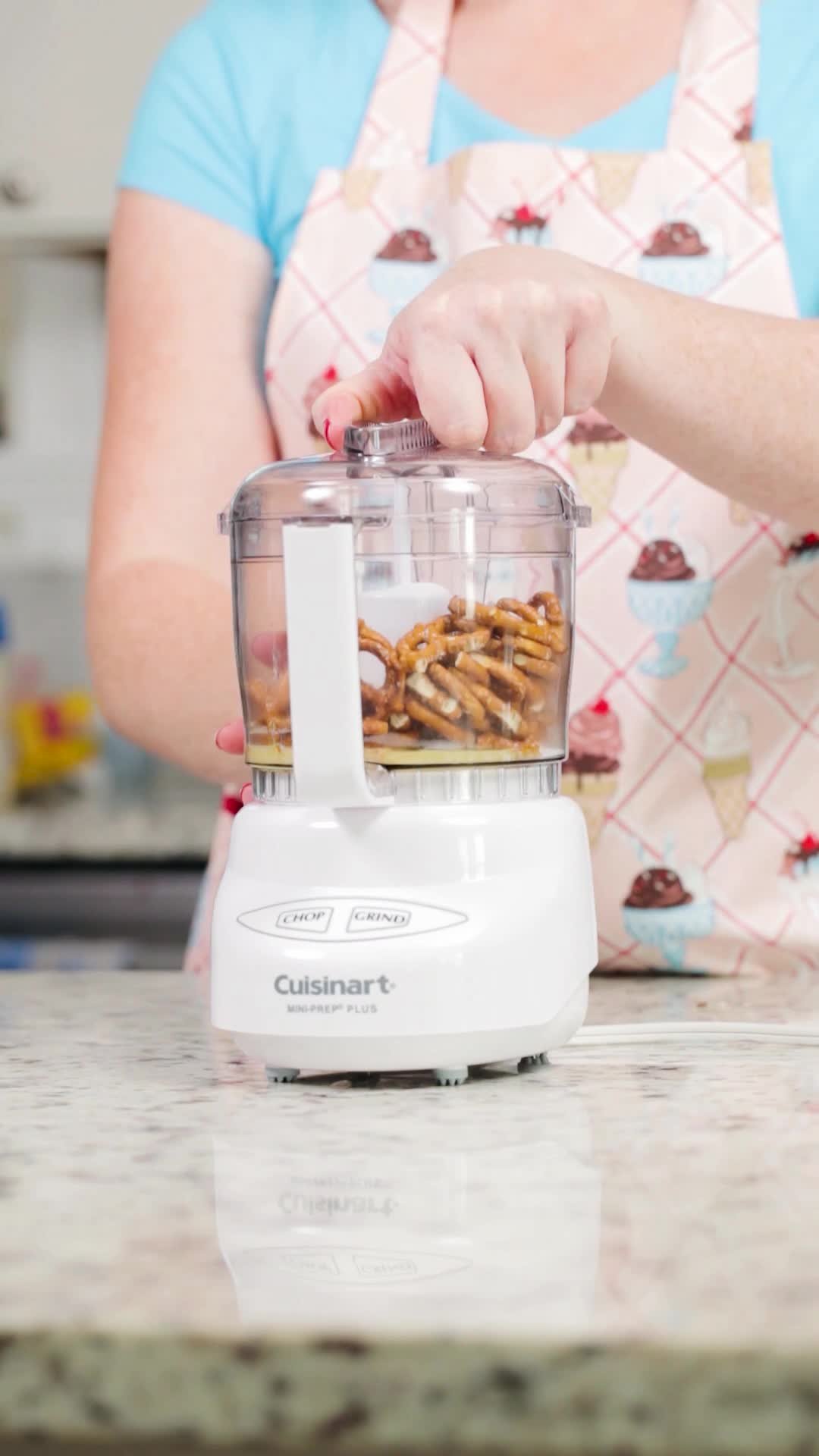 If you don't have a food processor, you can also crush pretzels by putting them into a Ziploc bag and rolling over them with a rolling pin. Then, you can mix in the other ingredients by hand.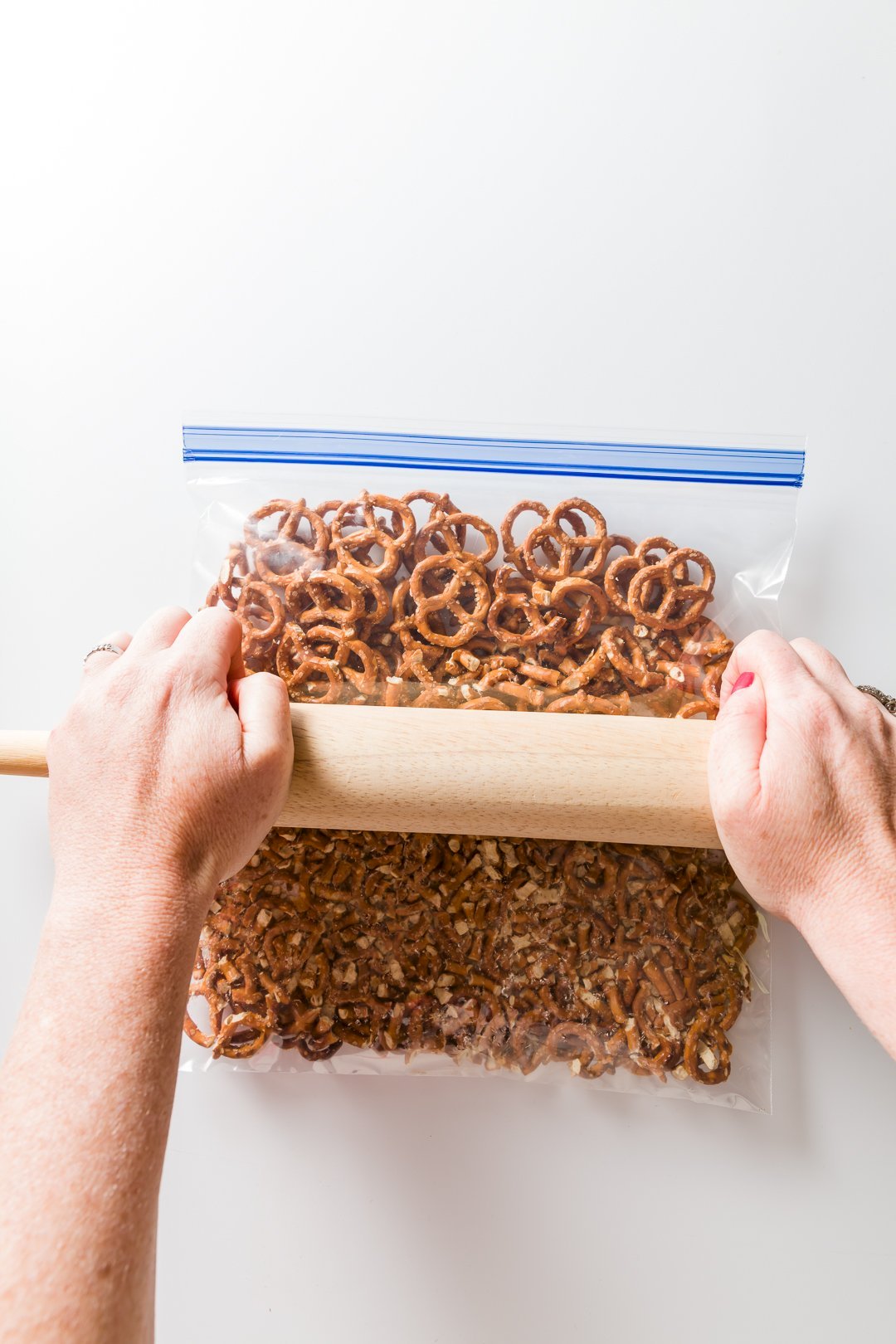 Even if you are using pretzel pie crust for a no-bake pie, I suggest baking the pie crust for about ten minutes at 350 F so the crust can set a little. If you don't bake the crust at all, it will be harder to add the filling to the pie as the crust will be more crumby and may end up integrated into the filling.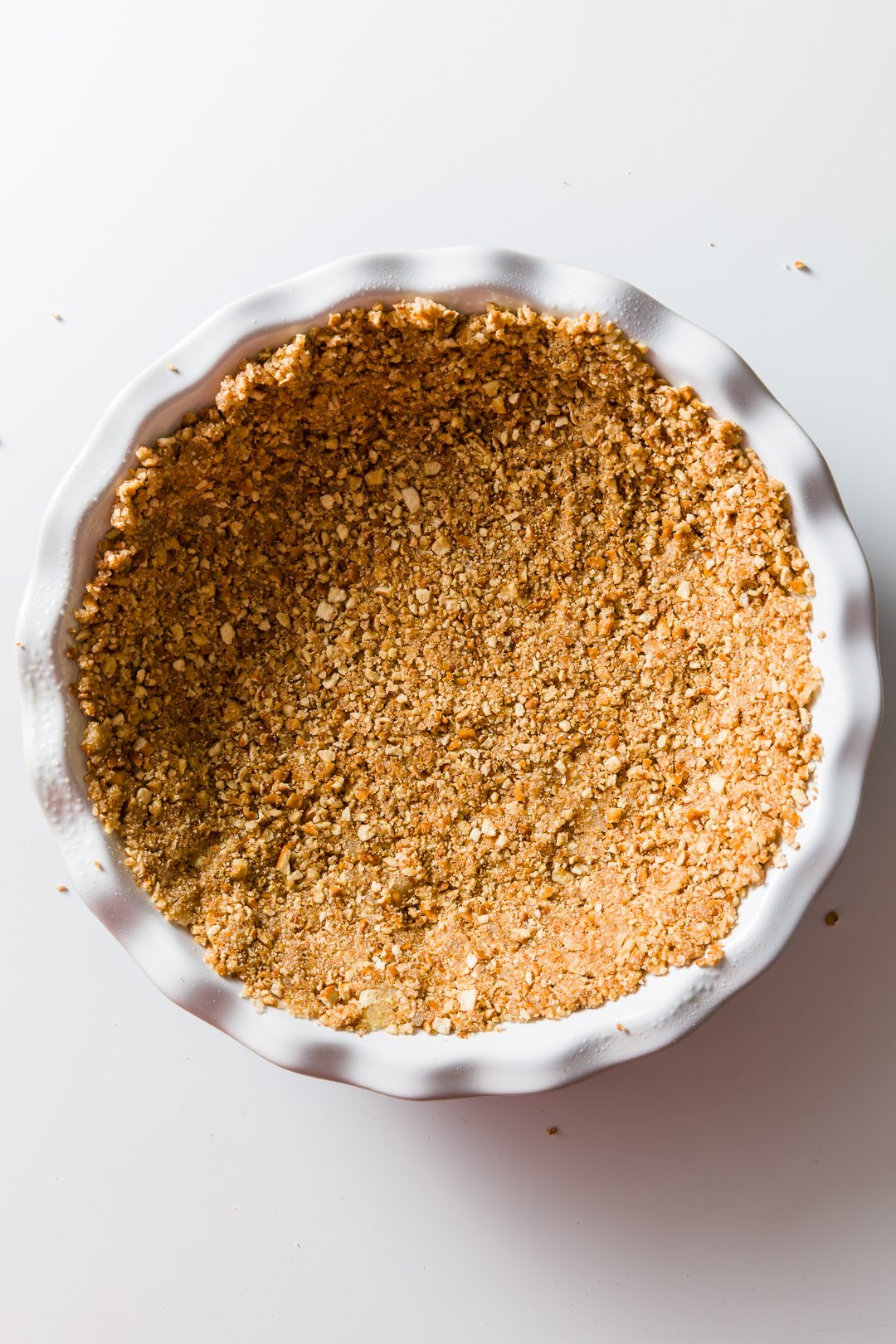 Where to Use a Pretzel Pie Crust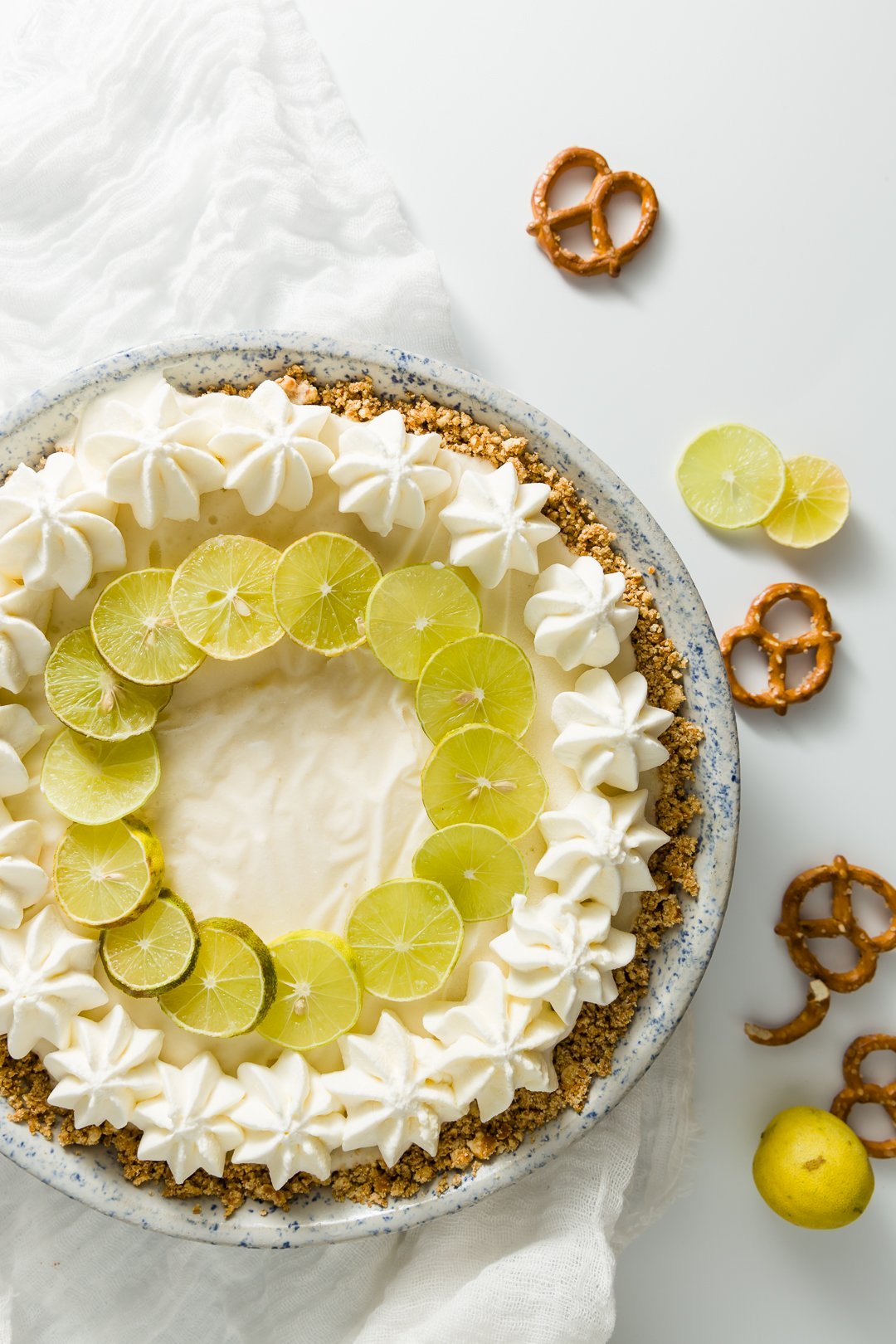 This crust goes amazingly well on a key lime ice cream pie because of the salty/sweet combination!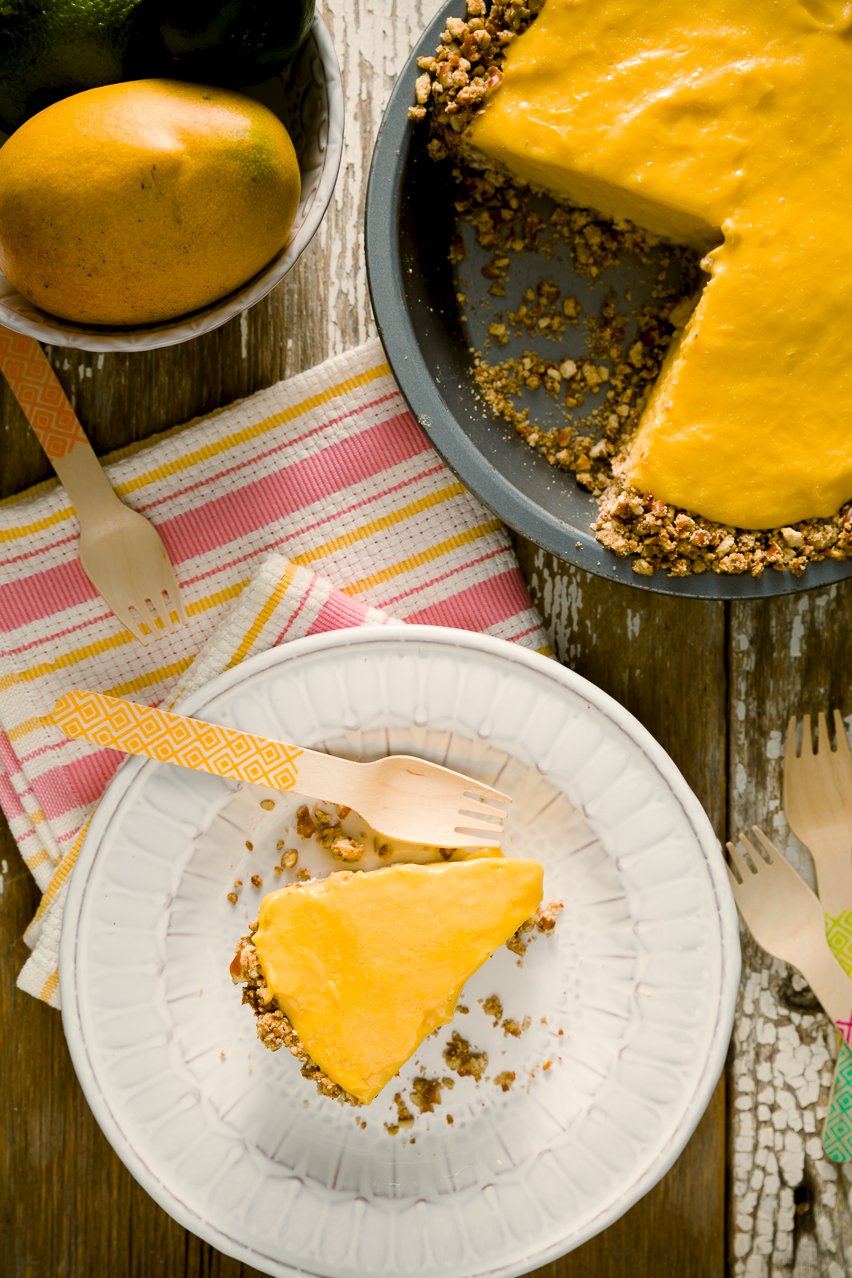 Another ice cream pie that works really well with pretzel crust is my frozen mango margarita pie, which was featured in a cookbook by the National Mango Board. It's that good!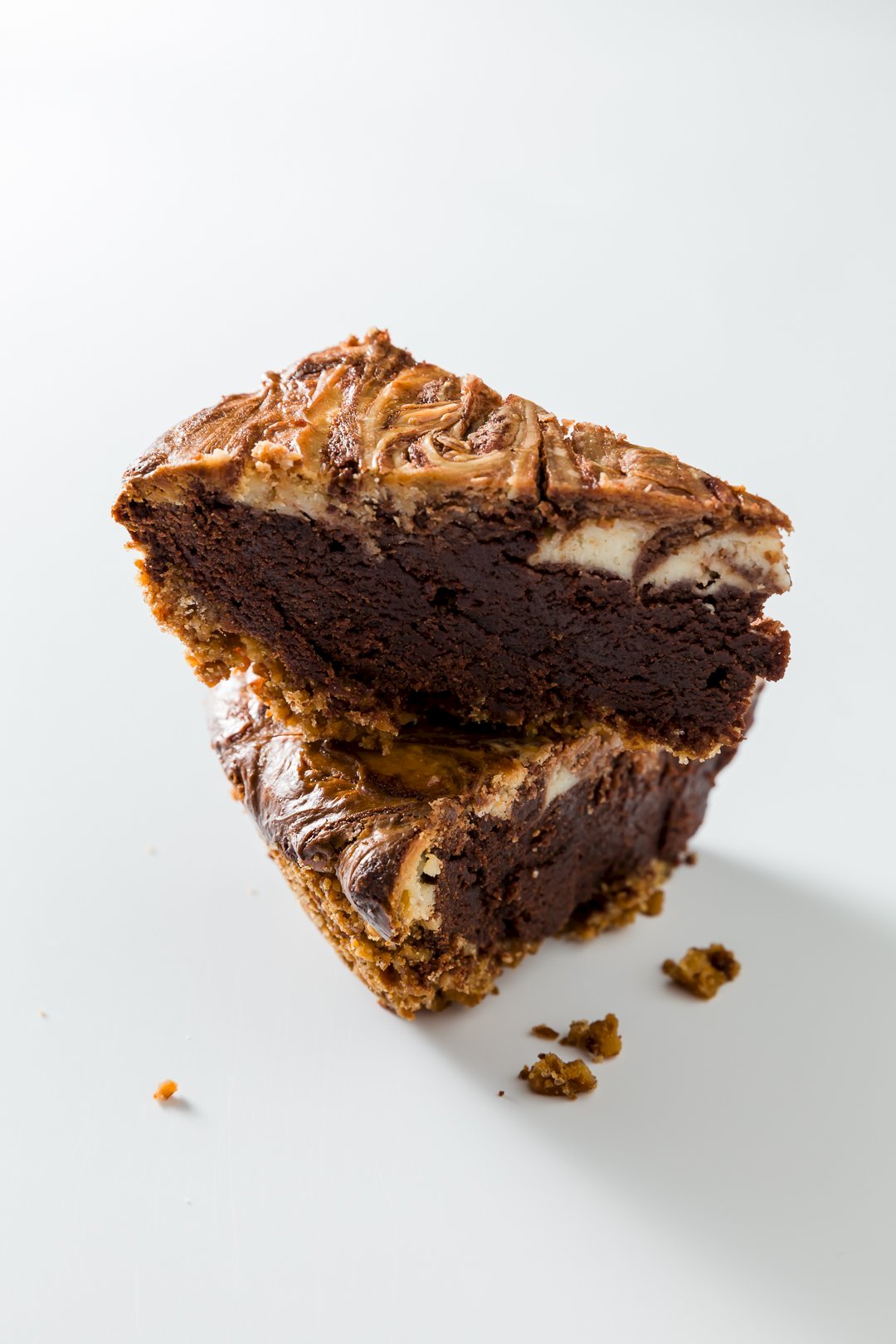 Pretzel crust isn't just for ice cream pies. I also use pretzel crust on my cheesecake brownie pie and people go crazy for the chocolate plus salt combination.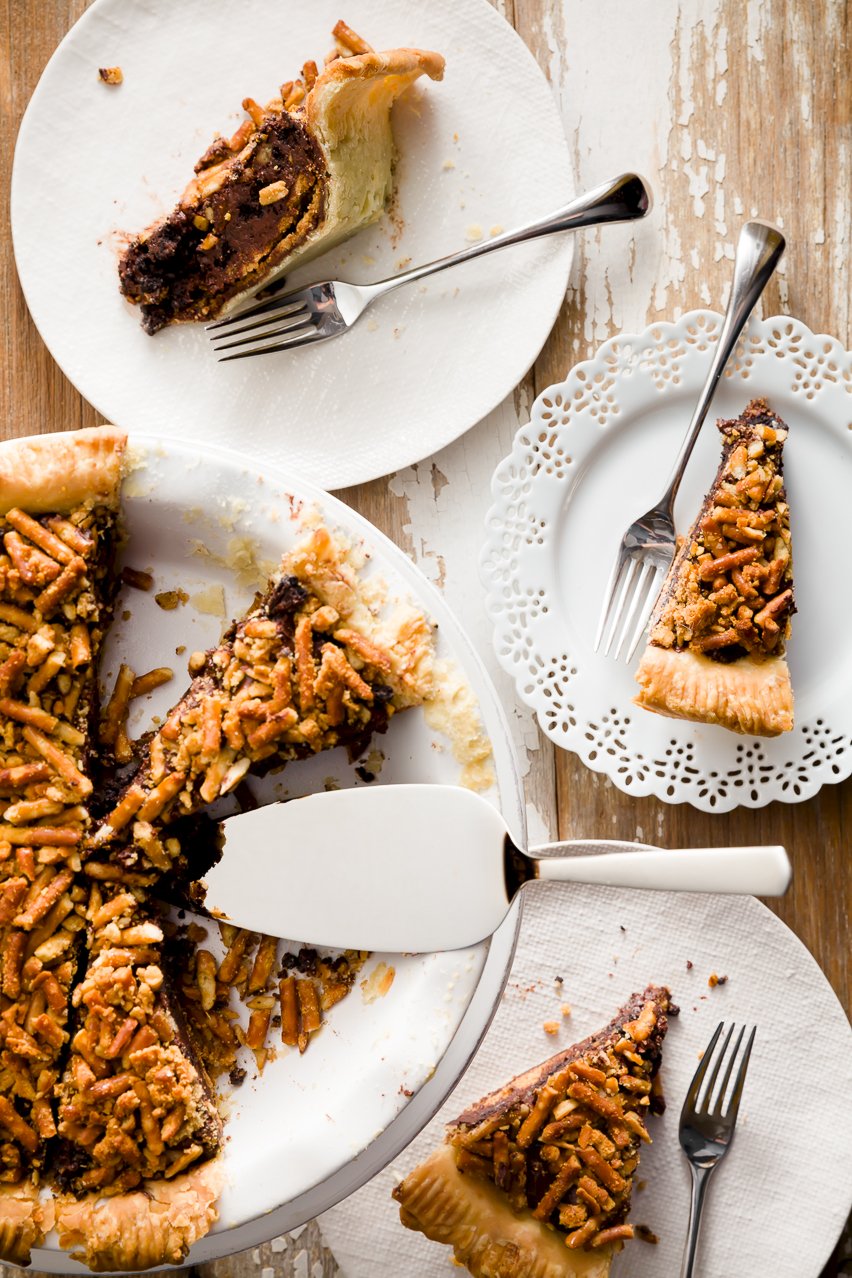 If you are up for trying something a little (OK, more than a little) different, make a pie with your favorite kinds of pie crusts – including this one!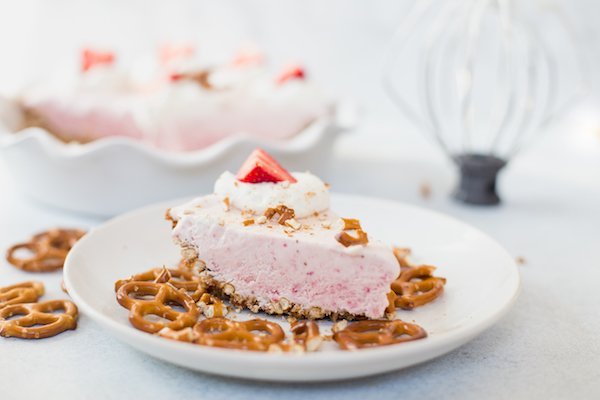 This frozen strawberry cream pie from Greens & Chocolate is inspired by strawberry pretzel salad. Have you ever tried it?
The pretzel crust on this peanut butter mousse pie from Completely Delicious actually has peanuts mixed into it to bring out the peanut flavor even more!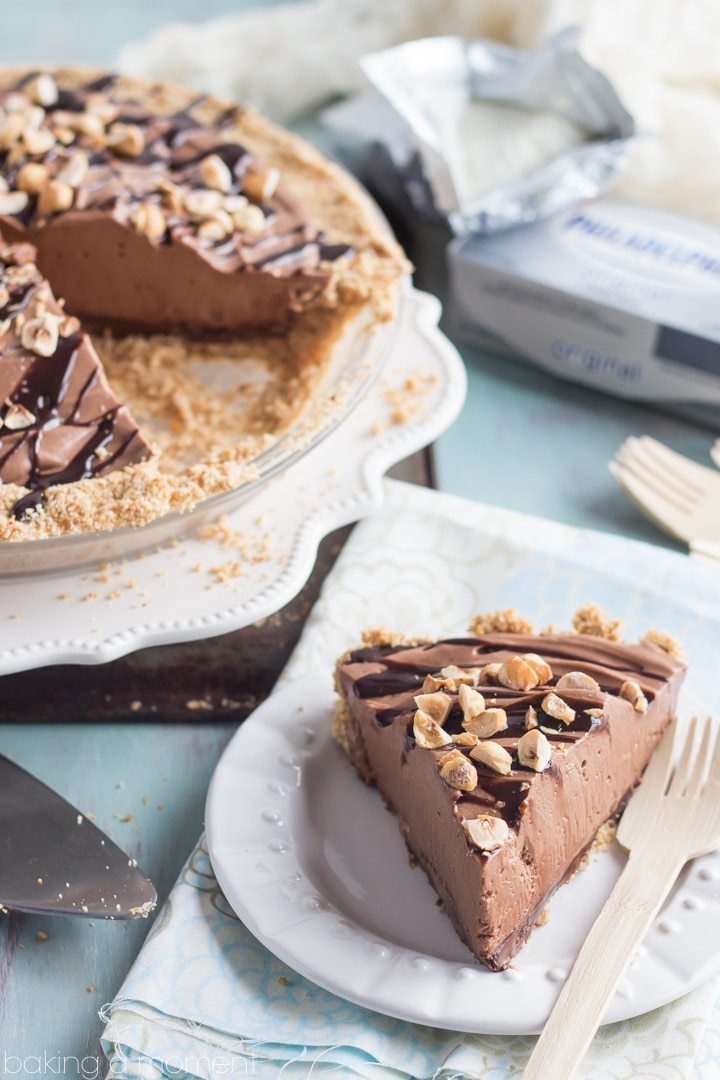 This Nutella pie from Baking a Moment seems like such a perfect use of a pretzel crust. I want to pick up that fork and dig right in!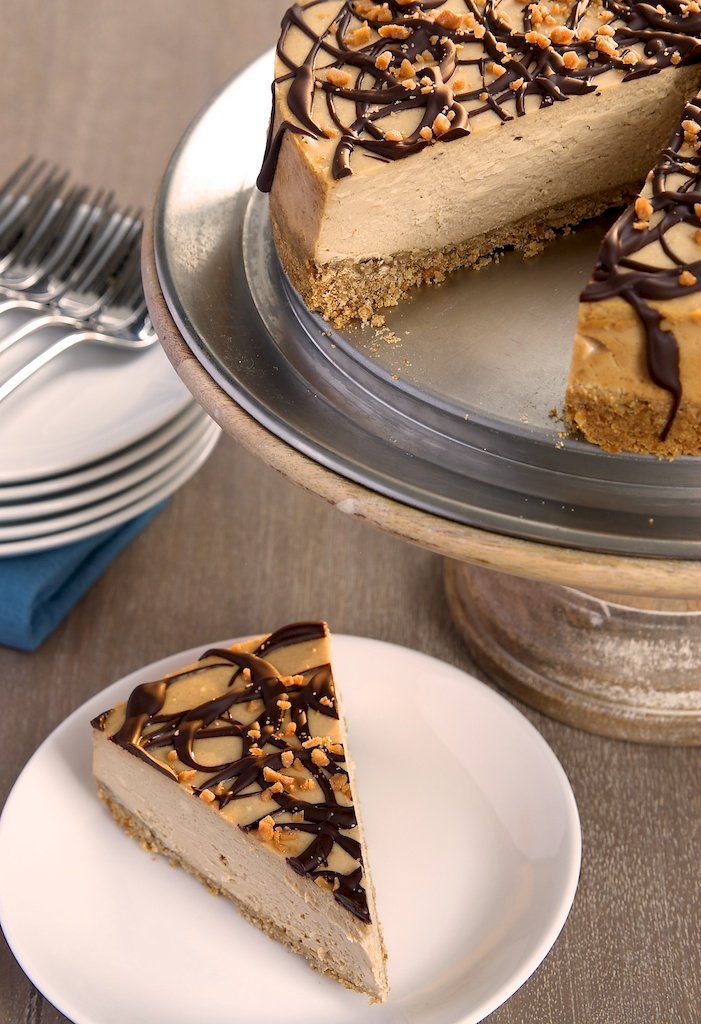 This peanut butter cheesecake from Bake or Break is just one example of a cheesecake that could be made with a pretzel crust.
Which pies would you make in this crust? Share in the comments!
Pretzel Pie Crust
This pretzel pie crust can be used for any pie recipe where you would like a sweet and salty flavor!
Ingredients
2

cups

small salted pretzels

2

tablespoons

sugar

1/4

cup

unsalted butter

melted
Instructions
Preheat oven to 350 F.

Crush all ingredients in a mini food processor until they look like wet sand. Or, place pretzels in a sandwich bag, crush with a rolling pin, and mix with other ingredients in a small bowl.

Press into the bottom and up the sides of a greased 9″ pie pan.

Bake for 10 minutes. Use with your favorite pie recipe.
Notes
To use this in a smaller 5″ pie, use half of the crust recipe.
To use this in a 10″ deep pie pan, double the crust recipe.
Nutrition
Calories:
110
kcal
|
Carbohydrates:
15
g
|
Protein:
1
g
|
Fat:
5
g
|
Saturated Fat:
2
g
|
Cholesterol:
12
mg
|
Sodium:
203
mg
|
Potassium:
21
mg
|
Sugar:
2
g
|
Vitamin A:
140
IU
|
Calcium:
4
mg
|
Iron:
0.8
mg
Stay Connected!
Join my mailing list - and receive a free eBook!