Chiffon cake is a light, airy cake for when you want dessert but don't want to be bogged down with something heavy. Here, contributor Jessica Touchette shares a recipe for a pumpkin chiffon cake that's perfect for fall!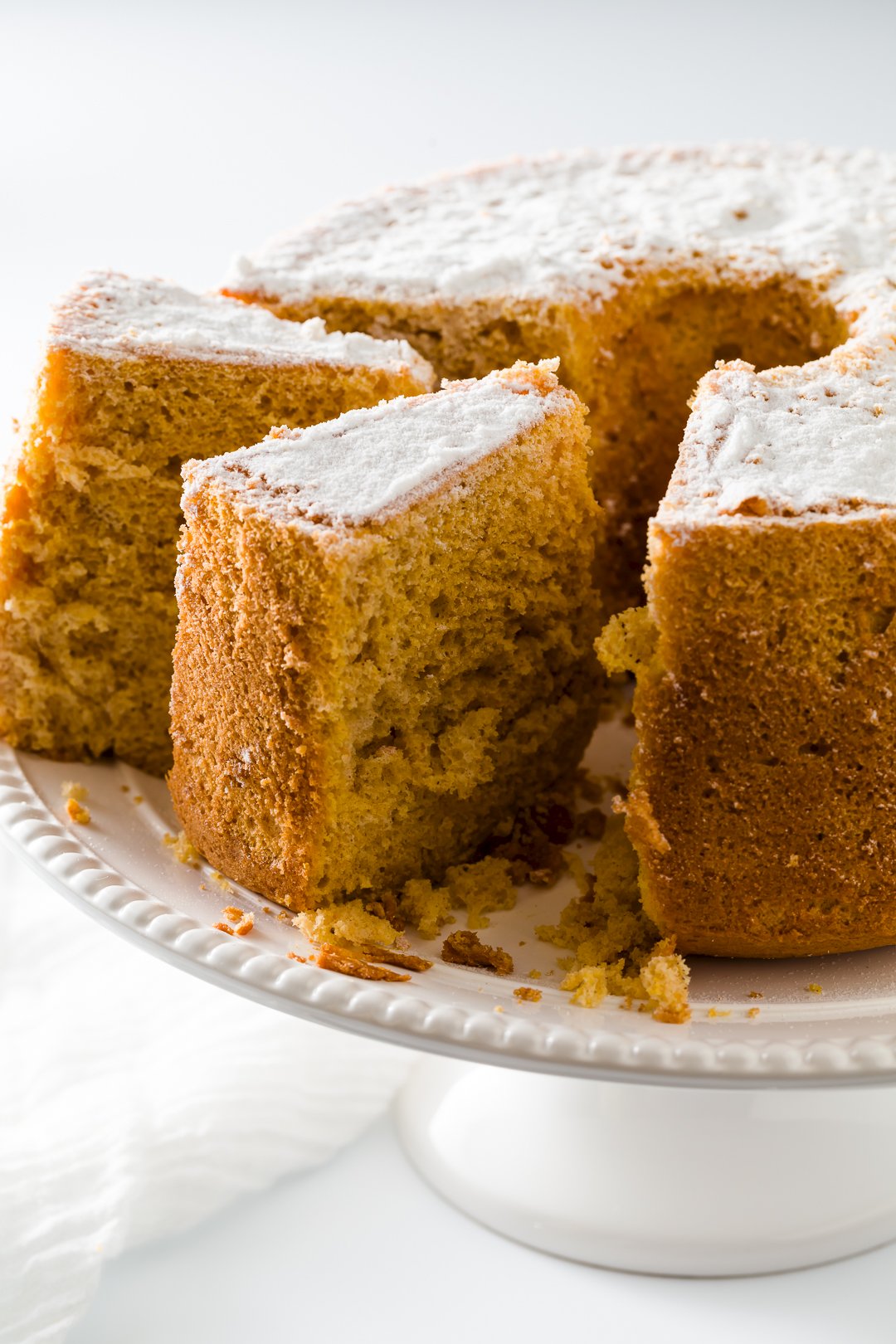 A revolution in baking. A celebration of decadence in the wake of wartime rationing. As mysterious as a film noir starlet and as elegant and insubstantial as a length of luxury fabric. Since its 1927 birth in the oven of Harry Baker, chiffon cake has been anything but ordinary.
What is Chiffon Cake?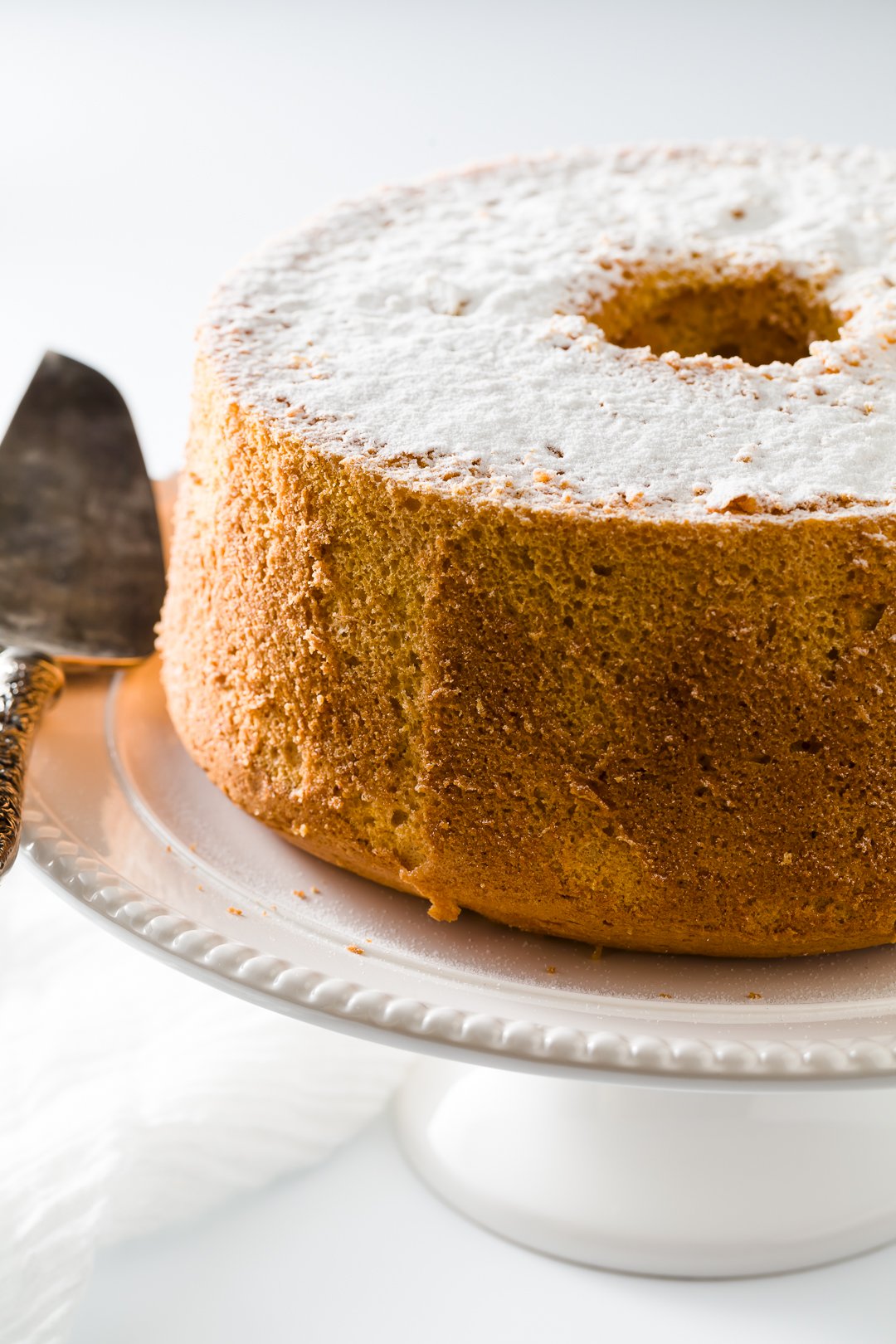 Chiffon is an anomaly of the cake world, bridging the gap between butter cake (made with a chemical leavening agent like baking powder or baking soda and packed with fat from butter or vegetable shortening) and foam cake (leavened with stiffly beaten egg whites like angel food cake).
It is leavened with both baking powder and egg whites, and enriched with vegetable oil in lieu of butter.
As a result, chiffon boasts both the rich taste and crumbly texture of a butter cake and the lightness of a foam cake.
History of Chiffon Cake
Though equal parts butter and foam cake, chiffon takes its name from its lighter side.
The word "chiffon," derived from the French "chiffe," meaning "rag," was applied to the sheer fabric often used to make saris and scarves long before it was ever applied to food.
"Chiffon" first crossed over into the culinary world in the 1920s, when it was used to describe the fluffy, whipped egg white filling of a pie invented by "Pie King" Monroe Boston Strause. (Legend has it that it was Strause's mother who coined the name chiffon pie, commenting that his meringue-like pie filling looked "just like a pile of chiffon.")
Around the same time that Strause's new pie came on the scene, Hollywood insurance salesman Henry Baker set out to develop a dessert that combined the best qualities of both butter and foam cakes. In 1927, he succeeded in creating a cake praised for being at once rich, tender, light, and voluminous.
Following the trend of naming light and elegant desserts after light and elegant ladies' wear, Baker's cake was also called "chiffon."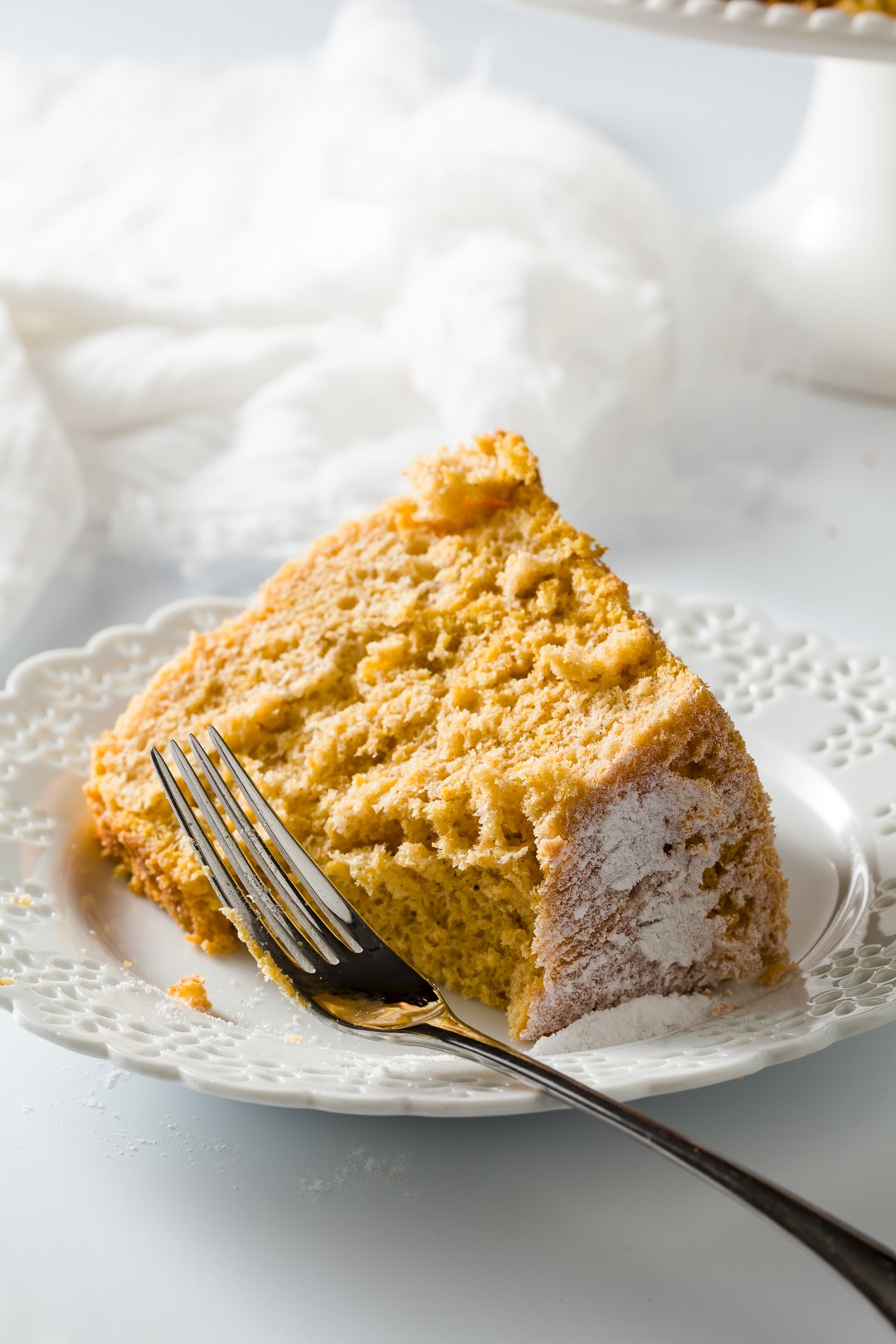 Baker's skillful marketing of chiffon cake quickly made it a media sensation. He clothed the cake in secrecy, closely guarding the recipe and its "mystery" ingredient. It soon garnered the attention of Hollywood royalty, who sought out Baker's chiffon cakes for private events.
The cake was given screen time by both MGM and RKO. Then, Baker began to make it for the Brown Derby Restaurant, still keeping the recipe under wraps. The cake became entwined with all the glamour and elegance of old Hollywood.
It was not until the 1940s that the recipe for Baker's chiffon was published and the "mystery" ingredient – vegetable oil – was revealed.
Again demonstrating his savvy marketing abilities, Baker sold the recipe to General Mills in 1947, just as wartime rationing officially ended. His recipe was approved by Betty Crocker (by then a household name), refined in General Mills' test kitchen, and printed in 1948 issues of Better Homes and Gardens, Ladies' Home Journal, and McCall's. From there, the cake, filled with once-rationed ingredients, enjoyed a period of popularity that stretched well into the 1960s.
How Do You Make Chiffon Cake?
While there are countless possibilities when it comes to flavoring and decorating chiffon, most recipes follow a basic formula:
Combine the dry ingredients (flour, sugar, baking powder, and spices)
Mix in the oil, egg yolks, and a liquid of choice (e.g. water or fruit juice)
Just before baking, fold stiffly beaten egg whites into the batter
Chiffon bakes low and slow, most often in a tubular angel food cake tin.
However, any straight-sided pan (even a cupcake tin!) will do.
As when baking angel food cake, you'll get the best results with an ungreased pan inverted during cooling to prevent deflation. (For more information on how chiffon compares to angel food, see "How is Chiffon Cake Different from Angel Food Cake?")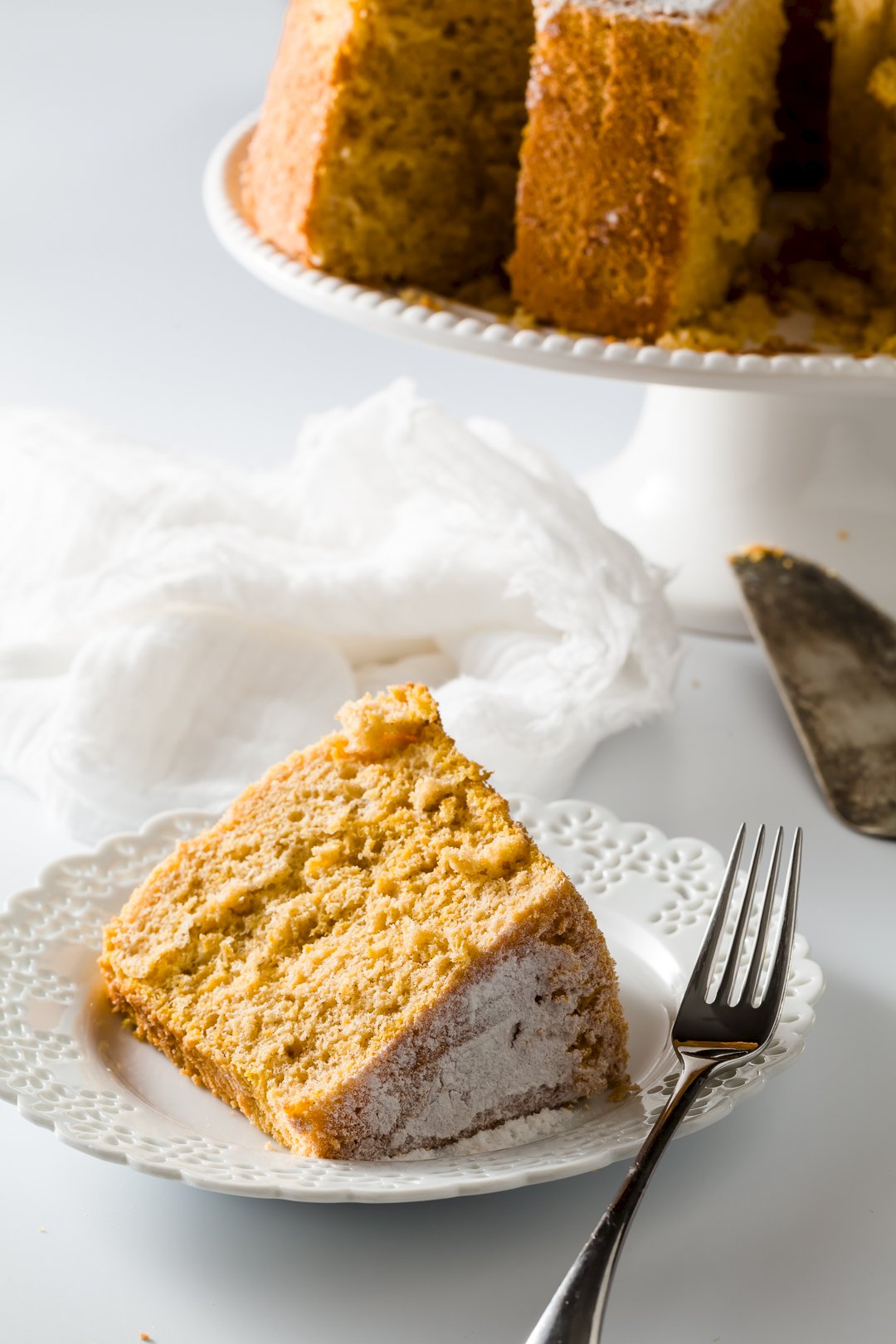 Chiffon bakes up big, a true celebration Cake with a capital "C." This time of year, the relief of cool weather after a sweltering Missouri summer, the sight of wild asters bursting into bloom, and the wide availability of fresh and canned pumpkin makes me want nothing more than to shout autumn's praises from the rooftops.
What better way to celebrate the season than with a pumpkin chiffon?
This cake is tender and sweet, with a hint of spice and a mild pumpkin flavor. While I topped it with powdered sugar, it would also be great with apple butter caramel icing.
Pumpkin Chiffon Cake
A light chiffon cake with pumpkin flavor
Ingredients
2

cups

cake flour

1 1/3

cups

sugar

divided

1

tablespoon

baking powder

1

teaspoon

ground cinnamon

1

teaspoon

ground ginger

1/4

teaspoon

ground allspice

1/2

teaspoon

ground nutmeg

1/2

cup

vegetable oil

4

egg yolks

3/4

cup

pumpkin puree

1

teaspoon

vanilla extract

1

cup

egg whites

from 6-7 eggs

1/2

teaspoon

cream of tartar

powdered sugar

to taste
Instructions
Sift flour, 1 cup of sugar, baking powder, and spices into a large bowl.

Add the oil, egg yolks, pumpkin puree, and vanilla.

Beat with a whisk or using a mixer on low speed until batter is smooth.

In another large bowl, beat egg whites and cream of tartar until the mixture forms soft peaks.

Gradually beat the remaining 1/3 cup sugar into the egg whites, blending until very stiff peaks form.

Use a rubber spatula to carefully fold one quarter of the egg white mixture into the pumpkin batter until just mixed. Repeat three more times with the remaining egg whites, folding until no streaks remain.

Pour the batter into an ungreased, 10-inch angel food cake pan and bake for 50-55 minutes or until a cake tester inserted into the center of the cake comes out clean.

Remove from oven and cool, inverted, for roughly two hours.

When the cake has cooled completely, run a table knife or thin spatula around the edges, gently loosening the cake from the pan before turning it out onto a plate.

Serve with a dusting of powdered sugar.
Nutrition
Nutrition Facts
Pumpkin Chiffon Cake
Amount Per Serving
Calories 277
Calories from Fat 99
% Daily Value*
Fat 11g17%
Cholesterol 65mg22%
Sodium 38mg2%
Potassium 213mg6%
Carbohydrates 39g13%
Protein 5g10%
Vitamin A 2470IU49%
Vitamin C 0.7mg1%
Calcium 61mg6%
Iron 0.7mg4%
* Percent Daily Values are based on a 2000 calorie diet.
Other recipes you may enjoy: