Cream Pie – The Sugar Cream Pie That Tastes Like Crème Brûlée
Disclosure: As an Amazon Associate, I earn from qualifying purchases.
Cream pie (sometimes called sugar cream pie) tastes like crème brûlée in pie format. It's rich and decadent and the filling requires just six ingredients – sugar, butter, half and half, vanilla, nutmeg, and cornstarch.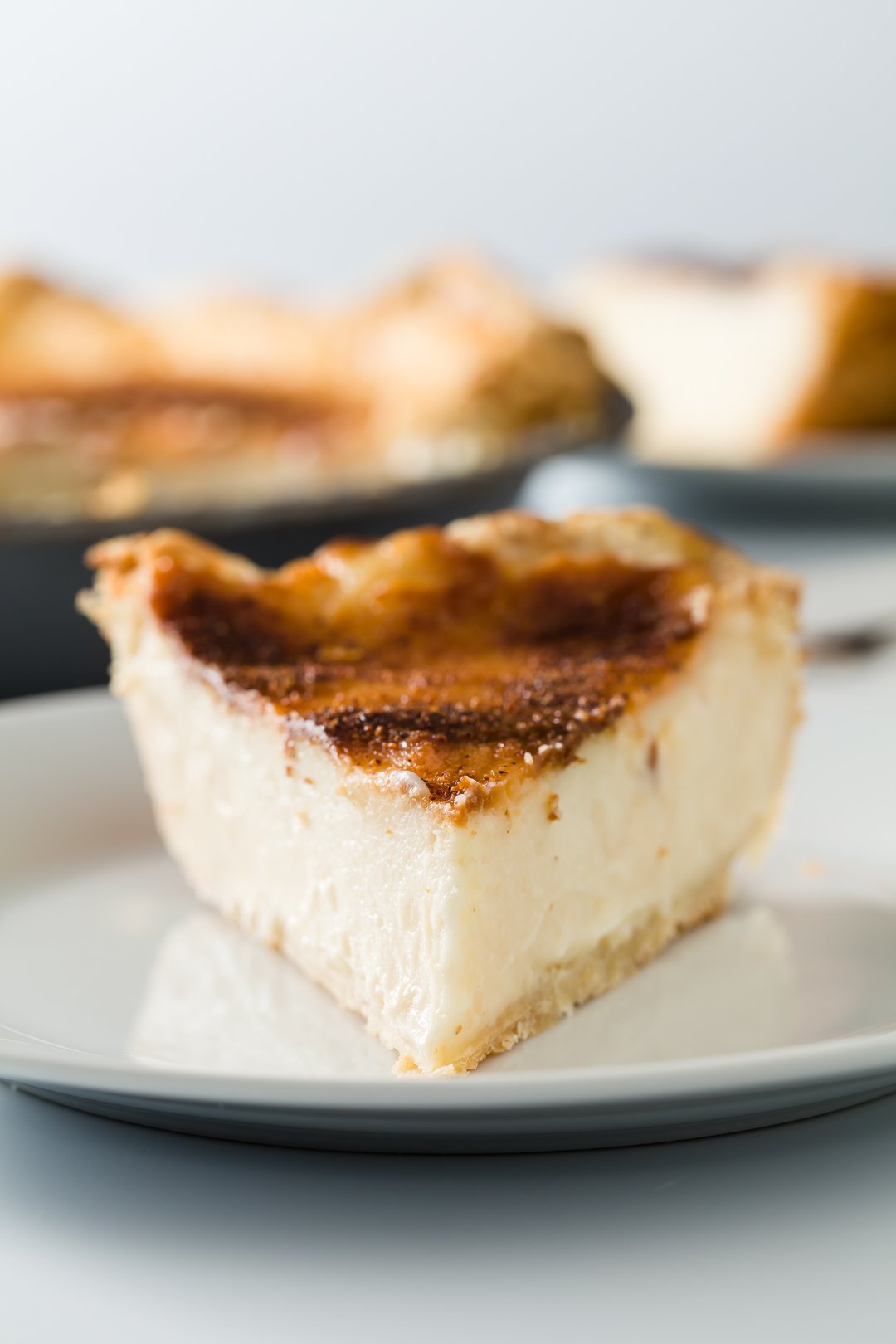 People go crazy for my cream pie and it's so simple to make. Plus, it uses simple ingredients that you may already have on hand.
If you haven't heard of this pie, you are not alone. It's most common in Indiana and has been popularized by the Amish. When I served it to my friends in St. Louis, none of them had tried it before.
Tasting its rich, caramel-like flavor, you might assume that it is loaded with eggs like a traditional custard – but it's the cornstarch that gives this pie its custard-like texture.
There are no eggs in this recipe.
How to Make Cream Pie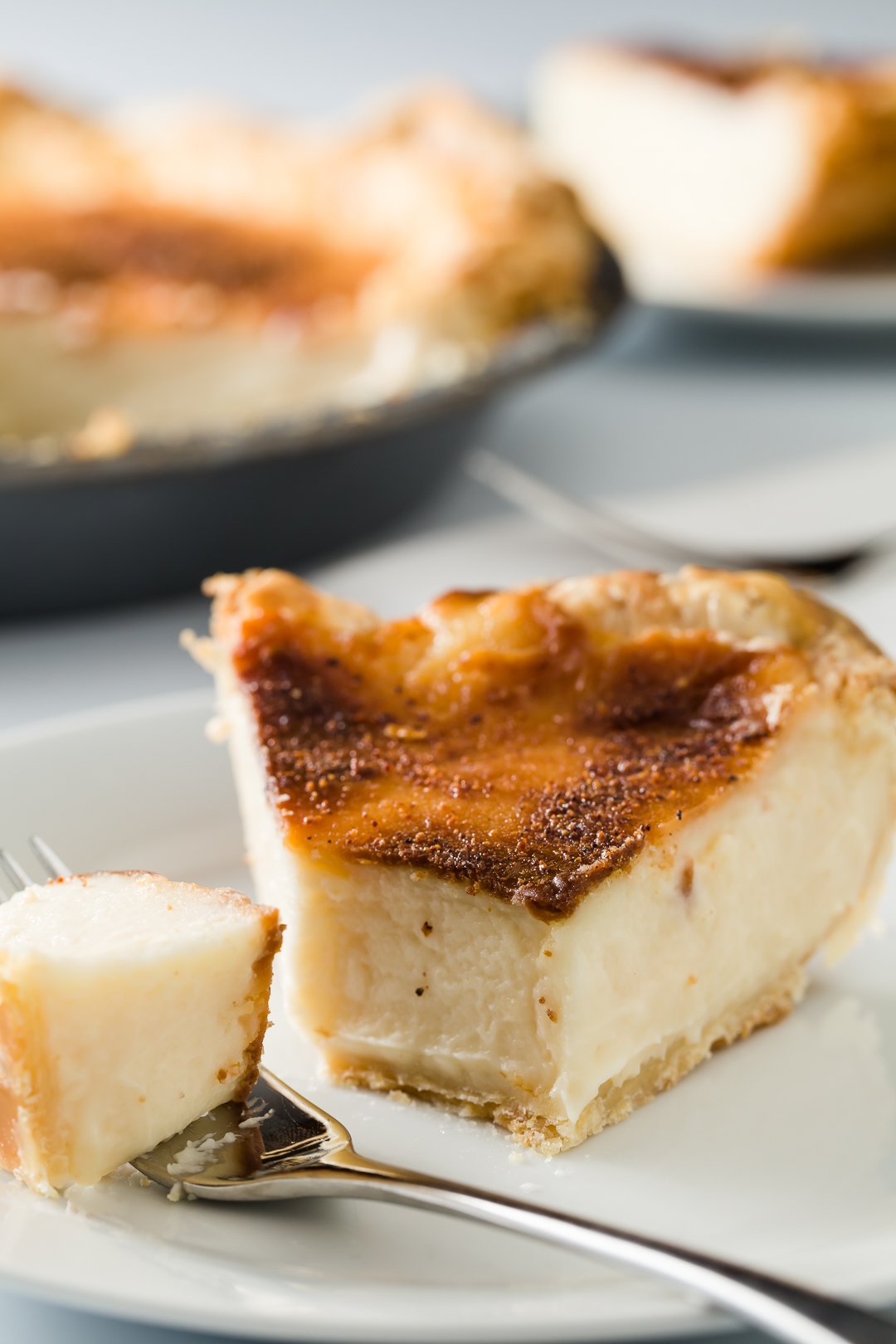 One of the nice things about this pie is that it is a one saucepan recipe. You don't need to mess with lots of mixing bowls.
First, melt butter in a saucepan.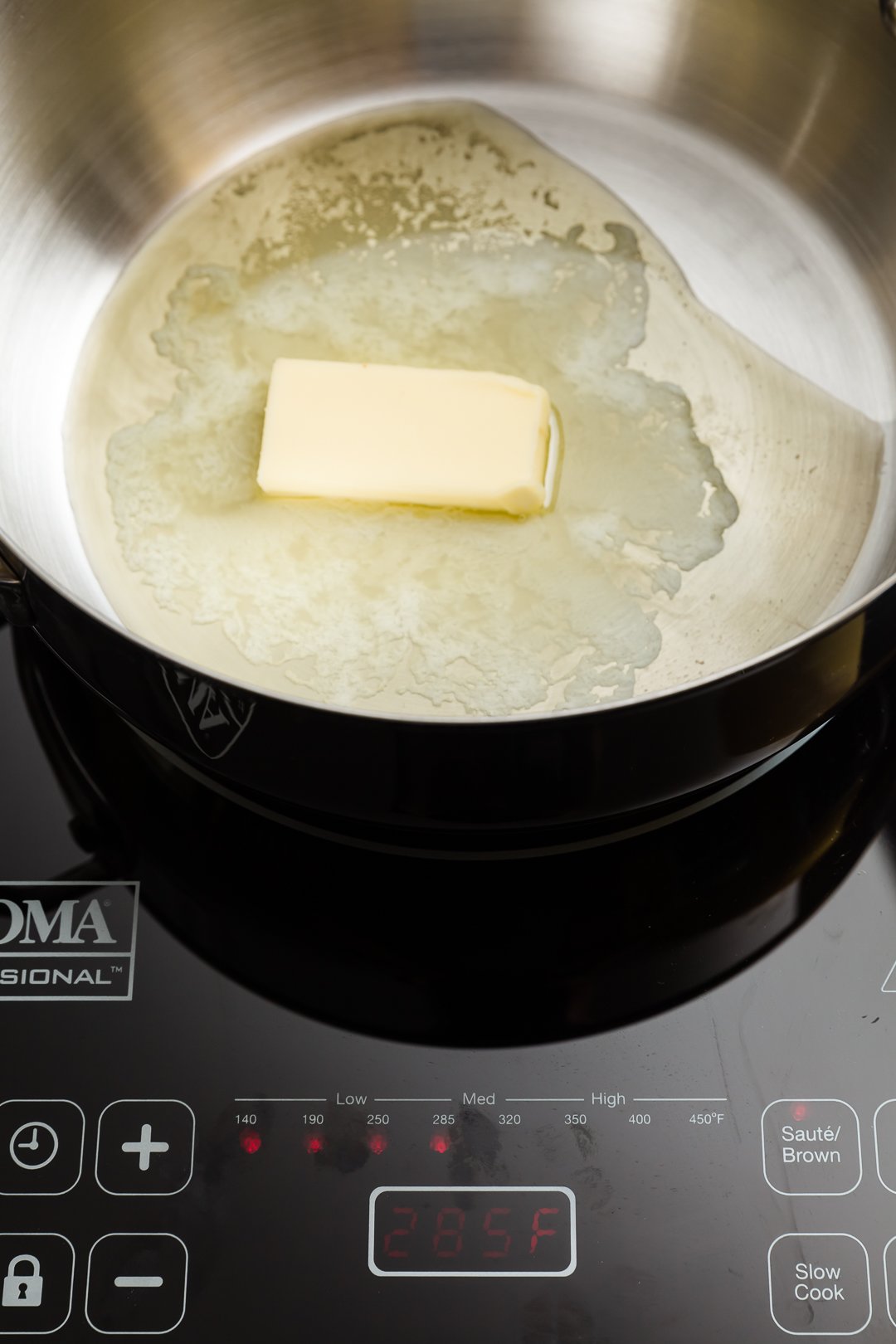 Then, mix in all of the other ingredients except for the vanilla and stir for about five minutes. As you stir, the cornstarch will thicken the mixture until it becomes porridge-like.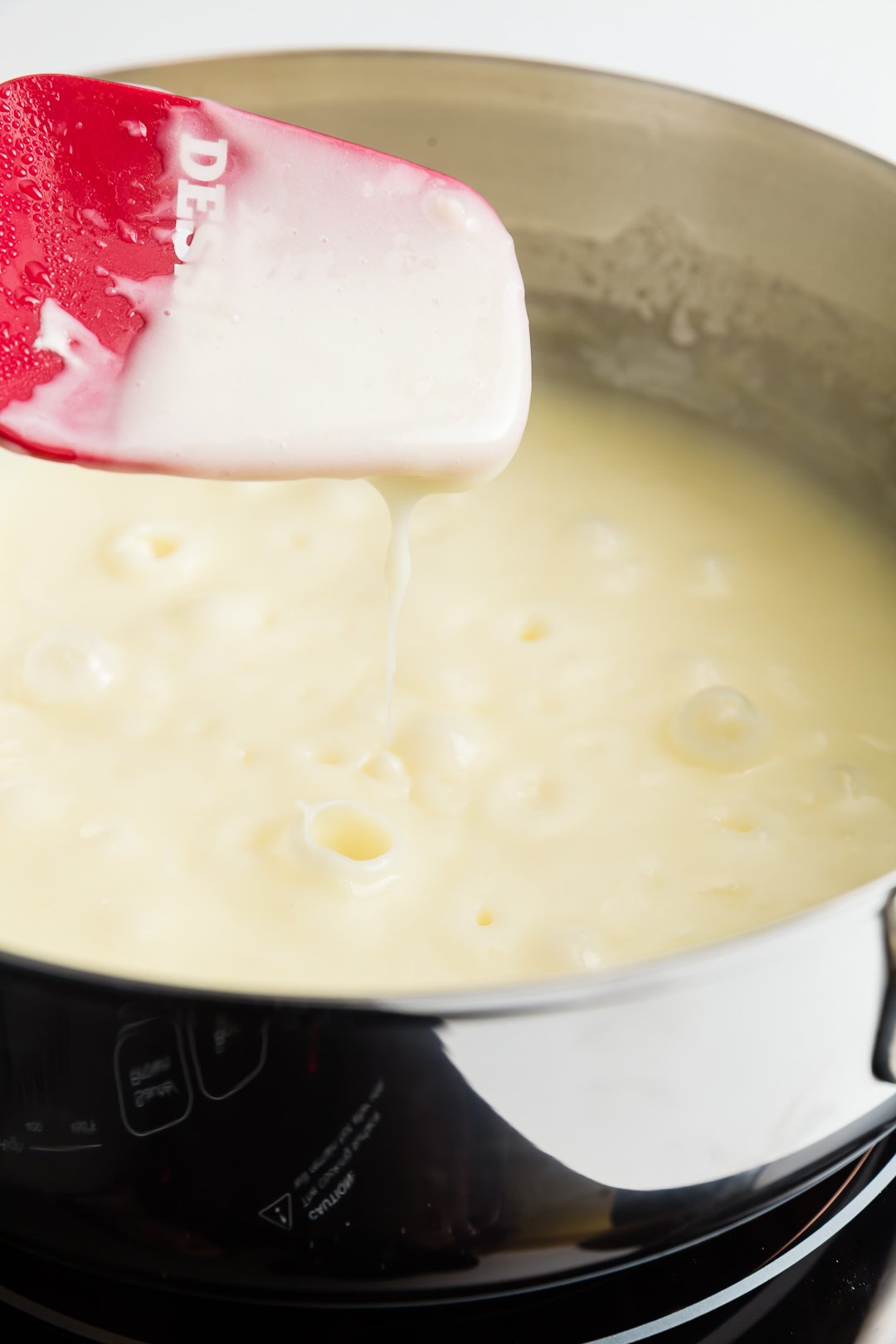 Once it reaches that consistency, you can stir in the vanilla.
Cream Pie Crust
Sugar cream pie typically uses classic butter crust like this pie crust from BraveTart.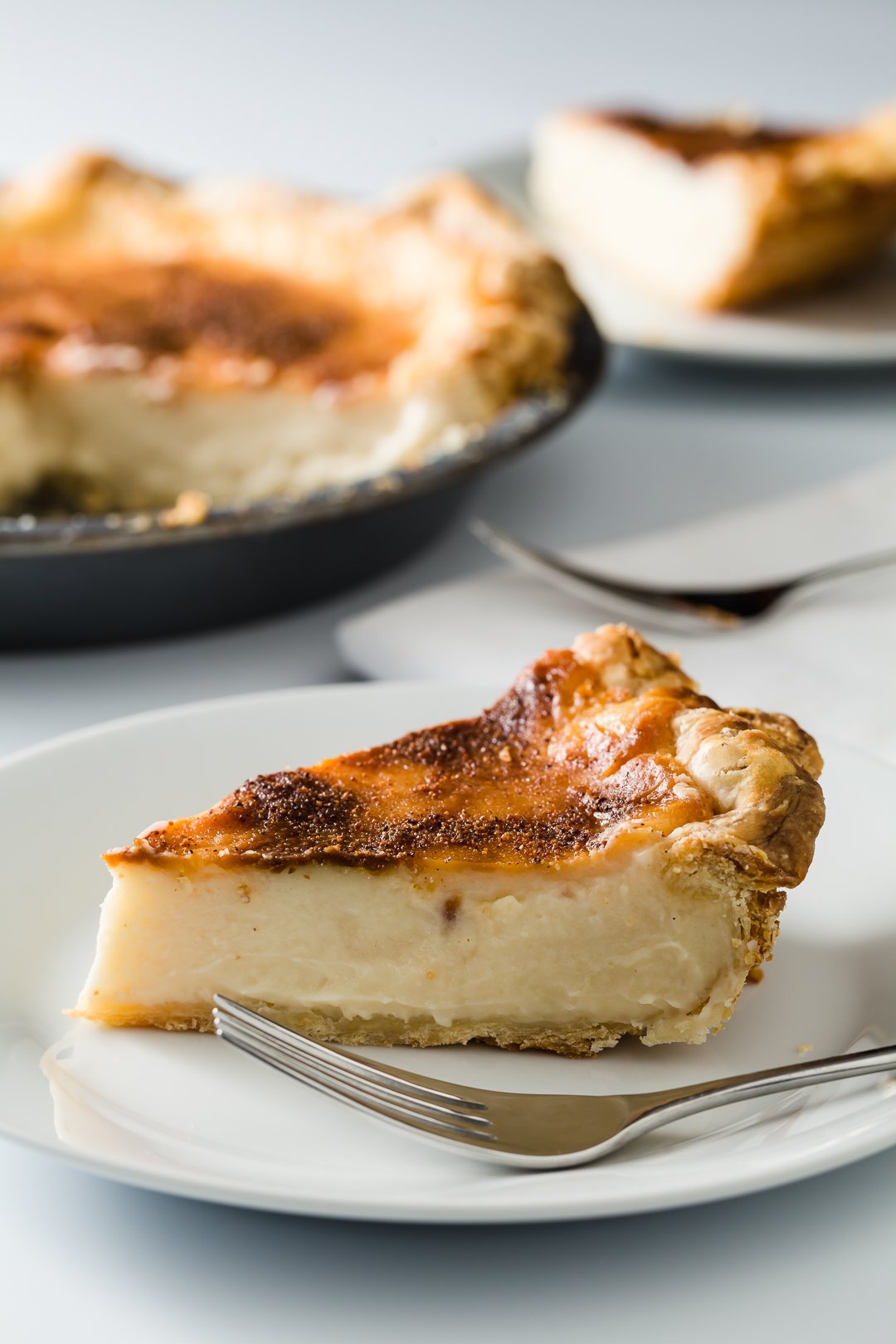 However, for a variation, I like to use a shortbread crust and only put it on the bottom, not up the sides of the pan.
Sugar pie will hold its shape so it doesn't need side crust to keep it from collapsing. Shortbread crust is easy to make and when you use shortbread crust, you automatically get a cookie with your pie!
I especially like using shortbread crust when I make this pie in a skillet.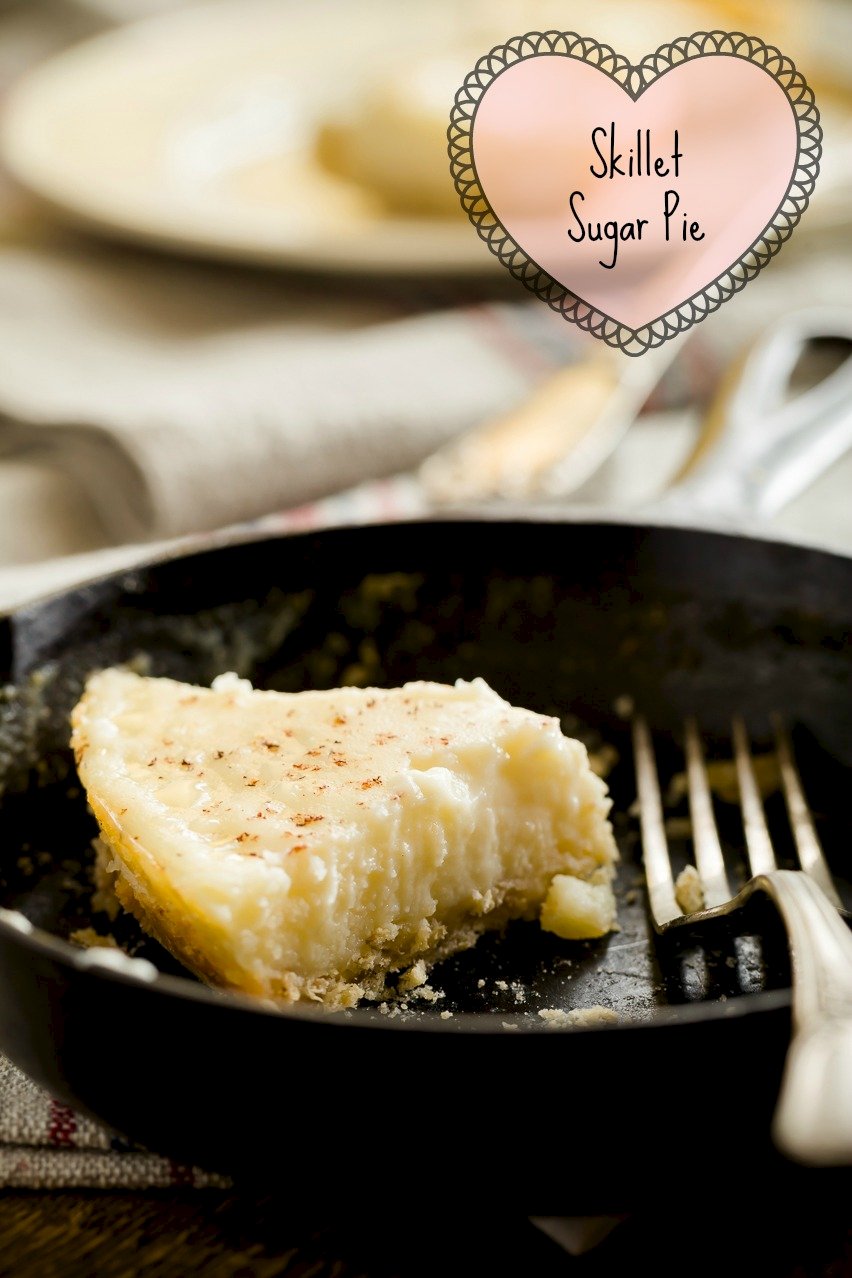 I love serving this pie in small cast iron skillets [paid link]. The skillets make for a rustic presentation and a group of four can just dig in with forks!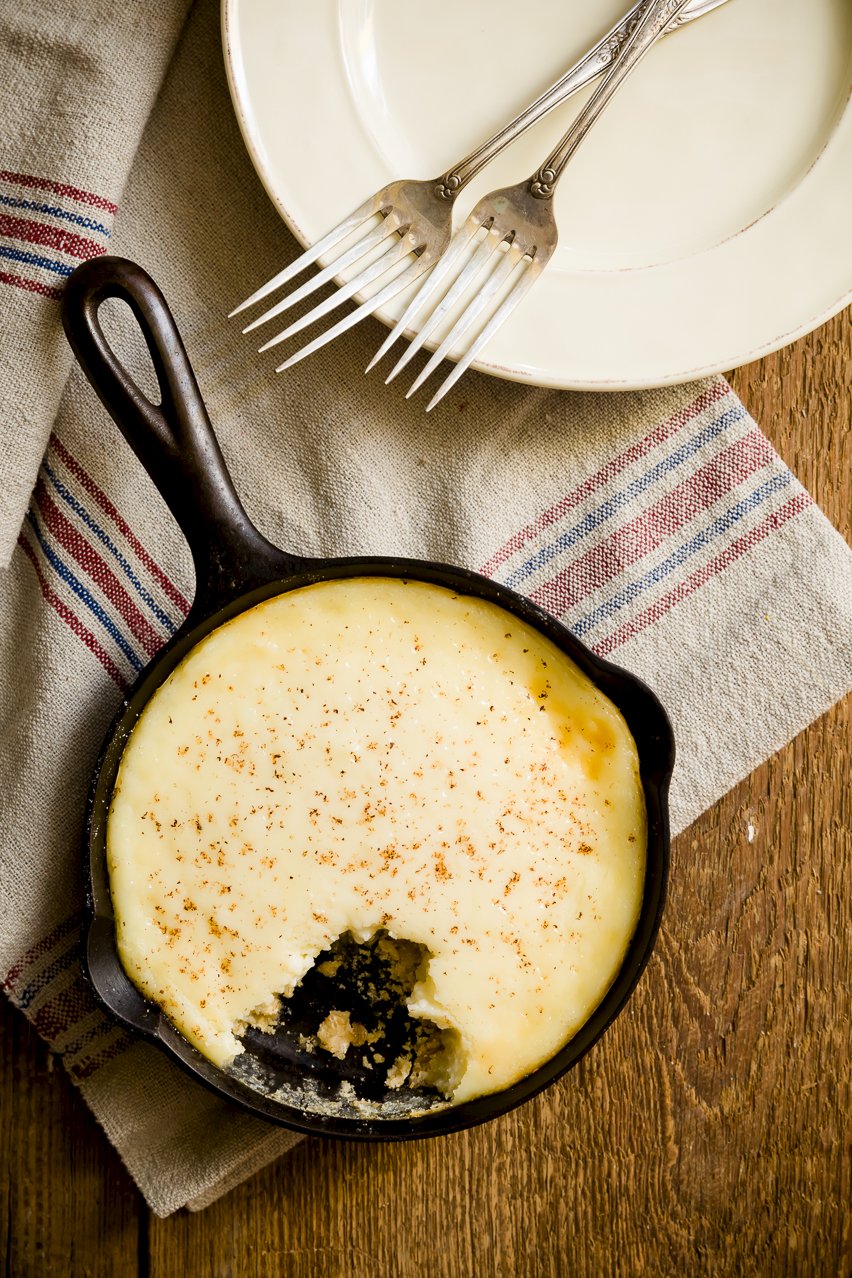 You can also bake it in an 8″ square pan with a shortbread crust and cut rectangular slices.
Variations
There has been some debate in the comments on this post as to what true sugar cream pie is. It turns out that there are many different versions and there is no right or wrong one. There is a maple sugar pie (popular in Canada) and a brown sugar pie. Some are thickened with flour and some use corn starch. The recipe below is adapted from AllRecipes and is a winner and a great place to start your sugar pie baking exploration.
For some other variations, try making a chocolate sugar pie.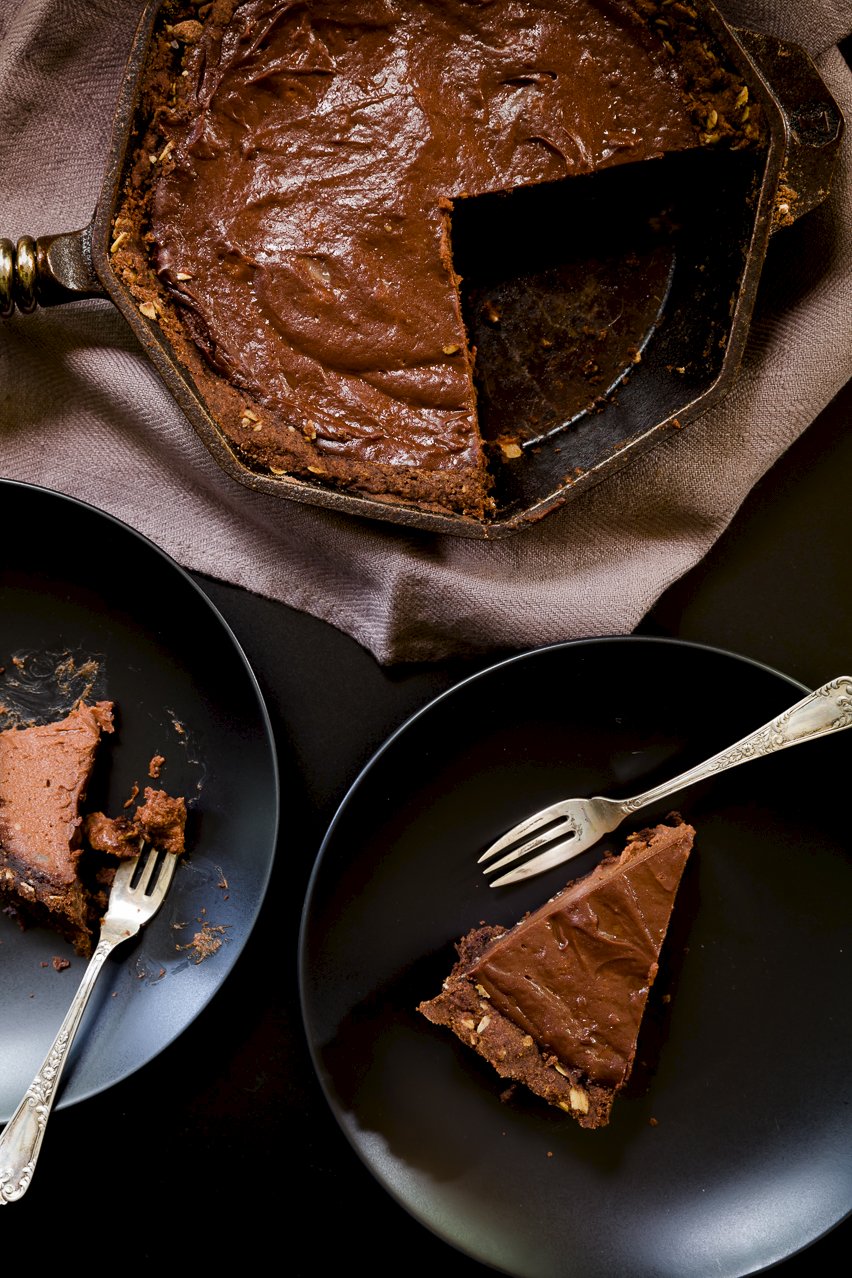 To do so, once all the ingredients come off of the stove, pour them over four ounces of chocolate chips or chopped chocolate and stir until all of the chocolate is melted. I make my chocolate version with a chocolate shortbread crust (5 tablespoons unsalted butter room temperature, 1/4 cup brown sugar, heaping 1/2 cup all-purpose flour, 1/4 cup rolled oats, 1/2 teaspoon baking soda, 1/4 teaspoon coarse sea salt, and 2 tablespoons dutch-processed cocoa powder).
You could make a coffee-flavored sugar pie by steeping the half and half with coffee beans like I show in my post on coffee desserts.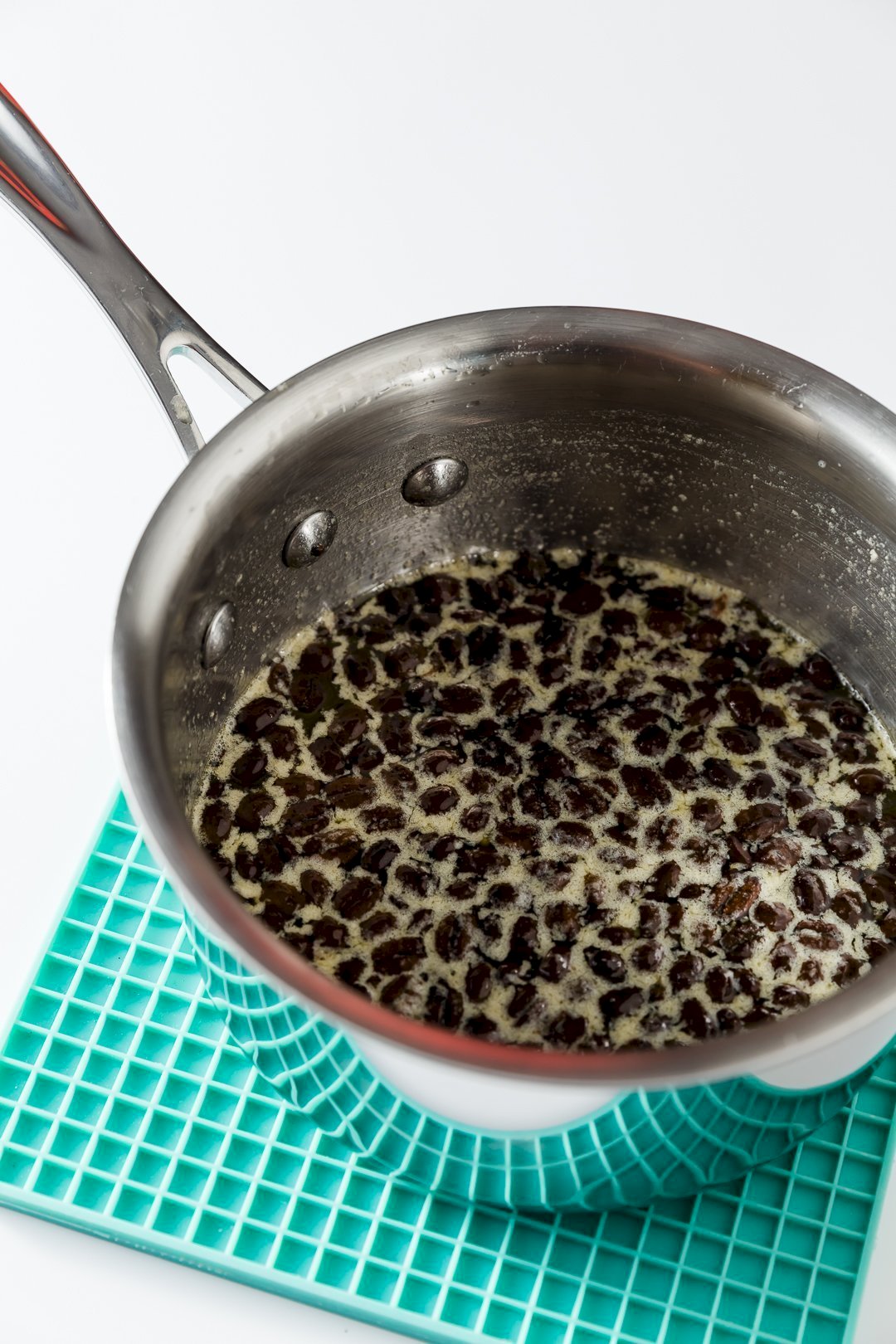 You could also add lemon or orange zest or spices like cinnamon and nutmeg for something more fall- or winter-themed.
I also love the idea that someone mentioned in the comments of adding peaches to make a peaches and cream pie!
When to Serve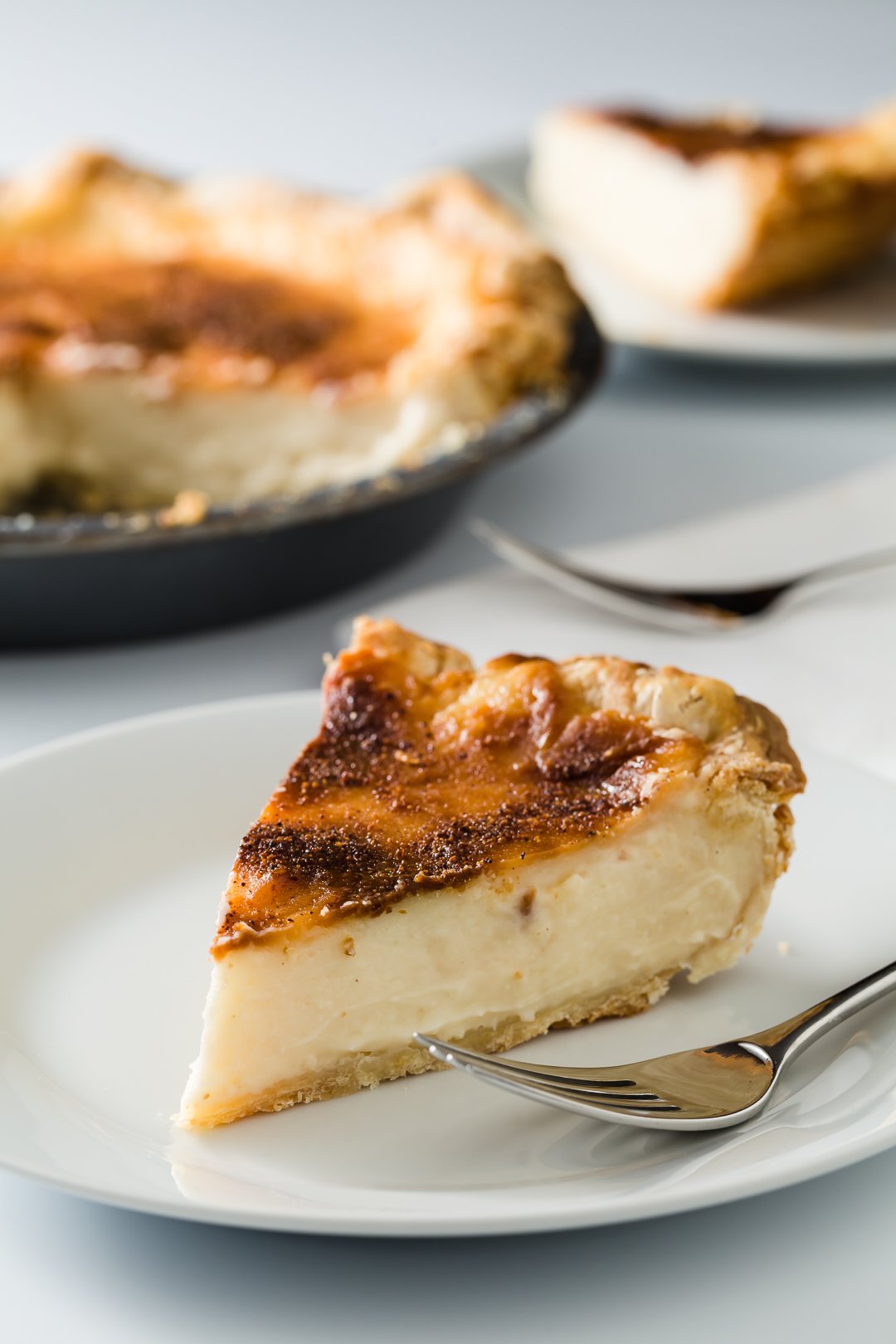 I'm a sucker for cheesy, romantic plans and I love the idea of serving this to my sugar pie on Valentine's Day. But, in truth, there is never a bad time!
We like to add it to our list of pies to make on pie day, including other pie recipes like puff pastry berry pie, apple crumb pie, and chocolate pumpkin pie.
Cream Pie
Cream pie tastes like crème brûlée in pie format. It's rich and decadent and the filling requires just six ingredients.
Ingredients
Shortbread Crust Ingredients
3

tablespoons

unsalted butter

room temperature

6

tablespoons

granulated sugar

1/2

cup

all-purpose flour

6

tablespoons

rolled oats

1/2

teaspoon

baking powder
Sugar Cream Pie Filling Ingredients
4

tablespoons

unsalted butter

4

tablespoons

cornstarch

3/4

cup

granulated sugar

2 1/4

cups

half and half

1

teaspoon

vanilla extract

1/2

teaspoon

freshly ground nutmeg
Instructions
Shortbread Crust Instructions
Mix all shortbread crust ingredients by hand in a small mixing bowl until they just begin to stick together.

Grease a 9" pie pan and press shortbread crust into the bottom of the pan.
Sugar Cream Pie Filling Instructions
In a medium-sized saucepan, melt butter on medium heat.

Once butter is melted, whisk in cornstarch and sugar.

Slowly whisk in the half and half.

Stir constantly until the mixture begins to boil and becomes thick and creamy. This should take about five minutes. You'll know it's ready as there will be a dramatic shift from a soupy liquid to something porridge-like.

Remove from heat and mix in vanilla. (If there are any lumps, you can push the filling through a sieve to remove them.)
Assembly and Baking Instructions
Preheat oven to 350 F.

Place prepared pie pan on a cookie sheet (in case of any overflow during baking). Distribute filling evenly over shortbread in the prepared pan. Because pie pan depths may vary, keep in mind that this filling is supposed to come almost up to the top of the pie.

Sprinkle nutmeg over the filling.

Bake for 70 minutes or until the top of the pie is set and the top is somewhat browned. The filling will still be a little jiggly, but it won't move very much if you wiggle the pie. If it doesn't seem set yet, continue to cook a little longer. It's better to over-bake this pie than to under-bake it.

Remove from the oven and cool to room temperature.

Refrigerate overnight and serve cold.
Notes
You can easily vary this recipe by using cast iron skillets or a square baking dish.  If you change the size of your baking vessel, check on the pie regularly as baking times will vary. You can also replace the nutmeg with cinnamon or a mix of the two. Lastly, you may choose to use a more traditional pie crust or leave the pie crust off entirely. If you use a traditional pie crust, there is no need to pre-bake the crust, just pour the filling over the crust as you with the shortbread crust.
Nutrition
Calories:
277
kcal
|
Carbohydrates:
34
g
|
Protein:
2
g
|
Fat:
14
g
|
Saturated Fat:
9
g
|
Cholesterol:
41
mg
|
Sodium:
24
mg
|
Potassium:
110
mg
|
Sugar:
22
g
|
Vitamin A:
440
IU
|
Vitamin C:
0.5
mg
|
Calcium:
70
mg
|
Iron:
0.5
mg