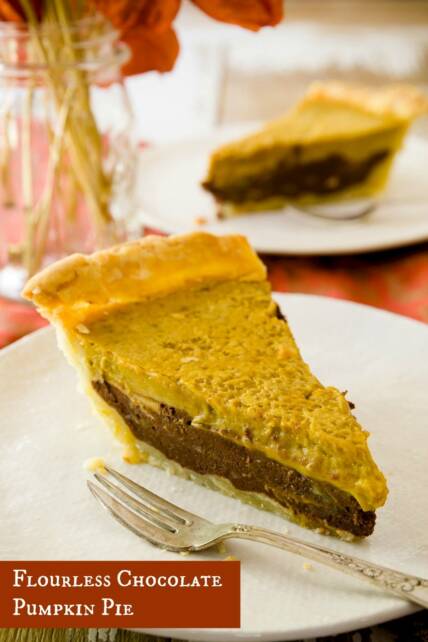 Flourless chocolate pumpkin pie is the pumpkin pie for chocolate lovers.  It's a traditional pumpkin pie (any pumpkin pie recipe will work) baked right on top of a layer of flourless chocolate cake.  Each bite brings you intense chocolate plus classic fall pumpkin pie goodness.  Serve it hot or serve it cold – you can't go wrong!  Bonus:  If you use a gluten-free pie crust, the whole thing is gluten-free.
It took a little experimentation to figure out the best way to make this flourless chocolate pumpkin pie.  I first tried pre-baking the crust, then pre-baking the chocolate layer, and then baking the pumpkin filling on top.  When I poured the pumpkin pie filling on top of the hot, partially baked flourless chocolate cake, the chocolate floated to the top of the pumpkin layer.  It still tasted good, but it wasn't as visually appealing as I had hoped.
In turns out that the best way to make flourless chocolate pumpkin pie is the easiest way – bake it all together.  First, prepare the crust.  Then, prepare the flourless chocolate cake batter and pour it over the crust.  Refrigerate the whole thing while you make the pumpkin pie filling – that way, the chocolate will be solid when you pour the pumpkin pie filling on top and the two will stay separate.  Then, you can bake the whole thing!
If you've tried this recipe, please RATE THE RECIPE and leave a comment below!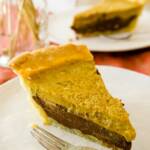 Flourless Chocolate Pumpkin Pie
Ingredients
Flourless Chocolate Cake Ingredients
1/4

cup

water

pinch

salt

1/4

cup

+ 2 tablespoons sugar

8

ounces

dark chocolate

1/2

cup

unsalted butter

room temperature

2

eggs

beaten

1

egg white

1

pie crust for a 9" deep dish pie

unbaked (grab my favorite pie crust recipe)
Pumpkin Pie Ingredients
3/4

cup

sugar

1

teaspoon

cinnamon

1/2

teaspoon

salt

1/2

teaspoon

ground ginger

1/4

teaspoon

ground cloves

2

large eggs

15

ounces

pumpkin puree

12

ounces

evaporated milk
Instructions
Flourless Chocolate Cake Instructions
Combine the water, salt, and sugar in a small saucepan over medium heat. Stir until completely dissolved and set aside.

Either in the top half of a double boiler or in a microwave oven, melt the chocolate.

Pour the melted chocolate into the bowl of an electric mixer.

Cut the butter into pieces and beat the butter into the chocolate, one piece at a time.

Beat in the hot sugar-water.

Slowly beat in the eggs and the egg white one at a time.

Pour batter into prepared pie crust and refrigerate while getting the pumpkin pie filling ready.
Pumpkin Pie Instructions
Preheat oven to 425 F.

In a medium-sized mixing bowl, mix sugar, cinnamon, salt, ginger, and cloves.

Mix in eggs.

Mix in pumpkin.

Mix in evaporated milk.

Pour over the chocolate layer of the pie until you reach the top of your pie pan. Depending on the depth of your pie pan, there will be a little extra pumpkin pie filling left. You can use that to make mini pumpkin pies or simply bake later in ramekins (I had two ramekins worth) at 350 F for 30 minutes.

Place pie on top of a cookie sheet (always a safe thing to do in case anything spills or overflows) and bake for 15 minutes.

Lower the oven temperature to 350 F and bake for another 30 minutes or until the pumpkin layer has a skin (if you touch it, your finger doesn't go right through it like a liquid) and, if you shake the pan, the pie is just a little jiggly, like jello.

Keep the pie on the hot cookie sheet and let the whole thing cool for at least 30 minutes before cutting.
Recipe Notes
The flourless chocolate cake recipe is one that I've been using for years from Allrecipes.
The pumpkin pie recipe is the classic recipe from Libby's.