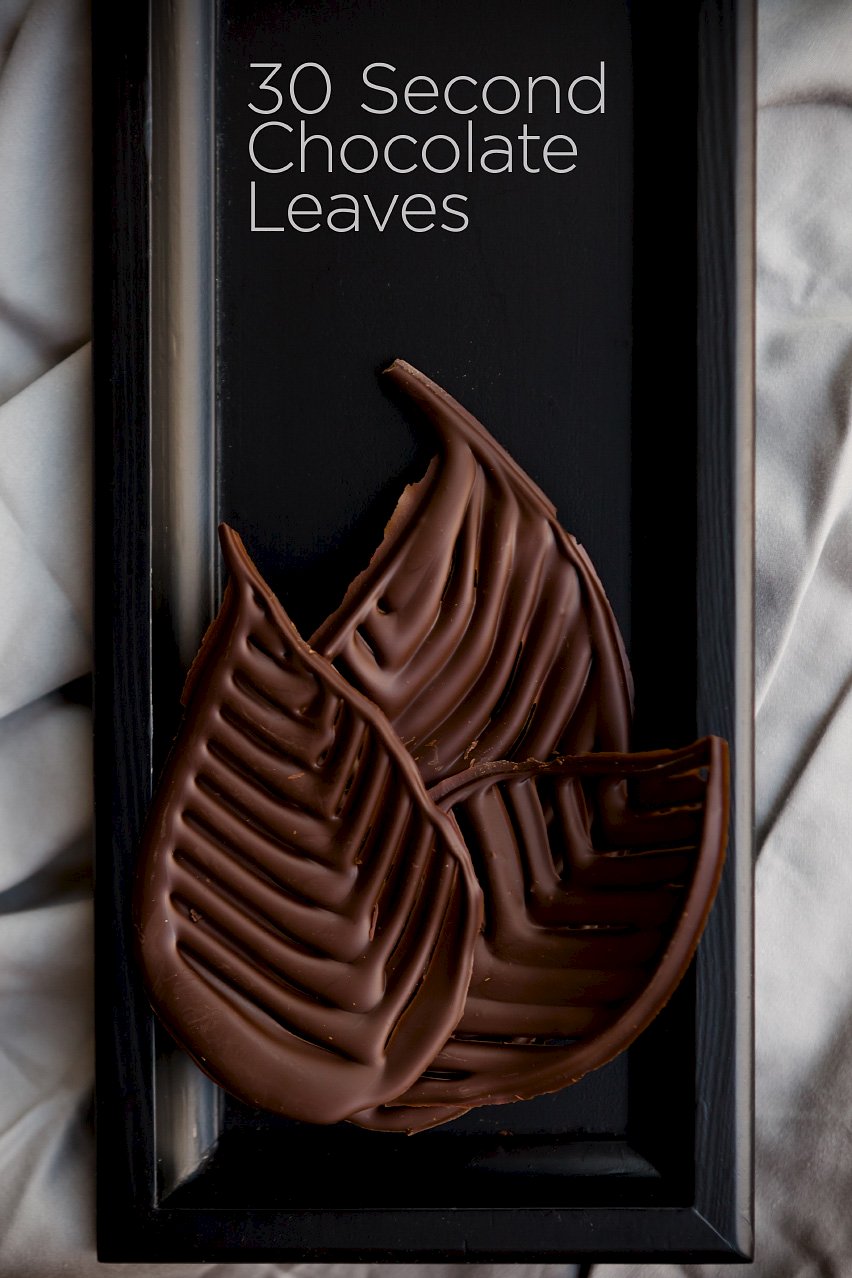 A few years ago, I had the opportunity to visit the amazing kitchens at Kakao Chocolate and play at being a chocolatier for a day. This meant that, in addition to being trained by a professional chocolatier who actually knew what she was doing, I got to eat all of the chocolate that I wanted all day long—hello, sugar high! But one of the coolest things these chocolate magicians taught me was how to make chocolate leaves, using only a bowl of tempered chocolate and a comb.
Now, at Kakao, I used a special cake-decorating comb to give the chocolate leaves their veins. These are nice to have around, and they are one of the few kitchen tools that you can buy for under a dollar at Amazon. But if you don't have one, you don't want to buy one, or you think that they sound so amazing that you want to start making them right this minute, then a regular old hair comb will work just fine. (Just be sure the teeth of the comb are big enough for the effect, and of course, wash it first.)
What Does "Tempering Chocolate" Mean?
You might have noticed that I talk a lot here about "tempered chocolate," as if that's a thing you just have sitting around the house. Tempering chocolate just means that you heat it and cool it under controlled conditions, so that the little crystals of cocoa butter in the chocolate all form at the same size.
Tempering chocolate doesn't take much time, and it makes your chocolate easier to work with and (most importantly) easier to eat. Tempered chocolate has a smooth, glossy finish on the outside, it doesn't melt in your hand as easily, and it gives a nice snap when it breaks, instead of just crumbling apart.
If you want an in-depth explanation of how professional and home chefs alike temper their chocolate, you should check out a post I wrote when I spent a day learning about chocolate in the kitchens of the wonderful people at Kakao Chocolate: How to Temper Chocolate Like a Pro.
Do I Have to Refrigerate the Chocolate Leaves?
If you have tempered the chocolate properly, you should be able to store your chocolate leaves at room temperature in a Tupperware container, or even just a Ziplock bag. If you don't have air conditioning, if you leave them in the sun, or if they get too close to the oven while you're baking, then you might have some problems with sagging and losing shape. But under normal conditions, no, you don't need to keep them in the refrigerator.
What about Using Actual Leaves?
"But wait!" I hear you say, "What am I going to do with all these cute little leaves I've gathered?" "And what about the tiny paintbrush?"
If you are asking these questions, you are talking about an entirely different way of making chocolate leaves. Painting tempered chocolate onto the veiny side of real, green leaves and leaving them to cool gives you smaller, delicate chocolate leaves that can have an almost hyperrealistic look to them. The method that I am showing here is an older trick used by generations of pastry chefs to produce a more stylized, artistic kind of chocolate leaf.
In the end, you should choose the method that gives you the best leaf for the particular type of presentation you are planning. For bigger designs where you want bold strokes of chocolate that a person could recognize across the room, the combing method is the way to go. But for smaller, more delicate dishes where you want your guests to take the time to savor every detail of your exquisite design—you might give the leaf painting method a try.
Safety Note:
Before you start walking through your local park looking for nice leaves to use as a mold for your chocolate, keep in mind that not every plant out there loves you as much as you love it. Some plants produce toxic chemicals to ward off animals that might want to wander over and munch on them, and you should probably avoid using the leaves of these plants in cooking—even as molds.  In addition to common plants like poison oak and poison ivy (leaves of three, let them be!), you should think twice before bringing rhododendrons, azaleas, hydrangeas, or poinsettias into your kitchen.
Making Chocolate Leaves in 30 Seconds
Start by pouring a long blob of tempered chocolate onto parchment paper. If you don't have parchment paper, regular ol' wax paper should do just fine.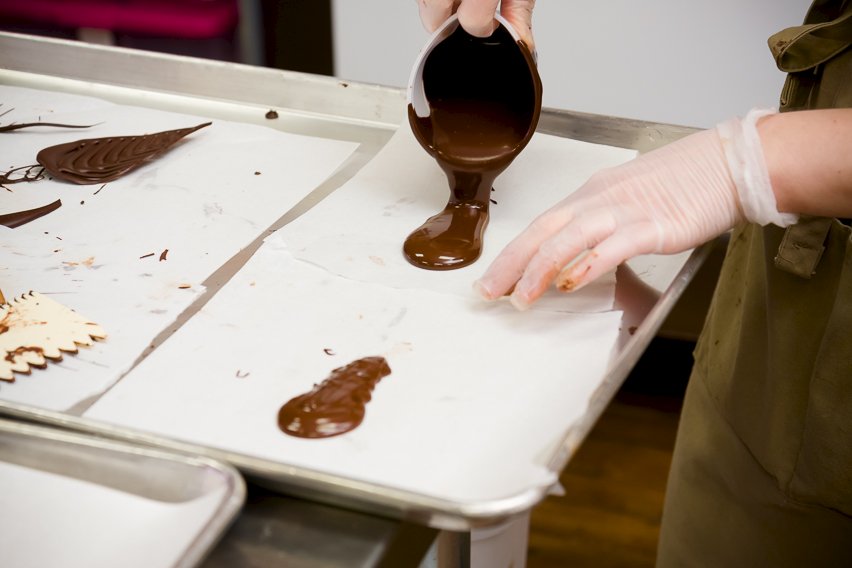 Use a very well cleaned hair comb or a special cake decorating comb to drag lines on both sides of the chocolate.  I tried this at home with a fork and it didn't work as well since the tines are too close together.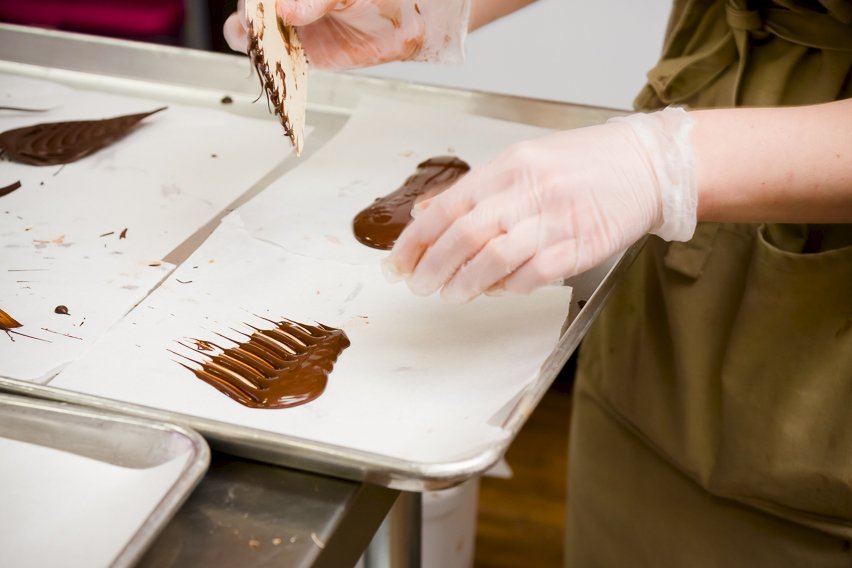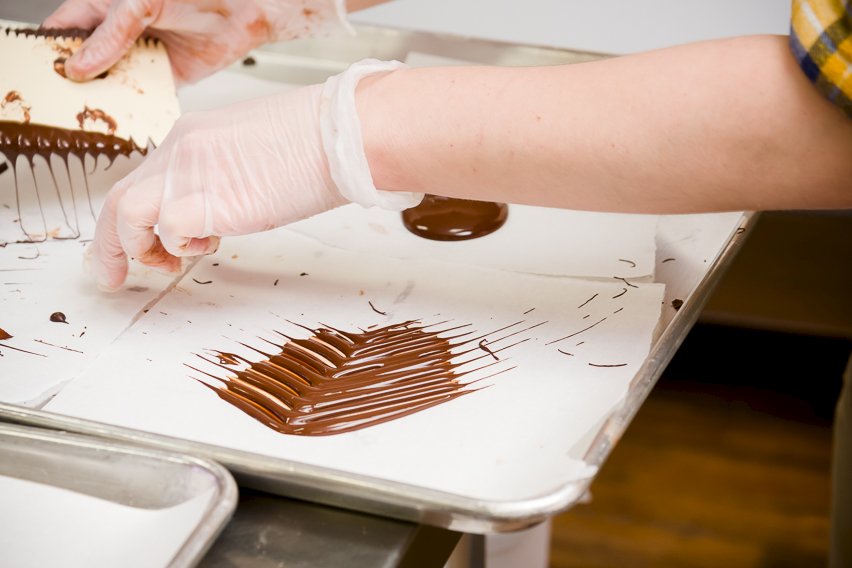 Finger paint the outline of the leaf.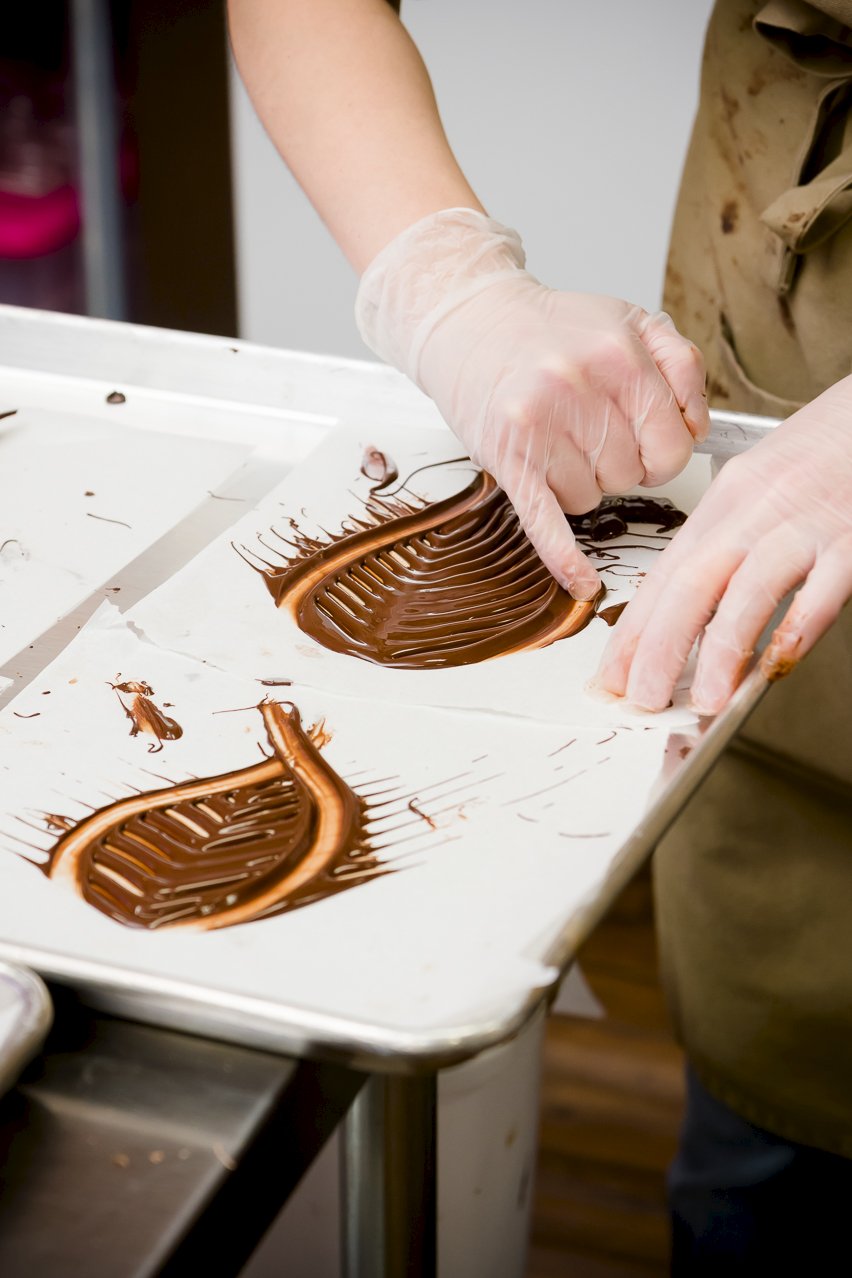 Fold the parchment paper up a little to create a slight curve in the leaf.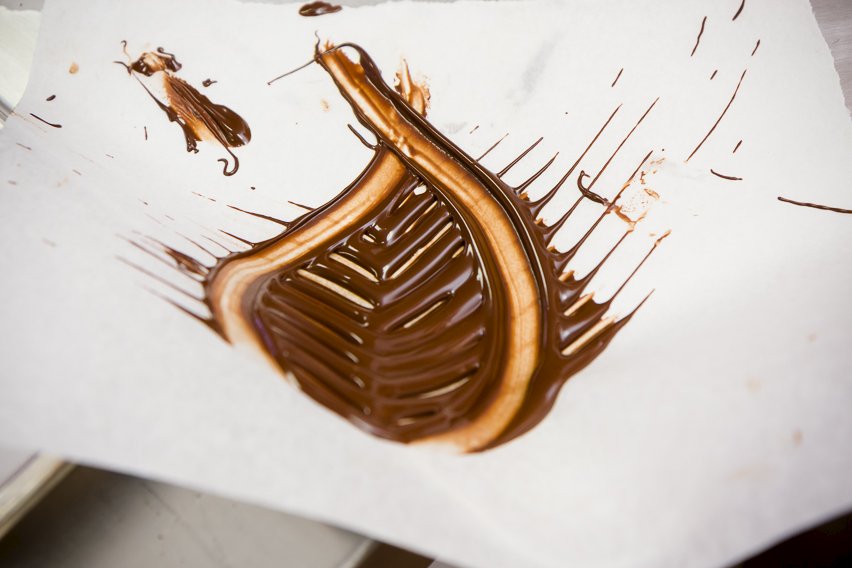 Cool your chocolate leaves in the refrigerator. When they are done, just peel the leaves off the parchment paper. Eat them immediately, or scatter them on your cakes and cookies to add a fancy-looking, fun finish!
Chocolate Leaves
These beautiful chocolate leaves are a lovely way to accent any dessert. A perfect accompaniment for all your fall treats!

Ingredients
1

pound

Tempered Chocolate

1

Regular Hair Comb or Special Cake Decorating Comb
Instructions
Pour a long blob of tempered chocolate onto parchment paper.

Use a clean hair comb or a special cake decorating comb to drag lines on both sides of the chocolate.

Use your finger to paint the outline of the leaf.

Cool until hardened, peel off, and start decorating!
Nutrition
Nutrition Facts
Chocolate Leaves
Amount Per Serving
Calories 71
Calories from Fat 36
% Daily Value*
Fat 4g6%
Sodium 2mg0%
Potassium 41mg1%
Carbohydrates 8g3%
Calcium 3mg0%
Iron 0.4mg2%
* Percent Daily Values are based on a 2000 calorie diet.
If you love these chocolate leaves, you'll also love: