Most recipes for coffee-flavored cakes and cupcakes call for Instant coffee, Instant Espresso, or Starbucks Via.
That's now how I recommend that you should bake with coffee if you care about the taste of your dessert. Using instant coffee is unacceptable for a coffee aficionado. If you fall into this category, you likely have a stash of whole roasted coffee beans that you grind to create your perfect cup of joe. Those same beans can flavor your cakes and cupcakes and cookies and other desserts and offer a huge coffee punch flavored just the way you want it. And, if you're craving caffeine, you may still find yourself awake at 2 AM after having a coffee-flavored dessert made this way!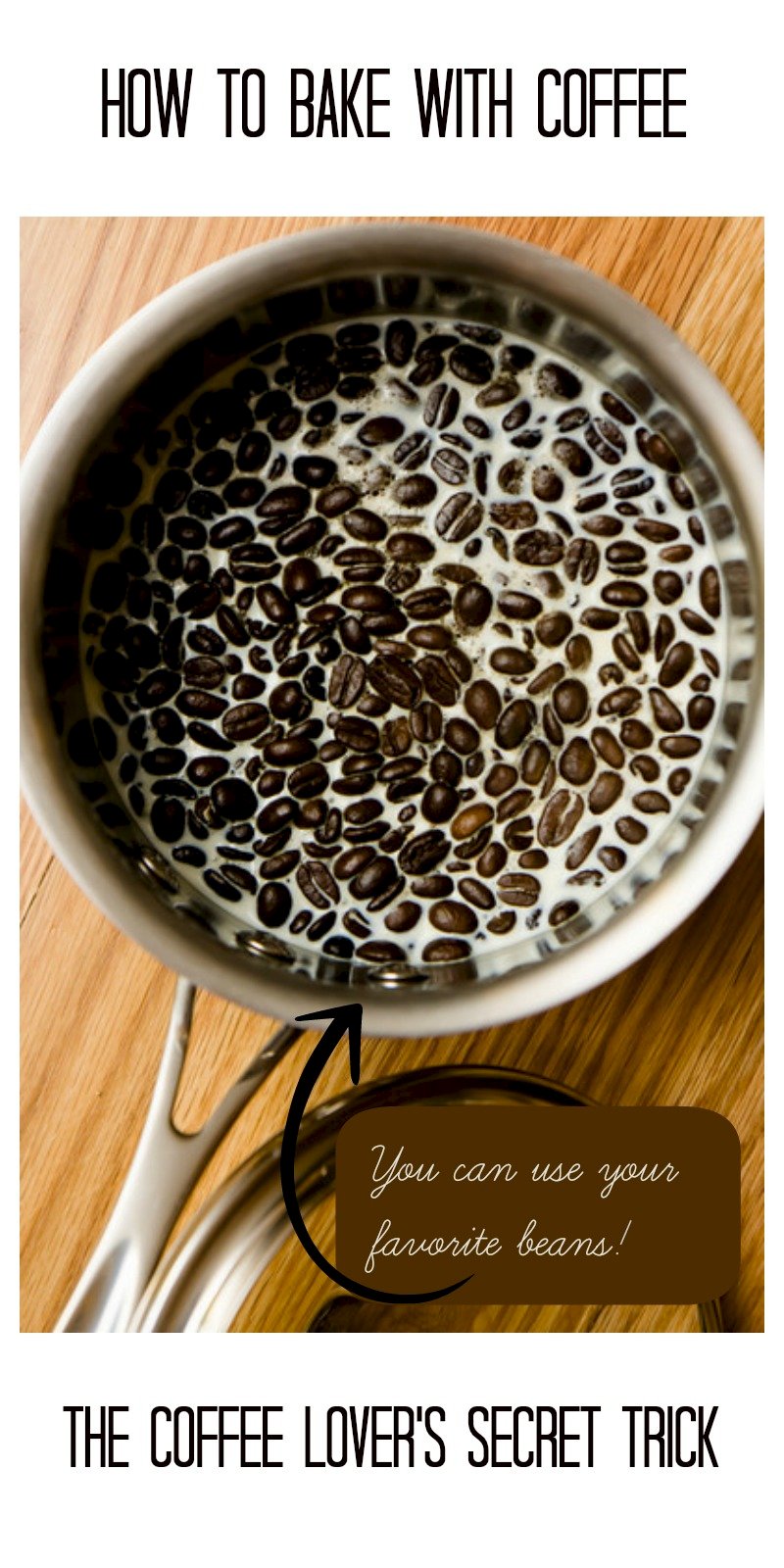 If you read the recipe for my Irish coffee brownie cupcakes, you already know how to use coffee beans to flavor your cupcakes. To give my cupcakes a strong coffee flavor, I infuse the milk in the recipe with coffee beans!
If your recipe does not have milk, you can also infuse the butter from the recipe with coffee like I did in my coffee cookies!
Making Coffee Butter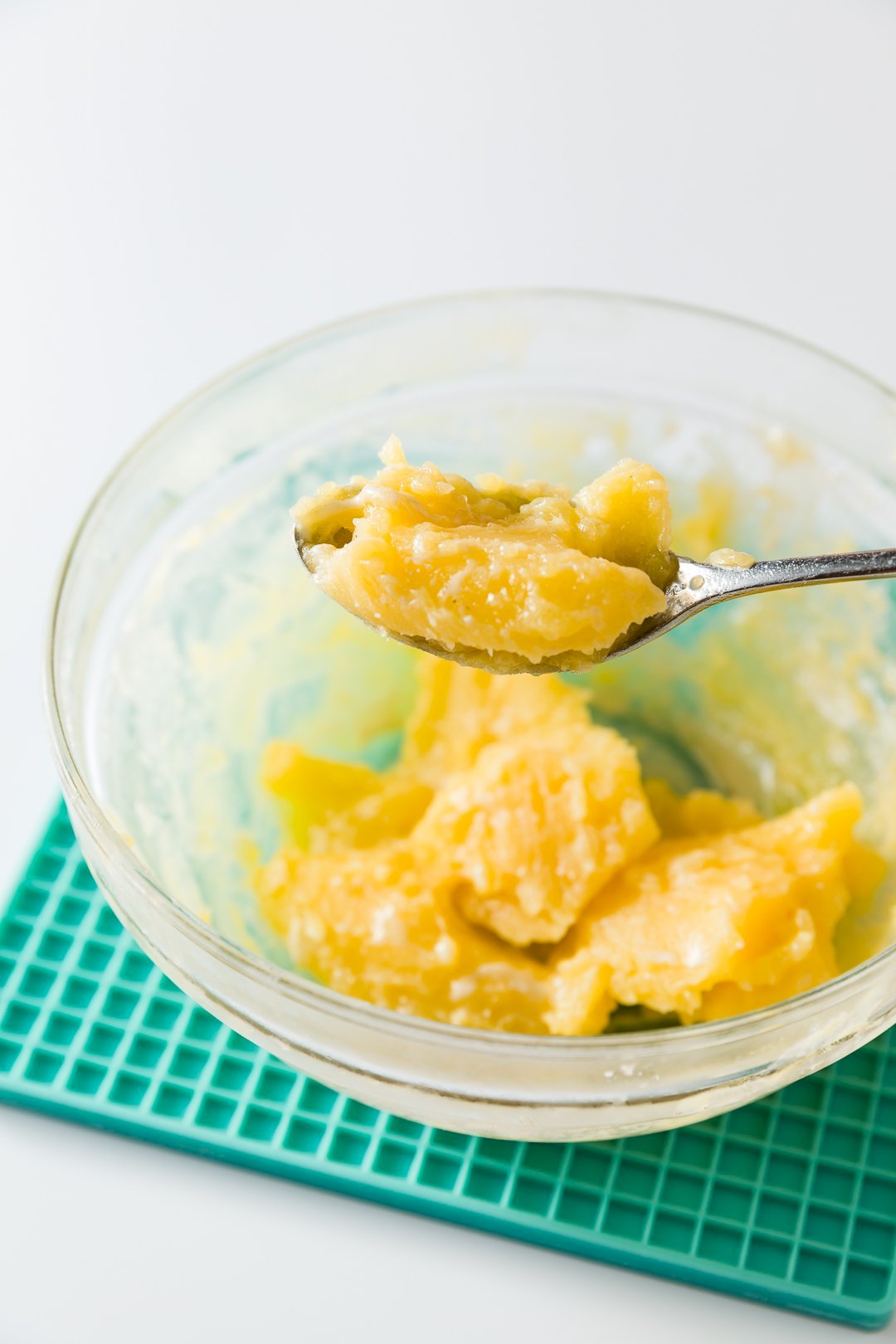 To infuse butter with coffee, you can use a similar technique as with the milk only with melted butter instead of milk.
Then, use the flavored butter as you would other butter in the recipe. I love using this technique in my coffee cookies.
Coffee-Infused Milk or Butter
Use the coffee- infused butter or milk in place of plain butter or milk to flavor your baked goods.
Ingredients
Coffee-Infused Milk or Butter Ingredients
3/4

cup

whole milk or butter

1/2

cup

coffee beans
Instructions
Coffee-Infused Milk or Butter
In a saucepan on medium-high, heat milk and coffee beans until just boiling. Or, if using butter, melt butter and then add coffee beans.

Lower heat so the beans and milk/butter come to a simmer.

Simmer for five minutes.

Remove from heat and cover. Let sit for fifteen minutes.

Use a sieve to remove the beans.

Let the milk or butter come to room temperature. If using butter, refrigerate until it is no longer a liquid. or freeze until no longer a liquid (if you need to use it quickly).
Notes
Use more milk or butter than you will need for your recipe. Using 3/4 cup will yield about 1/2 cup. 
Nutrition
Nutrition Facts
Coffee-Infused Milk or Butter
Amount Per Serving
Calories 152
Calories from Fat 153
% Daily Value*
Fat 17g26%
Cholesterol 45mg15%
Sodium 151mg6%
Potassium 5mg0%
Vitamin A 530IU11%
Calcium 5mg1%
* Percent Daily Values are based on a 2000 calorie diet.
Credit
Do You Prefer Tea?
Be sure to check out my post on baking with tea.