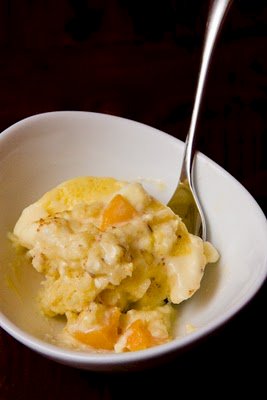 Until now, I'd never made a peaches and cream recipe. In fact, prior to my making it, neither Jonathan nor I had ever had peaches and cream. We both weren't even sure what peaches and cream was supposed to taste like. I have to wonder if we are freaks or if the the romantic notion of peaches and cream pervades our culture more than the actual dish.
Peaches n' cream (pronounced like one long word – peachesncream) can be found everywhere except as a simple dish of peaches with cream; witness Peaches & Cream oatmeal, Peaches n' Cream lip balm, and even Peaches N' Cream Barbie.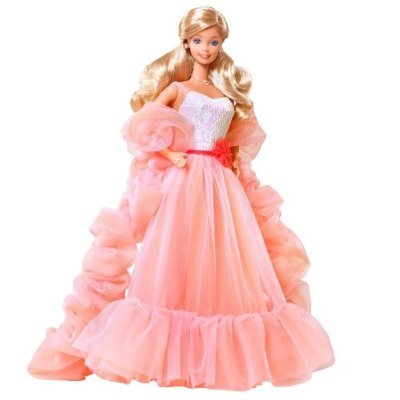 The product description for the Peaches N' Cream Barbie says that it "Makes you feel all warm on the inside and fuzzy on the outside!" I'm not sure how a product can make you feel fuzzy on the outside unless it's a fur coat or Rogaine.
Unlike Peaches N' Cream Barbie, the dessert form of peaches and cream is not a thing of beauty. When Jonathan first saw it, he questioned how anyone could, with good conscience, plate and serve it to company. But then, we took bites and we saw what all the reverence was about. At the bottom rests a layer of thick sweet crust, then comes a layer of sweet, juicy peaches (I used canned, but it would be even better with seasonal, fresh peaches), and a layer of thick cream with a sprinkling of cinnamon and sugar tops it off. It's hard to resist plopping gobs of the stuff into your bowl and then going back for seconds. If the Barbie shown above were a true Peaches N' Cream Barbie, she would be far more rotund.
Peaches and Cream Recipe
I got the peaches and cream recipe from Dragon Musings, this month's Taste & Create partner (the monthly event where bloggers get paired up to make recipes from each other's blogs). I love Dragon Musing's blog header. You should go check it out! It's funny that the item she made from my blog was also peach-related. She made my peach cup-pies (here's her version).
Dragon Musings found the peaches and cream recipe in an Australian Women's Weekly Menu Planner from 1987. I am reprinting the recipe below. Other than Americanizing it a bit, the only change I made was to add much more cinnamon than the original recipe called for – I don't think you can have too much cinnamon.
Peaches and Cream
Peaches and cream is a classic combo, and it's a little more involved than just those two ingredients, yet so easy and delicious.
Ingredients
1/4

C

unsalted butter

room temperature

1/2

C

+ 2 t sugar

3

large eggs

1

cup

all-purpose flour

1

t

baking powder

1/2

cup

milk

I used 2 percent

15

oz

can of peaches

drained

1 1/4

C

heavy whipping cream

1

t

cinnamon
Instructions
Beat butter, 1/2 cup sugar, 1 egg, flour, baking powder, and milk in small bowl using an electric mixer for a few minutes or until smooth and changed in color.

Pour into greased 8 x 8 microwave-safe baking dish.

Top with peaches.

Microwave on high for 8 minutes.

Mix heavy whipping cream and two eggs until combined.

Pour over the peaches.

Sprinkle with cinnamon and two teaspoons of sugar.

Microwave on medium high for 5 minutes.

Serve warm.
Nutrition
Nutrition Facts
Peaches and Cream
Amount Per Serving
Calories 339
Calories from Fat 189
% Daily Value*
Total Fat 21g 32%
Cholesterol 129mg 43%
Sodium 45mg 2%
Potassium 251mg 7%
Total Carbohydrates 31g 10%
Protein 5g 10%
* Percent Daily Values are based on a 2000 calorie diet.
Next Up
Next, I'll be making peaches and cream cupcakes (as if you couldn't have guessed).