Puff Pastry Berry Pie
Disclosure: I may earn a commission from purchases you make through affiliate links in this post at no additional cost to you.
Making a puff pastry pie is so incredibly easy – you can prepare this puff pastry dessert with berries in under ten minutes. I make mine sweet and tart with a mixture of cranberries and cherries.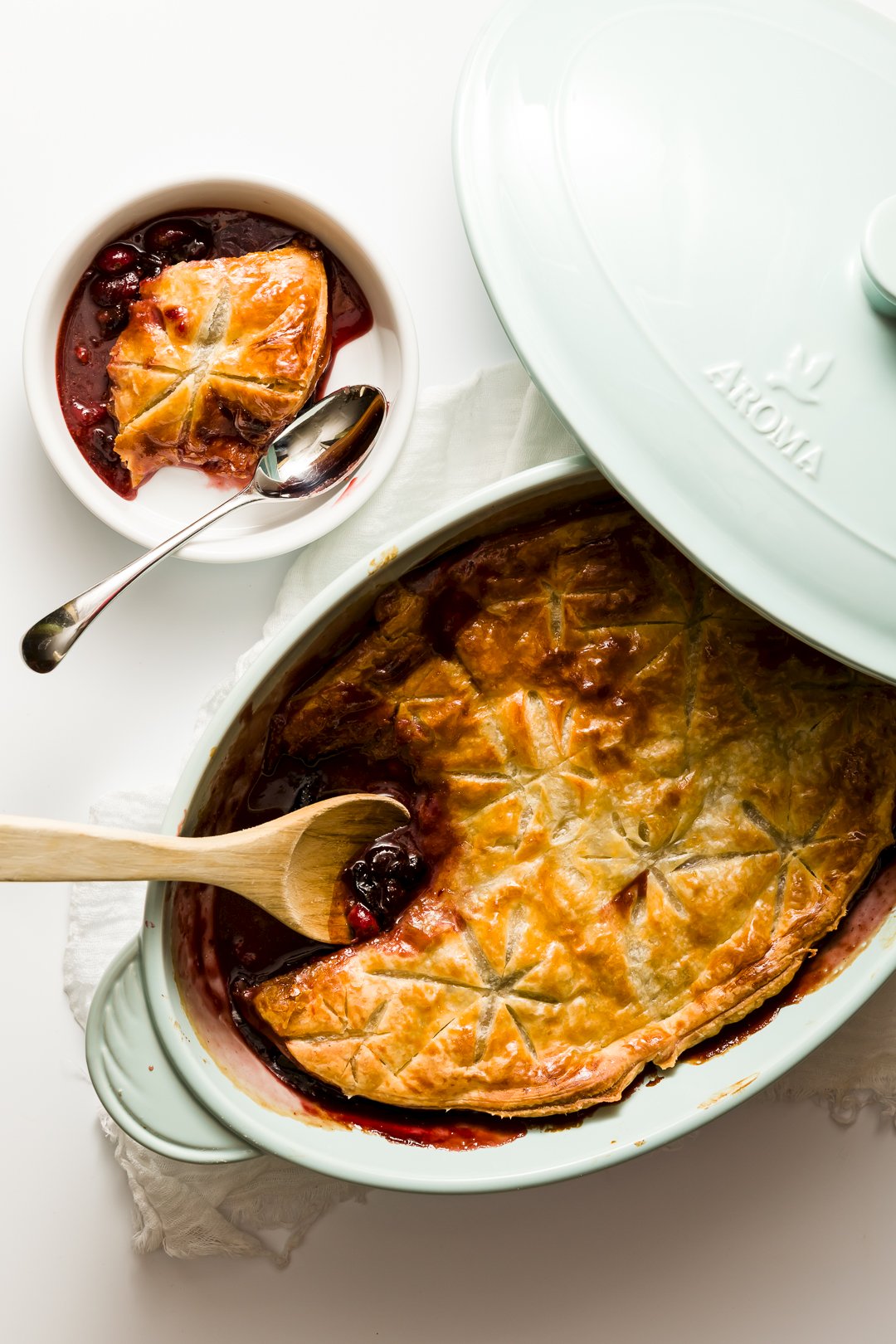 What is Puff Pastry Pie?
Puff pastry pie is a type of berry pie that's a cross between a pie and cobbler. When I shared a sneak peak of this dish on Instagram, someone suggested calling it a puff pie, which I thought was fitting.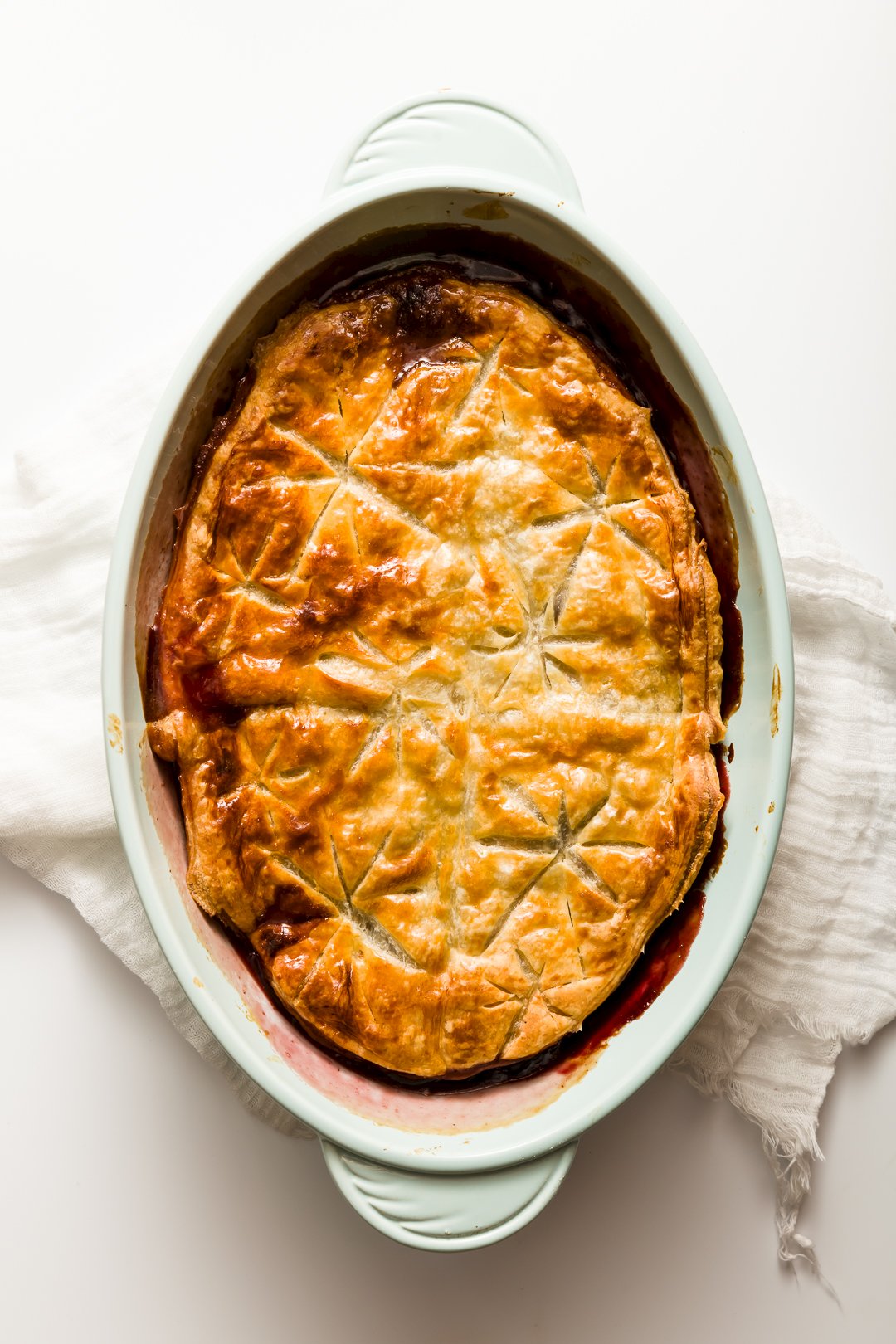 There is no bottom puff pastry crust, much like a cobbler has no bottom crust. The puff pastry dessert is simply pie filling – in this case, cranberry and cherry – topped with buttery, flaky puff pastry!
How to Make Puff Pastry Pie
First you'll need to make pie filling. While this recipe is made with cranberries and cherries, you can also experiment with other flavors. The filling from my apple pie would be fantastic in this recipe.
Cranberry Cherry Pie Filling
To make cranberry cherry pie filling, start with frozen cranberries and cherries that have been defrosted. Fresh ones will also work, but frozen ones are often easier to find – and you won't have to pit the cherries!
Smash the fruit with a potato masher.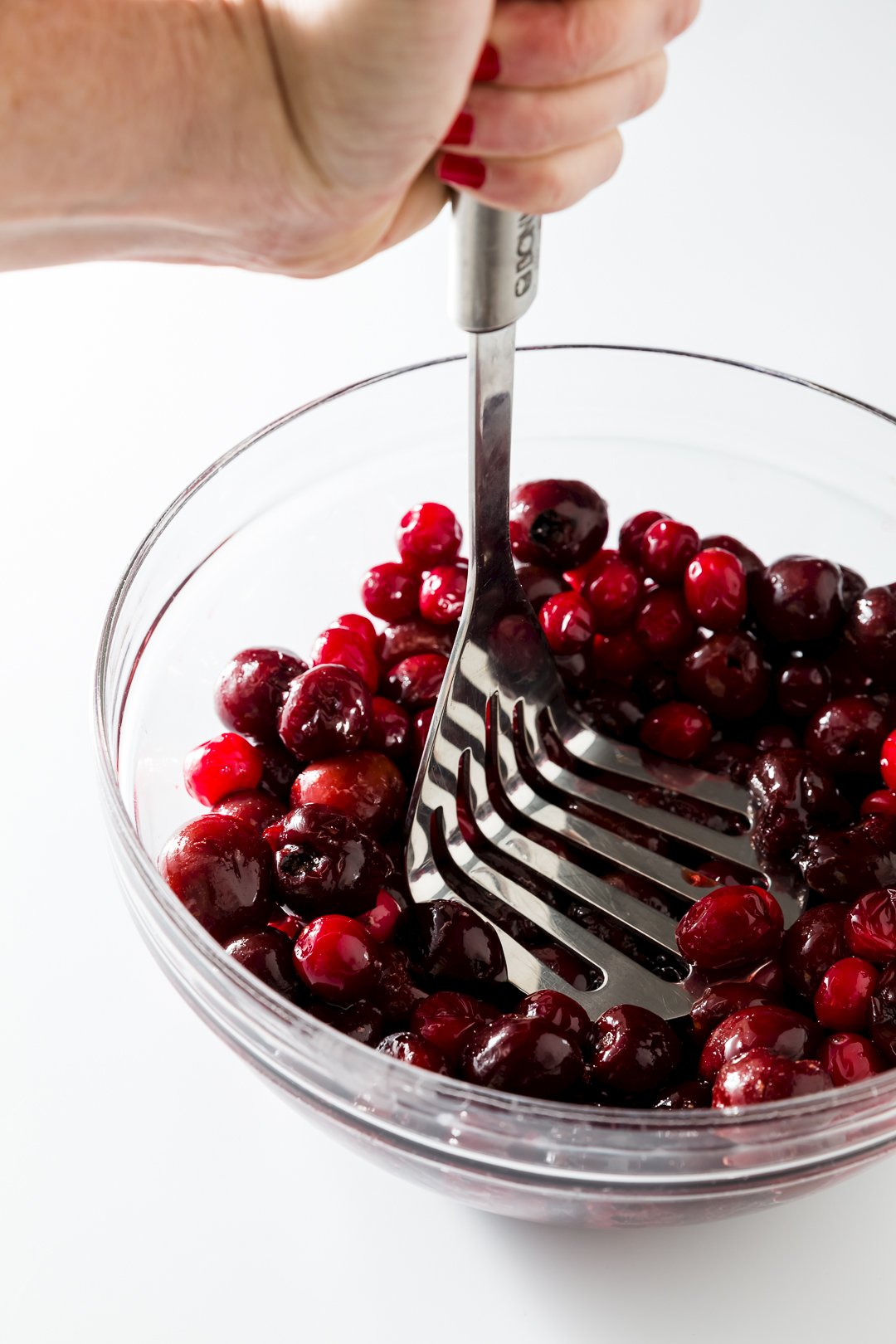 This will release a lot of juice. When I first started developing this recipe, I used all of the juice in the pie and it was very soupy. I've now learned that it is important to strain off the extra liquid.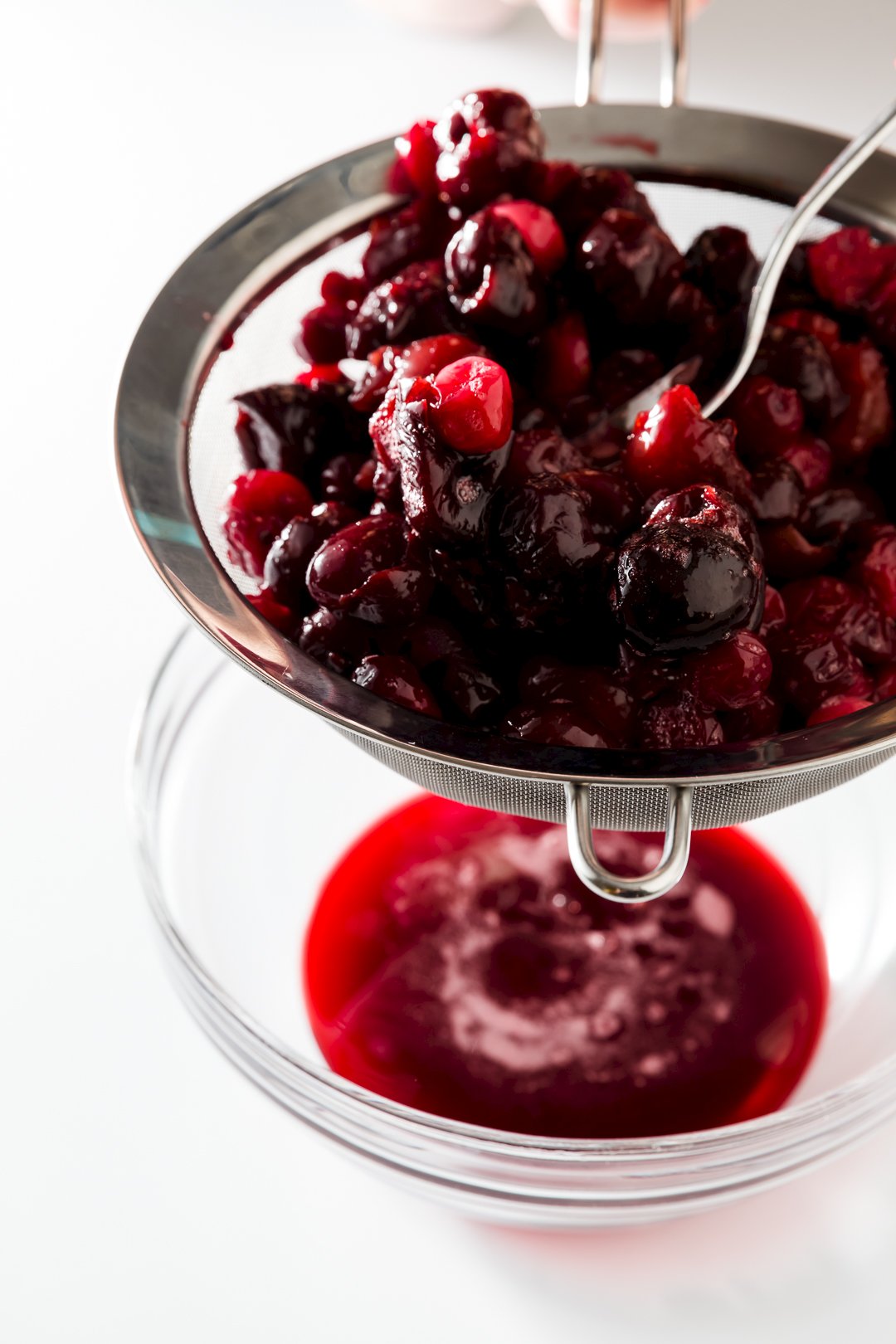 You don't need to remove every last drop, but try to strain off most of the liquid that you released while smashing. You can use that extra liquid in cocktails or make jello with it!
Next, take the smashed berries and mix them with flour, sugar, and spices.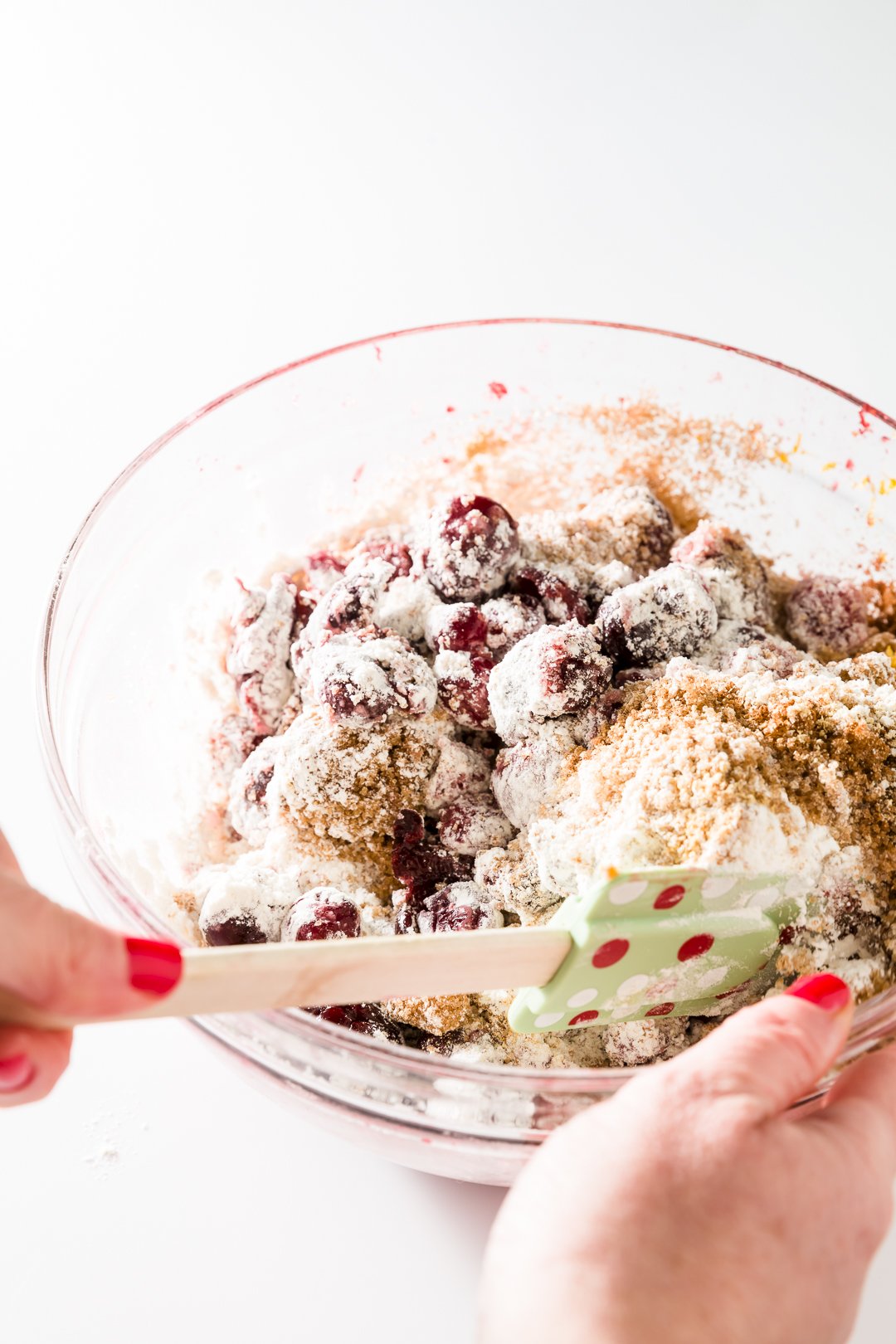 Our family fell in love with this filling so much that we not only used in the puff pastry pie, but we also served it as a riff on cranberry sauce with meat for dinner!
Puff Pastry Topping
Next, select the dish you are going to bake in. Cut the puff pastry to match the size of the top of the dish.
Serveware with a lid works really well for this task. I love the look of puff pastry pie in Aroma DoveWare. I've baked puff pastry pie in both their oval casserole dish and their regular rectangular casserole dish and it looks so beautiful in both!
After gently rolling a sheet of puff pastry, I press the lid down to outline the exact size of puff pastry that I need to top my pie.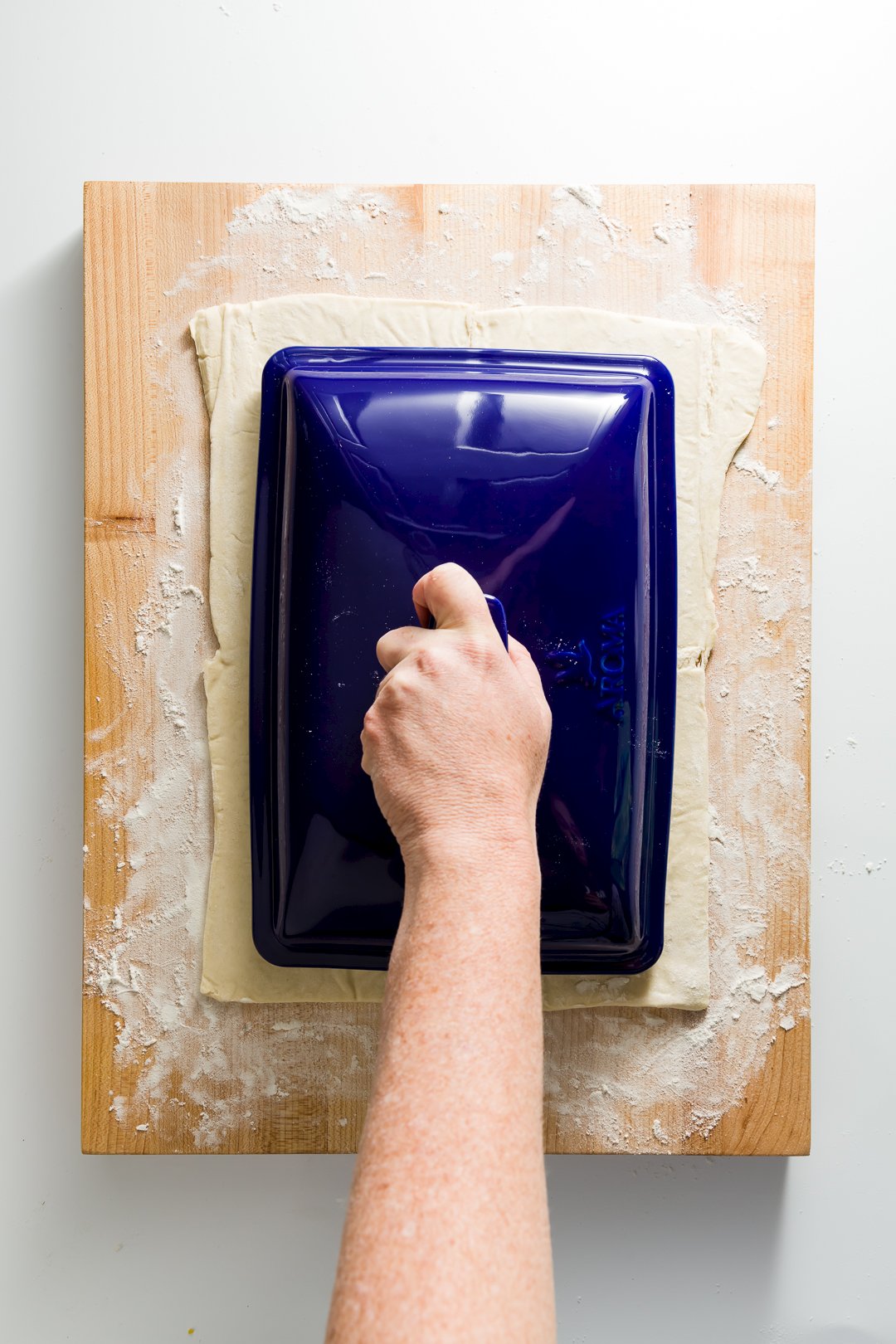 Then, I use a pizza cutter to cut around the indentation left by the lid.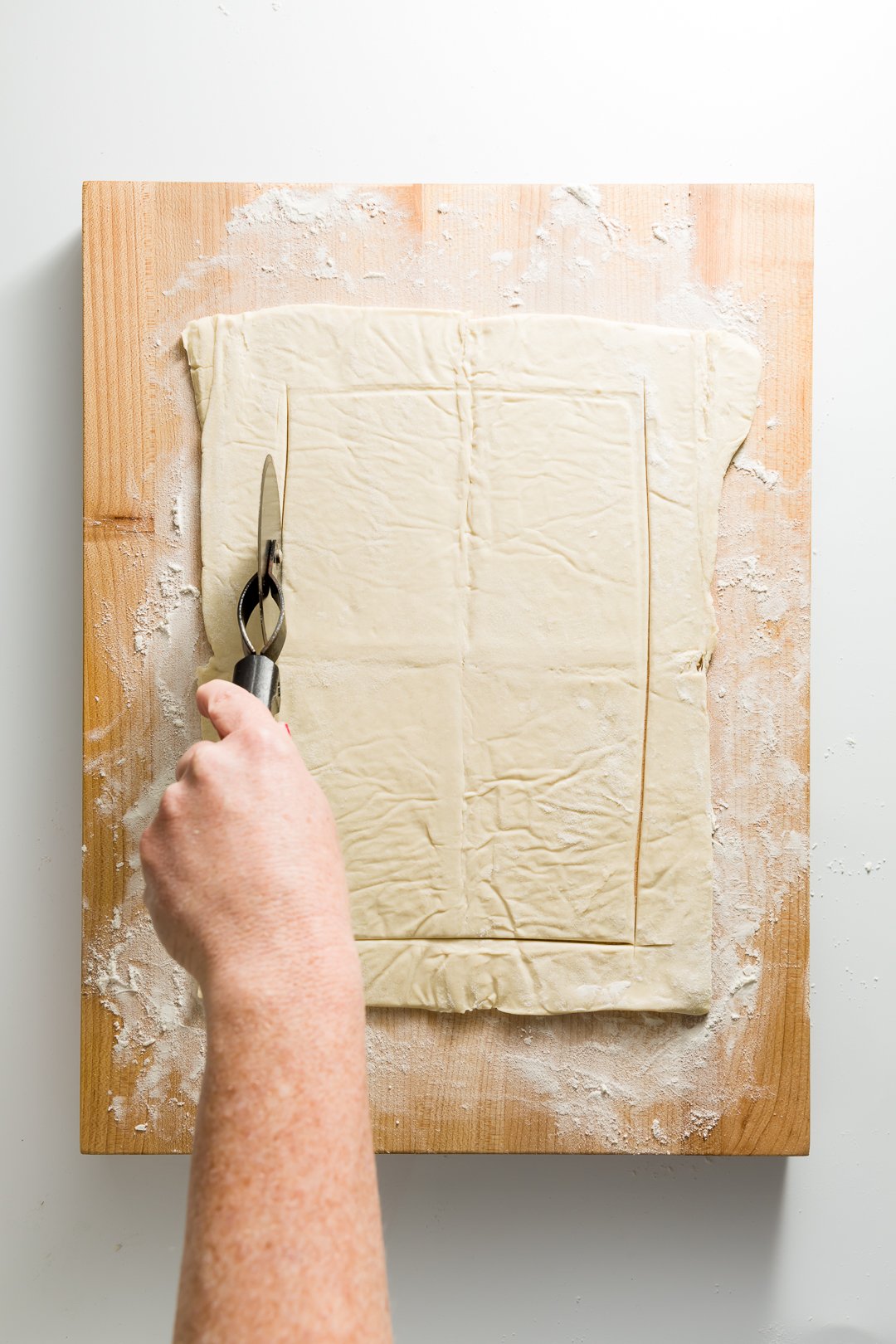 It's a perfect fit every time!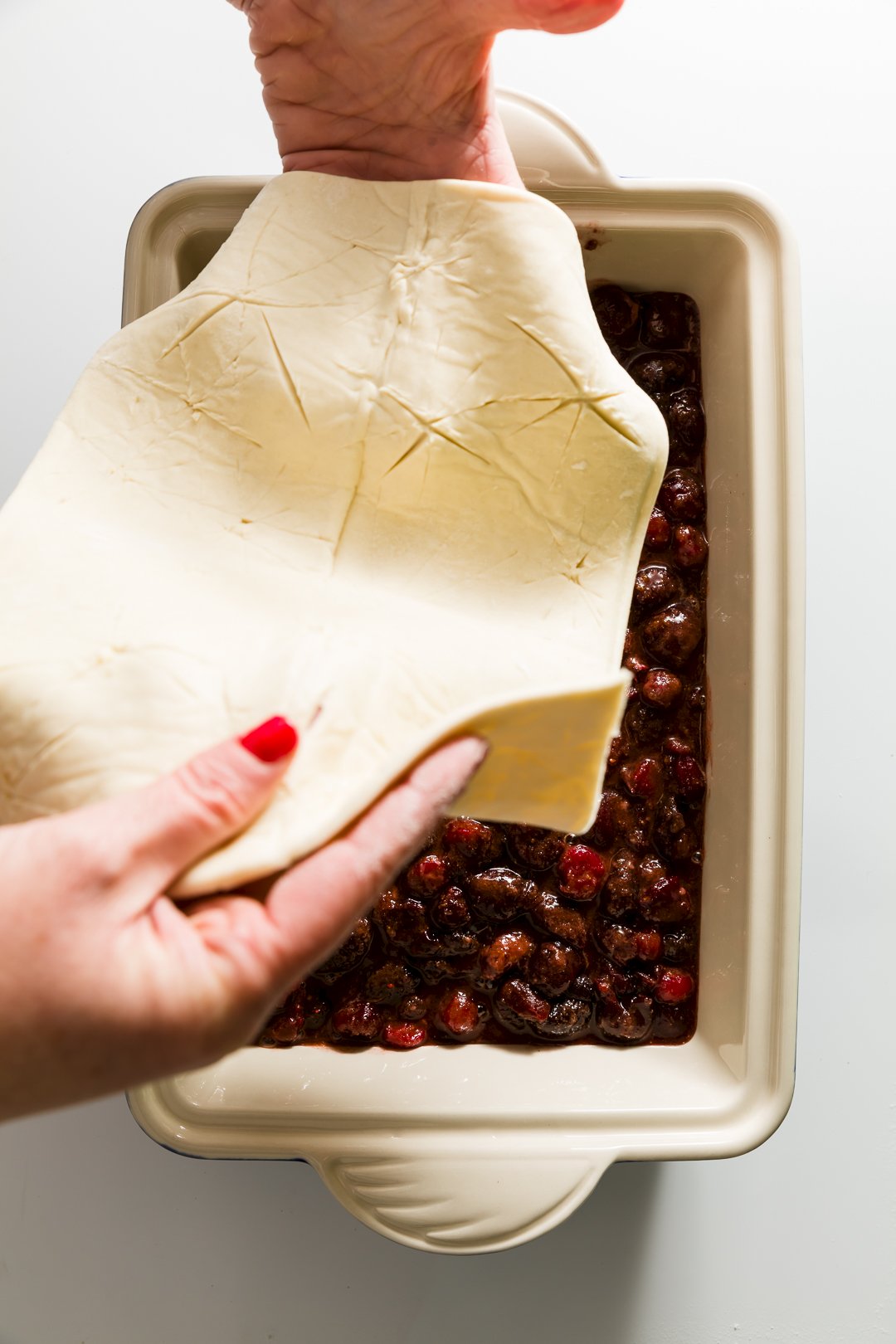 Decorating the Puff Pastry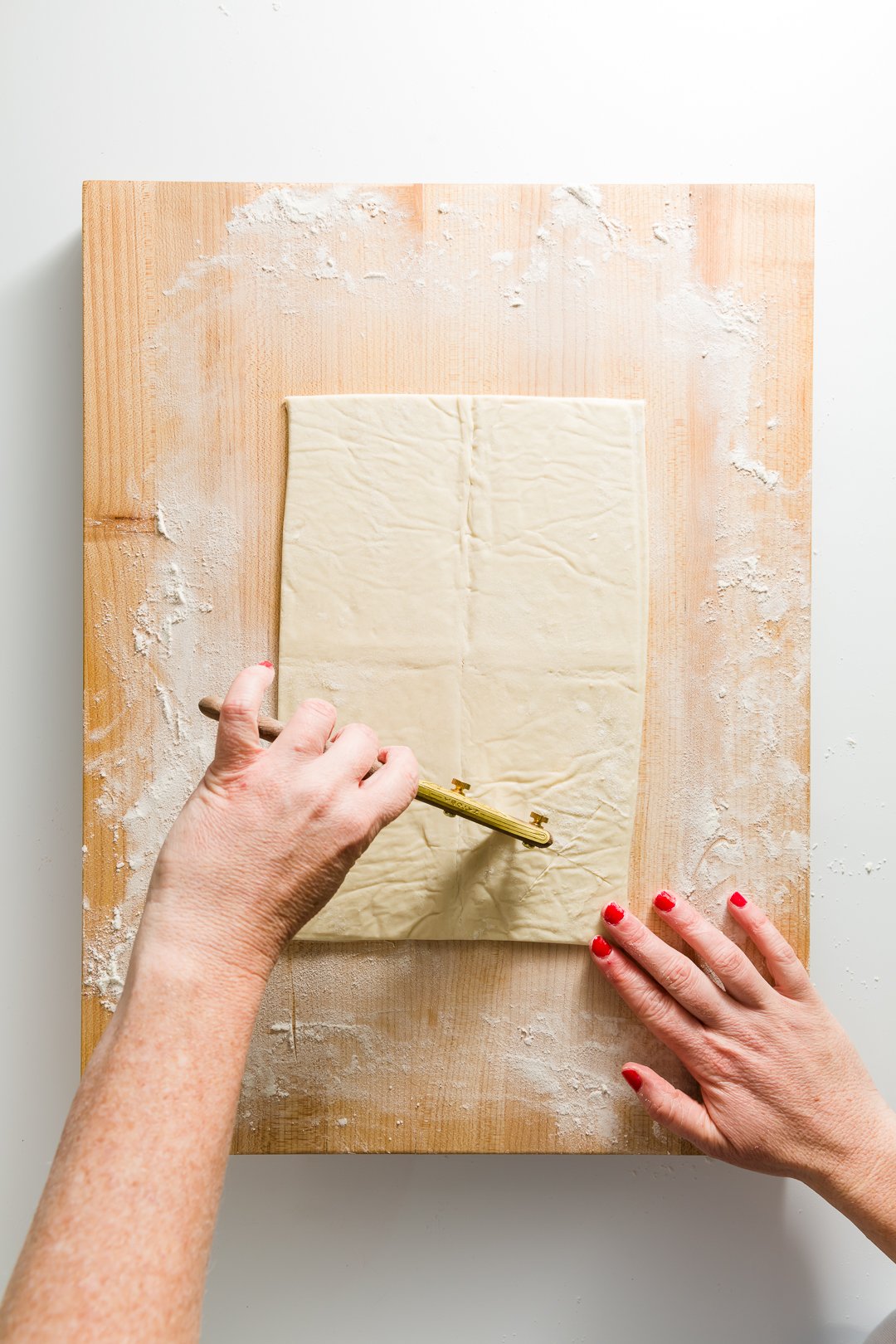 You can decorate the puff pastry with any kind of design that you like. I used stars of different sizes that I lightly drew into the dough with a lame (a tool designed specifically for scoring dough). If you don't have a lame, a knife or pizza cutter will do the trick.
If you want to get fancy, you can try other designs like the herringbone design on Food52's gorgeous cranberry pithivier.
Don't cut all the way through the dough. It's not a big deal if you mess up, but you'll see that the berry filling will seep through in that spot.
I also recommend brushing the puff pastry with an egg yolk to give it a shine.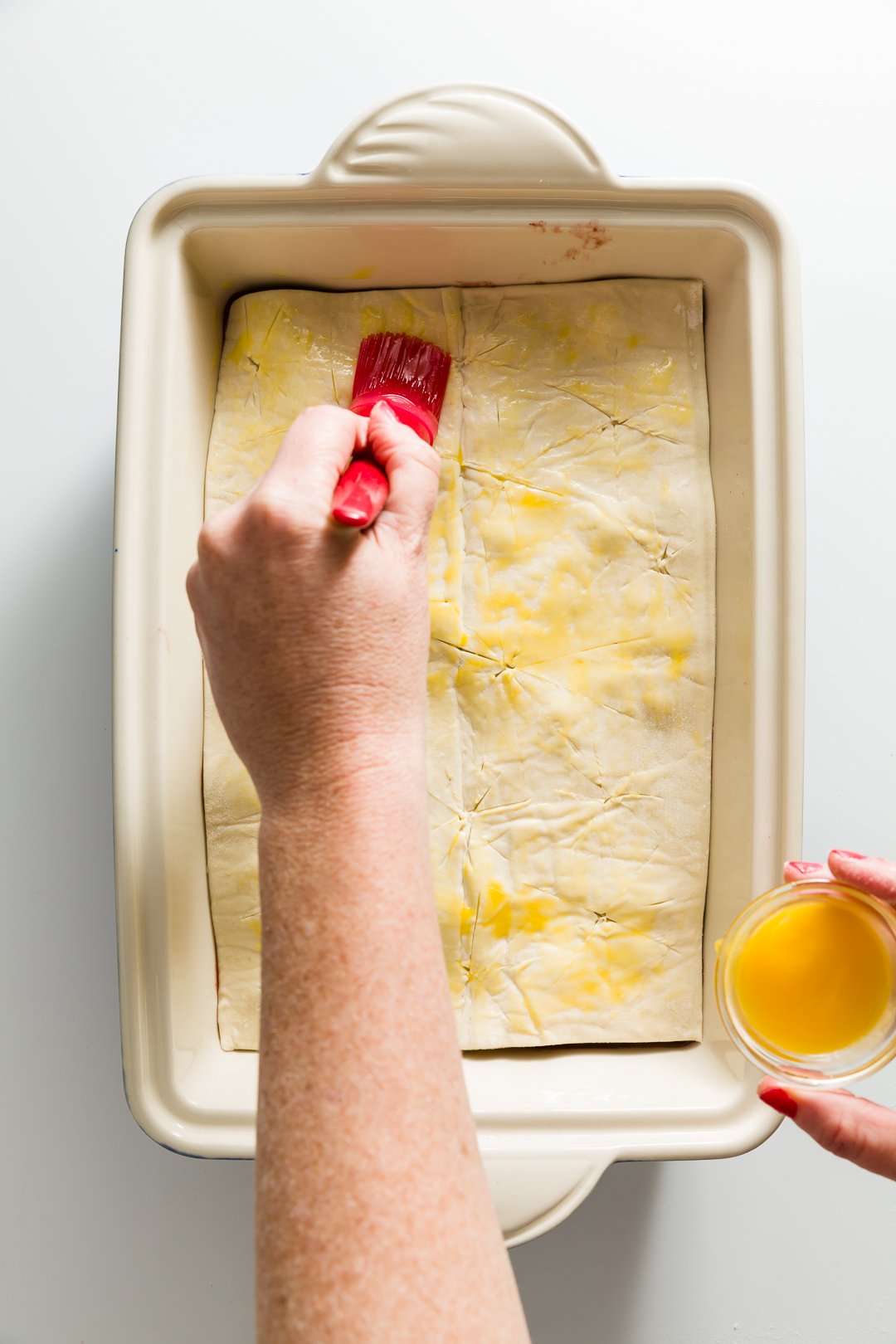 Baking
Bake for 45 minutes at 400 F. You'll know it's done when the top is evenly browned.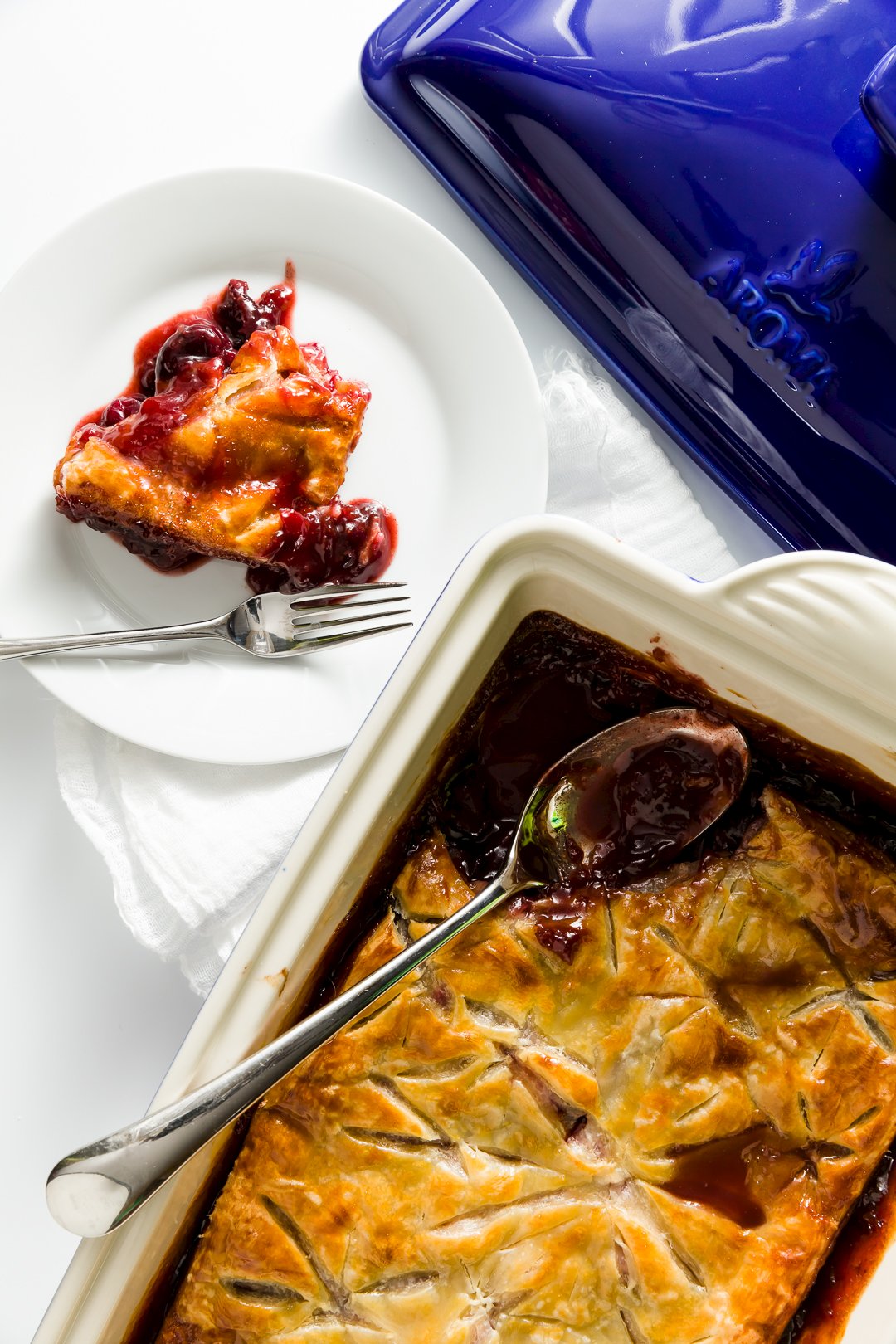 Store-bought vs. Homemade Puff Pastry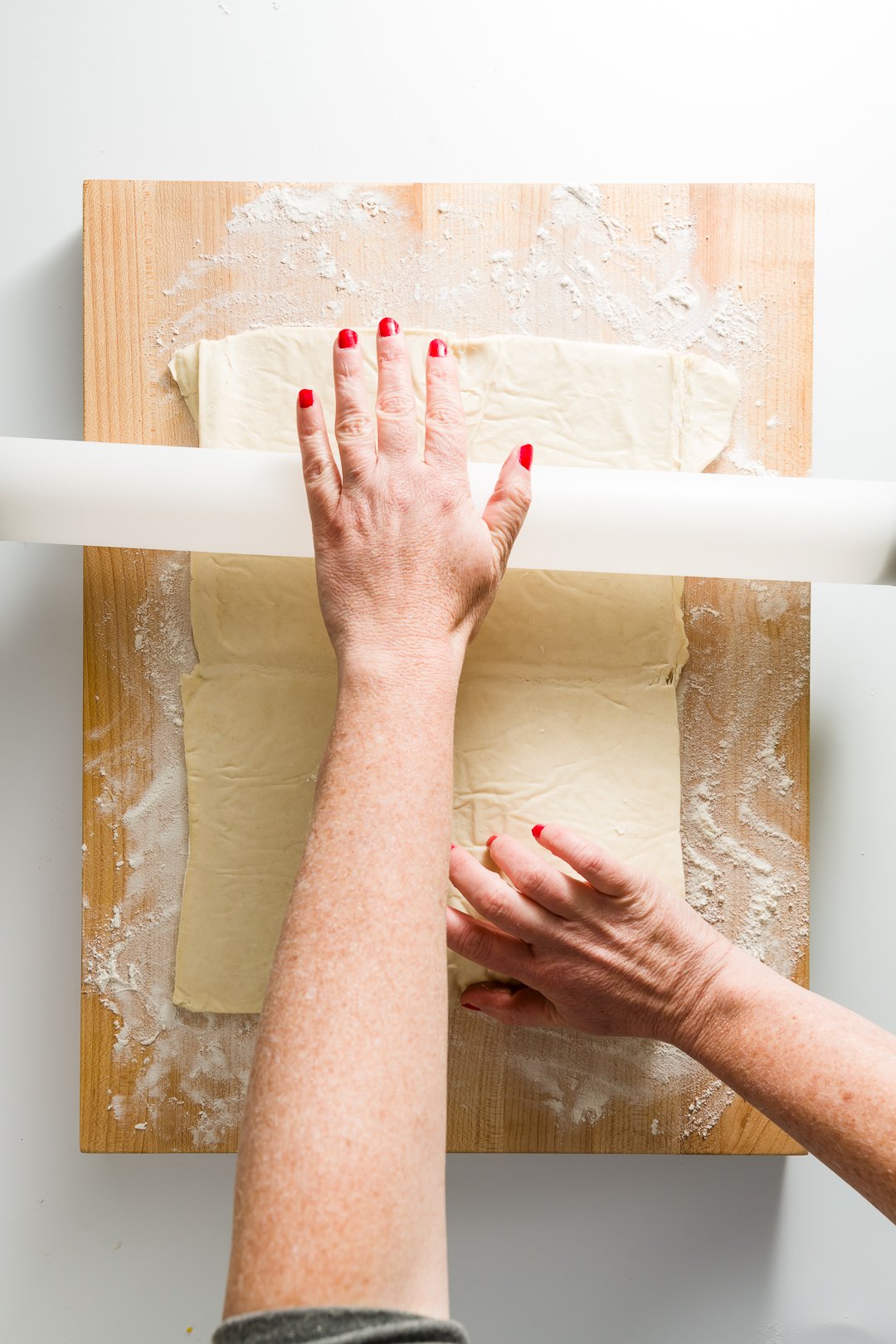 Sure, you can make homemade puff pastry (you can even make chocolate puff pastry, which would be amazing with this recipe), but store-bought puff pastry is a baking shortcut I almost always take. Using store-bought puff pastry is so easy and some brands like Dufour taste just as good as homemade.
Store-bought puff pastry is great for all kinds of simple desserts, like my cheese danish.
Puff Pastry Berry Pie
Making a puff pastry pie is so incredibly easy - you can prepare it in under ten minutes. I make mine sweet and tart with a mixture of cranberries and cherries.
Ingredients
24

ounces

frozen cherries

defrosted overnight in the refrigerator

8

ounces

frozen cranberries

defrosted overnight in the refrigerator

1

cup

sugar

1

cup

brown sugar

1/2

cup

all-purpose flour

1

tablespoon

ground cinnamon

1/2

tablespoon

ground ginger

1

teaspoon

ground nutmeg

zest of 1 orange

I use an 8 ounce Navel orange, but any kind will do

14

ounces

puff pastry

1 sheet, defrosted overnight in the refrigerator

1

large egg yolk
Instructions
Place cherries and cranberries in a bowl and use a potato masher to smash them.

Use a sieve to remove the excess liquid. You won't need it for this recipe, but you can use it in cocktails or in other recipes.

In a large bowl, mix the sugar, brown sugar, flour, cinnamon, ginger, nutmeg, and orange zest with the smashed berries.

Pour into a 3 quart casserole dish.

Gently roll out puff pastry to the approximate size of the casserole dish. If the dish has a lid, like the DoveWare, use the lid as guide.

Use a pizza cutter to cut out the dough to the exact size of the dish. Save scraps for other puff pastry projects.

Use a lame or continue to use the pizza cutter to gently score designs in the pastry, being careful not to cut all the way though it.

Place puff pastry on top of the filling.

Use a pastry brush to brush the pastry with egg yolk.

Bake for 45 minutes or until evenly browned.

Serve warm.
Notes
Store in the refrigerator for up to one week and warm in the oven before serving.
Nutrition
Calories:
387
kcal
|
Carbohydrates:
65
g
|
Protein:
3
g
|
Fat:
13
g
|
Saturated Fat:
3
g
|
Cholesterol:
16
mg
|
Sodium:
89
mg
|
Potassium:
192
mg
|
Fiber:
3
g
|
Sugar:
42
g
|
Vitamin A:
70
IU
|
Vitamin C:
6.5
mg
|
Calcium:
36
mg
|
Iron:
1.6
mg