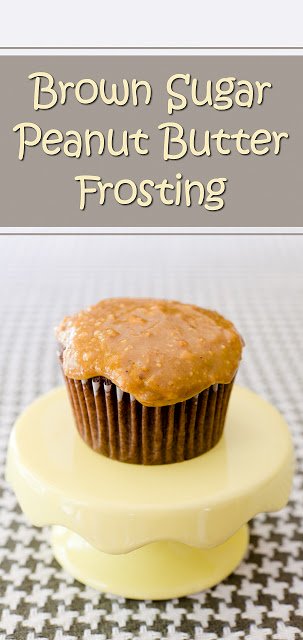 Melt brown sugar with butter, add a touch of milk, thicken the mixture with chunky peanut butter and you've got brown sugar peanut butter frosting that's ready to pile on cupcakes or cakes.  I put my brown sugar peanut butter frosting on a chocolate cupcake (I've been working on an ultimate chocolate cupcake recipe – more details soon), but a vanilla cupcake or banana cupcake would work just as well. Brown sugar frosting is one of my top ten favorite frostings and this variation is definitely going to go into regular rotation.
Brown Sugar Peanut Butter Frosting Recipe
Julia from ShoeStringBean recently left a comment on my brown sugar frosting recipe saying, "This is very similar to my grandma's brown sugar frosting, but we always thicken it with peanut butter instead of powdered sugar."  I had used peanut butter to thicken buttercreams, but I had never tried it with brown sugar frosting.  I immediately added brown sugar peanut butter frosting to my must-try list – I'm so glad I did!  Here's my recipe:
If you've tried this recipe, please RATE THE RECIPE and leave a comment below!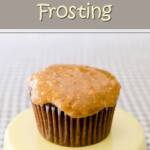 Brown Sugar Peanut Butter Frosting Recipe
Ingredients
1/2

cup

unsalted butter

1

cup

brown sugar

packed

1/4

cup

milk

somewhere between 2 and 3 cups chunky peanut butter
Instructions
Melt butter in a small saucepan on medium-high heat.

Add the brown sugar and bring to a boil.

Lower heat to medium low and continue to boil for 2 minutes, stirring constantly.

Add the milk and return to a boil, stirring constantly.

Remove from heat and cool to lukewarm.

Gradually mix in peanut butter. Add just enough peanut butter to make the frosting spreadable.

Spread on cooled cupcakes.
Peanut Butter?
Long time Cupcake Project readers will recall that I have had a rule against baking with peanut butter.  Since I was a kid, I always hated peanut butter.  Lately, something CRAZY has happened.  I have started to like peanut butter.  It began with the nuts themselves.  I was at one of those restaurants where you eat shelled peanuts and throw the shells on the ground.  I didn't want to miss out on the fun and, surprisingly, I enjoyed the taste of the peanuts – not just making a mess with the shells.  Next, I found myself happily noshing on airplane peanuts.  Most recently, Jonathan made me a grilled cheese sandwich with peanut butter and bananas and I LOVED it.  It looks like I'm not alone in my changing tastes; when I posted about this on Facebook, many of you chimed in with foods that you have learned to love.  Head over to the Facebook page to add your story to the mix.