Hi-Hat Cupcakes
Disclosure: As an Amazon Associate, I earn from qualifying purchases.
Hi-hat cupcakes are cupcakes that are frosted with a tall swirl and then dipped in chocolate. They look super impressive, but they aren't actually that hard to make.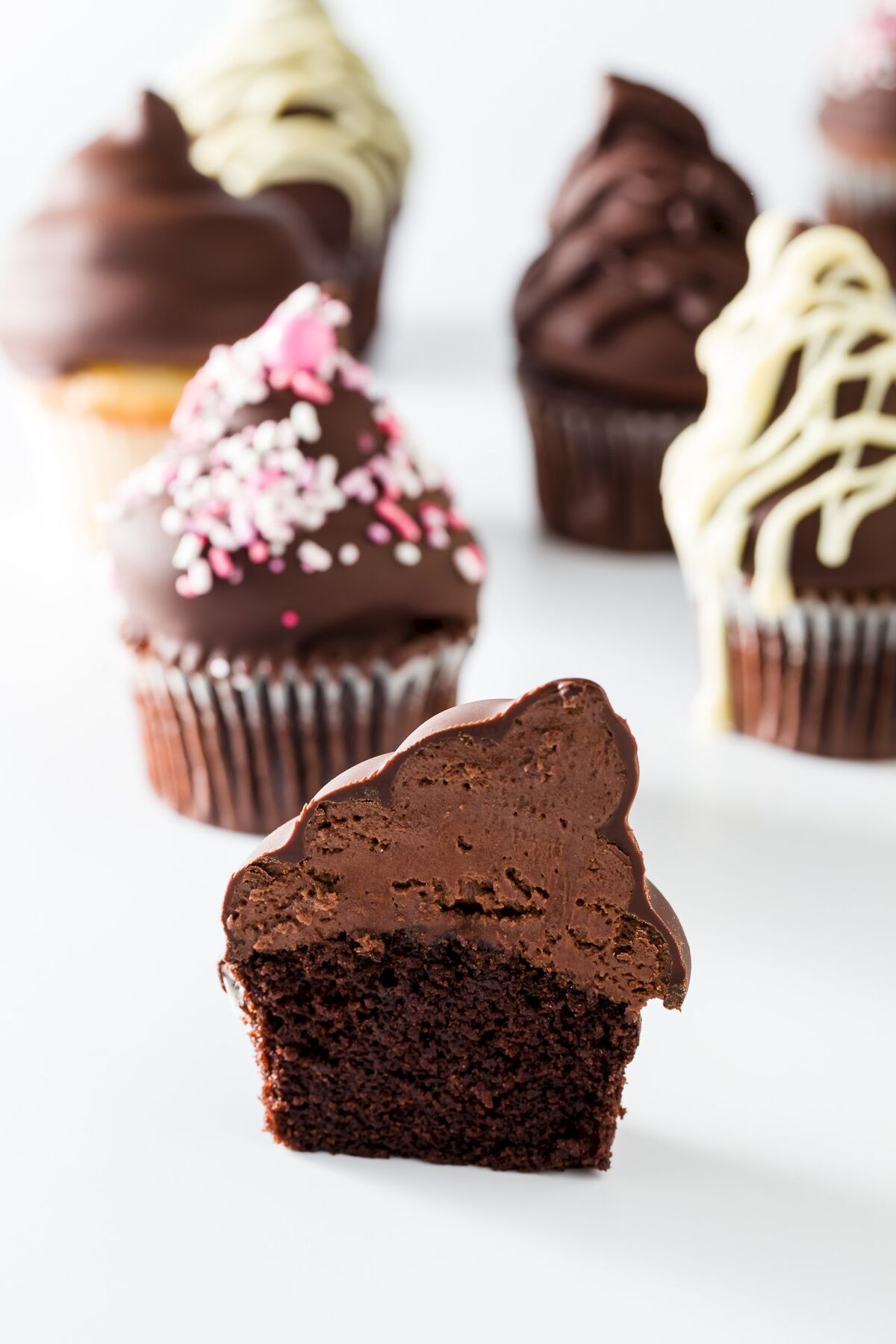 Which Cupcake Flavor is Best for Hi-Hat Cupcakes?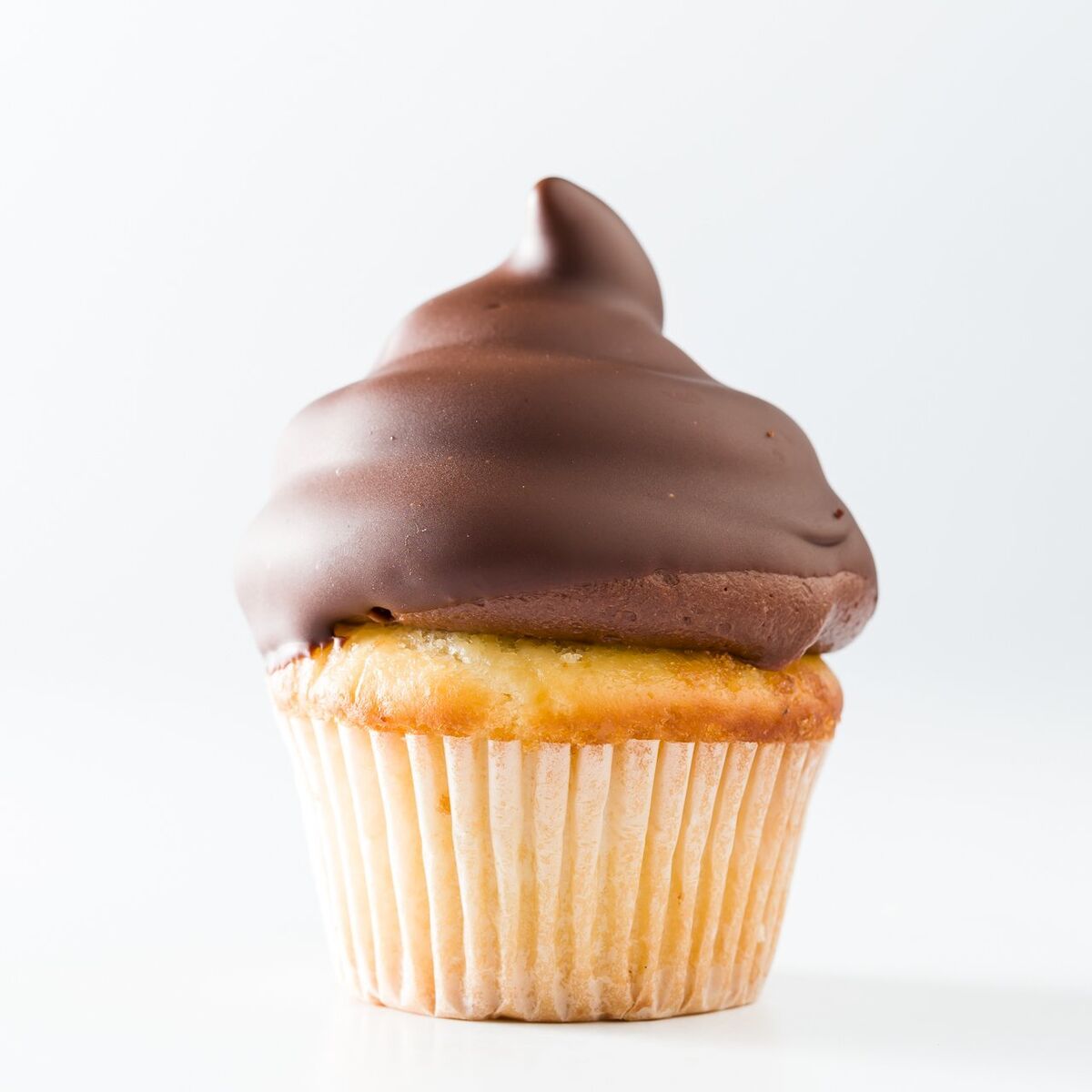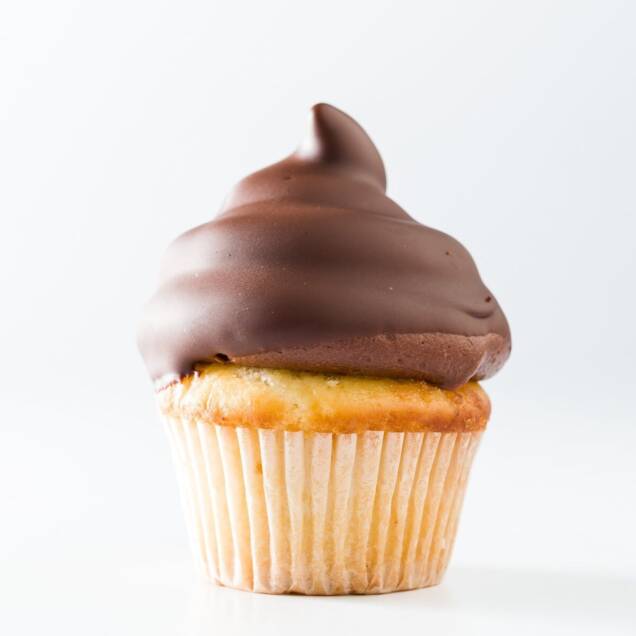 You can use any cupcake recipe that you like to make hi-hat cupcakes. If you are looking for some place to start, I suggest you try my vanilla cupcakes or chocolate cupcakes. Both of those recipes have been tested hundreds of times – you can't go wrong with them!
But, I also love dipping my peanut butter cupcakes in chocolate!
Which Type of Frosting is Best for Hi-Hat Cupcakes?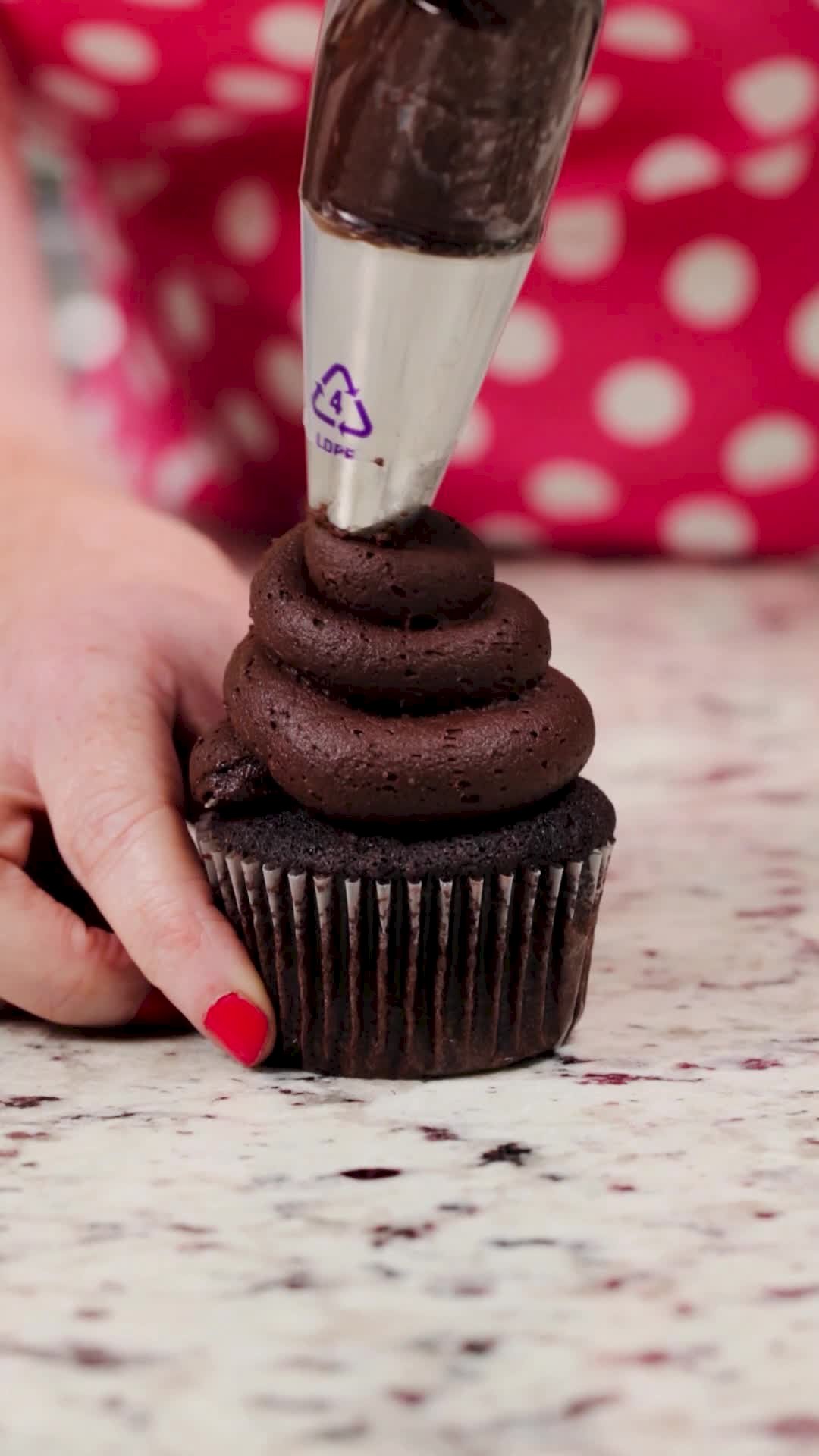 You can use any frosting recipe that you like on a hi-hat cupcake, but it has to be able to be piped and hold its shape. Shown above is my chocolate cream cheese frosting. This frosting works really well, as does my vanilla bean buttercream frosting.
Which Tip Do You Use to Pipe Hi-Hat Frosting?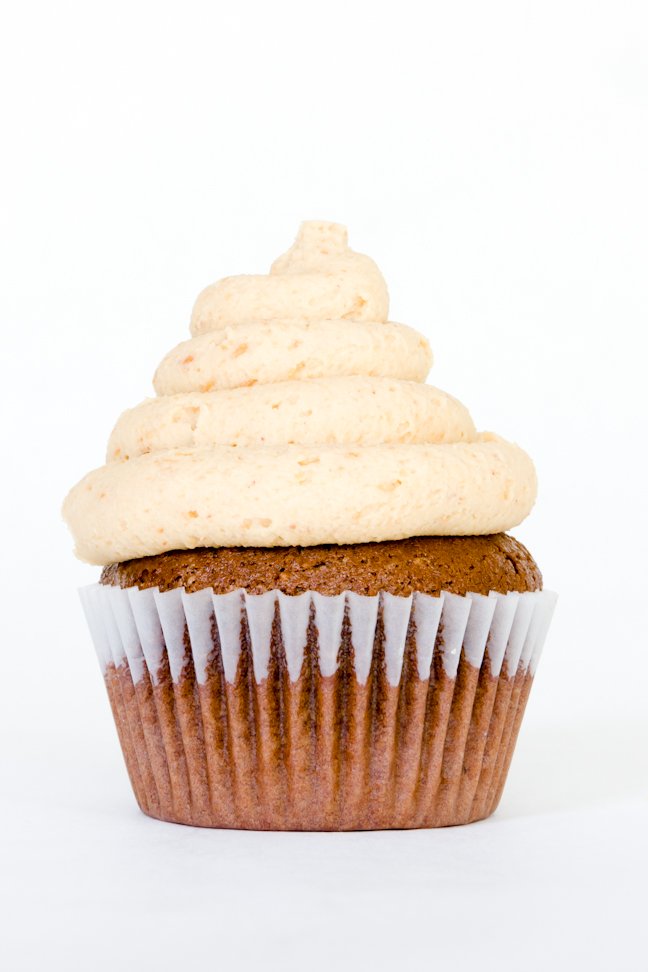 For a perfect hi-hat cupcake, you want a big swirl of frosting. The best piping tip to use for this is an open circle tip like the Wilton 1A [paid link]. If you don't have a tip, you can fill a heavy-duty sandwich bag with frosting and cut off the corner.
How to Make the Chocolate Dip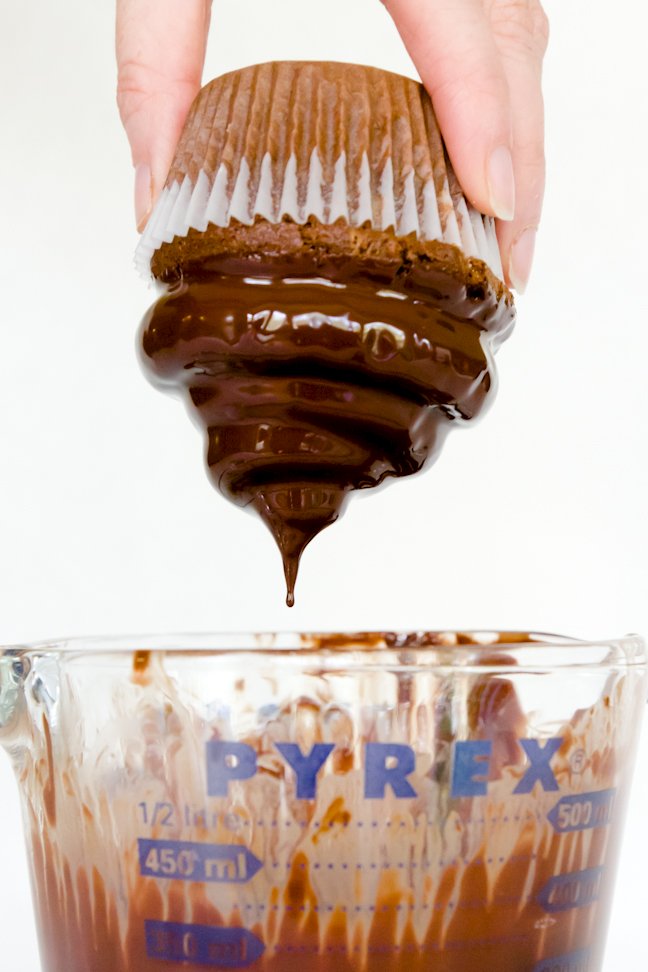 Typically, ganache is made of chocolate and cream. For these cupcakes, we use melted chocolate plus vegetable oil. This makes the chocolate shiny! I melt the chocolate and oil together in the microwave in 20 second increments and stir in between each increment until all of the chips are melted.
How Does the Frosting Stay On?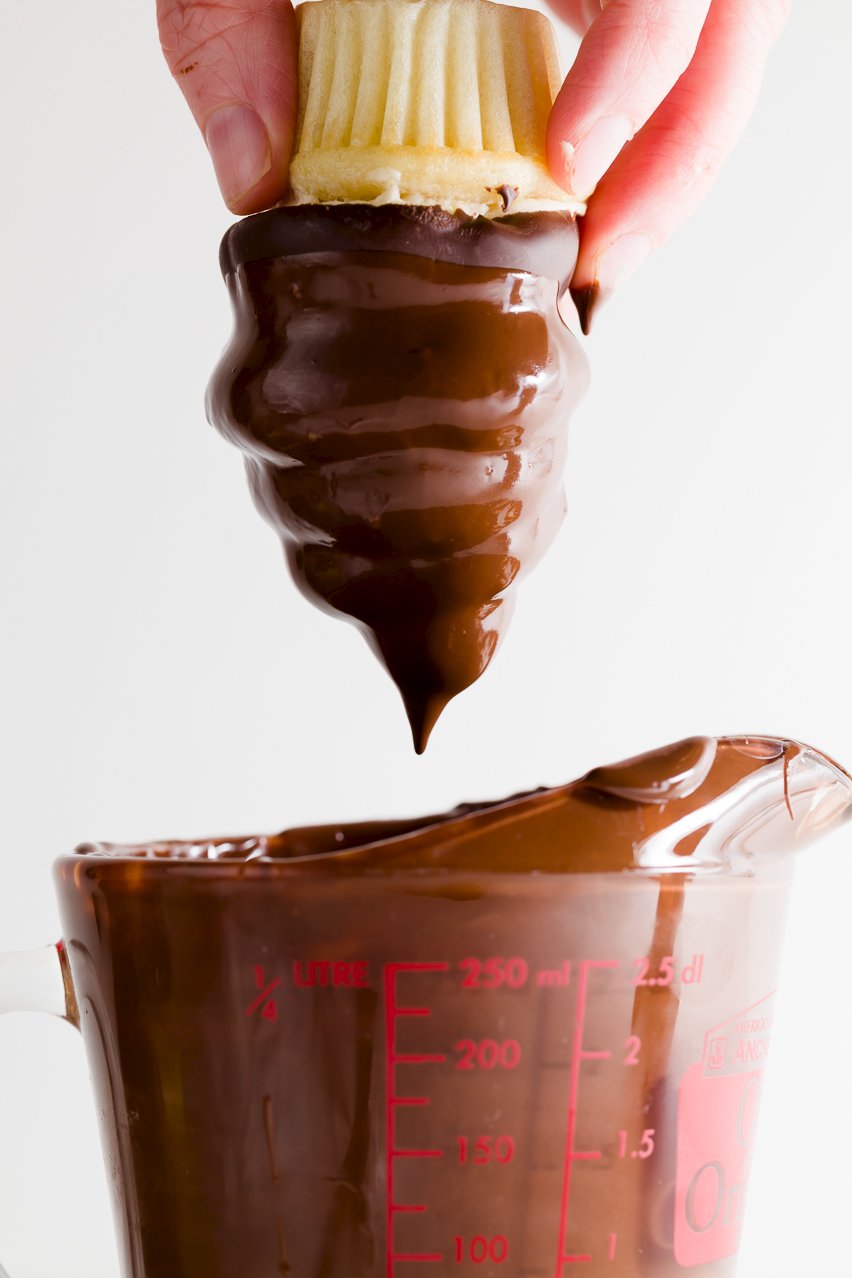 The secret to keeping the frosting on when you make hi-hat cupcakes is to freeze the frosted cupcakes before dipping. I was so nervous the first time I turned a cupcake upside-down, but the frosting stayed on just fine!
How to Decorate Hi-Hat Cupcakes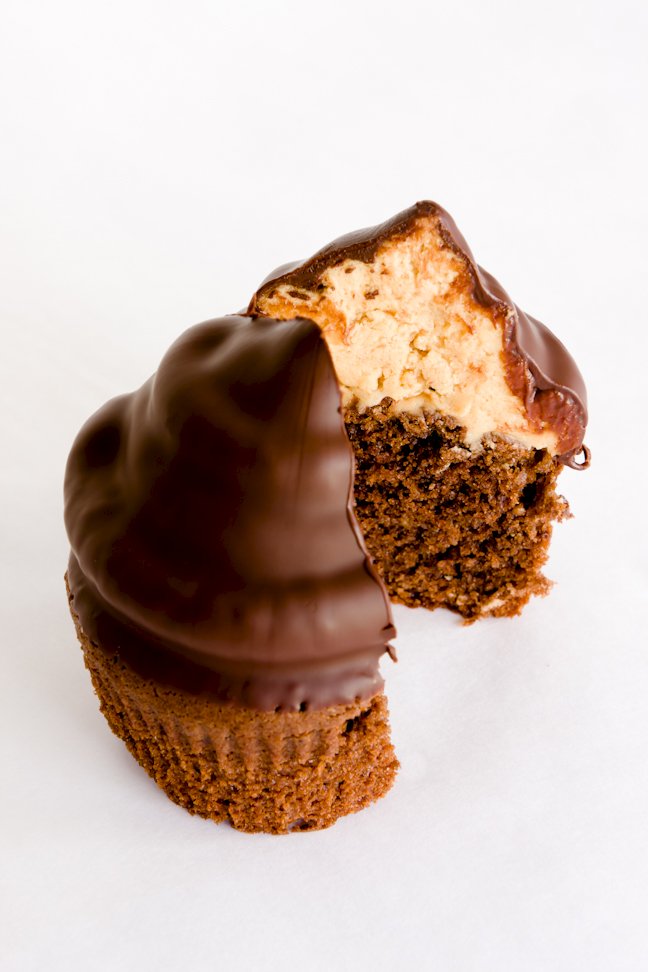 Hi-hat cupcakes are pretty without any decoration, but that doesn't mean that we can't add some extra flair.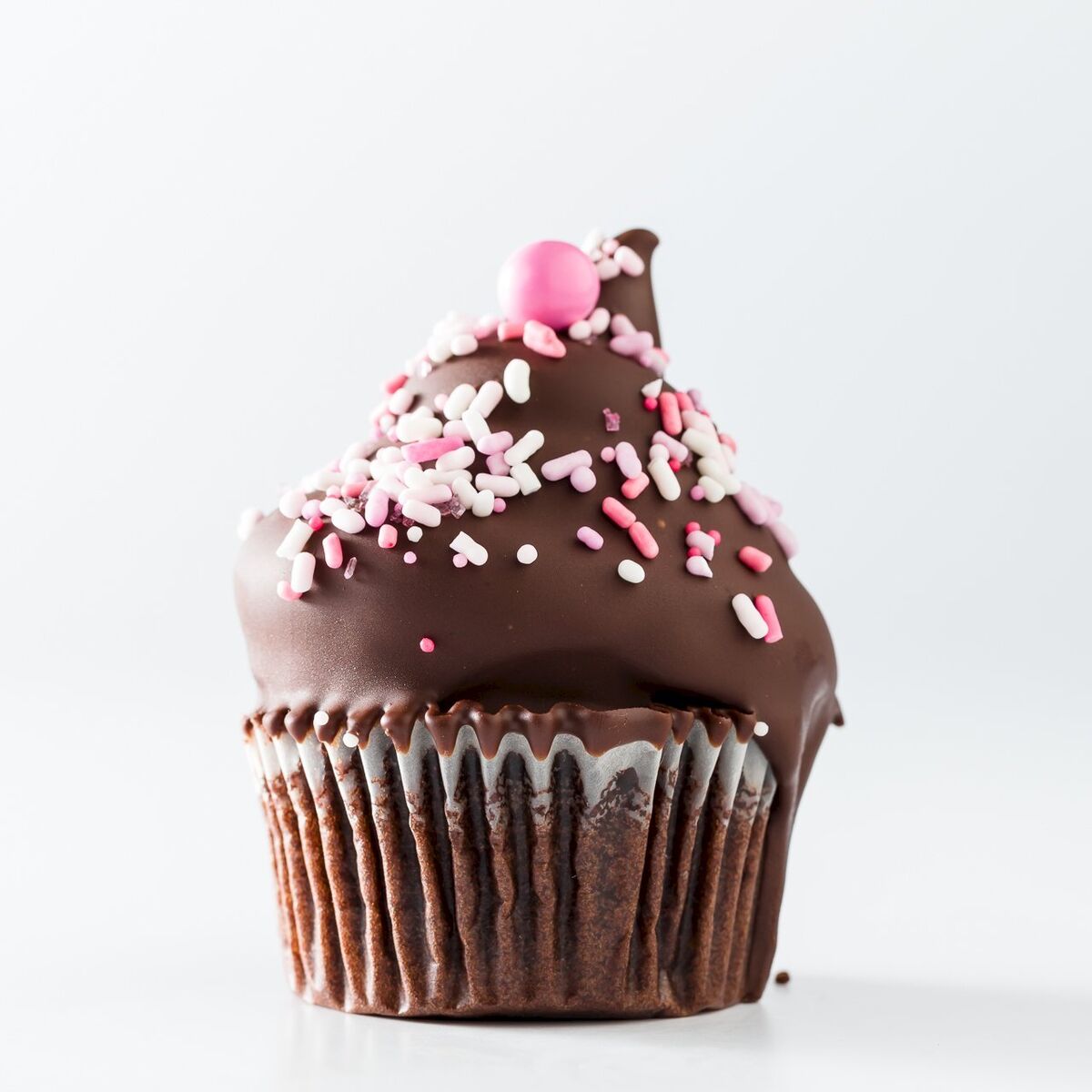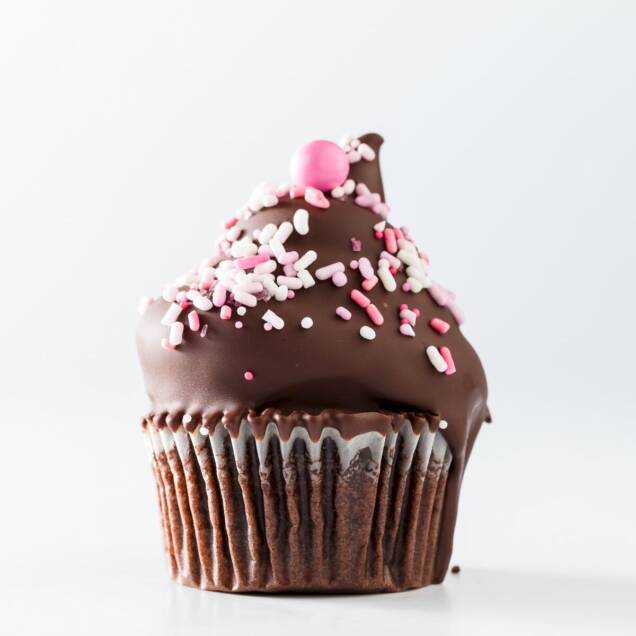 If you add sprinkles to the chocolate before it hardens, the sprinkles will stick.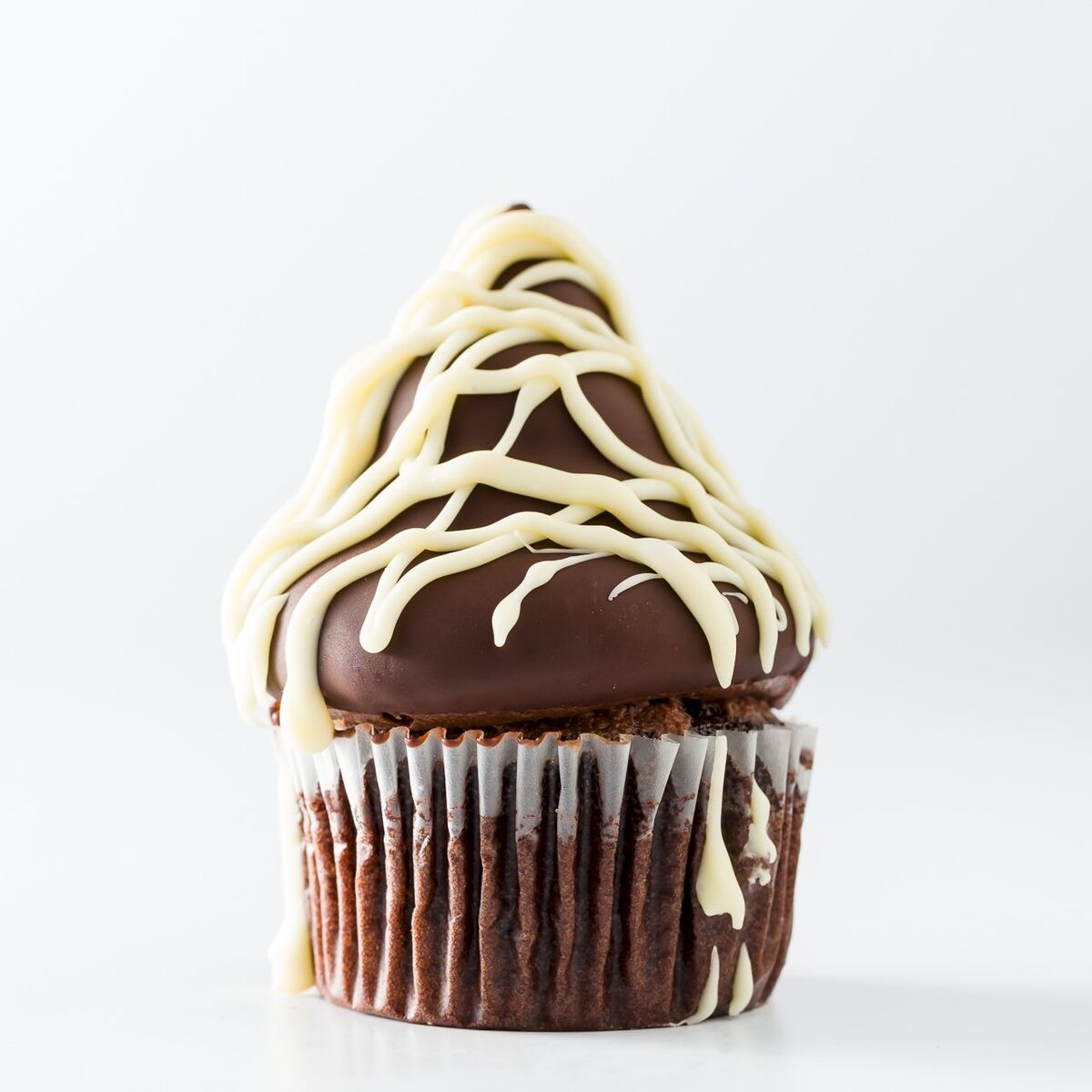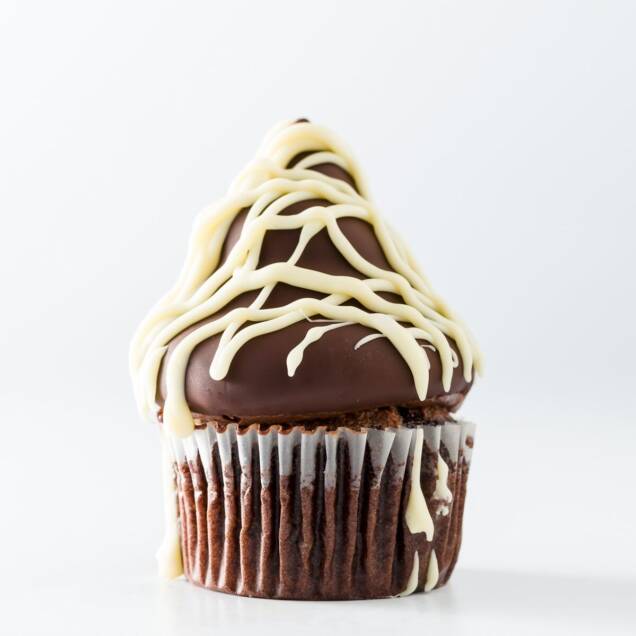 After the chocolate hardens, you can pipe on white chocolate for a fun effect.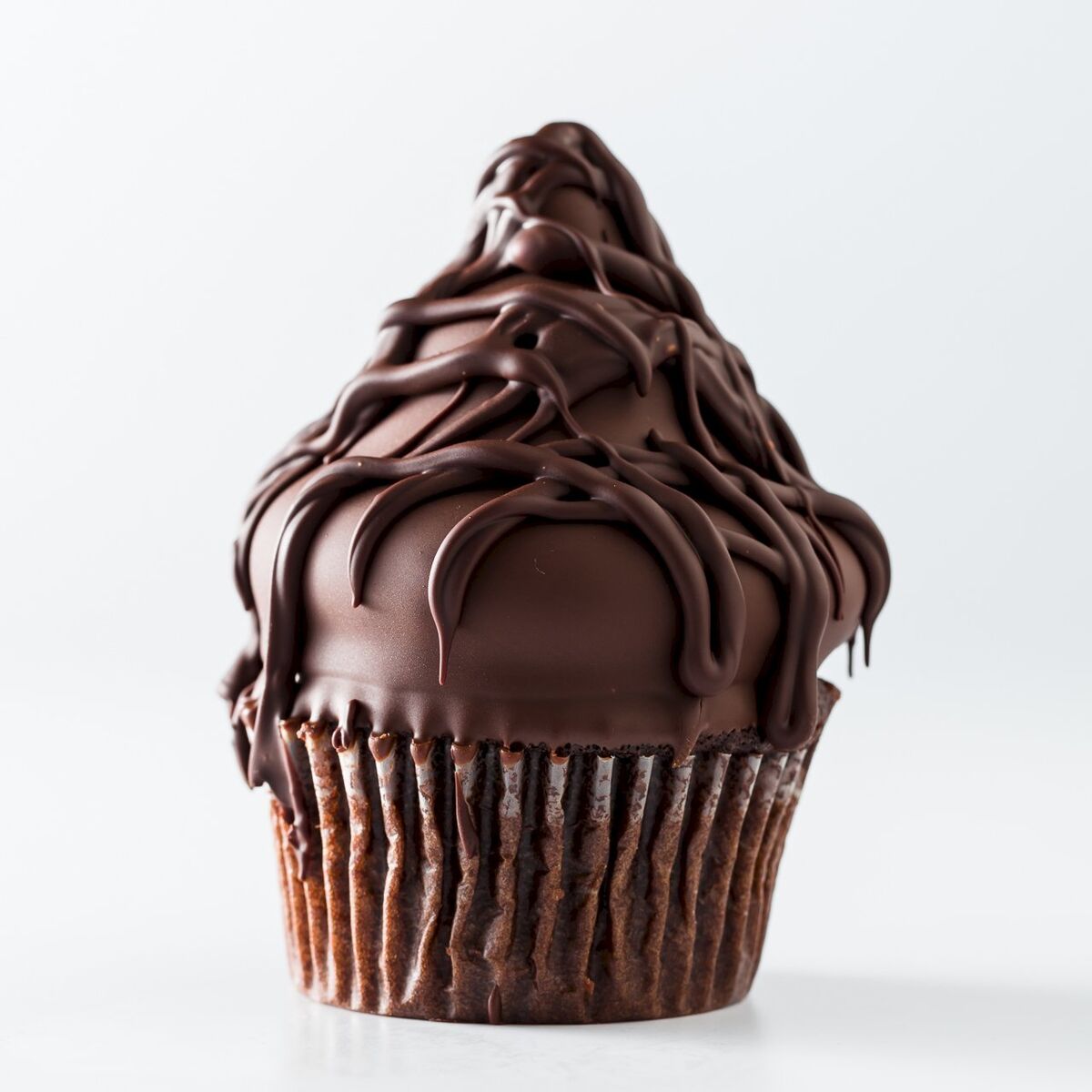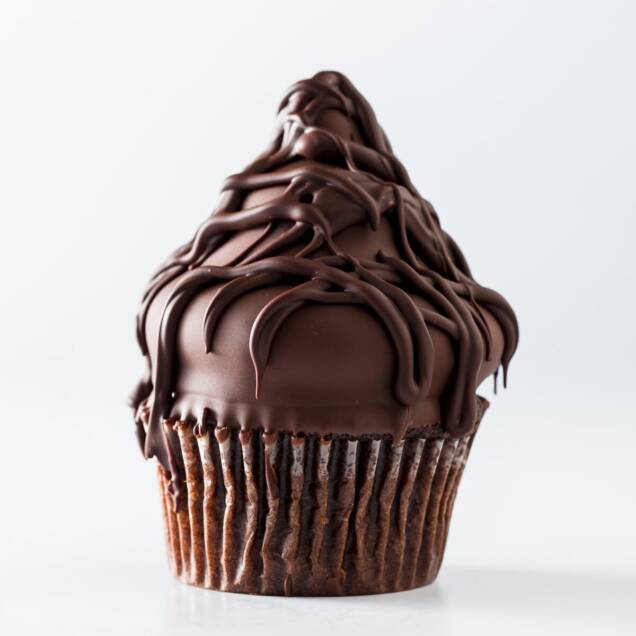 You can also pipe dark chocolate on top of the hi-hat for a beautiful textured look.
How to Eat a Hi-Hat Cupcake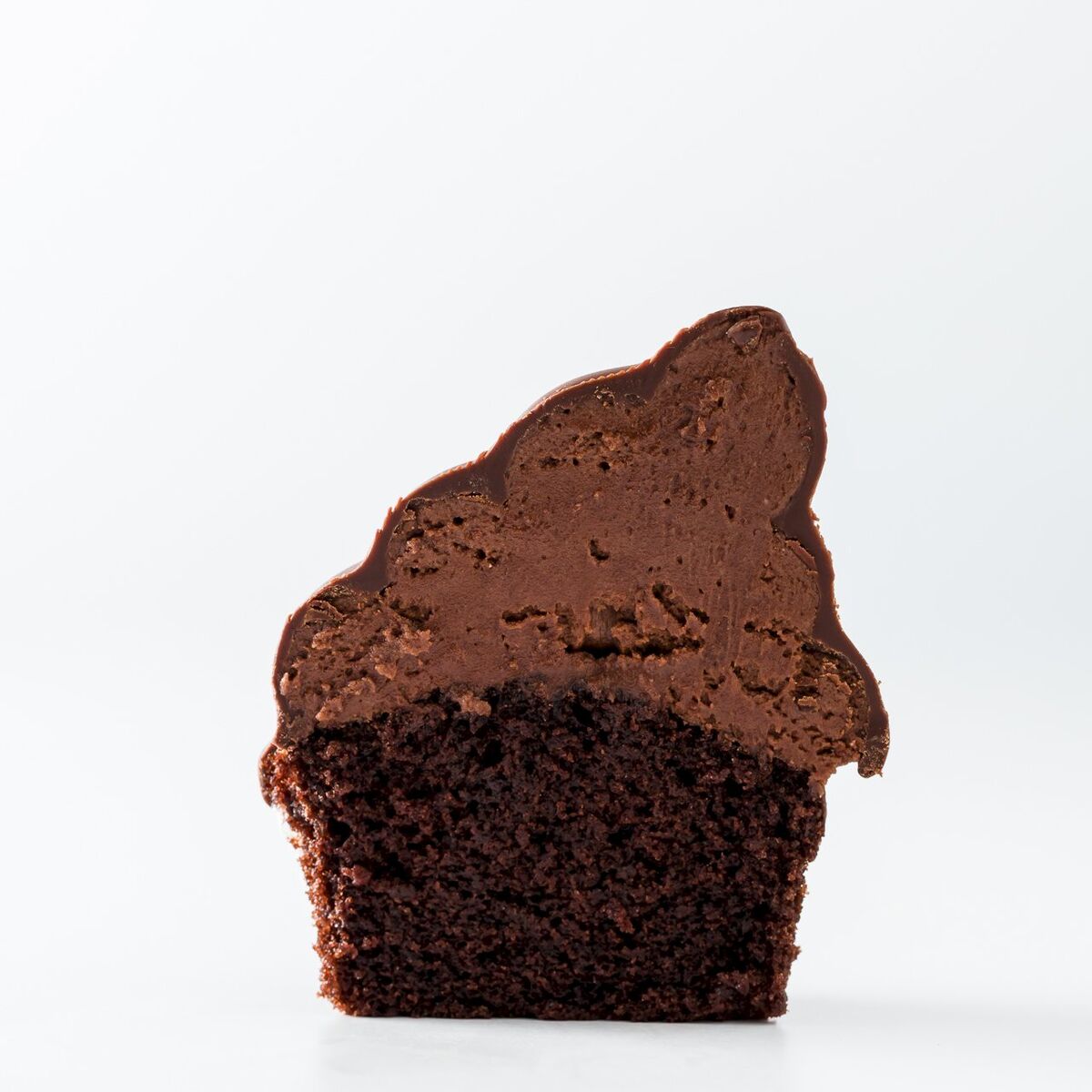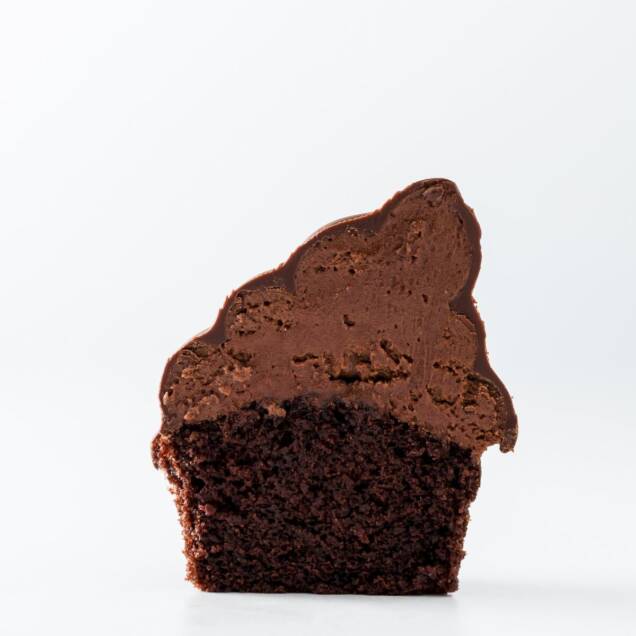 Hi-hat cupcakes can be messy to eat. I think the easiest way to eat them is to cut them in half first. But, you can use whatever method works for you!
What are Some Other Names for Hi-Hat Cupcakes?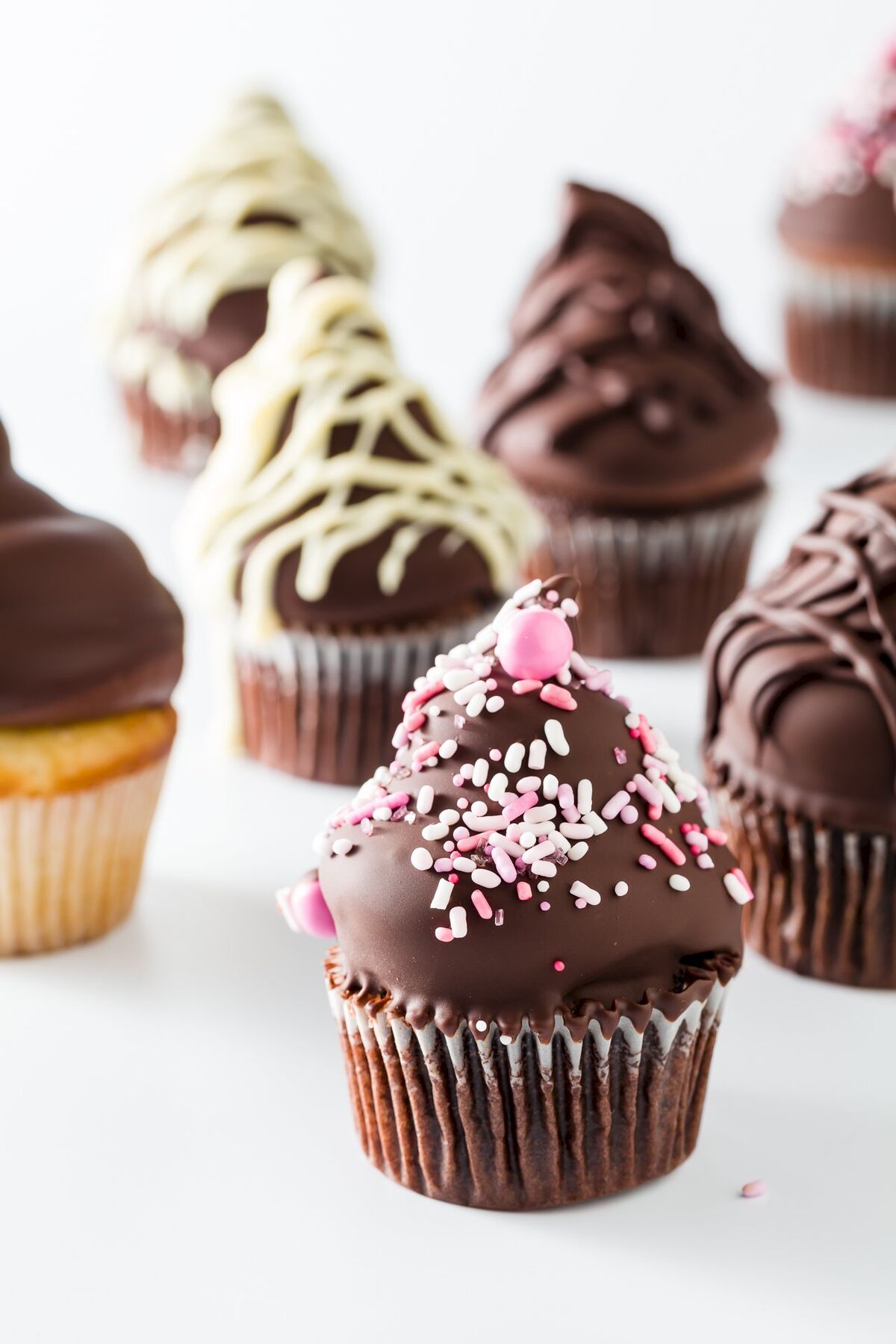 You might also hear hi-hat cupcakes refered to as chocolate-dipped cupcakes or chocolate shell cupcakes. These different names all refer to the same thing.
Hi-Hat Cupcakes Recipe
How to make hi-hat cupcakes.
Ingredients
2

cups

chocolate chips

3

tablespoons

vegetable oil

12

frosted cupcakes

frozen

Sprinkles or melted chocolate for decorating

to taste
Instructions
Place chocolate chips and oil into a tall microwave-safe cup (I use a two-cup Pyrex measuring cup).

Microwave for twenty seconds at a time (stirring in between) until all of the chocolate is melted.

Let the chocolate sit for a couple of minutes so it is still warm but not so hot that it burns you if you touch it.

Take the frosted cupcakes out of the freezer. One by one, grab the cupcakes by their wrappers, turn them upside-down, and dunk them into the cup of melted chocolate - making sure that all of the frosting gets covered. (If you listen carefully, you may be able to hear them squealing, "Wheeee!") Let the cupcakes hover over the cup of chocolate and slowly rotate until all of the excess chocolate drips off.

Leave plain or decorate with sprinkles while still warm or melted chocolate once cooled.

Admire your work.

Store cupcakes in the refrigerator until you are ready to eat them!
Nutrition
Calories:
334
kcal
|
Carbohydrates:
45
g
|
Protein:
3
g
|
Fat:
15
g
|
Saturated Fat:
8
g
|
Cholesterol:
5
mg
|
Sodium:
161
mg
|
Potassium:
40
mg
|
Fiber:
1
g
|
Sugar:
34
g
|
Vitamin A:
90
IU
|
Vitamin C:
0.2
mg
|
Calcium:
91
mg
|
Iron:
1
mg